The individual event at the Games of Small States of Europe is now officially over. The medal table confirmed a dominating day from team Cyprus as they won 7 gold, 1 silver and 6 bronze medals. Monaco clamped onto 2 gold whilst both Montenegro and Malta celebrated a victory each.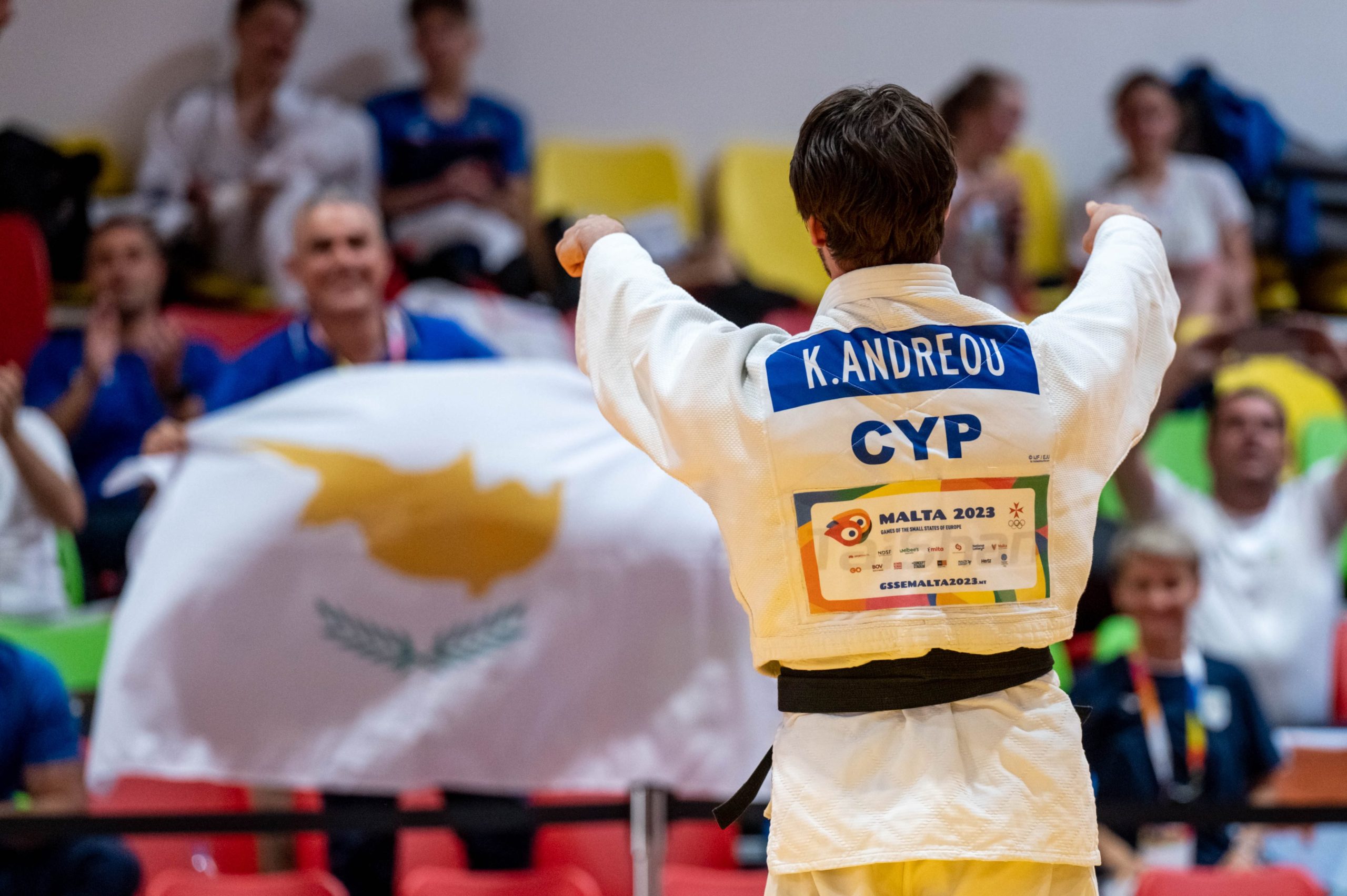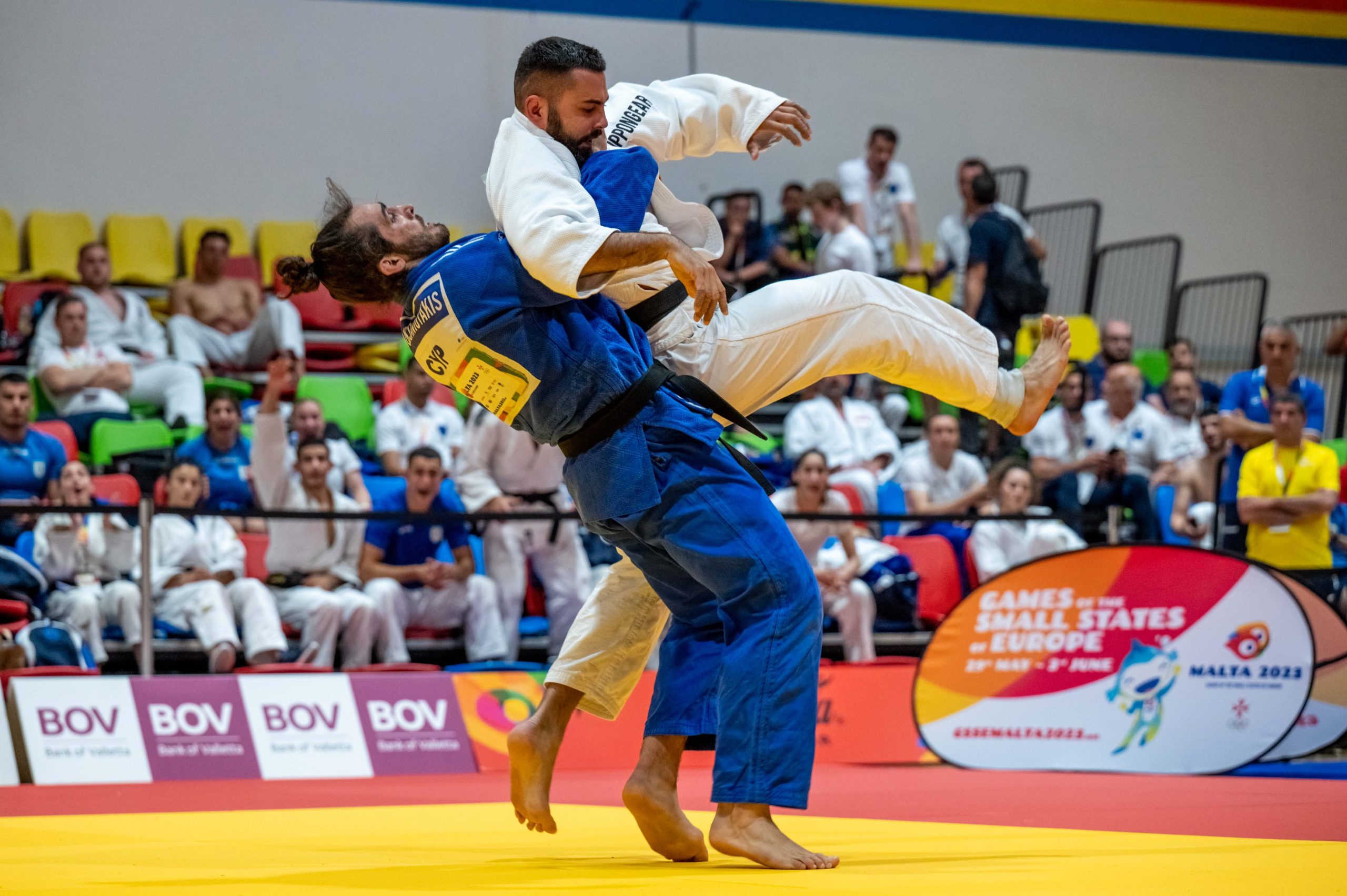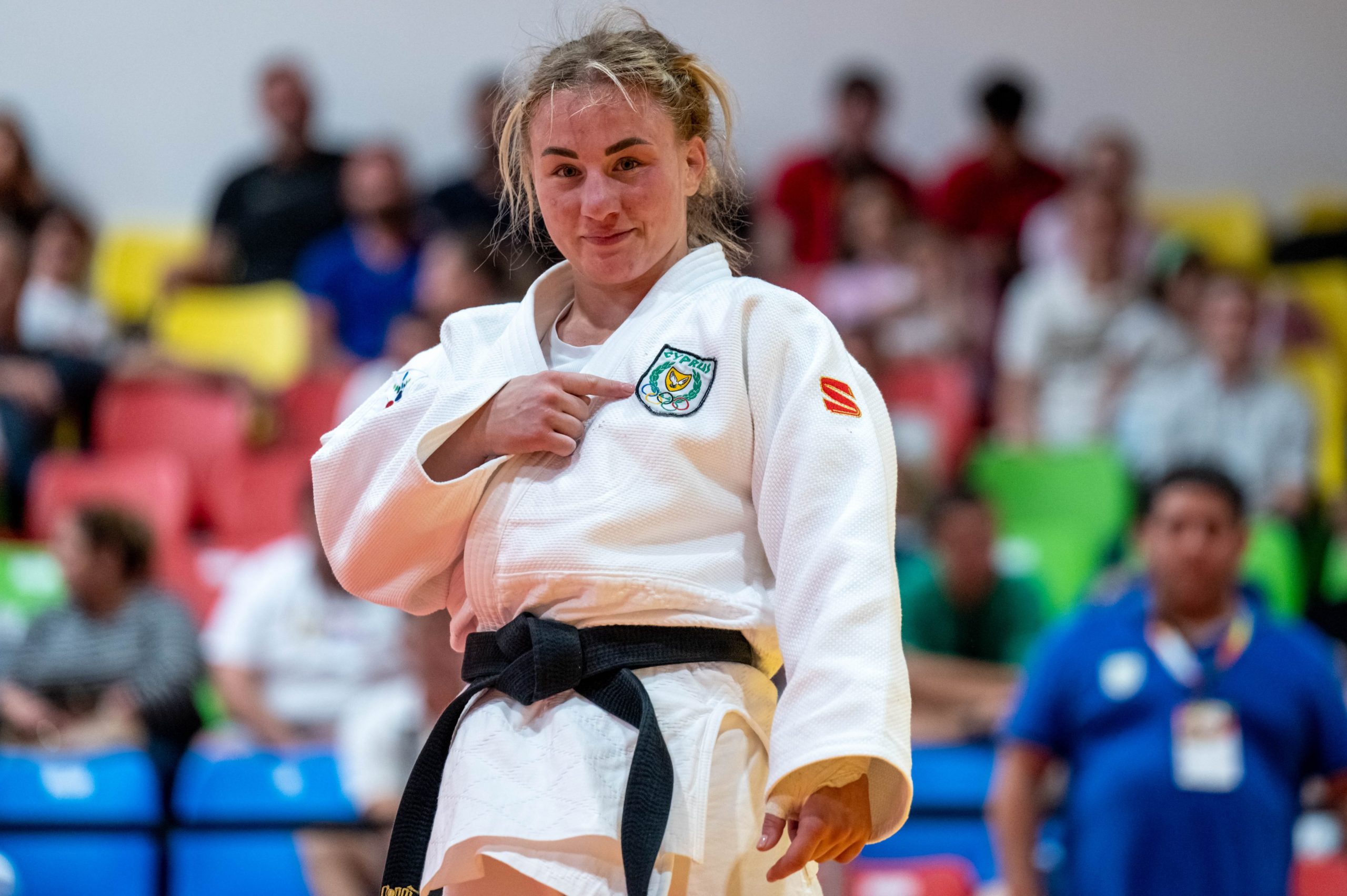 The success spirit of Cyprus 
Despite the anticipations of Cyprus topping the medal table, there were a few significant and certainly unexpectedly successful performances from a few their judoka. The team spirit was beyond compassionate from the Cyprus delegation. 
Both, Kyprianos ANDREOU (-73kg) and Georgios KROUSSANIOTAKIS (-100kg) delivered not only an unpredicted but also indisputably glazing performances within their respected weigh categories. The competition hall was set on fire each time when it was their turn to enter the field of play. 
KA: The secret of our success is hard training – he laughs. I felt very strong today and had a very good camp before the competition. I came ready for the gold medal. Against Nunes of Luxembourg, my teammates who fought with him before told me what to expect and recommended solutions. That contest was for sure my hardest fight today but with teamwork we managed to win.  I am very satisfy winning the gold medal.
Sofia ASVESTA was expected to win and she did so in the -52kg category. What was more adorable after her golden glory is not her personal joy but her elation and pride for her team.
SA: I feel very happy. For us, as Cyprus, this event is very important. We all start here, and winning gold medals here will enable us to progress to other, more prestigious events. Honestly, I just want to say big congratulations to our team. We show again that we have our golds and opportunities to fight with a bigger team.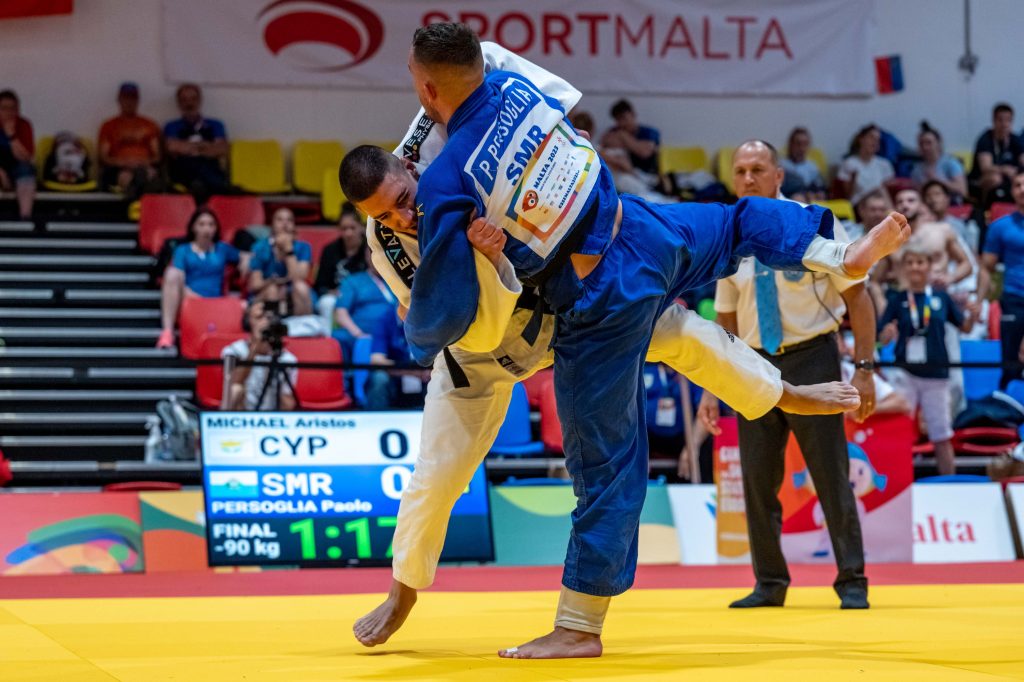 Silver shining for San Marino 
San Marino had one finalist for the day, namely, Paolo PERSOGLIA, who flew his way through into the final of the -90kg category.  This is his fifth GSSE medal, and once again he fell short on gold. Whilst it is a personal downfall for Persoglia, it is a silver shining for the small states of San Marino. 
PP: I already have 2 silver and 2 bronzes from these games. I came back from retirement after Tokyo because of Darcel Yandzi, who opened his centre in San Marino. He worked with me a lot and if not for anything, I wanted to win gold to thank him for all his work. Winning gold was our first target. Of course, for San Marino this medal is very valuable, we are only 50 athletes here amongst all sports and we only have 3 elite athletes back home. So whilst I personally wanted more, I know it is still a good results for our small state.
A bronze was also added to the overall collection today by Jessica ZANNONI (SMR) in the -70kg category. 
Bittersweet bronzes
Some bronzes shined like gold today whilst others came about bittersweet. Iceland won two bronzes, one of which was in the -100kg category. Returning from injury, Egill BLONDAL (ISL) collected his third GSSE medal today. 
EB: Today was acceptable I guess, I came to win but it's my first time in -100kg. I will probably move back down; I just need to get back to more training. In any case these medals are important for our team. Most of our team members are still young, so we had a good mixture here for present and future medals.
Malta's judo ace, Isaac BEZZINA attended the event whilst already carrying an injury. Following a defeat in the semis of the -100kg category, it became a must to bounce back for bronze.
IB: It is not an ideal results for me, my knee popped out during the first contest, and I lost concentration. Nevertheless, I want to thank my family, friends, coach, and physio because without them I would not even have made it here. I was in a dark place mentally prior, knowing I am not fully ready. Now, I look at it as it was another challenge and look forward to fully recover from my injuries.
Lichtenstein's Tristan FREI desired a final contest with his Cyprus opponent [Balarjishvili]. For that to happen, he needed to make it through to the final of the -66kg category. An early stumble against Tom SCHMIT (LUX) left him having to hope for a battle for bronze. Today, Frei won Liechtenstein's first medal of GSSE 2023.
TF: Now, I feel amazing. After a bad start , I quickly stepped up and I felt great on the mat. Last time I won bronze as well at the GSSE so today I really wanted to be in the final.
It was a similar day for Claudio NUNES DOS SANTOS (LUX), who was undoubtedly expected to shine for gold. A first round shock against Andreou of Cyprus set Luxembourg's hope back for another bronze.
CN: It is definitely a bittersweet bronze. It was unexpected for me to lose the first fight but my opponent from Cyprus was a good fighter and he caught me twice. I was emotionally set back slightly after that defeat but at the end the result counts and I am pleased to make it to the podium.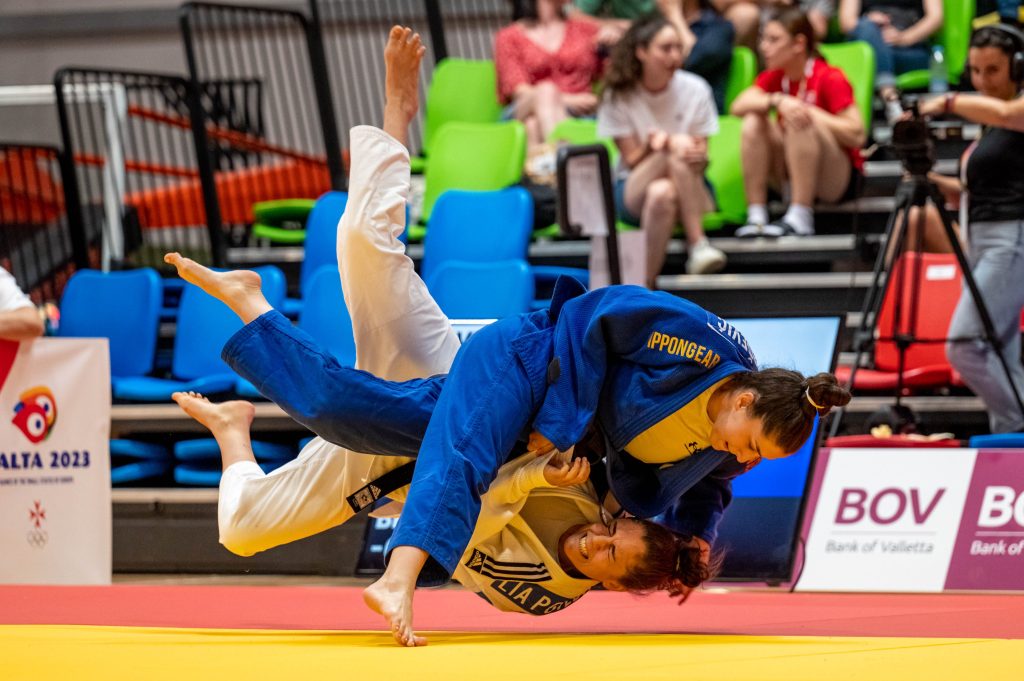 Montenegro's gratification  
The Montenegro team was absent from the small states Europeans last year due to a covid outbreak within the team at the time. Today, their re-joined the small states show and despite a few hurdles and defeats, the overall performance was satisfying. Coach, Ilija VUKOTIC voiced his thought after the medal ceremonies; 
Today we had 6 athlete and we won 6 medals. There was no easy way to get any of the results. Perhaps some of the medals could have been a bit brighter but we need to be satisfied because we are not here with the first team and some has been injured so overall being able to do 100% medal success, I cannot be not happy. I am thankful for how well the team did as well for the support of the Olympic Committee.
Judoka
Author: Szandra Szogedi
---