Though there was great focus on the finals of the -63kg category and -81kg categories in this World Judo Championships Doha 2023, Europe were initially in with chances of bronze.
First up were European duo, Lubjana PIOVESANA (AUT) and OZBAS Szofi (HUN). Both athletes put in strong performances throughout the day, and in their bronze contest went in to golden score. Eventually a drop seoi nage secured 21 year-old Ozbas the winning score for her first senior world medal.
It seemed that this technique was the winning one as in the next contest, another IJF World Tour youngster, 20 year-old Joanne VAN LIESHOUT (NED) took the next bronze medal. Already double world champion as a junior, Van Lieshout wasted little time against Prisca AWITI ALCARAZ (MEX) who earlier had defeated the now former world champion. The throw scored waza ari and she finished the contest with osae komi.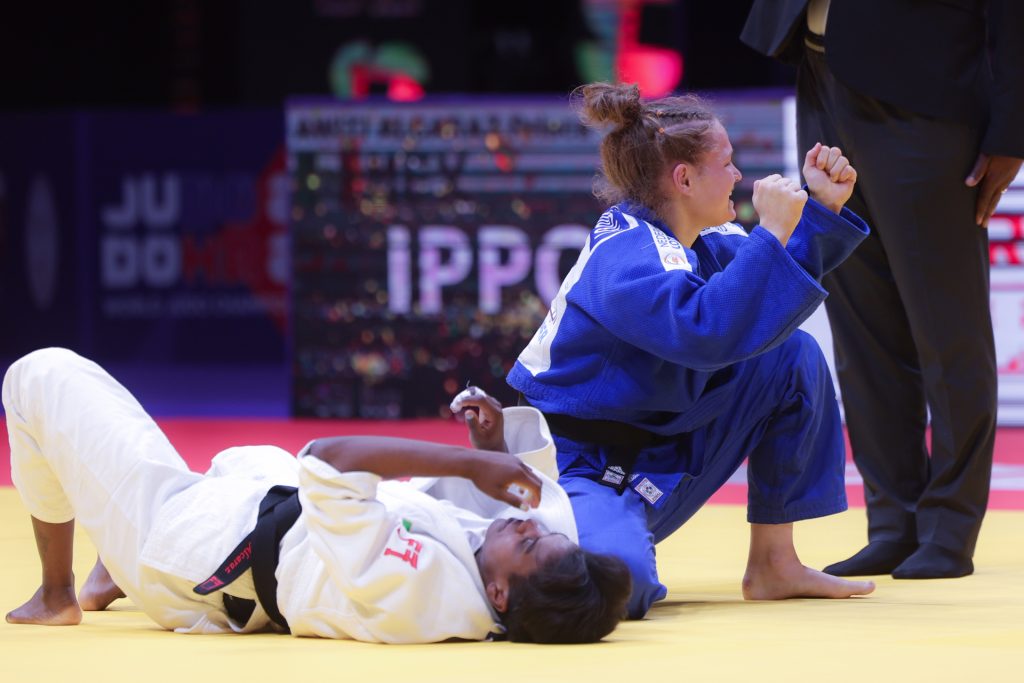 Now for the main event, five-time world champion, Clarissse AGBEGNENOU (FRA) faced Andreja LESKI (SLO) for the title. It was deja vu for judo fans, the pair also competed for the title two years ago in Budapest, Hungary as we approached the Olympic Games, with the Frenchwoman coming out on top. This time around it was a little closer, and given Agbegnenou's absence, it was debatable how this would reflect in her performance, but she pulled it out of the bag, again. For the sixth time. Countering a seoi nage attempt from Leski she scored waza ari with 29 seconds left on the clock and confirmed her number one spot by holding her opponent on the ground.
The celebration was more one of relief. Calm, collected, she looked to her family and team mates in the crowd, signed an 'A' for daughter Athéna who was here to see her mother become the world champion alongside a mass of French support.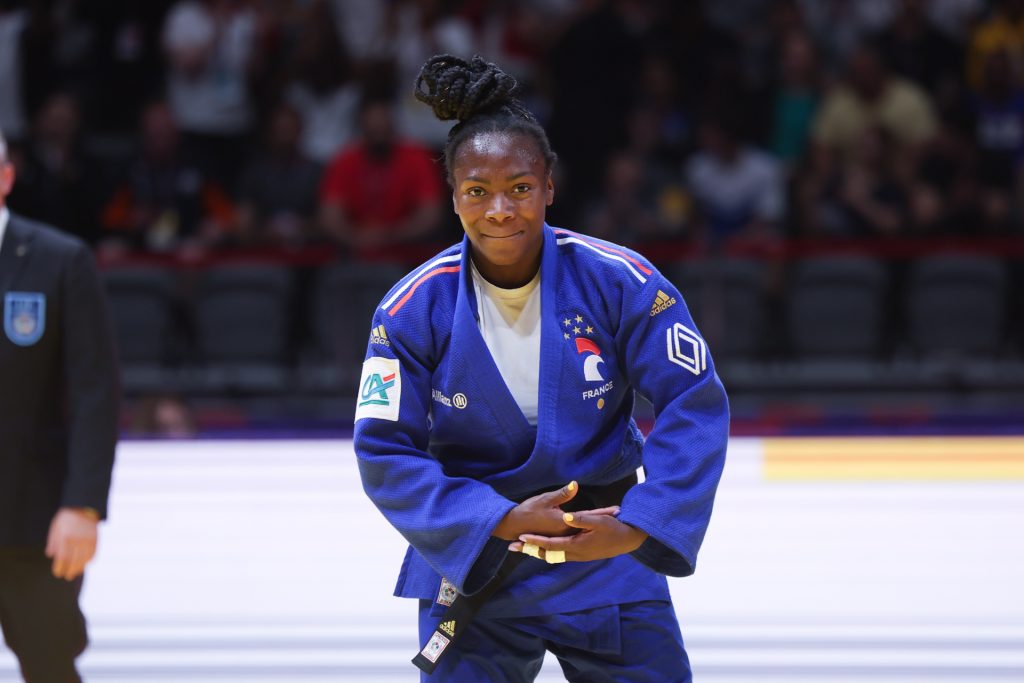 Once the -63kg category was concluded, we moved on to the men. Sagi MUKI (ISR) opened up for the European side against current Olympic champion, NAGASE Takanori (JPN). It was certainly a tactical match up in terms of the Japanese approach, forcing Muki to pick up two shidos. Muki took the world title in 2019, and he looked like his old self today, only losing out in the semi final to Matthias CASSE (BEL) in golden score. Once again, he found himself in golden score with Nagase and unfortunately, osae komi shortly after, leaving him with fifth place. 
The next bronze medal was decided between Pan America and Asia as a head to head ensued between Francois GAUTHIER DRAPEAU (CAN) and LEE Joonhwan (KOR). A beautiful seoi nage sealed the deal for Lee.
Everyone looked to Agbegnenou for a sixth-title performance, but in the -81kg category, we couldn't have asked for a better final. For the third consecutive year, we had Tato GRIGALASHVILI (GEO) and Matthias CASSE (BEL) battling it out for world glory.
To say the first minute was explosive would be an understatement, Grigalashvili had complete control and played with Casse, throwing, or launching more or less, but without resulting in a score. Casse picked up a shido and this small threat made him give chase to the Georgian. By opening up, he also gave Grigalashvili the opportunity for an incredibly deep drop seoi nage which meant he kept his world title and red back patch for one more year. Unlike the golden score contest which was recognised as one of the best of 2022, there was a clear winner today in the -81kg category.
Six medals were taken by Europe in total, with a full team on the -63kg podium.
Judoka
Author: Thea Cowen
---