For the first time in 20 years, we are back in Germany for a European Championships. The last occasion was in Dusseldorf in 2003, and we are pleased to be back in this strong judo nation.
-48kg
Vera WANDEL (NED) started her day well, winning her quarter and defeating the top seed Raquel BRITO (POR). Next up in the semi final was Tereza BODNAROVA (CZE) which was tough, but lead by the Dutch athlete as Bodnarova picked up penalties. Deciding the contest however, were not the shidos, but a very low o uchi gari from Wandel. Last year, Wandel stormed the cadet circuit with a world, European and EYOF title and it seems now that she has stepped up a gear to rival her more senior opponents, hoping to add the U23 title to her collection.
In her way is Gemma Maria GOMEZ ANTONA (ESP) who defeated Merve AZAK (TUR) in the other half of the draw with a harai maki komi. The 21 year-old hasn't had the best luck in continental championships up until this point, though has senior European Open medals to her name.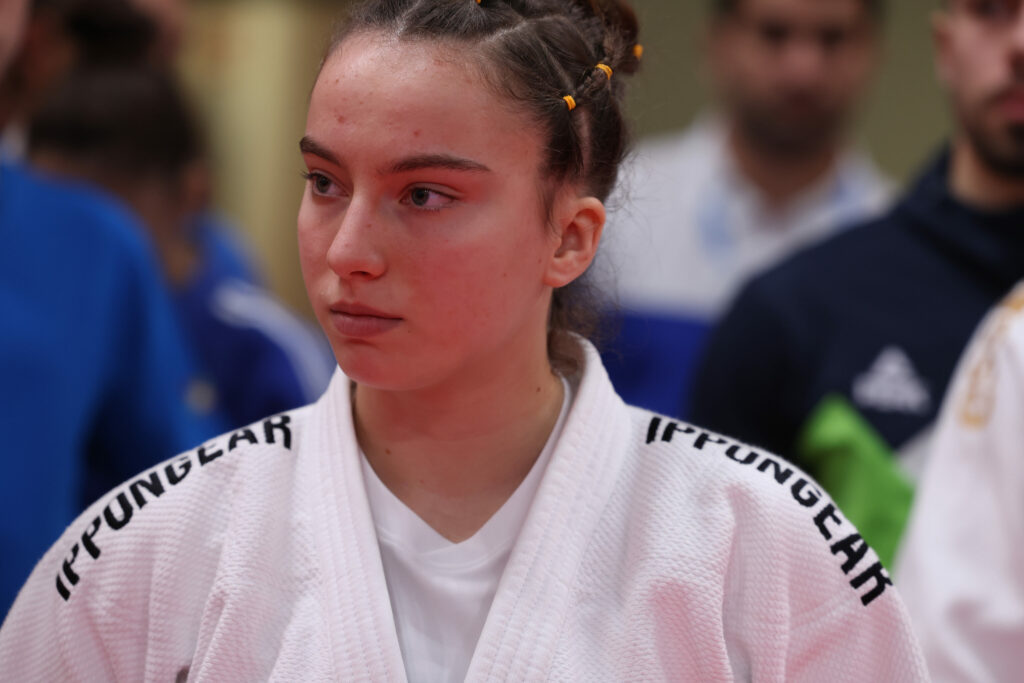 -60kg
Number one seed, Nazar VISKOV (UKR) has taken four continental championship bronze medals and of course was looking to avoid a fifth, but had a tough semi final opponent in the current cadet European champion, Mahammad MUSAYEV (AZE). This was a very impressive contest, the pair went in to golden score, and it was a counter from Viskov and transition in to osae komi that brought about his win and finally a final.
Taking fifth place in the Junior European Championships was a tough loss for Luis BARROSO LOPEZ (ESP), but he more than made up for it today with some colossal wins, taking his place in the final by defeating ANDRASI Marton (HUN). There was no telling which way the contest was heading, and in the final exchange, the same could be said. Barroso attacked with o uchi gari, ending up in a clinch, but managed to regain the balance to throw with ko soto gari for ippon.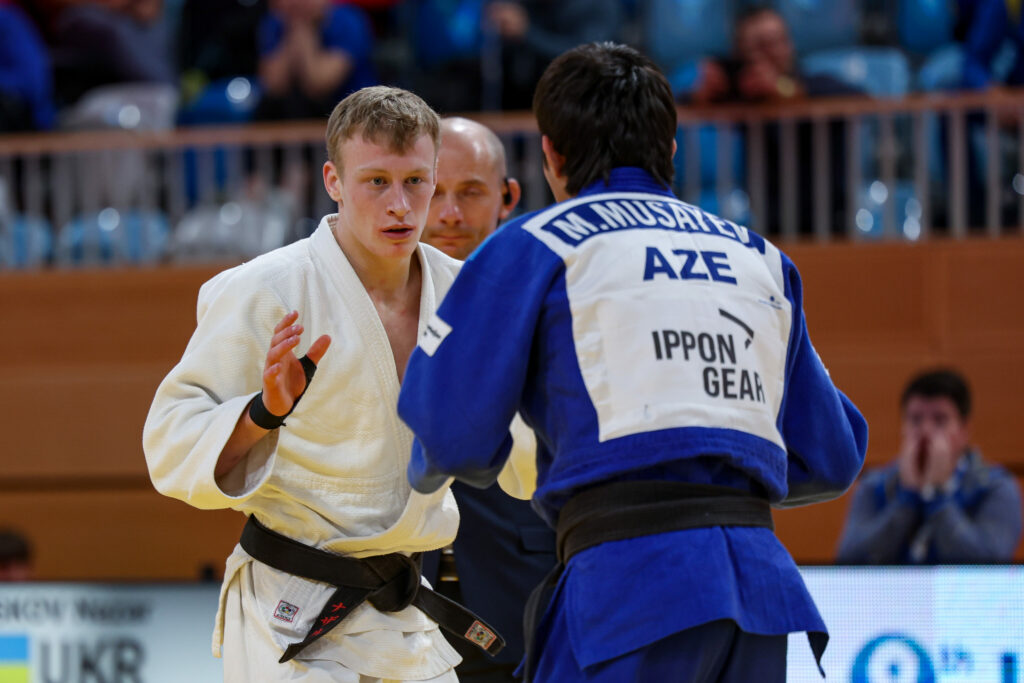 -52kg
Ana Viktorija PULJIZ (CRO) was the top seed today in the -52kg category and met Gabriela DIMITROVA (BUL) in the semi final, an early score earned by the Bulgarian athlete with a drop seoi nage. Despite her efforts, Puljiz was unable to climb back in to the contest and the win went to Dimitrova, her first continental championship final.
In the other half of the draw, Aydan VALIYEVA (AZE) and the 2022 U23 European champion GYERTYAS Roza (HUN) went head to head. This was yet another close semi final today, going in to golden score and in the end, Gyertyas stole it with a tight ko uchi gari, giving her a chance to defend her title.
-66kg
Once Radu IZVOREANU (MDA) and Aydin RZAYEV (AZE) had taken time to figure out the other, Rzayev attacked with o uchi gari, but Izvoreanu didn't just step off the attack, but spun in, and using his opponents momentum scored waza ari with harai goshi. It didn't take long to even the score with a seoi nage from the Azeri two-time continental championship silver medallist. However it was a golden score waza ari for the top seed, Izvoreanu who demonstrated some swift ashi waza for a place in the final.
This is the second U23 European Championship final for the Moldovan athlete who took silver in 2021, but of course sights will be set on a gold today.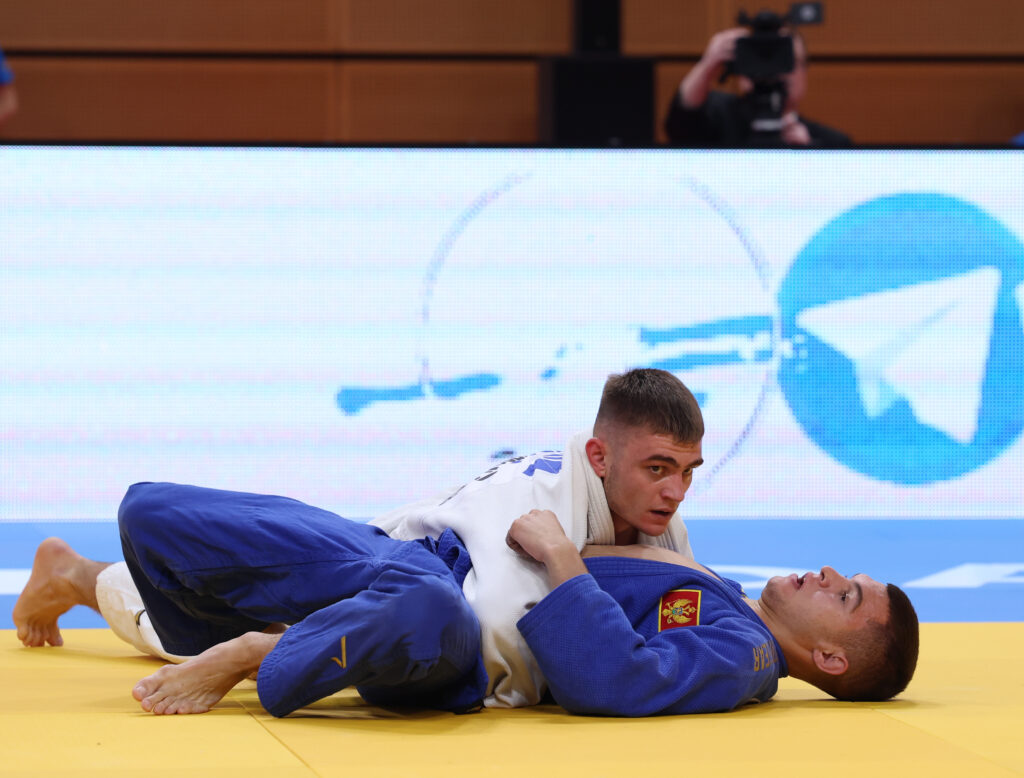 Anthony DE ANGELIS (LAT) took a bronze medal in the 2022 U23 European championships but today managed to improve on this result by taking his place in the final, defeating Francesco CARGNELUTTI (ITA) with a wazari scoring sumi gaeshi.
-57kg
Austria had double the chances in the -57kg category with an athlete in both semi finals. First up was Lisa GRABNER who earned the initial score, but was chased by Elin HENNINGER (NED) who managed to level the playing field and took the contest in to golden score. After some gruelling work, Henninger joined Wandel, securing a medal for the Dutch team with a submission.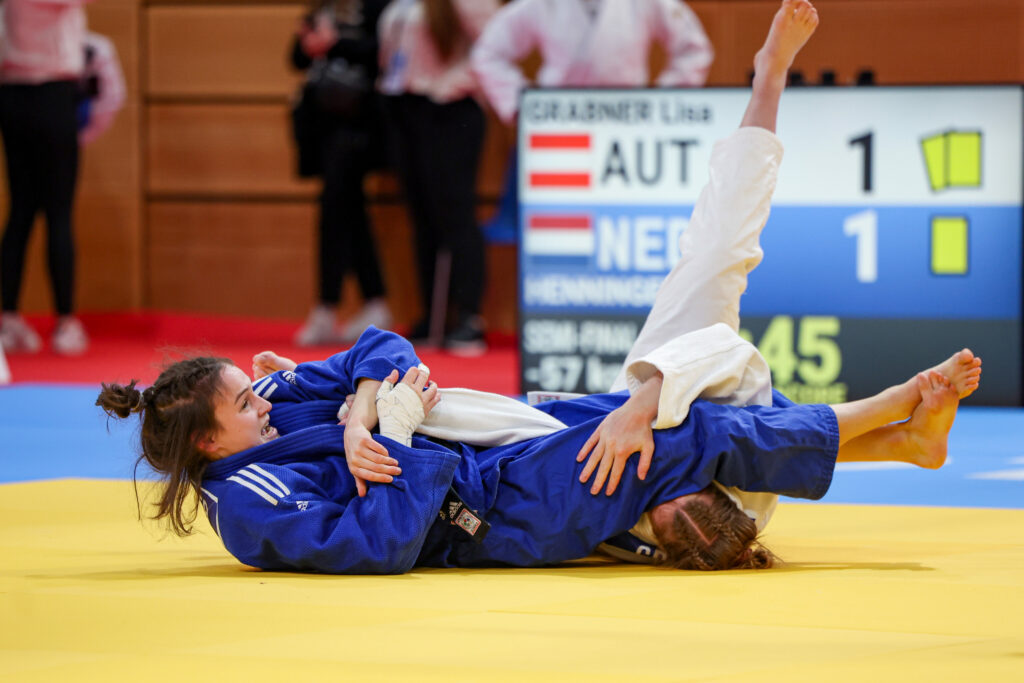 Laura KALLINGER (AUT) was their next hope, and took Nino LOLADZE (GEO) in to golden score. In terms of condition, the favour lay with Kallinger, however the will to win came from Loladze with a waza ari scoring o uchi gari. For the 18 year-old Georgian, it was an emotional win.
-73kg
Kote KAPANADZE (GEO) has plenty of senior experience, and big wins against world champions and the top athletes in general, and he carried that experience with him today. Ejder TOKTAY (TUR) decided to surprise all today though and especially Kapanadze with a great ura nage lift.
For the home team, it hadn't been the most successful day, but they could at least celebrate Jan RUEBO (GER) in the semi final against Koen HEG (NED). It wasn't going to be easy for the German athlete following a ten minute golden score in his quarter final, but the will of the crowd certainly helped fuel him, again, in to golden score. In the end, it was Heg that secured the win, working hard to apply shime waza.
-63kg
It took Laura VAZQUEZ FERNANDEZ (ESP), the 2022 junior European champion, only a minute to secure her place in the -63kg final, looking for another title. Vazquez calmly transitioned in to ne waza, systematically moving her opponent in to osae komi. In the end however, it will be a national final for Vazquez as Aitana FERNANDEZ HERRERA (ESP) took the win on the other side of the draw.
This particular contest lasted a little longer, but Fernandez was always looking one step ahead and finally caught opponent, Amanda ZUAZNABAR-TORRES (ROU) with ko soto gari. There is a family lineage for Fernandez who is the niece of Olympic champion Isabel Fernandez.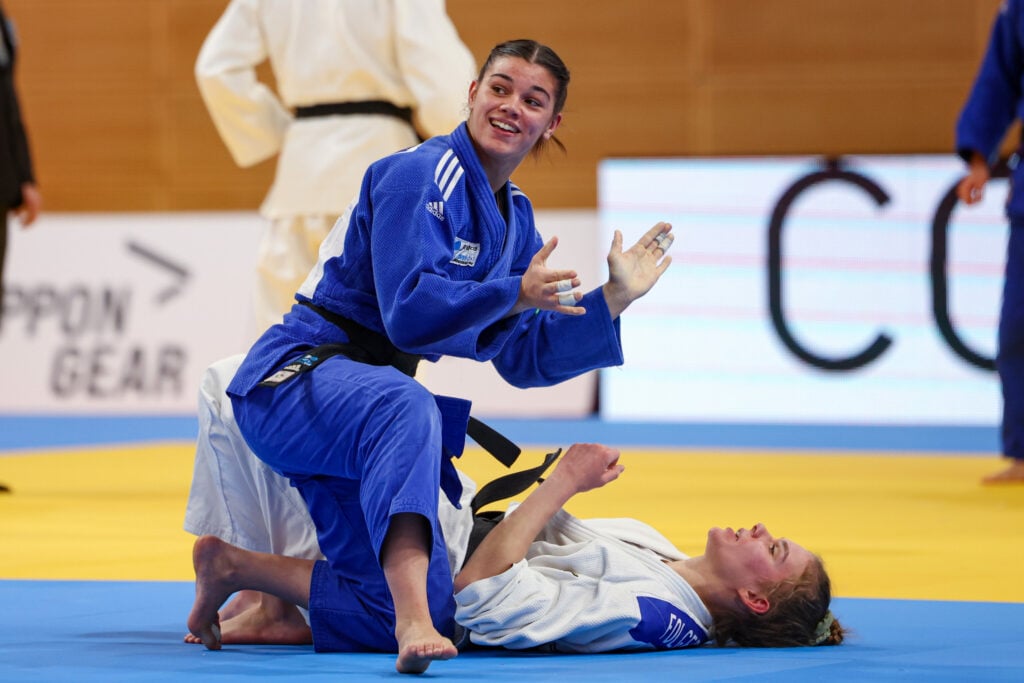 Judoka
Author: Thea Cowen
---