The third and final day of individual competition in the Junior European Judo Championships 2023 was a great one for the host nation, Netherlands, with a potential for three gold medals.
First up was Lars VAN OOSTRUM (NED) taking on the defending -90kg junior European champion, Vugar TALIBOV (AZE). The Azeri athlete came out of the starting blocks fast and hard, putting Van Oostrum under pressure by taking an early score, eventually the Dutch athlete found his footing but as the clock ticked away, a Dutch gold looked out of reach. Little did we know that Van Oostrum would get a second wind in the last 30 seconds, levelling the playing field with a sumi gaeshi attempt and then right on the buzzer, countered Talibov with te waza. The crowd erupted and proceeded to celebrate with their hero, lifting him in to the stands by his back patch!
Following on from the sensation that was Van Oostrum, Lieke DERKS was up next in the -78kg final to continue the golden trend here in The Hague. Battling not only Derks, but the entire crowd was Morgane RUBIANO (FRA). The French athlete scored first, silencing the spectators for a moment but within the first minute Derks countered to even the score. Derks then went from strength to strength and was able to show off her ne waza skills as well, ending the contest with a san gaku hold.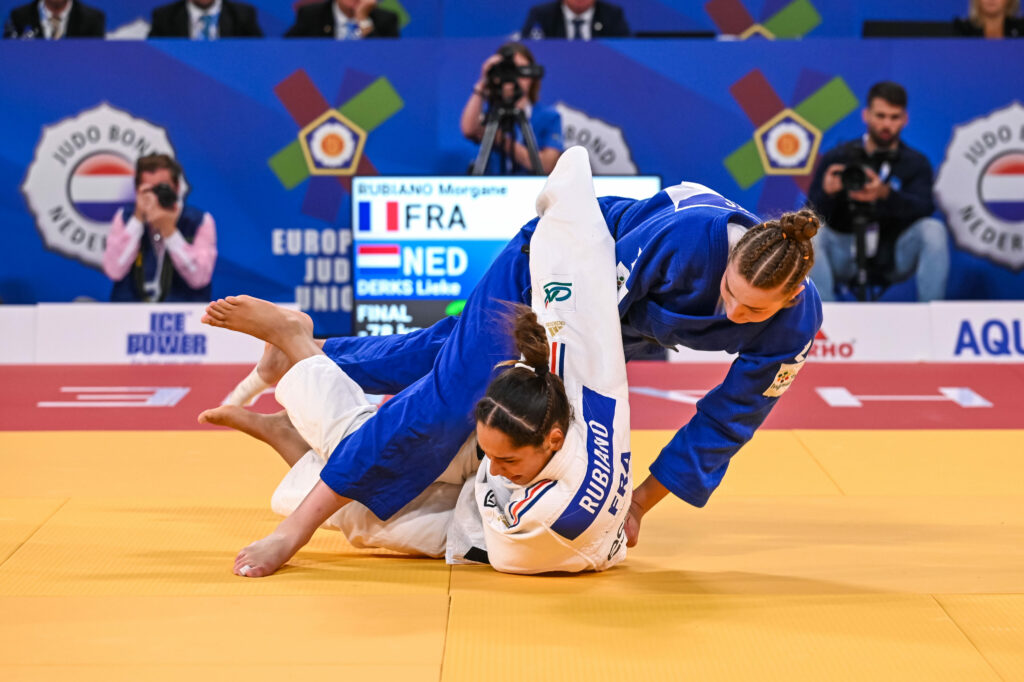 After celebrating with her friends and family, Derks was invited on to JudoTV for the Golden Score live show and stated,
This will be the most nervous I've been all day!
Derks thoroughly enjoyed her day in The Hague, the crowd was a great motivation, as was her team mates success, she wanted to have a chance to experience that too and is excited to do it all again tomorrow in the Mixed Team event.
The Netherlands may be on a roll but Italy are on top of the world, and the medal standings, regardless of the remaining awards. Jean CARLETTI (ITA) added a terrific fifth gold medal to the collection, catching his final opponent in the -100kg category, Mathias ANGLIONIN (FRA), twice with a very low a swift tai o toshi. Speaking with coach, Raffaele TONIOLO, father of the -57kg gold medallist, Veronica, he told us,
We have been breaking records over the past couple of years and we have done it again, this is our best Junior European Championships, five gold medals, one silver, one bronze and a fifth place, I couldn't be happier for them. Especially for Jean, he has had a very hard childhood and achieving this is very special.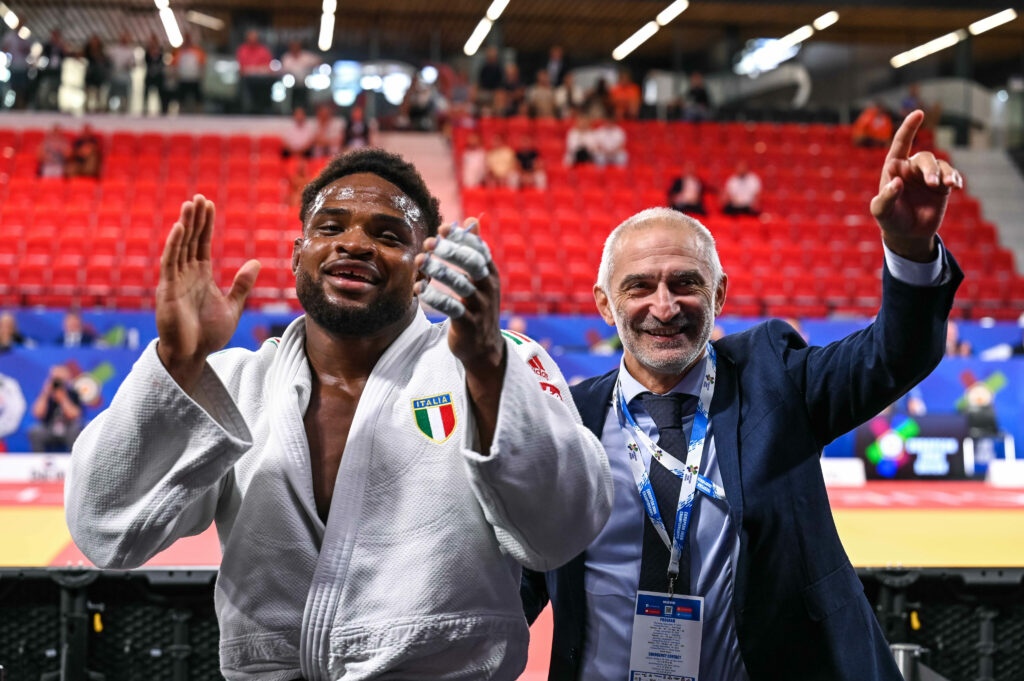 Adversity is a topic that often comes up in sports, how the mental strength and ability to overcome hardship can shape a person in to becoming a success, well this is the evidence. A huge congratulations to the Italian team and to Jean today.
Paulien SWEERS (NED) was ready and waiting for her +78kg final against Gabrielle BOUVIER (BEL). Just over one minute in to the contest, Sweers disarmed her opponent with some ashi waza, driving Bouvier to the ground for waza ari and stealing the gold medal in ne waza.
Shalva GURESHIDZE (GEO) was the second athlete in todays final block to defend his 2022 title, and he had Giannis ANTONIOU (CYP) to contend with. Regardless of the result, this is the best result for Cyprus in a junior European championships. Though it would have been a tremendous achievement for Antoniou and his nation, however the maturity of Gureshidze brought Georgia their third gold medal. Twice he managed to score with seoi nage and he can continue his reign for a second year as the Junior European Championships.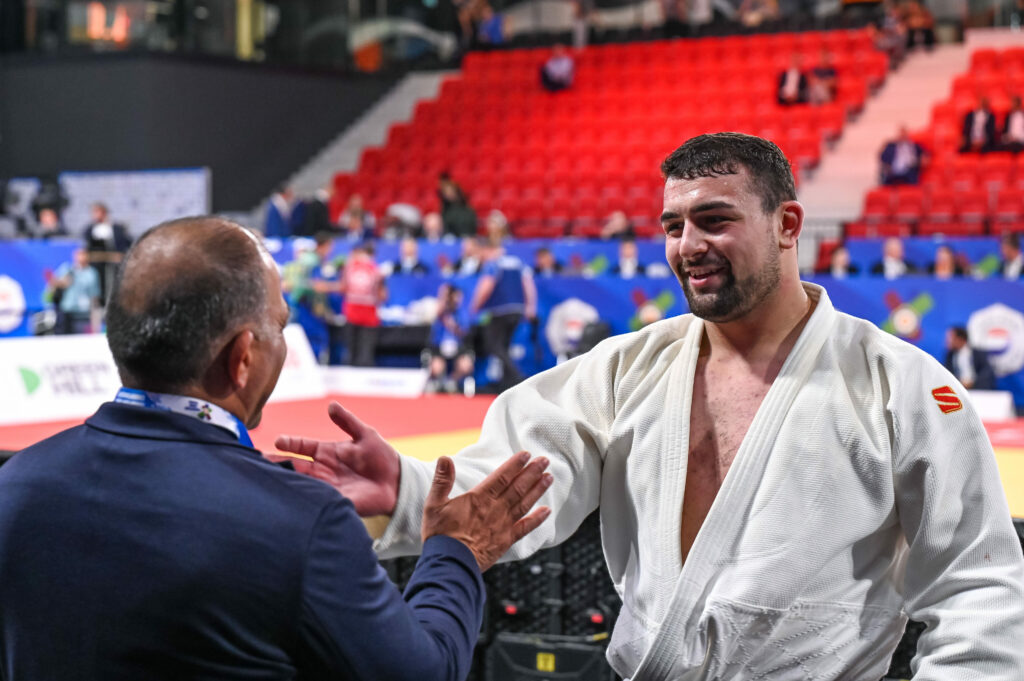 It has been an incredible three days of individual competition and what a way to finish for the Dutch team, claiming three gold medals and putting them third in the nation standings behind Italy and Georgia. This could be a sign of great things to come for their team as tomorrow we conclude the Junior European Judo Championships 2023 with the Mixed Team event. Live action will begin at 10:00 on JudoTV.com, find the draw and all replays there!
Judoka
Author: Thea Cowen
---