The athletes today were on much more equal footing leading to a number of golden scores and quite a long day with minimal break until the final block, so let's see who we have competing for the EYOF title 2022…
-52kg
The 2019 cadet world champion, MAMIRA Luca (HUN) was coming through strong today but in the end had to settle for a bronze medal contest, suffering defeat to the number one seed, Nikolina NIVASIC (SRB). An initial uchi mata attack took Mamira off balance and a quick switch to morote seoi nage on the opposite side secured a waza ari in golden score for Nivasic, and a place in the final.
There were high hopes for Great Britain's Charlotte JENMAN following a great performance in Poreč for the cadet European championships and her prior preliminaries showed her strength, however she was caught off guard by Spain's Laura GOMEZ ANTONA with a huge ippon scoring o soto which meant another bronze attempt for Jenman and the first major final for Gomez.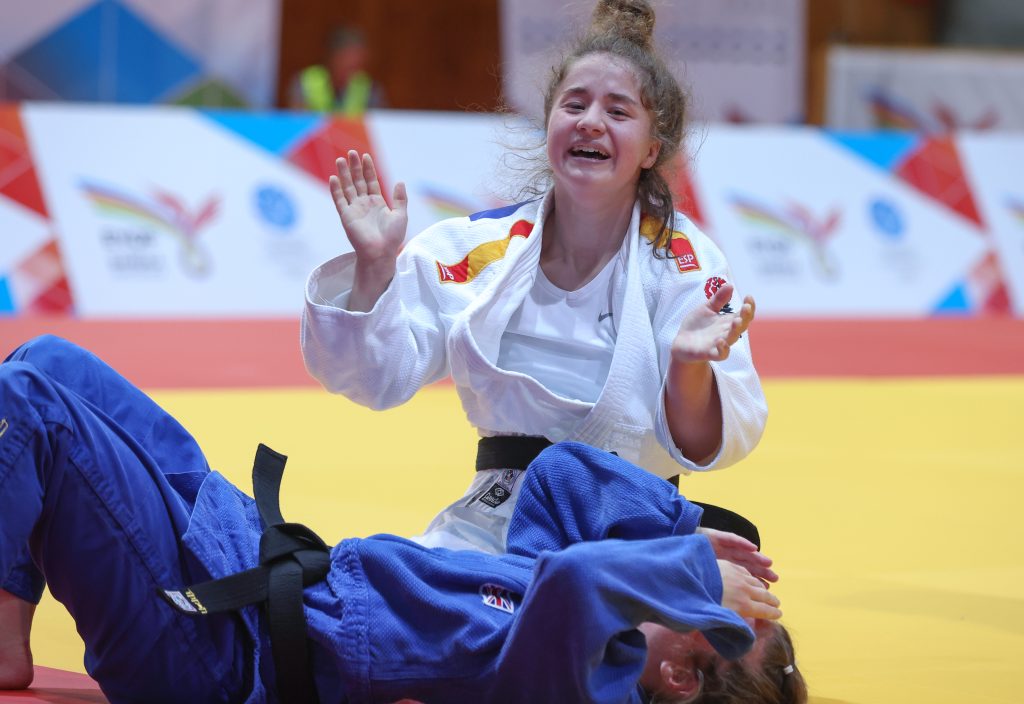 Bronze:
Aydan VALIYEVA (AZE) v Charlotte JENMAN (GBR)
Faustine WALLON (FRA) v MAMIRA Luca (HUN)
-66kg
Both the semi finals for the -66kg category were over almost in an instant. The first between Tobias FURST CRTANEC (SLO) and Tornike MOSIASHVILI (GEO) was originally going in favour of the Georgian as he scored waza ari and tried to transition to ne waza but his opponent was too quick applying the shime waza as they went to the ground. There was no choice but for Mosiashvili to submit and Furst Crtanec took the impressive win.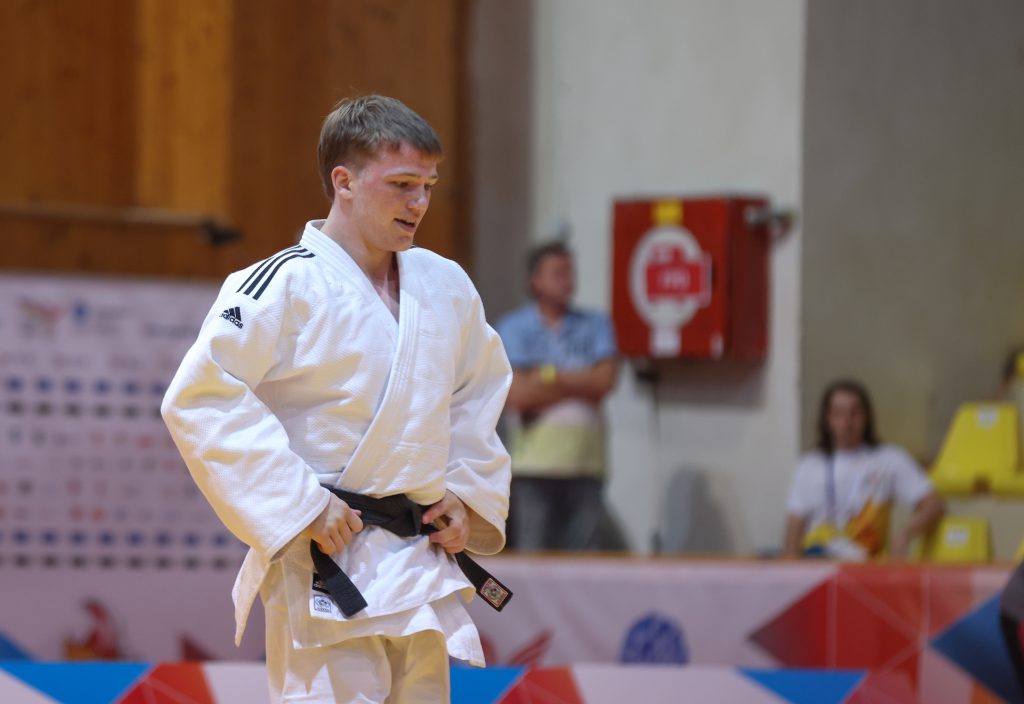 Next up was another shime waza situation between Ibrahim DEMIREL (TUR) and Eltaj YUIFLI (AZE), a quick exchange in the second minute landed the pair in ne waza and the Turkish athlete got to work to be in with a chance of gold. 
Bronze:
Robert SORKIN (ISR) v Eltaj YUSIFLI (AZE)
Ray MARINX (BEL) v Tornike MOSIASHVILI (GEO)
-57kg
The first of the -57kg semi finals was between Niamh SOUTHGATE (GBR) and Julie BEURSKENS (NED). Both fought positively throughout and it ended right on the buzzer, a yoko otoshi from the Dutch ended this battle and put her in to the final.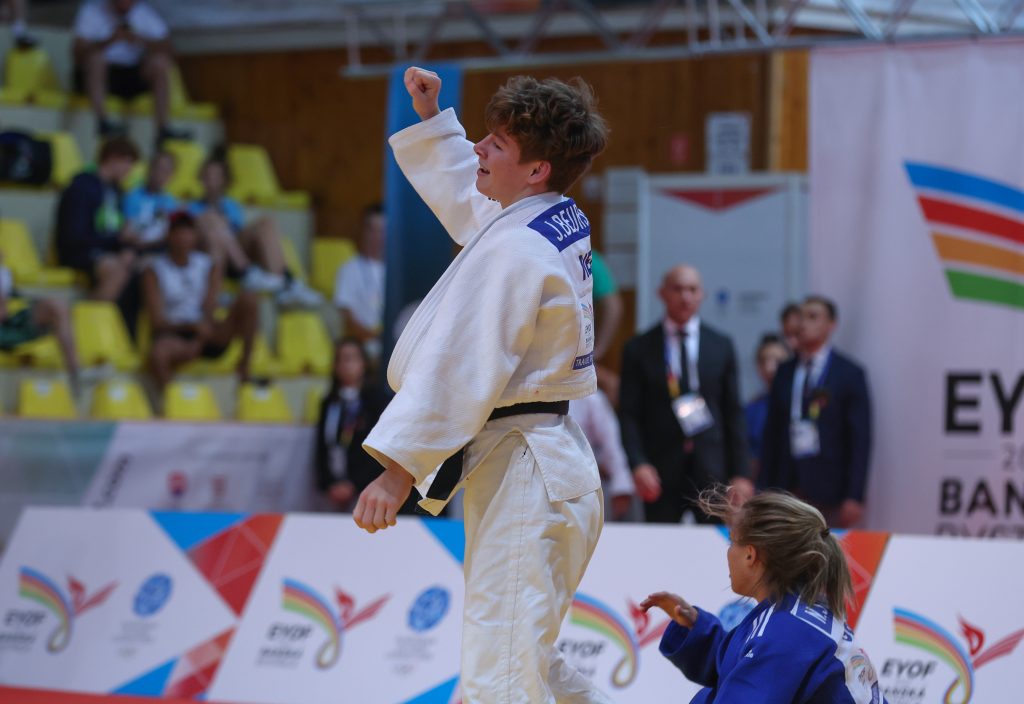 Beurskens will have a tough final as she comes up against the current cadet European champion, Fidan ALIZADA (AZE). Since her achievement in Poreč she appears to have gained a great deal of confidence and fighting spirit, charging through her contests today and winning in various ways. Alizada's semi final concluded with juji gatame in just over one minute of contest time. Can she make it a second gold medal in a major?
Bronze:
Adriana SALVADOR RODRIGUEZ (ESP) v Julia BULANDA (POL)
Emma MELIS (FRA) v Niamh SOUTHGATE (GBR)
-73kg
It was a truly even battle in the first -73kg semi final between Mihajlo SIMIN (SRB) and Ivan KAZIMIROV (UKR). So much so that the pair went in to golden score to decide who could progress and a final deep seoi nage from Siminin the sixth minute allowed him to take the win.
Joshua DE LANGE (NED) did not feel like matching this golden score contest and instead in only his second exchange against Issa NASCHCHO (AUT) countered a weak o soto, directing his Austrian opponent to the ground with te waza and ensured his ippon win by staying in osae komi, all within 20 seconds.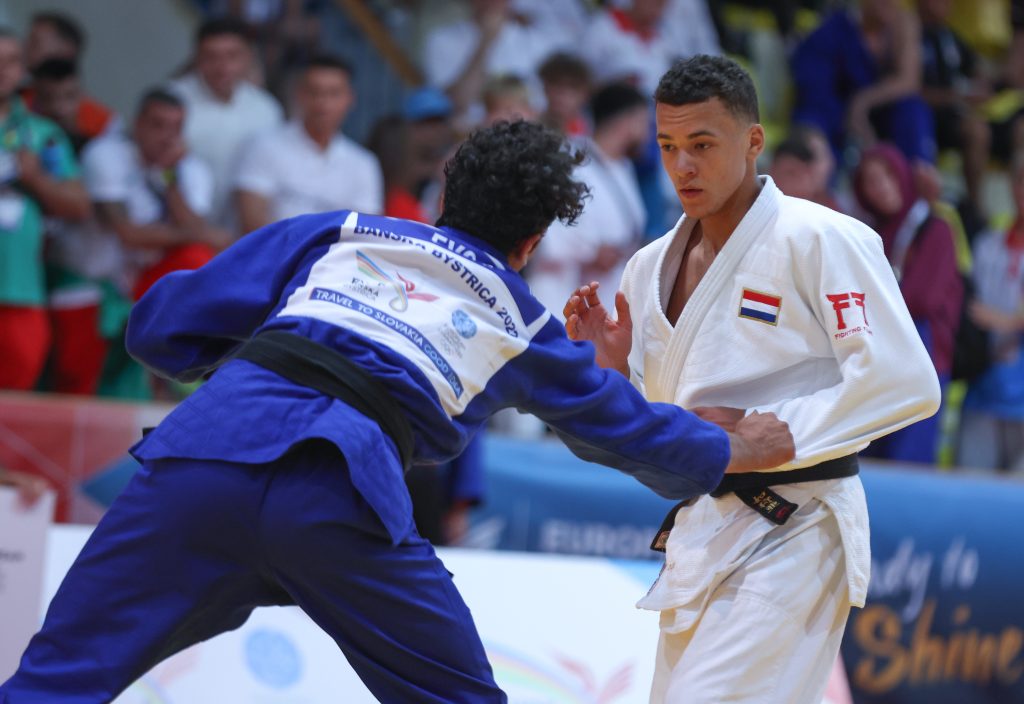 Bronze:
Artak TORSYAN (ARM) v Issa NASCHCHO (AUT)
Mariyan PALEV (BUL) v Ivan KAZIMIROV (UKR)
It was a long preliminary round this morning which has lead us almost directly in to the final block with a 16:00 start, bronze and gold medal contests can be found at www.eju.net.
Judoka
Author: Thea Cowen
---