The Azeri crowd came out in droves, in support of their athletes today. Representing Azerbaijan were Olympic and World silver medallist, Rustam ORUJOV and junior World Champion Hidayat HEYDAROV in the -73kg category as well as MUNKHTSEDEV Ichinkhorloo competing in the -57kg category. With the stands full, the stadium became pandemonium each time their athletes took to the tatami, a true World Championship atmosphere.
ORUJOV fought his way through the second and third round to meet TSEND-OCHIR Tsogtbaatar (MGL) in the fourth. His first two fights saw the experienced athlete display an array of techniques, including a strong shime waza and a colossal maki komi, wheeling his opponent over for a second waza ari to win. The fourth round was a tense contest, both picking up two penalties despite their tremendous attempts. Only 35 seconds in to golden score everyone was holding their breath, desperate for a home nation medal, but it was not to be as the Mongolian countered a weak entry from ORUJOV, much to the Azeri's dismay.
After an early exit from MUNKHTSEDEV against Amelie STOLL (GER), HEYDAROV became Azerbaijan's only chance of a medal on day three. The European Champion worked tirelessly and went from strength to strength in his preliminary contests, showing off his ne waza skills in the first two.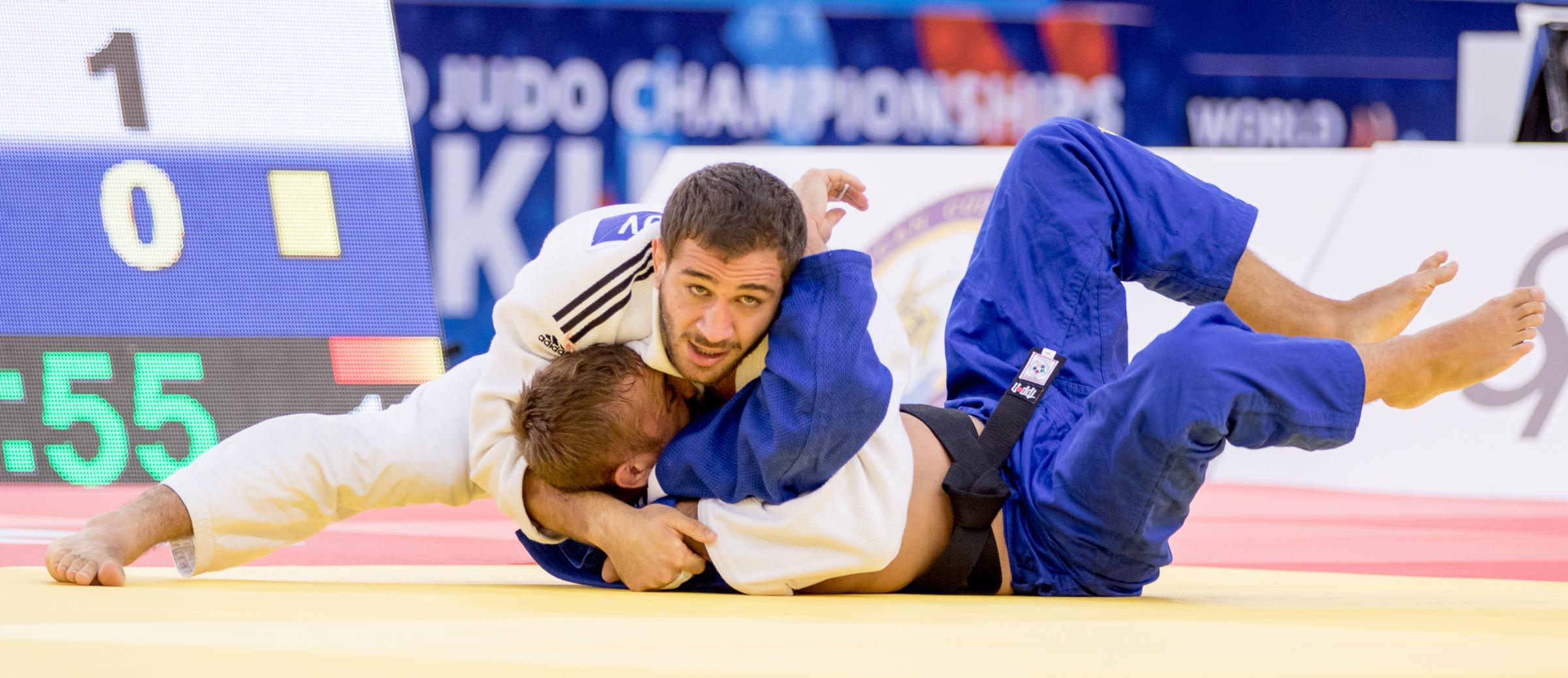 The third was a difficult round for the 21 year old, going in to golden score, but with the crowd behind him he scored, executing te waza follwing a seoi nage attempt.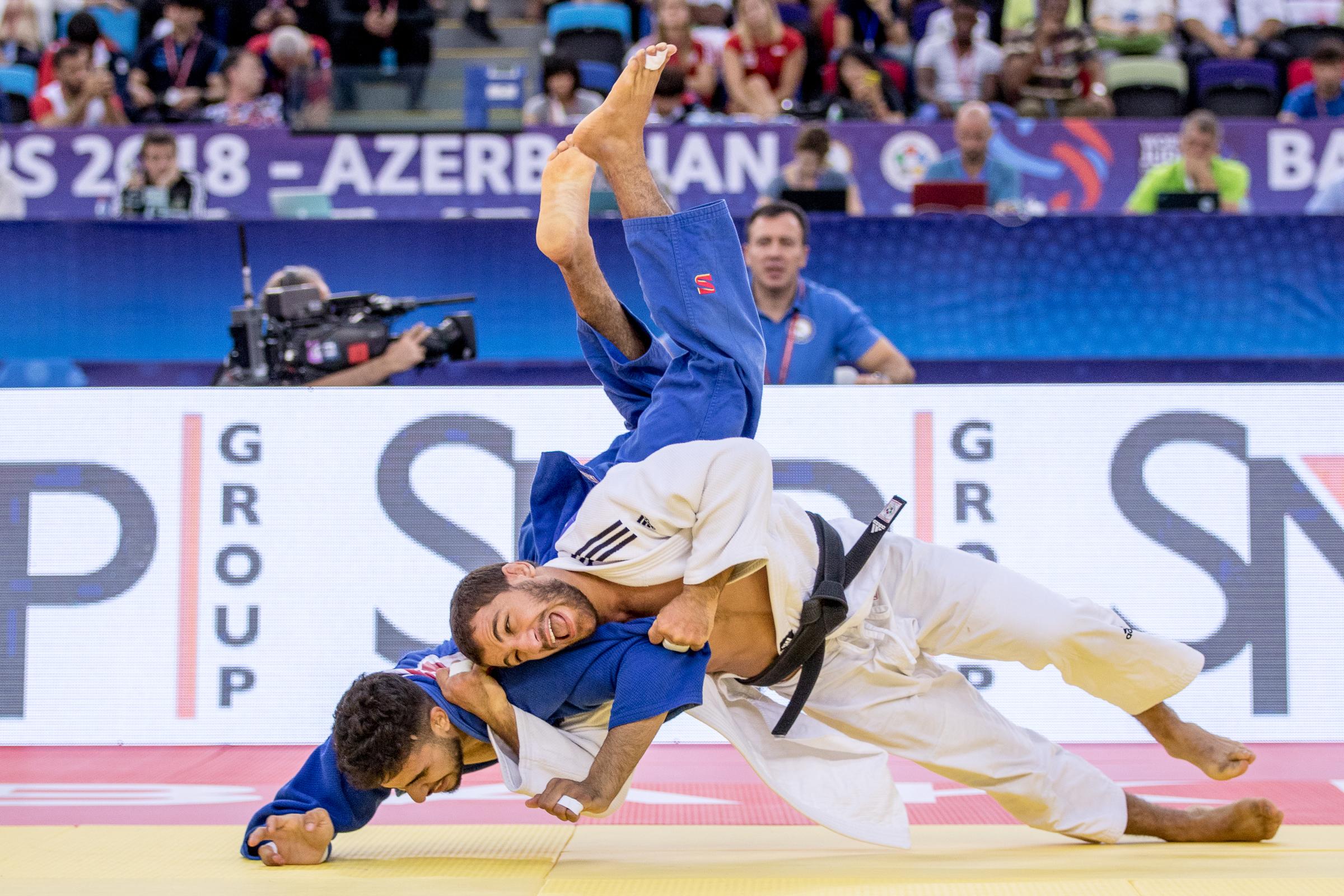 The quarter final was against GANBAATAR Odbayar (MGL), World Bronze medallist last year in Budapest. With only a minute left on the clock, the Azeri realised he needed to step up the pace. HEYDAROV executed a powerful drop seoi nage, pulling his opponent to the ground and driving to secure a waza ari. The crowd instantly began chanting his name till the clock ran out, he was in to the semi final against current World Champion, HASHIMOTO Soichi (JPN).
Despite a gruelling five and a half minute battle, the Japanese athlete ended the contest with a reverse seoi nage. When asking HEYDAROV how he came back from the defeat to fight for bronze, he told us,
"First of all I did not want to fight for bronze, I think 'I should not repeat my mistake from last year [World Championships 2017]. I competed for nothing but I said to myself, today I must win."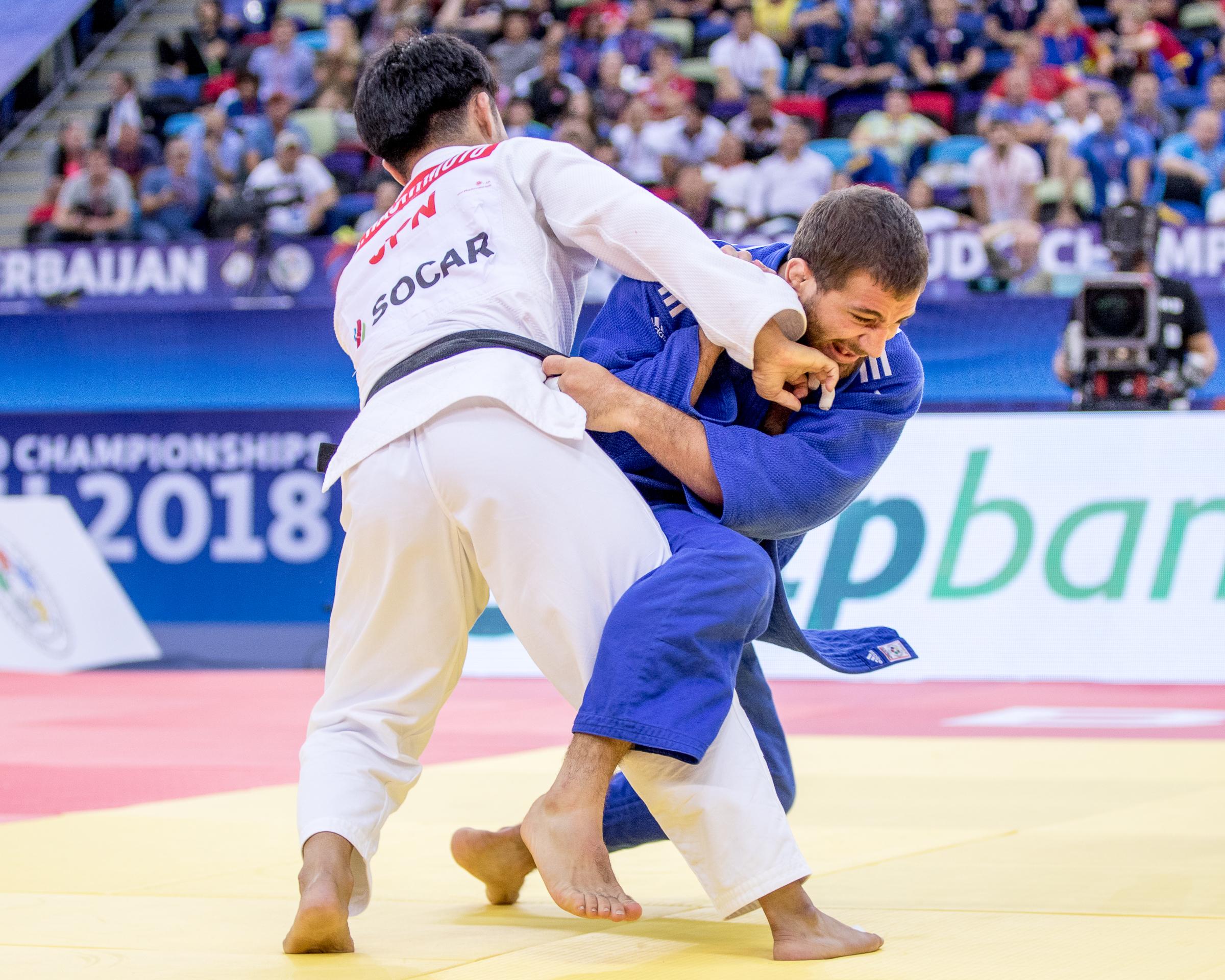 The bronze medal fight was against Mongolian TSEND-OCHIR, who had previously defeated HEYDAROV's team mate ORUJOV. Though another difficult contest for the young athlete, he secured a waza ari for a win and a bronze medal. The arena erupted with his success as he celebrated on the tatami, the first medal for the home nation, in front of an ecstatic crowd and the President of Azerbaijan.
---
-57 kg category
The -57kg World bronze medallist in Budapest, Nekoda SMYTHE-DAVIS of Great Britain, went a step further today and claimed the silver medal. Next step will be the gold!
SMYTHE-DAVIS (GBR) seemed unstoppable today, securing a win with a punishing harai goshi against Kaja KAJZER (SLO) in the second round. The British athlete showed her high level of conditioning in her third round contest against the difficult LIEN Chen-Ling (TPE), both holding on to two penalties, 2.45 in to golden score. LIEN picked up a third penalty sending SMYTHE-DAVIS in to the quarter final with up and coming star, Theresa STOLL (GER). The German athlete had an incredible day until this quarter final contest, defeating Miriam ROPER (PAN) in the process. Two big attacks and two waza ari scores later, STOLL found herself in the repechage and the British athlete in the semi final against current World Champion DORJSUREN Sumiya (MGL).
SMYTHE-DAVIS had been unable to defeat the Mongolian on their previous encounters, however, she has come a long way since their last exchange in 2016. The athlete's conditioning was tested again, over two minutes into golden score, neither athlete had a score up on the board.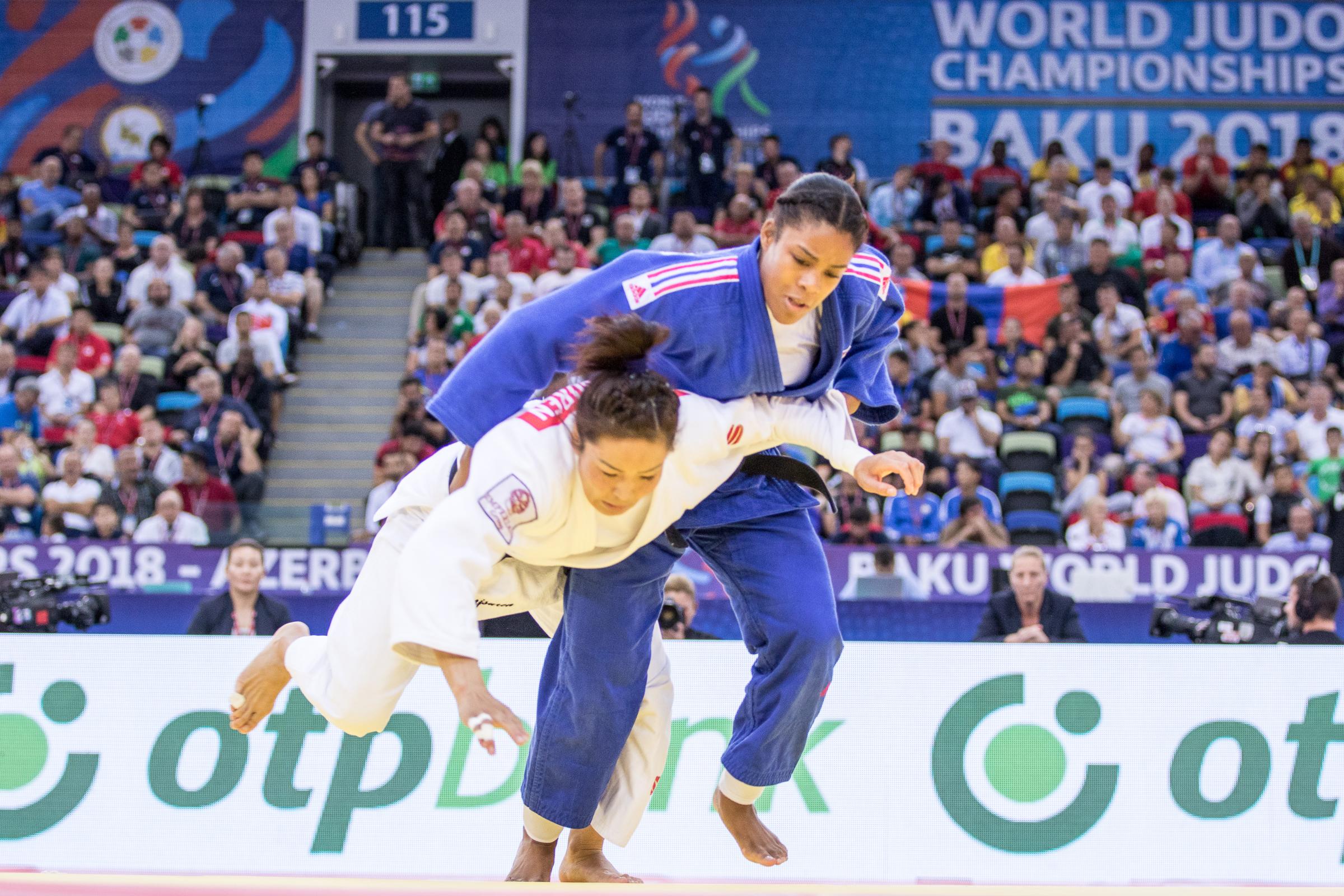 A weak drop seoi nage became DORJSUREN's biggest mistake as SMYTHE-DAVIS took advantage and put the Mongolian straight in to shime waza, the first attempt slightly off but on the second roll she was able to apply the technique and win the contest. Better known for her big techniques, we asked about this exchange,
"When you get it right on the day you feel it, you don't think it and I felt my judo was like that today, felt and not thought. A strangle is not something I particularly practice, I wouldn't say ne waza is my strong point […] the opportunity was there and I took it."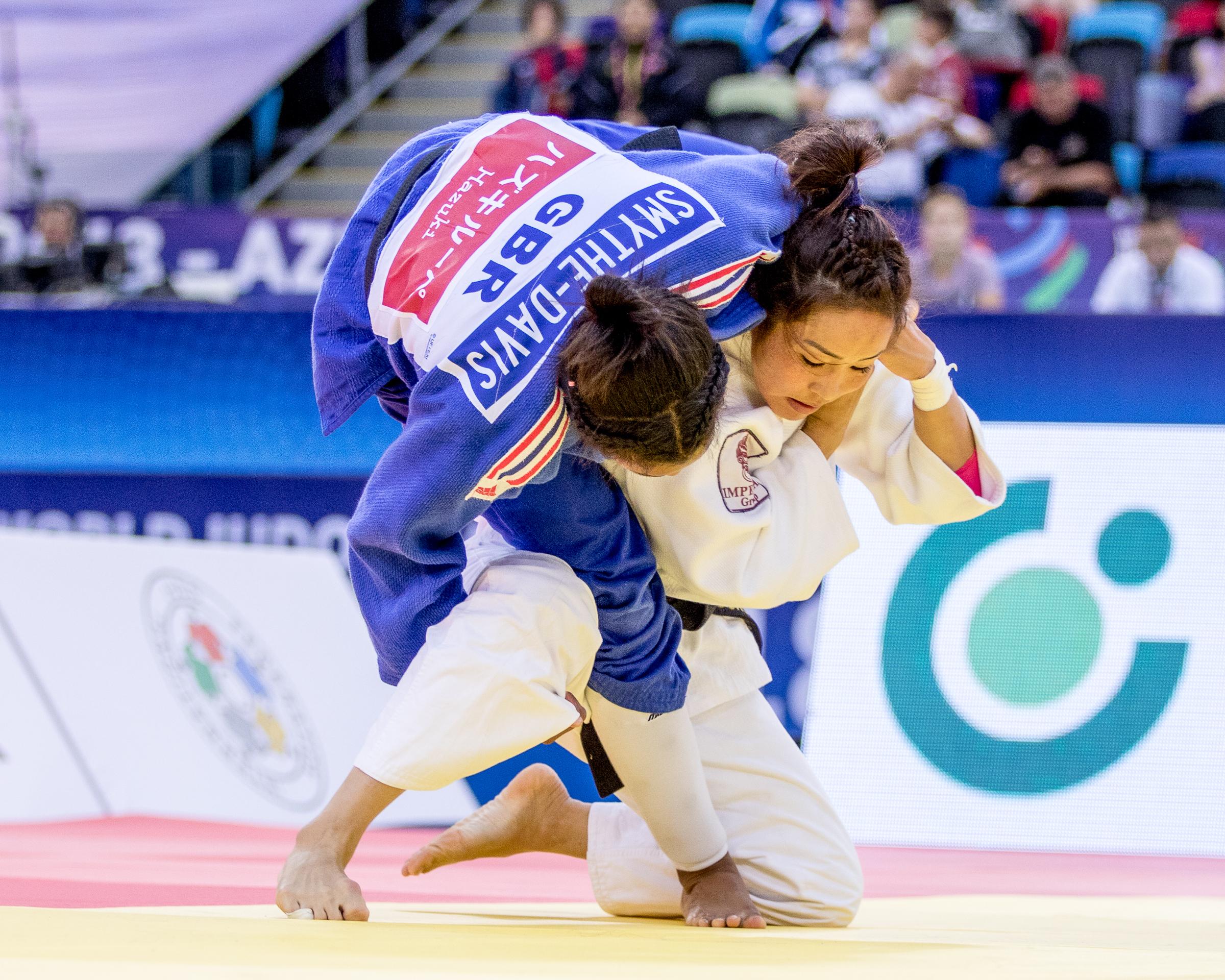 Nekoda SMYTHE-DAVIS had already improved on her performance last year, showing her progression, and entered the final against 2017 World silver medallist, YOSHIDA Tsukasa (JPN). The British competitor spoke of the final afterwards and admitted she had areas to improve on to match the level of her opponent.
"I feel like I didn't get stuck in, like she was a few steps ahead in every exchange and I think for me that's the level I want to be at […] and hopefully next year come back turn that bronze and silver in to gold."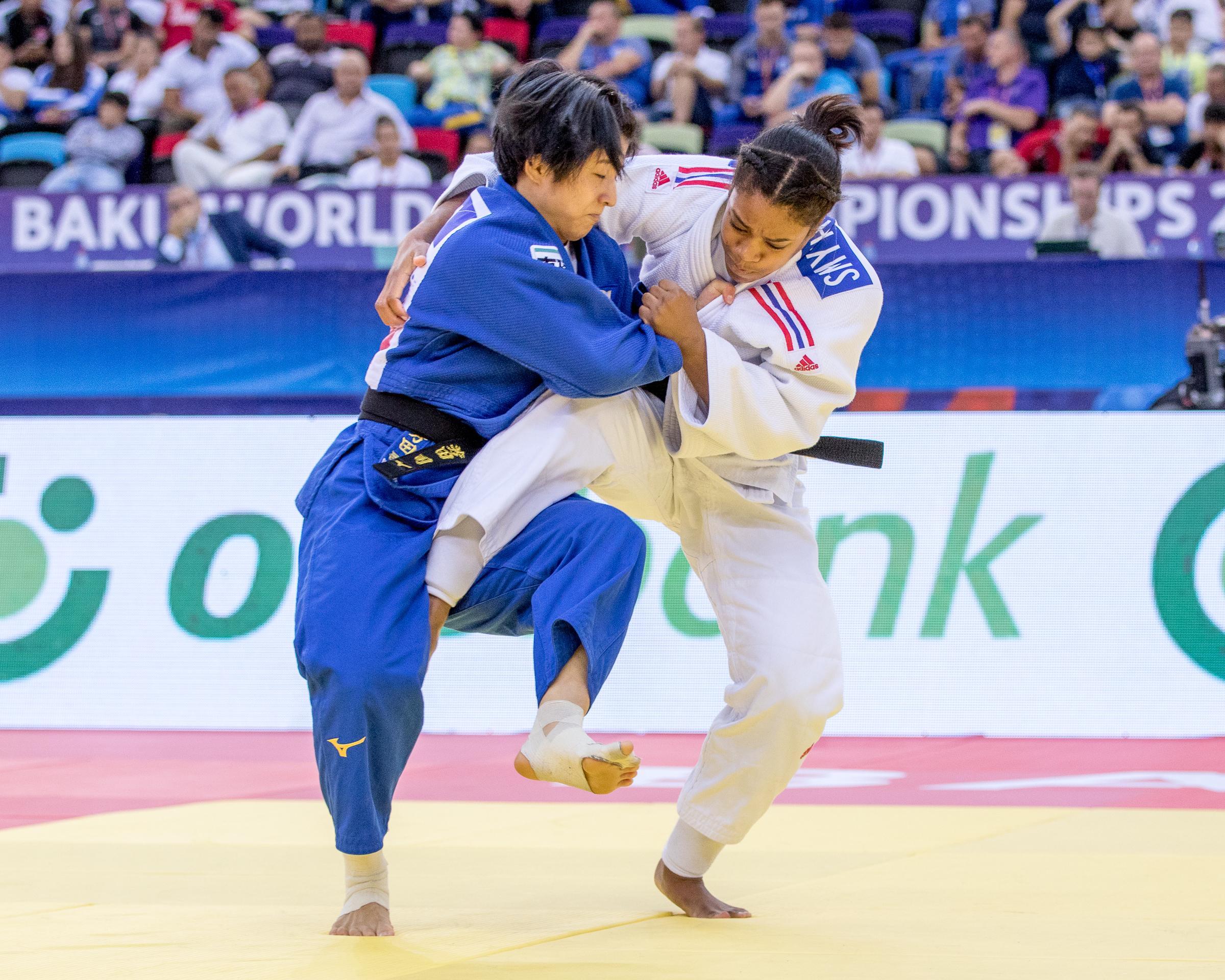 ---
Podium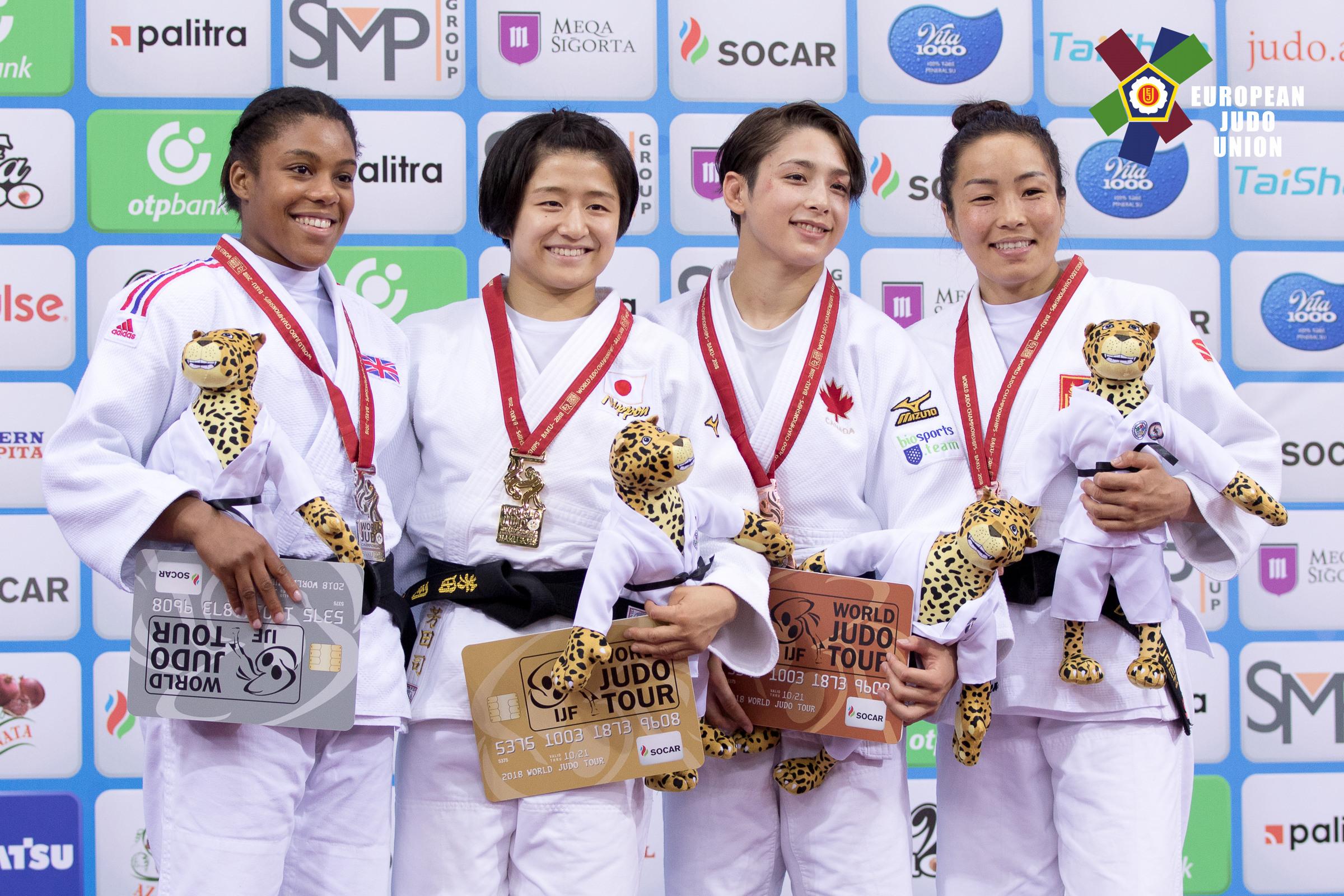 Podium -57 kg 1. YOSHIDA, Tsukasa (JPN) 2. SMYTHE-DAVIS, Nekoda (GBR) 3. DEGUCHI, Christa (CAN) 3. DORJSUREN, Sumiya (MGL) – Rafal Burza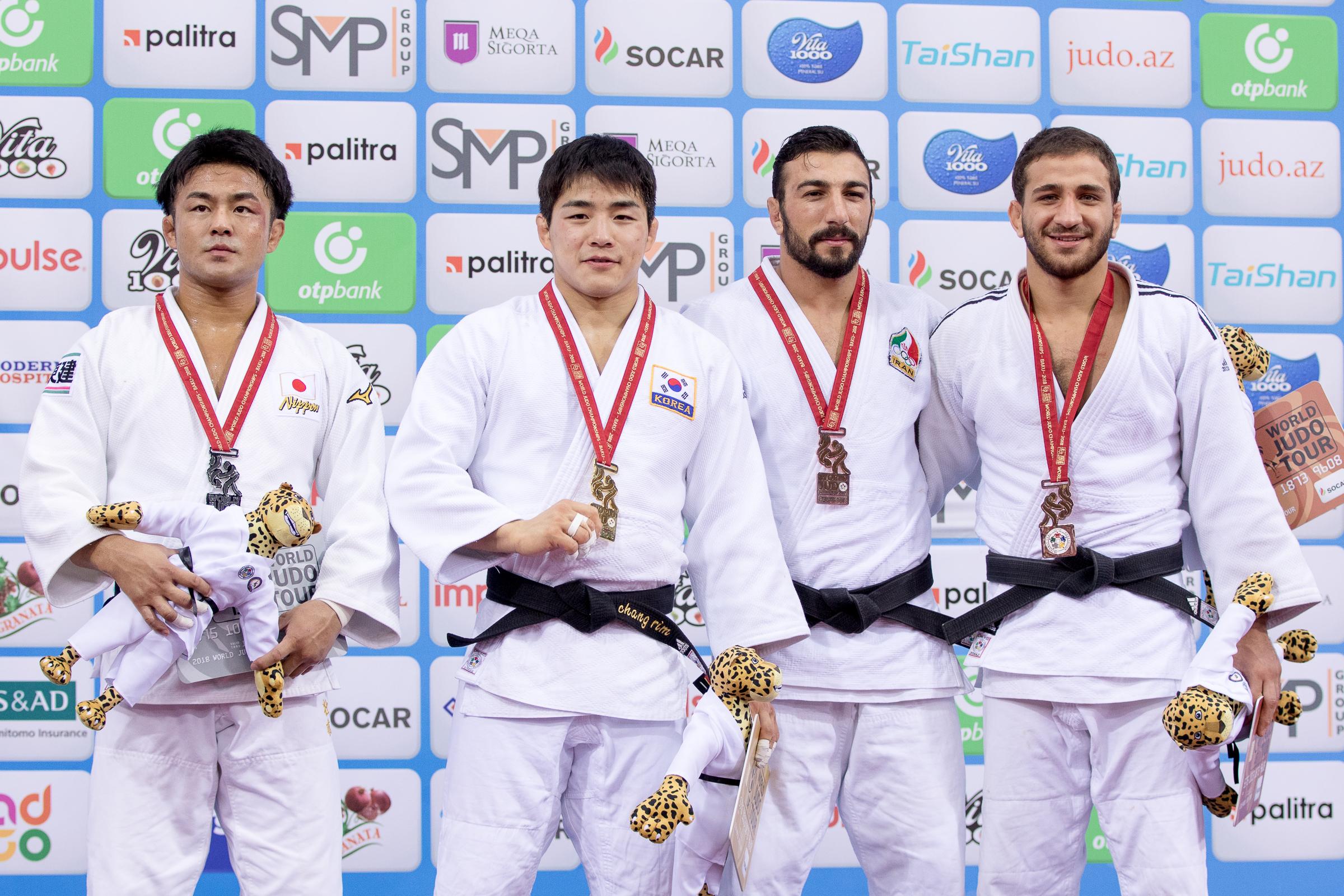 Podium -73 kg 1. AN, Changrim (KOR) 2. HASHIMOTO, Soichi (JPN) 3. MOHAMMADI, Mohammad (IRI) 3. HEYDAROV, Hidayat (AZE) – Rafal Burza
Judoka
---