The second day of the Abu Dhabi Grand Slam saw reigning European champion Sagi MUKI (ISR) take the gold medal in the -81kg category. It was his second IJF Grand Slam gold medal (his first at -81kg). But what made this win extra special was Israel's recognition by the UAE hosts as they were accorded full participation rights. Attending the event was Israeli Culture and Sports Minister Miri Regev who was given the honour of presenting the medals for the -81kg category. She was moved to tears as she heard her national anthem played as Muki stood atop the top spot in what is being widely described as another milestone towards rapprochement with the Arab world.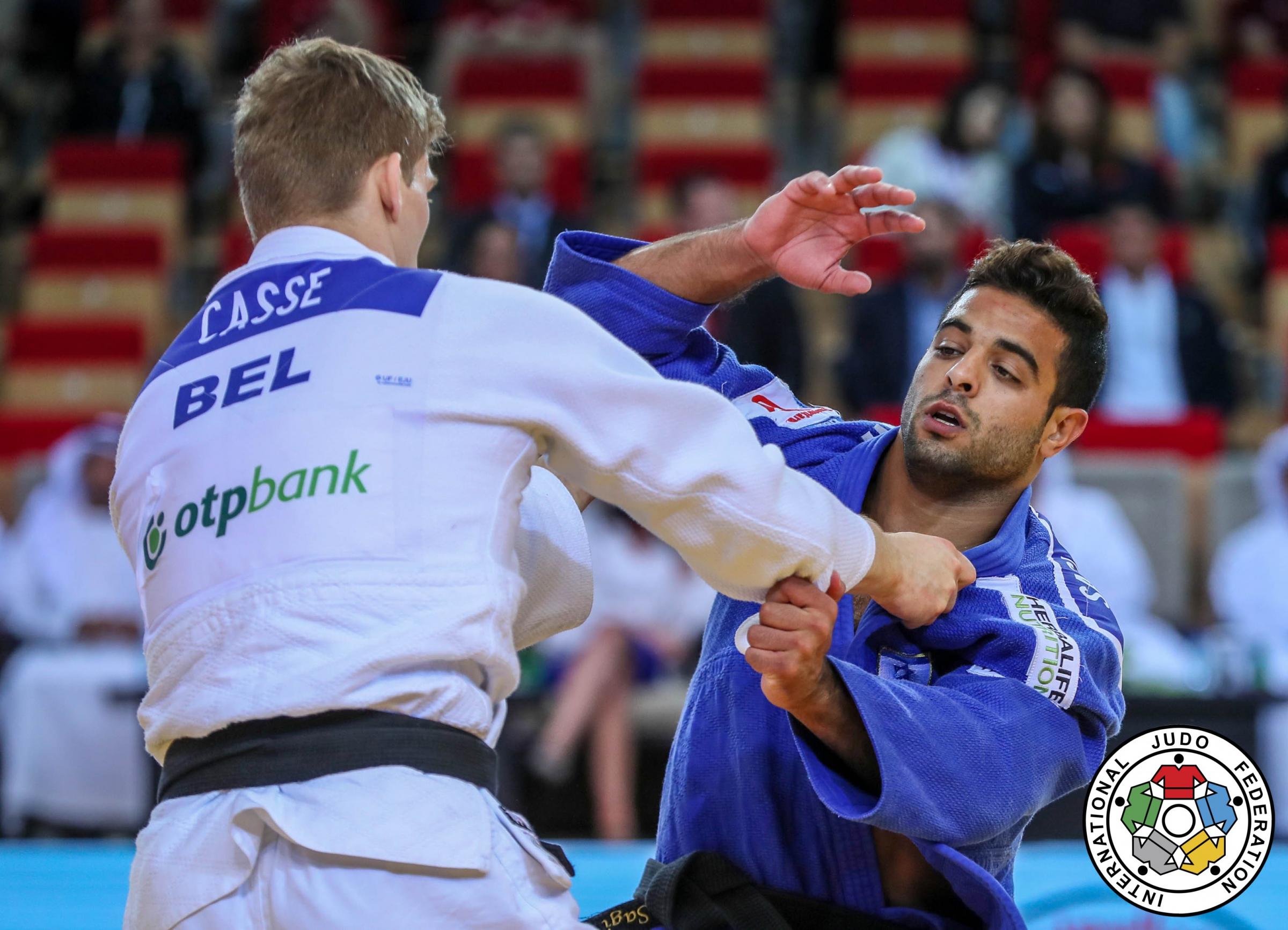 The day began with Muki enjoying a first round bye, after which he faced Srdjan MRVALJEVIC (MNE) in round two. Muki settled quickly and after a failed de ashi barai attack by Mrvaljevic, Muki countered with o sot gari for ippon. This brought about a round three contest against Arthur WRIGHT (USA). Next to fall were Dida KHAMZA (KAZ) followed by Frank DE WIT (NED). The final put Muki up against Matthias CASSE (BEL). After a close contest that went into golden score it was Muki who scored waza ari quickly with eri seoi nage to take the gold medal.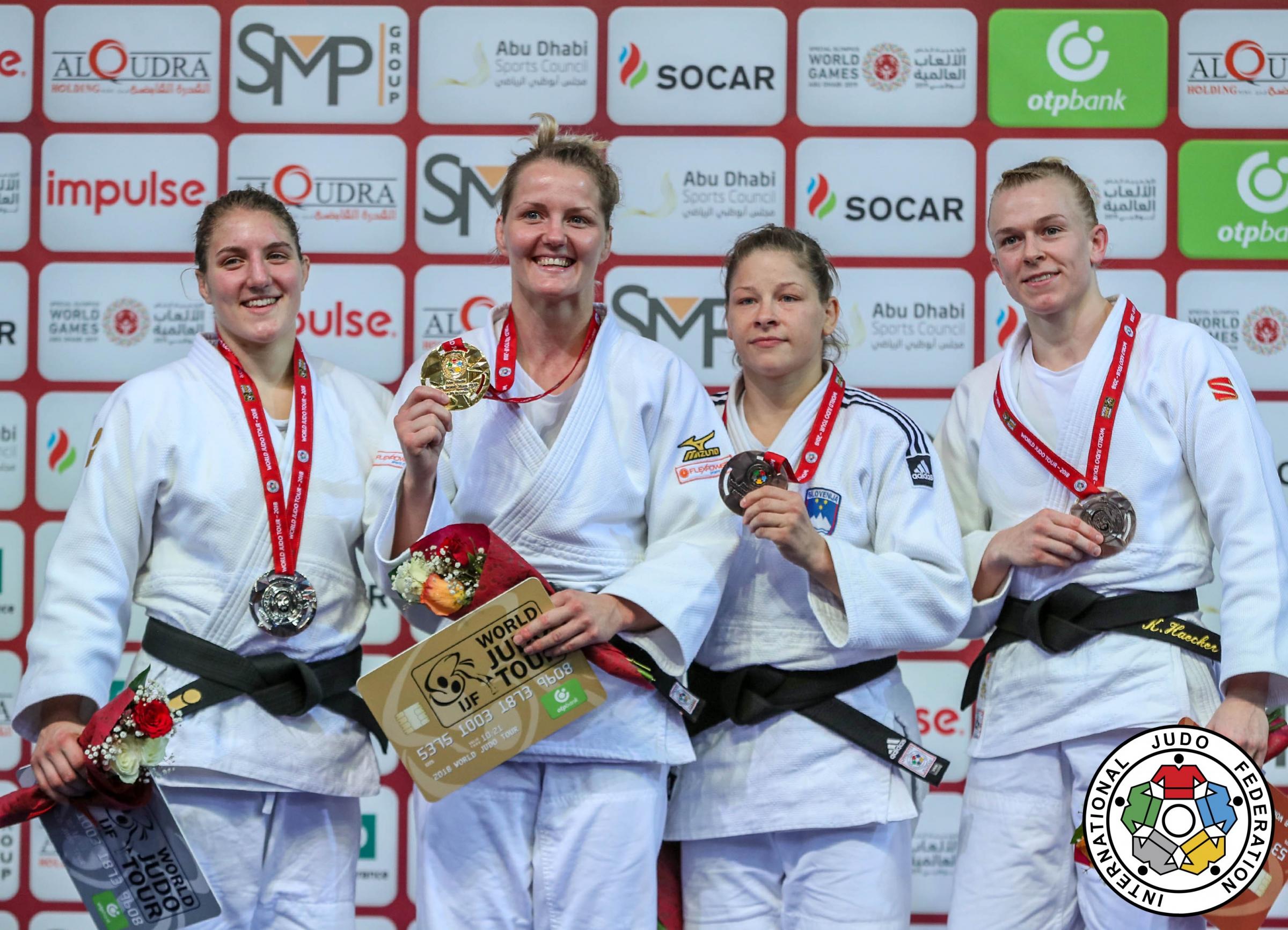 Podium -63 kg 1. FRANSSEN, Juul (NED) 2. LESKI, Andreja (SLO) 3. TRSTENJAK, Tina (SLO) 3. HAECKER, Katharina (AUS)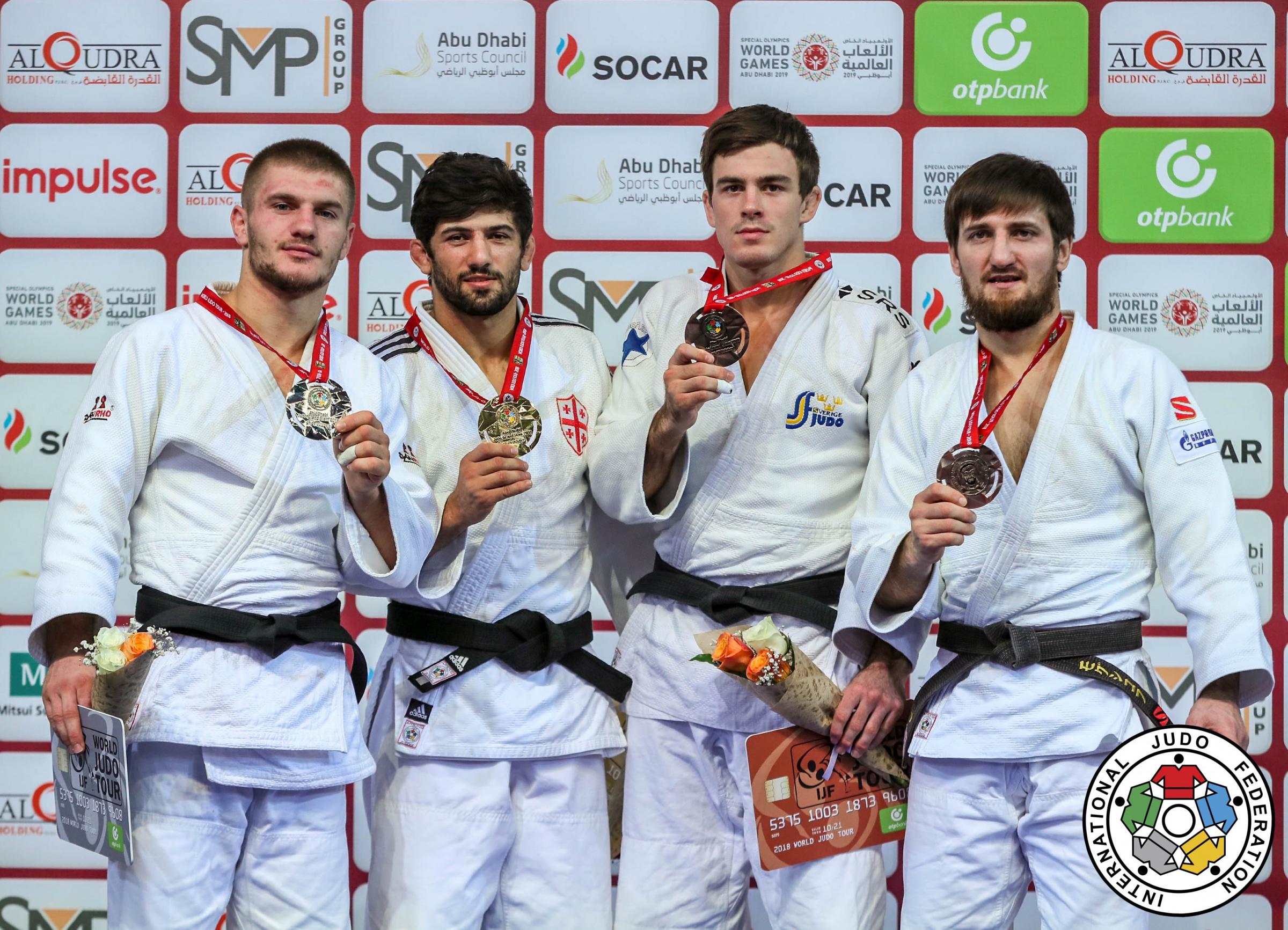 Podium -73 kg 1. SHAVDATUASHVILI, Lasha (GEO) 2. GJAKOVA, Akil (KOS) 3. MACIAS, Tommy (SWE) 3. MOGUSHKOV, Musa (RUS)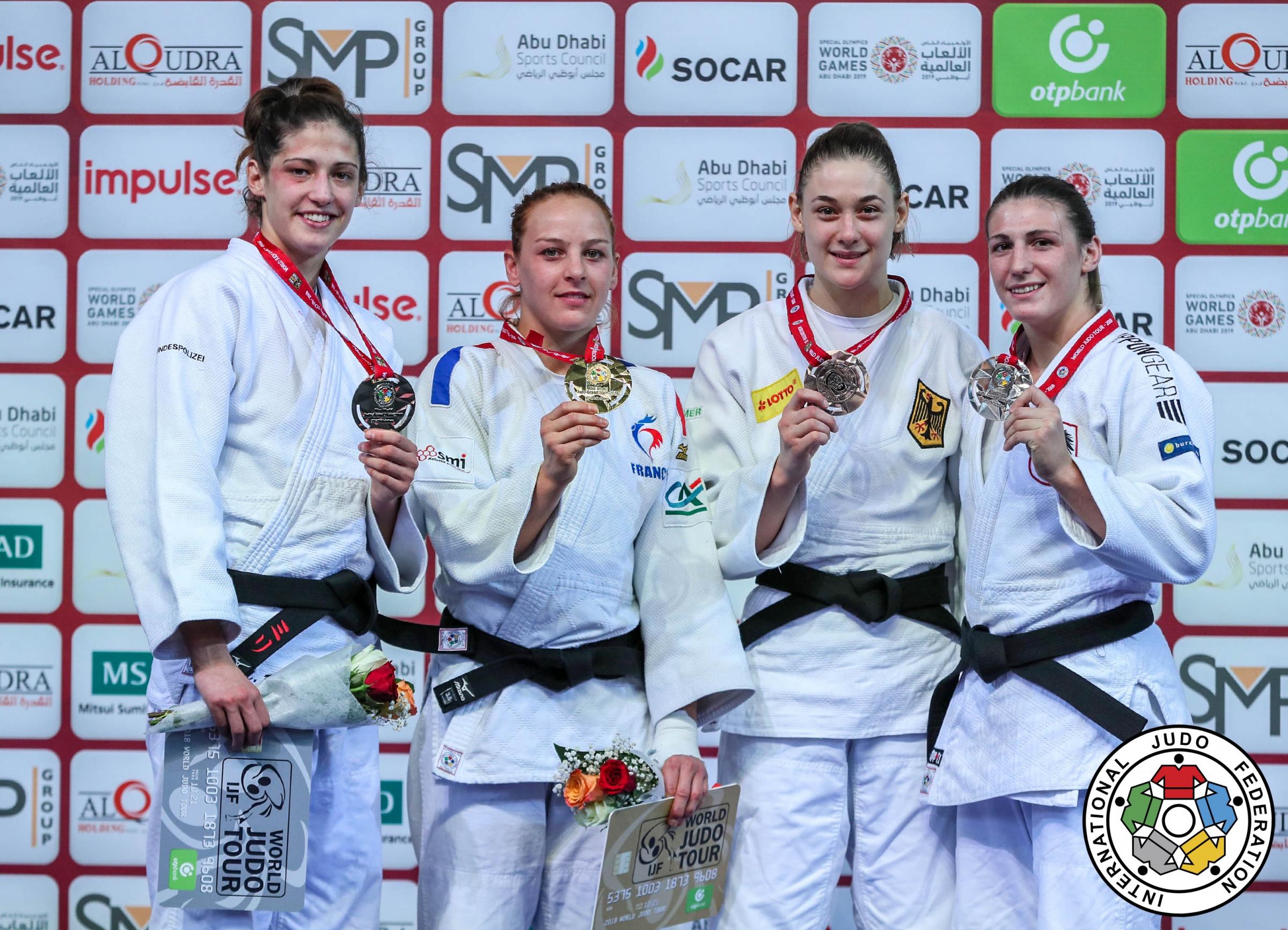 Podium -70 kg 1. PINOT, Margaux (FRA) 2. BUTKEREIT, Miriam (GER) 3. SCOCCIMARRO, Giovanna (GER) 3. POLLERES, Michaela (AUT)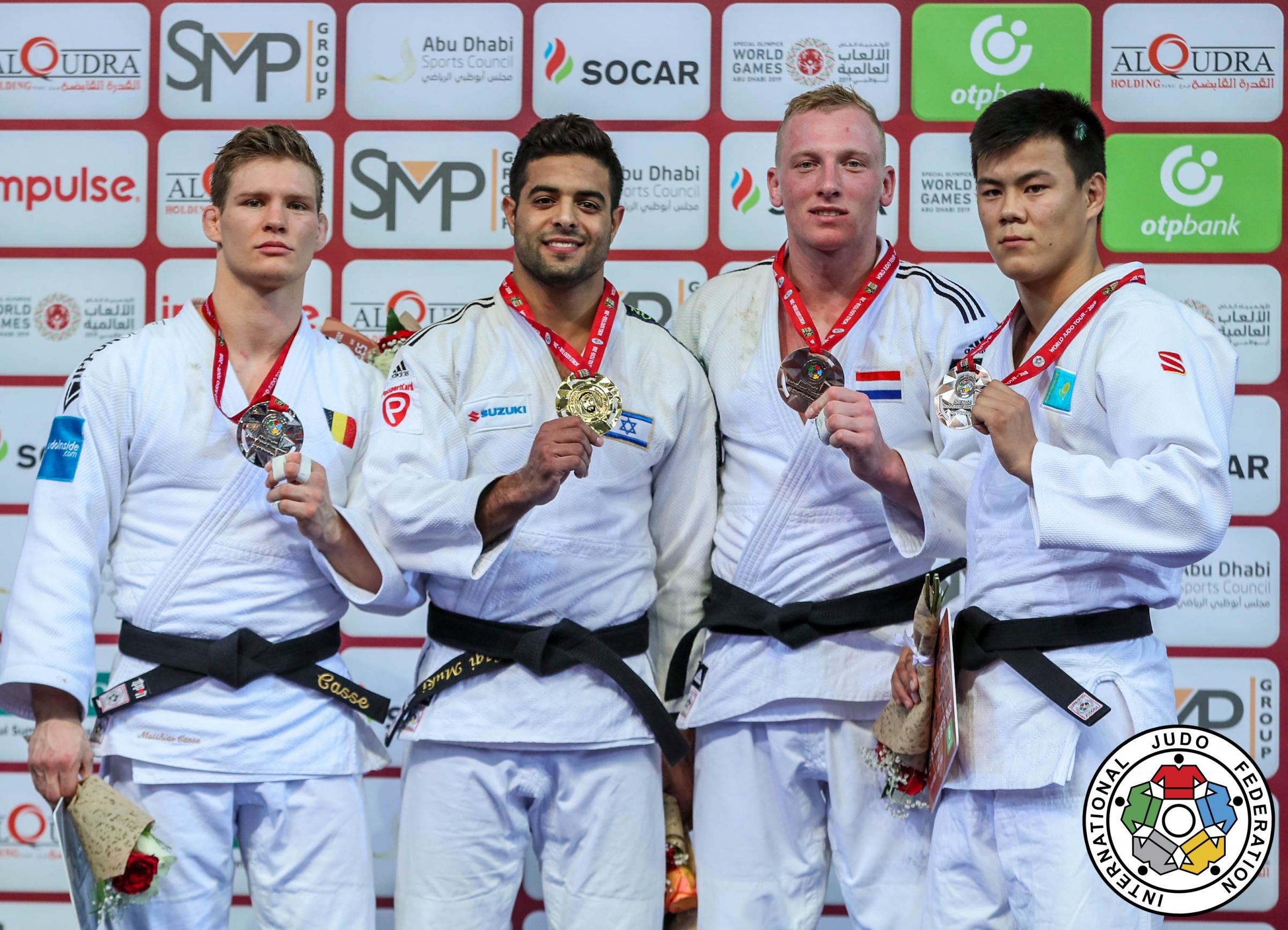 Podium -81 kg 1. MUKI, Sagi (ISR) 2. CASSE, Matthias (BEL) 3. DE WIT, Frank (NED) 3. KHAMZA, Didar (KAZ)
When asked about the importance of his win in Abu Dhabi Muki said,
"I'm very proud to be able to represent my country here in Abu Dhabi. It is special to be part of the first Israeli team to raise our flag here. Of course I hope to be able to hear the Hatikvah [referring to Israel's national anthem] and I am proud that I was the one to make it happen."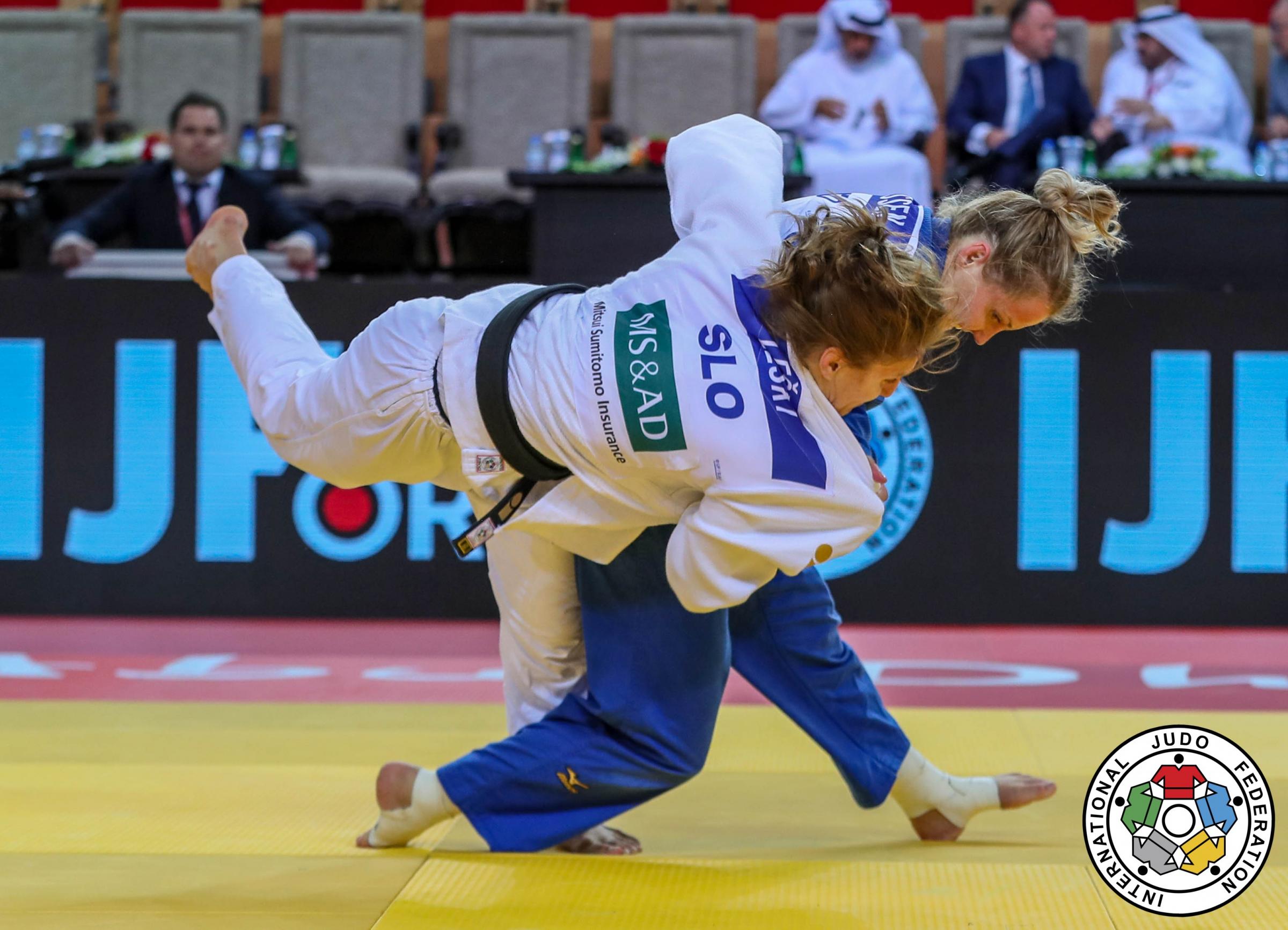 In the -63kg category the gold medal went to Juul FRANSSEN (INED) when she defeated Andrea LESKI (SLO). There was a bronze medal too for Tina TRSTENJAK (SLO).
In the -70kg category there was a first ever grand slam gold medal Margot PINOT (FRA) when she defeated Miriam BUTKEREIT (GER). There were bronze medals too for Giovanna SCOCCIMARRO (GER) and Michaela POLLERES (AUT).
In the final of the -73kg category Lasha SHAVDATUASHVILI (GEO) won the gold medal defeating Akil GJAKOVA (KOS). There bronze medals for Musa MOGUSHKOV (RUS) and Tommy MACIAS (SWE).
In the – 81kg there was a bronze medal for Frank DE WIT (NED).
Judoka
---