It is difficult to think of selection for the world championships as compensation. However, that would appear to be the case for current world champion and world number one in the -70kg category Marie Eve GAHIE (FRA). Until recently the front-runner for selection for France, was a little over a month ago pipped at the post by team mate Margaux PINOT (FRA).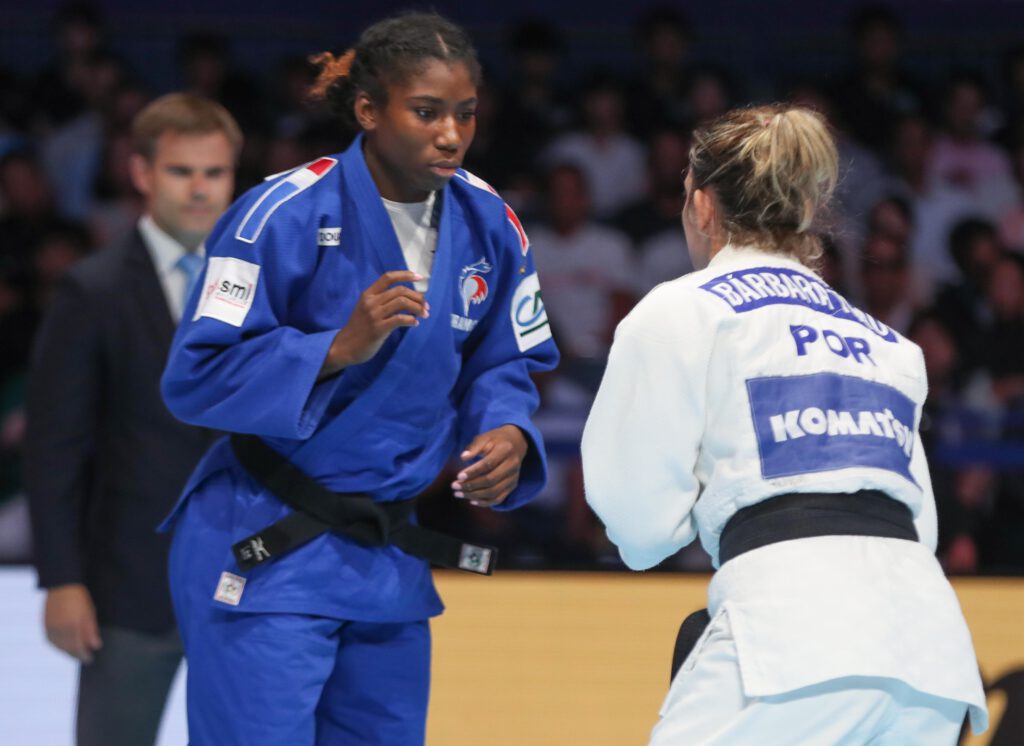 Nevertheless, it is down to Gahie to make the most of the opportunity to retain her world title and, given that she is still only 24-years old, look forward to the future. In a similar fashion number two seed Kim POLLING (NED) needs to put behind her the disappointment at having lost the Olympic spot to team mate and number three seed Sanne VAN DIJK (NED) They could yet meet and Polling will be doubly keen to exact revenge and to improve on her record of having taking only a single bronze medal from her five outings. Number four seed ONO Yoko (JPN) makes up the unfortunate trio of "close, but no Olympic selection," having lost out to double world champion ARAI Chizuru (JPN). Ono does however get a second outing at a senior world championships having won a bronze medal in Baku in 2018. Michaela POLLERES (AUT) five, and Giovanna SCOCCIMARRO (GER) make up the remaining seeds from Europe. Outside of the seeded athletes look perhaps for Gemma HOWELL (GBR), Barbara MATIC (CRO) and Alice BELANDI (ITA).
HUNGARIAN TOTH HOPING FOR BETTER RESULT SECOND TIME AROUND
It is a huge honor for an athlete to get to compete at a world championships in front of their home crowd. To have the opportunity to do so on more than one occasion is unusual indeed. On day five of the upcoming world championships in Budapest, TOTH Krisztian (HUN) will once again experience that privilege when he takes to the tatami as number two seed in the -90kg category. If Toth is able to improve on his fifth place finish in 2017 then the celebrations in Budapest will be epic, and it not as though he lacks the pedigree. Toth was a world silver medallist in Chelyabinsk in 2014, losing in the final to Ilias ILIADIS (GRE), and he has finished 5th on four occasions. However, the quality of the opposition lined up against him here will require a career best performance if the 27-year old Hungarian is to enjoy world championship success. Leading the list of seeds will be 2018 world champion and current world number one Nikoloz SHERAZADISHVILI (ESP). Toth's early four win success streak against the Spaniard has evaporated and he has now lost the last three encounters. Number three seed is Ivan Felipe SILVA MORALES (CUB) whom Toth defeated in the repechage at the 2019 world championships. But things look decidedly more difficult for Toth should he at some stage have to face number four seed Beka GVINIASHVILI (GEO) against whom he has an unenviable 1-7 record.  The number five seed NAGASAWA Kenta (JPN) also poses a serious threat against whom Toth has an 0-5 record. Marcus NYMAN (SWE) is seeded seven against whom Toth has a slightly more healthy record of 5-3. Davlat BOBONOV (UZB) six, and Eduard TRIPPEL (GER) eight, make up the remaining top seeds. Outside of the top seeds look for Kazan Grand Slam gold medal winner MURAO Sanshiro (JPN) making his senior world championship debut.
Judoka
Author: Sheldon Franco Rooks
---