Over the weekend during the Malaga European Open, referees were also put to the test for their IJF A license.
It was a great success for those present, and two popular European faces, Kerstin Doetsch and Stefan Newbury were among those who were presented.
Stefan, like many in the judo community started young in 1994 with his three brothers as his uncle was also a judoka, similarly, Kerstin also wanted to follow her brother and started as a 7 year old in her local club TB Andernach and was hooked ever since. Speaking with both, they were happy to tell us how they reached this point in their career.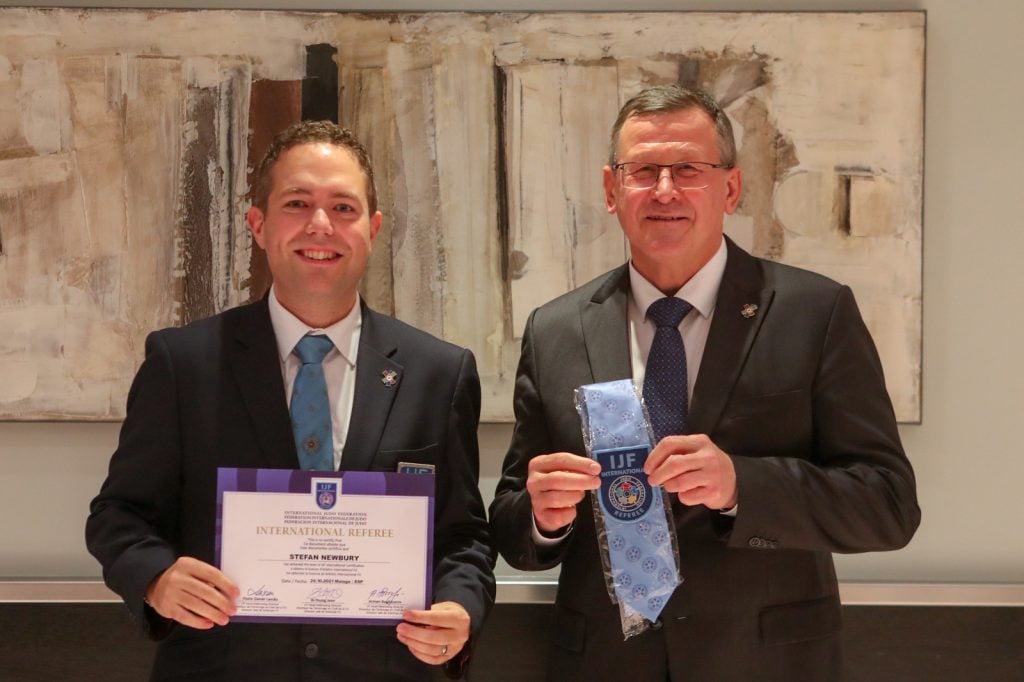 What was your competitive background?
Stefan: Competitive as a beginner, but I wasn't very good at shiai which is something that I'm not ashamed to admit. I competed at local and regional competitions but stopped due to an injury as a teenager. My younger brother carried on competing and so I would go to watch him with other members of the family. We moved to Samurai Judo Club in Kidderminster, near Birmingham, which has always hosted competitions. I started officiating as a timekeeper in 1999 (when the World Championships were hosted in Birmingham – there was a lot of hype in the judo world at this time) initially because it was the best seat to watch the judo from! I was encouraged to start refereeing in 2002, aged 15, as part of a scheme established to encourage junior referees in Great Britain.
Kerstin: I was member of the youth and junior national team in Germany and won at this age different medals on national and international tournaments.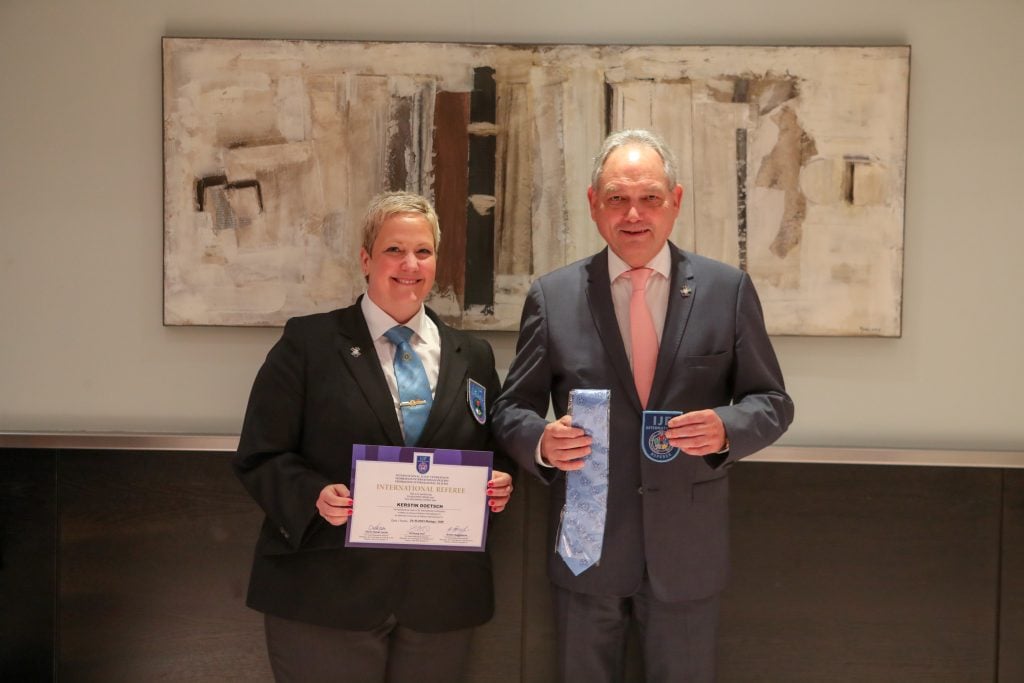 What made you decide on refereeing?
Stefan: Every volunteer at our club has a part to play in hosting the competitions, and most people are encouraged to try a lot of different things. I enjoyed refereeing and discovered I had a knack for it. I was encouraged to progress by other referees from my club: Rod Lane, Carol Leverton and Keith Merrick.
Kerstin: To be honest, many injuries forced me to find something outside the competitor's side to stay in the judo family. First, I just wanted to do something during the rehabs, so, I earned some coaching-licenses and again I followed my older brother, who started refereeing earlier. After another injury, I stopped fighting and I did my national A license and really enjoyed being part of the referee family. I recognised that I was still on the mat and loved to improve and get better and better. Unlike coaching I wanted to be responsible for myself and bring a better performance on the mat through my own development and more experiences.
When you first began did you have a goal of becoming an IJF referee or was it more as a hobby? If the latter, what changed?
Stefan: I've always been ambitious, and as with anything, I always want to go as far as my ability will allow. Two British IJF referees, Ray Topple and Peter Crumpton, ran one of the first courses I attended in Nottingham; it was so inspirational to hear their stories from events around the world. That would be when my international ambitions were fostered.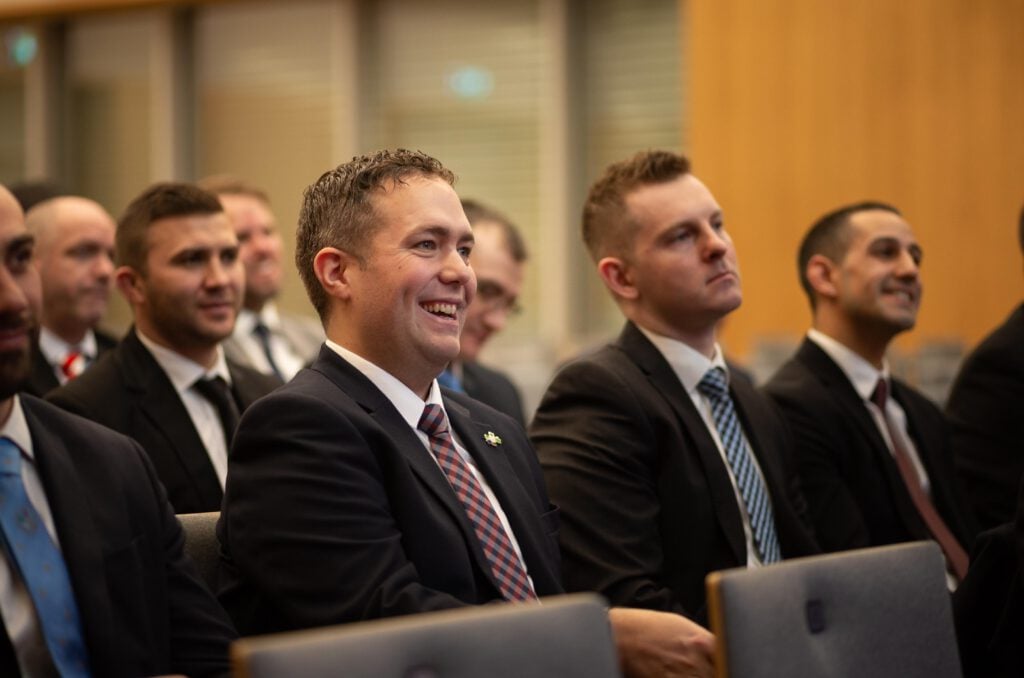 Kerstin: When I really started refereeing – and not only as a replacement for competing – it became my new passion. And of course, I wanted to get better and get selected for the next license. In Germany there are so many good referees that it is not so easy to become a continental referee. You really must battle and do your best, get as many events as you can and stay in touch with the new developments of judo. But to be honest, right from the beginning of this journey, it was my goal to be an IJF Referee, and like always in my life, I wanted to follow my brother.
What kind of sacrifices have you made to come to this point?
Stefan: The only 'sacrifices' I've made for refereeing are my time and money, but I wouldn't describe them as sacrifices per se, more 'investments'. It's my passion. I really enjoy refereeing, I've made so many friends for life through judo and refereeing, from my local area to around the world. There are many other hobbies that cost a lot more time and money than judo refereeing does. I volunteer a lot of my time at events, and internationally I have a personal programme which I fund myself. I have also had a lot of financial support from my club, my friends and family, the British Judo Association and the British Judo Trust, whose support I really appreciate. Judo refereeing, especially internationally with the effects of COVID-19, requires quite a large financial investment, so I appreciate the support even more given that they could have chosen to spend their money on other projects.
Kerstin: I would not say that it was sacrifices till now. It is my passion and Judo is more than just sport. Of course, I am most of the weekends on the tatami. Lot of parties, birthdays or other dates were without me. My family and friends maybe missed me, but they really understand that this is what I am really enjoying, and they support me in my goals. But on the other hand, I have so many good friends all over the world, had so many fantastic moments, that I would say, I became more than I missed.
How were you feeling over the weekend during the examination?
Stefan: I was feeling excited and nervous: excited to meet new friends from other continents, and nervous because in any examination there are always two possible outcomes. I feel it's important to be a little nervous, too, as it shows how much it means to me; it pushes me to perform better, similar to the way it would for a fighter before a big competition in their career. There was also a hint of sadness to the examination; I passed my continental examination in Italy in 2016 with a referee from Lithuania, Žygimantas Rybinas, who died aged 30 earlier in 2021. He was a great friend and a great referee who would almost certainly have been at this examination. I haven't been able to referee much internationally due to COVID-19 and so at this event, it hit me how much I miss him.
Andreas Bernhofer, Žygimantas Rybinas and Stefan.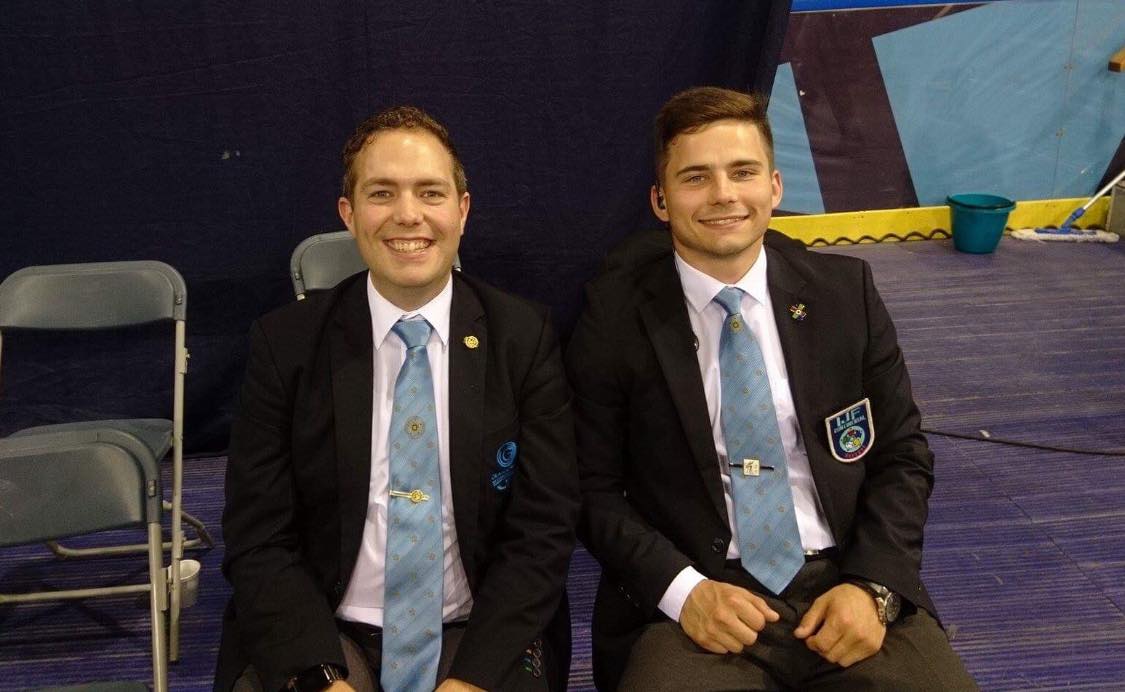 Stefan and Žygimantas Rybinas.
Kerstin: It was a great feeling to be part of this examination. I worked for it so long and overcame some struggles. I felt in the right place for the right time. I would say I really was prepared for these days. Of course, I was excited. But as I stepped on the mat for the first match, I knew all will be fine and I just enjoyed the two days of refereeing. For the first time, it must be a written test and an interview at an examination. In Germany we're doing at our seminar similar tests so I was in a good mood to handle it well and I was sure to have the knowledge about the rules and about the official language, English. The atmosphere in our candidate group was so friendly and supportive and Florin Daniel Lascau and the whole IJF and EJU Team made us feel comfortable with this special feeling to be at an exam.
What do you find the hardest aspect of refereeing? What is the best part?
Stefan: This is a hard question. I really enjoy refereeing so I try to take the positives even from the difficult aspects of the role. Sometimes keeping high levels of concentration throughout a competition can be challenging. The best aspect is being able to appreciate some top quality judo from the best position in the arena.
Kerstin: I think the hardest aspect is to stay concentrated from the first step on the mat in the morning to the last fight of the day. Our claim is, that all fights must be done on the same level of refereeing and of course the right fighter must be the winner in the end. Even one moment being unconcentrated can destroy hard work a competitor did over the last years. This pressure of responsibility can sometimes be hard but can be a motivation too.

The best part for sure is being part of the judofamily. I enjoy every moment with all the great people I meet all over the world. To learn every event something new and to develop in my own personality.
Kerstin in the European Youth Olympic Festival, Baku.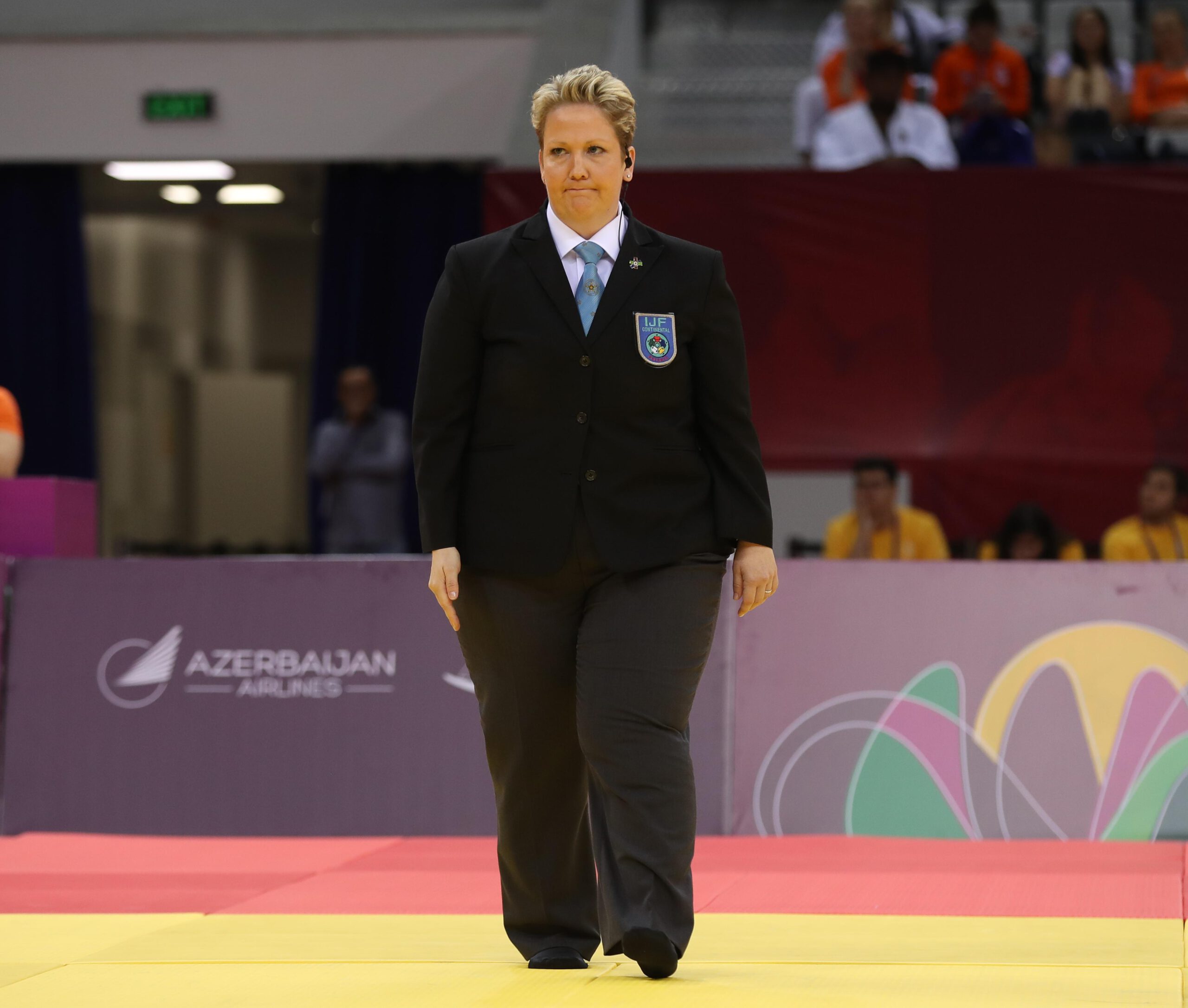 Kerstin in the European Youth Olympic Festival, Baku.
How did it feel to be given your license?
Stefan: It was such a good feeling being awarded my A Licence. It's a culmination of work and progression over a number years, but I'm aware it can also be a gateway to more international competitions. I'm really excited to see what the future has in store! It was a pleasure and an honour to work with some of the best judo experts in the world: Daniel Lascau, Manuel Cortes, Tonino Chyurlia, Franky de Moor and Aleksandr Jatskevitch.
Kerstin: I am happy and proud to be part of this IJF Referee Group. On Sunday evening it was time for us all to celebrate this success. It was a pleasure that we were a group of friends, who passed this Exam. But now I reached my goal, and I am thinking directly about new aims. The new license is just a door opener and I hope to have a chance to go through. It is a dream to referee at the IJF World Tour or get a chance to be part of a World Championship or Olympic Games. I will now go on and work hard for a chance. Refereeing is a never-ending learning process.

On the other hand, I am very grateful and was thinking about people who help me to grow as a referee. There are a lot of people who crossed my way and gave me a lot of input.

All the candidates of the EJU felt sadness too. We were thinking the whole weekend about Zygimantas Rybinas, our friend from Lithuania, who passed away in the beginning of the year. Normally he must have been a part of the class of 21 too and we miss him deeply.
Stefan in the Cadet European Judo Championships 2019.
Is it a weight off your shoulders or do you feel the expectations have increased now?
Stefan: To be honest, it's a bit of both. A great relief, as with being successful in any examination experience in life, but also there is now a different pressure than before. Being at the pinnacle of the grading structure in refereeing means I will be looked up to, and like those who inspired me when I was young, I will do my best to inspire others.
Kerstin: I am very ambitious and perfectionism – so I believe I have the highest expectations by myself.
We are very fortunate to have and to have had some incredible referees in our midst and are able to show them the deserved recognition. A massive congratulations to all the referees who passed the examination; Roland Kaspar (AUT), Bert Hoedemakers (BEL), Sinisa Djukic (BIH), Igor Jankovic (CRO), Robert Horeni (CZE), Klaudia Asmussen (DEN), Melanie Percheron (FRA), Francesco Soldano (ITA), Szymon Herian (POL), Joao Guerra (POR), Marian Halas (ROU), Artem Ilin (RUS), Svetozar Otic (SRB), Gregor Rankel (SLO), Oscar Dominguez Roncero (ESP) and Juan Carlos Gonzales Serrano (ESP).
Author: Thea Cowen
---