The draw for the Abu Dhabi Grand Slam will take place today and will deliver the verdict for the next three days of competition, the last of the IJF tour in 2021.
Kicking off the -60kg category for the European entry is Ramazan ABDULAEV (RUS). Already with three grand slam medals this year, Abdulaev will be looking to finish the year with his fourth and hoping to top the podium on this occasion for his first gold. Representing Great Britain, Samuel HALL has returned and made his mark after a long time away from the major competitions. His performance in Zagreb was simply incredible and he owned his grand prix gold.
There is potential for a French head to head final between Shirine BOUKLI and Melanie LEGOUX CLEMENT as the top two seeds but threatening the French reign is Shira RISHONY (ISR). After an unexpected early exit, no doubt she has fine tuned for the final event of the year. Not only strong in the seeding, but there are younger athletes who have medalled in the junior continental and world events who are coming up including Assunta SCUSSO (ITA).
After an unlucky streak, Denis VIERU (MDA) was back at it in the recent Baku Grand Slam, in the explosive style we all know and love, delivering a silver medal to his collection. There will be a stiff competition for him once again but from a younger crowd, both from his own team and Romania. Lucian BORS DUMITRESCU (ROU) took the U23 European gold medal in Budapest this month and joining him in the final was Radu IZVOREANU (MDA). It was an incredibly close contest and will be interesting to see if we get a rematch in Abu Dhabi.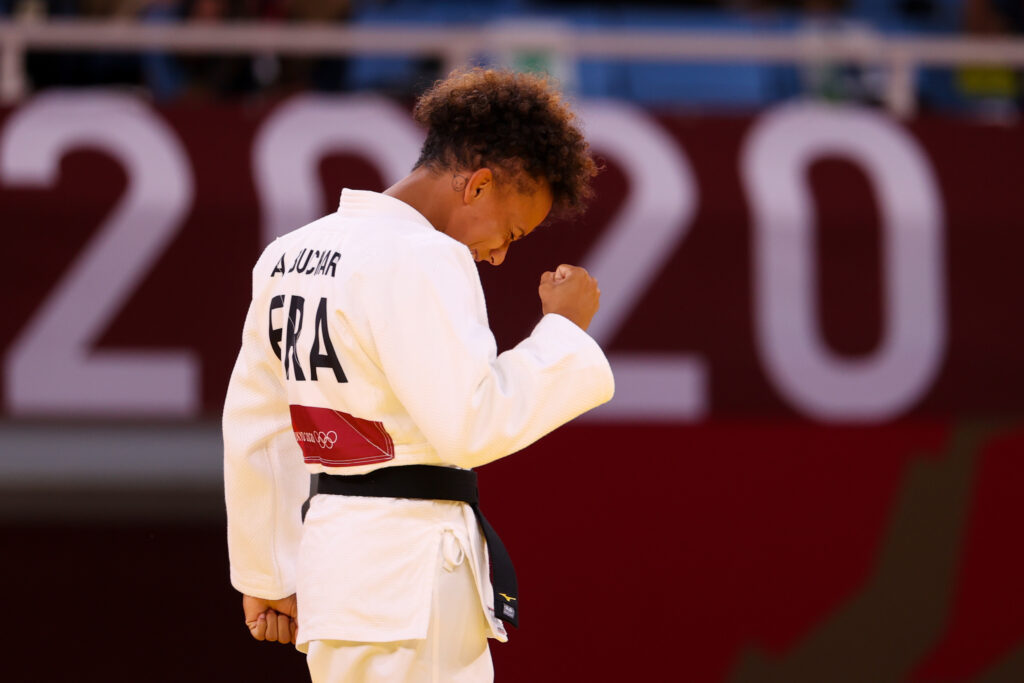 The top three names for the -52kg category are Olympic finalist, Amandine BUCHARD (FRA). She truly had the performance of her life and we can't wait to see her back in fighting form, as she is challenged by Great Britains Chelsie GILES who can also hail 2021 as a special year given her Olympic bronze. Attempting to thwart the chances the former pair, Gefen PRIMO (ISR) is on the rise. She most recently took the greatly desired Paris grand slam gold and shows no sign of slowing down.
Lasha SHAVDATUASHVILI had already entered the Georgian history books with his hat-trick of major titles, but in true style, he went to Tokyo and took yet another Olympic medal. After a well deserved break from the tour, he is seeing out the year with the IJF's final event prior to heading in to a new cycle. Another athlete we look forward to seeing again is Victor STERPU (MDA). Though we saw him recently in Baku, it was a brief experience following a shockingly quick exit. This is unlike the strong Moldovan however you couldn't argue with the beautiful technique which caught him completely off guard. This will be his chance to rectify that small error.
Israel truly have a superstar women's team in Abu Dhabi, not only is the number one seed Timna NELSON LEVY but she is accompanied by the young inescapable talent of Gefen's younger sister, Kerem. She has dominated in the cadet and junior major championships, and will now finish the year alongside the top athletes in the world. Similarly, Faiza MOKDAR (FRA) is also in this division, a great hopeful for the French team.
In the -81kg category, current world champion Matthias CASSE (BEL) certainly has his work cut out for him with a strong Russian force chasing him down as the number one seed. Alan KHUBETSOV and Aslan LAPPINAGOV will be joining Casse in the seeding positions. The -90kg is lacking any European entries in the seeding so it will be a challenge for the continent rivalling the top athletes, however there are two transitioning athletes in with a fighting chance of getting on that podium. Both have taken a silver medal in the U23 European championships; Mansur LORSANOV (RUS) and Jamal PETGRAVE (GBR).
Recently we saw 2016 Olympic champion and 2021 Olympic silver medallist, Tina TRSTENJAK in the coaching chair but now the focus moves to her greatly talented team mate, Andreja LESKI (SLO). She was always on the heels of her team mate and now it is her chance to shine, already leading the category with major achievements of her own. She will be joined by yet another strong Dutch athlete, Sanne VERMEER. She joined Leski on the world championship stage in Budapest this year and can also boast European, masters and grand slam medals so the expectations for her are high.
Germany are also set to make a stunning return with Giovanna SCOCCIMARRO at the helm of the -70kg category. She had a tremendous performance in Tokyo and was challenged by the best of the category, finishing in the final block. She will however take on Marie Eve GAHIE (FRA). It can be said that the qualification period for Tokyo was difficult for the 2019 world champion as she was rivalled by fellow Frenchwoman, Margaux PINOT who eventually was the chosen one for the Olympic Games. It is now all in the past and a new cycle will soon be upon us, as is her journey renewed.
There is a stronger European line up in the -100kg category with double European champion, including a current title, Toma NIKIFOROV (BEL) as well as Arman ADAMIAN (RUS) who is stepping in off the back of a Paris Grand Slam gold, making it look relatively easy. With many of our younger competitors entering the tour, it could be a great event for those looking ahead for the next cycle including the current U23 European champion, Valeriy ENDOVITSKIY (RUS). He will be joined by two of the Zagreb grand prix medallists, Vadut SIMIONESCU (ROU) and Martii PUUMALAINEN (FIN).
Aleksandra BABINTSEVA (RUS) will be keen to get back on the tatami and continue her winning streak following an explosive performance in Paris, a nice end to 2021. Alongside her is Lanir INBAR (ISR) who has also fought her way to the podium on multiple occasions in grand slams this year but who will be the victor of the -78kg category this week? Yet another Israeli hopeful is Raz HERSHKO. She has been on top form picking up two grand slam golds in Paris and Antalya and seems set for glory yet again but needs to compete against the younger contenders, first a French superstar duo who took both the junior European and world gold between them; Lea FONTAINE and Coraline HAYME respectively.
There is no doubt this weekend will bring great entertainment from some of our top athletes but will be a fantastic opportunity for the up and coming future heroes of the circuit.
Judoka
Author: Thea Cowen
---