Things did not go quite to plan for Georgia's headline maker and current European champion at -81kg category Tato GRIGALASHVILI (GEO). In the semi-final it was Sami CHOUCHI (BEL) who with one minute left on the clock put out the Georgian favourite by throwing him with ura nage for ippon. In the final Chouchi faced unseeded Shamil BORCHASHVILI (AUT) and was given a shock when after only 12 seconds he was thrown for what was initially given ippon. Luckily for Chouchi waza ari was given instead. That seemed to wake Chouchi up and in the next exchange the contestants went into newaza. Chouchi applied a shime waza from which Borchashasvili took slightly longer than he would have liked to tap out resulting in the Austrian momentarily losing consciousness. Seconds later the Austrian was back up on his feet, no harm done, apart from perhaps his pride, but the contest and the gold medal were in the hands of a beaming Chouchi. Three-time world medalist Antoine VALOIS-FORTIER (CAN) picked up an injury in his repechage contest and was unable to compete in the first of the bronze medal contest allowing 22-year old Murad FATIYEV (AZE) to take his first Grand Slam medal. Tato Grigalashvili managed to come back in the second of the bronze medal contests against Alan KHUBETSOV (RUS). In a slightly dour match-up Khubetsov collected three shidos to give Grigalashvili a place on the podium.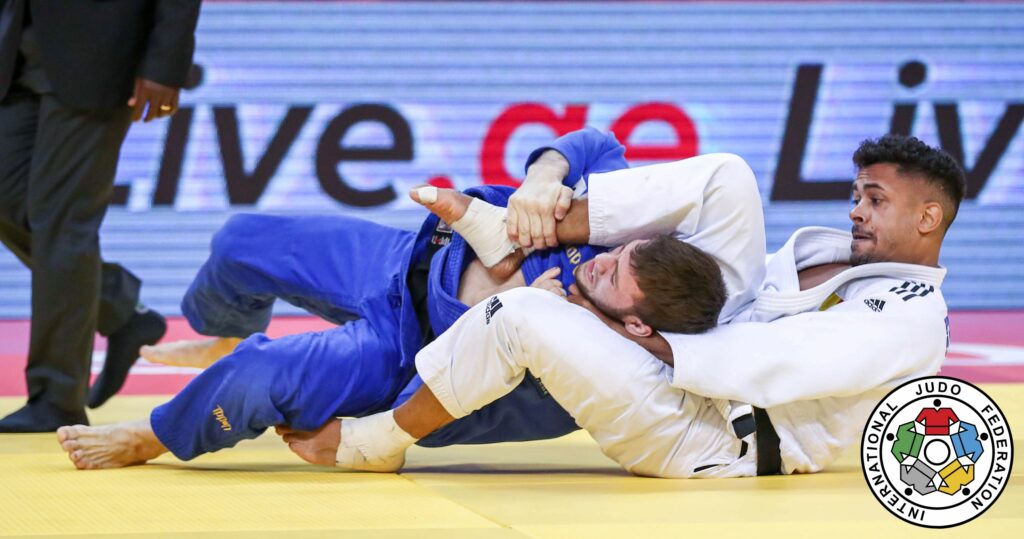 Number one seed Catherine BEAUCHEMIN-PINARD (CAN) lived up to her top billing when in the final of the -63kg category the double Pan-American champion defeated YANG Junxia (CHN). The Canadian threw the Chinese athlete expertly with kata guruma for ippon to win her second Grand Slam gold medal. In the first of the bronze medal contests OZBAS Szofi (HUN) was thrown twice by Geke VAN DEN BERG (NED) the second of which was a beautifully executed ko soto gari for ippon. In a repeat of the 2019 Ekaterinburg Grand Slam final Daria DAVYDOVA (RUS) defeated Lucy RENSHALL (GBR) this time after 26 seconds of golden score with a sharp counter using ko soto gake.
TSEND-OCHIR Tsogtbaatar (MGL) followed up is gold medal winning performance in Tashkent by taking gold here in Tbilisi. In the final the Mongolian defeated number one seed Arthur MARGELIDON (CAN) when with only 20 seconds left on the clock Tsend-Ochir threw the Canadian with ko uchi gari for ippon. Meanwhile, despite picking up a bronze medal, 2012 Olympic champion Lasha SHAVDATUASHVILI (GEO) will nevertheless feel a tinge of disappointment. Shavdatuashvili was unable to take advantage of competing at home and lost out in the quarter-final to Denis IARTCEV (RUS). In a tactical battle Shavdatuashvili came back in the bronze medal contest to edge out number two seed Akil GJAKOVA (KOS) the Kosovar picking up three shidos. There was a great deal more action in the second bronze medal contest where relative newcomer Aleko MAMIASHVILI (GEO) defeated the vastly experienced Denis IARTCEV (RUS). The Georgian fell behind early by waza ari but came back with two scores, the latter being a huge ko soto gake for ippon.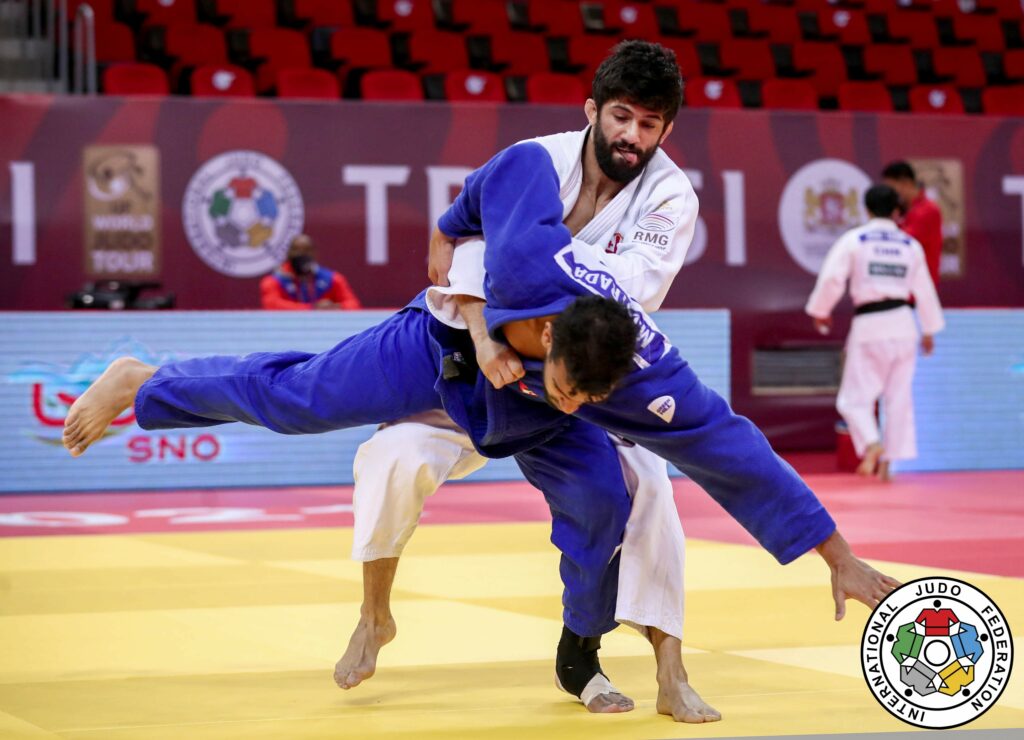 Maria PORTELA (BRA) collected her third Grand Slam gold medal in the -70kg category when in the final she defeated the error prone Madina TAIMAZOVA (RUS). Three unforced errors by the highest placed Russian in the category meant little action and Taimazova will have to tidy things up in order to ensure that she collects the medals and points that her skills deserve. In the first of the bronze medal contests Gulnoza MATNIYAZOVA (UZB) did just enough to get past Anka POGACNIK (SLO). A single waza ari scored with uchi mata makikomi was enough for the Uzbek athlete to take the bronze medal. In her first appearance at a Grand Slam Joana CRISOSTOMO had an opportunity (POR) to take a medal when in the second bronze medal contest she came up against Gabriella WILLEMS (BEL). The Belgian however had other ideas and eventually in newaza secured a submission from jujigatame.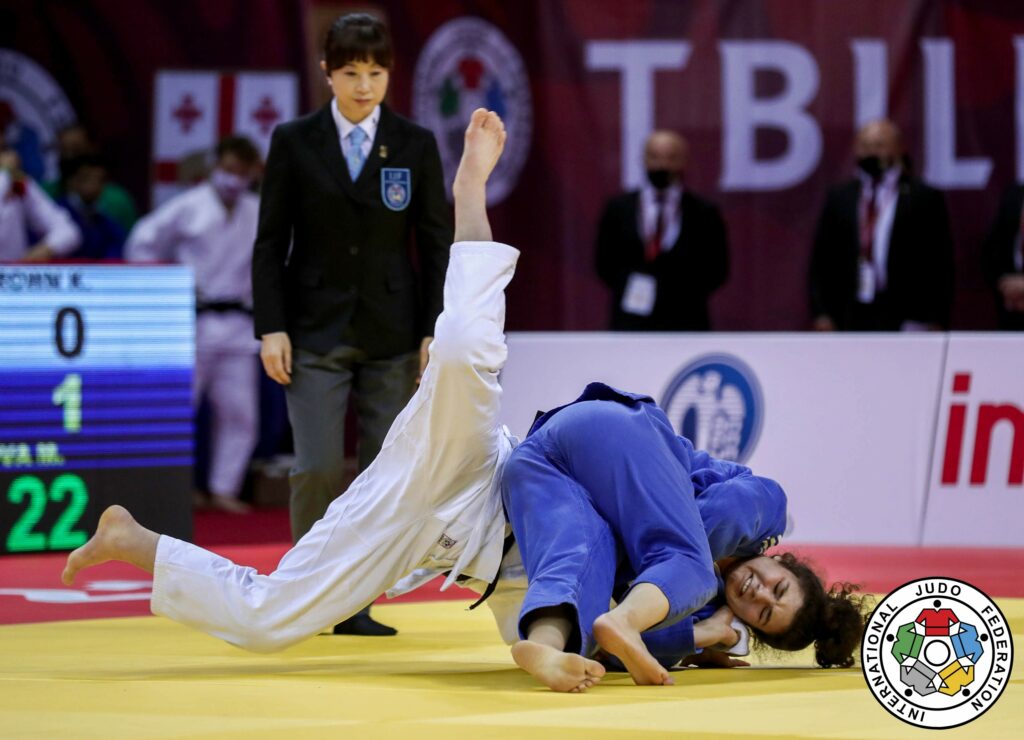 Judoka
Author: Sheldon Franco Rooks
---