A fantastic atmosphere was displayed past weekend in the Main Hall of SPENS in Novi Sad. Over 160 participants enjoyed the seminar by the excellent master and EJU expert Hiroshi Katanishi. Lectures by the distinguished expert were intended for club coaches who work with children. A successful campaign was conducted through realisation of the Improve Your Club project, organised by the Serbian Judo Federation and sponsored by the European Judo Union. Participants of the seminar were greeted by Dragan Atanasov, Director of the Serbian Judo Federation, who also announced a series of campaigns for the week before October 28, which is marked as World Judo Day.

Coaches from entire Serbia were delighted to attend the lecture. Every participant showed excitement. Esteemed guest Hiroshi Katanishi stated that he was positively impressed with Serbia and its coaches after the first day. Hiroshi Katanishi said.
"I am in Serbia for the first time. Impressions are excellent, but what gives me great joy is that you have a lot of excellent coaches and that everyone fully follows our judo manner of behaviour, our judo code. I am especially glad that I received excellent feedback from all your coaches, which is that they wanted to learn something new in this seminar with their work, dedication and desire, which sent a clear message."
Sensei Katanishi further stated that the most important thing for all coaches is to transfer the knowledge to younger generations in the right way.
"The basics of judo are very important. That is when the coaches know how to show children the basics of our sport, which is a prerequisite for every good judoist. We are all aware how important coordination is for judo. Actually, coordination is important in every sport, and special emphasis should be put on that up until the age of nine, because children have a lot of interest in that until then. There are moves and exercises with which we can improve coordination. Only when the coach succeeds in realising this task, should they work on automatisation, something we work on until the age of 16. If we fulfil all these prerequisites, then there will be no injuries. It is like building a house, foundations must be strong. Considering the quality of your coaches, the quality of judo in Serbia is guaranteed."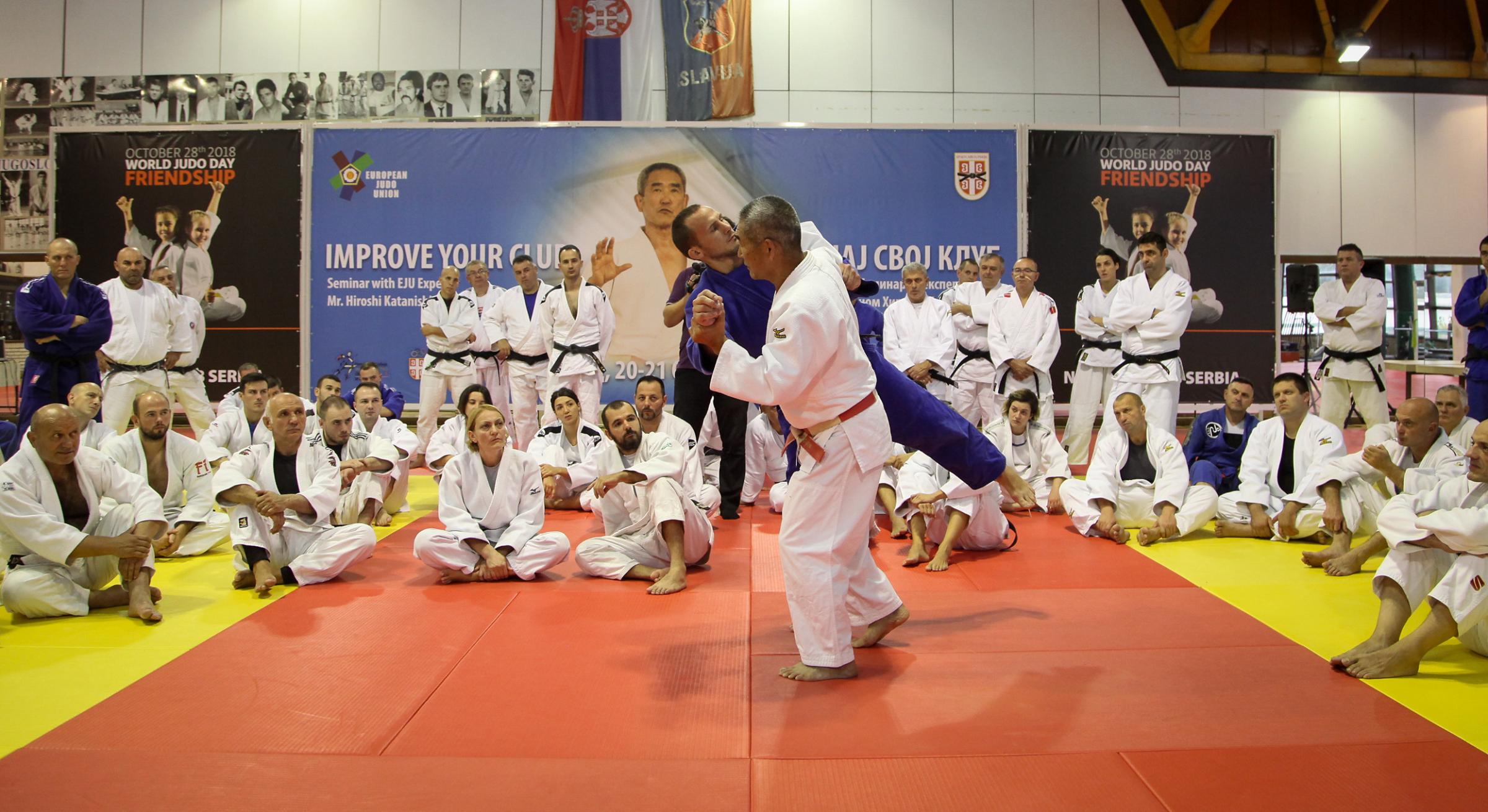 Special part of the seminar was dedicated to working with a partner, while the second day was completely about working on the floor.
"Mr. Katanishi: Exercises which help movement on the floor were in the focus. Usually, when you are on the ground, you do not know how to move. These exercises are useful for moments when you are on the floor and are effective for situations in a competition as well as for making a switch from standing position to down on the floor."
Master Hiroshi Katanishi, excellent master and lecturer, spoke about the most important advice of his coach from the period when he was just learning about the secrets of our Olympic combat sport.
"My teacher was never afraid to admit he made a mistake, which is very important. He always told us, just because you want to learn and I am teaching you judo does not mean that I know everything. A teacher must always be ready to learn something new, must be ready to change."
---