For many, Majlinda KELMENDI of Kosovo is a hero and an inspiration. Her accolades speak for themselves, Olympic champion, double world champion, four-time European champion, she earned the highest reward at every level for her hard work.
In her role as coach for Team Kosovo, we met up with her at the Cadet European Championships in Odivelas, coaching athletes who have their sights set on a European Youth Olympic Festival (EYOF) medal in the coming weeks. Not everyone gets the chance to meet their hero but for two cadets from Team Great Britain, Kenady RAINE and Lola HODSON had the exciting opportunity to interview their judo idol, the woman who made history and influenced an entire generation.
Why did you want to get in to coaching after you retired?
"I've been doing judo all my life, I think I have a lot of experience and I want to share it. In the beginning, I mean I've only been coaching for one year so I'm still new, it was so hard, and it's taken this year to get used to it. Being an athlete and a coach are totally different things. When you're an athlete you train and give your best but when you're a coach, it doesn't depend so much on you, you can coach them as much as you want, but in the end, they have to fight, they're alone on the tatami and there is nothing you can do to help. So, it is quite hard being a coach, much harder than I thought it would be, but I am enjoying it."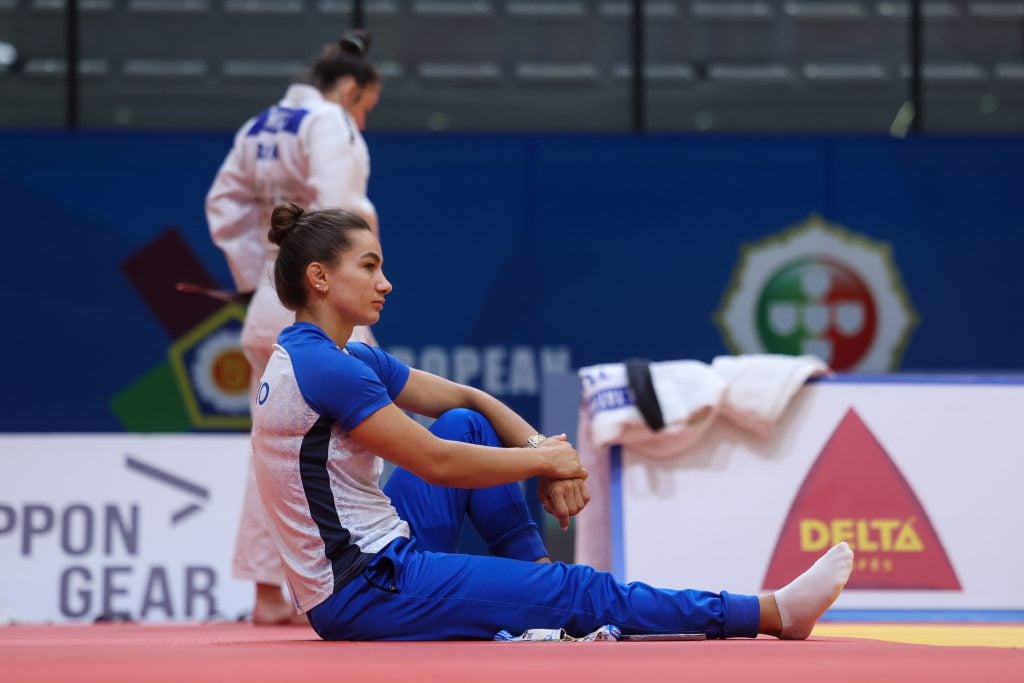 Which level do you prefer to work with? Cadet, junior or senior?
"I work with all levels, but I find myself best suited to the senior team. I try hard with the kids but I'm not that good a coach yet. I am working 6-7 hours a day coaching, almost all day I'm in the dojo but when I'm with the seniors, that's my territory, I feel confident. I think they understand me better, they get where I'm coming from and know what I'm asking of them, I can teach high level judo. I like the grip fighting, the movement, as a senior it is a more intelligent fight, you need to use your brain.
It's also hard for me because I was different as a kid, I was really brave as a cadet and junior, and I know my cadets are young, 14 and 15 but when they tell me they're scared, I think what do I do now? I think this is normal for a new coach and you don't know how to deal with everything right away, but in the end, I just tell them to enjoy it, give your best, this is just a way to get to the senior level. When you take a European, world or Olympic medal, no one ever asks you about your cadet results. You just need to enjoy it, train hard and always give your best. That's it. I know you all have stress and it's normal, but you just must find a way to manage it and enjoy it, in the end it is just a game, just sport."
How are cadet athletes different now compared to how you were at this age? How has the situation changed for athletes in Kosovo?
"When I was 15, Kosovo was not even a country and we were not part of the IOC, IJF or EJU and I was still training like crazy, I've said it many times but when I was a kid, I always had the feeling that I was going to be somebody when I grew up. I gave an interview on a TV programme, I was 12 and I told them I'd be world champion and since then I always felt that. This is what kept me training hard all the time and I thought about nothing else. All I had was my coach, no physio, no psychologist, no money. Our dojo in the winter was -10 degrees. We had no conditions, me, my coach and one sparring partner. Now, well they have everything. Sleeping in 5* hotels, travelling everywhere, but I don't think their focus in training even compares to how I was, I think a lot is down to social media, when I was young, MSN messenger was the trend, and I didn't need the distraction, in fact I still don't use it.
As a new coach, I find it hard to make judoka give everthing, say training starts at 10:00 but they're not fully ready until 10:30, it takes this long to wake up. For me, I'd go one hour before just to prepare to train. A coach can tell you what you need to do, but you need to want to do it as well.
We used to train in Celje, we used to sleep in one room, five or six girls on the floor, eating bread and cheese three times a day, and if we managed to get a chicken, my god, it was the best! Sharing between the group of girls and now these girls almost don't believe me!
But we are different, I think if you grow up having a hard life or have problems with everything, becoming successful is a bigger motivation. Many times, I had problems when I wanted to represent Kosovo but if anyone tried to stop me, it made me work harder for it. I became so mentally strong because of this."
Do you think this generation are not as strong mentally, having social media and having everything available to them?
"Yes, I think now young athletes don't look so much at themselves, their lives, or their own business, they're too busy looking at others. Also in our team, it's been said 'Oh Clarisse has so many holidays' yes, she does, but they aren't Clarisse. She spoke to me when I was an athlete and told me I didn't need to train so much, I needed to holiday, that I was strong, but no, she is strong, naturally! I was not talented, and my judo was aggressive, I had to train a lot and it was tempo focused so to do this kind of fight I needed to train constantly. Some people have styles where they focus more on movement and wait for the right moment, my judo was not like this so you really need to understand who you are and what your judo is so you can train for it, only take care of your own business."
What advice would you give to the cadets now?
"When I was 15 years old, I thought that if I didn't train hard then I'd never become somebody, I always felt like if I was to fall behind one or two steps it would be too hard to catch up. So, I kept training like crazy, even if you lose, you cannot stop. I was junior European champion, world champion and it took me four years to break on to the senior level, but I always had that feeling that I was the best and that it would happen, my time would come. So work hard, believe in yourself and most importantly, believe in your coach. I really hate to see coaches being disrespected by their athletes, always having something to say, arguing. Whatever my coach said to me, it was for me. They just want you to be successful and if you want that, you need to focus. You can't be doing multiple things; high level judo and partying don't go together. Our fight in judo is four minutes and in that time, you need to be 100% present and focused. If for one second you lose it, your chance is gone. It's not a long career as an athlete, it goes by so fast, I'm 32 now and I can do whatever I want, have anything I want, relationships, family, everything.
Sometimes I can't really believe my career is over, it happened too quickly. Try to enjoy it and give your best all the time, if you're giving 80%, you're going to be tired so you may as well give 100%, give more if you can. If you do, the results will come."
What has judo given to you?
"Everything.
Judo wasn't just for me, it was for my family, for my country. It might sound crazy to say it but with judo I put Kosovo on the map, I raised the flag in the middle of Russia. I was in a training hall with Putin, what more could I have done to be recognised? But all these opportunities came because of judo. My family live well because of this sport, I can't imagine how different our lives would be."
Though Majlinda gained more than she could have ever imagined through judo, she can admit that she wasn't the strong person that everyone assumed. She had the reputation of a fighter, she was tough, her style was aggressive and ultimately, she was a winner. There was never a sign of weakness or self doubt, so discovering that her mental health has declined to the point she wanted finish competing before the Tokyo Olympic Games was a surprise to all.
"After the Olympics I had depression, panic attacks, I was going to therapy with a psychologist and nothing was helping. Every time I wanted to talk about judo or the Olympics I started to cry. Eventually when we [EJU] made the interview following Tokyo, I was crying but I could talk about my loss and after this I was finally happy, I could really talk to my psychologist, and it was like a new beginning for me. I think it is really important for the young generations to see this though, I'm sure that when they saw me on the mat, they thought I was really strong, but every time I fought I had stress and sometimes I couldn't stand. Even if you're European, world or Olympic champion, you have some stress."
How did you cope and manage your stress before a competition?
She takes a big breath, ready for a big explanation.
"Well, I used to start warming up an hour, even an hour and a half before my first fight. I put on my Mizuno [sweat suit], get really sweaty and be really quite tired to be honest! Then five or six fights before I was on, I lay down and just rested. I needed to do it otherwise I was shaking I was so nervous. Before a major championship, two weeks before, if I ate, I couldn't keep my food down, I couldn't sleep, really it was bad for me. I had too much stress sometimes and I think a lot of athletes are the same.
We talked about Distria [Krasniqi] at the Tokyo Olympics and she really wasn't stressed or nervous, I said this isn't normal! Then afterwards when we spoke, she said she didn't feel so much pressure because she thought for sure I'd get a medal. She was like 'who cares we will definitely have one at least'. For me, there was always the expectation that I would win, and this was a great pressure on me, every time I had a competition I was on national TV for the whole day, I'd be put on a big screen in my city, all day, people watching me."
You were successful as a junior so did this pressure come immediately?
"Yes, when I was 18 years old, I became junior world champion, people started recognising me on the street, after one year, I became really famous."
Also present for this interview was former European Champion and Olympian Martyna TRAJDOS from Germany who is now working with the German team as a mental health coach. Joining in with the conversation and reacting to the direct impact of success on Majlinda's life, Martyna responded,
"It must have been hard, certainly there was no one there to hold your hand and show you the way, to help you deal with it. Suddenly you were famous, and you weren't prepared to manage and cope with it, now all you could do was lose, so then the pressure becomes higher. I think it is easier to be the underdog than to be the one chased, you were expected to win."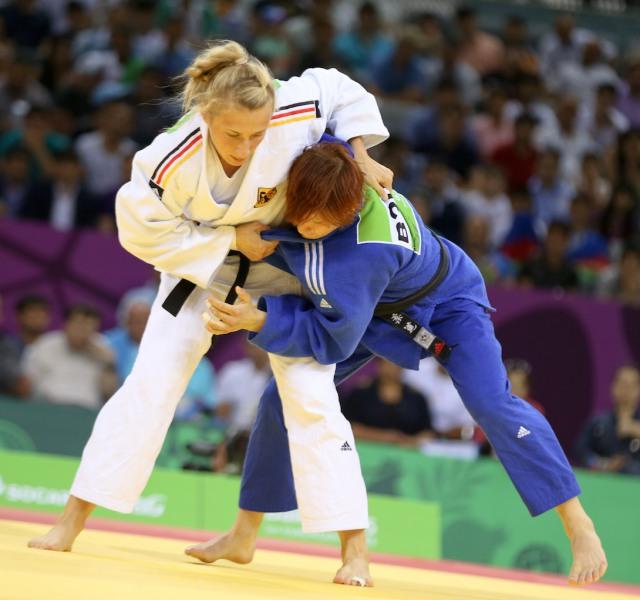 Martyna then went on to explain to the young athletes,
"We can see the toll that pressure takes, for Majlinda you can see she stayed for a long time in her competition personality, because we have two, and I guess the way she coped as we've talked about it, that she simply stayed there. She kept her laser focus with tunnel vision and just kept moving this way.
Then once her personalities started to mix, there was a crash."
How did you celebrate your accomplishments if you were always in competition mode?
"Since I was 13 years old, I didn't once go on a holiday with my family. Whenever I became European champion or won a medal, I rested two or three days and was right back to training. I told my coach that I didn't want to rest, I hated that feeling of coming back to training and everything hurting. Straight away I could feel that my body wasn't the same and I just wanted to train, I needed it.
In the Paris Grand Slam, literally right after I finished, I looked on the IJF website to check what the next competition was, then I looked to see who was competing. I was obsessed, crazy, I wanted to take the gold. If for whatever reason, I thought 'silver or bronze is okay' I would immediately think there was something wrong with me. I can say now that sometimes I regret this a little bit, not every day you can become world or European champion, you must just stop and enjoy your achievement. I can now, but I should have at the time. Right now, I have been an inspiration or motivation for a lot of people but back then I didn't care at all, not if someone liked me, I just wanted to be left to work."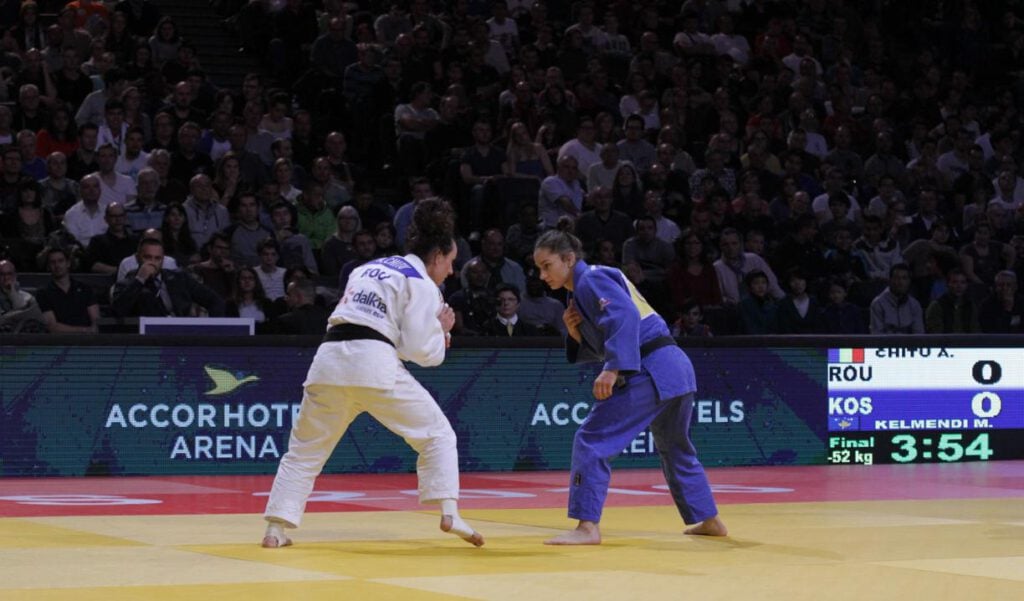 "After the Rio Olympics I took one week rest. This was stupid, I should have taken two months! I could have come back, lost the first fight in competition, and said who cares, just enjoyed it, but I wasn't like that. Even now I think I could continue my career. The only one who could beat me was Abe and I knew it, maybe it was 70:30 for her so I stopped, I could either be the best or stop. I had been the best for so many years, and didn't want to be 'one of' the best. For sport this mentality is good and bad, to achieve big results then it's perfect but you must know you can't be at the top level all the time. In the end it is just a game, but I never thought like this, if I lost, I'd be thinking about it for weeks asking myself 'how could I lose!?'"
At what point did you make the decision to stop? Was there a time you planned, 'this is the last one…'?
"It was before the Tokyo Olympics, at the Doha Masters, I said I would go, and if I didn't take a medal there then I would stop, and unfortunately [she laughs] I won a medal! So, I continued. Mentally I was bad then though, I would wake up in the middle of the night, we were on a really high floor with no window, and I felt like I couldn't breathe. Distria woke up and asked me what was wrong, I told her I just couldn't breathe, so I started having panic attacks around then. I was really struggling and panicking about everything, going in the elevator was hard, I thought it was just going to fall. After this competition I asked Toni if I could stop but we never talked about it, and I think this was a mistake."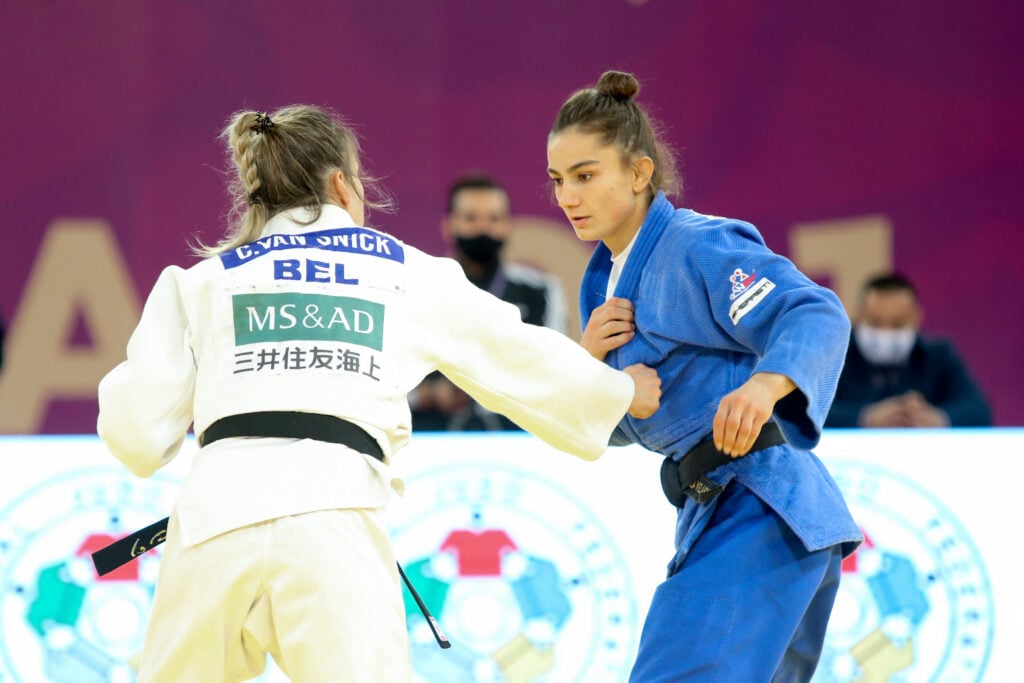 "I should have insisted to talk with him about how I felt, but I didn't, maybe if I'd rested one or two months I would have been okay because I was in such good shape but I just continued and I shouldn't have."
Do you think if you had retired and not gone to the Olympic Games, the team would have performed so well?
"No. This is why I kept going. For my team, for my coach. I was so sure something would work, I trained hard, was physically strong, judo was good so I was sure something would work. This is the thing; you can have everything but if you're not good mentally then you're not good. It is so normal to not be good, just say it! Even one or two days before competition, you must, must talk to your coach, it just isn't worth it. Say 'I'm not good, I'm too stressed, I don't want to fight', and you don't have to. There will always be another competition. Even for the Olympics, you must insist you are not good, you need help. When I told my coach he was so scared and so surprised he really didn't know how to deal with it because we didn't have a psychologist, we didn't have the help for that, he just shut down and we didn't talk about it."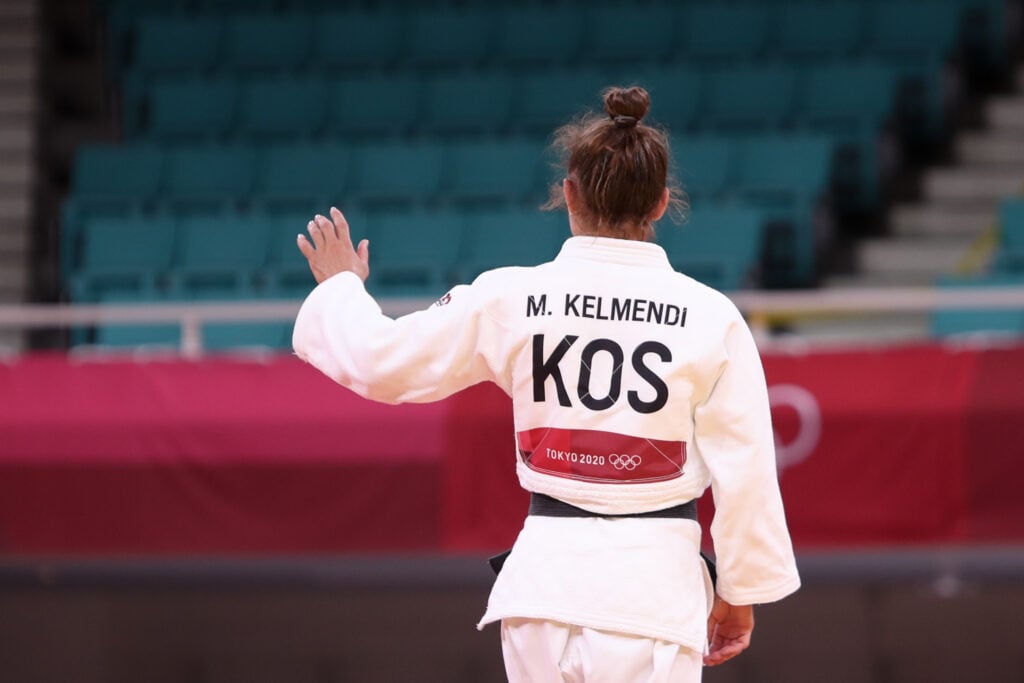 "After the Olympics he was feeling so bad about it, he talked to me with tears in his eyes 'you told me, and I didn't listen!' Then we took the gold medals and it was okay for me! Now as a coach I know how it feels from both sides, but still seeing the young athletes stressed is strange for me, I told them when I was their age I just wanted to perform, for everyone to watch me, to see how good and strong I was. So, if they tell me they're scared I say 'What?! Really?' And I worry how to deal with this properly.
I cannot always compare though, I think whether you are born a fighter, or you become one, you just need to keep going and work hard."
Judoka
Author: Thea Cowen
---