THE EJU partner IPPON TECHNOLOGIES relaunched a new logo and corporate design.
About Ippon Technologies
Founded in 2002, Ippon Technologies is an international and independent technology consulting and expertise firm. Ippon supports the digital transformation of companies, helping them to design their strategy and deploy their roadmap at scale, in order to quickly deliver the expected value.
The company announced the evolution of its brand strategy, which it is implementing, in particular by strengthening its positioning and developing its visual identity. Ippon Technologies also looks back on its 2024 objectives – Objective of 1,000 employees, € 100M in turnover, expansion of its branch network – and its ambitions.
Founded in 2002 by Stéphane Nomis, Ippon Technologies marks a turning point in its history. Indeed, with 25% growth each year, and to continue this hyper growth, Ippon is now positioned as a consultancy and expertise in technology, international and independent. Ippon supports the digital transformation of companies, helping them to design their strategy and deploy their roadmap at scale, in order to quickly deliver the expected value.
Currently, Ippon Technologies supports around 100 companies in France, including Galeries Lafayette, EDF, Airbus and Orange Bank and around 30 clients in the USA, Australia and Russia.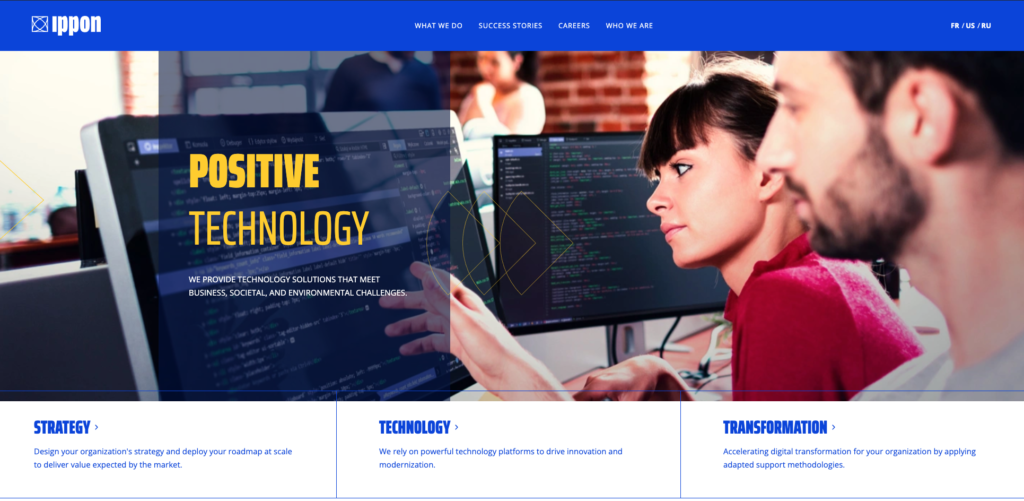 A strong strategy for 2024 and affirmed ambitions
Ippon now poses its raison d'être as follows: collective energy for positive technology at the service of performance and innovation. Geoffray Gruel, Managing Director of Ippon, explains: "Our DNA is innovation in tech. This is what thrills all Ippons on a daily basis. Except that doing tech for tech doesn't make sense anymore, it's not what our employees or customers want. Tech must be a source of progress for society. "
To make this strategic change of course, all the teams – tech, marketing, HR, sales and even Executive Committee – were involved at different points in the process. This made it possible to lay the foundations for this work and to highlight three pillars:
WHY? Positive technology
Ippon believes that technology is the source of progress, for organizations and for society as a whole. Positive culture between humanism, generosity and benevolence, which is reflected in particular through the environmental and societal initiatives of the firm.
HOW? Collective energy
Company driven by team spirit, surpassing oneself and a taste for challenge.
WHAT? Empowering transformation
Support the transformation continuously and over the long term thanks to its technological experts and strategy consultants.
Stéphane Nomis, founder and CEO of Ippon Technologies said;
"This milestone in the history of Ippon Technologies is the result of a logical progression. In hyper growth for several years, we had to structure ourselves even more and amplify our positioning. After several months of collective work, we are proud to see this new identity born. She is the spearhead of our Ippon 2024 plan!"
A new visual identity
This new turning point requires a new visual identity and for this, Ippon Technologies called on the 4uatre agency, the agency that works for the FDJ and the state brand.
The new logo represents a hatching shape that symbolizes positive transformation. It is a sign that highlights the idea of ​​the collective through the intersection of forms and the unity of the frame.
Blue is a nod to the history of the company. It refers to a famous visual artist who was one of the first 4th dan in French judo – Stéphane Nomis, founder of Ippon Technologies, being a former professional judoka. This blue, as deep as it is electric, reflects the values ​​and mindset of Ippon Technologies: the collective energy for positive technology!
This new visual identity and the support offered by Ippon are now visible on its new website
Author: Sören Starke
---