Our "Player of the Day" choice goes to Irena Khubulova from Russia who won the girl's -48 kg category all by ippons. Khubulova showed her potential as a Cadet two years ago at the 2016 Cadet European Judo Championships taking the silver medal in the -48kg category. Today she topped it by taking the gold medal, showing dominance and good judo throughout her four fights.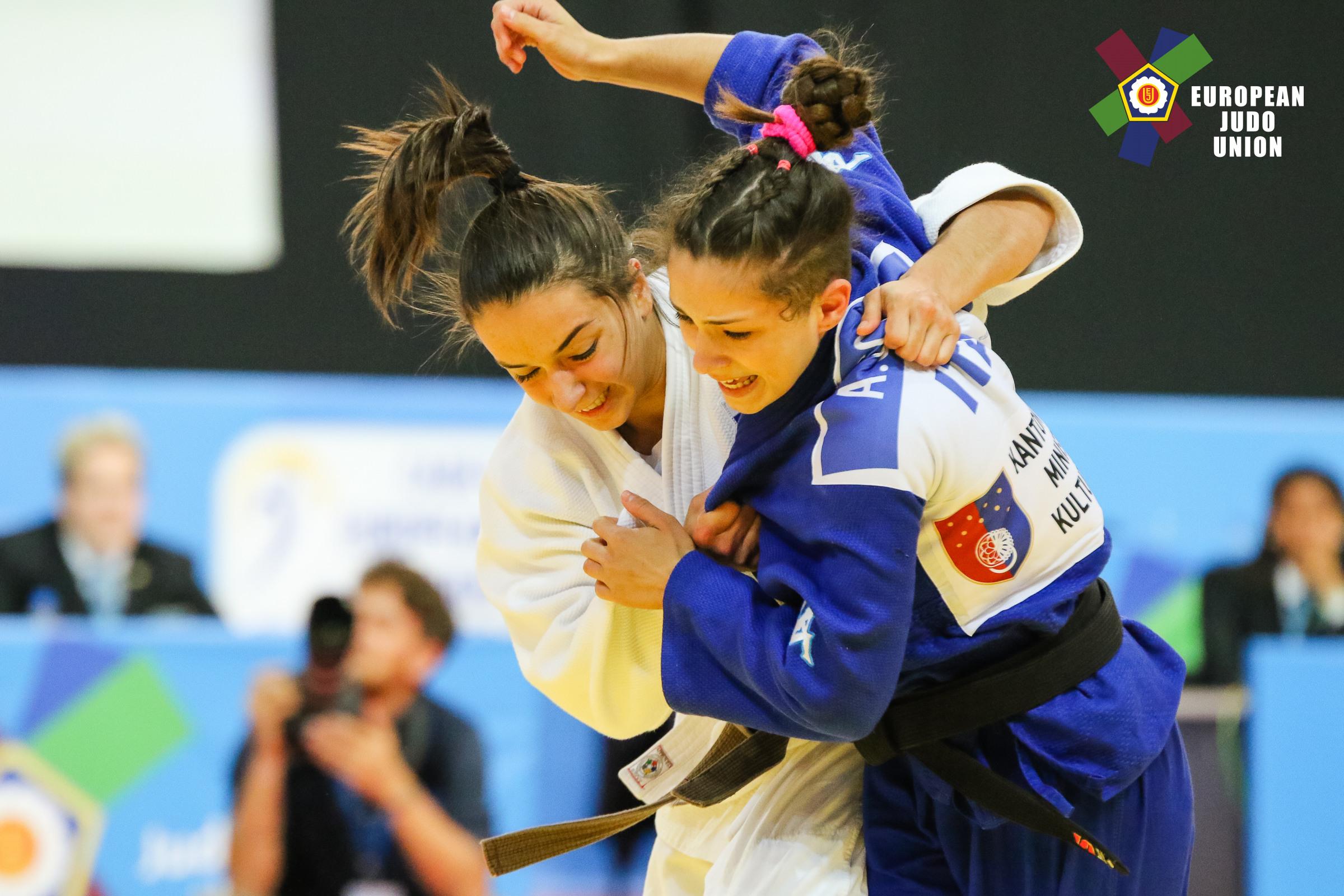 In her first fight, she quickly beat her opponent Darja Mihhailova from Ukraine by ippon in the opening seconds of the match. For the second match, the quarter-final, she quickly dominated her French opponent Leonie Gonzalez and then threw Gonzalez to secure the semifinal.
During the semi-final, Khubulova showed no sign of slowing down against Elin Henninger from the Netherlands, scoring a waza-ari and an ippon.
"In the semi-final I had a fight plan, and it did not work out in the beginning of the fight. I needed to change it, so my fight strategy was helped by my coach".
In the final, the 17-year old girl from Vladikavkaz (Ossetia) faced Assunta Scutto, her Italian opponent who is formidable in her own right. Khubulova took the fight to Scutto and caught Scutto in a sankaku-jime within the first minute mark to secure the gold medal.
"In Finland, I also wanted to win Gold, but it didn't happen. I think this year I have trained more and worked very hard and this has helped towards my gold medal win today. I am very happy with my overall performance and my medal today. I would like to take this opportunity to say "thank you" to my coach Kasoev Stanislav and my parents."
---
Podium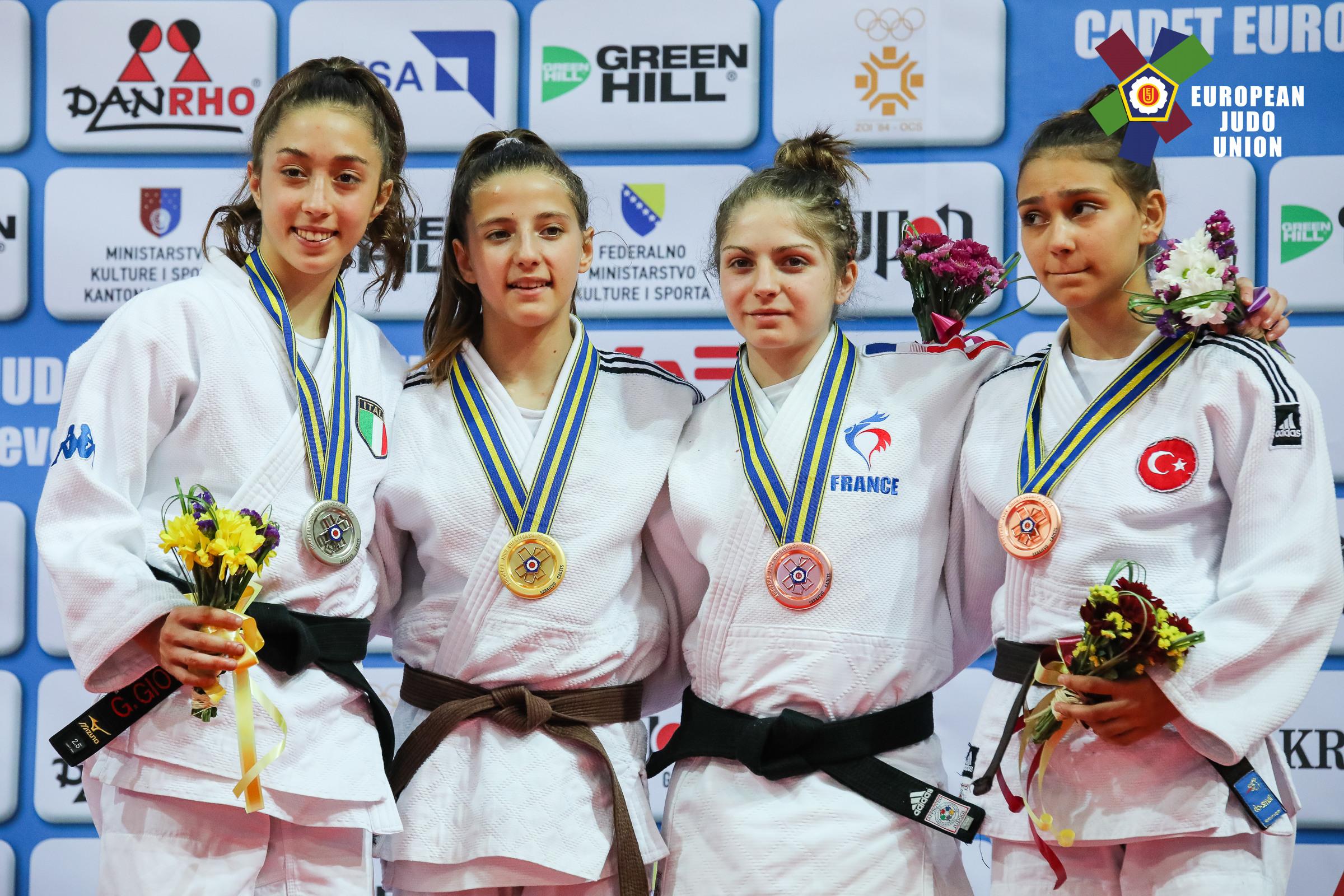 Podium Cadet European Judo Championships -40 kg HAGIANU, Georgia (ROU) GIORGI, Giulia (ITA) BALLO, Ghjuliana (FRA) GUNES, Muberra (TUR) – Rui Telmo Romão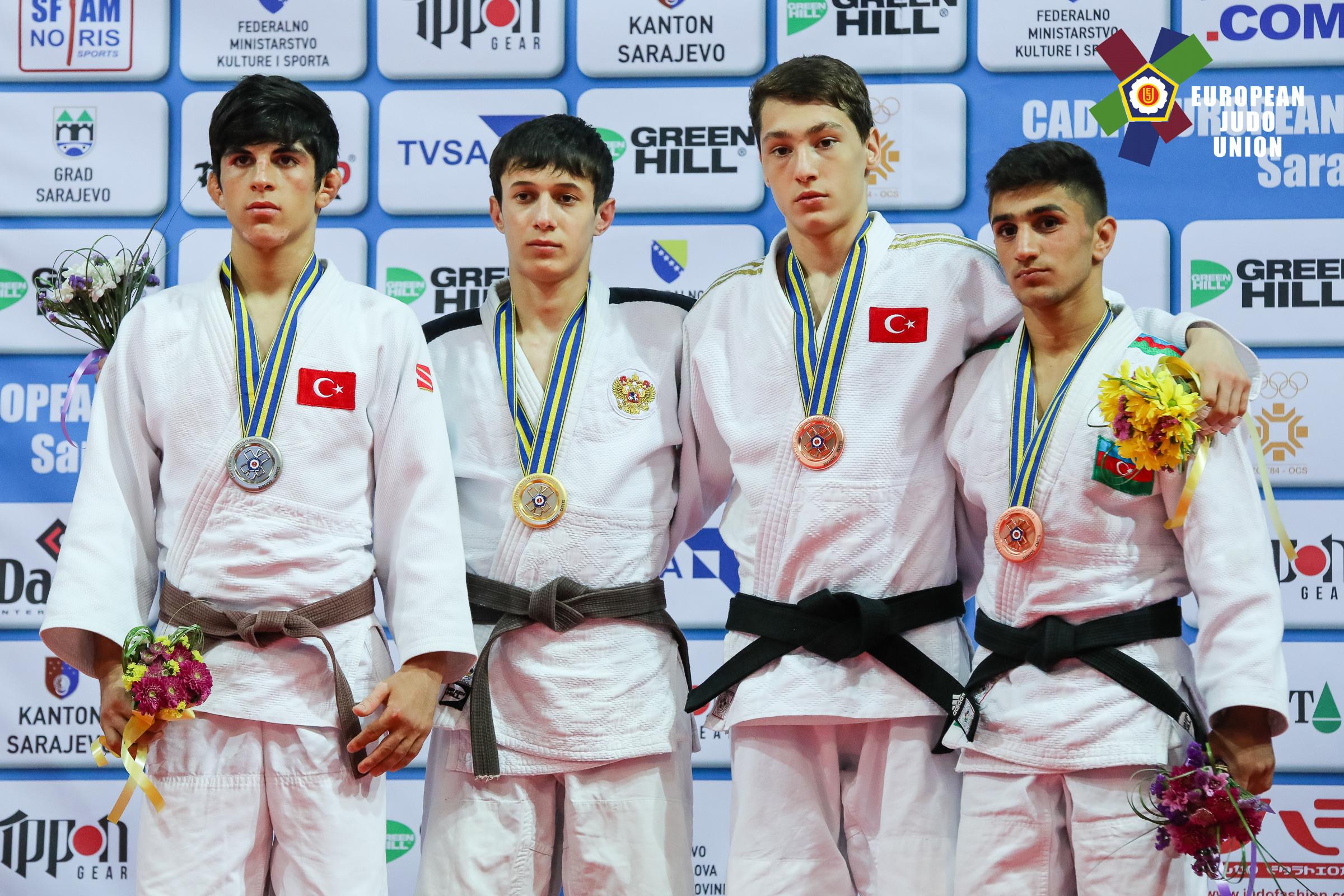 Podium Cadet European Judo Championships -50 kg SAAEV, Iznaur (RUS) KARAHAN, Emirhan (TUR) DEMIREL, Muhammed (TUR) HAJIYEV, Miragha (AZE) – Rui Telmo Romão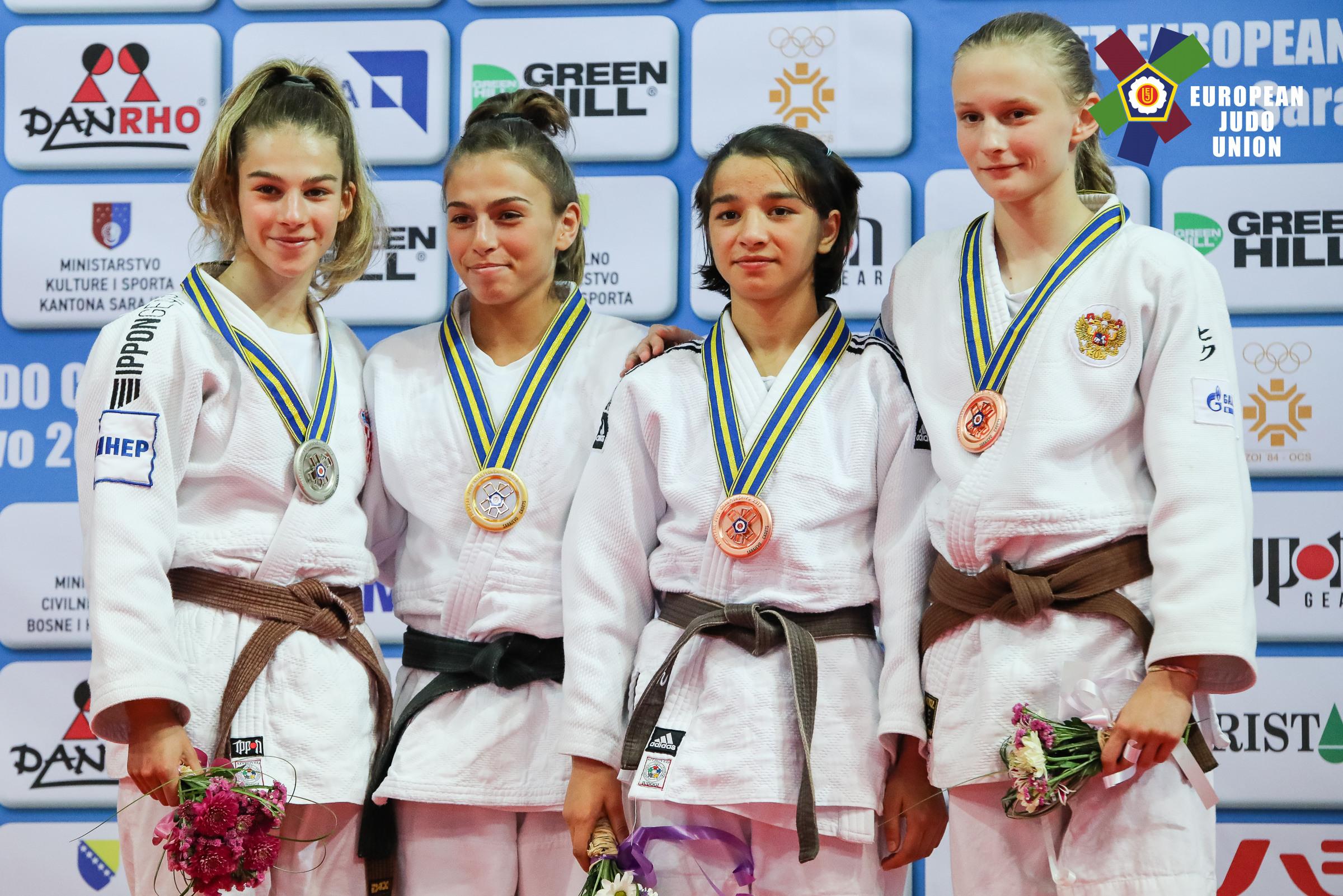 Podium Cadet European Judo Championships -44 kg MUMINOVIQ, Erza (KOS) PULJIZ, Ana Viktorija(CRO) AZAK, Merve (TUR) BORISOVA, Glafira (RUS) – Rui Telmo Romão
Podium Cadet European Judo Championships -55 kg KOLASAU, Artsiom (BLR) PARCHIEV, Abu-Muslim(RUS) VEREDYBA, Oleh (UKR) LEUTGEB, Daniel (AUT) – Rui Telmo Romão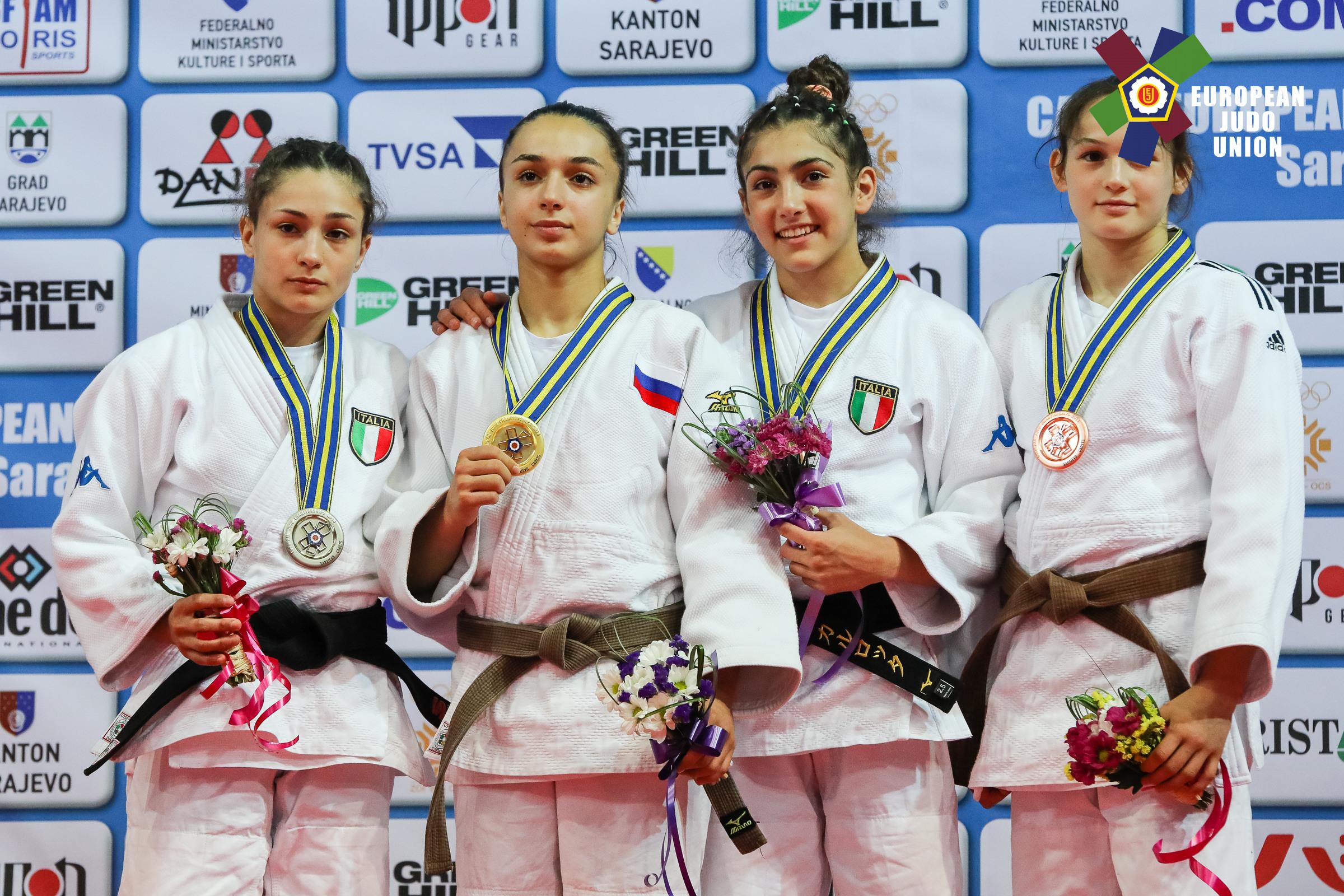 Podium Cadet European Judo Championships -48 kg KHUBULOVA, Irena (RUS) SCUTTO, Assunta (ITA) AVANZATO, Carlotta (ITA) HENNINGER, Elin (NED) – Rui Telmo Romão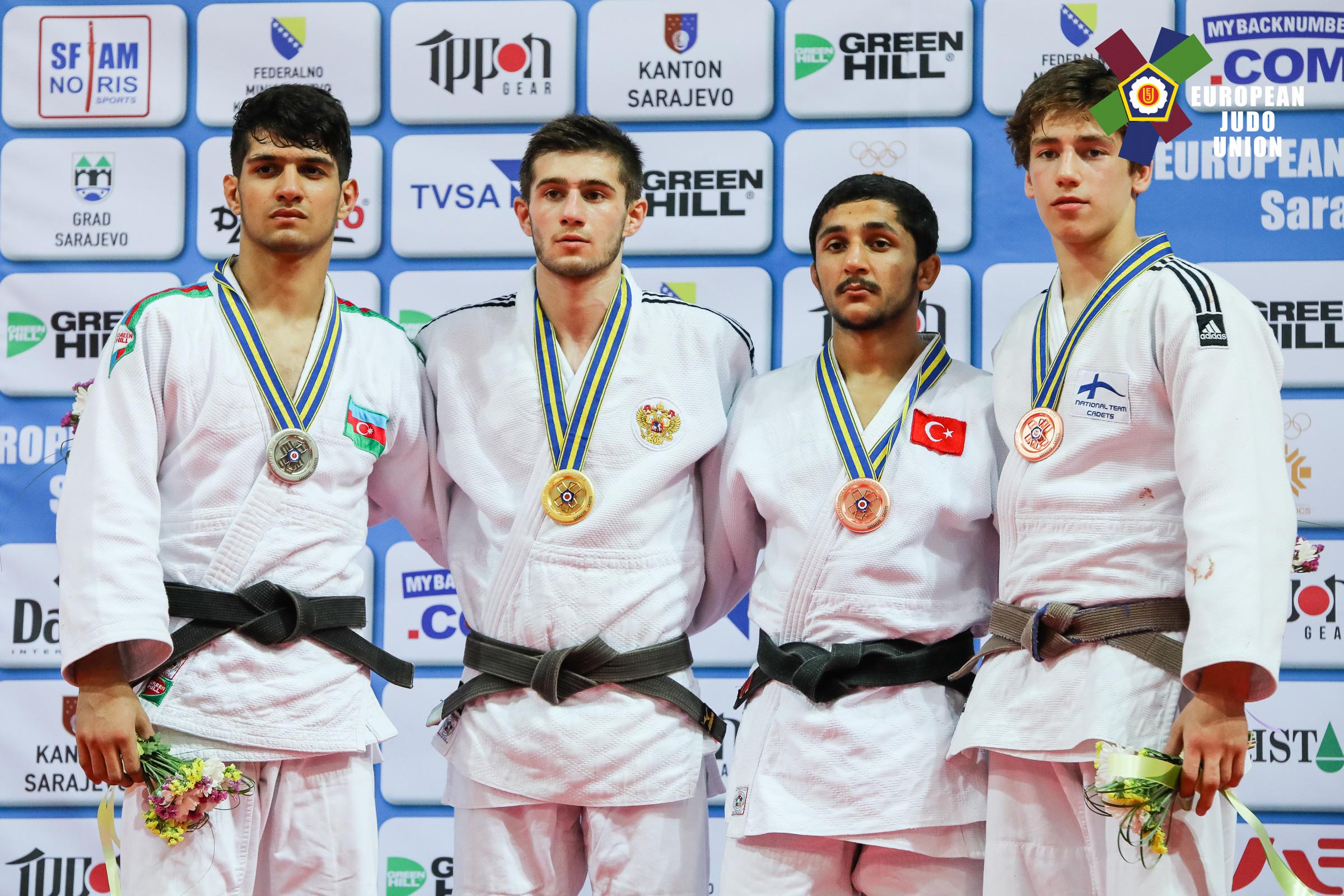 Podium Cadet European Judo Championships -60 kg KODZOV, Kantemir (RUS) RZAZADE, Matin (AZE) YILDIZ, Salih (TUR) DJOUKAEV, Turpal (FIN) – Rui Telmo Romão
---
Khubulova is currently a high school student and plans to study Sport Science when she goes to university next year. When ask her for her upcoming plans in Judo she added:
"I would like to fight in Buenos Aires, in Argentina to compete in the Youth Olympic Games. But it is still not decided yet."
The first day of the 2018 Cadet European Judo Championships concluded the girl's -40 kg, -44 kg, -48 kg; and boy's -50 kg, -55 kg, and -60 kg weight categories. Russia topped the medal table with 3 gold, one silver and one bronze medal, followed by Romania, Belarus and Kosovo which has a gold medal each to take the top four spots.
---
Highlights Day 1
Judoka
---