Going in to the final block on day one of the Junior World Championships in Portugal, Japan were threatening a clean sweep of the gold medals in the -48kg, -60kg, -52kg and -66kg category, with European athletes filling the opposing positions.
Sila ERSIN (TUR) was first to put up a fight in the -48kg category against MIYAKI Kano (JPN). The Turkish athlete took a silver in the Junior European Championships 2022 and surpassed expectation today, coming in to the tournament unseeded, with team mate Merve AZAK topping the seeding. It was an even contest for the first three minutes, however this is where Miyaki, 2022 Cadet World Champion and Tokyo Grand Slam winner found her opening to transition in to ne waza, securing osae komi for the ippon.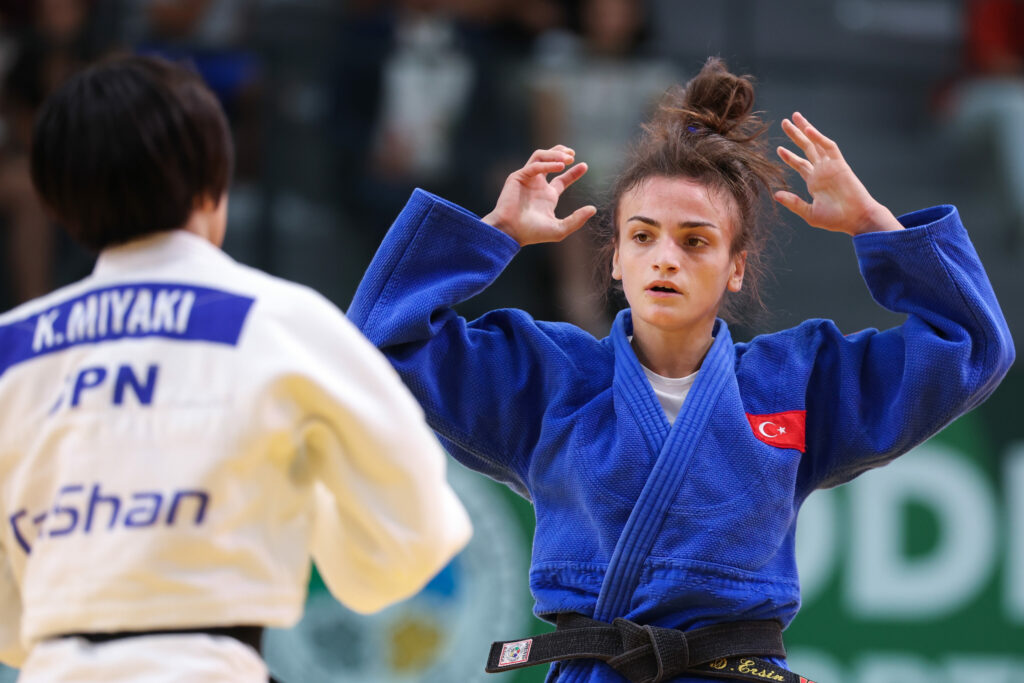 Bronze medals were awarded to Asia AVANZATO (ITA) and Kristina DUDINA (AIN).
Current European Champion, Nizami IMRANOV (AZE) ended up with the silver medal in the -60kg category, defeated by FUKUDA Yamato (JPN) in the final minute, scoring waza ari with o soto gari after numerous attempts. There was a close call made in the final seconds as the Japanese athlete looked to execute a false attack, which caused the crowd to argue for a shido, a third for Fukuda, which would mean elimination. Instead, he was given the win for this final and once again we heard the national anthem of Japan as they took gold number two.
Youssry SAMY (EGY) and Talgat ORYNBASSAR (KAZ) won the -60kg bronze medals.
The only defending junior world champion today was Giulia CARNA of Italy, competing against KAMIYA Rin (JPN) in the -52kg category. Following their first two wins, Japan was on a roll and sode tsurikomi goshi took the title from Carna in the end. It mightn't have been the gold medal that the Italian was looking for, but she continued to demonstrate that she is a front runner.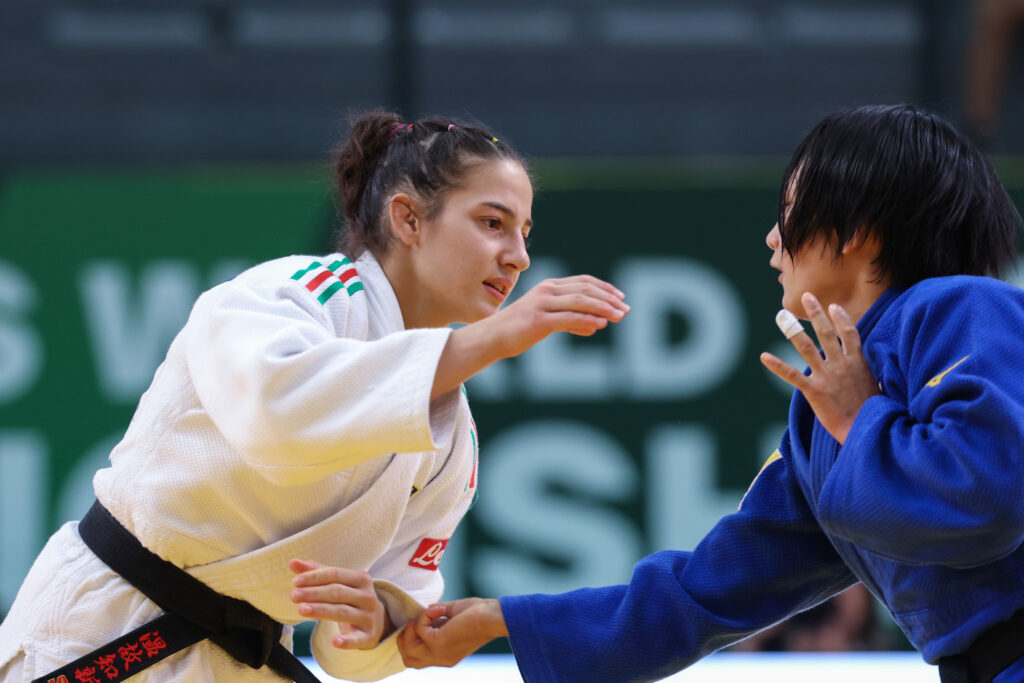 By the end of this category, Italy could boast three medals on day one, a bronze won by Micaela SCIACOVELLI and in the second bronze medal contest, Lea BERES of France was victorious.
Concluding the first day of individual competition were the -66kg men; the final between Eran FIKS (ISR) and FUKUDA Yamato (JPN). It was off to a tremendous start for Fiks, scoring waza ari against the Japanese athlete, however his lead did not last long. Fukuda made it a 4-0 win for Japan with a speedy transition, taking advantage of an open space and applying shime waza. It was a disappointing end for Fiks, but it was a much easier pill to swallow after he took a 5th place in the Junior European Championships last month.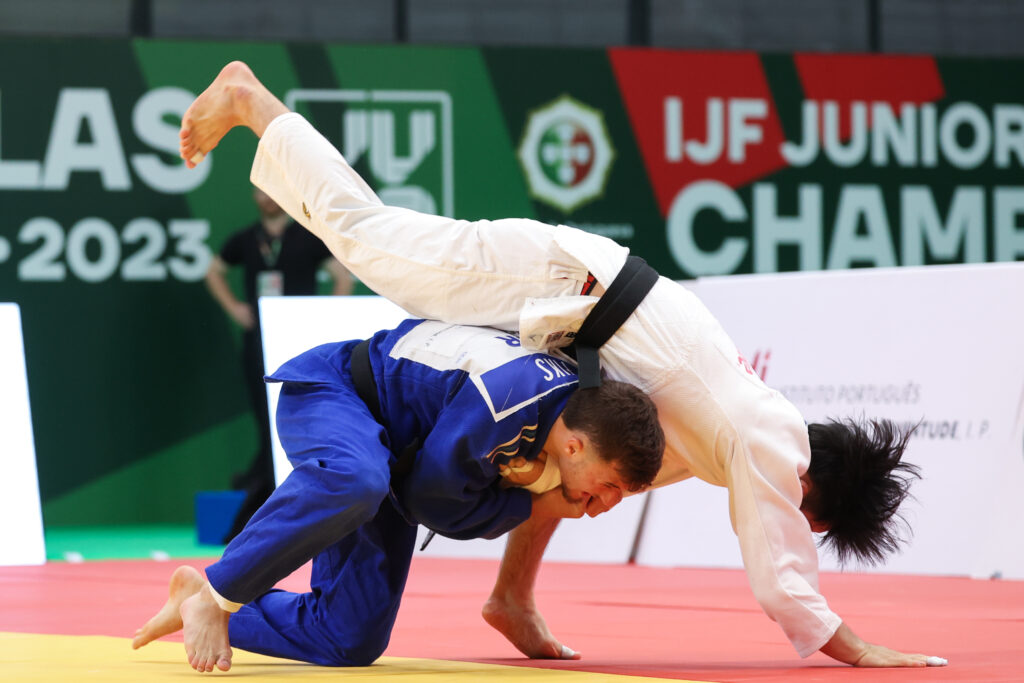 I have some things to look at and improve, as it always is, I really felt like I had this win and we stayed standing I didn't feel like he would throw me but as you saw, it finished on the ground, the gold medal just slipped through my hands. The European Championships were really hard for me, the same thing happened with only 15 seconds left of the fight. This loss was a big motivation today because I know that I am capable of winning, I really wanted to make my family and friends proud, I'm glad I could do that today. It was a special day for me, I can dedicate this medal to my grandmother who passed away last week.
This is a very strong category in Israel with the likes of Baruch SHMAILOV and Tan FLICKER, as the saying goes, you need to train with the best to be the best and it seems rather fitting on this occasion.
We are all very close, I train with them twice a day, every day. This is something that really pushes me.
Europe had two chances for -66kg bronze medals with current Junior European Champion, Tengo ZIRAKASHVILI (GEO) and Viljar LIPARD (EST), however neither managed to defeat their opponents and left with fifth places.
So in the end, Japan topped the medal table followed by Italy and Azerbaijan. Tomorrow we will see the -57kg, -73kg and -63kg categories take to the tatami at 10:00 local time, follow the live action at JudoTV.com.
Judoka
Author: Thea Cowen
---