Judo is back for the 3rd European Games 2023 in Krakow, Poland, but for this edition of the Games, various places in the Malopolska region are hosting the events, giving more opportunity for spectators in the area. In the case of judo, we find ourselves in Krynica. Also in these Games, it is only the mixed team event for judo, a one-day spectacle with some of the best judoka in the world.
Number one seeds France were off to a blinding start as Margaux PINOT opened the contest against Azerbaijan with a waza ari score then shime waza application. The senior team of Azerbaijan had a bit of pressure, almost riding on the coat tails of their cadet teams success in Odivelas last week in the Cadet European Championships as they topped the individual medal table with six golds and then took the team trophy.
Of course defeating the French team is no easy feat and they gave it their all but Maxime-Gael NGAYAP HAMBOU, Samah Hawa CAMARA and finally Joseph TERHEC sealed Team France's place in the quarter final against Italy with a sweeping 4-0 win. It was here they began to face some strong opposition, Gennaro PIRELLI (ITA) took a win against Terhec and Odette GIUFFRIDA defeated Priscilla GNETO to make it 2:2. Then a 3:3 draw meant a decider, and again Giuffrida was up, of course a potential major upset for France. Gneto started acquiring shidos early in to the 'golden score' period and after five and half minutes, collected a third for passivity, sending the defending champions in to the repechage. Now the question was, who would be the new title holder?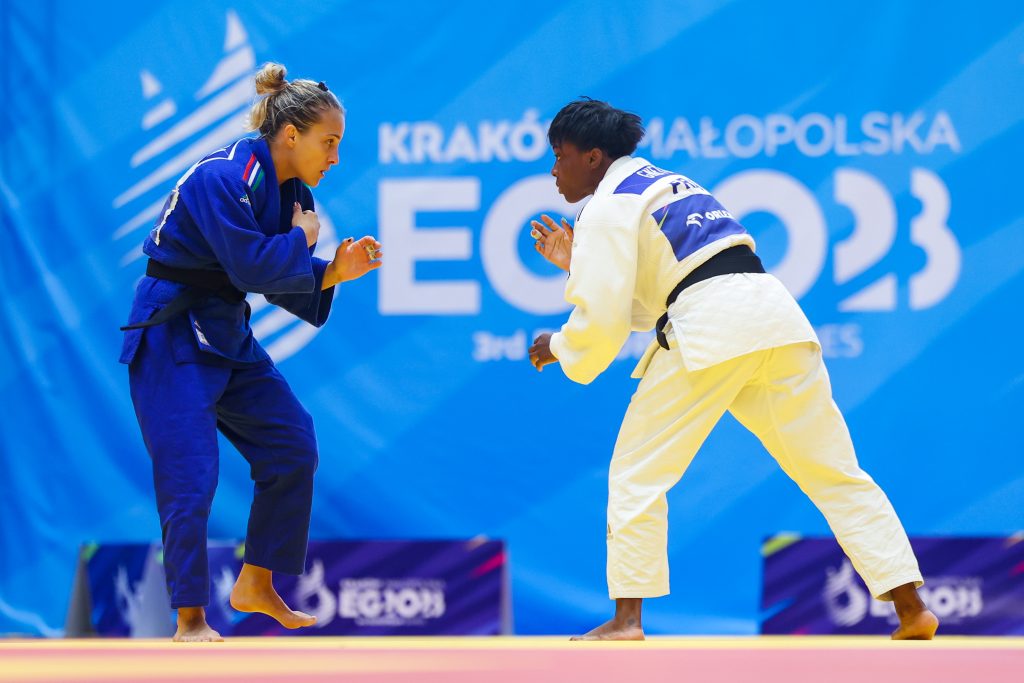 During the senior world championships, Hasret BOZTURK (TUR) made herself known as a top contender, defeating the former Olympic and world champion, Rafaela SILVA (BRA) and today was the final element to take her team in to the quarter final against Georgia following a tremendous defeat of the number four seed and Olympic bronze medallists, Israel. After only 11 seconds on the tatami, it was a big ura nage win for the young Turkish representative. In the quarter final against Georgia, it became a different story, with a 1:1 score, Guram TUSHISHVILI (GEO) had the chance to redeem his first round Tbilisi Grand Slam loss against Munir ERTUG and after a physical battle, the Georgian Olympic silver medallist found the submission by arm lock. Eventually it was a 4:1 win following a devastating blow from Lasha SHAVDATUASHVILI.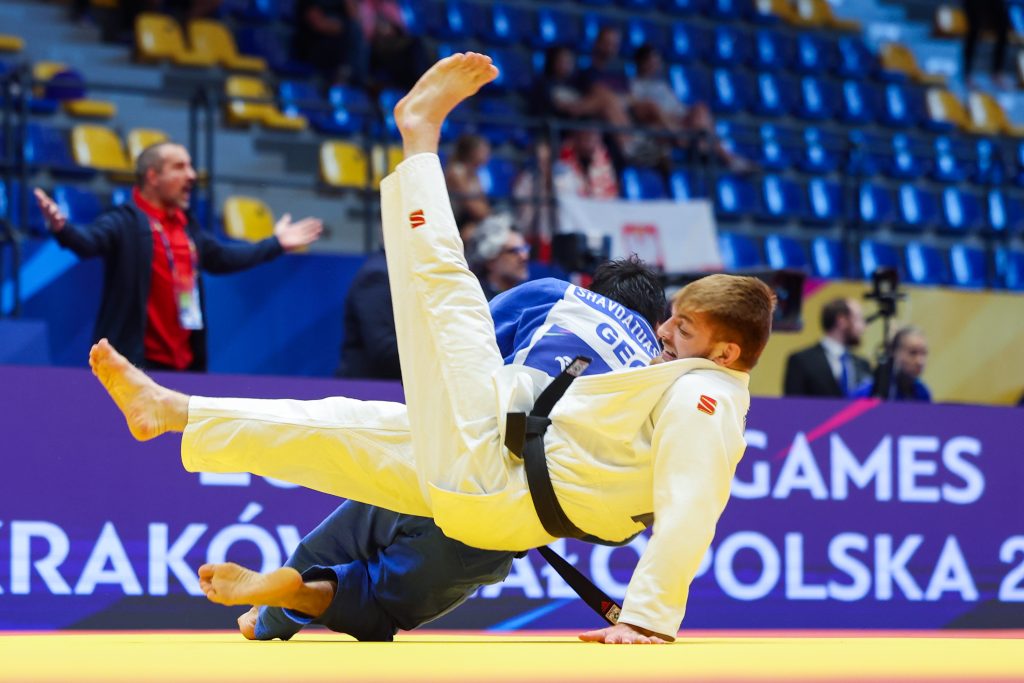 Teams Austria and Germany are known for their Bundesliga activity and along with that comes the experience and ability to win and lose graciously. The European Games is acting under the banner 'we are unity' and as always, the EJU is 'judo more than sport', a prime example came from the +90kg category with Aaron FARA (AUT) and Erik ABRAMOV (GER). Though the win went to Abramov, Fara had genuine congratulations for his opponent and jokingly made a ko soto movement following the rei, a moment between friends saying 'no hard feelings'.
Hungary looked to be taking a relatively easy win against the hosts Poland in order to take on Germany but Kacper SZCZUROWSKI pulled them back in, and then -52kg PUPP Reka (HUN) went up against -57kg Julia KOWALCZYK. The pair went in to golden score for 9 minutes and 40 seconds, and with two shidos a piece, the attacks kept coming. The positive performance had the arena on their feet in support of the home team but also this fierce battle. A deep seoi nage from Pupp gave Hungary the win.  
GOZ Roland (-90kg) and CZERLAU Jennifer (+70kg) took the first two wins for the Hungarian side, then Erik ABRAMOV (GER) put a spanner in the works against with SIPOCZ Richard with some great ashi waza and a counter attack, Seija BALLHAUS followed suit with a win against the U23 European champion, GYERTYAS Roza. With a third win from Jano RUEBO for Team Germany, the Hungarian team started to show concern and pressure was on GERCSAK Szabina to come up with a win against Miriam BUTKEREIT in order to tie. Gercsak worked hard to come up with a score and even harder not to gain the third shido. The decider was -57kg. In an impressive 19 seconds, Ballhaus put her team in to the semi final with the Netherlands with scoring uchi mata.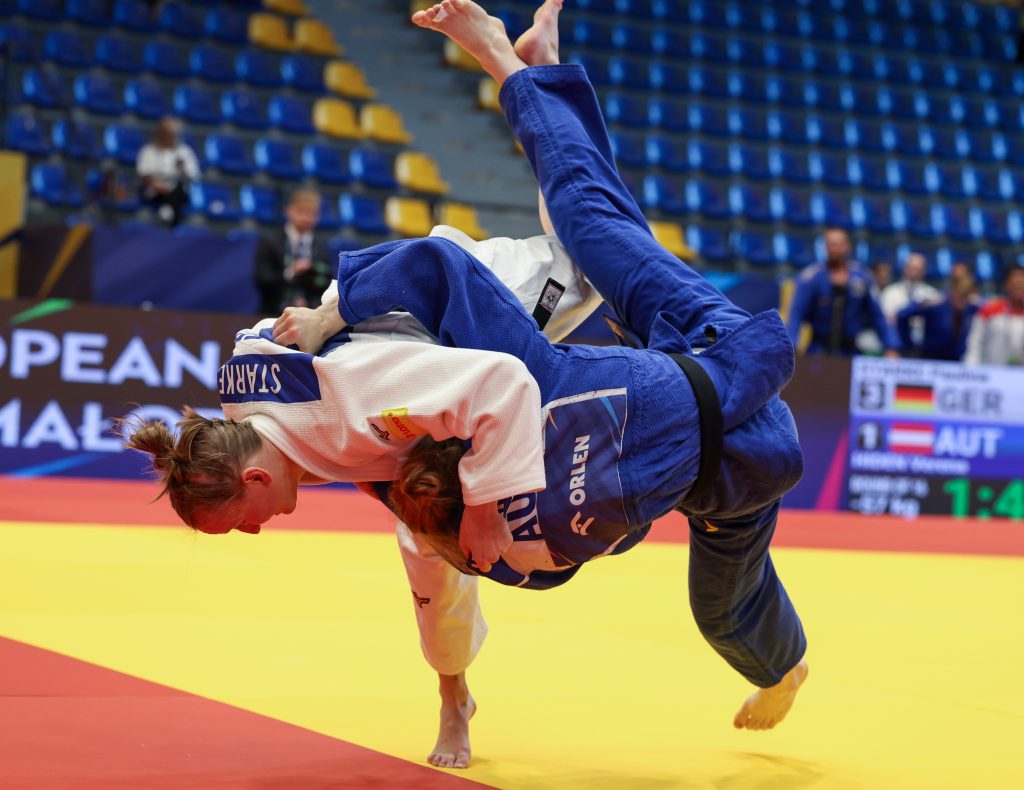 Number two seeds, Netherlands had a 4-1 win in their opening round to face Portugal. The Portuguese were somewhat of a surprise with their 4-1 wins against Bulgaria and Greece given that it wasn't the 'A' team entered, nevertheless, their performance was strong enough for a quarter final place. The Dutch team came out all guns blazing and they gave a convincing win, 4-0 against Portugal with Pleuni CORNELISSE taking the final win once again in the -57kg category.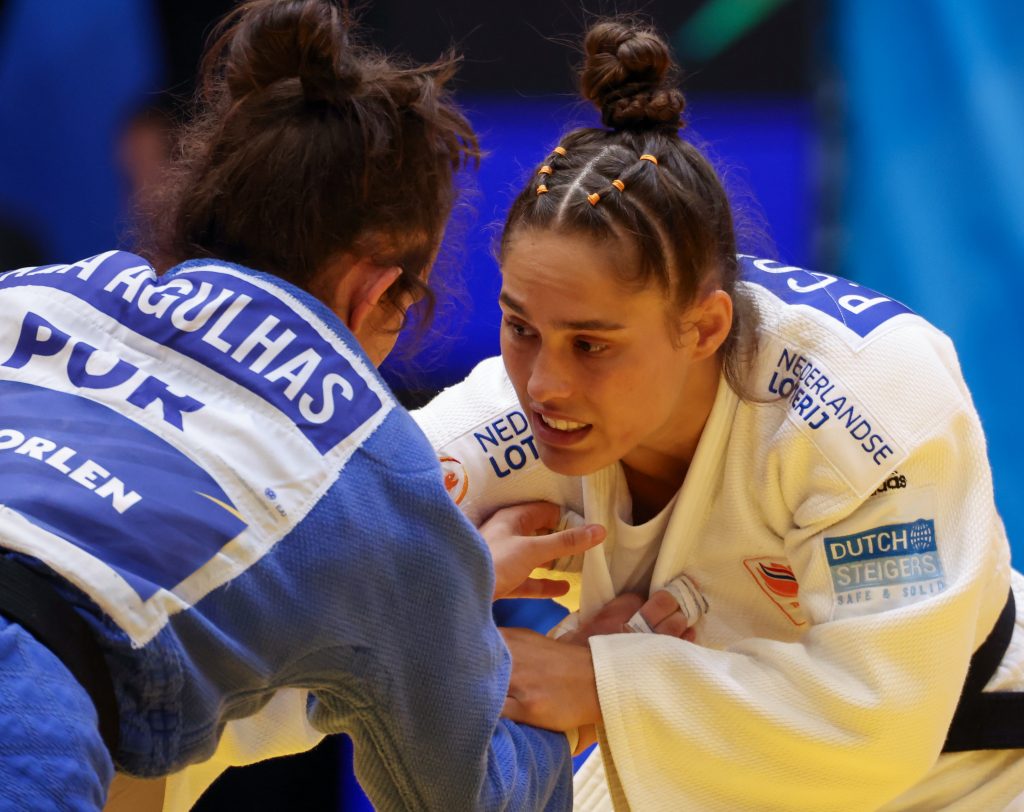 Heading in to the semi finals are Italy versus Georgia and Netherlands versus Germany.
Judoka
Author: Thea Cowen
---