Concluding the U23 European Championships in Potsdam, Germany, was the Mixed Team event. The host nation are known for their strength as a team, with a great focus on club competition in the country and of course the popular Bundesliga. Team Germany first succeeded over Team Romania in the quarter final to make their way in to the semi final against Azerbaijan.
GERMANY VS AZERBAIJAN
In the first semi final, Rafaella IGL (GER) ignited the crowd with a win against Ninar SULEYMANOVA (AZE), a waza ari scoring drop seoi nage was enough for the -78kg athlete to make it 1-0 in the women's open category. Next up was the men's open weight class, where Daniel UDSILAURI (GER) got to work quickly on the ground against Kanan NASIBOV (AZE), securing osae komi for nine seconds, one short of a waza ari score. Though Nasibov had the size advantage, Udsilauri bombarded the Azeri athlete with attacks, forcing him to pick up two shidos with a minute left on the clock, eventually a third in golden score.
It was up to Fidan ALIZADA (AZE) to bring her team back in the race, and she did so by defeating Laila GOEBEL (GER), with a waza ari scoring uchi mata. Next up, Kevin ABELTSHAUSER (GER) tried to prevent Team Azerbaijan levelling the score, but Nariman MIRZAYEV (AZE) scored waza ari early and sealed his win with sumi gaeshi. 2-2. Next up, the -78kg bronze medallist, Friederike STOLZE (GER) suffered defeat in a clinch situation, Sudaba AGHAYEVA (AZE) attacked with o uchi agri, which Stolze tried to counter but this was anticipated by Aghayeva, who then threw with ko uchi for ippon.
Senior European Cup finalist, Fabian KANSY (GER) was a bit of a wildcard for Team Germany and though it appeared that Ismayil ZAMANOV (AZE) was leading the contest, Kansy was simply biding his time before scoring a huge ippon with o uchi gari. This of course made the result 3-3 and it went to a draw.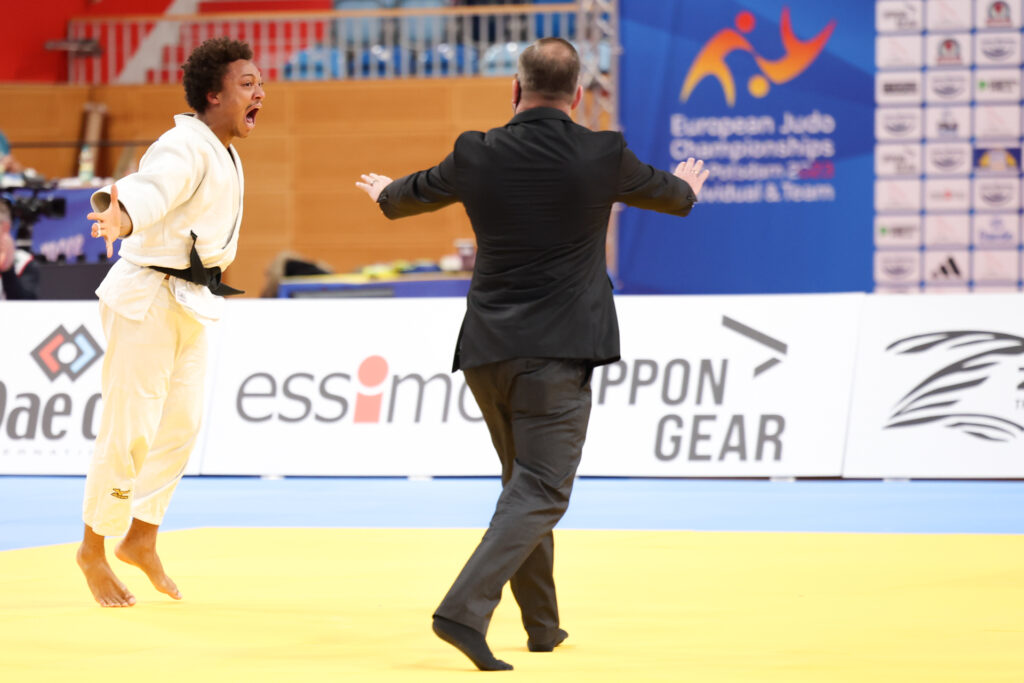 The roulette drew the -73kg category, for Abeltshauser this was an opportunity to seek revenge, fuelled even more by the premature celebrations of Team Azerbaijan. It took very little time, a flurry of attacks from the German athlete, scoring in the end with o soto gari, caused pandemonium in the MBS Arena, and he took the team in to the final.
Team Azerbaijan will go to the bronze medal contest against Team Georgia who defeated Team Austria in the repechage round.
NETHERLANDS VS HUNGARY
With Germany's final position secured, next up were the Netherlands and Hungary battling it out to become U23 European finalists. Yael VAN HEEMST (NED) took the first win against SAGI Nikolett (HUN), scoring twice early on, concluding the contest with a drop seoi nage in the +78kg category. The next head to head was significantly more tense in the men's open category, with both Joes SCHELL (NED) and SAFRANY Peter (HUN) coming close to scoring on multiple occasions. The current -90kg U23 European Champion Safrany eventually scored with obi tori gaeshi, or more commonly known as the 'Khabareli'.
The -57kg category saw the current champion, Elin HENNINGER (NED) take on the -52kg champion GYERTYAS Roza (HUN). The pair went in to golden score, neither willing to suffer defeat after their big wins this weekend, and it took over four minutes of golden score, but Gyertyas executed uchi mata to win the contest, her conditioning her superior in this head to head. Koen HEG (NED) continued with his ne waza skills in the semi final to take a win against ADORJANI Gergely (HUN) and once again levelling the playing field, now 2-2.
In the -70kg category, Kamile NALBAT (NED) picked up two shidos early on but managed to counter a weak attack by CZERLAU Jennifer (HUN) to score waza ari, and proceeded to work multiple times on the ground but to no avail. With little over a minute left on the clock, Nalbat continued the chase and ended the contest with ko soto gake. The Dutch team needed just one more win to take their place in the final against Germany, leaving it up to Tigo RENES (NED) in the -90kg category. Unfortunately for NERPEL Gergely (HUN), he went down a waza ari following a sumi gaeshi attack from Renes who then continued his campaign, throwing with drop seoi nage to send his team in to the final.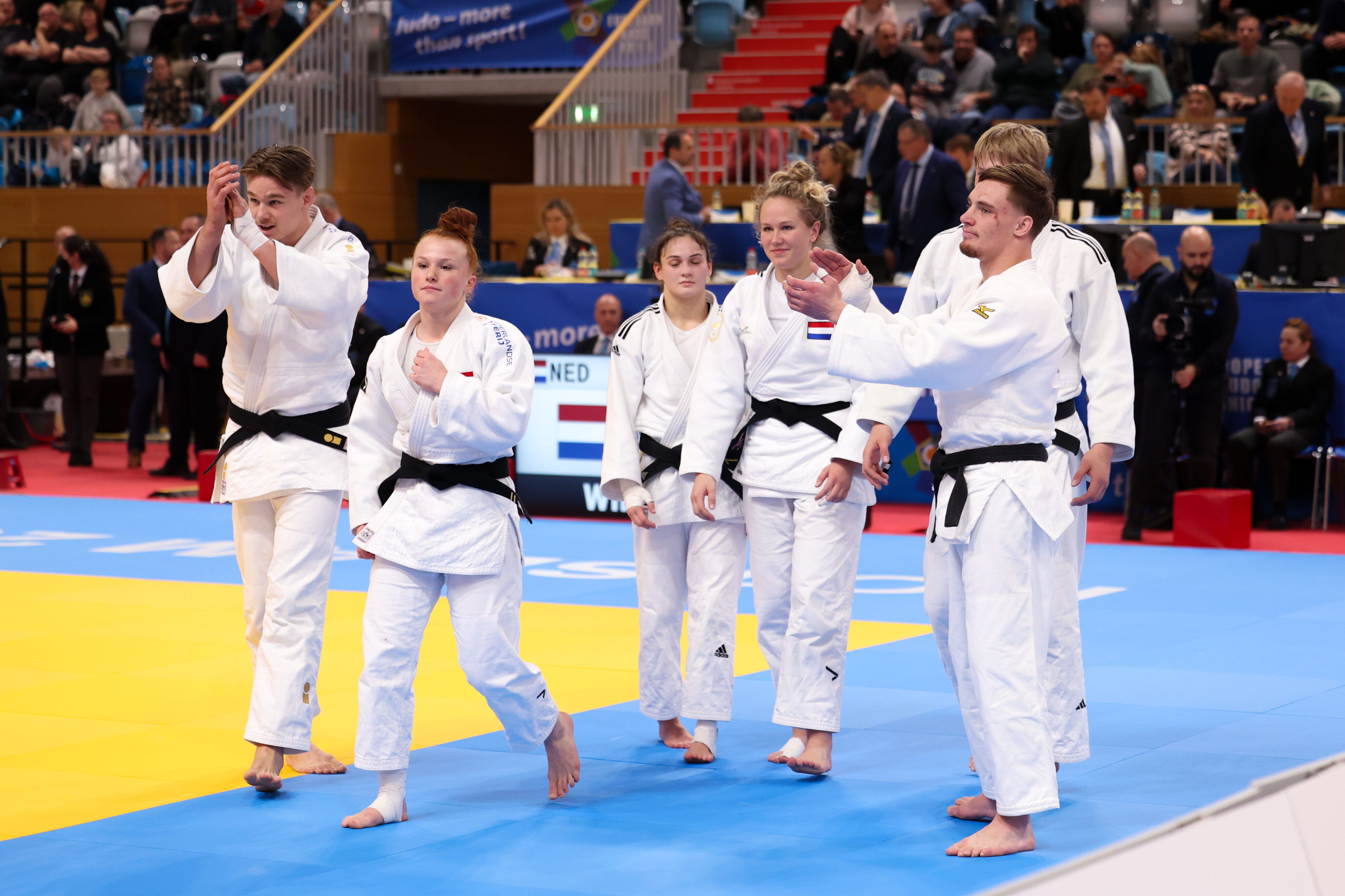 Team Hungary will still be in with a chance of a medal as they head to the bronze medal contests against Team Ukraine who won their repechage round against Romania.
Judoka
Author: Thea Cowen
---