The EJU would like to express its deepest condolences to the family of Eric Veulmans and the Flemish Judo Federation. Veulmans passed away on July 26th, leaving behind a wife, children and grandchildren.
The 8th Dan was involved in EJU Kata since the beginning in 2002. First of all, as an EJU Kata Judge but soon he was involved as a Kata expert by his great knowledge of all Kata. In 2008, he also became an IJF Kata judge.
In 2011 he joined the EJU Kata Commission and has been a big player in all our organizations.
Career
Former Para-Commando 3rd battalion Lombardsijde
Retired Physical Education teacher VTI Leuven
Former Technical Director Flemish Judo Federation vzw
Former chairman pedagogical committee Flemish Judo Federation
Former chairman Shodan Shiken jury Flemish Judo Federatio
Former chairman of the Higher Degrees Inquiry Committee Flemish Judo Federation
Former chairman Council of Higher Degrees Flemish Judo Federatio
Former Director of sports management training Flemish Judo Federation
Head coach Judo Club Leuven
Kata Commissioner European Judo Union (EJU)
Kata Judge International Judo Federation (IJF)
Honorary member Judo Flanders – 8th dan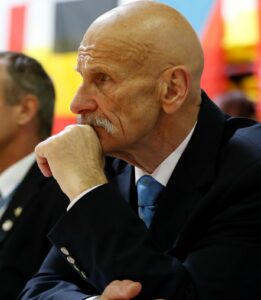 Eric Veulmans was born born in Kessel-lo (Belgium) in 1942 and a judo monument in the Flemish part but he was also appreciated and considered in the French part with which he collaborated actively in fields of education and Kata. He was an incomparable source of knowledge and he liked to share it with anyone interested in judo. His skills were recognized abroad where he was regularly invited to share his knowledge.
Michel Kozlowski, EJU Head Kata Commissioner expressed his feelings in regards to our loss:
"I don't have words for this tragic loss. I'm deeply saddened because he was a sincere friend who could be relied on tirelessly. Eric was passionate in judo and worked in so many different areas. He has supported everything we have undertaken since the beginning of the EJU Kata.
He was appreciated not only for his technical expertise, but also for his human qualities. He truly represented the values ​​of judo and showed the way for others. It is a great loss for judo and especially for the Kata family.

On behalf of the EJU President Sergey Soloveychik, we express our deep condolences to the family, friends and colleagues of Eric. He will be missed.
Author: Sören Starke
---