The 2016 Golden League will take place in the capital city of the Chechen Republic, Grozny. The city lies on the Sunzha River at South-West of Russia. What can we expect from this event? Well, enthusiasm, fierceness and remarkable judo contests will be guaranteed.
In Grozny, the rules are strict and the numbers are fixed, which means 8 men and 8 women teams will be on stage to run the show. According to qualifying rules all four medallists (men and women) from the European Club Championships [ECC] 2015 and from the Golden League [GL] 2015 are qualified for the 2016 Golden League. In case of any withdrawn for GL, the team finished 5th place in 2015 GL, will be allowed to replace the withdrawn team. Last year's golden hopers, GALATASARAY (TUR), whom finished 5th place at the end, has been given a second chance after a withdrawn note received from 2015 ECC winner Dutch team, JTS Noord-Holland.
WOMEN TEAMS
GALATASARAY (TUR) will return with limitless determination to prove they belong from this stage. The team includes Olympic Champion, Majlinda KELMENDI as well as Olympic Bronze medallist, Yarden GERBI. To strengthen the medal opportunity, Nora GJAKOVA as well Linda BOLDER will be joining alongside 2016 Tokyo Grand Slam winner, Kathrin UNTERWURZACHER. Distria KRASNIQI will have a taste of the -63kg category as part of the Turkish crew.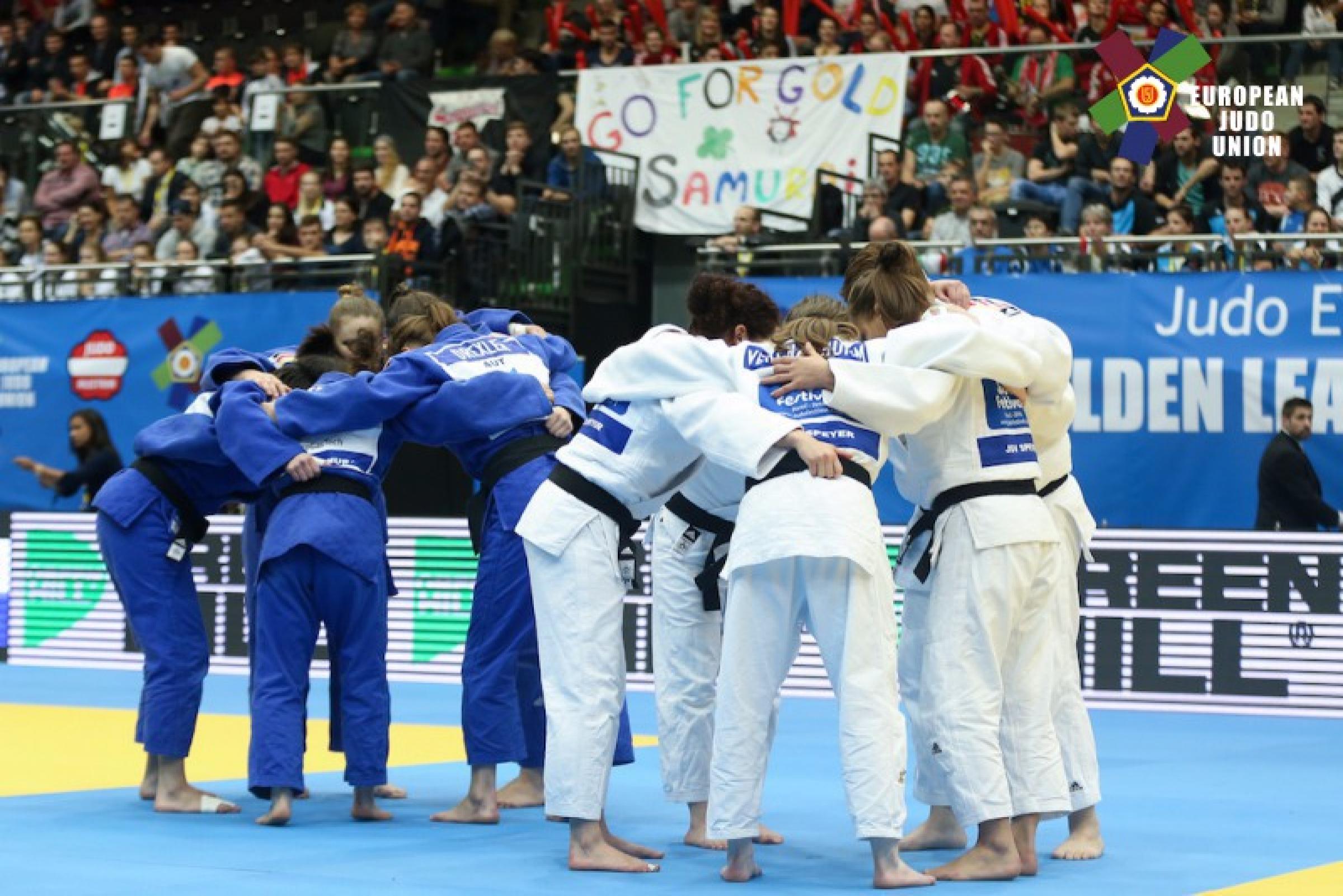 Last year, Galatasaray suffered a defeat from underestimated JC CORTAILLOD (SUI), where the Swiss team, in order to strive through to the final, took out Galatasaray with a tight 3:2 match up. JC Cortaillod yet again returns with a strong line up. Domestic glow, Evelyne TSCHOPP begins the list with a few strong imports to follow. Namely, Alice SCHLESINGER, Maria PORTELLA and Maria Suelen ALTHEMAN.
JSV SPEYER (GER) claimed bronze last year alongside VIENNA SAMURAI (AUT). The German crew is made of 15 athletes which of four is very much eye catching. Starting with Olympic Silver medallist, Odette GUIFFRIDA, adds to it, Juul FRANSSEN. Szaundra DIEDRICH will increase the odds from inland, whilst JOO Abigel will bring her best all the way from Hungary. 2015 GL women team winner, RSC CHAMPIGNY (FRA) will board the plane to Grozny with 9 strong individuals, including, Olympic Silver medallist, Clarisse AGBEGNENOU. Undoubtedly, all 9 individuals will create a robust team.
MEN TEAMS
Three different teams will come along from Georgia to terminate the rest. Althought, all three seems equally strong, yet, title holder, FIGHTER TBILISI, looks just slightly above the league. The team made of 11 players, including Amiran PAPINASHVILI, Vazha MARGVELASHVILI, Nugzari TATALASHVILI, Zebada REKHVIASHVILI, Avtandili TCHRIKISVILI, Adam OKRUASHVILI and Olympic Silver medallist, Varlam LIPARTELIANI. This itself a shocking bunch with only half of the team mentioned. Lasha SHAVDATUASHVILI, Beka GVINIASHVILI and Levani MATIASHVILI will strengthen SAGAREDJO FF SUPERSTARS. A young, yet powerful line up seen on the entry list of SHEVARDENI 2005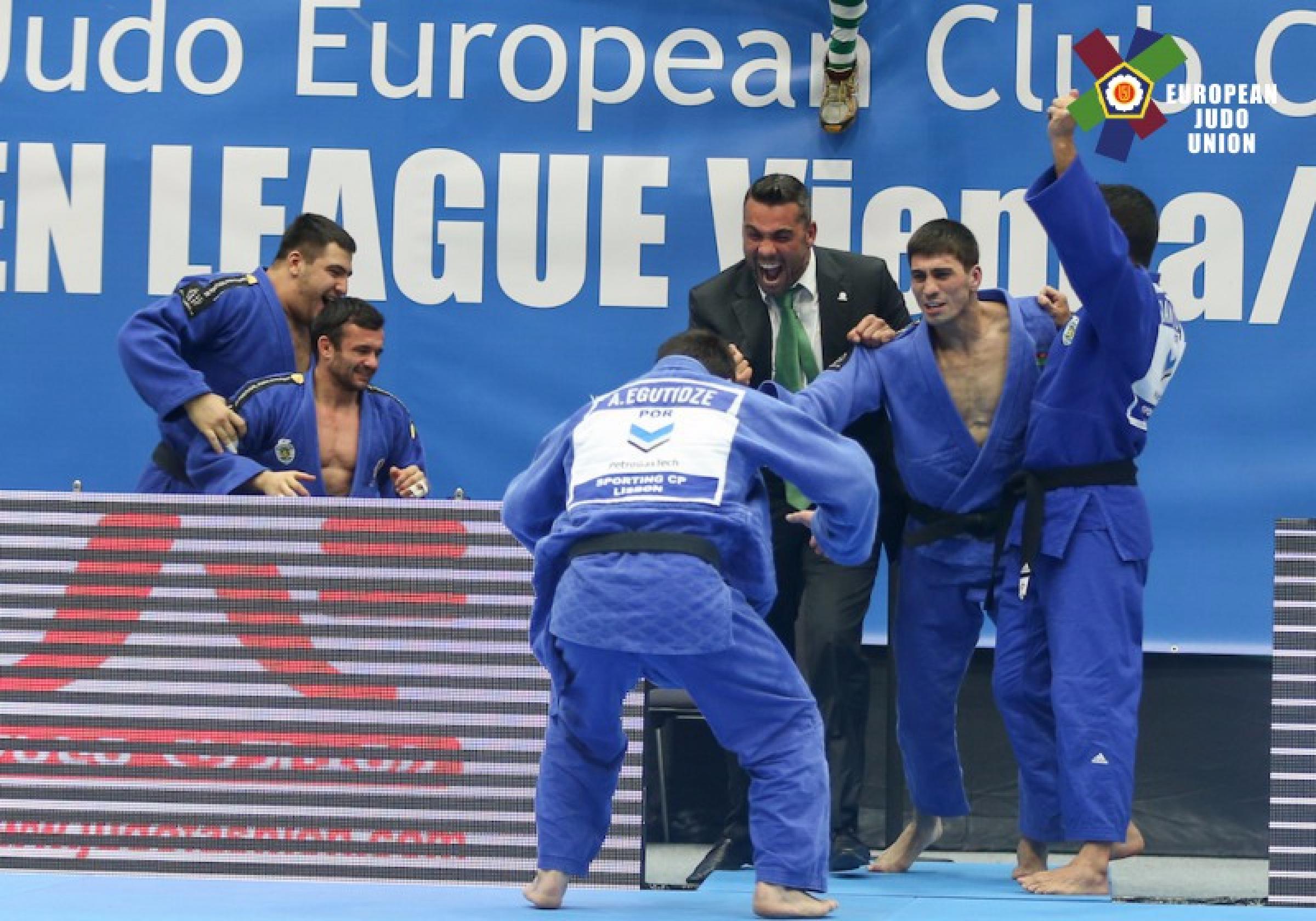 Last year's silver setters, TSV ABENSBERG (GER) was in a risk to return due to the reason that the majority of their original players had other duties to complete within Germany. After various debate, an extremely convincing team has been put in place with the total number of 24 individuals. There are quite a few, which worth to mention; Sebastian SEIDL, Christopher VOELK, Sven MARESCH, Sagi MUKI, Ilias ILIADIS, Dimitri PETERS, Toma NIKIFOROV, Olympic Bronze medallist, Or SASSON and Olympic Champion, Lukas KRPALEK. Almost half a numbered SPORTING CLUBE DE PORTUGAL (POR) shocked the crowd last year and demonstrated the unexpected when winning bronze. Undeniably, they have both, the ability and the passion to maintain their success with Olympic Silver medallist, Rustam ORUJOV on their side. Second bronze medal was won by YAWARA NEVA (RUS), where three Olympic Gold medallist will intensify the team. Specifically, Arsen GALSTYAN, Khasan KHALMURZAEV and Tagir KHAIBULAEV. The prestigious team event, likely to bring much wonders as some of the freshly entered teams could possible break the ordinary.
---
MEN TEAMS
Fighter Tbilisi
TSV Abensberg
Yawara-Neva Saint Petersburg
SportingClube de Portugal Lisbon
Sagaredjo FF Superstars
Green Hill KBR Nalchik
Sport Judo Club EdelweissGrozny
Shevardeni 2005 Tbilisi
WOMEN TEAMS
Red Star Club de Champigny
Judo Club Cortaillod
Cafe & Co Vienna Samurai
Judo-Sportverein Speyer 1959 e.V.
SK ShabalovkaMoscow
Dinamo RNO-AlaniaVladikavkaz
Alliance Judo Limoges
Galatasaray S.K. Istanbul
Judoka
---