Diogo Lima is a family doctor in a primary care unit in the national health system. In addition to the regular activity of a family doctor, in this unit he is responsible for some initiatives in the area of promoting physical activity and physical exercise for people with some diseases, such as diabetes or obesity.
Marta Plancha is a second year Obstetrics & Gynecology Resident at a reference Maternity Hospital in Lisbon. In her daily work she diagnoses and treats women's reproductive medical conditions, cares for expecting mothers before, during, and after childbirth and helps to deliver babies.
Diogo Lima
Age: 38
Living place: Lisbon
Judoclub: Sporting Clube de Portugal
Profession: Medical Doctor, Family physician

Marta Plancha Santos
Age: 27
Living place (city): Lisbon, Portugal
Judoclub: Judo Clube de Lisboa
Profession: Medical Resident of OB-GYN
How is the current situation in your country?
Diogo: Fortunately, the pandemic of the disease COVID-19 did not hit Portugal so severely as other countries in Europe. Now, due to the lockdown, we will probably start to have an increase in morbidity and mortality related to chronic diseases, which were suspended in terms of surveillance in this period of confinement.
Marta: Movement and social distancing was very restrictive in order to contain the spread of the virus.
But we had one of the lowest numbers of cases and deaths in Europe. Now we are slowly returning to a new normal reality.
Some people underate covid-19. What do you think?
Diogo: I think that the majority of European citizens, among others naturally, also did not well assess the risk of traveling, namely to places with a large crowd of people at festive times such as Carnival or snow holidays.
Marta: Panicking is obviously not the solution; we've seen how it can hurt the more vulnerable. But the opposite attitude of underestimating the threat of the virus is also dangerous because the people who do it can jeopardize not only themselves but also others.
Do you have friends you are ill with covid-19?
Diogo: Fortunately, I am not aware that any friend or family member has been diagnosed with COVID-19. But, some colleagues at institutions where I work have been infected, but apparently have not suffered from a serious illness.
Marta: No, I don't. But I have friends whose parents and other relatives are infected. Fortunately, they are all ok and doing their quarantine time at home.
What experiences did you collect at your daily work?
Diogo: In professional terms, it was necessary to adopt measures to protect professionals and users of health services. For this reason, a whole set of clinical, organizational or operational guidelines had to be worked on to try to implement them in the most appropriate way for each service infrastructure. Then, all these measures are materialized in behaviors that have to be trained, so that in the end we decrease the probability of having contact with the virus measures also had to be transposed into personal and social life, such as leaving and entering the house, shopping at the supermarket, using ATMs, etc.
For example, when I leave home, I no longer touch my face, I bought wireless speakers to be able to talk without putting the phone in contact or close to my face, etc … now all this has an impact on our day life.
Finally, but not least having a wife and 4 small children is my desire to take home nothing unwanted …
In other words, in the end it is necessary to have the same resilience and persistence of character that always accompanies us since athletes …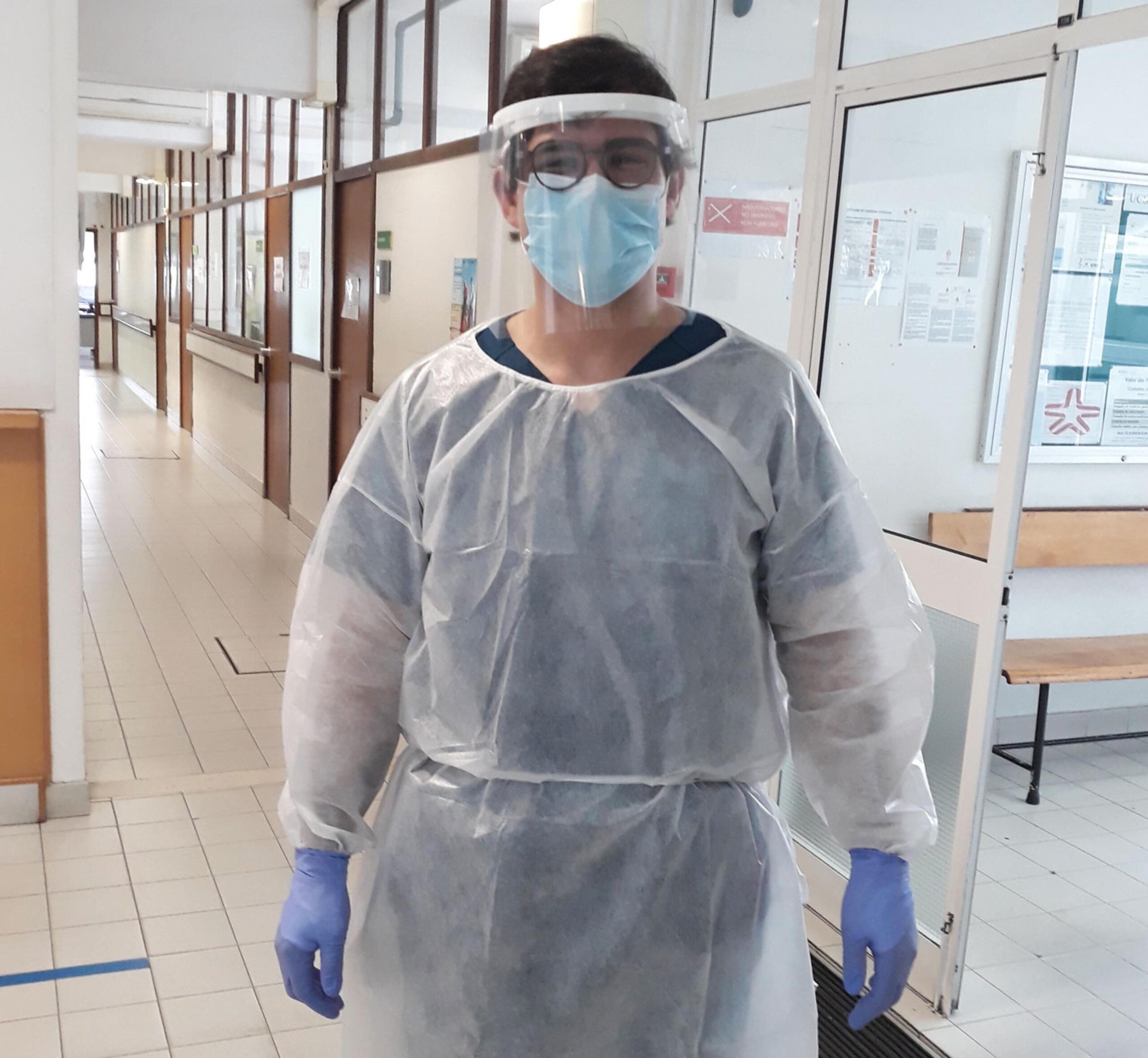 Are you afraid of the situation?
Diogo: Following the previous answer my concerns are that I might be an asymptomatic carrier of the virus and put others at risk, in particular my family. And it has been this fear, which I think has afflicted everyone … that has led us to limit our social interactions, namely with our most loved ones, such as the elderly or our parents, who have been deprived of our company. Now after a first controlled wave, other waves may appear and we cannot wait forever to find a miraculous solution that will put us all safe, so much so that this cure may never arrive. Thus, by managing the risk of infection in the community and individually, with the adoption of protective behaviors of others and of ourselves, we can begin to live together, using our courage to internalize behaviors in order to overcome this fear …
And the more we train and automate this set of behaviors, the more confident we will be in our day and we will be able to reduce our anxiety every day that we have to leave the house.
Marta: No, not right now. I was afraid in the beginning, mostly for my friends and relatives, especially because no one knew exactly what was going on.
But I don't think fear gets us anywhere safer at the moment. I am more confident that we will overcome this.
Do you think the world will gonna be the same in a few months?
Diogo: I think things will be very different. This different may even be better, but unfortunately in the middle we have already lost more lives, we already hear a lot of suffering and unfortunately some of us have had to decide who lives and who was left to their luck. This different may even be better, but meanwhile we have already lost some lives, hear a lot of suffering and unfortunately some of us had taken very hard choices, having to decide who lives and who was left to their luck.
Marta: I think the way people work and interact may change, people will adapt to digital interaction in areas that we did not see the need for it just 3 months ago. On the other hand I also think people often have short-term memory and this issue will soon be something of the past. It would be great if as a consequence of this crisis people and governments would start to value important and vital professionals such as doctors, nurses, supermarket workers, waste management workers, and all the working people that kept societies 'functional' in these past weeks. I am not that positive that this will happen but if it does it will be, for me, the one positive aspect of this pandemic situation.
How much you miss Judo at that time?
Diogo: Since I left high performance in 2018, I have had few opportunities to practice judo on a regular basis. I practice physical exercise regularly 3-4x / week. So I miss training every day, twice a day and I particularly miss practicing judo every day and challenging my teammates to a good randori."
Marta: When I started my Residency last year it was really difficult to manage my professional and athlete life and I felt I could not put my passion for Medicine on hold anymore, especially being injured again. So even before the pandemic I felt the need to stop practicing Judo, a sport that I truly loved and that made me feel like myself, totally free. But I do think about getting back to training, even if it would be with lower intensity. Maybe when this all goes away I will start practicing again.
Author: Annett Bohm
---