Day two of the European Championships saw a packed and vocal crowd entertained by some of the best judoka in the world. Close on four thousand people saw world and Olympic champions battling it out this time for European honours. The -63kg category saw a final match-up between arch rivals Clarisse AGBEGNENOU (FRA), current world champion, and Tina TRSTENJAK (SLO) the current Olympic champion in a match that lived up to its high profile billing.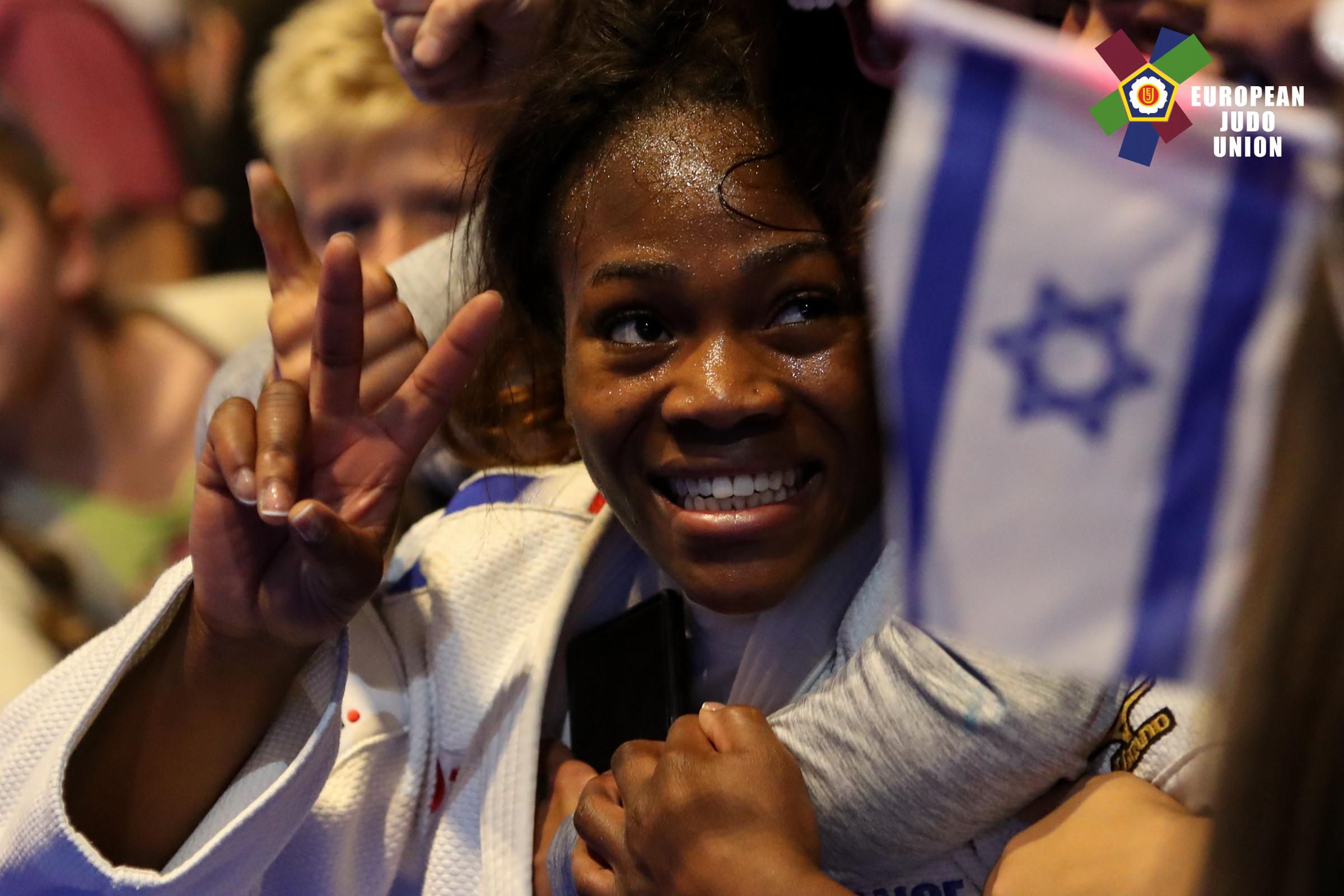 63kg gold medal winner, Clarisse AGBEGNENOU (FRA):
Congratulations, how was your preparation leading up to the tournament?
"The preparation was really hard as we did not stop doing judo since January. I have done training camps and competitions. It has been tough, but it is finished now and I can enjoy my time now."
What was the plan for the final?
"With Tina, it can be complicated because I need to do stick to the plan and do what I can win. If I go off plan and do different things, she will take advantage of me. So I always have to stay very calm and wait for the right moment. I think I have found the solution and it seems working now."
You won the first and only medal for France so far. Did you feel pressure to secure the first medal?
"I would say there was a little pressure, especially after my friend, Maria Eve Gahie lost. We wanted to be on the podium together. It is never easy, but I am happy I won a medal for my team."
In the -73kg the top two seeds, Rustam ORUJOV (AZE) and Lasha SHAVDATUASHVILI (GEO) both made early exits leaving the field free for someone considered by many a surprise package.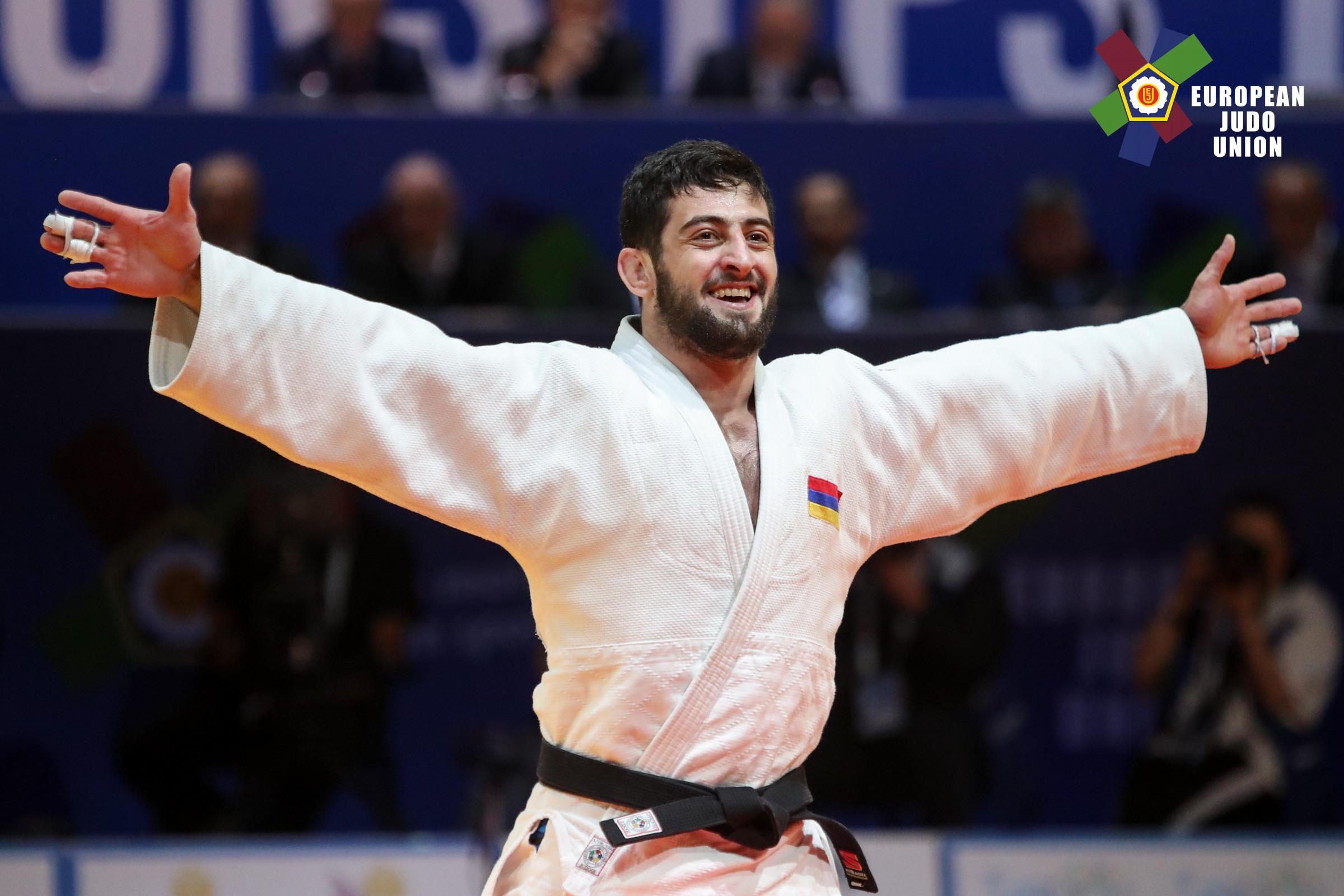 -73kg Gold medal winner, Ferdinand KARAPATIAN (ARM):
European Champion, how do you feel?
"Thank you very much for your congratulations. I have been dreaming about this victory for a long time and I am now European Champion. I did not want anything less than the gold medal today. I have been training very hard and we still have a lot of work to do. Honestly, we have worked so hard that I could never imagine losing today. I would like to say that I am very proud that I won for my country, Armenia and I want to present this victory to my homeland."
You moved up a weight category not long ago, how was the process in adjusting?
"Yes, I recently changed to 73kg category. It has been a successful choice for me. This weight is very strong, but I think it is judo and it is the same for everyone. We all need to be strong physically and mentally. To win today I believe I had it all in within me."
Coach of Armenia, Armen Nazaryan:
"Ferdinand has been training really hard. To win at such a tournament you have to train hard and be serious day and night. You cannot be on and off and win. It has to be constant focus. I am very proud of Ferdinand, our team and our achievement. This morning when we came to the venue, Ferdinand told me he felt great and was ready to win. He had no injuries at all which helps a lot to be the best. I want to add that Arsen also tried his best, but he couldn't make it today."
Three-time European champion Kim POLLING (NED) was given a strong test when in the final of the -70kg category she came up against 2016 Olympic bronze medallist Sally CONWAY (GBR).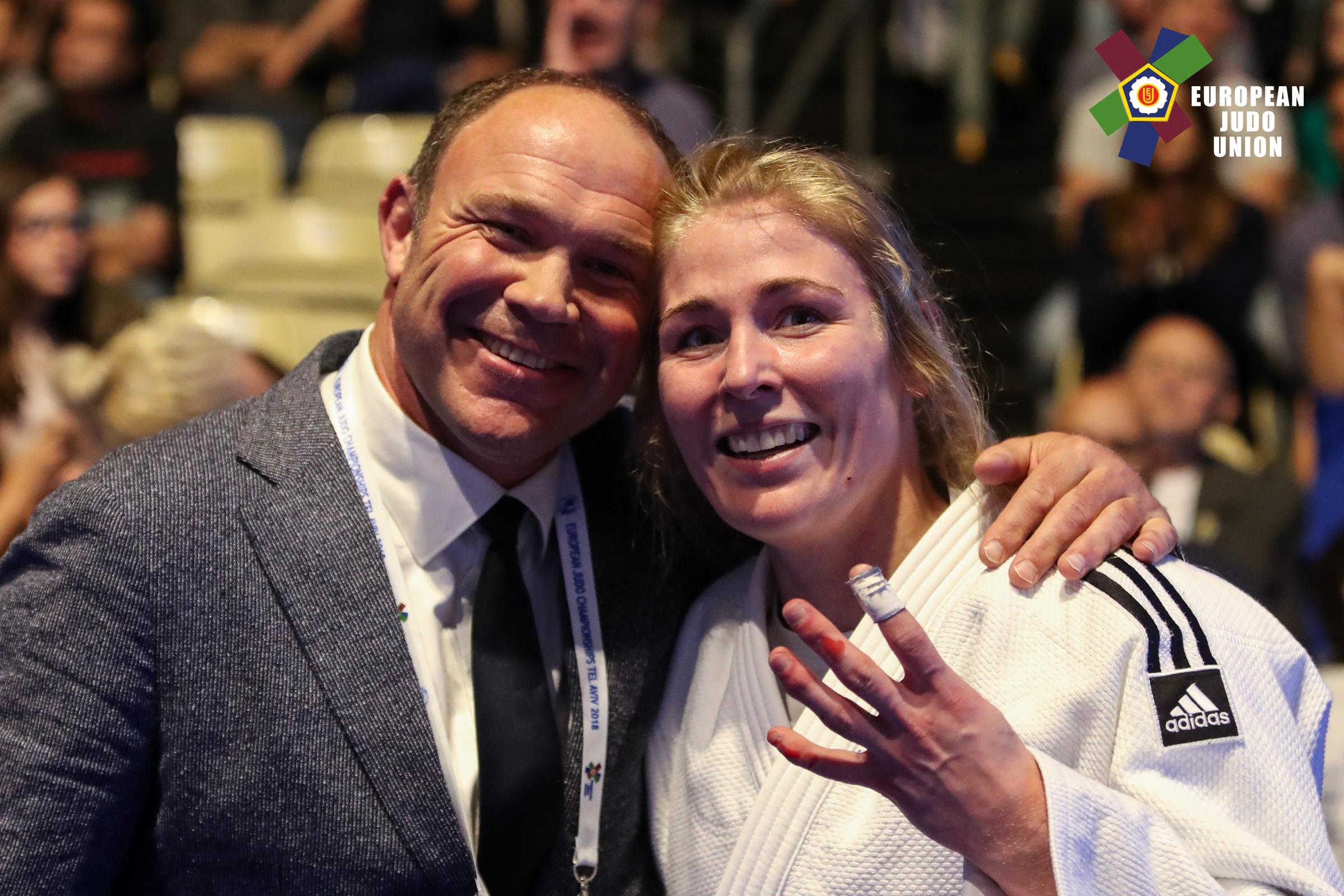 -70kg Gold medal winner, Kim POLLING (NED):
The day started a bit tough during your first fight, but now you are 2018 European Champion, how do you feel?
"I am relieved because I really came for gold nothing less. I am really proud how I won at the end. My first fight is never that good, so to fall for waza-ari was not a surprise. I am happy that I put high pressure on myself to accept nothing less than the gold and because of this it allowed me to win today. The same pressure pushed me through the semi-final."
Your last European title was in 2015. What happened since then?
"Yes, after the Olympics I took a full year out to recover from my injuries and recharge. Before the World Championships I was not fully fit and I returned too early to come back at this level. It was difficult, but now I feel that I am back to my old self."
How about your final, what was the plan?
"Normally in training I can throw Sally easier, but today it was difficult. I couldn't throw her straight away and the it was a strong fight for both of us. It was really difficult, but I had to stay calm to make sure I could win"
How about a European and World title for 2018?
"Oh yes, I would definitely love to became World Champion too this year. For now I will focus on my next tournament which is the Hohhot Grand Prix."
The -81kg category proved to be a virtual minefield for the seeded players. Only number two seed Aslan LAPPINAGOV (RUS) made it to the podium to collect a bronze medal. But it was unseeded home favourite Sagi MUKI (ISR) who stormed through the field to take a gold medal that left the home crowd ecstatic.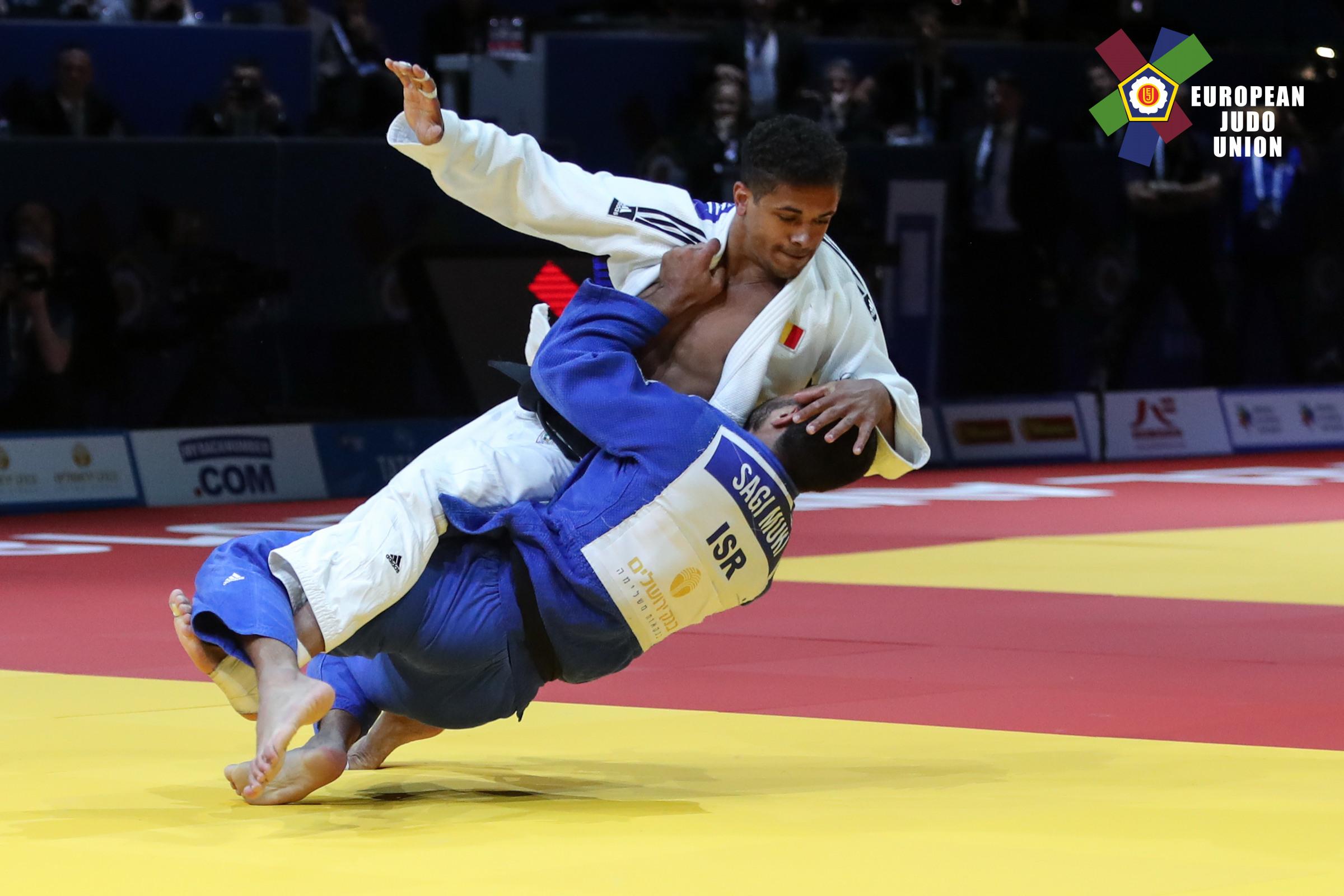 -81kg Gold medal winner, Sagi MUKI (ISR):
Congratulations, you have became European Champion on your in your country. What was going through your mind today?
"This is the first time we have this tournament here and to become European Champion and listen to the national anthem in Israel was the best feeling for me. It is also my first time to compete in front of such a crowd and they really pushed me forward today. Even when I was tired going into the last minute of my fights, I just felt like I was wanting to go forward more and more. That is how much the home crowd helped me today."
When you woke up this morning, did you imagine this day?
"I felt good in the morning and up for it. I imagined what it would be like to compete front of our nation, but you can't really feel it until you experience it. My experience was more amazing than I could ever of imagined."
How about your final?
"We know each other very well. I have been working on new areas in my judo and that, in addition to an amazing crowd, made it happen for me today."
We have not seen you around as regularly as you used to compete. Any specific reason?
"Yes, I took time out to build my weight, because I was still too light. I needed to get stronger and heavier. It takes time to adjust, but now it is safe to say I have successfully landed in the -81kg category."

Coach, Oren Smadja:
"First of all, I am very excited that we were able to host the European Championships. We have many participants and also media here, which can cause pressure physically and mentally. Sagi's victory is a very special one for me, because I have been his coach since he stepped on the mat for the first time at age of four. It is also special because he has had a bad back injury. After that, we took time out to allow him to develop into the new weight class. It took him a year and he is still not 100%."
"As you know, today is a very sad day for our country, due to the natural flood disaster which took the lives of many young people. Sagi's win today gave us a little hope and warmth at a sad time for our country."
---
Podium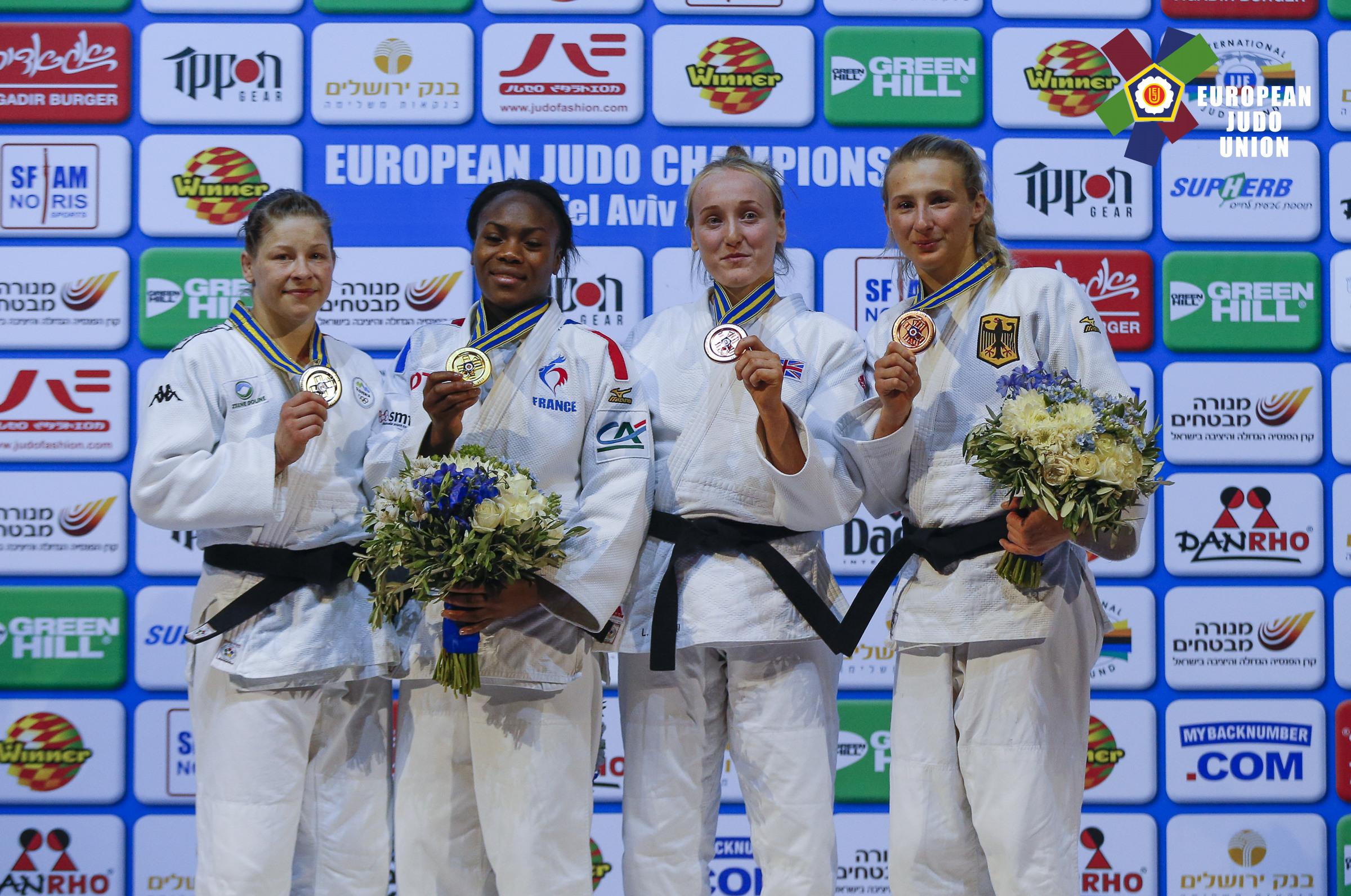 Podium European Judo Championships -63 kg AGBEGNENOU, Clarisse (FRA) TRSTENJAK, Tina (SLO) RENSHALL, Lucy (GBR) TRAJDOS, Martyna (GER) – Carlos Ferreira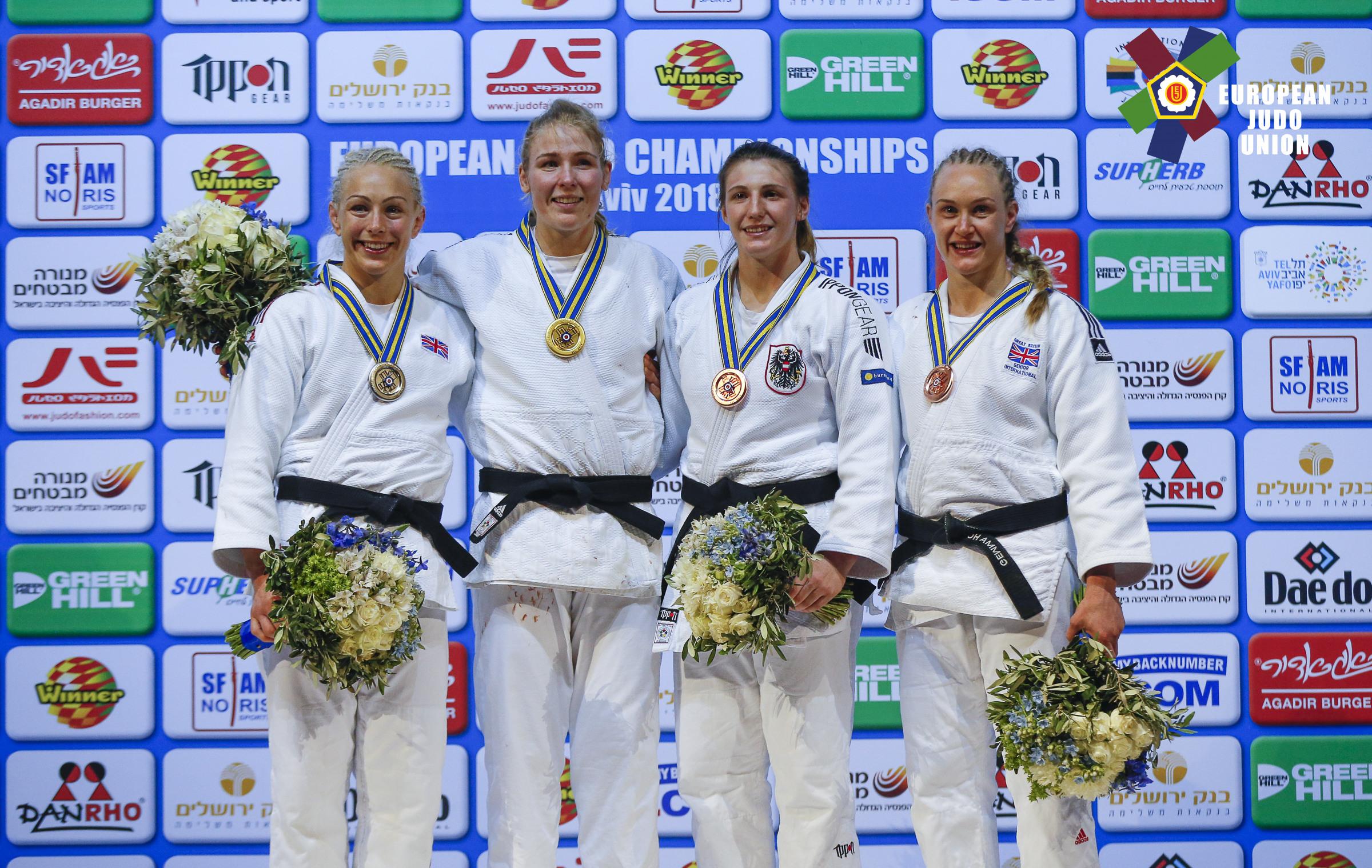 Podium European Judo Championships -70 kg POLLING, Kim (NED) CONWAY, Sally (GBR) POLLERES, Michaela (AUT) HOWELL, Gemma (GBR) – Carlos Ferreira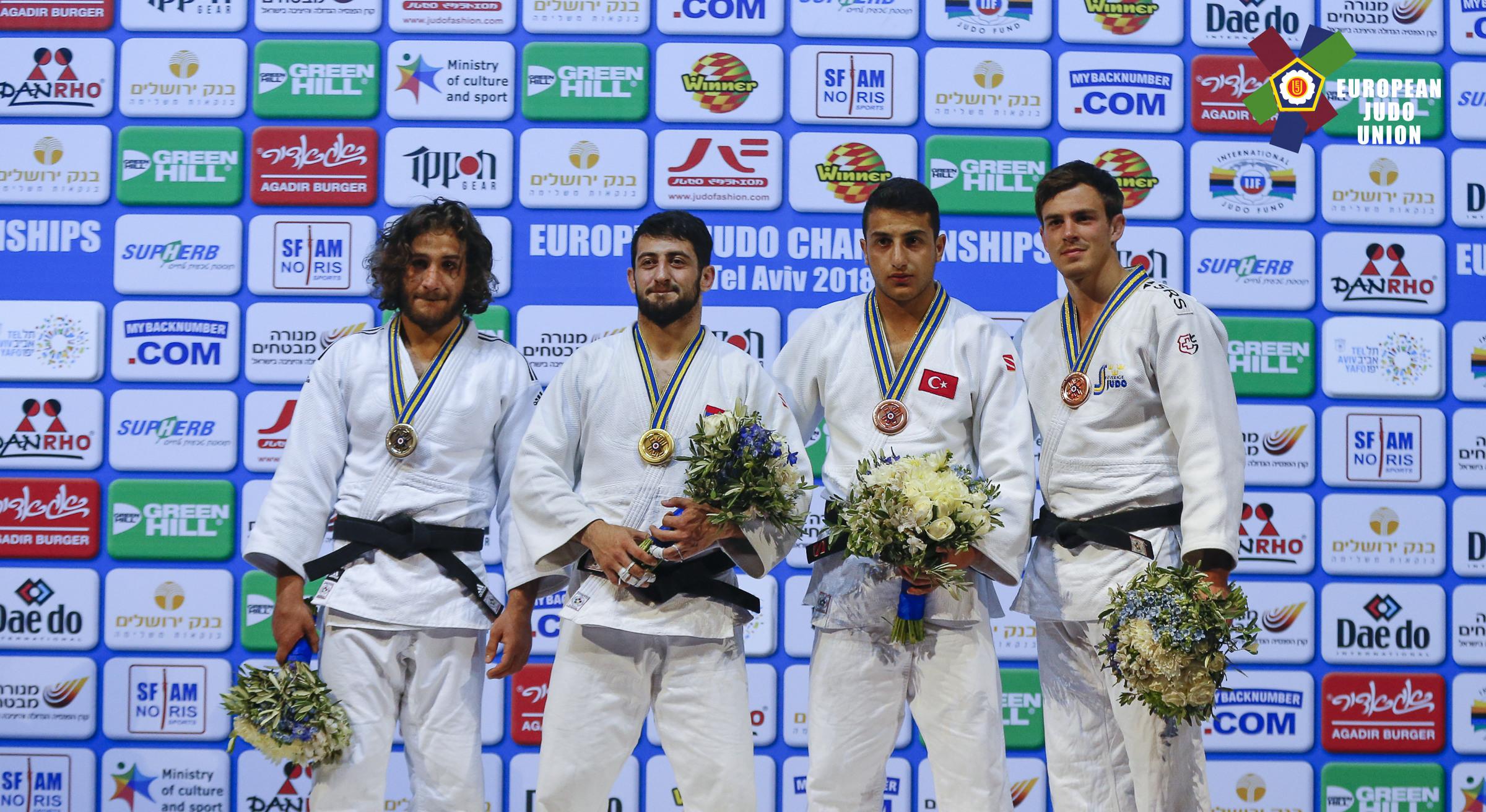 Podium European Judo Championships -73 kg KARAPETIAN, Ferdinand (ARM) HEYDAROV, Hidayat(AZE) CILOGLU, Bilal (TUR) MACIAS, Tommy (SWE) – Carlos Ferreira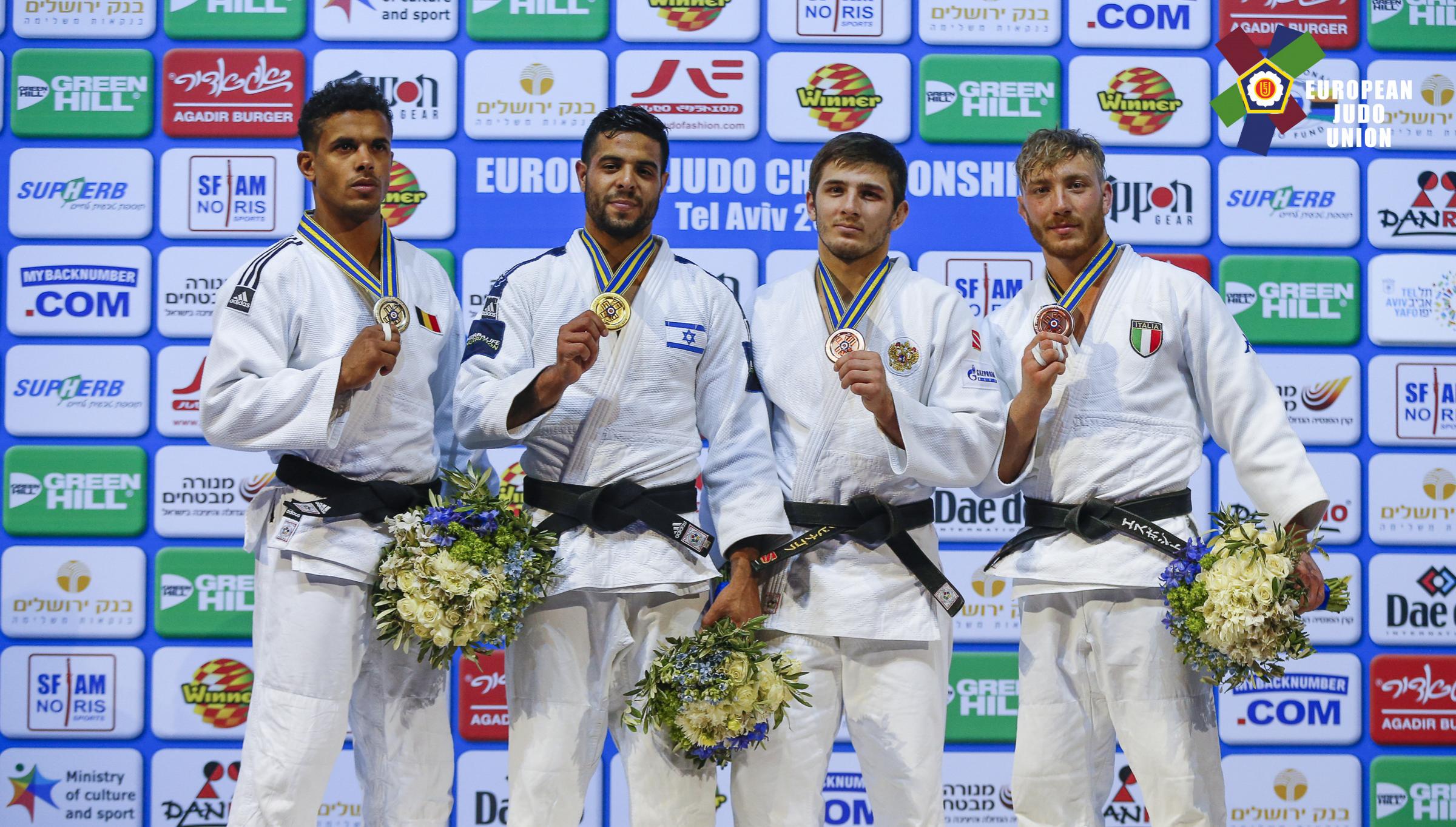 European Judo Championships -81 kg MUKI, Sagi (ISR) CHOUCHI, Sami (BEL) LAPPINAGOV, Aslan(RUS) ESPOSITO, Antonio (ITA) – Carlos Ferreira
Judoka
---