The 2018 European Judo Championships has come to an end by Russia finishing on top of the medal table with 4 gold, 1 silver and 3 bronze medals. Closely followed France and Belgium. In the past days, tears and joy were equally shared with the atmosphere being electric. Today it continued, and for the final day we have seen the remaining five weight categories competing.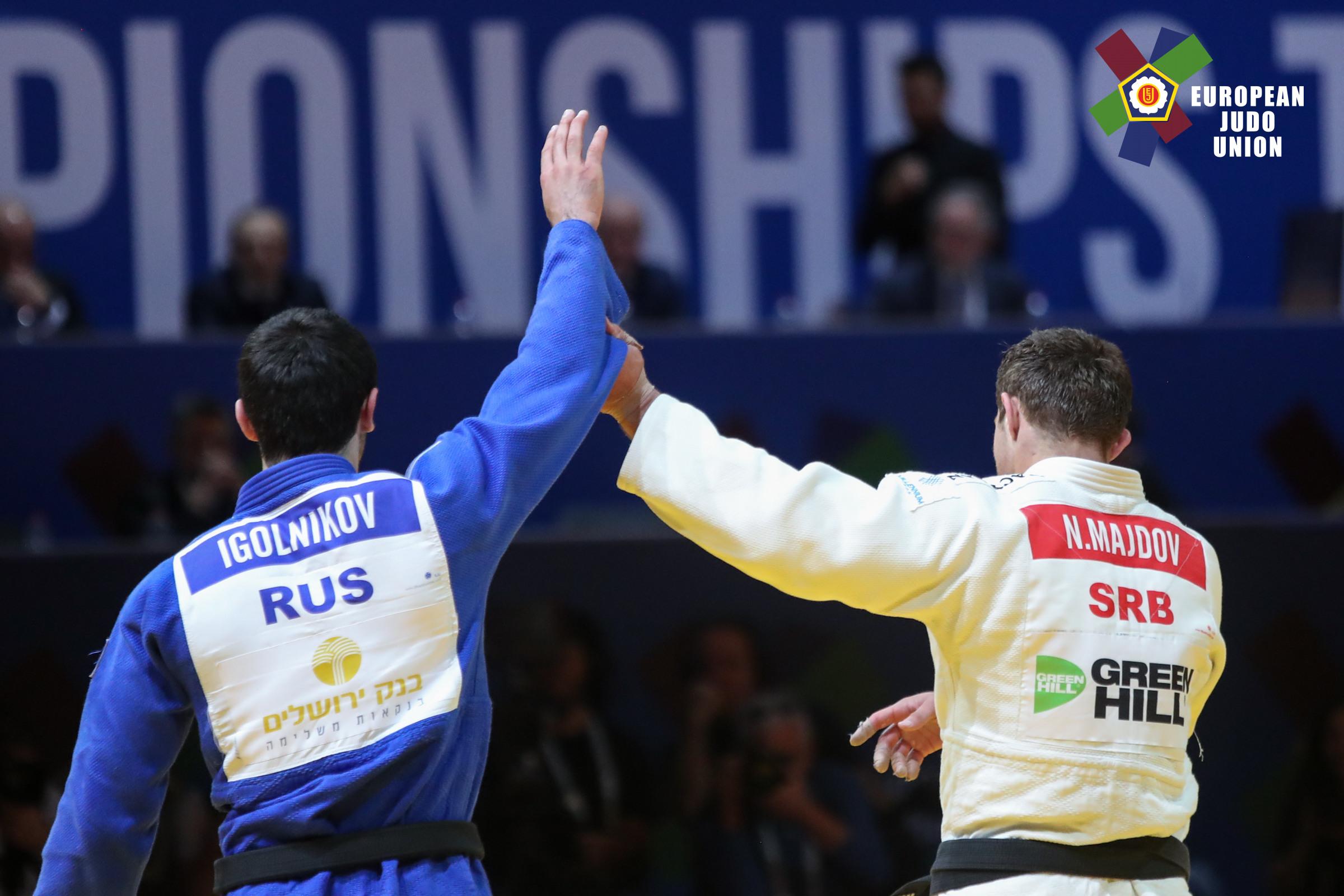 The -90 kg category saw wonders right away in the morning when top seed, World No1, Aleksandar Kukolj (SRB) had an early exit caused by Yahor Varapayeu (BLR), whom later had to settle for 5th place. The winner of the -90 kg category and now European Champion is Russia's fourth gold medallist of this week, Mikhail Igolnikov. The young judoka looked strong, confident and dominated throughout the day. We had a chat with him following his final.
-90kg Gold medallist, Mikhail IGOLNIKOV (RUS):
Congratulations on becoming European Champion today. How do you feel?
"As usual I am very happy, we tried our best today and we got the result we came for."
How was your preparation for this championship?
"Well, I have been training a lot and hard."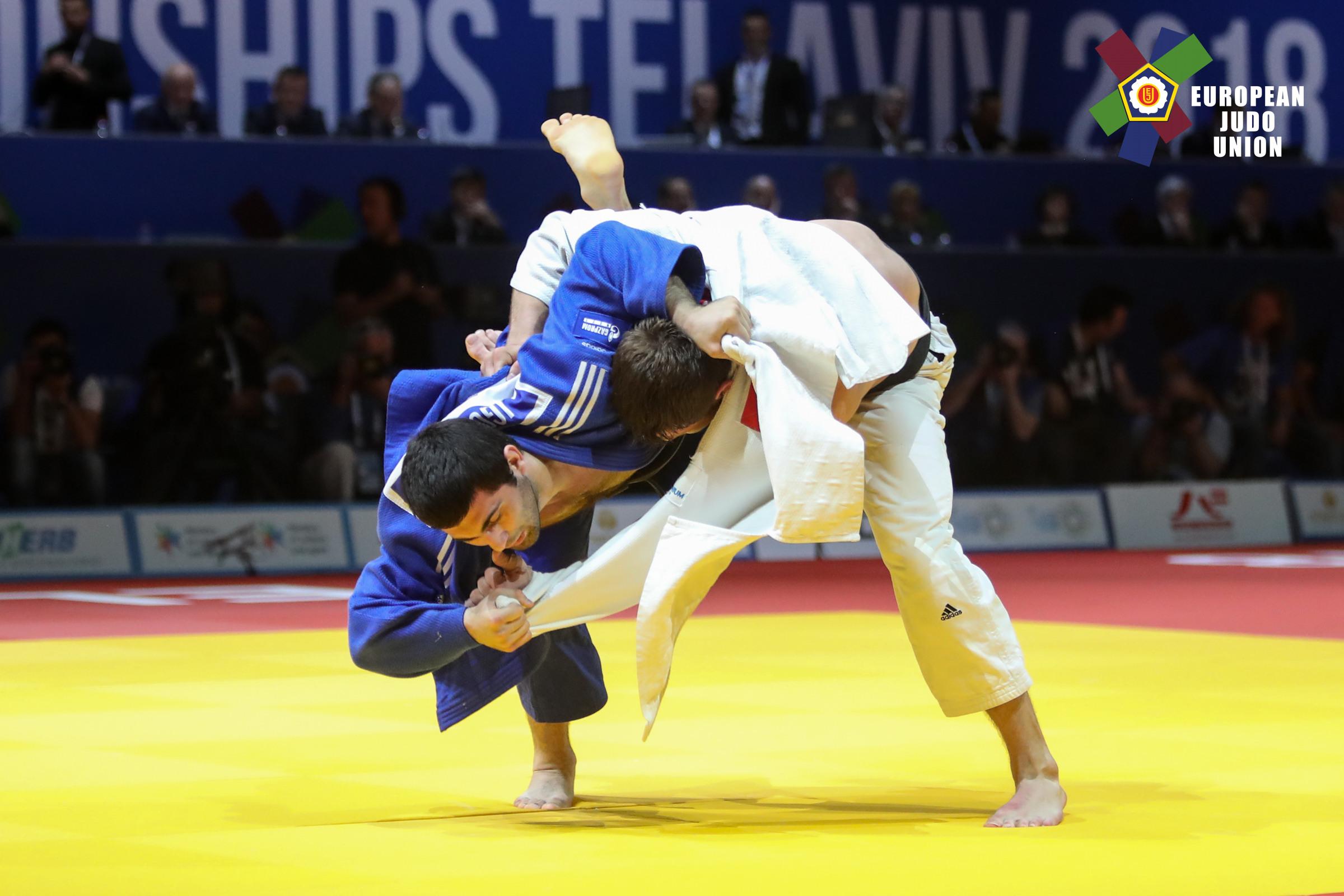 How did you feel your judo technique was today?
"It's up to you how you judge how I was on the mat? – (he laughed). The draw was not easy, but I was fine. I was feeling in good form and everything was going well for me.
During the day, you had some difficult opponents, you made it look pretty easy. What was your plan?
"This is a secret, I don't want anyone to know……that's all, that's all."
In the final, you had Nemanja MAJDOV (SRB) current World Champion. Did it put added pressure on you?
"No not at all, because he is an ordinary human, and yes, he could be World title holder. In principle, he is not an easy opponent and not everyone can be World Champion. You should never underestimate your opponent, but also should not put them on a pedestal. We have met many times, in cadet and junior. So, I was confident I could win. Also in Europe all athletes are strong, therefore there are no easy opponents."
You looked confident, powerful and focused. It was almost like this was a small step towards a larger goal for you. What is your ultimate goal at the moment?
"It's a secret again, I understand you want to know, but at the moment I don't feel yet like a champion. I am sure each athlete can have this feeling. This is the first interview after the fight so it is very difficult to answer."
He added: "I would also like to give my best regards to my Mam and Dad, and many thanks to all of my coaches."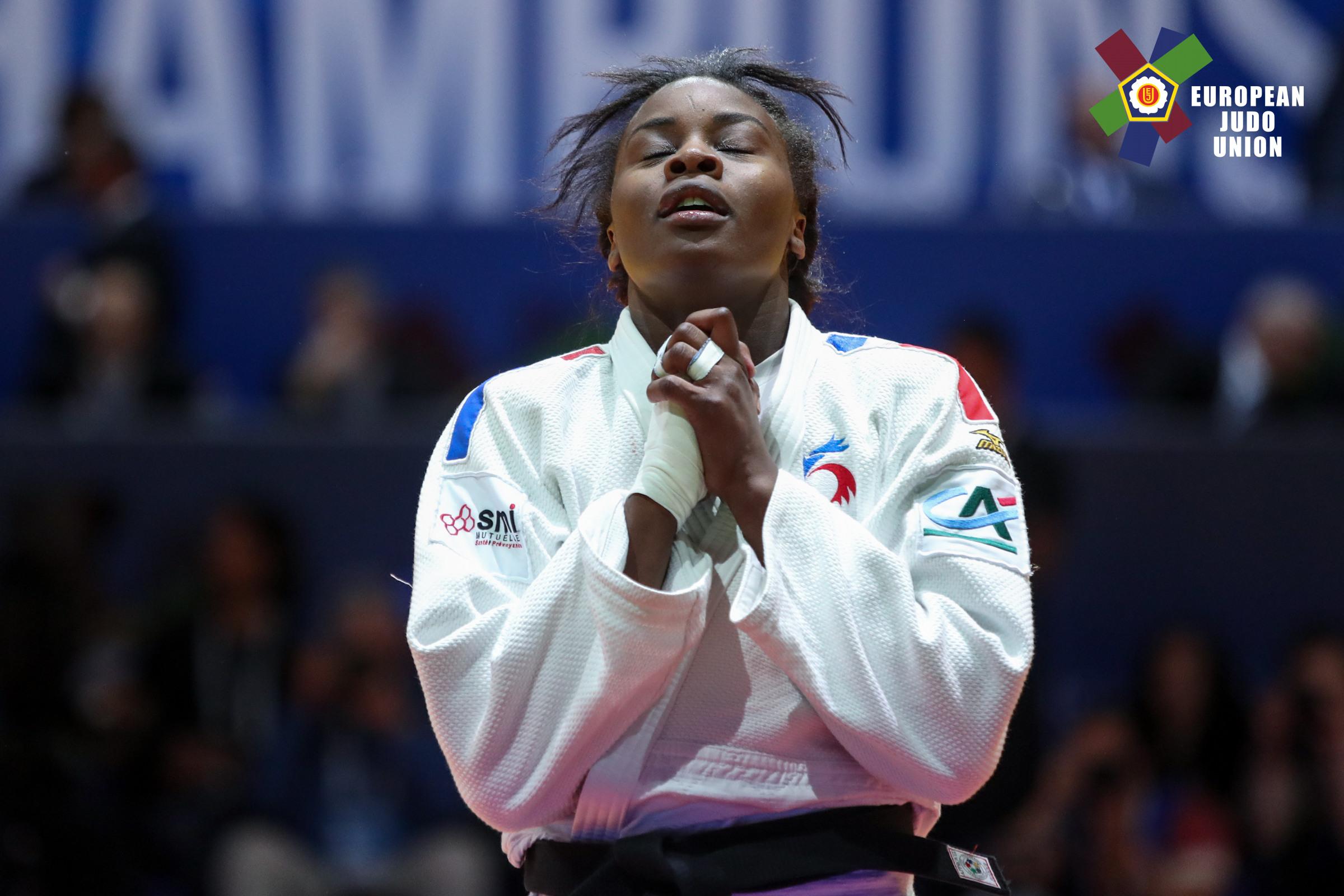 The -78 kg went according to expectations with very minor upsets. At the end, it was an all French final with Olympic Bronze medallist, Audrey Tcheumeo vs Madeleine Malonga. Althought first it was Tcheumeo who scored right away for waza ari, yet, Malonga's strong mind and outstanding tactical skills led her to her first senior European title.
-78kg Gold medallist, Madeleine MALONGA (FRA):
Winning European Championships by defeating your home-patriot, what is going through your mind now?
"I can't believe this I worked so hard for this and it is unbelievable. All the hard work paid off. I am really happy."
You got thrown for waza ari right away at the beginning of the final. How did you stay calm?
"I told myself that until it is Ippon it is not finished yet and so I need to stay focused and try my best to overcome my opponent. I just kept on telling myself it is not done until its done."
Was it always in the plan to defeat your team mate, Tcheumeo, by tactical work?
"Not at all, if I would have been able to throw her that would be great, but at the end a win is a win, whether with shidos or a big throw."
Anyone you would like to dedicate your medal to?
"Oh yes, I really want to thank my coach, my family, my mom and dad and my boyfriend…and everyone really who supported me and continues to support me."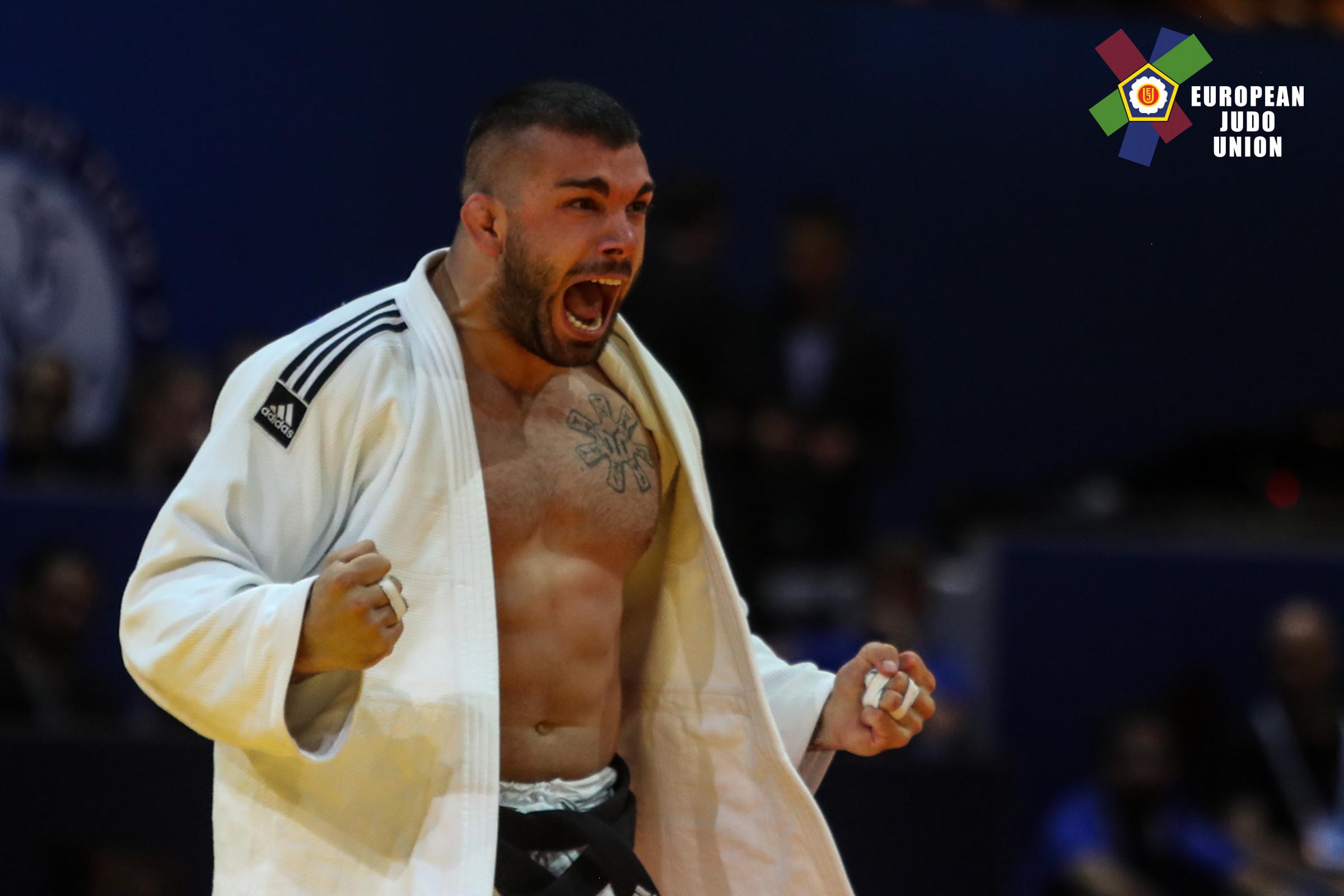 Top two seeds, Varlam Liparteliani (GEO) and Kirill Denisov (RUS), both departed the -100 kg at early stage of the day. However, the home supporters were able to celebrate Peter Paltchik's bronze medal. The final saw World Bronze medallist, Toma Nikiforov (BEL) and Olympic Bronze medallist, Cyrille Maret (FRA) head to head. Both athletes looked solid throughout the day so it was no doubt the final will be stretched. Nikiforov's fast transitional skills allowed the Belgium judoka to celebrate his golden European moment.
-100kg gold medal winner, Toma NIKIFOROV (BEL):
Congratulations on your win today, how do you feel?
"After silver and bronze at European Championships it is good to finally win a gold medal. I have no words for my feelings. My preparation was tough and I am also happy for my friend, Sami CHOUCHI who took the silver medal at 81kgs. It was great for Belgium."
You have had some problems with injuries in the past; how have you coped?
"I have already had 6 operations and I am still fighting. I just wish for my future I will be injury free and enjoy what I do. Now I am ok and I will continue."
What was your toughest contest?
"My most uncomfortable was with Yahor VARAPAYEU (BLR). We have never fought before and he can attack to the left and right. I felt whoever got the first score would win. In golden score, it happened for me and the fight went my way."
"The final with Cyril Maret, we know each other very well. We have a story from the World Championships in Astana, but he is a nice guy and a strong fighter and I wish him the best for the future."
What are you working towards now?
"I now have a bronze and silver from the World Championships, so now my future goal is to win gold at the World Championships and Olympic Games."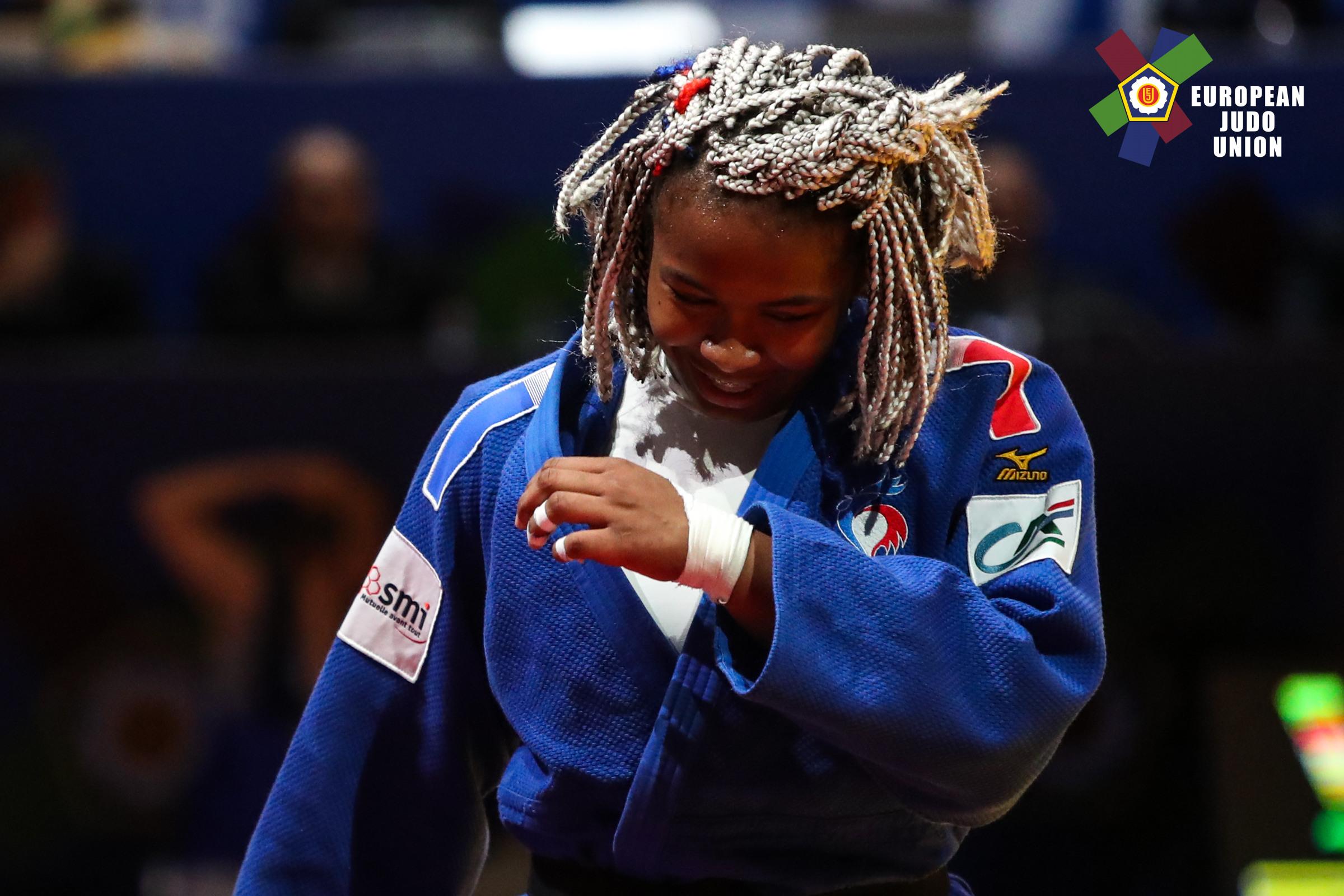 Last year's European Champion of the +78 kg category, Marina Slutskaya (BLR) suffered an early setback against 18-year-old, Romane Dicko (FRA). The French judoka then not only progressed to the final block, but became 2018 European Judo Champion when defeating (now triple) European medallist, Larisa Ceric (BIH).
+78kg Gold medallist, Romane DICKO (FRA):
The first time we have met was last year at the World Team Judo Championships, where you absolutely nailed it. Now you are European Champion, how do you feel?
"I can't believe this, I am extremely happy. I am still young, I had zero pressure to deliver. I just came here to do my judo and to test myself. I am absolutely thrilled. If someone told me yesterday that I will be European Champion today, I would for sure asked them what are they talking about." – she laughed.
What is your next dream?
"Now, I will work hard to be selected for the World Championships and do my best there."
Coach, Larbi Benboudaoud added:
"I am really pleased with Romane's progression and her result today. I knew she was ready as she won the last senior nationals. Incredibly, Romane became interested in judo after watching Audrey Tcheumeo at the London Olympics. Over the last four years, she has managed to win the Europeans at Cadet, Junior and now Senior levels."
When asked what he expects from her in the future?
"I believe she can progress to senior World and Olympic levels as she still has much that she can improve on."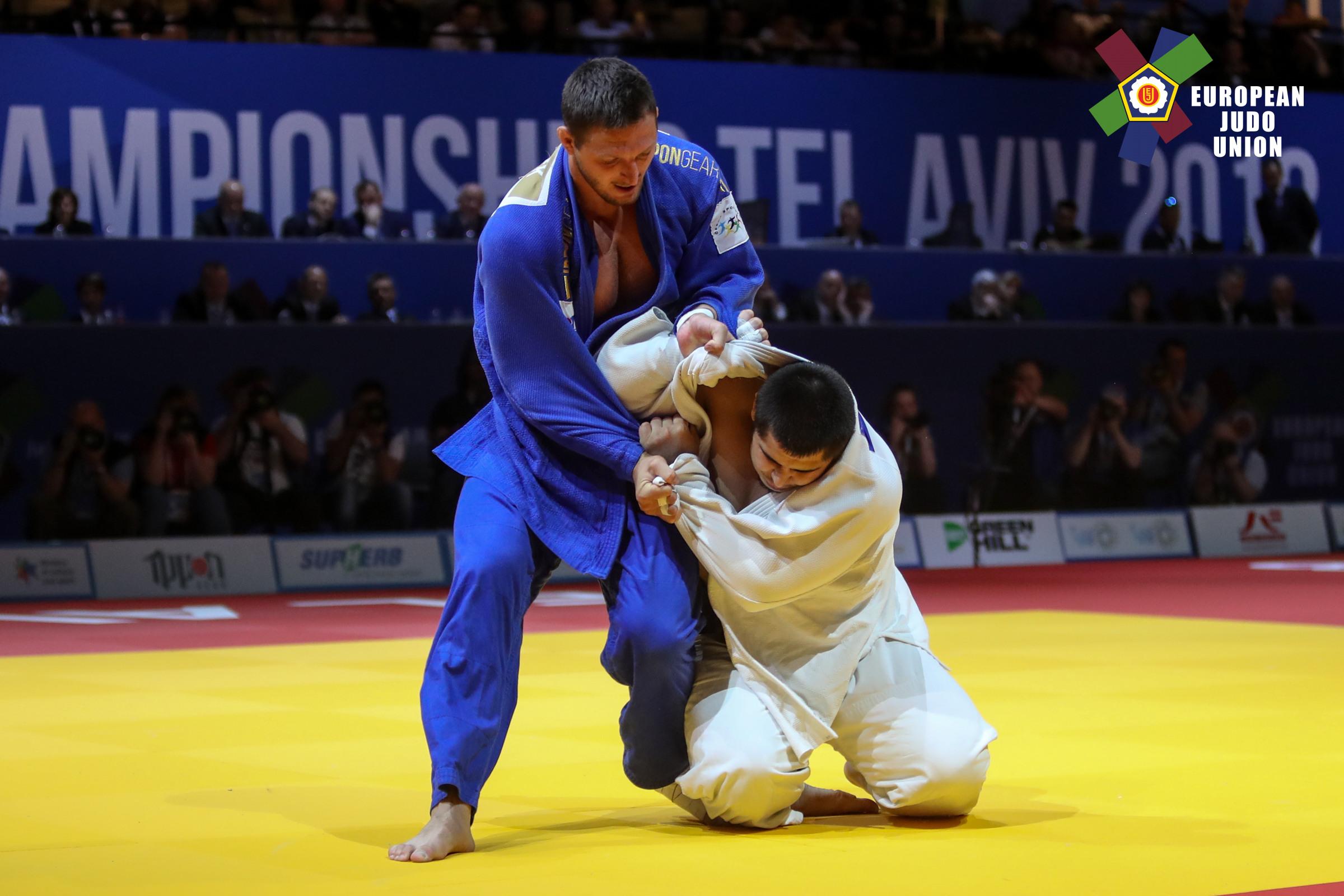 By the end of the day, the podium of the +100 kg saw two youngsters and two more experienced champions standing side by side. The person, who most would expect to be on the rostrum was Guram Tushishvili, however, not only him but the whole Georgian team left empty handed. The last national anthem of the tournament was the Czech national anthem played for European, World and Olympic Champion, Lukas Krpalek (CZE).
+100kg Gold medallist, Lukas KRPALEK (CZE):
You are already European, World and Olympic Champion, but in the -100kg category. Now you won another title in the +100kg category. What is the different of those titles and the one you won today?
"It is a big difference. At the -100kg people were more technical and powerful. In this weigh class, everyone is really strong, so I need to spend time in the gym every day to get stronger and stronger. I need to be able to move bigger opponents because in this weight category I have some big opponents. At the moment, I feel like for the first two minutes I am always struggling as I am not physically there yet. If, I survive the first two minutes, normally I feel greater than my opponents."
Have you had a chance to fight with Tamerlan Bashaev before? What has helped you to overcome him today?
"Yes, I fought with him at training camps before. I knew he has good technique, he is a strong young judoka. I am not sure actually why I was better today, I couldn't tell you. I just had a better day maybe."
What's the next target?
"I definitely want to be World Champion in the +100kg and I am going to start the qualification and the hard work towards Tokyo 2020."
Before the final block, Olympic Bronze medallist, World and European Champion, Yarden Gerbi received recognition of her achievements in judo from the Israel Judo Association as well as for the European Judo Union.
Congratulations to all medallist and for all participants at #judotelaviv2018. The next European Judo Championships will be part of the 2019 European Games in Minsk, Belarus.
---
Podium – Day 3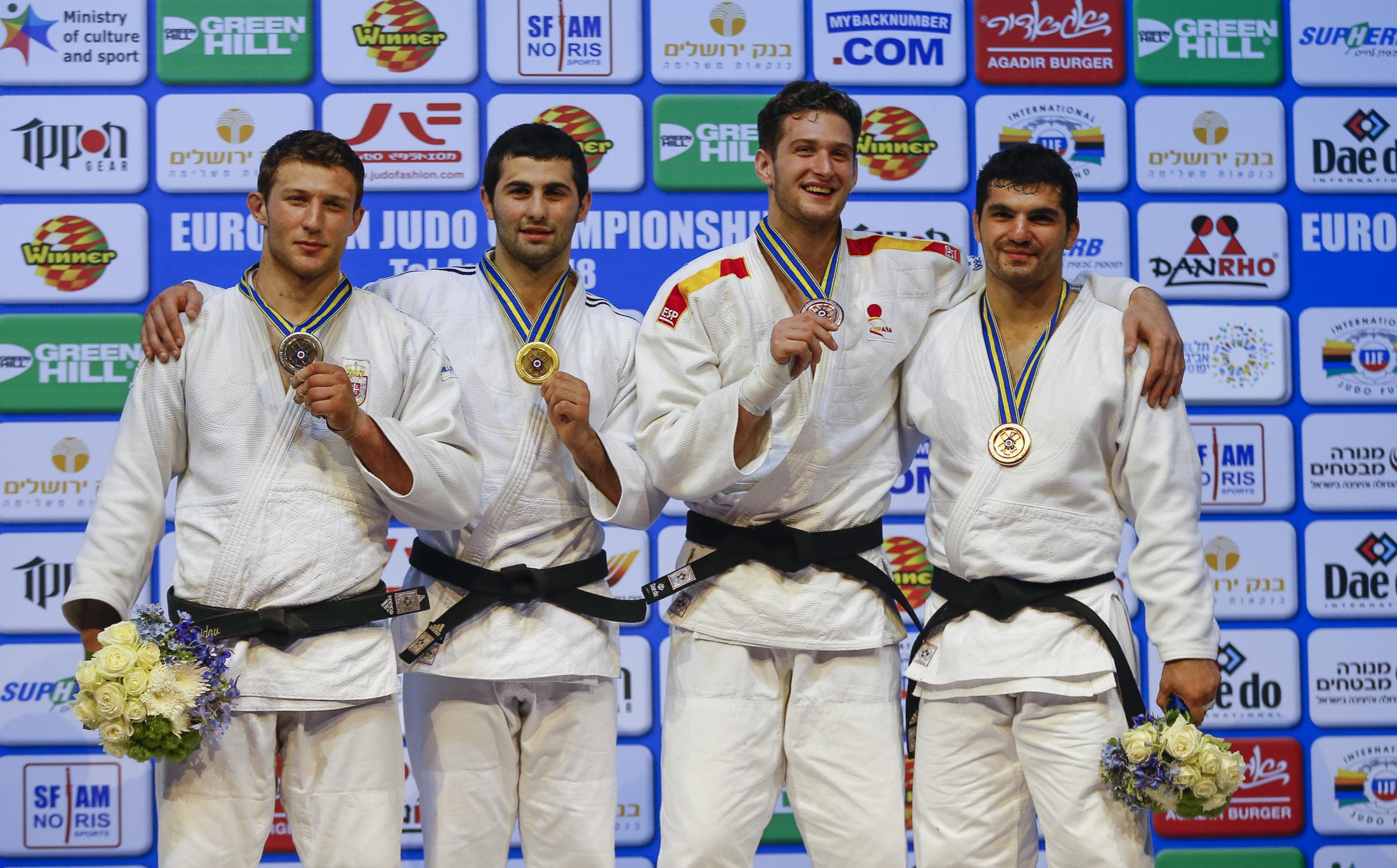 Podium European Judo Championships -90 kg IGOLNIKOV, Mikhail (RUS) MAJDOV, Nemanja (SRB) SHERAZADISHVILI, Nikoloz (ESP) SELIDIS, Theodoros(GRE) – Carlos Ferreira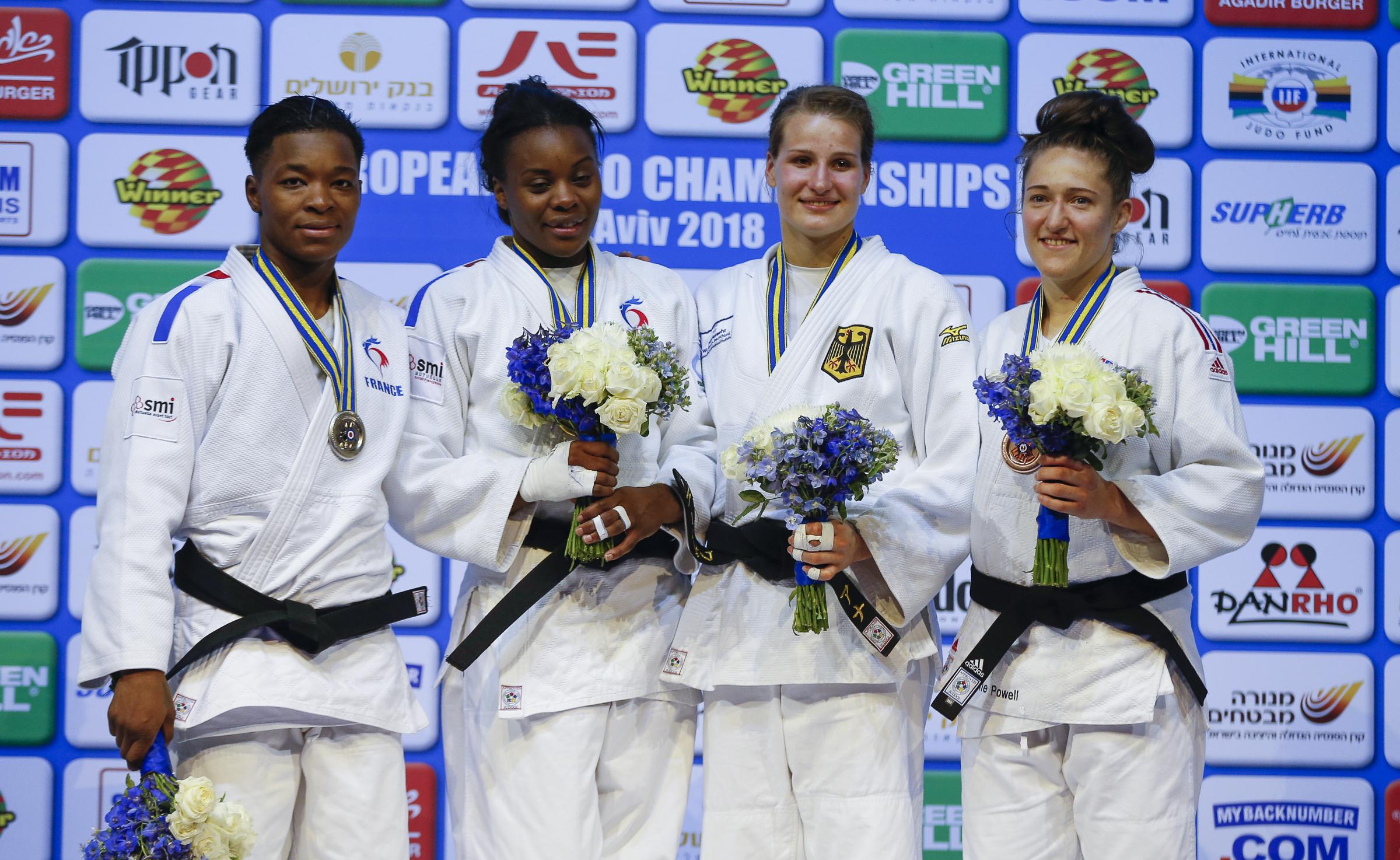 Podium European Judo Championships -78 kg MALONGA, Madeleine(FRA) TCHEUMEO, Audrey (FRA) POWELL, Natalie (GBR) WAGNER, Anna Maria (GER) – Carlos Ferreira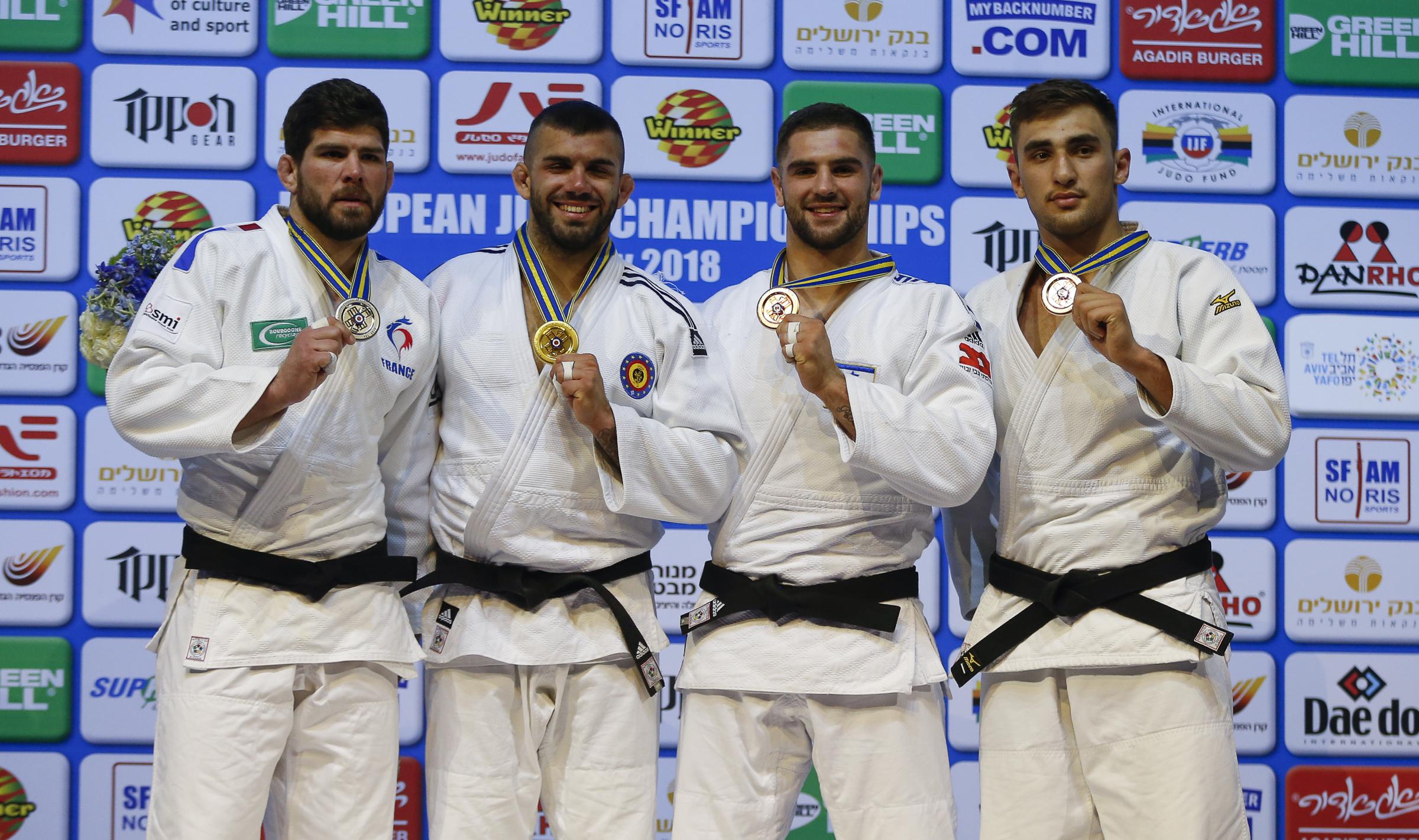 Podium European Judo Championships -100 kg NIKIFOROV, Toma (BEL) MARET, Cyrille (FRA) PALTCHIK, Peter (ISR) KOTSOIEV, Zelym (AZE) – Carlos Ferreira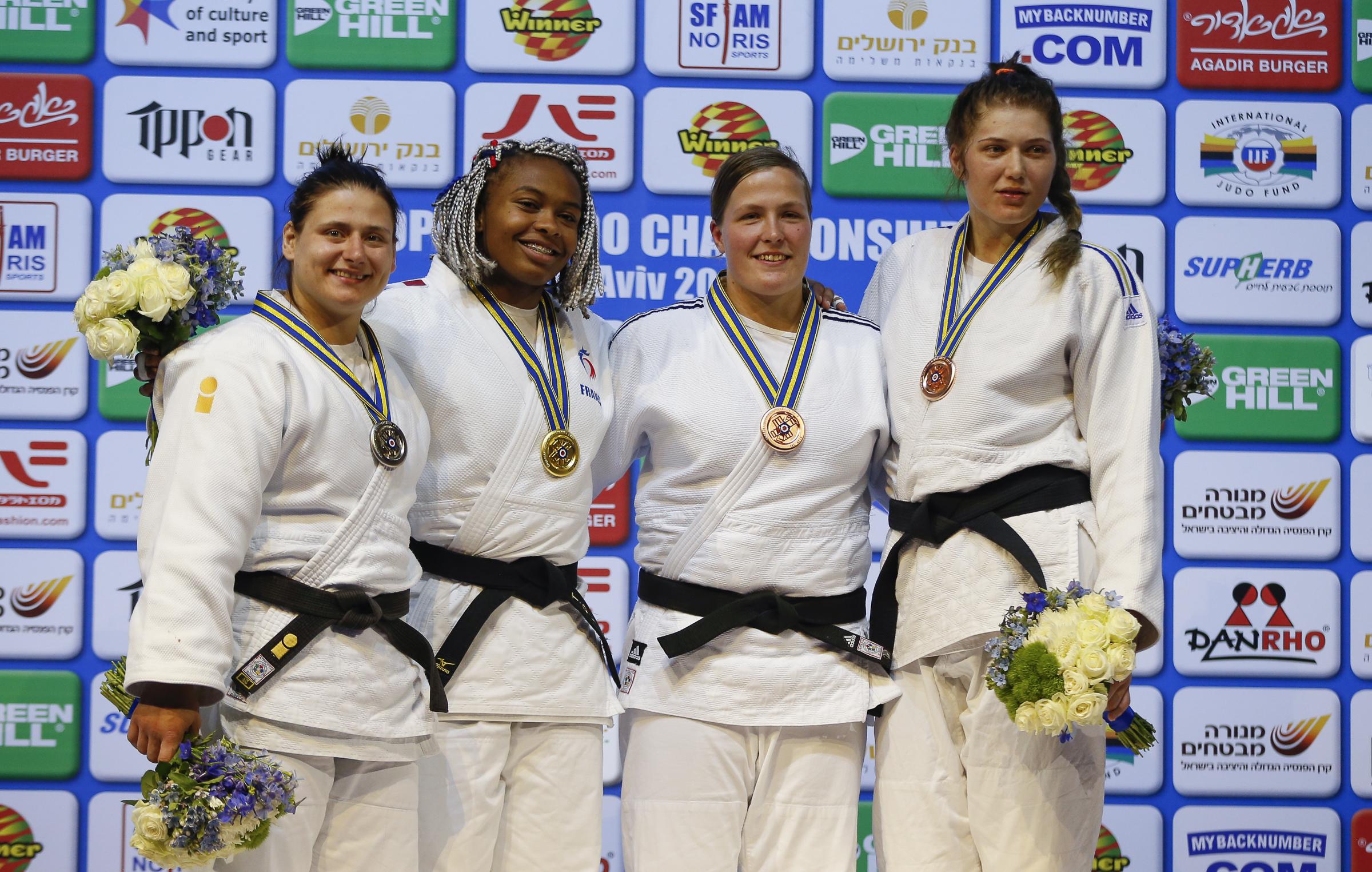 Podium European Judo Championships +78kg DICKO, Romane (FRA) CERIC, Larisa (BIH) SAVELKOULS, Tessie(NED) KALANINA, Yelyzaveta (UKR) – Carlos Ferreira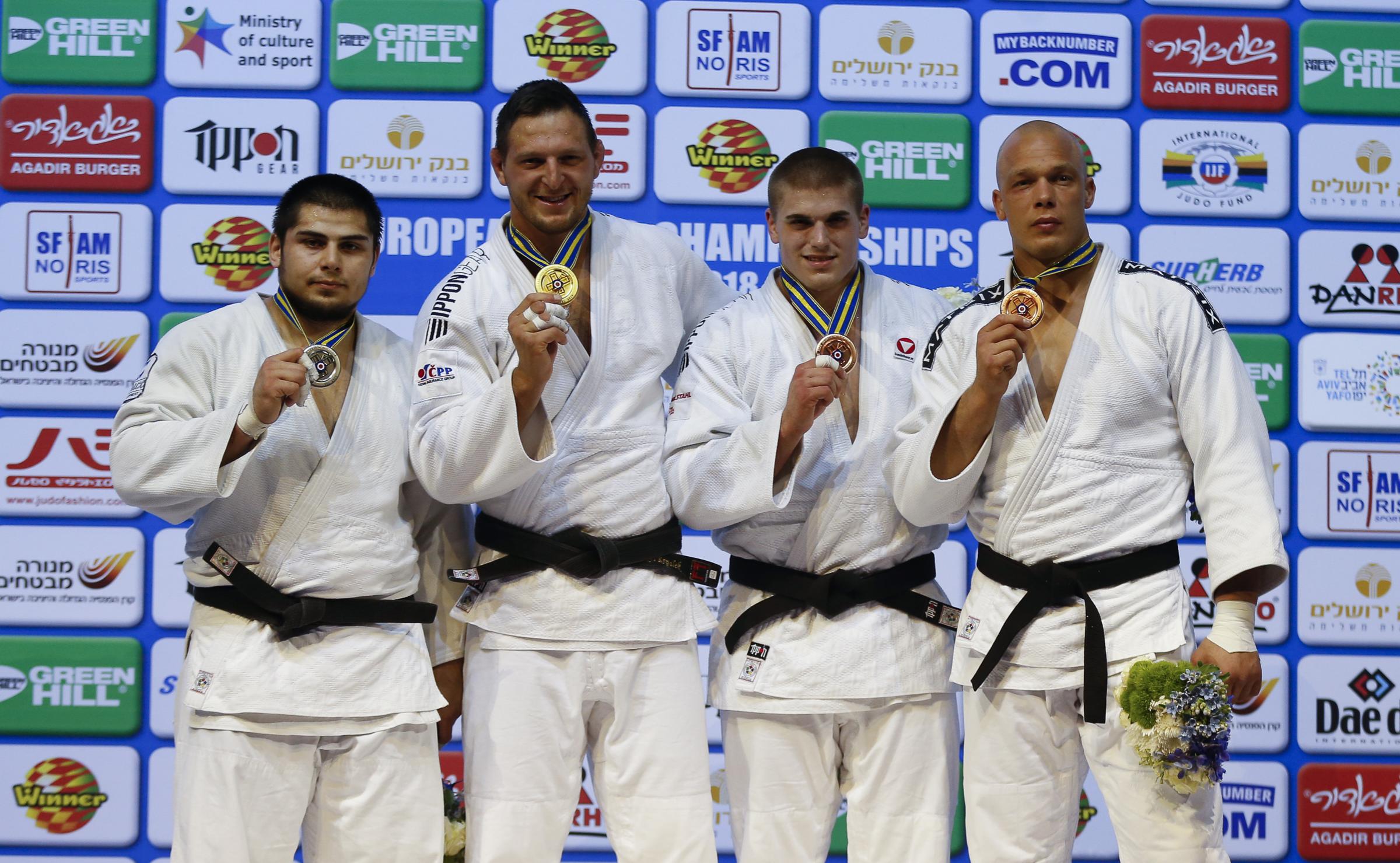 Podium European Judo Championships +100 kg KRPALEK, Lukas (CZE) BASHAEV, Tamerlan (RUS) HEGYI, Stephan (AUT) GROL, Henk (NED) – Carlos Ferreira
Judoka
---