The last day of the individual tournament at #JudoWarsaw2017 will view the final five remaining weight categories, -78kg, +78kg, -90kg, -100kg, +100kg. Six Polish athlete will be on stage to shine away front of their friends, family and all Polish judo fans.
Jumping right into the middle for the +100kg category, where amongst the 23 athletes, we have -100kg Olympic Champion, Lukas KRPALEK (CZE) listed. The Czech judoka is eager to contest the royal of this weight class, Teddy RINER (FRA). Regardless Riner's absence, Krpalek will still have to face some of the greatest heavy weights. Namely, triple European silver medallist, BOR Barna (HUN); 2016 Masters winner, Daniel NATEA (ROU); robust Ukrainian duet, Stanislav BONDARENKO and Iakiv KHAMMO; Georgia's top heavyweight, Adam OKRUASHVILI and Dutch medal hopeful, Roy MEYER.
Guusje STEENHUIS (NED) is in top seed position of the -78kg category. However, the following five athletes below her can cause struggle. Double Olympic medallist, Audrey TCHEUMEO (FRA) has been off the stage for a bit, however, she could be the potential winner of this weight division. For athletes such as JOO Abigel (HUN) and Natalie POWELL (GBR) it will all depend on how they perform on the day. Both have the potential to strive through to the final. Beata PACUT (POL) will be keeping the home supporters busy in this weight class.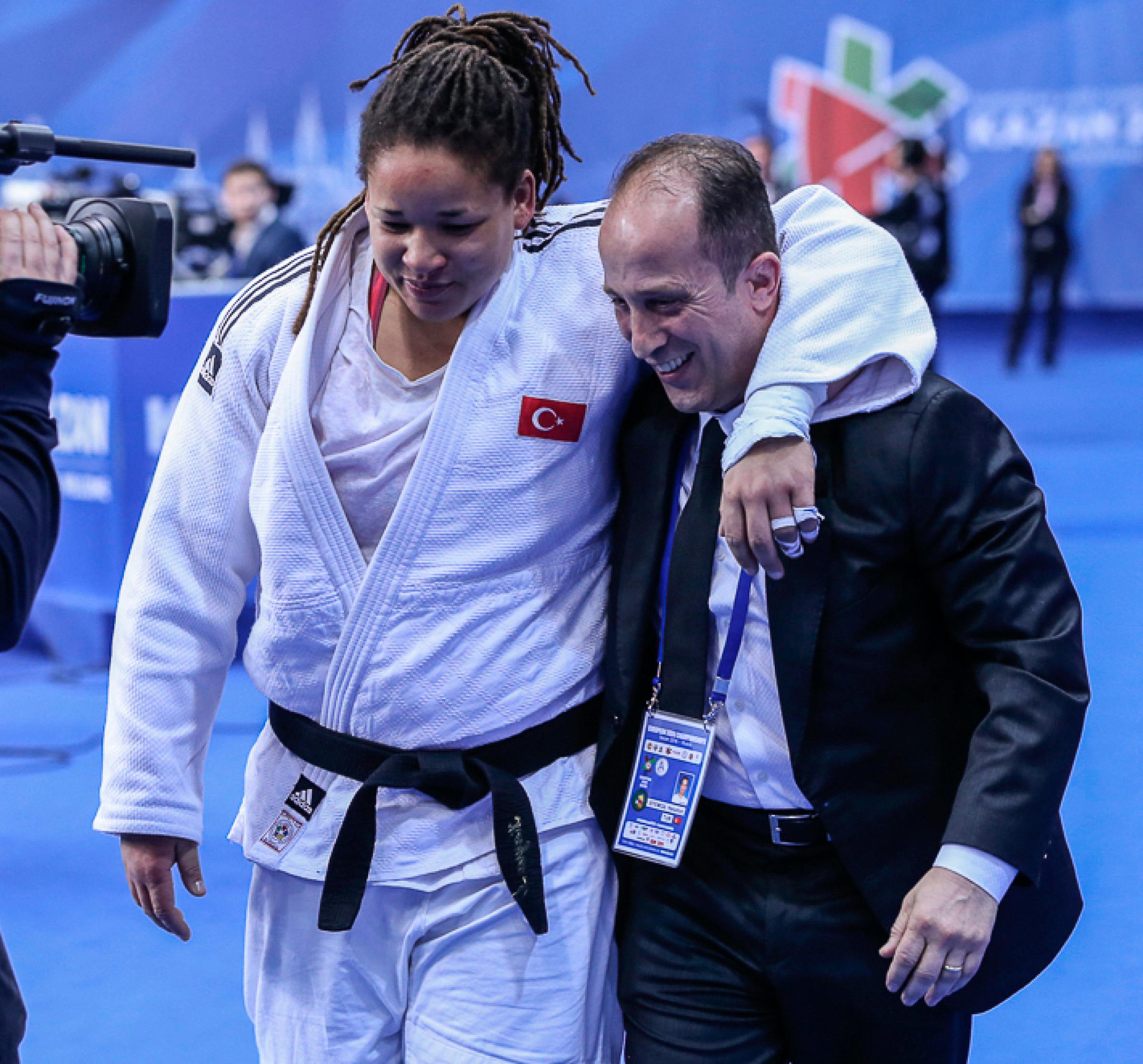 Olympic Champion, Emilie ANDEOL (FRA) is amongst the 16 players listed in the +78kg category. Former team mate of Andeol, Kayra SAYIT (TUR) is the current title holder and with a top seed position, surely, Sayit will be aiming to defend her title. The Turkish fighter defeated Andeol last year at the same event, which means, it won't be a walk in the park for the French athlete. Carolin WEISS (GER) and Larisa CERIC (BIH), both, have the potential to be part of the medal zone.
---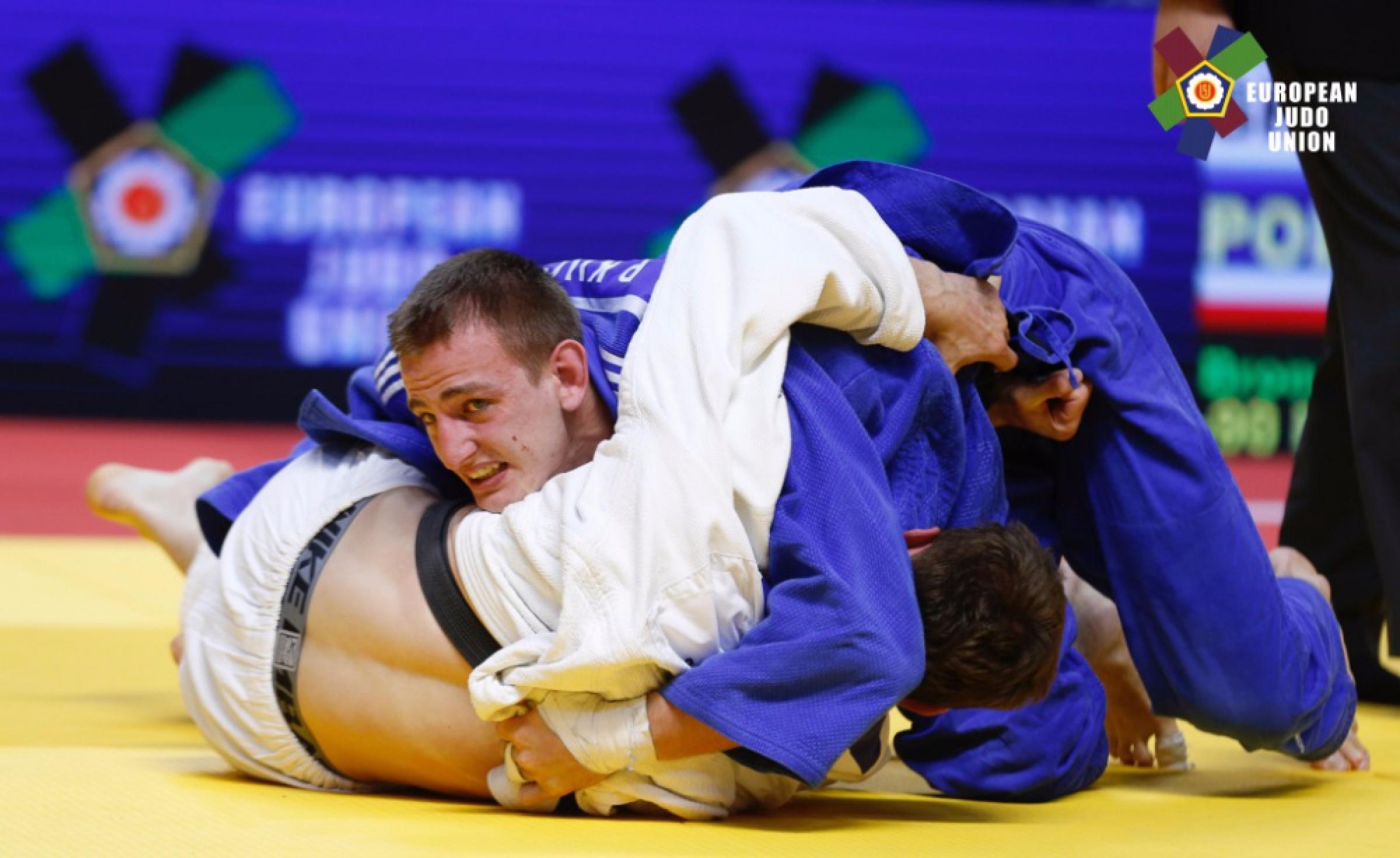 "I feel really good. I am in Zakopane at a judo camp with my club and I am staying here until the first day of the Europeans. It is important to me. I have known this from the day of the competition in Katowice. It is a little pressure but more excitement because all my relatives can come to Warsaw and support me. I just want to feel that I did everything I can and have nothing to complain about after the competition."
---
EPOCH

Anton GEESINK (NED)

1964 Olympic Champion of the Open division, Anton Geesink, is one of the legendary judoka ever in history, who had a record number of European Championships medals. 25 in total, out of which 21 times he excelled to victory. Geesink also won two World Championships and one bronze medal. When winning his Olympic title, he became the first non-Japanese judoka to win an Olympic Gold. The remarkable judoka sadly passed away in 2010.

---

Moving onto the -100kg category, we will see some of the weight changers and some of the youngsters disturbing the crown. To start with, two of the greatest, Varlam LIPARTELIANI (GEO) and Kirill DENISOV (RUS) moved up to this weight class after Rio 2016. Moving on, not many would have followed the performance of 19-year-old Aaron FARA (AUT), however, he is certainly worth to keep an eye on. Of course, whilst we seeking to assume the unexpected, we can't forget about the group of seeded athletes. Olympic silver medallist, Elmar GASIMOV (AZE) followed by Olympic Bronze medallist, Cyrille MARET (FRA). In 2016, the Netherlands claimed gold in this weight division by Henk Grol. This year, his team mate, Michael KORREL (NED) has the opportunity to regain the title for his country.

Lukas KRPALEK (CZE): Is he going to be able to celebrate in his new weight class?

Jumping right into the middle for the +100kg category, where amongst the 23 athletes, we have -100kg Olympic Champion, Lukas KRPALEK (CZE) listed. The Czech judoka is eager to contest the royal of this weight class, Teddy RINER (FRA). Regardless Riner's absence, Krpalek will still have to face some of the greatest heavy weights. Namely, triple European silver medallist, BOR Barna (HUN); 2016 Masters winner, Daniel NATEA (ROU); robust Ukrainian duet, Stanislav BONDARENKO and Iakiv KHAMMO; Georgia's top heavyweight, Adam OKRUASHVILI and Dutch medal hopeful, Roy MEYER.

Guusje STEENHUIS (NED) is in top seed position of the -78kg category. However, the following five athletes below her can cause struggle. Double Olympic medallist, Audrey TCHEUMEO (FRA) has been off the stage for a bit, however, she could be the potential winner of this weight division. For athletes such as JOO Abigel (HUN) and Natalie POWELL (GBR) it will all depend on how they perform on the day. Both have the potential to strive through to the final. Beata PACUT (POL) will be keeping the home supporters busy in this weight class.

Current European Champion Kayra SAYIT (TUR)

Olympic Champion, Emilie ANDEOL (FRA) is amongst the 16 players listed in the +78kg category. Former team mate of Andeol, Kayra SAYIT (TUR) is the current title holder and with a top seed position, surely, Sayit will be aiming to defend her title. The Turkish fighter defeated Andeol last year at the same event, which means, it won't be a walk in the park for the French athlete. Carolin WEISS (GER) and Larisa CERIC (BIH), both, have the potential to be part of the medal zone.

---

"I feel really good. I am in Zakopane at a judo camp with my club and I am staying here until the first day of the Europeans. It is important to me. I have known this from the day of the competition in Katowice. It is a little pressure but more excitement because all my relatives can come to Warsaw and support me. I just want to feel that I did everything I can and have nothing to complain about after the competition."

---

EPOCH

Anton GEESINK (NED)

1964 Olympic Champion of the Open division, Anton Geesink, is one of the legendary judoka ever in history, who had a record number of European Championships medals. 25 in total, out of which 21 times he excelled to victory. Geesink also won two World Championships and one bronze medal. When winning his Olympic title, he became the first non-Japanese judoka to win an Olympic Gold. The remarkable judoka sadly passed away in 2010.

---

After the 2016 Olympic Games, superb judoka, Beka GVINIASHVILI (GEO) moved back down to the -90kg category. He is listed as number five seed for Warsaw. Only a place above on the world ranking, therefore in top four seed position, Khusen KHALMURZAEV (RUS), who is the brother of the -81kg Rio Olympic Champion [Khasan Khalmurzaev]. Undoubtedly, strong judo skills are running through the whole family. If the line-up doesn't change until the draw, the chance for a Gviniashvili vs Khalmurzaev quarter-finals is quite high. Meanwhile, the majority will however keep an eye one of the unseeded player, Piotr KUCZERA (POL). It would be no surprise at all if the Polish fighter surpasses onto the podium as he already won bronze last year at the Europeans. The 22-year-old judoka has shown fast increase in his performance and if he continues to do so, we might be looking at a new Pawel Nastula [one of the most successful Polish judoka of all times with 1996 Olympic gold, double World and three European titles].

Elmar GASIMOV (AZE)

Moving onto the -100kg category, we will see some of the weight changers and some of the youngsters disturbing the crown. To start with, two of the greatest, Varlam LIPARTELIANI (GEO) and Kirill DENISOV (RUS) moved up to this weight class after Rio 2016. Moving on, not many would have followed the performance of 19-year-old Aaron FARA (AUT), however, he is certainly worth to keep an eye on. Of course, whilst we seeking to assume the unexpected, we can't forget about the group of seeded athletes. Olympic silver medallist, Elmar GASIMOV (AZE) followed by Olympic Bronze medallist, Cyrille MARET (FRA). In 2016, the Netherlands claimed gold in this weight division by Henk Grol. This year, his team mate, Michael KORREL (NED) has the opportunity to regain the title for his country.

Lukas KRPALEK (CZE): Is he going to be able to celebrate in his new weight class?

Jumping right into the middle for the +100kg category, where amongst the 23 athletes, we have -100kg Olympic Champion, Lukas KRPALEK (CZE) listed. The Czech judoka is eager to contest the royal of this weight class, Teddy RINER (FRA). Regardless Riner's absence, Krpalek will still have to face some of the greatest heavy weights. Namely, triple European silver medallist, BOR Barna (HUN); 2016 Masters winner, Daniel NATEA (ROU); robust Ukrainian duet, Stanislav BONDARENKO and Iakiv KHAMMO; Georgia's top heavyweight, Adam OKRUASHVILI and Dutch medal hopeful, Roy MEYER.

Guusje STEENHUIS (NED) is in top seed position of the -78kg category. However, the following five athletes below her can cause struggle. Double Olympic medallist, Audrey TCHEUMEO (FRA) has been off the stage for a bit, however, she could be the potential winner of this weight division. For athletes such as JOO Abigel (HUN) and Natalie POWELL (GBR) it will all depend on how they perform on the day. Both have the potential to strive through to the final. Beata PACUT (POL) will be keeping the home supporters busy in this weight class.

Current European Champion Kayra SAYIT (TUR)

Olympic Champion, Emilie ANDEOL (FRA) is amongst the 16 players listed in the +78kg category. Former team mate of Andeol, Kayra SAYIT (TUR) is the current title holder and with a top seed position, surely, Sayit will be aiming to defend her title. The Turkish fighter defeated Andeol last year at the same event, which means, it won't be a walk in the park for the French athlete. Carolin WEISS (GER) and Larisa CERIC (BIH), both, have the potential to be part of the medal zone.

---

"I feel really good. I am in Zakopane at a judo camp with my club and I am staying here until the first day of the Europeans. It is important to me. I have known this from the day of the competition in Katowice. It is a little pressure but more excitement because all my relatives can come to Warsaw and support me. I just want to feel that I did everything I can and have nothing to complain about after the competition."

---

EPOCH

Anton GEESINK (NED)

1964 Olympic Champion of the Open division, Anton Geesink, is one of the legendary judoka ever in history, who had a record number of European Championships medals. 25 in total, out of which 21 times he excelled to victory. Geesink also won two World Championships and one bronze medal. When winning his Olympic title, he became the first non-Japanese judoka to win an Olympic Gold. The remarkable judoka sadly passed away in 2010.

---

Judoka

---