On Saturday, the 22nd of September, the National Gymnastics Arena will entertain the -57kg and -73kg category. Two of the most exciting weight divisions with plenty of exhilarating contests will launch day three.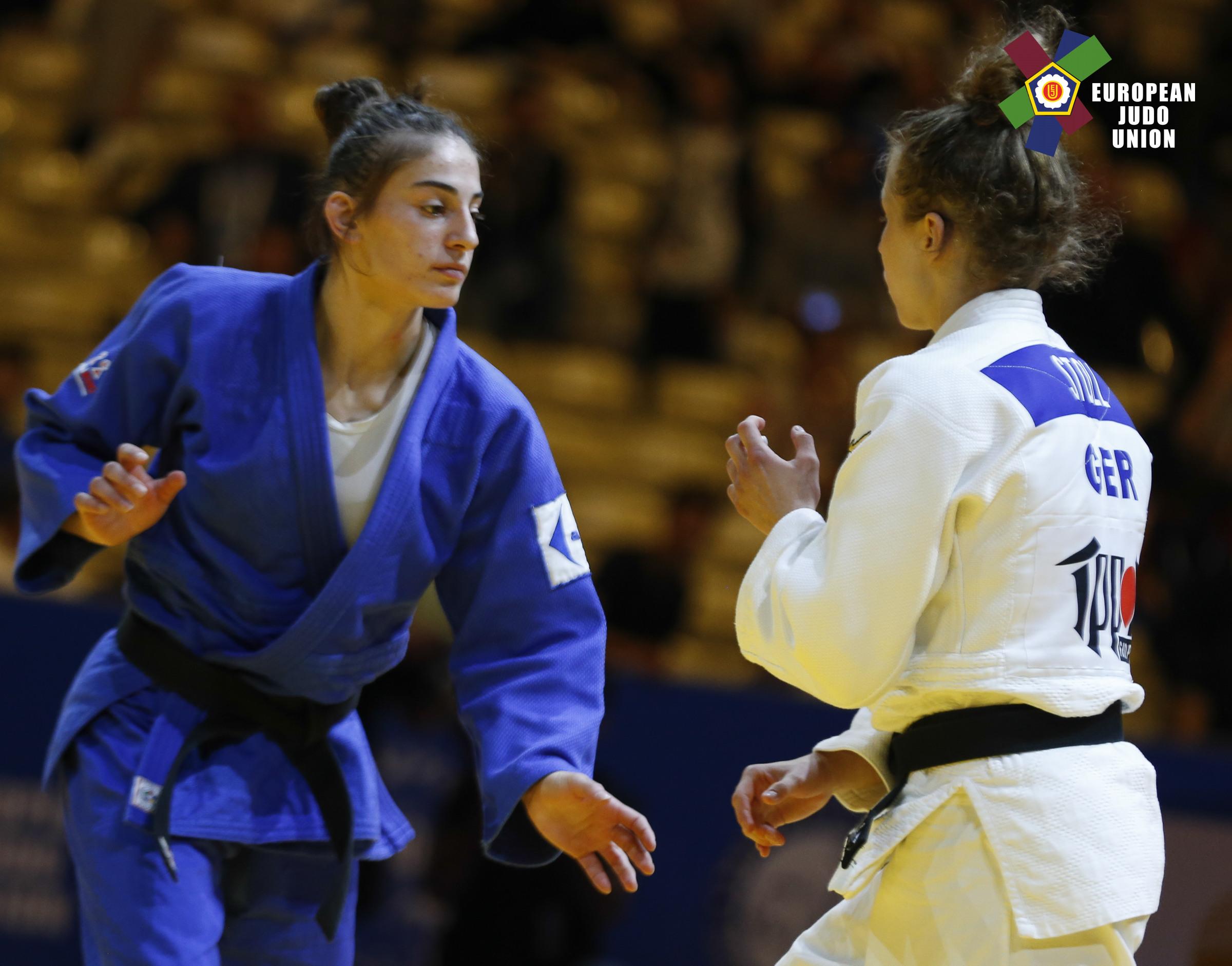 In blue, 2018 European Champion, Nora GJAKOVA (KOS). Her recent success boosted the judoka to reach for a medal at the World stage.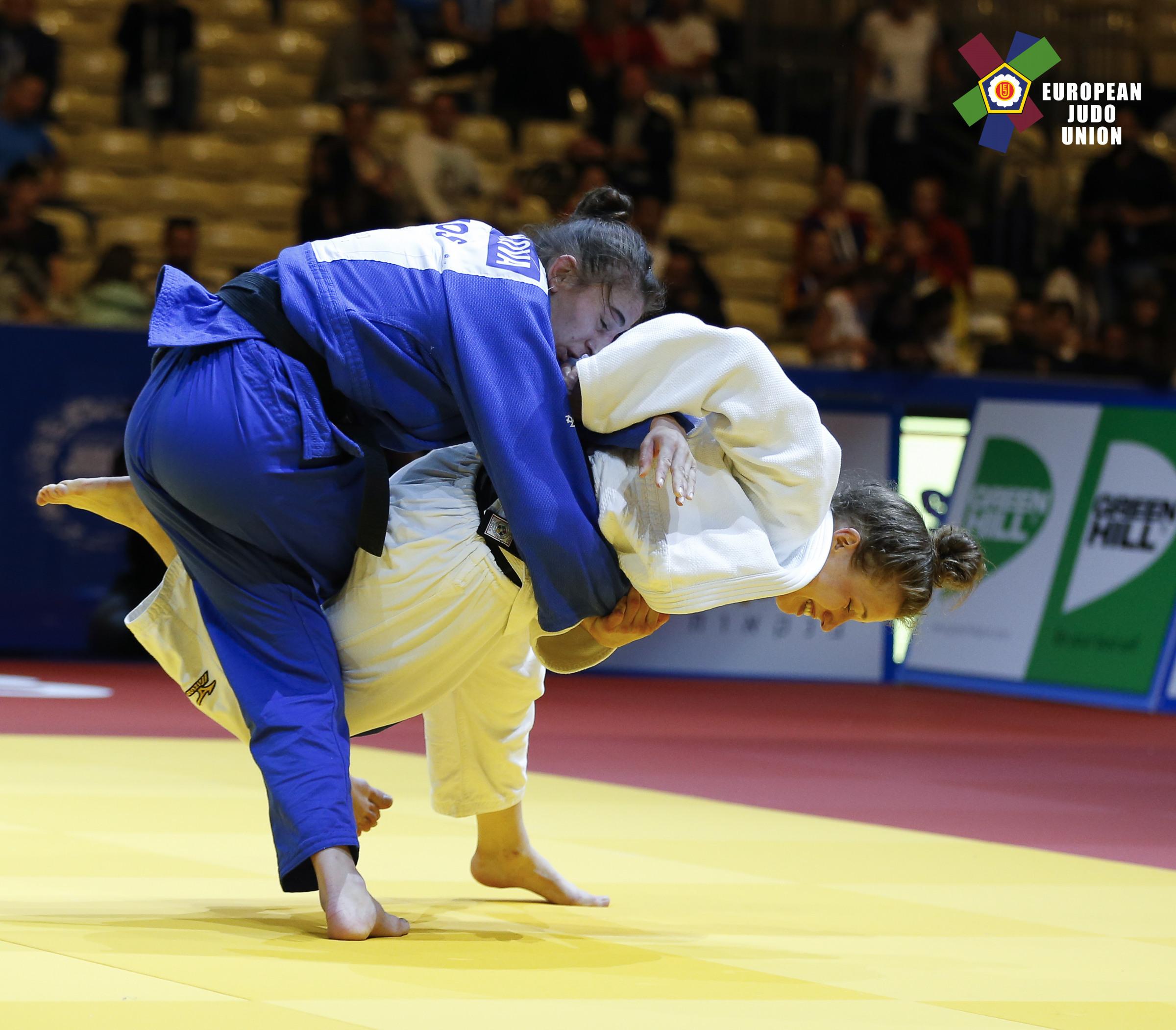 In white, Theresa STOLL (GER) who fast became WRL#4 after regular success at the IJF World Tour recent years which was topped with a silver at the 2018 Europeans in April. Stoll collected a few scalps previously, making her medal potential in Baku.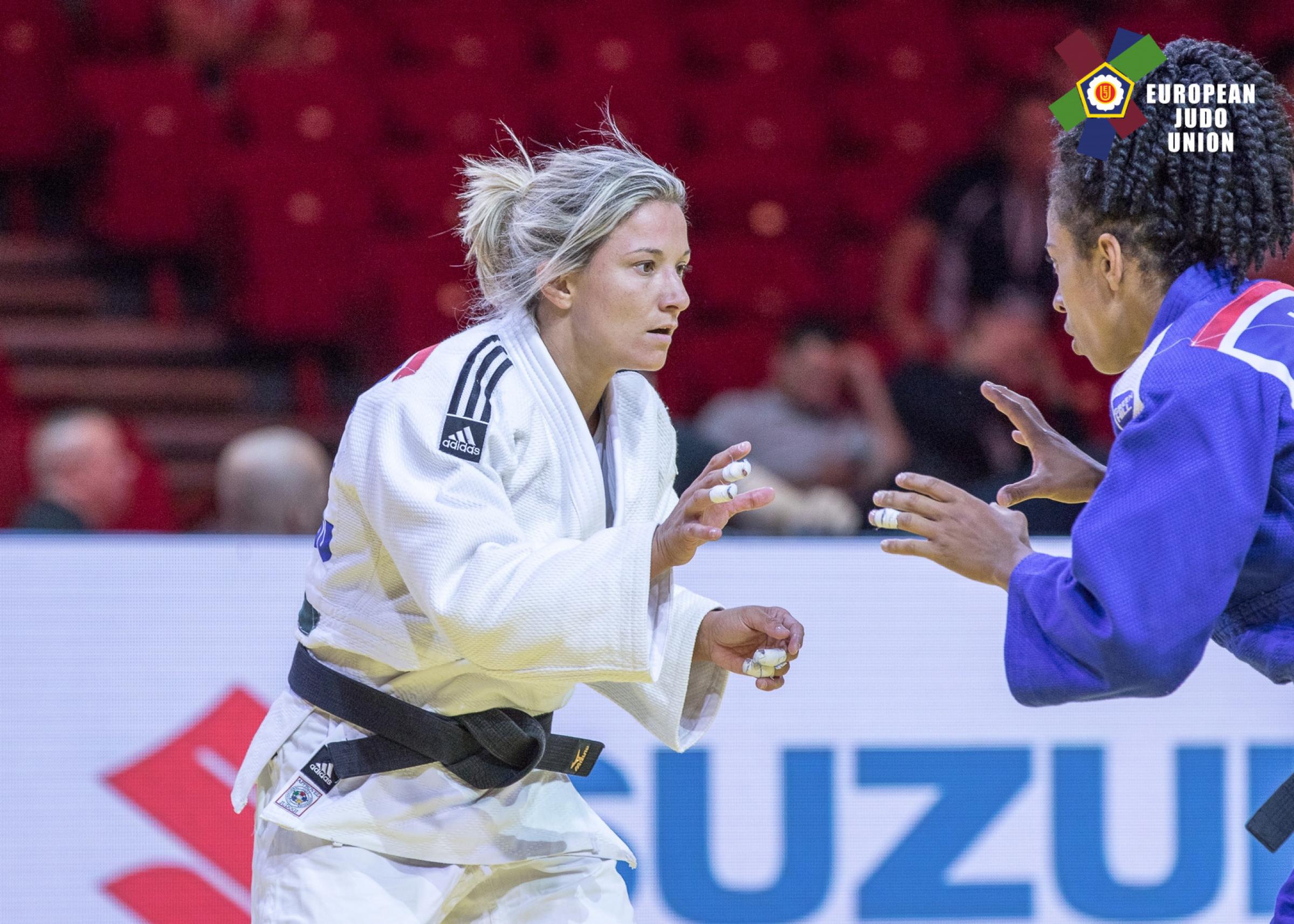 Portugal's only Olympic medallist in Rio, Telma MONTEIRO, has had her fair share of World medals, yet, none of them were gold. Last year, she narrowly missed out on the podium and with this in mind she is aspiring to finally become World Champion.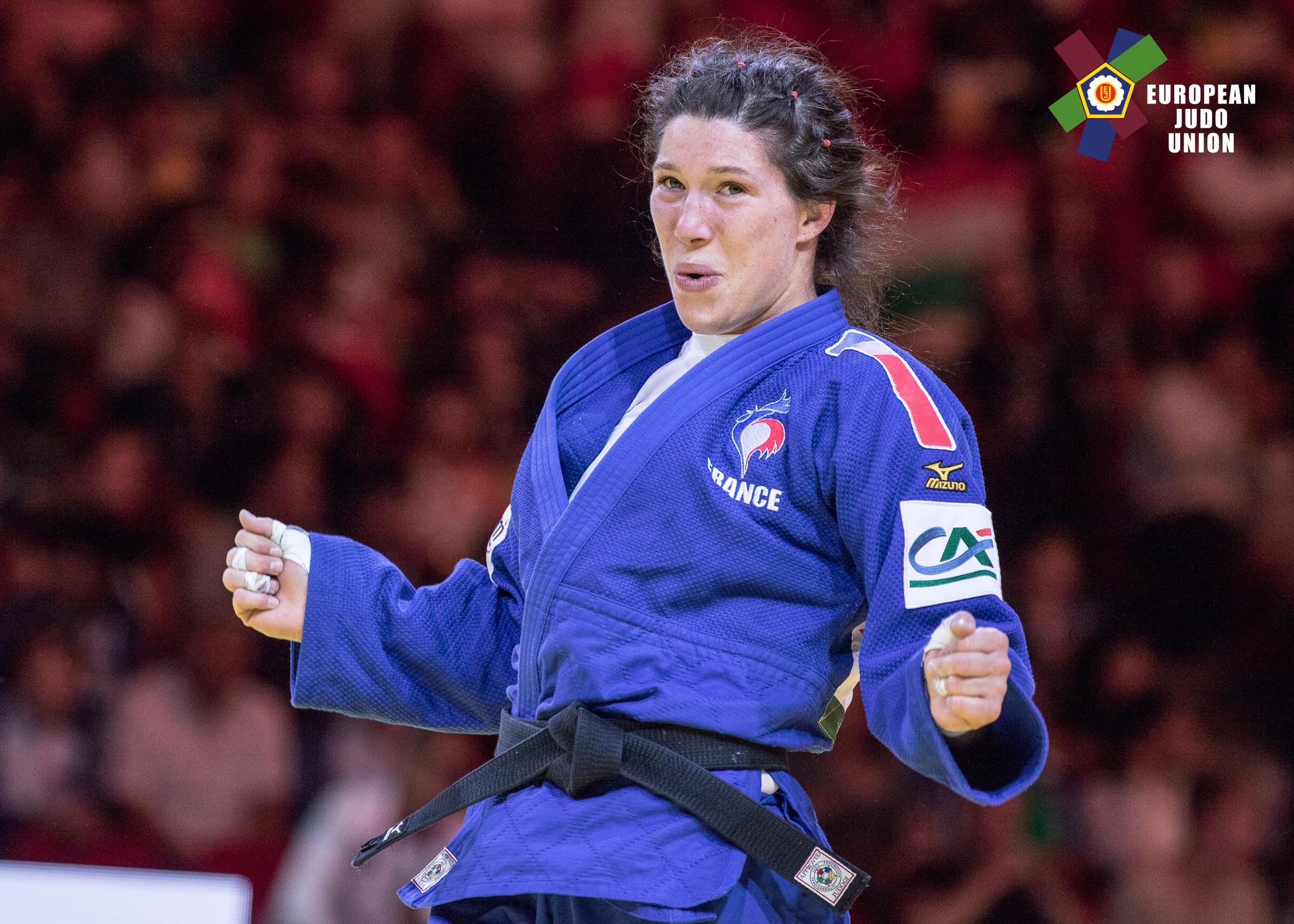 Helene RECEVEAUX (FRA) celebrating her bronze winning perfomance in Budapest last year. The French judoka will seek to repeat all actions in Baku.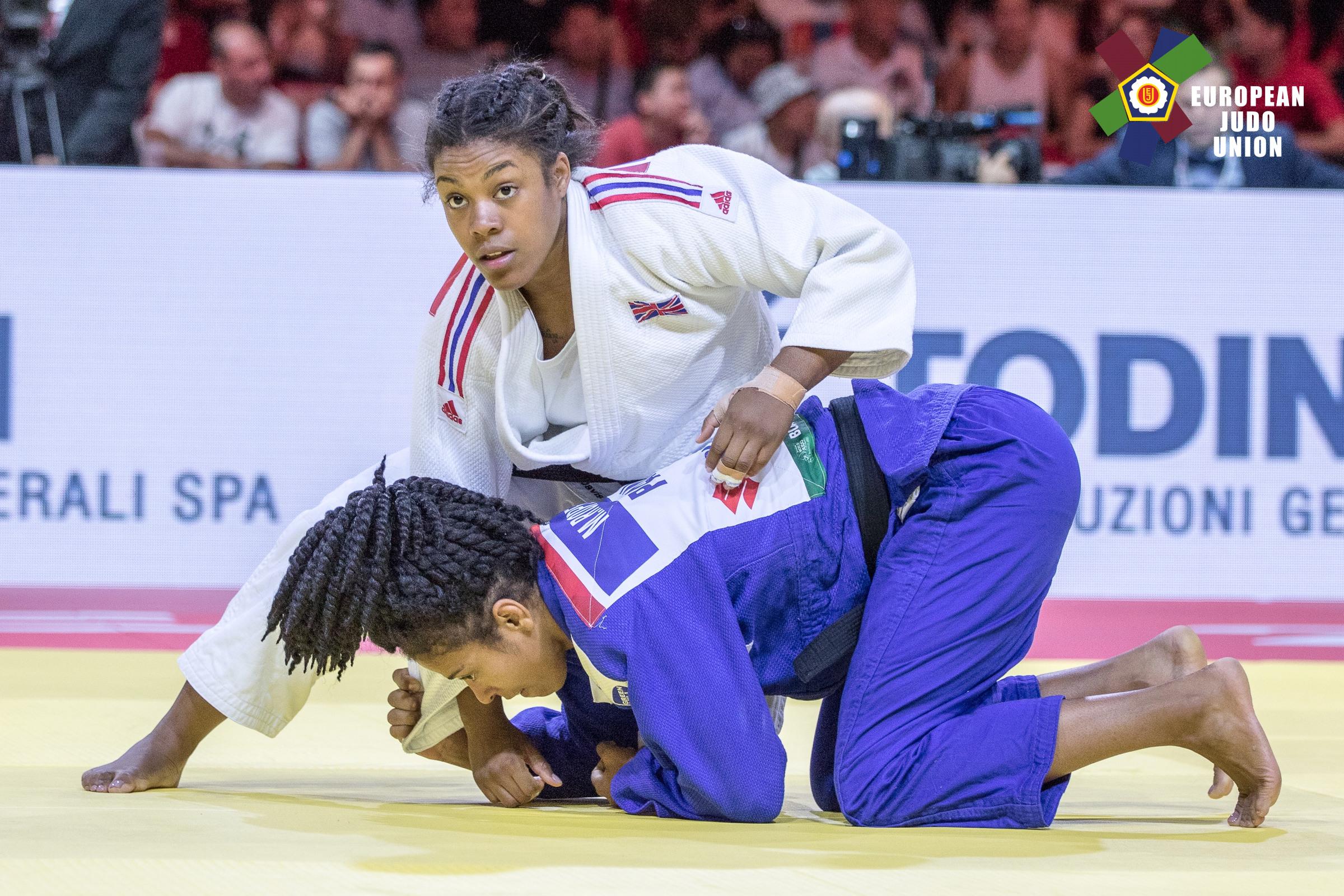 In white, WRL#5, Nekoda SMYTHE-DAVIS (GBR) who was one of the two European judoka to win a medal at the -57kg category last year in Budapest. Since, she secured bronze at the Paris Grand Slam and victory at the Dusseldorf Grand Slam.
Tough route to victory
Despite the extreme quality of this weight class, Europe proved their worth, securing two bronze medals last year, athletes Nekoda SMYTHE-DAVIS (GBR) and Helene RECEVEAUX (FRA) perfomed extraordinarily. Both will seek to transfer their success and hard work from Budapest to Baku. It will certainly be tough amongst the Europeans alone as there is a lot of talent generating in the younger athletes and of course, our more experienced remain in the running.
Olympic bronze medallist, Telma MONTEIRO (POR) will undoubtedly bring her tenacity to the table, having taken three World silver medals already. Following a disappointing World Championships in Budapest, Nora GJAKOVA proved she would no longer be settling. The competitor from Kosovo not only conquered the 2018 European Championships but claimed gold at the Hague, Tunis and Antalya Grand Prix tournaments.
In a rare occurence, we will see twin athletes, Amelie and Theresa STOLL (GER) compete in the same weight category. Both German women have had their fair share of glory, but neither on the World podium, looking at recent results, this could be the year. The sisters have achieved European status at the u23 level, winning in consecutive years and Theresa taking the silver in the Tel Aviv senior European Championships. It can be said that Theresa has truly come in to her own this year, not only causing quite the stir in the European Mixed Teams event in Ekaterinburg, lifting the German team to victory but taking home indiviudal gold medals in the Dusseldorf and Tbilisi Grand Prix tournaments, beating World bronze medallist, RECEVEAUX in the final.
The old new superstar of the -57kg category, Christa DEGUCHI (CAN) is certainly one of the biggest potential to be seen in the final of the World Championships. Since switching to Canada, DEGUCHI defeated 2017 World silver medallist, YOSHIDA Tsukasa (JPN), who is part of the Japanese team settling in Baku, ready for action. The only two people that have managed to overthrow the now Canadian athlete are current World Champion, Sumiya DORJSUREN (MGL) and Olympic Champion, Rafaela SILVA (BRA). DEGUCHI will arrive with strong competition in the form of team-mate, Jessica KLIMKAIT (CAN), who in fact already defeated SILVA on two occasions.
All of this talent will be in Baku with only four spots available on the podium.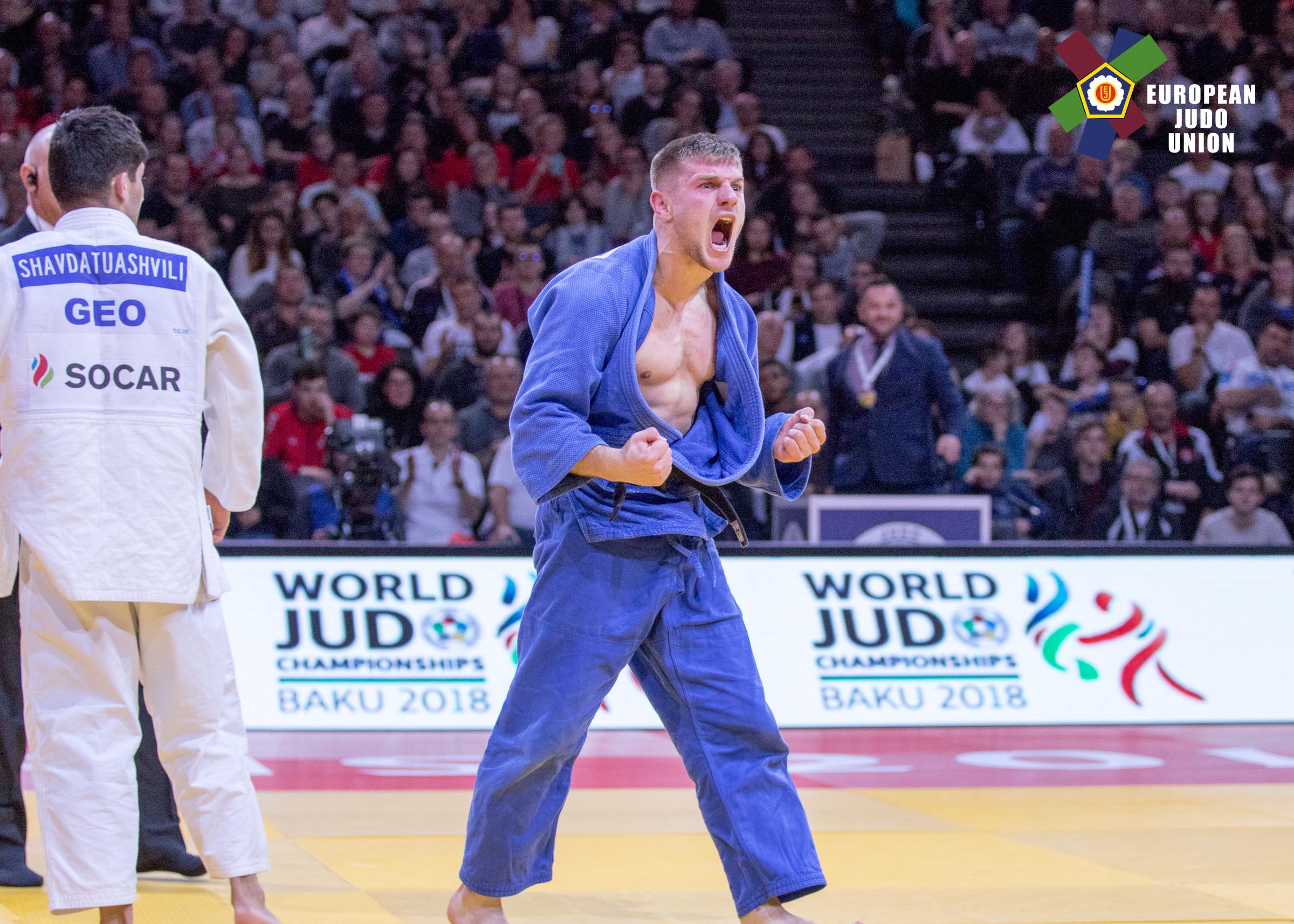 2018 Paris Grand Slam winner, Akil GJAKOVA (KOS) has previously defeated some of the strong opponents already, but with the seeding system and his WRL#8 position he will be the one to face current World Champion, Hashimoto, if both proceed the quarter-finals.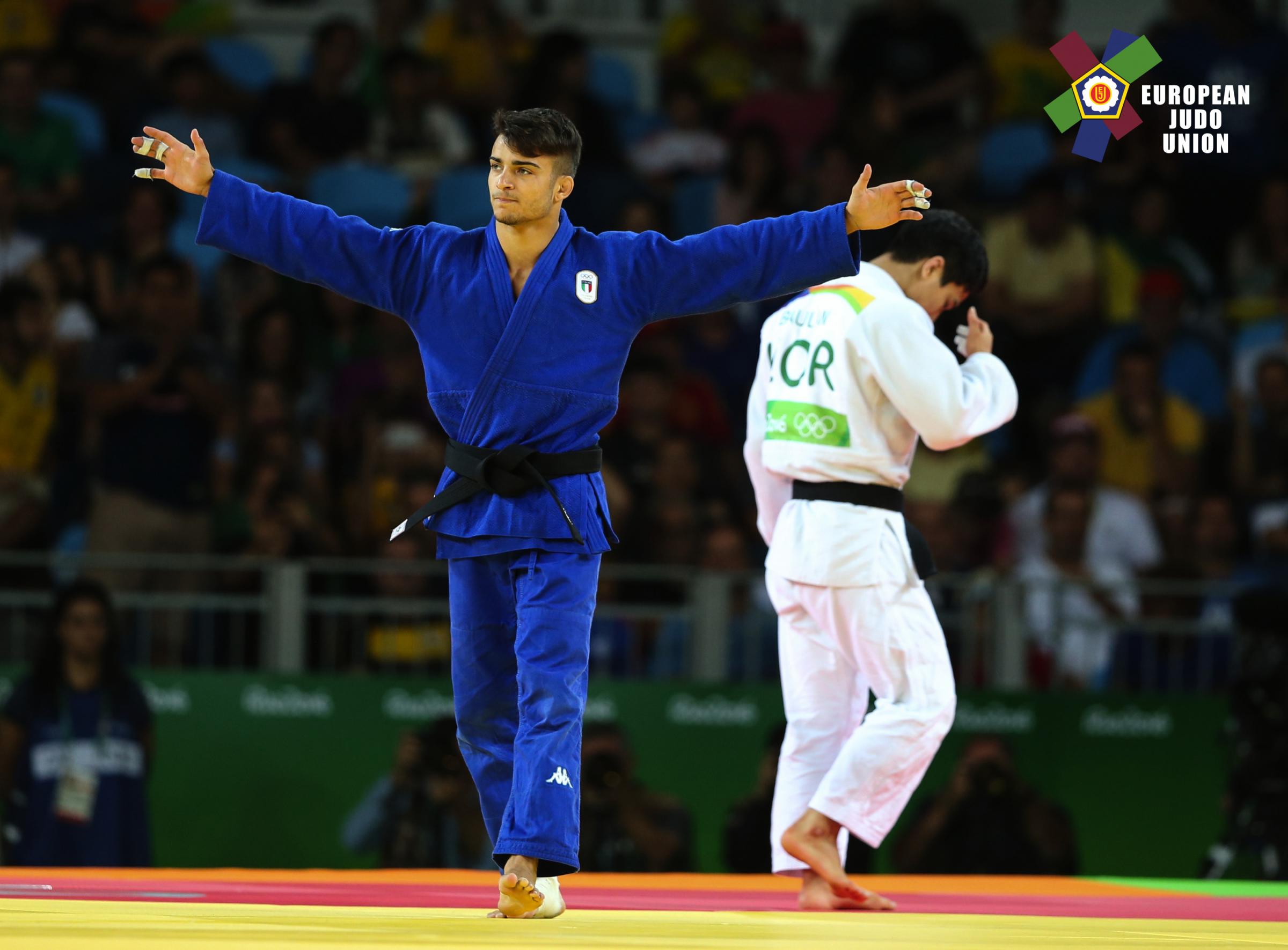 Miracle Man, Fabio BASILE (ITA) set himself one goal after winning gold in Rio, and that is to become World Champion. Follow his progress on day 3 of the 2018 World Judo Championships.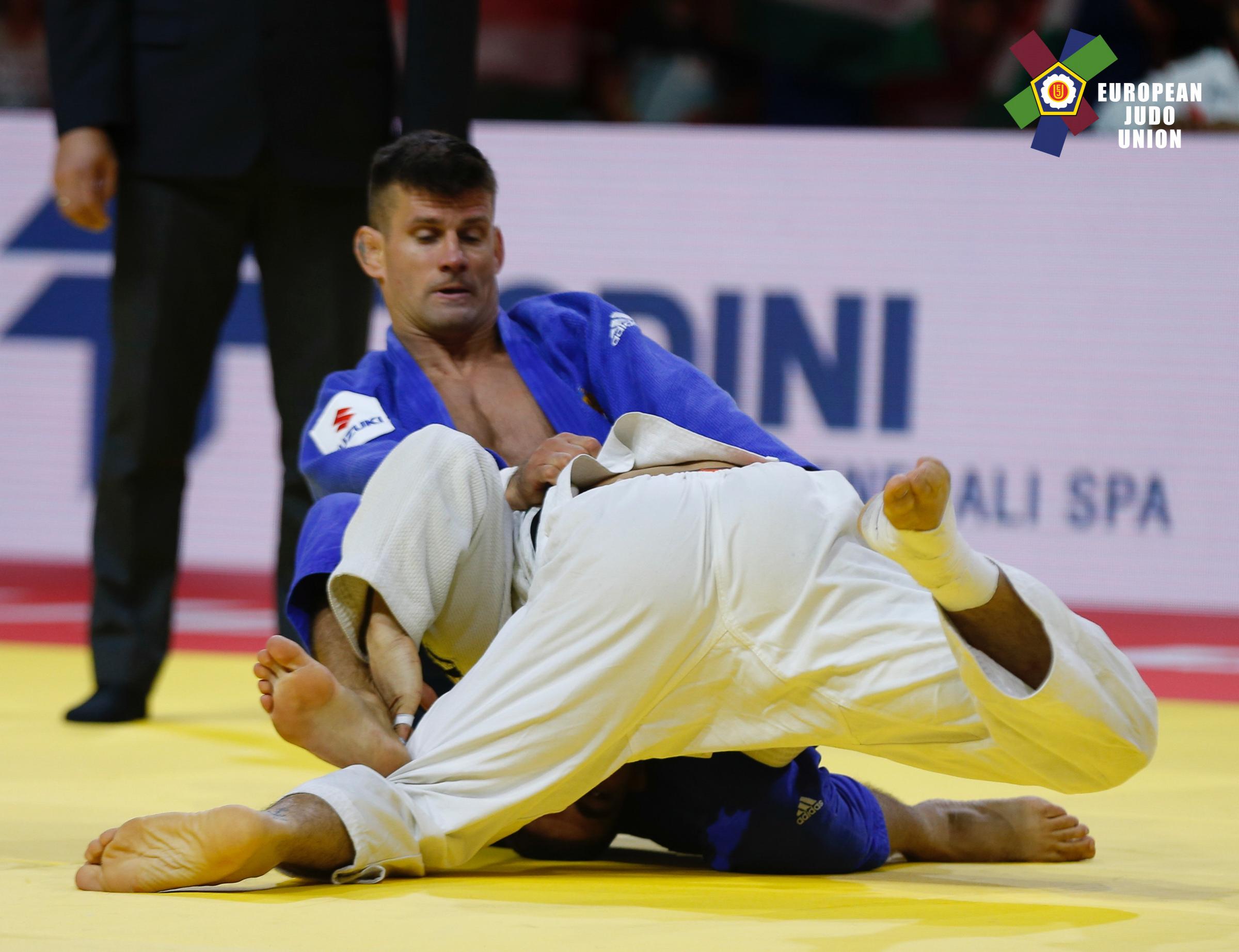 Olympic silver medallist, UNGVARI Miklos still manages to strike for glory. Regardless of his age, don't underestimate his determination and ability to succeed.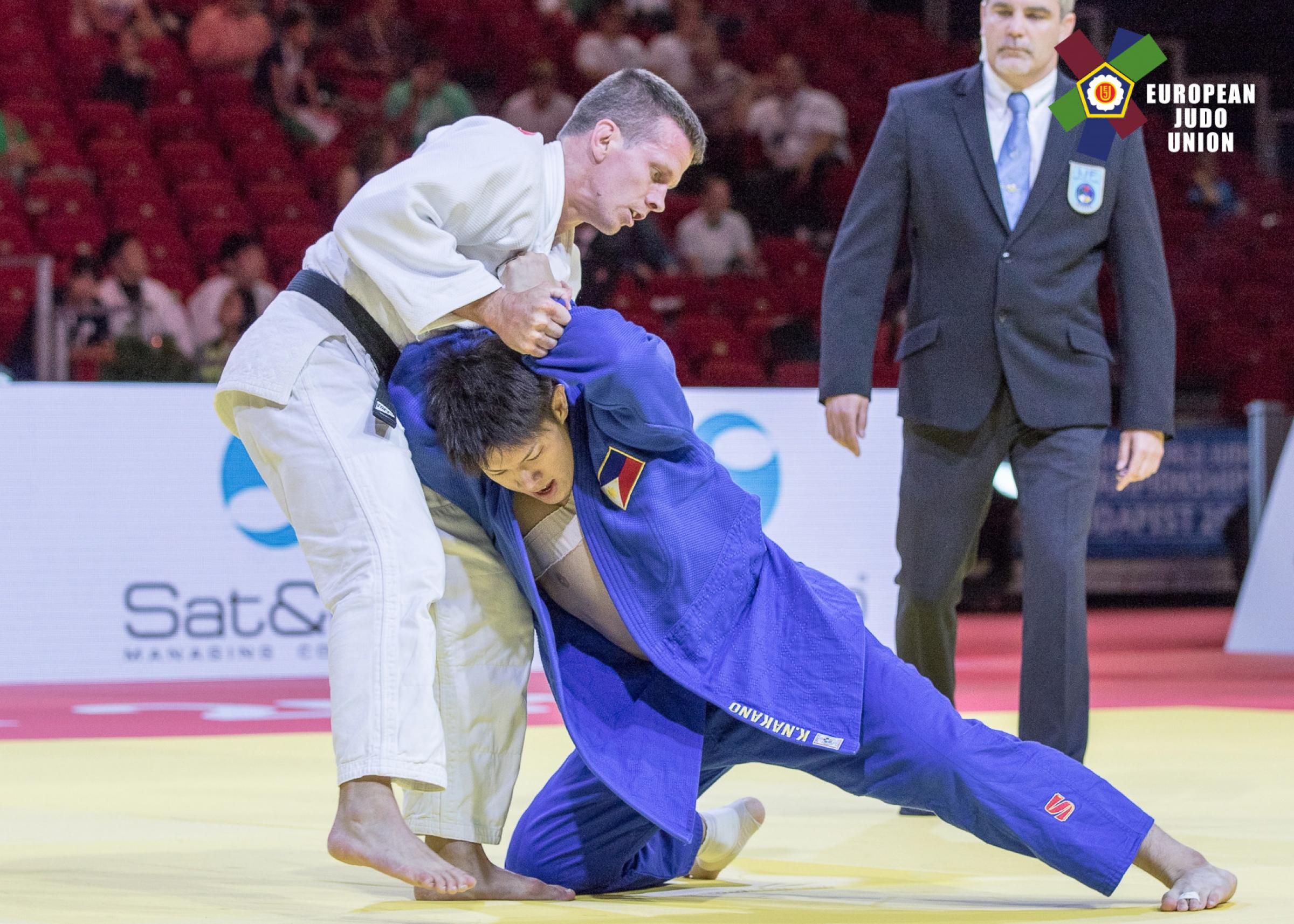 Olympic bronze medallist, Dirk VAN TICHELT (BEL) won his last World medal back in 2013. Although, Rio de Janeiro seems to be his lucky city, Baku will provide equal chances to win his third world medal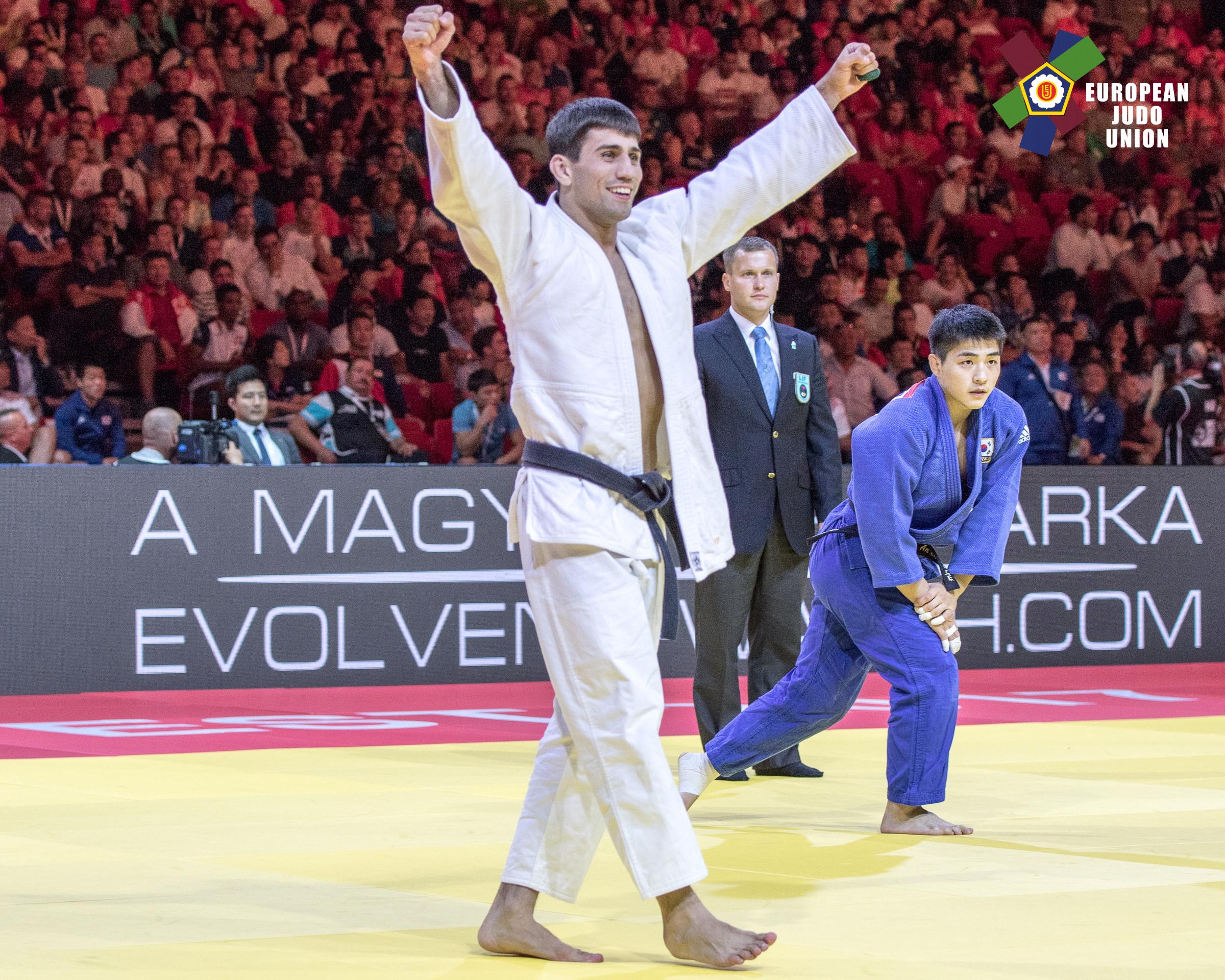 Home favourite, Olympic and World silver medallist, Rustam ORUJOV (AZE) is going to set the National Gymnastics Arena on fire with his team-mate Hidayat HEYDAROV. Orujov lost in the final against Hashimoto last year. To take revenge on his doorstep will be more than just a simple World victory.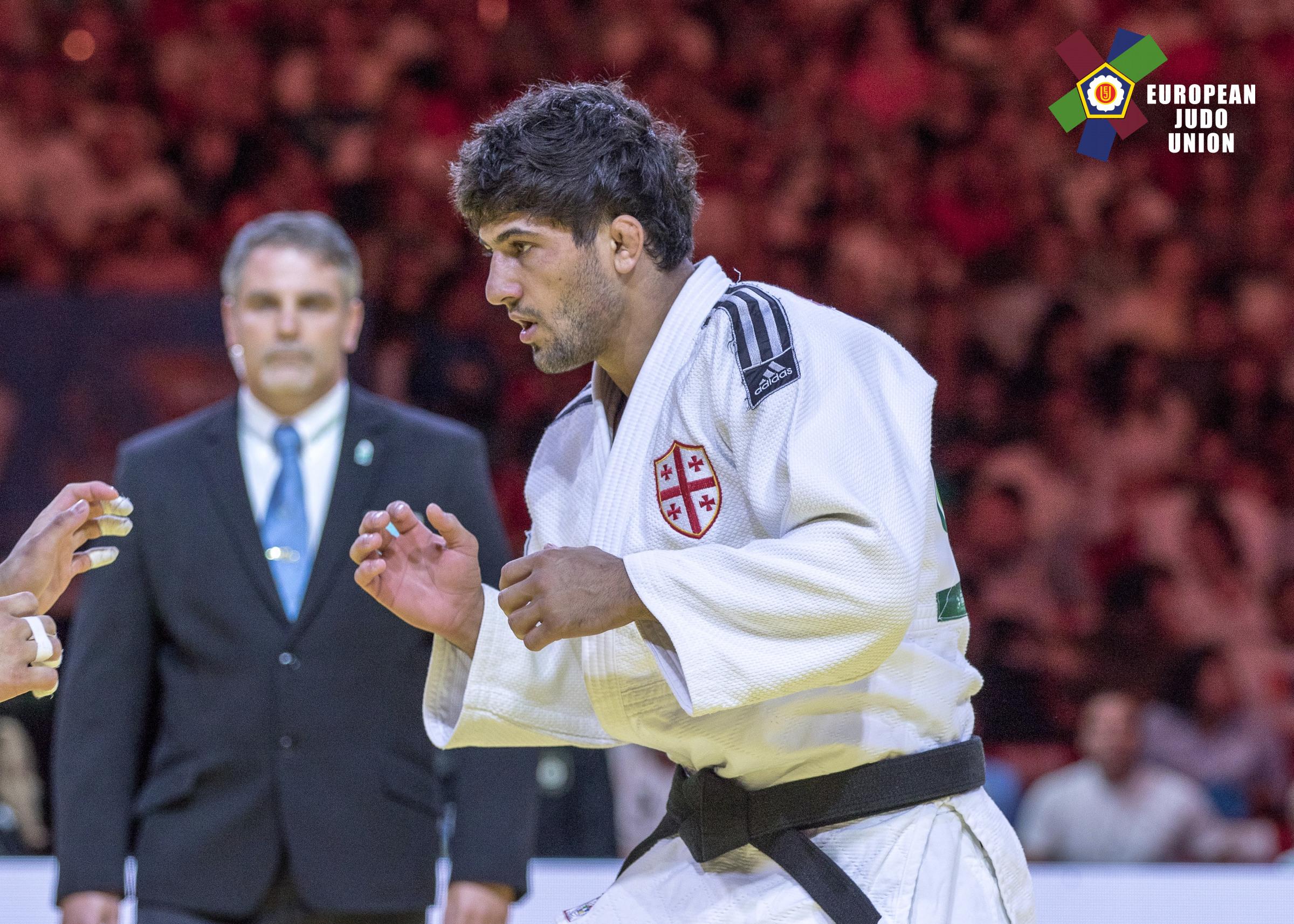 Double Olympic medallist and Olympic Champion, Lasha SHAVDATUASHVILI (GEO) yet to claim his first World Championships medal. Can Baku provide him with just that?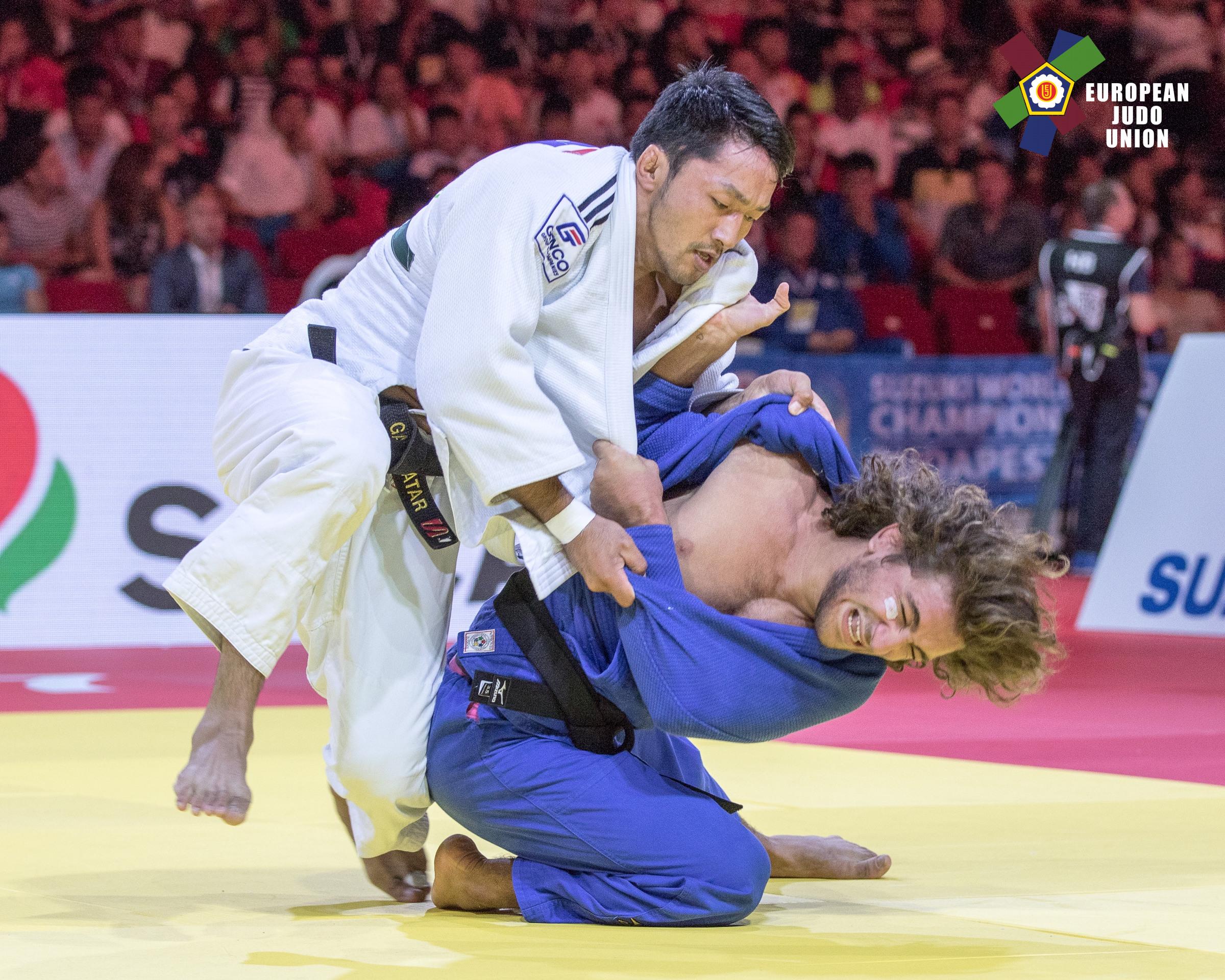 In blue, Hidayat HEYDAROV (AZE) was devastated last year when narrowly missing out on the podium. Feeding off the past and having to compete in his homeland, will fuel his desire for a World medal.
Orujov's revenge on home turf
The crowd will erupt on day three of the tournament as two incredible home athletes will battle towards that gold medal. Olympic and World silver medallist Rustam ORUJOV is a calm and collected athlete, with dynamic and timely technique, always keeping the crowd on the edge of their seats. Losing out to Japan's HASHIMOTO Soichi by a single waza ari last year, will definitely be motivation enough to fight his way back in to the final. A personal challenge he must face is much closer to home, the younger -73kg athlete stood in the way of a bronze in the Paris Grand Slam as well as the gold in the Islamic Solidarity Games in 2017.
This problematic home nation counterpart, Hidayat HEYDAROV, however, has a much more animated fighting style. The athlete hones his emotion to constantly pressure his opponent and notably never lets an opportunity in ne waza go to waste. The younger competitor placed fifth at the World Championships last year but effortlessly took the gold in both the Junior World and European Championships. HEYDAROV has definitely made a successful transition on to the senior circuit, he may be unrecognisable to the crowd as he has taken away his lions mane, very appropriate for his character, but his judo will be unavoidable.
Since his -66kg Olympic gold in 2012, Lasha SHAVDATUASHVILI (GEO) has successfully made his mark in this heavier weight category, taking a gold this year in the Tbilisi Grand Prix and a silver after a close final against Akil GJAKOVA (KOS) in the Paris Grand Slam. The Georgian took a bronze in the Rio Olympics but has yet to take first place in a World Championship. With strong results this year, the experienced athlete could very well reach the gold. GJAKOVA has been on high note this year which includes defeating home favourite, ORUJOV. Both Olympic silver medallist, UNGVARI Miklos (HUN) and Dirk VAN TICHELT (BEL) have the consistency and the experience to excel on such a stage. However, if miracle man, Fabio BASILE (ITA) wants to repeat his Olympic success but in this new heavier weight category and make his World title mission a reality, he couldn't have picked a more exciting time.
Judoka
---