Hungarian judo icon, KARAKAS Hedvig, or as others call her 'Hédi' has officially bowed out from life as an elite athlete. Karakas dedicated 23 years of her life to her beloved sport and now she is excited to take on various adventures life has to offer for her. Between her university exams and hectic schedules around this life-changing moment, Hédi kindly took time to reflect on the past two decades on the tatami.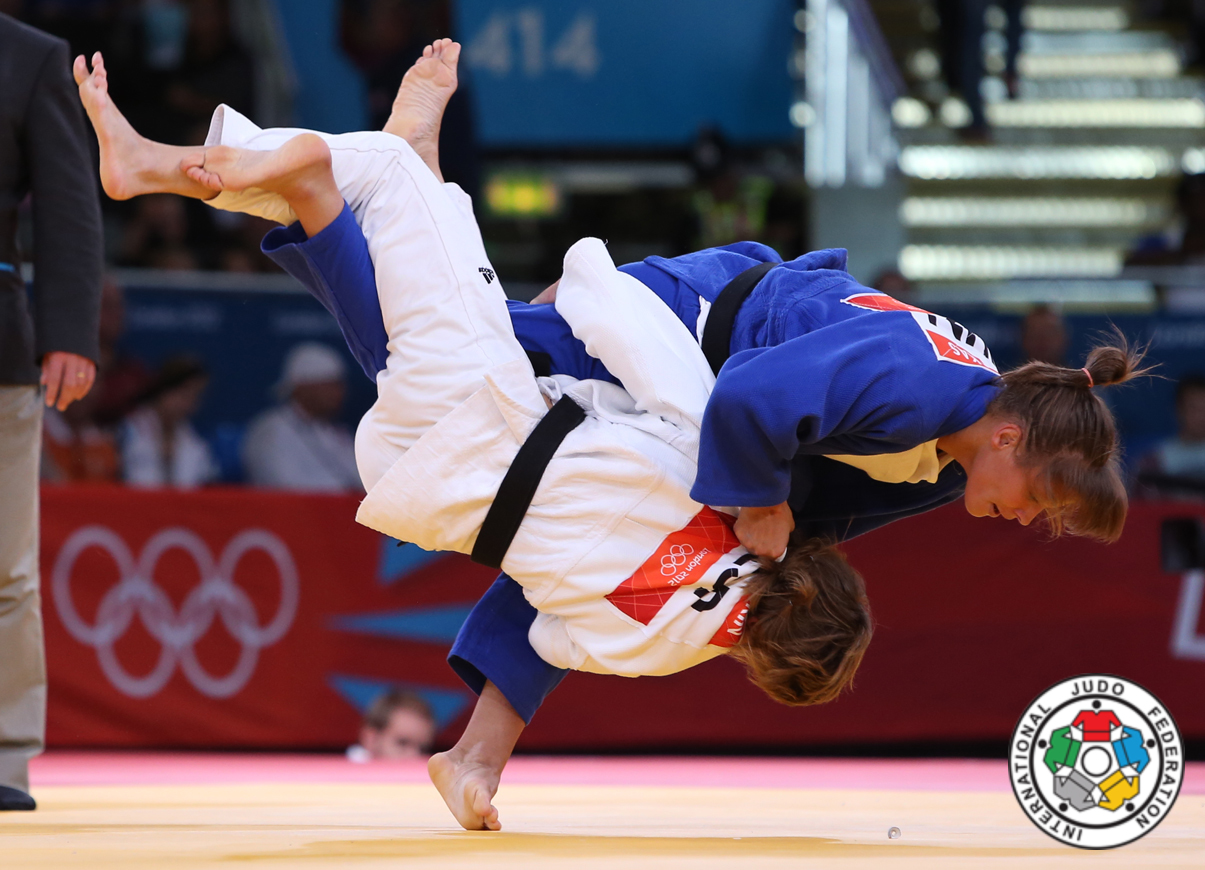 KARAKAS Hedvig represented Hungary at 3 Olympic Games. @IJF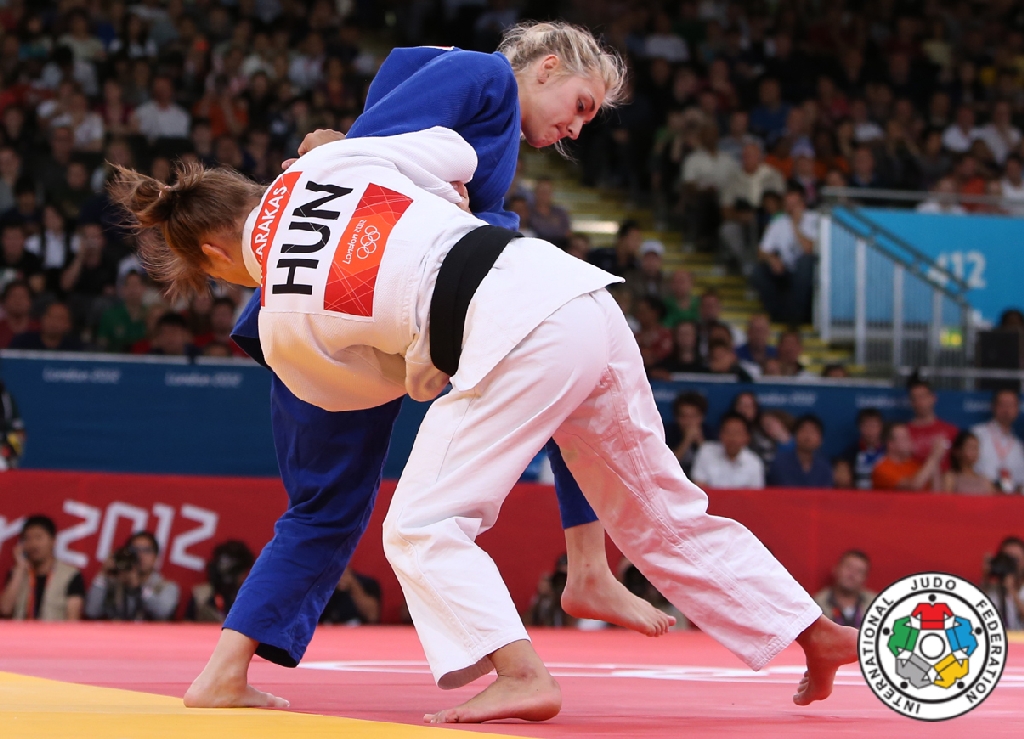 London 2012, where she finished 5th place. @IJF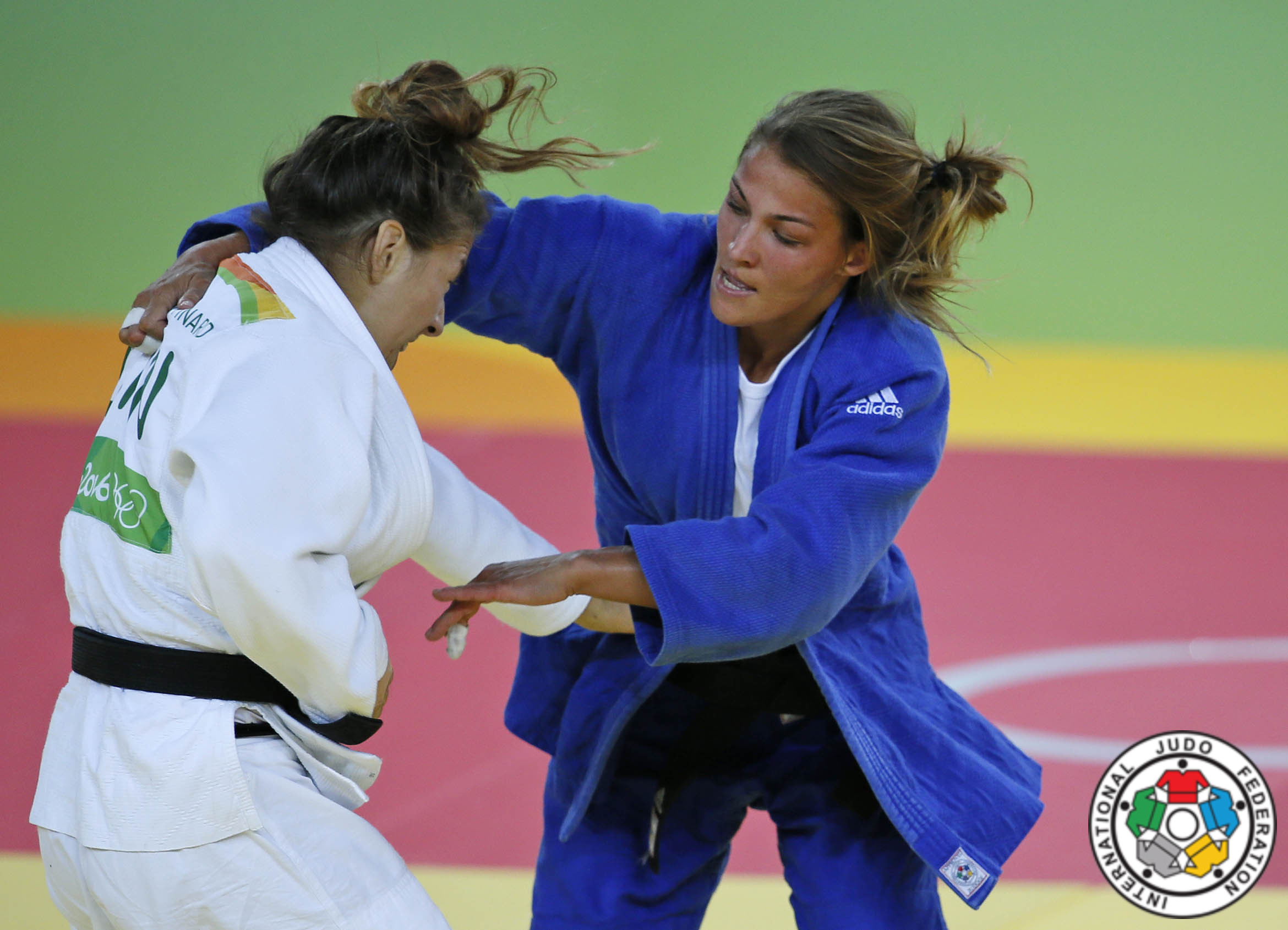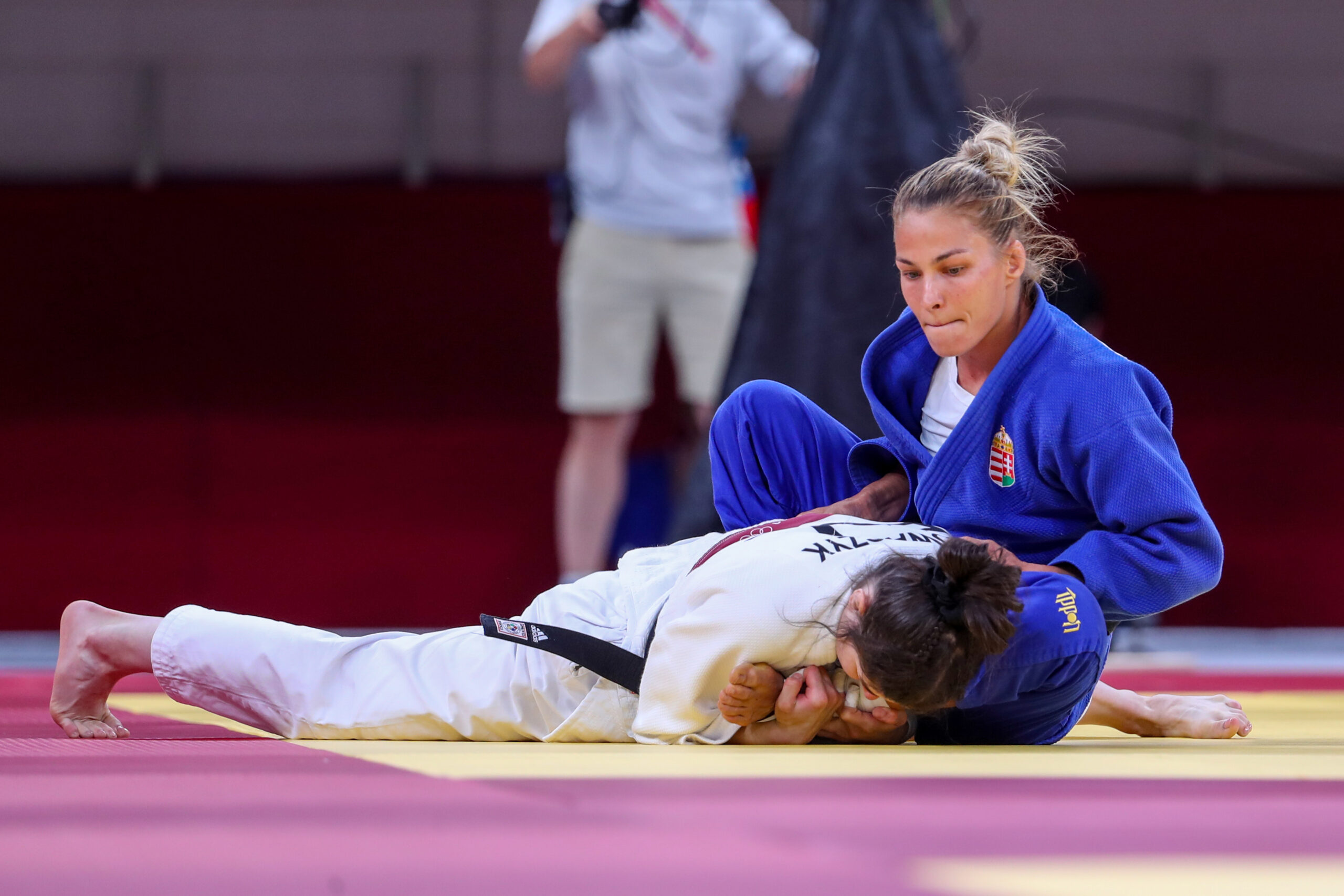 The first time the Hungarian judoka familiarised herself with a dojo was at the age of six through her primary school, where it was compulsory to either attend dance classes or judo practice. Her choice was obvious. Up to the age of 10, she did judo amongst several other sports, including football, swimming, handball, and athletics. The goal was always clear, becoming an elite athlete, the only question at that time, in which sport she will make that commitment? In 2000, judo became her priority and the rest is history. This decision came with several commitments, including having to move to the capital city, Budapest where she had more opportunities from every aspect. This transfer was made in 2012 when she joined the BHSE Judo Club. London 2012, what are you memories?
KH: My first Olympic Games in 2012, without a shadow of a doubt, will remain the most memorable event of my career. It was a big year for me, being able to mix with the elite and represent my country on the biggest sporting stage. Ironically, a month before the Olympics, I tore my hamstring and I could barely train prior. Me getting there itself was a miracle, let alone the fact that I was able to fight for a medal. Every fight was a victory regardless. Hence, putting all of the facts into consideration, London 2012, to date, remains the highlight of my journey.
Podium of the -57kg category at the European Judo Championships 2009. Karakas was still a junior when she joined the rostrum.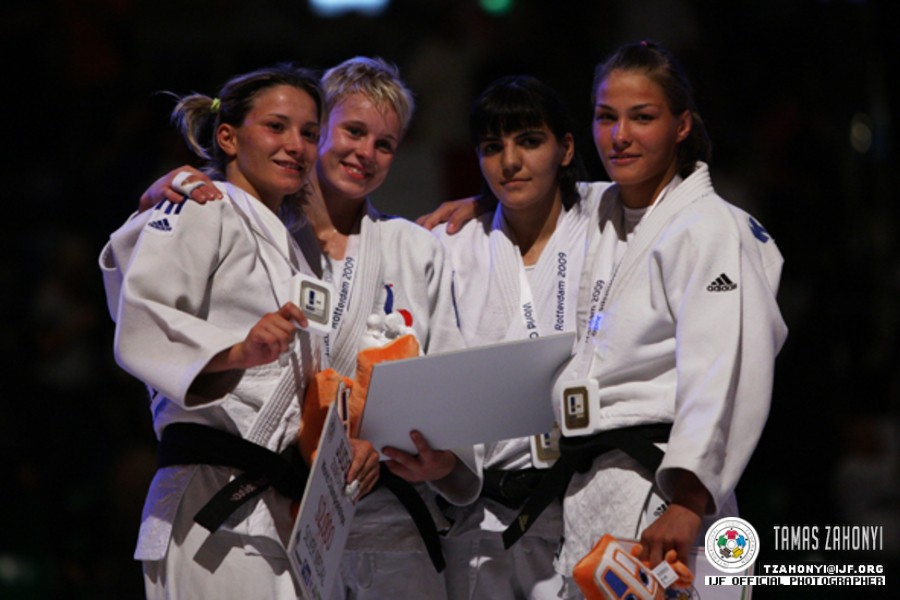 Any professional career comes with tears and joy, what was the darkest moment of yours?
KH: That has to be the Tokyo Olympics. I was really ill three days prior to competing and lost in the opening round. Whilst that was my darkest moment, the lowest point in my carrier was in 2011 when I tried to break away from my childhood coach and from certain situations which I had to go through, this was very damaging to me and my career. It took a year to be able to separate myself from this and on top of it I was injured too with a torn ACL in my knee and an unstable ligament in my ankle. Prior to going through these dismal times, I was on top of my game winning senior European and World medals as a junior judoka. To top that, in the same year (2009), I won the junior European and World title. Following an extremely successful year, I got injured but I had to continue training and competing as that very same coach, did not allow me to stop and recover. I was pushed beyond my limits, both physically and mentally.
Following the rollercoaster memories, Karakas revealed that initially she wanted to retire right after the Tokyo Games, however the circumstances and performance simply weren't satisfactory and she didn't want to finish on that note. At this point she was torn between dreams and the reality. Therefore, she allowed herself to digest the situation and let the decision sink in, whatever that might be. During this time, she progressed with her studies and tried her chances a weight above. In the end, the decision was made, it is time to hang up her competitive gis. Are you at peace with your decision?
KH: To be honest, if I'd have listened to my heart, I would not have stopped. I love training, I love challenges and I would have had continuous motivation. However, my health has constantly been compromised due to the regimental diet and weigh cut, which resulted in a few serious injuries too. Therefore, I came to terms with it, and listened to my head, not my heart and instead invested my energy into life outside of the tatami.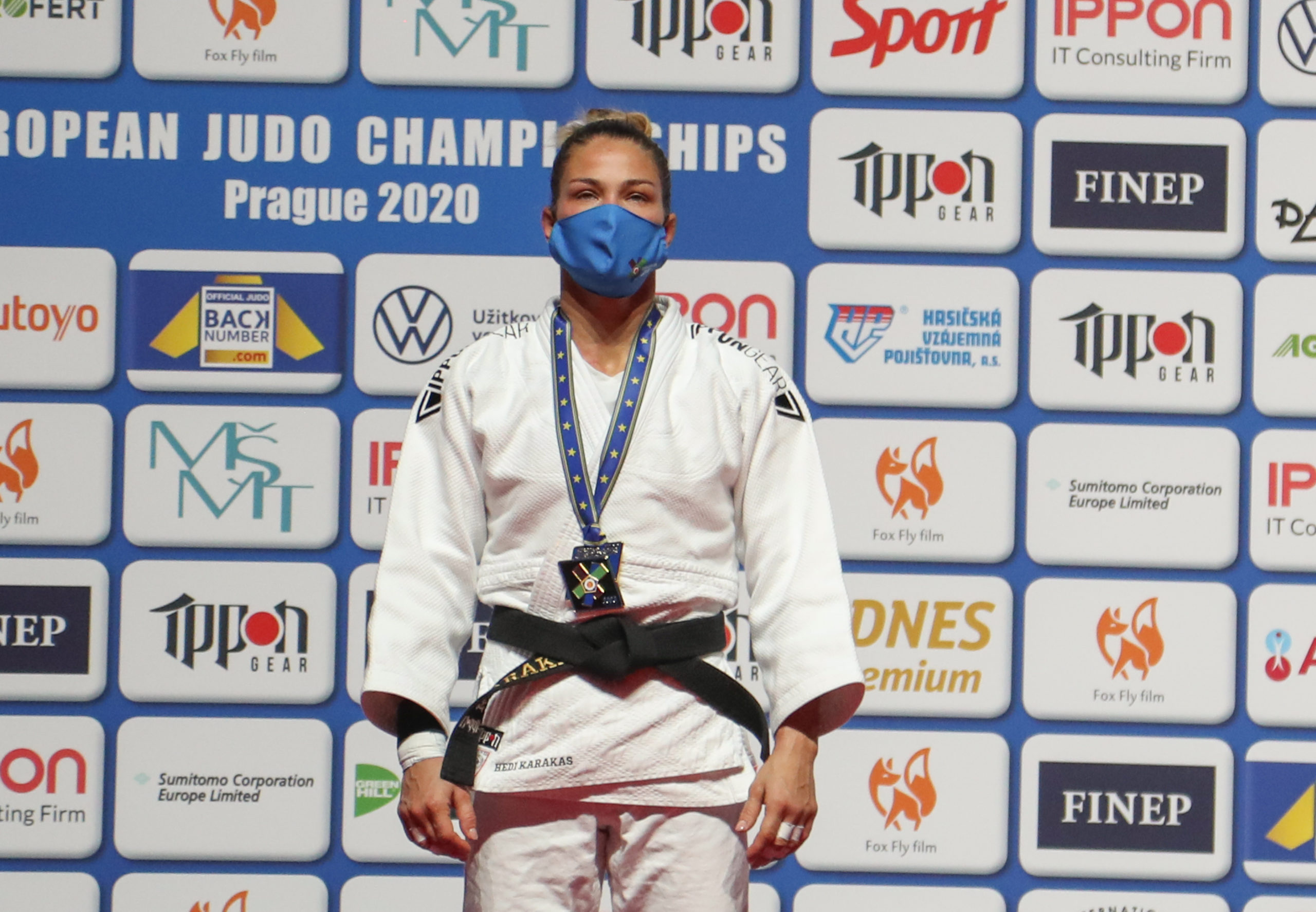 KARAKAS Hedvig won gold at the 2020 European Judo Championships in Prague.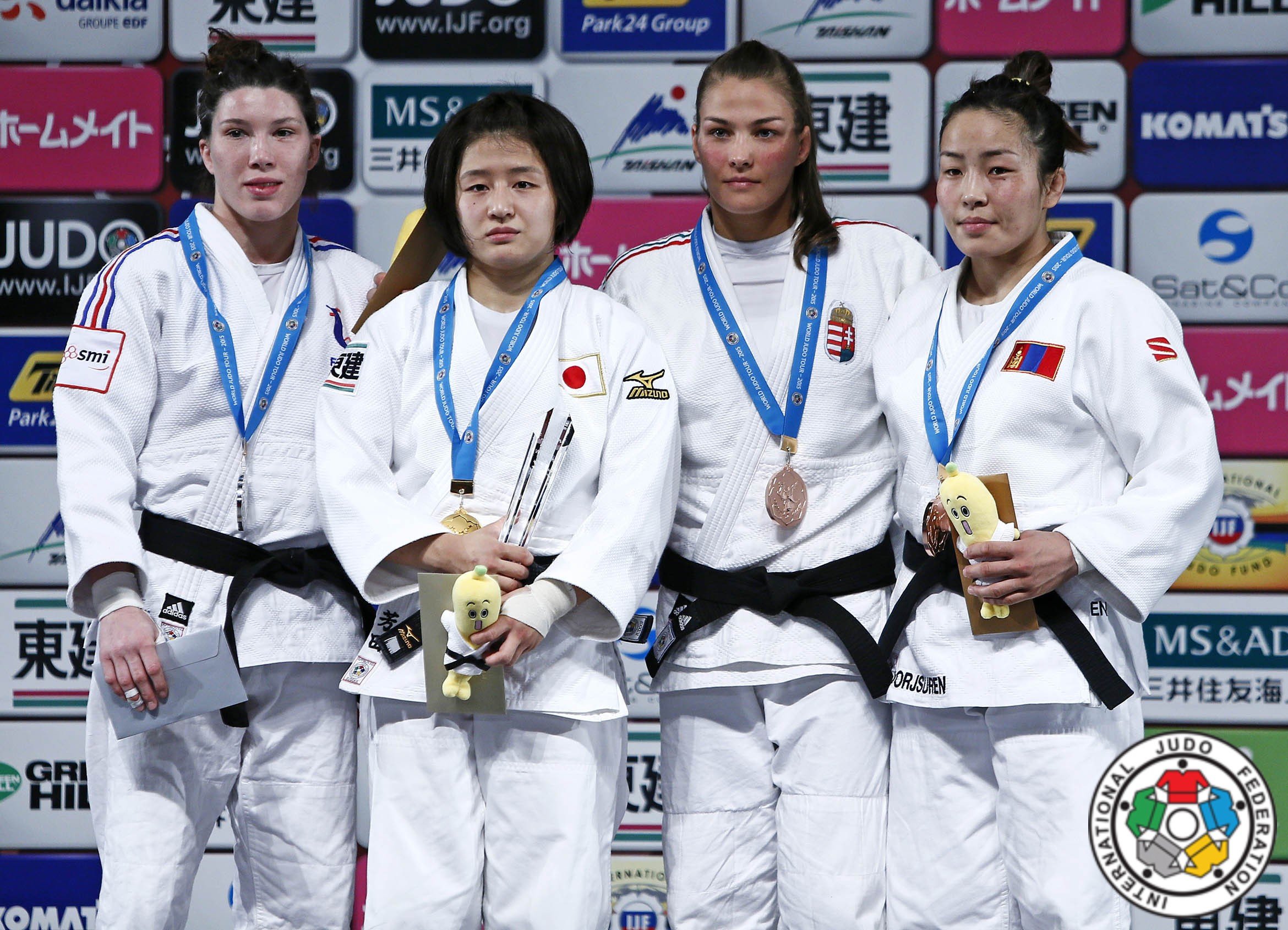 She also won bronze at the prestigious Tokyo Grand Slam in 2015. @IJF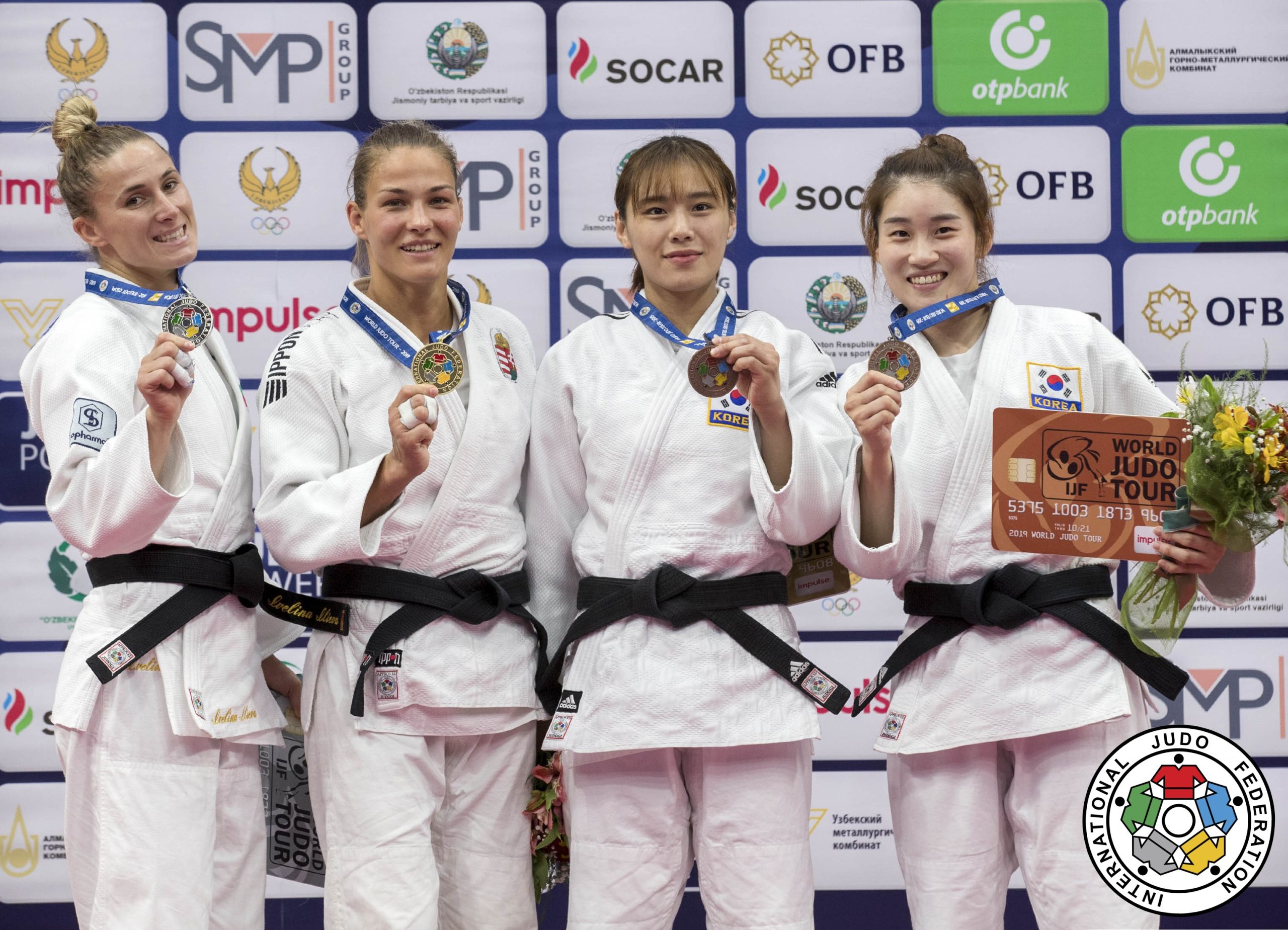 Her last IJF World Tour gold medal was collected in 2019 at the Tashkent Grand Prix. @IJF
The 33 year-old judoka reflected on the lessons she learned throughout her carrier, which she will now be carrying towards her day-to-day life. Some of these include the understanding of humanity, dedication and consistency being the key recipe to achieve anything you set your mind to. Yet, one of the biggest lessons she had to learn was the ability to stand up for herself, especially as a woman. Finally, being able to lose with her head held high and winning in modesty will remain her style of living. So, what is next?
KH: The future is about finding out who I am off the mat. Finding new challenges, goals, and routine. In this last year, more often than not I felt like a newborn baby, who was put out on the street not knowing who she is and what she wants or more so needs to do with herself. Now a chapter is closed, and a whole new one begins, which is frightening yet exciting. I received a job offer from IJF, which I felt very honoured about and accepted it. Meanwhile, I will continue to support my judo club too and seek to pass on my knowledge as well as my experience to the next generation. I am pleased to be able to stay within the sporting environment and I hope that I will find my new 'me' with new encounters in my life, with which I can realise some new long-term objectives.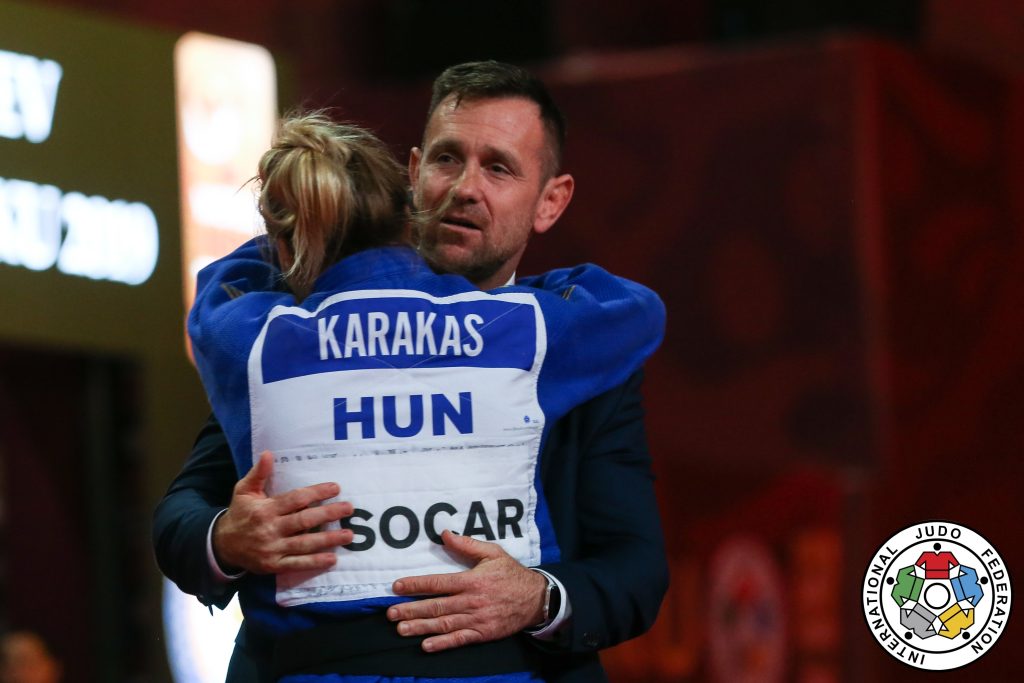 Coach, TONCS Peter and KARAKAS Hedvig, celebrating another Grand Slam gold in Baku 2019 @IJF
Hédi has a long list of people to thank for the past 23 years. One of them is her coach, Toncs Peter, who also shared his view on this incredible journey.
TP: Hédi had a wonderful career with enourmous results, dedication, successes and breakdowns. Knowing her, I am confident that within, she is lacking that Olympic medal and she explained, it was one of the reasons why it took her a while to come to a decision. Nevertheless, from my end, I feel like her career is filled, she walked the path which was necessary to achieve her full potential. I hope, eventually, she will look back and be fully satisfied with her incredible career.
Working with Hédi was easy in one way and difficult in another, both for the same reasons. Hard work was never a problem for her, in fact the opposite, the struggle was to hold her back at times as she was always keen to do more. As most elite athletes, she is also stubborn, which is known to be an advantage and a disadvantage. No different in her case.
Everyone learned from her, her club mates, the national team, and me as a coach too. She was professional from every angle, her attitude to training, her diet and life around her. She completed every task with incredible precision and whilst she fought daily to achieve her best, she equally expected the same from herself in her personal life, earning several degrees. Throughout her career, she truly displayed an extreme level of courage, discipline, and humility towards our sport. It has been a pleasure to work with her.
Ultimately, the 3-time Olympian, European Champion, and World bronze medallist and multiple IJF world tour medallist, hopes to be remembered as a reason to take up judo. She hopes that throughout her career she was able to motivate countless individuals on and off the tatami whilst creating memorable moments for many across the world. Thank you Hédi!
Judoka
Author: Szandra Szogedi
---