The 2018 Kata European Judo Championships will take place this weekend in Koper, Slovenia. Over 200 competitors from 17 nations will demonstrate amongst different events: Nage-no-kata, Katame-no-kata, Ju-no-kata, Kime-no-kata, Kodokan-Goshin Jutsu, Randori No Kata and Koshiki No Kata.
The President of the European Judo Union, Mr. Sergey Soloveychik, wishes everyone a great weekend ahead;
"The importance of kata is sometimes lost by many for whom shiai takes precedence. And yet the practice of kata provides us with all the tools for a better understanding and appreciation of all aspects of our chose sport. Indeed, many features of judo are to be found only within kata making the study and practice of kata essential for all who wish to progress in judo."
The President of the Slovenian Judo Federation, Mr. Darko Music, welcomes everyone in the city of Koper;
It is a great honor to be chosen once again by the EJU to organize and carry out the European Kata Championship. We first organized this event in 2012, however, that was not our first time organizing a major sporting event. The first European Championship in Slovenia took place in 1997-a European Youth Championship. We successfully carried out the same caliber of competition again last year in Maribor.
Why katas? We all reach a point where we start to wonder about the beginnings and origins. That is what katas represent. They highlight the morals and basics of the sport that dictates our lives. Looking from another point of view, judo emphasizes perfection, history and essence. We promise to strive towards that perfection when organizing the European Championship, which will take place in Koper."
Each Kata has its own formula, which makes it an interesting weekend ahead for all Kata experts as well as fresh learners. The draw to establish the order of demonstration for each group and Kata will take place the day before the competition. The draw for the order of the Open Kata Championships will take place in the Sport Hall after the European Kata Championships. The most entries received was from France with 28 contenders, whilst the host nation will take the stage with the total number of six contestants.
Besides the Kata European Championships, you have a choice of other two locations. The Juniors will be travelling to La Coruna, Spain, for their annual European Judo Cup whilst the Cadets will to just as at Bielsko Biala, Poland. Don't forget our official hashtags for the weekend: #JudoKoper2018, #JudoLaCoruna2018 and #JudoBielskoBiala2018. We wish a very successful weekend to everyone.
---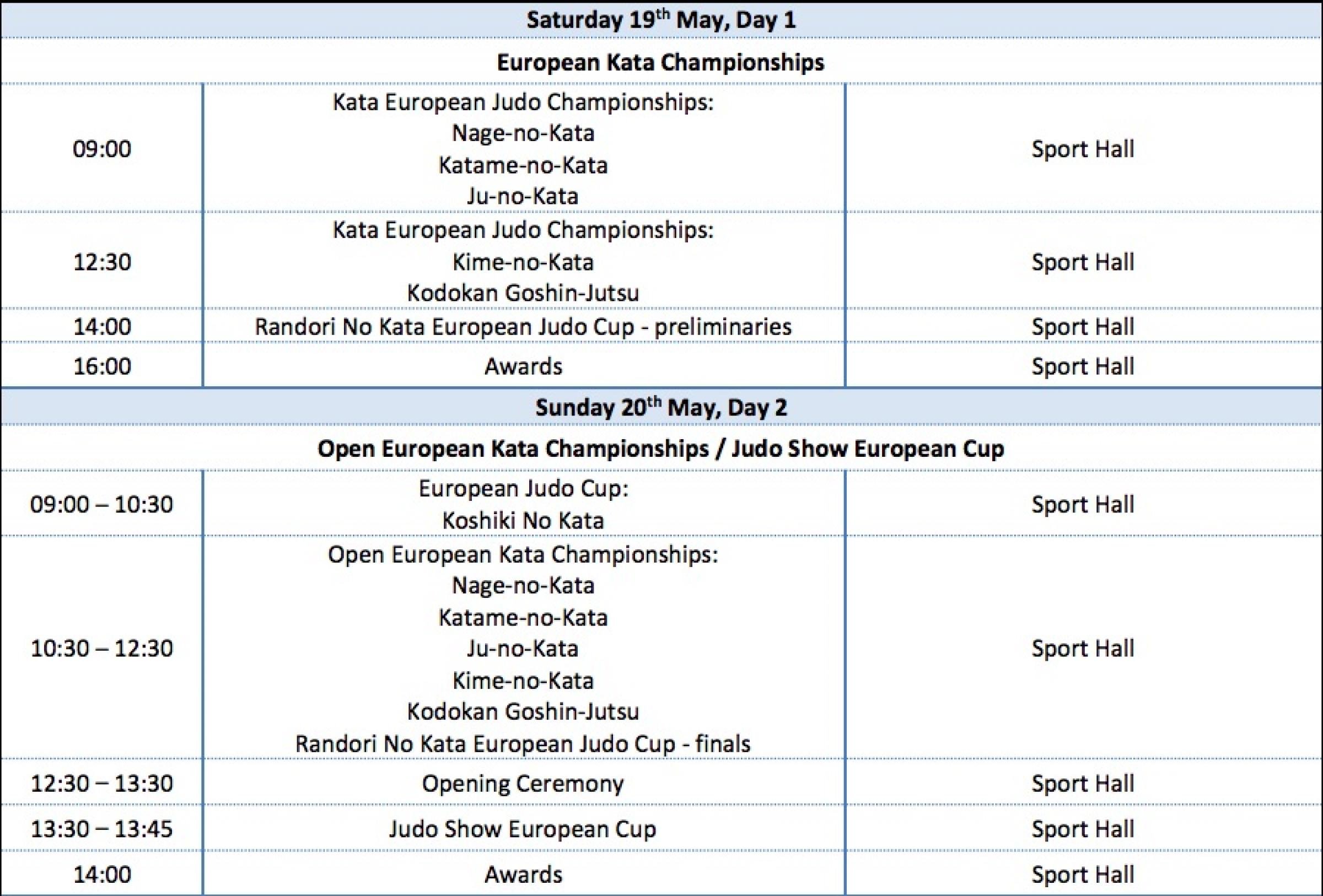 ---