There are two principal ways of practicing Judo: Kata and Randori. Kata, which literally means "form" is practiced following a formal system of prearranged exercise, while Randori, meaning "free practice" is practiced freely. Through Kata practice, trainees learn the principles of techniques.
Today, at the opening day of the 2018 Kata European Judo Championships we saw five different Kata performed. The Judo Show European Cup was also part of the program. Medals spread across 9 countries with France claiming the most victories. Italy and Belgium closely followed.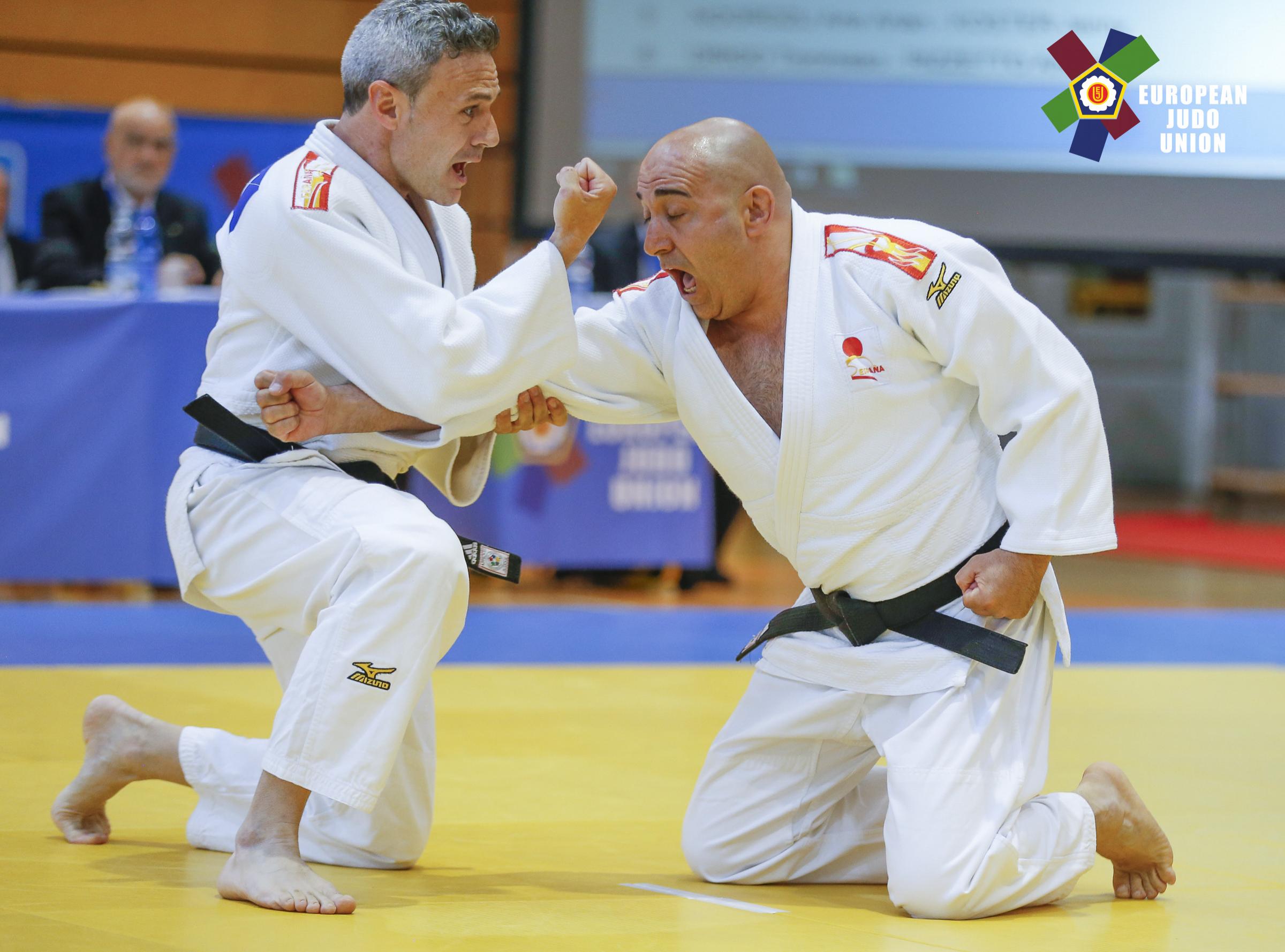 First one up was all contenders for Kime No Kata, where judoka learn the techniques for serious combative fight. It consists of the techniques in a kneeling position (Idori, 8 techniques) and in a standing position (Tachiai, 12 techniques). At the first group 11 pairs were competing for precious points, however, it was one of the French pairs, Gregory MARQUES – Stephane BEGA, to deliver a 520,5 points worth of golden preformance. In group two, the victourios demonstration came also from France as last year's silver medallists, Michel JEUFFROY – Laurent JEUFFROY made it on the top of the rostrum with 540,5 points.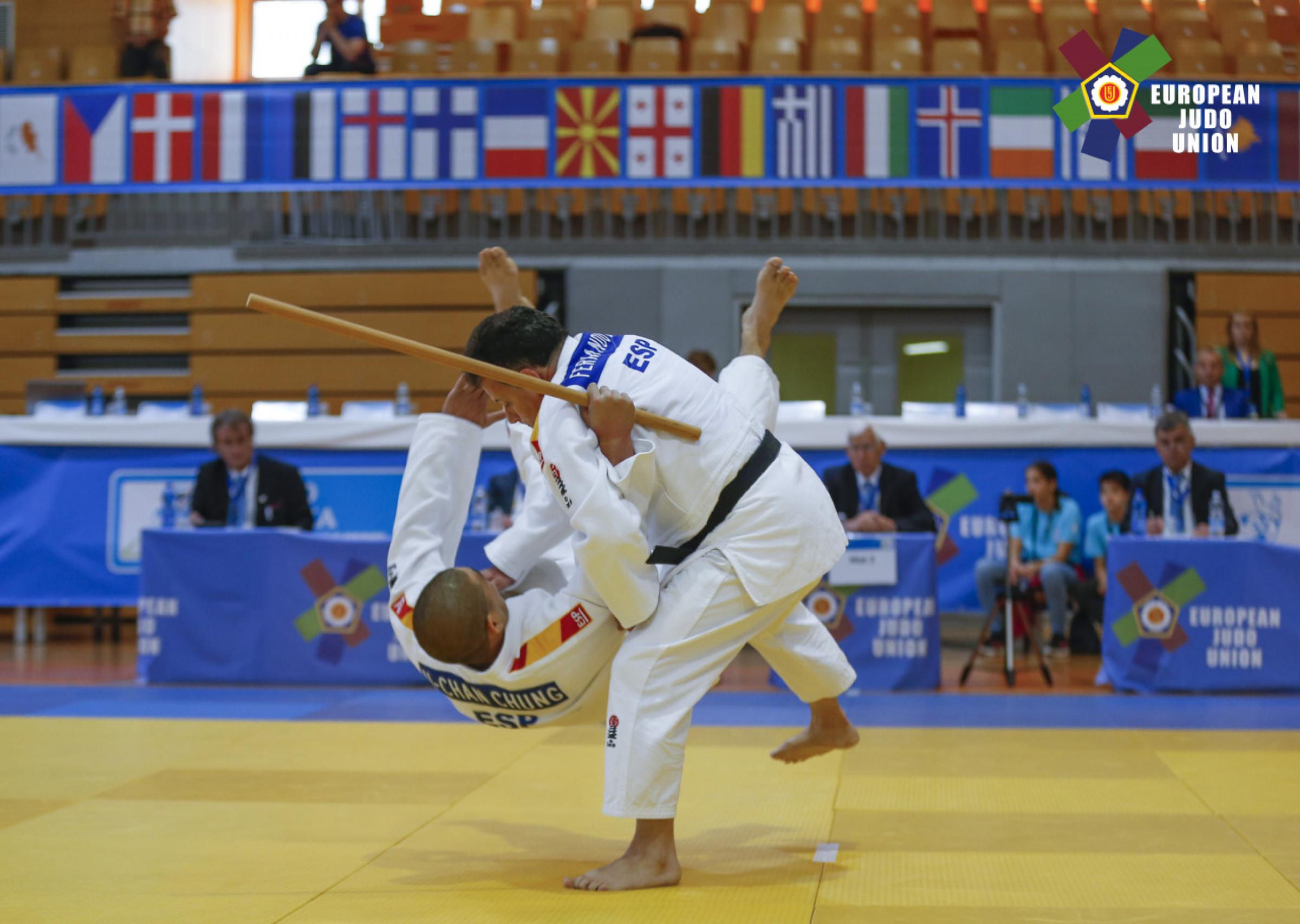 Meantime, the Kodokan Goshin Jutsu took place on the joining mat, which is a form of Self-Defense. This consists of an "Unarmed section" and a "Weapons section". The "Unarmed section" consists of twelve techniques while the "Weapons section" consists of nine techniques. The outcome of Group 1 meant another gold for France delivered by Kamel BEN TEKFA and Alexis LACROIX with the total of 535,5 points. Italy claimed victory in Group 2 by a great demonstration from Ubaldo VOLPI and Maurizio CALDERINI. They overall score was 549,5 points.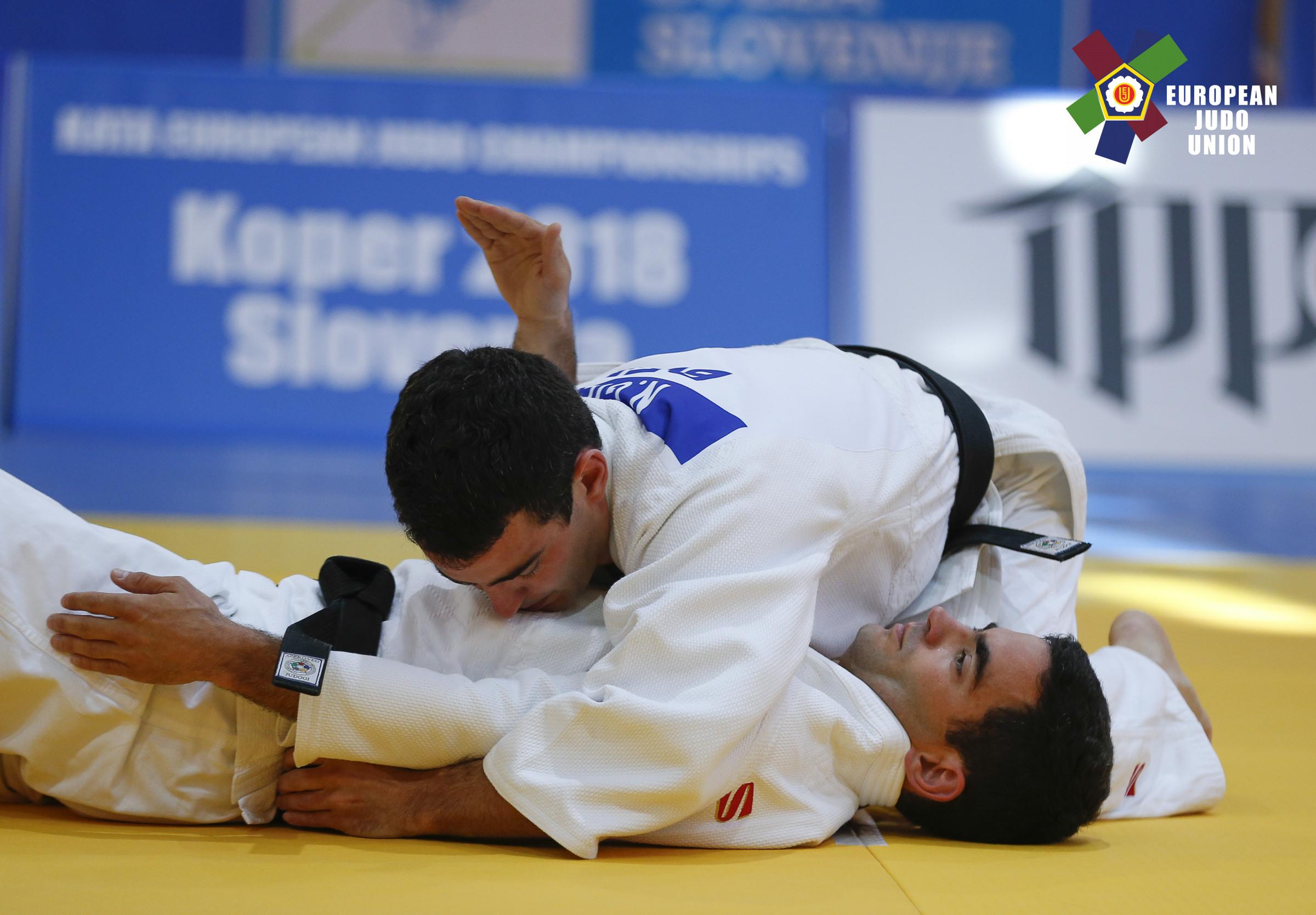 All participants of Katame No Kata began the day early with 11 contenders in theirs respected group. Katame No Kata is a form of grappling or holding. Five model techniques are chosen from each of three Katame-wazas: Osaekomi-waza, Shime-waza and Kansetsu-waza. Belgium won their first gold of the day by their Katame No Kata duet, Nicolas GILON and Jean Philippe GILON (BEL). The Gilon brothers competed in Group 1 and achieved a total score of 411,5 points. The winner of the Group 2 were Stefano PROIETTI and Alessandro VARAZI (ITA) by 398,5 points.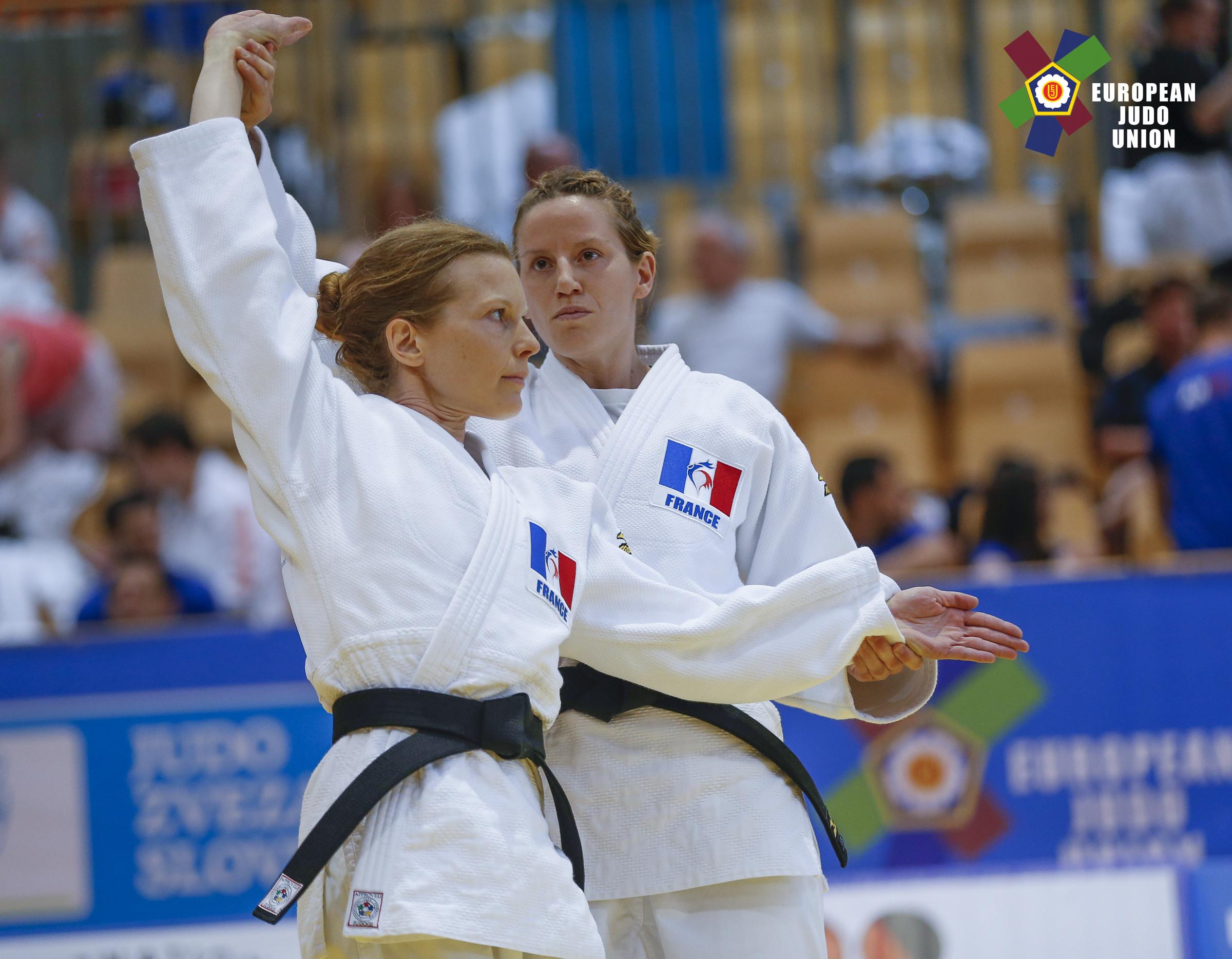 Ju No Kata is a form of gentleness and flexibility. This is an expressive, gymnastic composition of the methods of attack and defense in a series of slow and moderate actions. It consists of three components, Dai-ikkyo (Set 1), Dai-nikyo (Set 2) and Dai-sankyo (Set 3), each of them has five techniques. In both groups, the contestants were up for a tough round. Alina ZAHARIA and Simona Alina CHERU (ROU) won Group 1 with the total of 401,0 points, whilst 2017 World Silver medallists, Wolfgang DAX ROMSWINKEL and Ursula LOOSEN (GER) delivered what was expected when winning Group 2 by 418,5 points. The most interesting part will come tomorrow as both pairs will be in competiton at the Open Championships.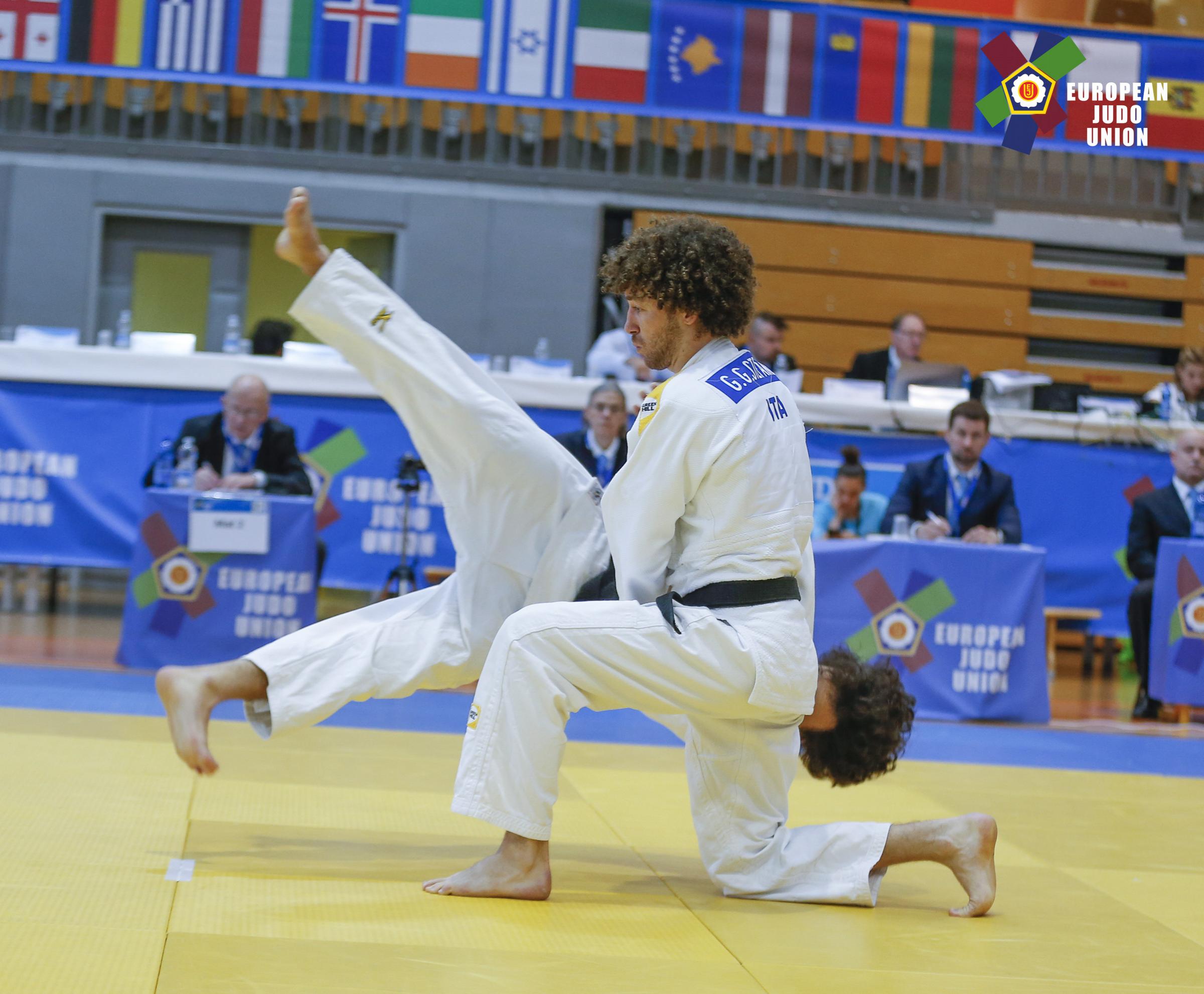 The morning block also concluded demonstrations of Nage No Kata, which is a form of throwing, where three representative techniques are chosen from each of five Nage-wazas: Te-waza, Koshi-waza, Ashi-waza, Ma-sutemi-waza and Yoko-sutemi-waza. France claimed another gold by Fabrice CARDIA and Ludovic GERMA. Their performance resulted the highest mark in Group 1: 391,5 points. In Group 2, Italy's Mauro COLLINI and Tommaso RONDININI (ITA) won by 405,0 points. This victory ended in tears in respect of all of their dedication in past years.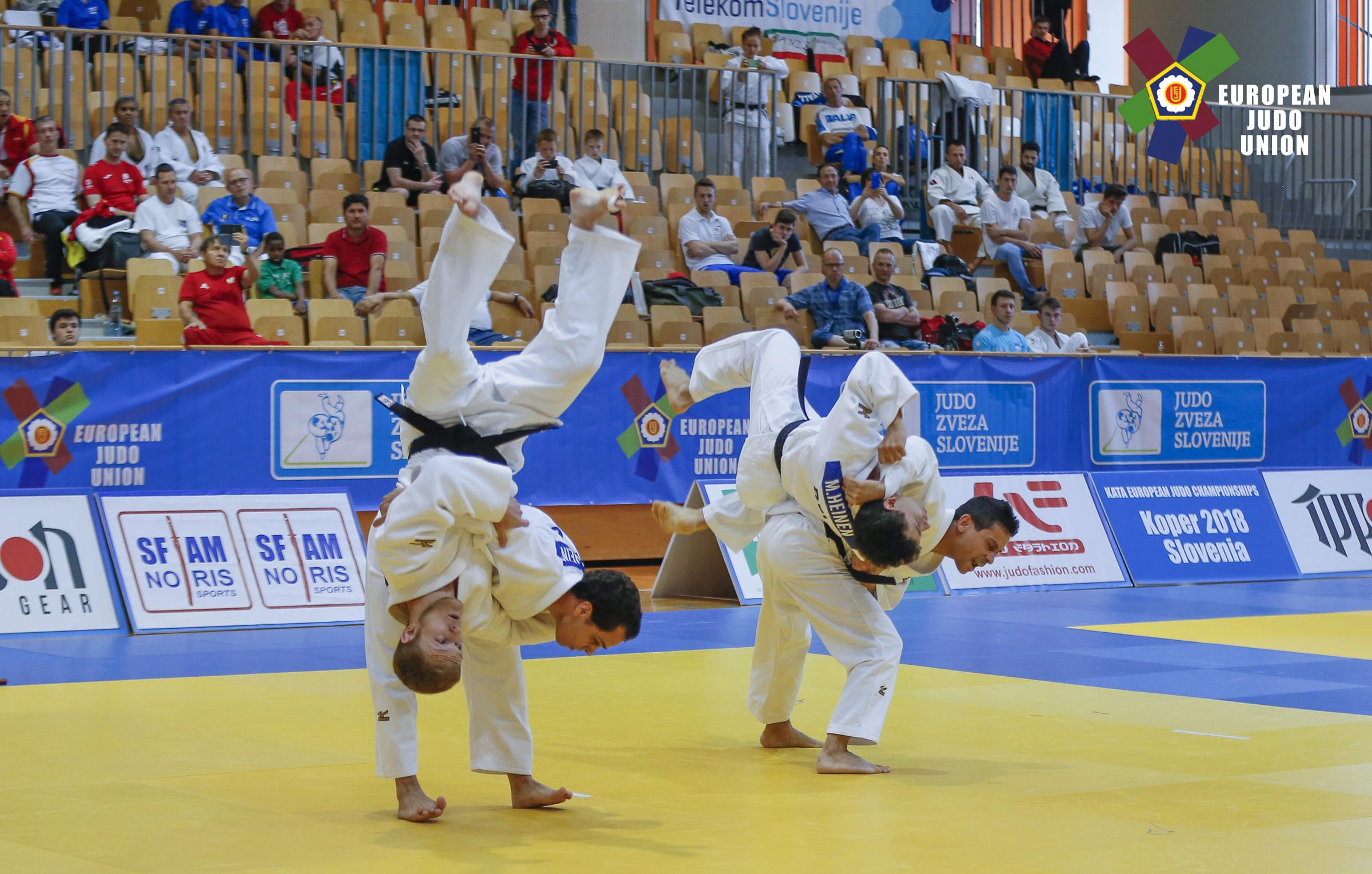 Altought, the Judo Show European Cup saw one single entry from Belgium, the extatic performance certainly made up for many. The team as follows: Larry MAES, Yohann MAES, Benjamin HEINEN, Maxine HEINEN and Nicolas HEINEN.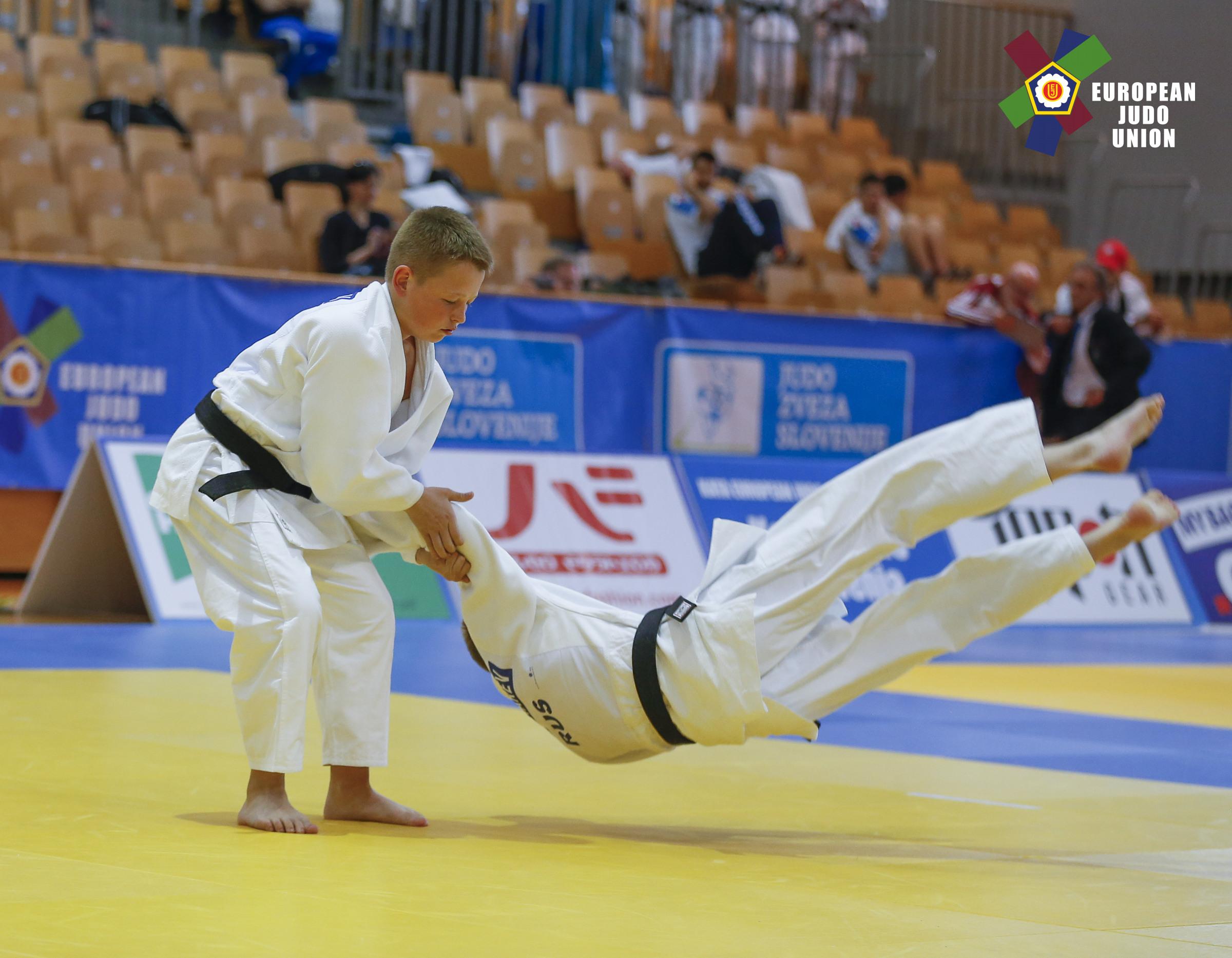 Youth presentation of Nage No Kata.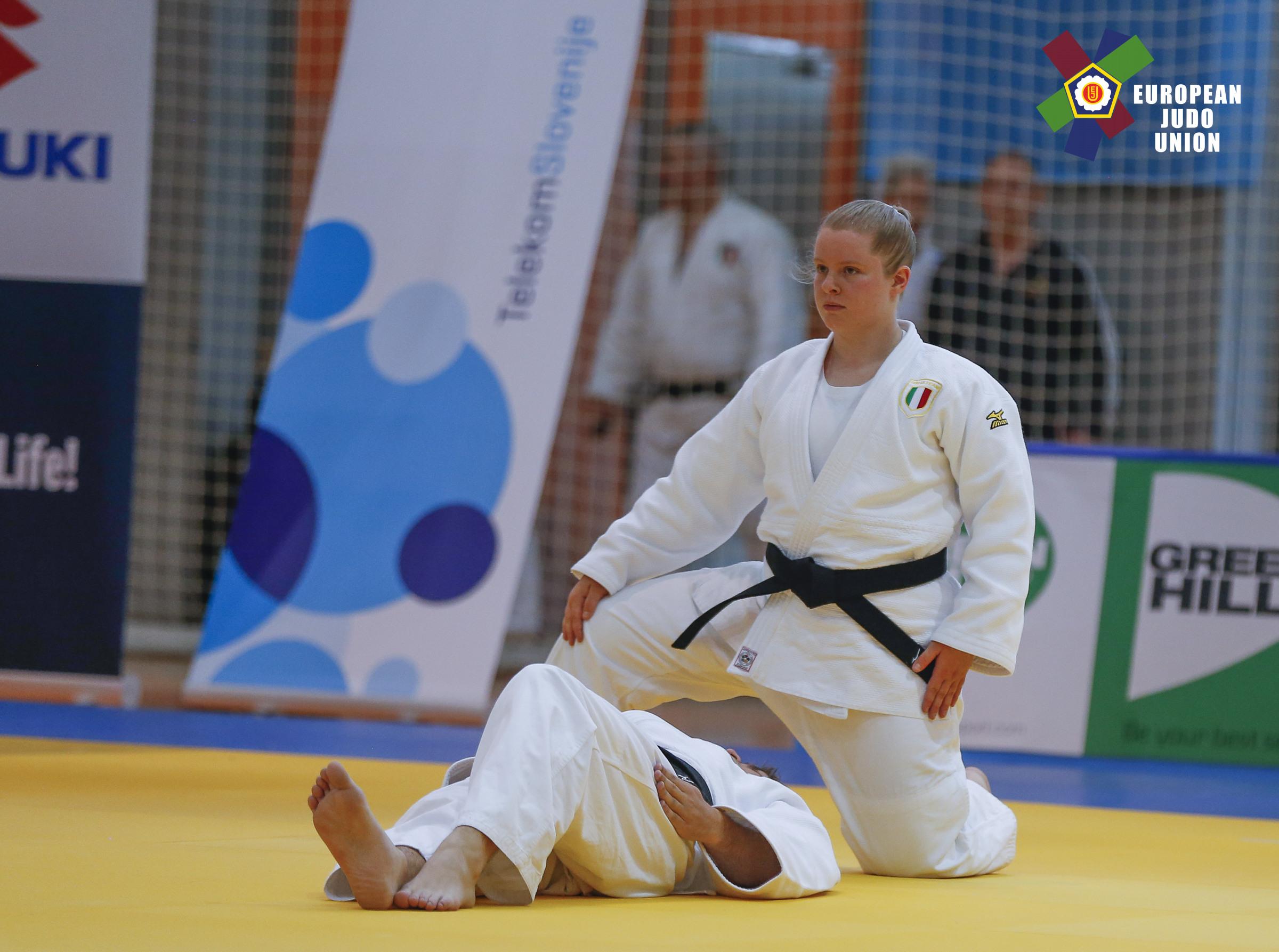 Youth presentation of Katame No Kata.
The afternoon block also involved youngsters taking over the stage as they had the chance to show their presentations in Nage No Kata 3G and Katame No Kata 1G, which are specially designed for the youth. The difference to the norm in minor with less techniques to demonstrate. Today was the preliminaries for them, however, tomorrow they will be in action for a medal.
Congratulations to all medallist. Tomorrow the tournament will begin at 9:30am local time. On the menu: Koshiki No Kata, Open Championships and the finals of Randori No Kata. #JudoKoper2018
---
INTERVIEW
The Winner of Goup 2 in Nage No Kata, Mauro COLLINI – Tommaso RONDININI (ITA) ended in tears whilst the national anthem was on play during the medal ceremony. The Italian duet explained that to get even to this event, they had to go through a qualification progress in Italy. We took the opportunity for an express interview with the golden union.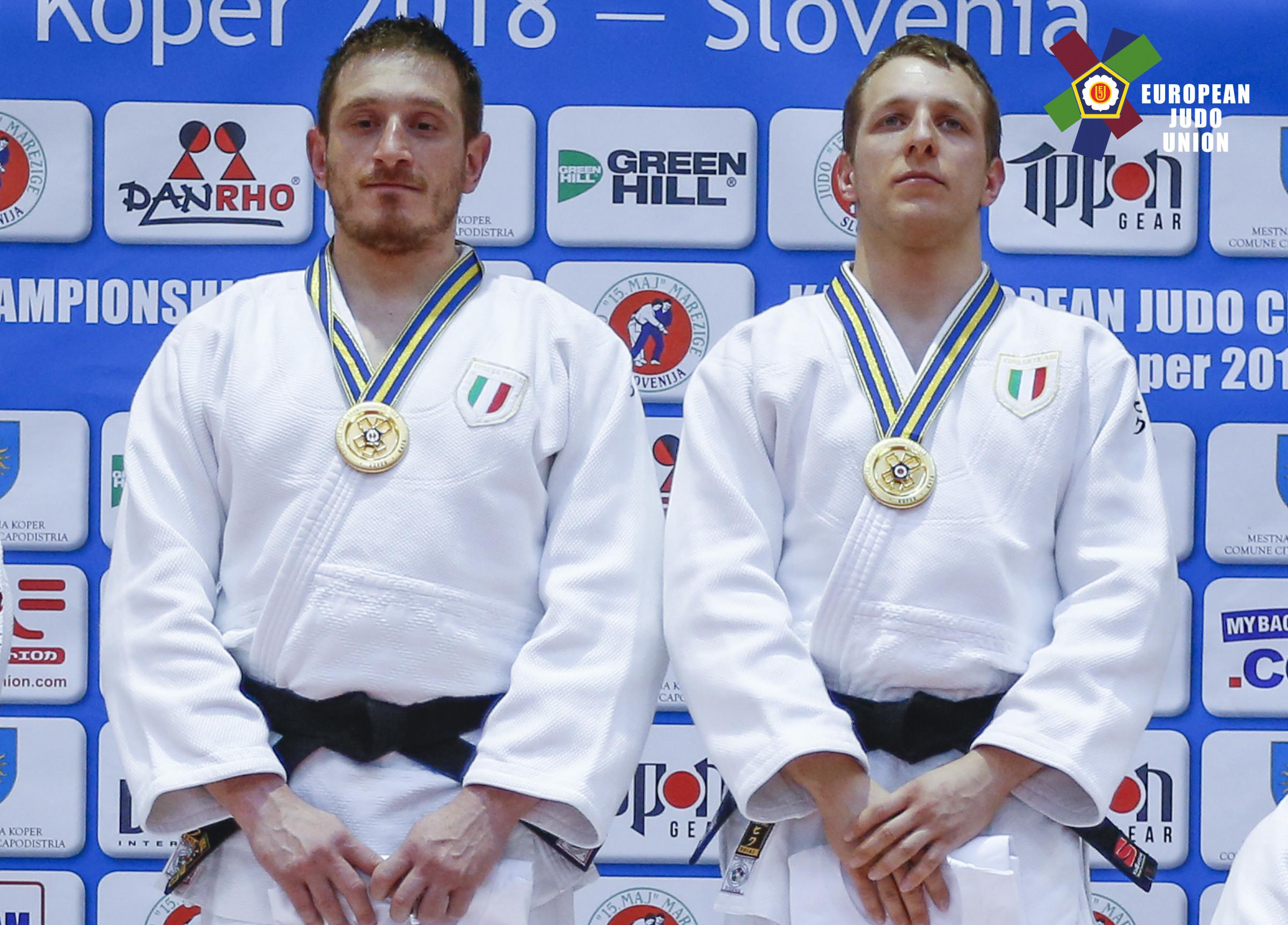 You are blended in emotions, what is going through your mind now?
"It is our first time to win a European Championships and the reason it is really emotional is becuase we attended at the our first Europeans 7 years ago at exactly this place, on the same tatami. Seven years later we returned here and we managed to win. We are extremely happy with our progress." – said Rondinni
How much time did you spend on preparing for this tournament?
Collini: "Normally we train 1,5 hour to 2 hours daily when we are far from the tournament. However, when it comes to the last months we push it up to 3 hours a day."
Four times National Champions, multipy International medallist and now European Champions. What's next?
"Well, first of all we want to do well tomorrow at the Open Championships. Surely, the day after, the target will be the World Championships medal." – Collini explained.
You narrowly missed out on the podium last year at the Worlds. What do you think you will need to imporve to be on the rostrum in Mexico?
Rondinni: "From our personal point of view, we really need to work on our stress level. Techniqually, I am sure our sensei, Cesare Amorosi, will talk us through on what to adjust ahead of the Worlds. I would also like to say that we are very hankful for his work."
---
PODIUM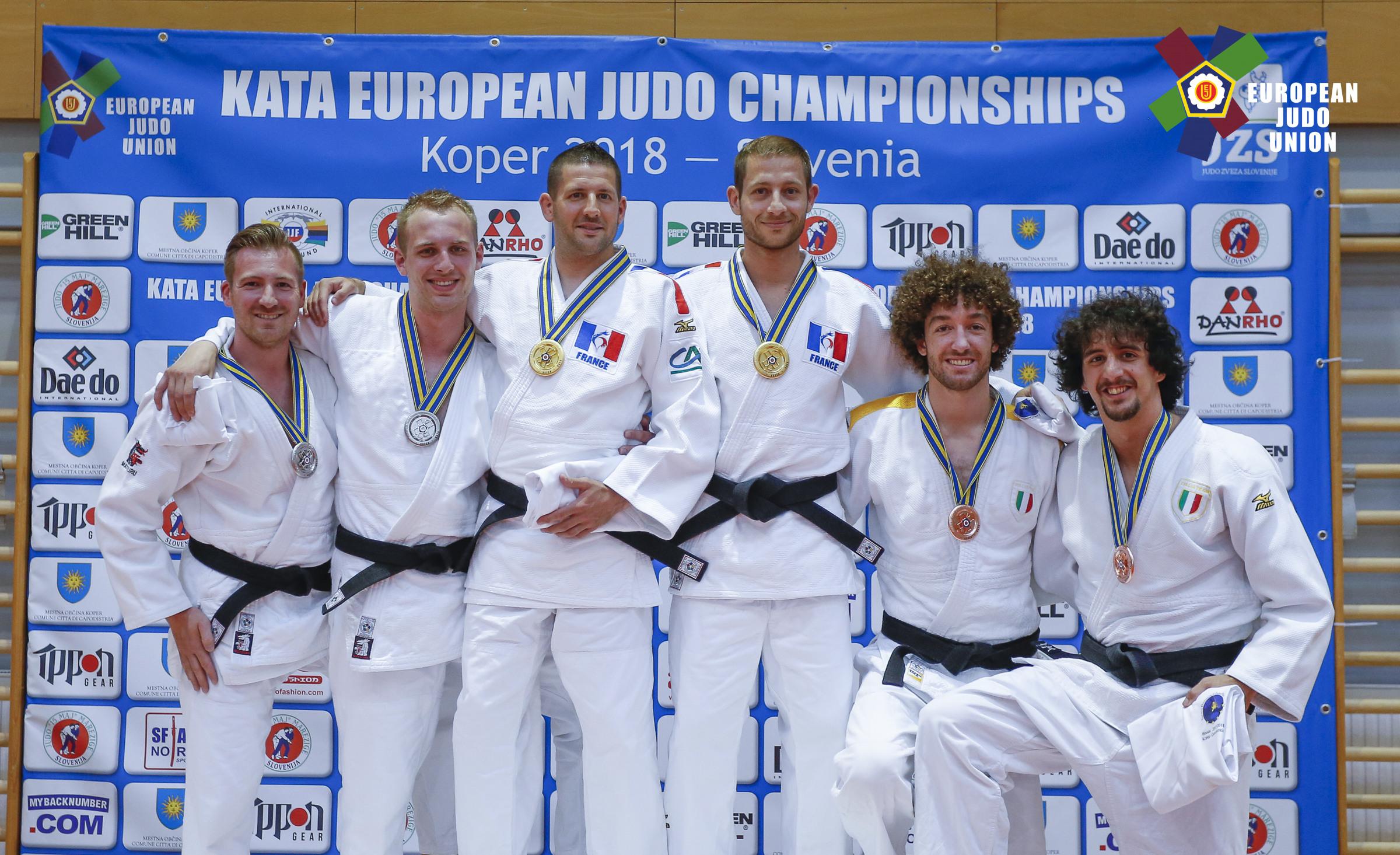 Nage No Kata – Group 1 1. Fabrice CARDIA – Ludovic GERMA (FRA) – 391,5 points 2. Erik FAES – Niels NEUMANN (NED) – 381,0 points 3. Gino Gianmarco STEFANEL – Alessandro CUGINI (ITA) – 377,5 points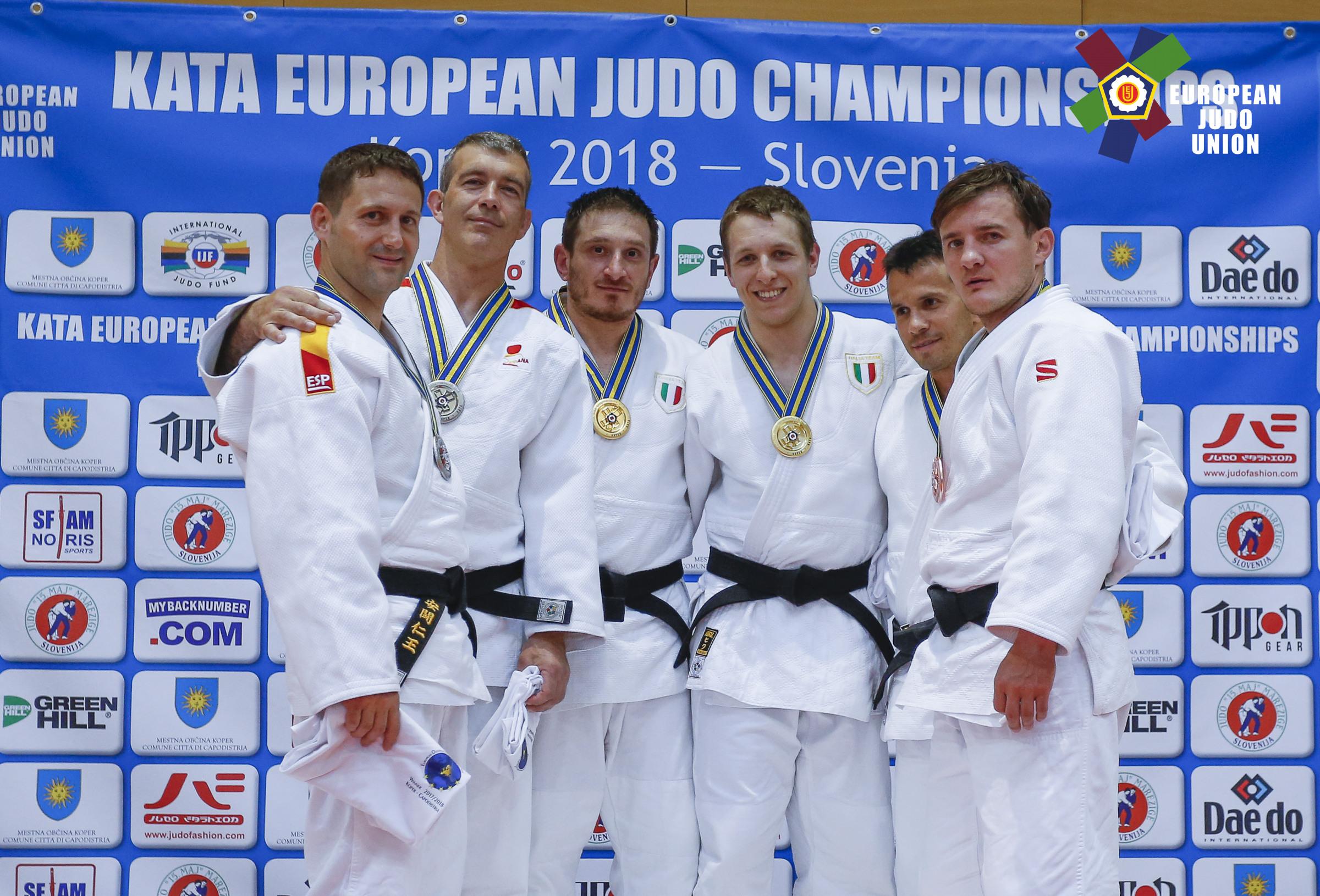 Nage No Kata – Group 2 1. Mauro COLLINI – Tommaso RONDININI (ITA) – 405,0 points 2. Antonio MARIN GOMEZ NIEVES – Eduardo AYALA TORRADO (ESP) – 399,5 points 3. Iulian SURLA – Aurelian FLEISZ (ROU) – 399,0 points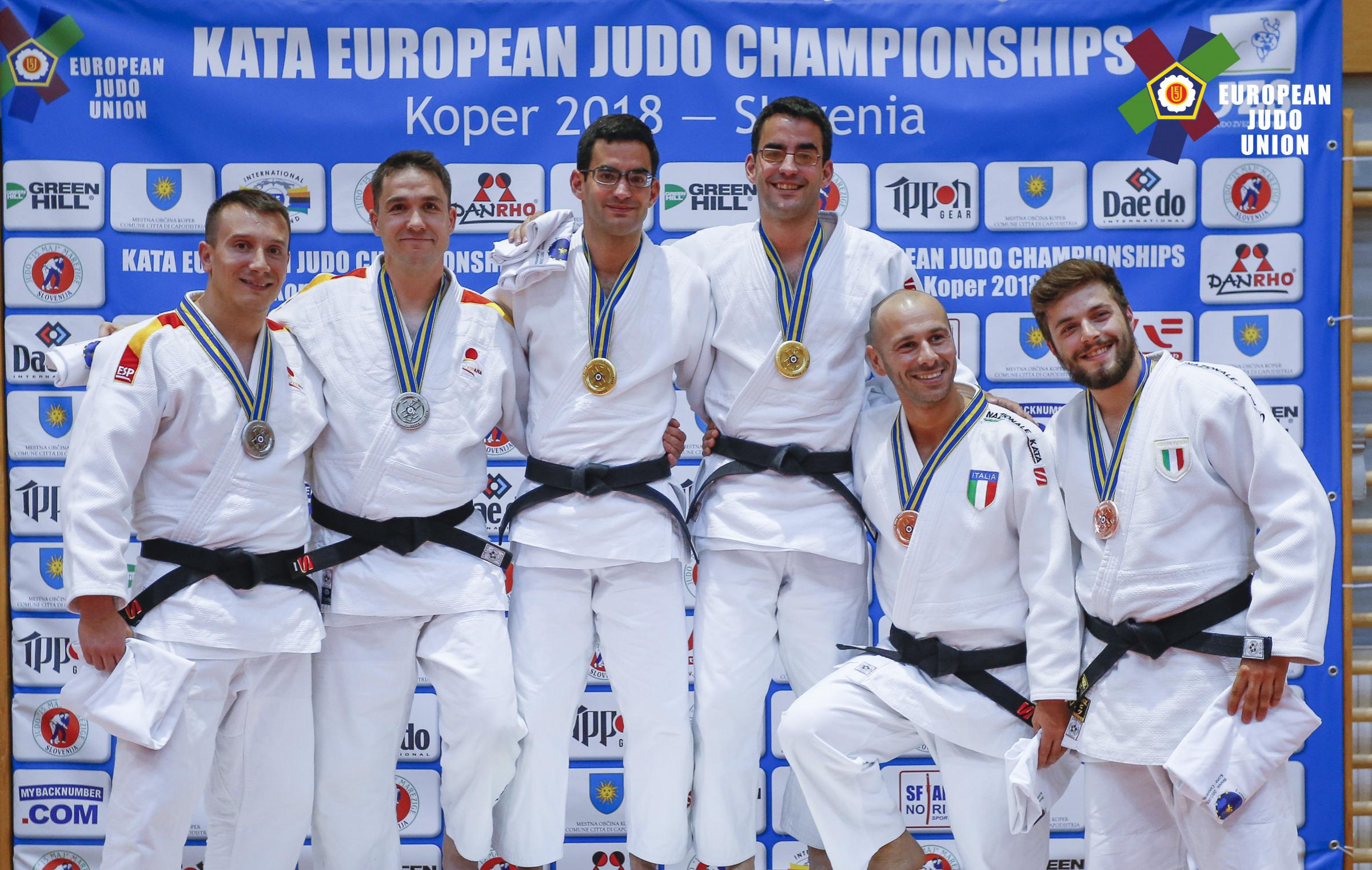 Katame No Kata – Group 1 1. Nicolas GILON – Jean Philippe GILON (BEL) – 411,5 points 2. Juan Pedro GOICOECHANDIA HUETE – Roberto VILLAR AQUILERA (ESP) – 400,5 points 3. Andrea FREGNAN – Pietro CORCIONI (ITA) – 394,0 points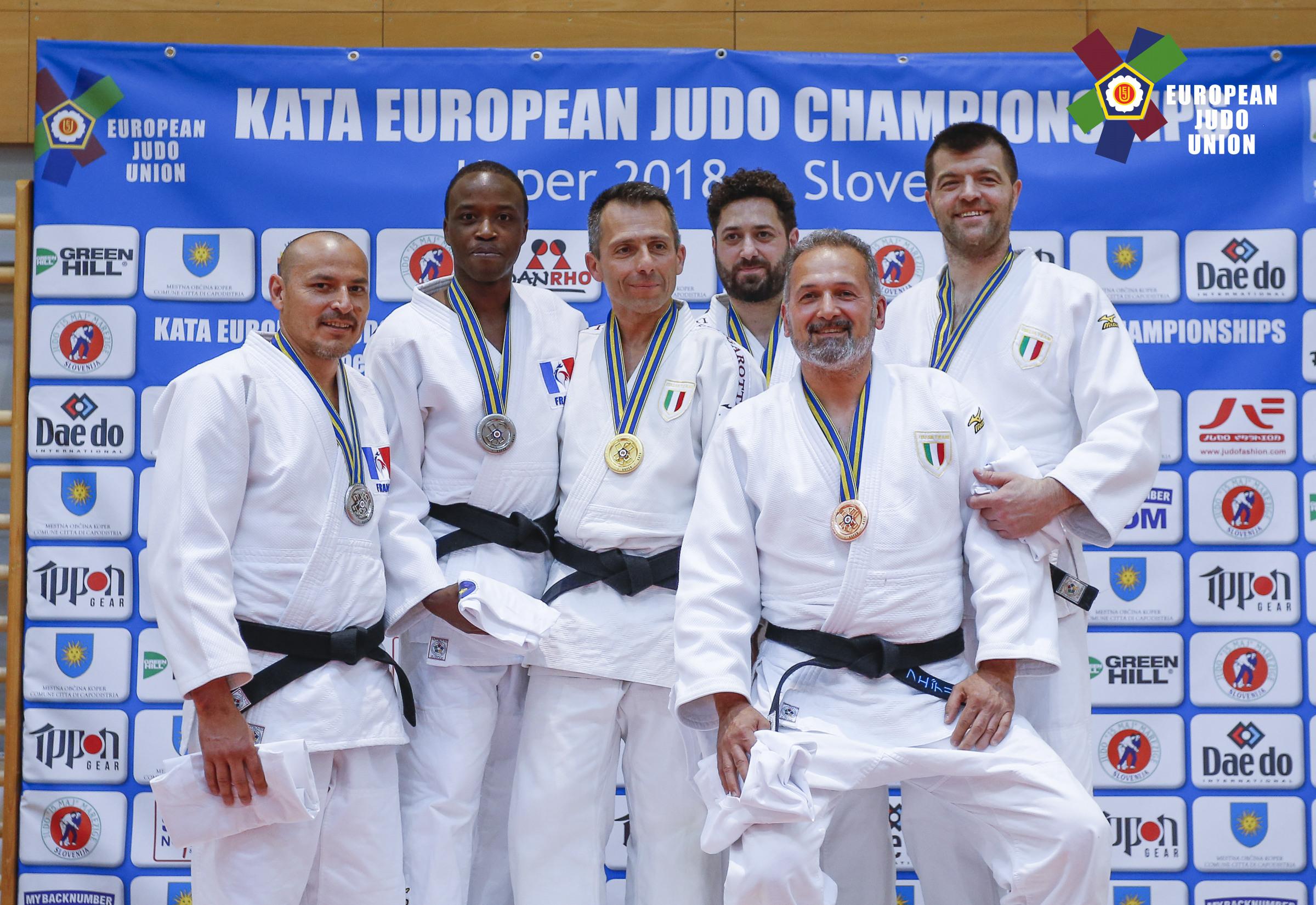 Katame No Kata – Group 2 1. Stefano PROIETTI – Alessandro VARAZI (ITA) – 398,5 points 2. Eloy Carlos RODRIGUEZ MATYSEK – Vincent-Emmanuel TOUSSAINT (FRA) – 393,0 points 3. Massimo CESTER – Davide MAURI (ITA) 390,0 points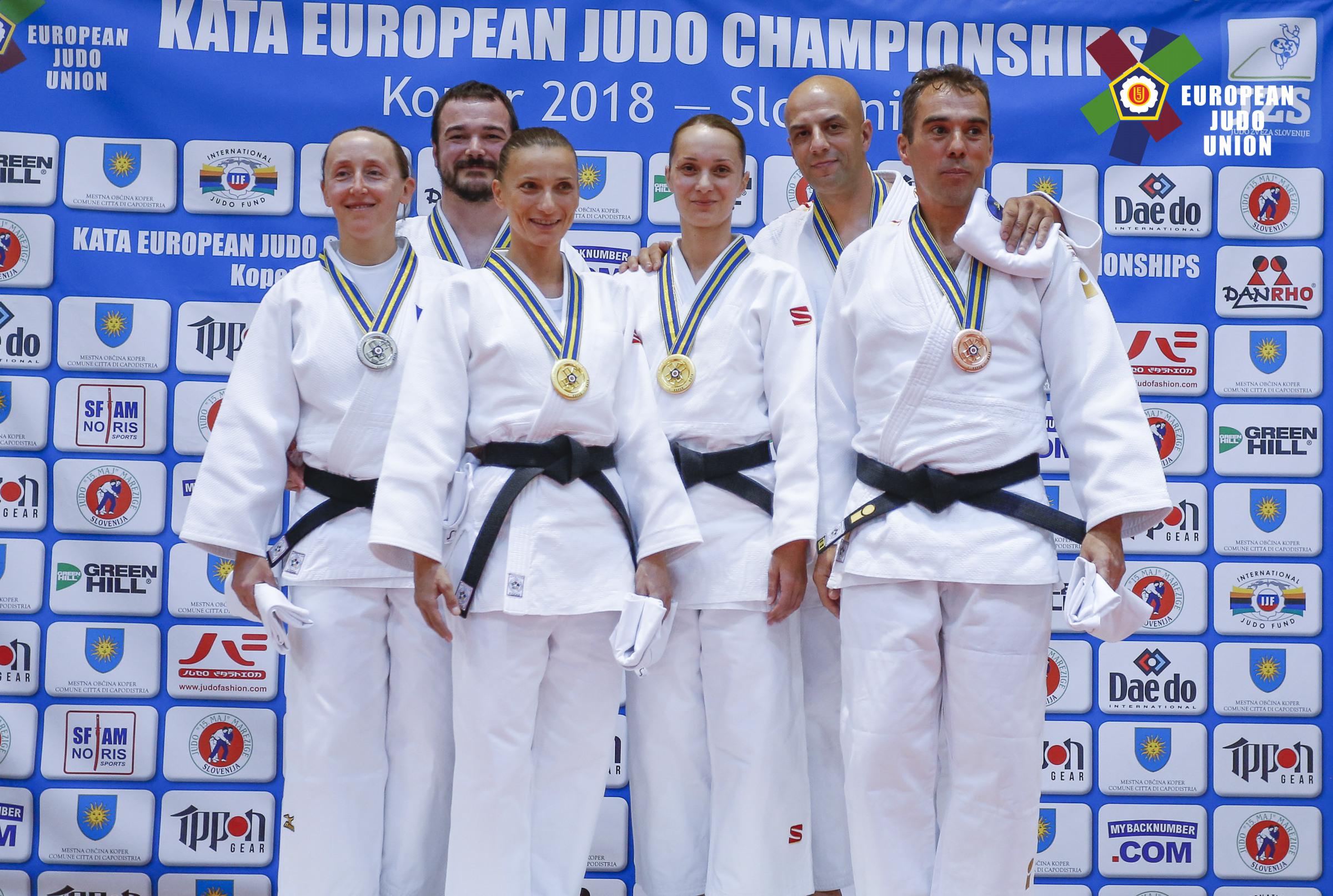 Ju No Kata – Group 1 1. Alina ZAHARIA – Simona Alina CHERU (ROU) – 401,0 points 2. Mathieu COULON – Carole HERAS (FRA) – 398,5 points 3. Mariano ARROYO MARTIN – Juan Manuel GARCIA POZO (ESP) – 390,5 points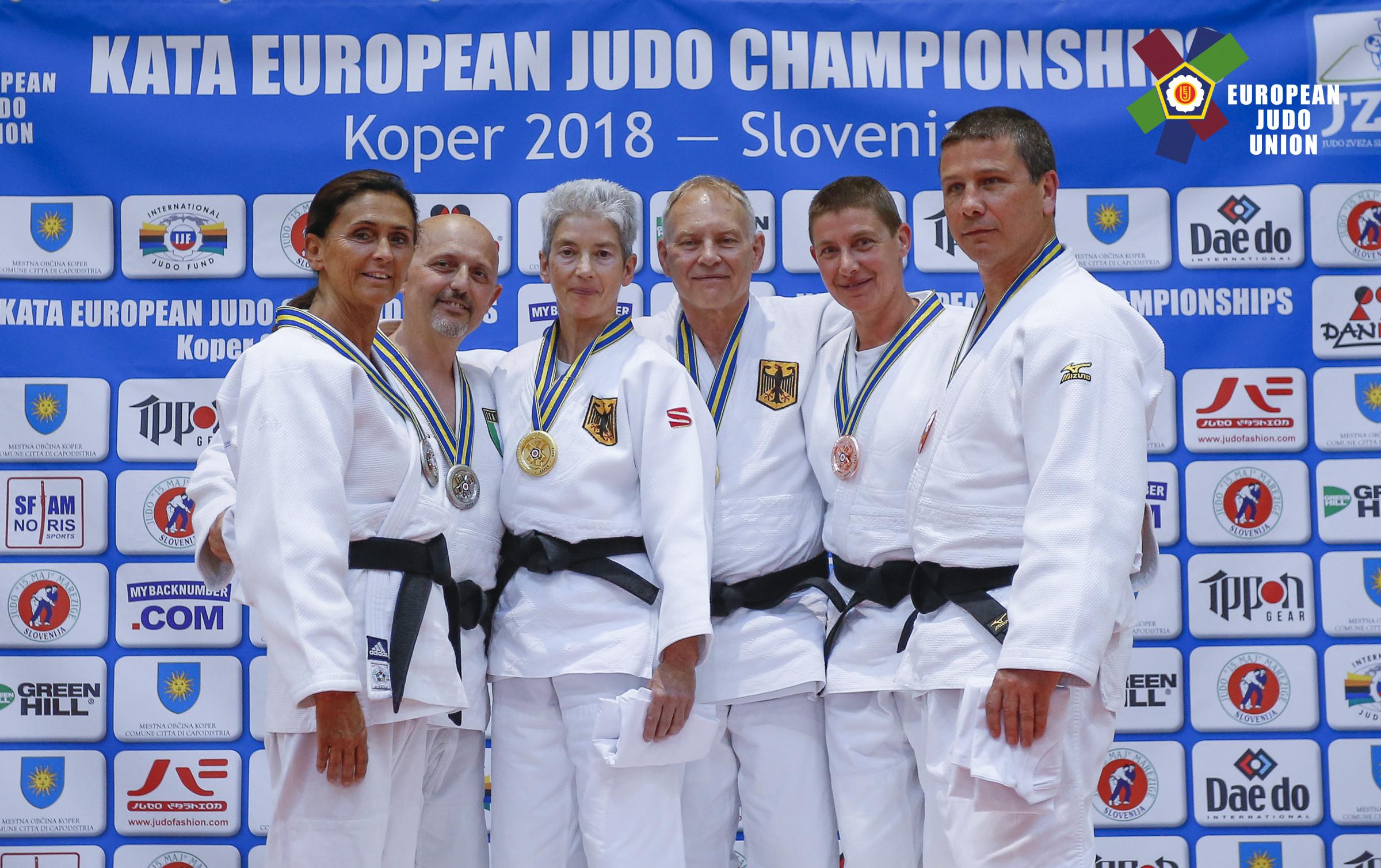 Ju No Kata – Group 2 1. Wolfgang DAX ROMSWINKEL – Ursula LOOSEN (GER) – 418,5 points 2. Giovanni TARABELLI – Angelica TARABELLI (ITA) – 402,0 points 3. Emmanuel WIRTZ – Armelle VOINDROT (FRA) – 396,5 points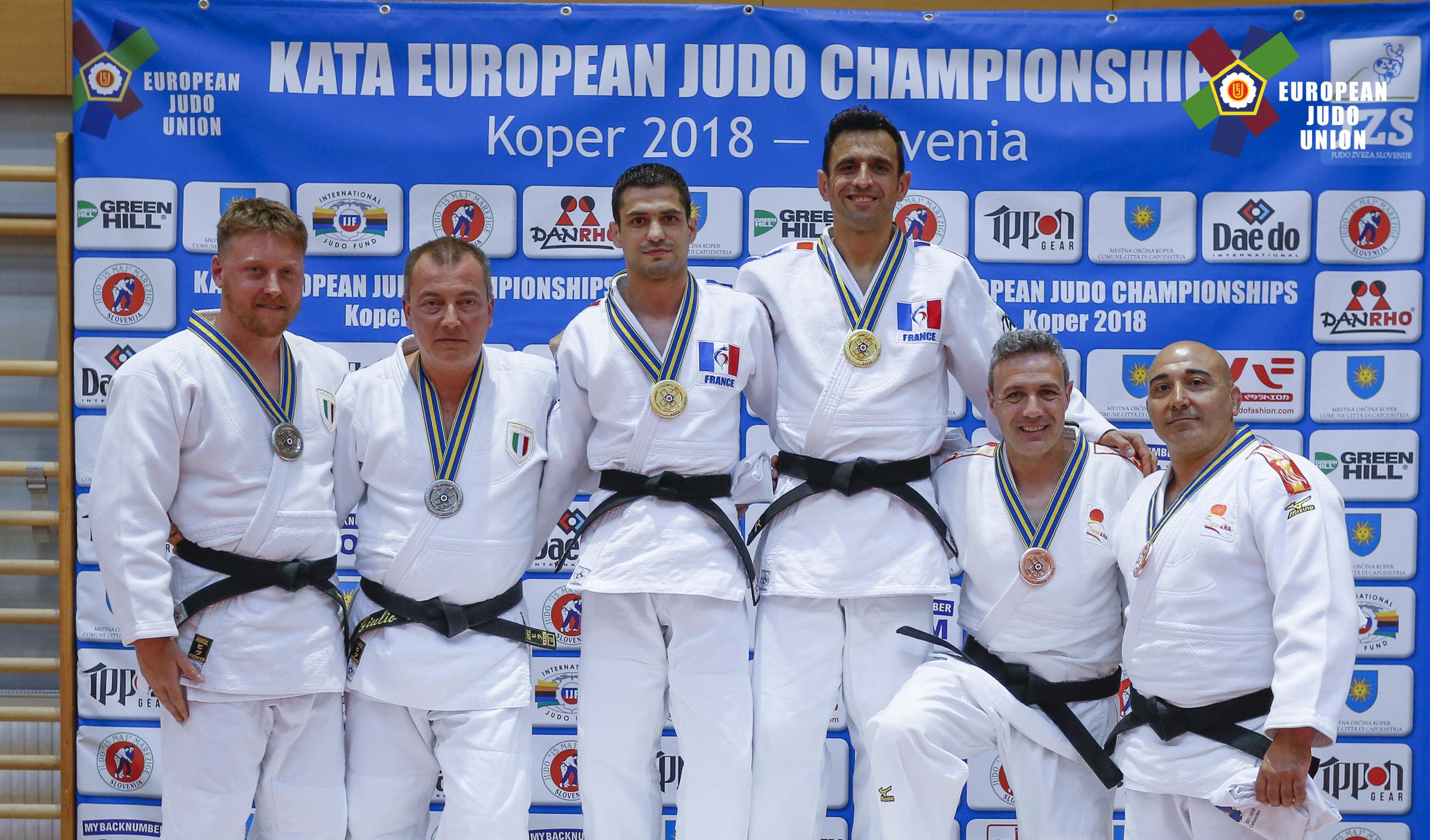 Kime No Kata – Group 1 1. Gregory MARQUES – Stephane BEGA (FRA) – 520,5 points 2. Enrico TOMMASI – Giulio GAINELLI (ITA) – 507,0 points 3. David MORONTA PENA – Alberto LOPEZ PRADO (ESP) – 504,5 points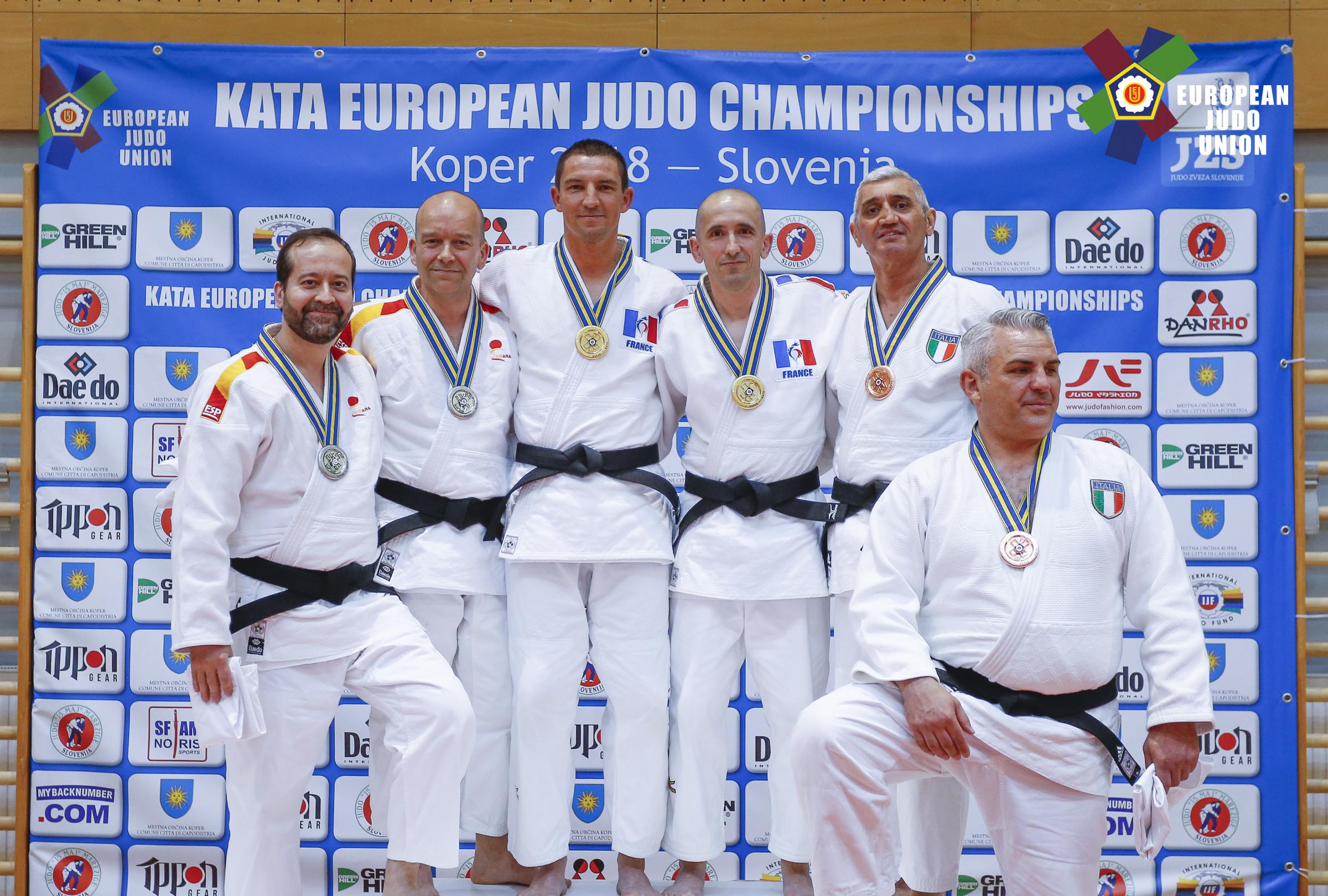 Kime No Kata – Group 2 1. Michel JEUFFROY – Laurent JEUFFROY (FRA) – 540,5 points 2. Miguel Angel VICENS SIQUIER – Antoni VICENS SIQUIER (ESP) – 512,5 points 3. Antonio MAVILIA – Giovanni GANDOLFO (ITA) – 499,5 points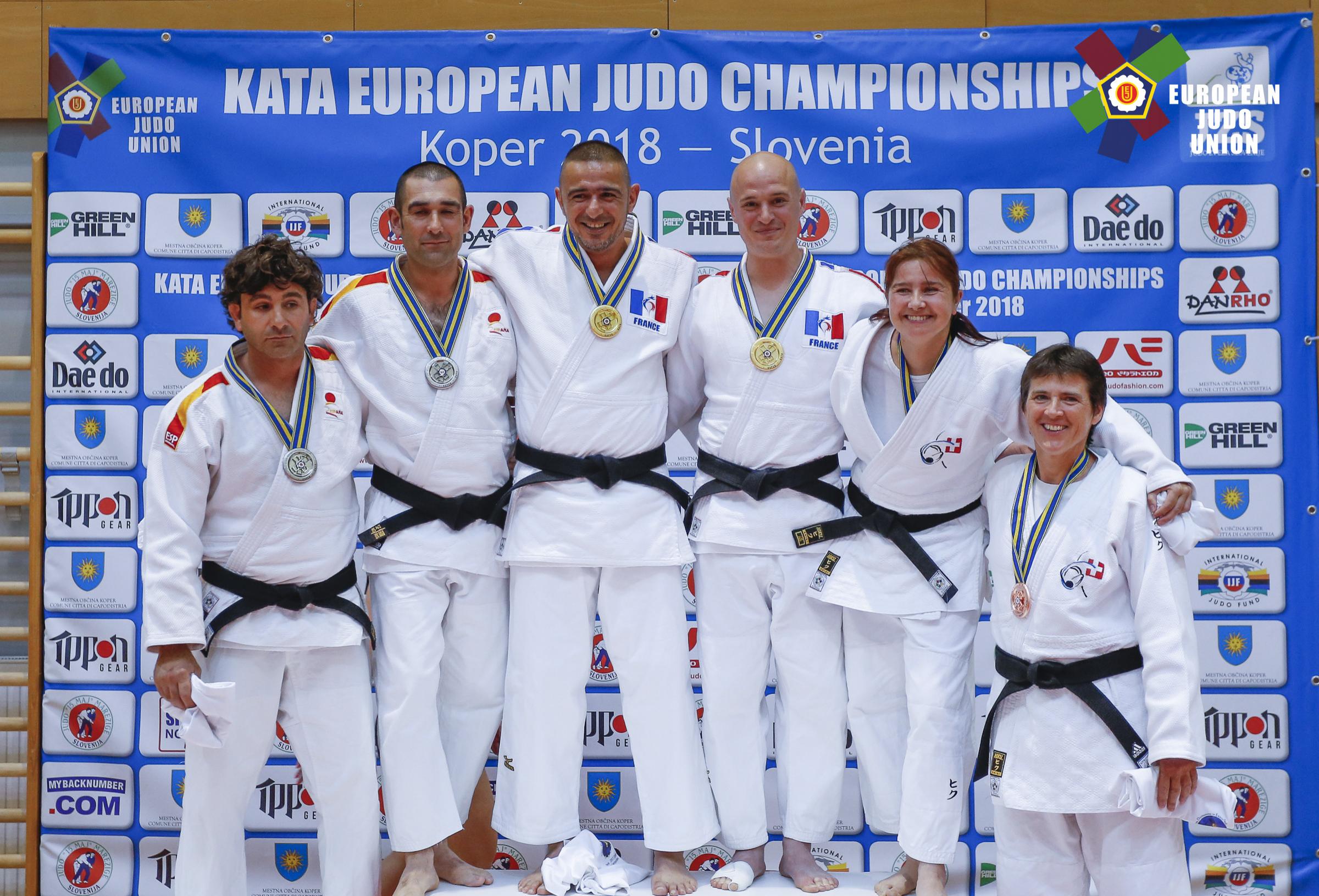 Kodokan Goshin Jutsu – Group 1 1. Kamel BEN TEKFA – Alexis LACROIX (FRA) – 535,5 points 2. Pedro MARCOS RODRIGUEZ – Antoni OBRADOR MAS (ESP) – 533,5 points 3. Karine STAUFFER IMBODEN – Karine LOY (SUI) – 514,0 points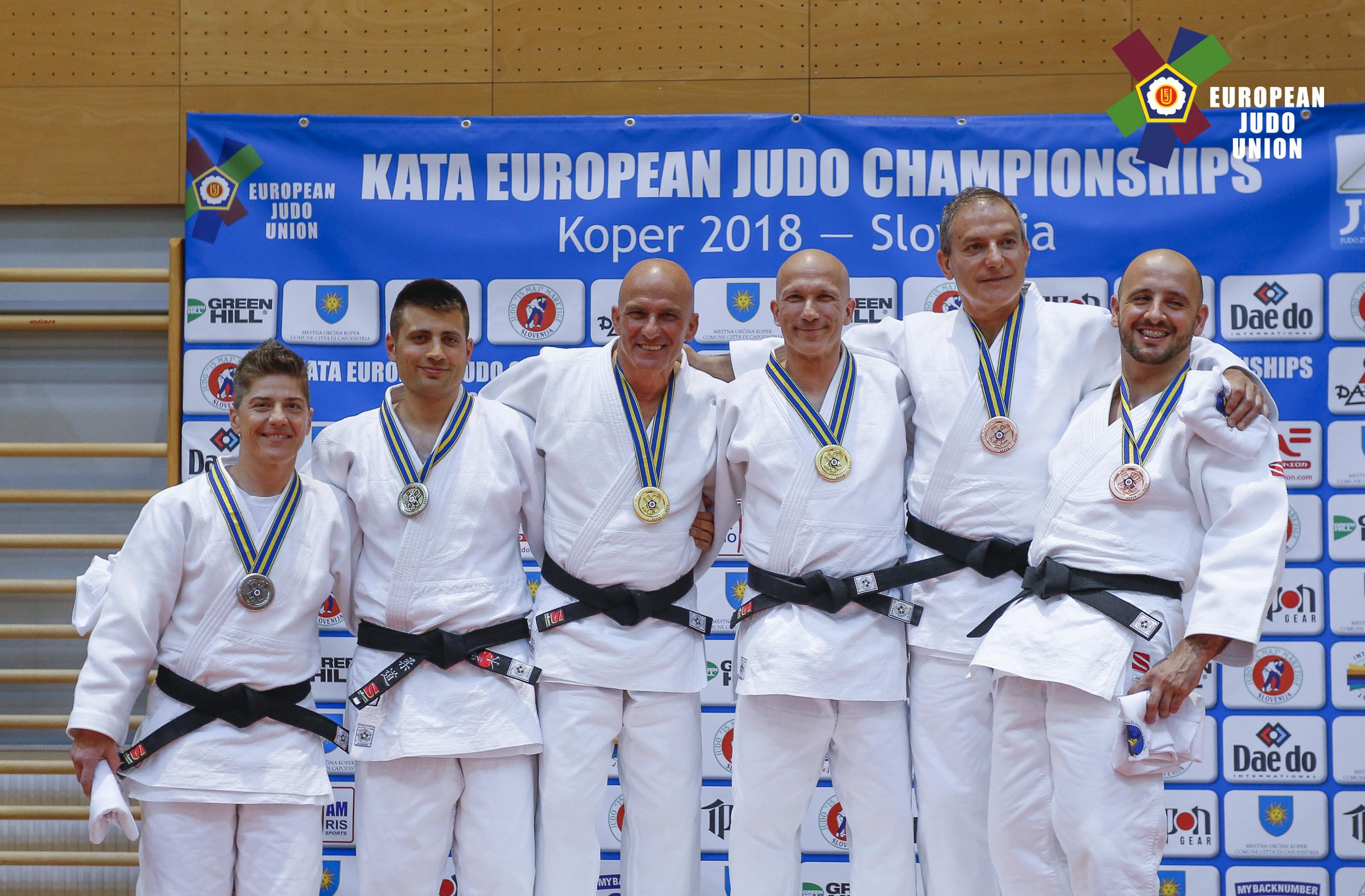 Kodokan Goshin Jutsu – Group 2 1. Ubaldo VOLPI – Maurizio CALDERINI (ITA) – 549,5 points 2. Marika SATO – Fabio POLO (ITA) – 543,5 points 3. Pedro GONCALVES – Paulo MOREIRA (POR) – 532,5 points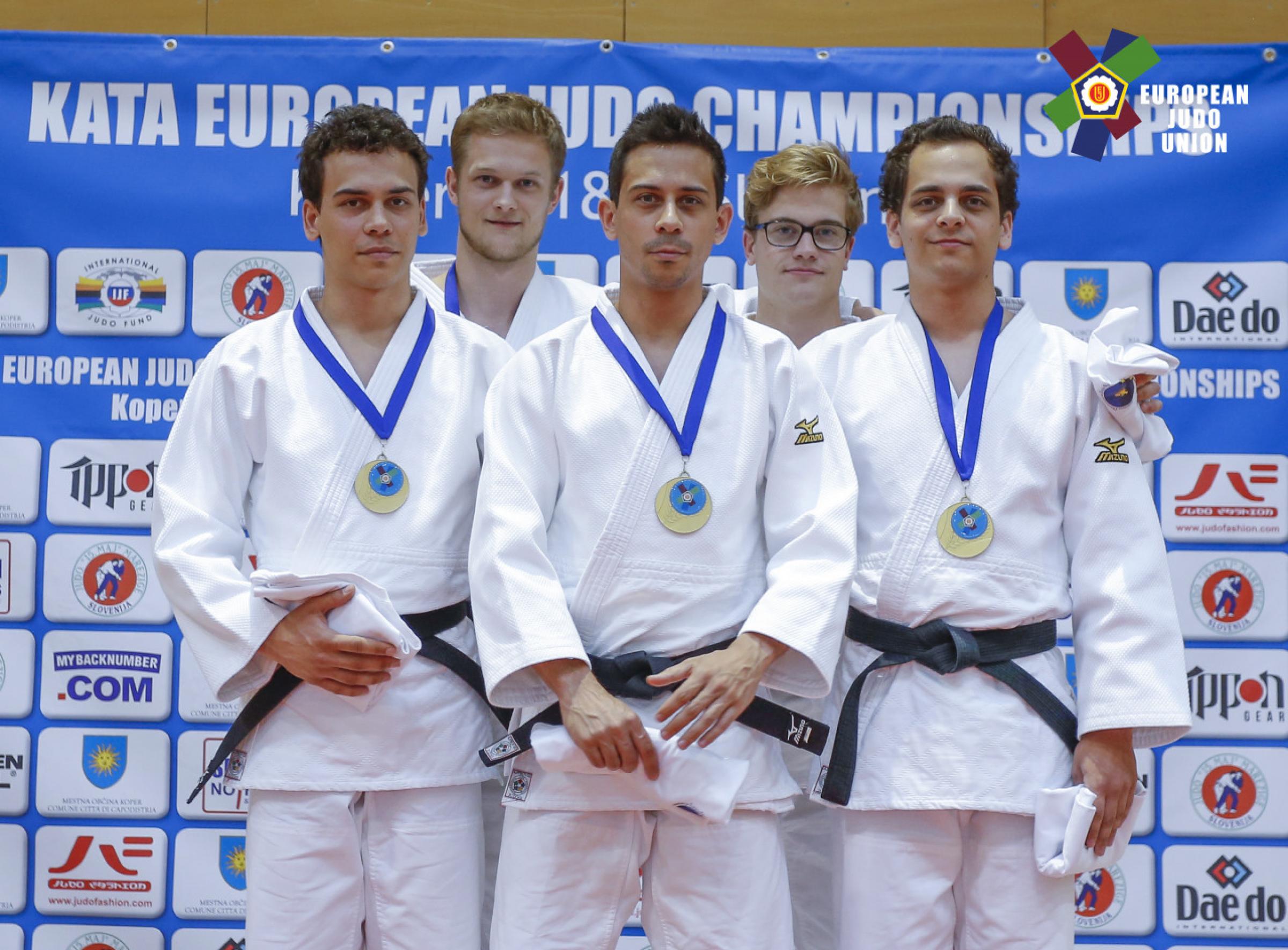 Judo Show European Cup 1. Belgium Team – 150,00 points: Larry MAES, Yohann MAES, Benjamin HEINEN, Maxine HEINEN and Nicolas HEINEN
---