There was an air of inevitability to the manner in which Majlinda KELMENDI (KOS) set about collecting her sixth Grand Slam gold medal. The opening day of the Dusseldorf Grand Slam saw the current Olympic champion in the -52kg category take the gold medal virtually untroubled. Indeed, it was Kelmendi's opponents, as is so often the case, who struggled to come to terms with her exceptional gripping and movement; so much so that three of her five opponents were defeated having received red cards. On her way to her second Dusseldorf title (2011 Grand Prix), Kelmendi was tested only by JEONG Bo Keyong (KOR), the Korean causing a minor tremor by catching Kelmendi for waza ari in their quarter final. The real earthquake came against Odette GIUFFRIDA (ITA) in the semi-final when, in a repeat of the Olympic final in Rio, Kelmendi unleashed a massive harai goshi that brought the Italian crashing to the tatami with a landing that shook the house.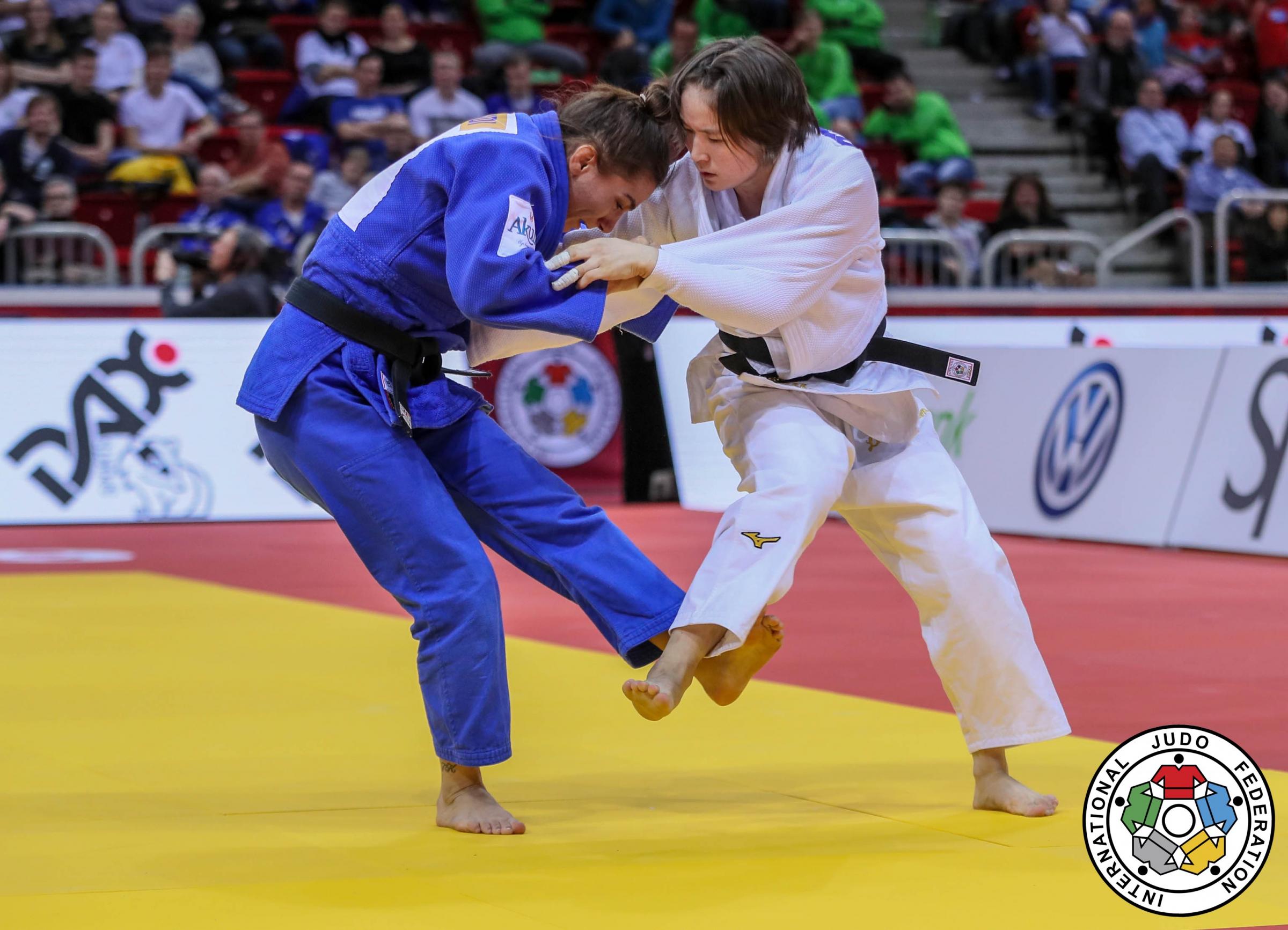 Purposeful and outwardly determined as ever, Kelmendi nevertheless betrays at times her complete respect for opponents and can surely be considered as one of the greatest of the current crop of competitors. When asked to describe her day Kelmendi answered,
"It was a good day; apart from the first fight which, for some inexplicable reason, I found myself feeling very nervous about. Once I got going I felt more positive despite not having things working as well as I would have liked. The semi-final had that bit of extra edge to it given that I had been told by the referee in my contest with her [Odette Giuffrida] in Abu Dhabi that I could not continue because of an injury. So here in Dusseldorf I was prepared, as I was in the Olympic final, to be at my best. I did not have any special technique planned. But when the opportunity came for the o-goshi it was technique that I have used many times before and it worked beautifully."
When asked about the final against LKHAGVASUREN Sosorbaram (MGL) Kelmendi said, "I had not fought her before, except at the training camp in Paris. I did not know that she was 17 years old. So, after Paris I was expecting her to be a little more attacking and I was surprised that she fought was a little bit of a negative contest collecting three shidos. But I take the wins how I can, even if I can't always throw to win."
"I was glad to see many fans in the arena supporting me and that is always nice. As far as opponents in my weight category are concerned, I try give equal attention to all who I have to face. I know there are those in my weight category who I have yet to fight, but I will focus on them when the time comes as I do with all my opponents," said Kelmendi.
The bronze medals were by Odette GIUFFRIDA (ITA) and MAEDA Chishima (JPN).
Podium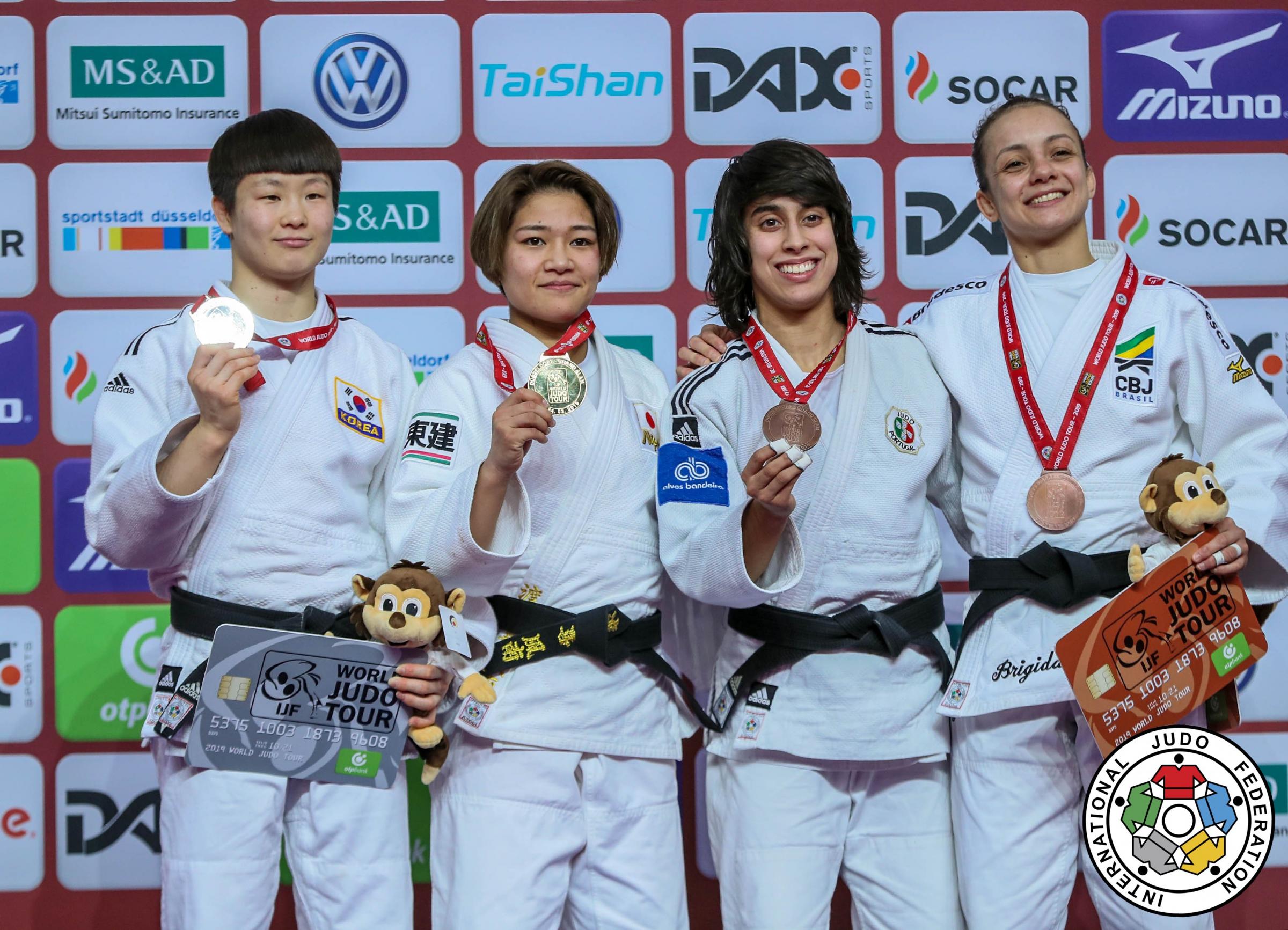 Podium -48 kg 1. TONAKI, Funa (JPN) 2. KANG, Yujeong (KOR) 3. BRIGIDA, Nathalia (BRA) 3. COSTA, Catarina (POR)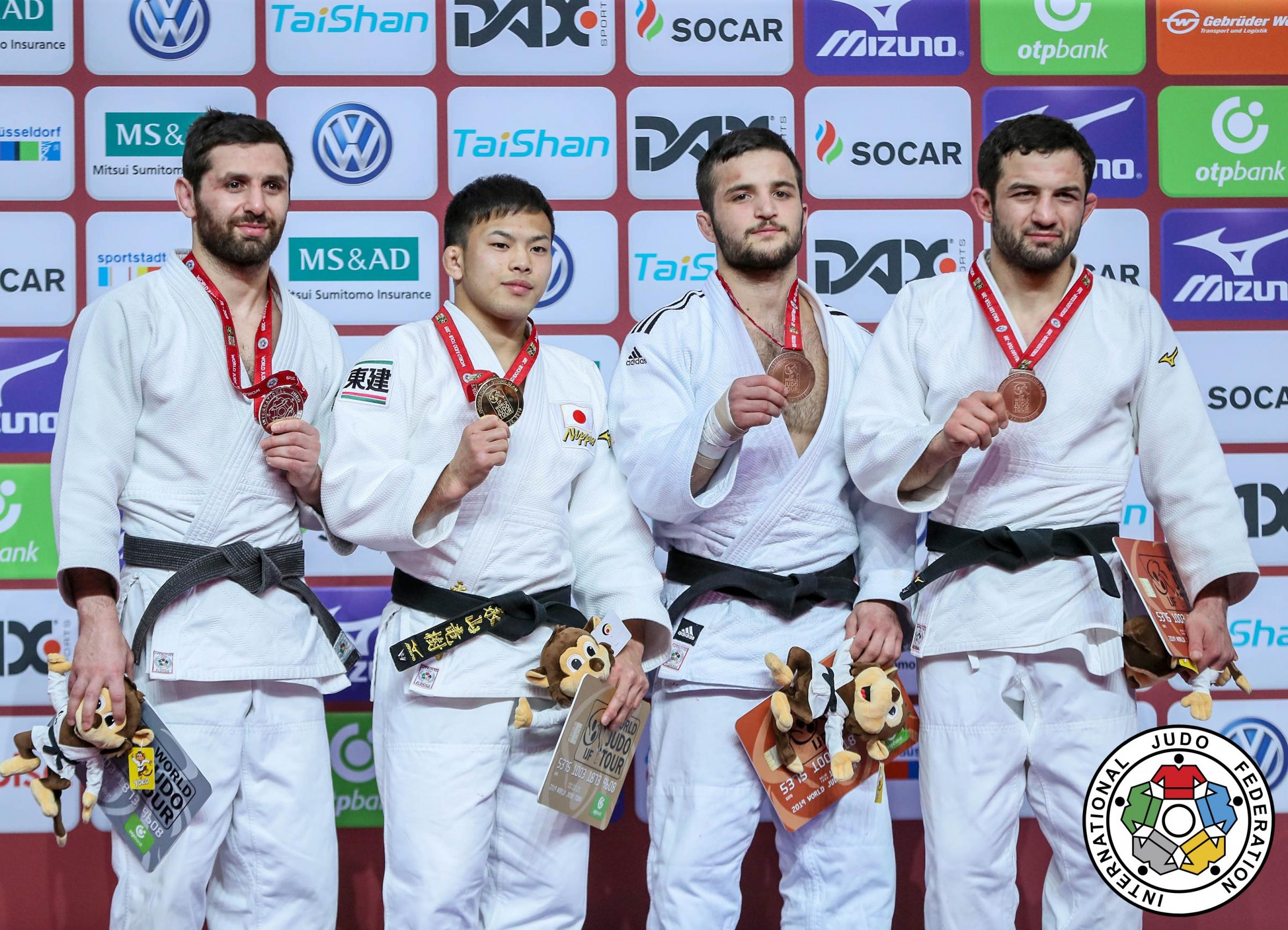 Podium -60 kg 1. NAGAYAMA, Ryuju (JPN) 2. MSHVIDOBADZE, Robert (RUS) 3. TSJAKADOEA, Tornike (NED) 3. CHKHVIMIANI, Lukhumi (GEO)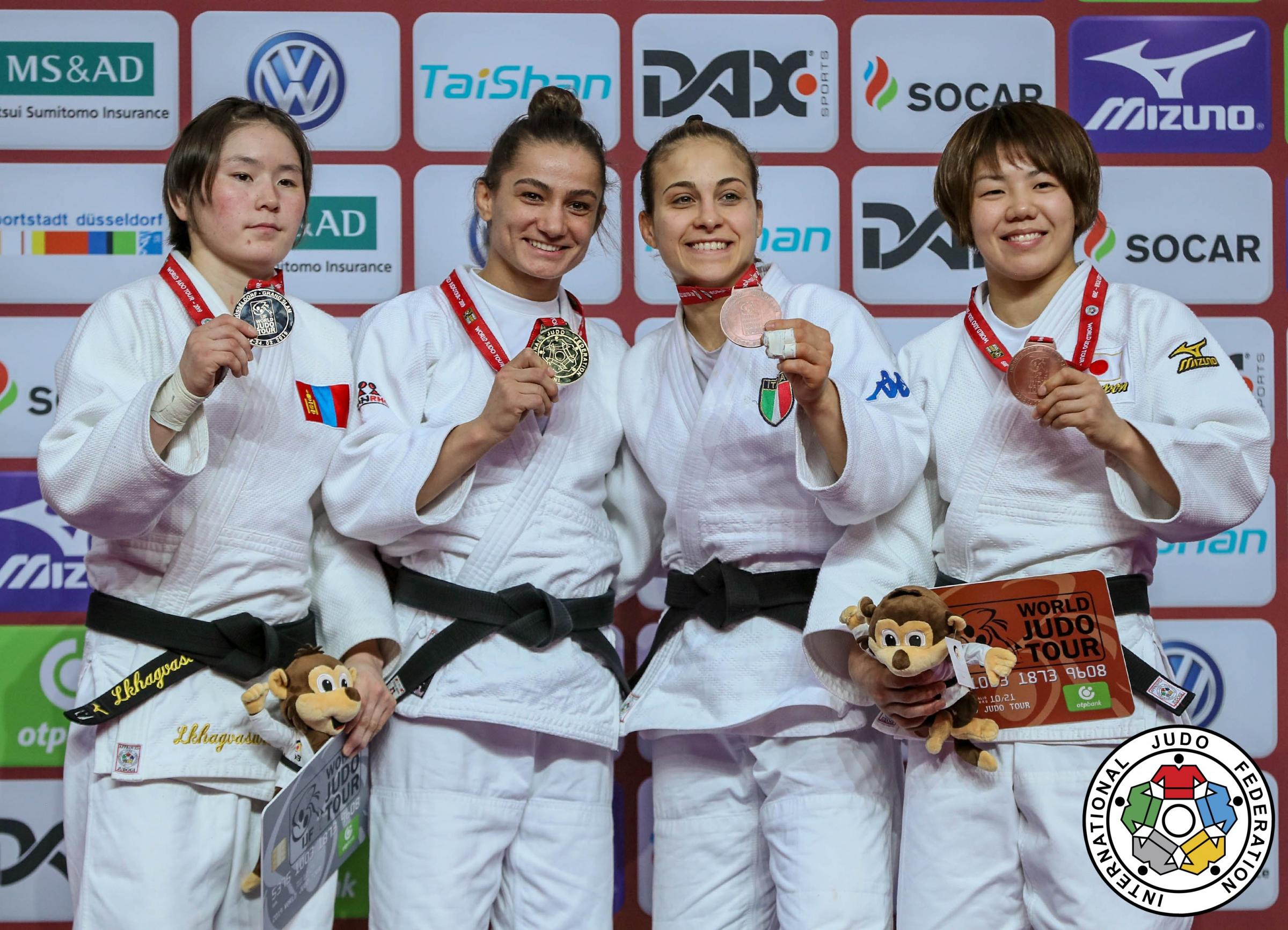 Podium -52 kg 1. KELMENDI, Majlinda (KOS) 2. LKHAGVASUREN, Sosorbaram (MGL) 3. GIUFFRIDA, Odette (ITA) 3. MAEDA, Chishima (JPN)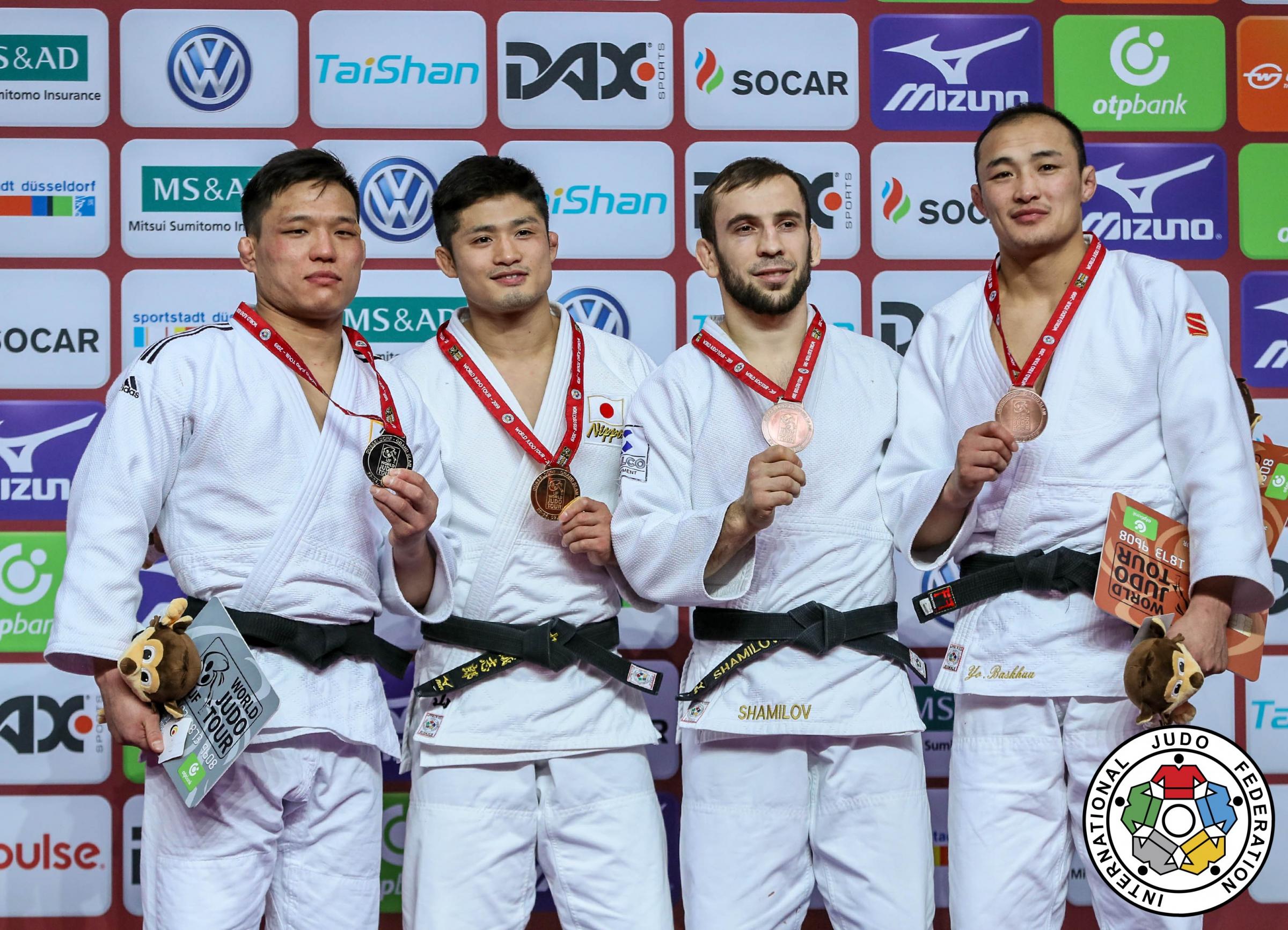 Podium -66 kg 1. MARUYAMA, Joshiro (JPN) 2. KIM, Limhwan (KOR) 3. SHAMILOV, Yakub (RUS) 3. YONDONPERENLEI, Baskhuu (MGL)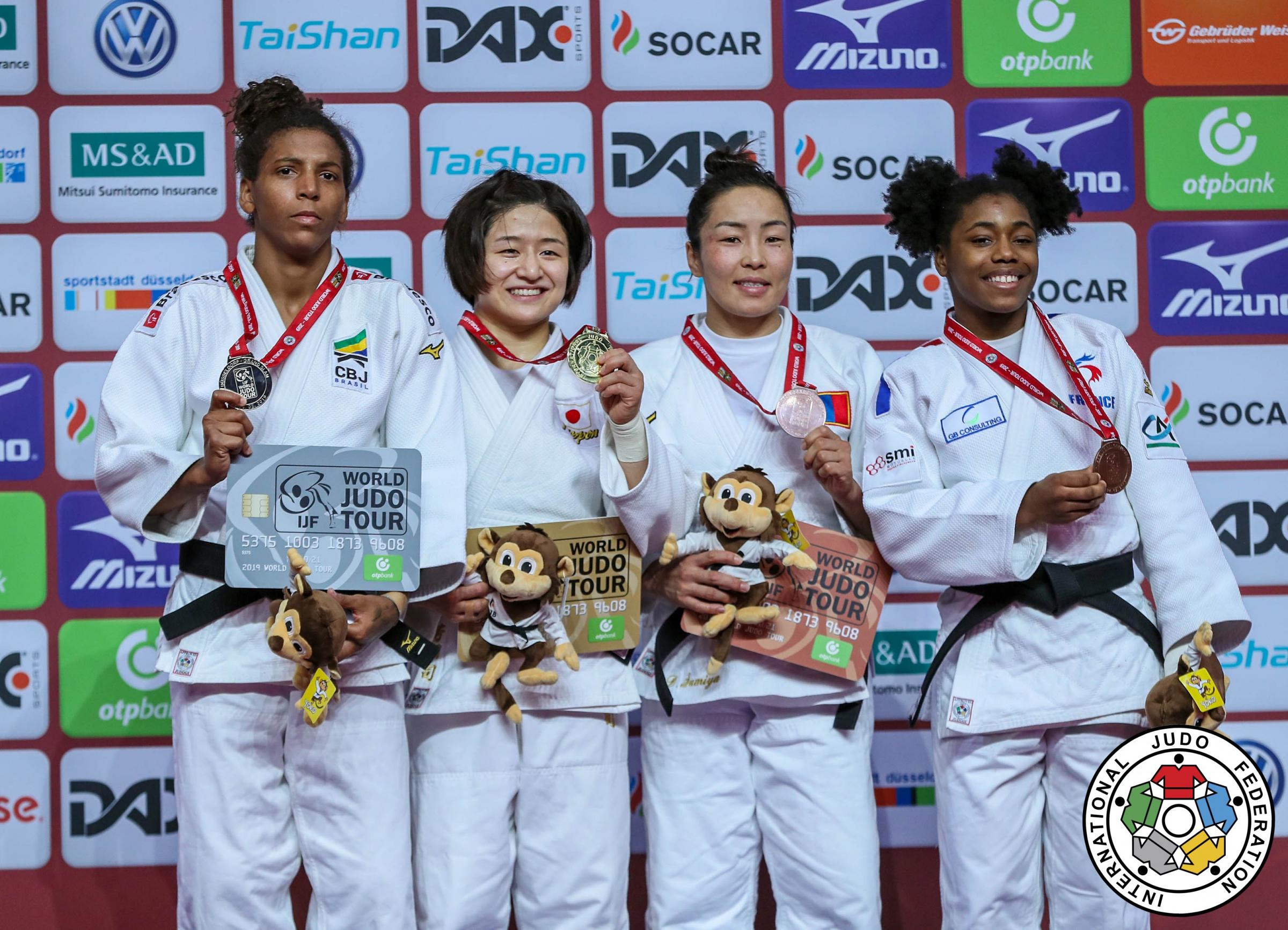 Podium -57 kg 1. YOSHIDA, Tsukasa (JPN) 2. SILVA, Rafaela (BRA) 3. DORJSUREN, Sumiya (MGL) 3. CYSIQUE, Sarah Leonie (FRA)
In the -48kg category the gold medal was won by 2018 world silver medallist TONAKI Funa (JPN) when in the final she defeated KANG Yujeong (KOR). The bronze medals were won by Catrina COSTA (POR) Nathalia BRIGIDA (BRA).
In the -57kg category the gold medal was won by current world champion YOSHIDA Tsukasa (JPN) when in the final she defeated current Olympic champion Rafaela SILVA (BRA). The bronze medals were won by Sarah Leonie CYSIQUE (FRA) and Olympic silver medallist DORJSUREN Sumiya (MGL).
In the -60kg category the gold medal was won by number two seed NAGAYAMA Ryuju (JPN) when in the final he defeated number one seed Robert MSHVIDOBADZE (RUS). The bronze medals were won by Lukhumi CHKHVIMIANI (GEO) and Tornike TSJAKADOEA (NED).
In the -66kf category the gold medal was won by MARUYAMA Joshiro (JPN) when in the final he defeated KIM Limhwan (KOR). The bronze medals were won by Yakub SHAMILOV (RUS) and YONDONPERENLEI Baskhuu (MGL).
Judoka
---