The third day of competition saw many an upset, a number of seeded athletes falling by the wayside, however, a few of the final medals could have been predicted.
-57kg
In the -57kg category, only one European athlete managed to make it on to the podium, and she certainly wasn't expecting it, unable to stop smiling while picking up her bronze medal. Julia KOWALCZYK (POL) was understandably elated with her result, defeating some heavy hitters on her way to victory.
The U23 European Champion lost out only to the eventual silver medallist and 2018 World Champion YOSHIDA Tsukasa (JPN) which put her in to the repechage round. Daria MEZHETSKAIA (RUS) met her in the repechage after suffering defeat to Rafeala SILVA (BRA). The Russian athlete won the European Games earlier this year and in fact, quickly ended KOWALCZYK's journey in Minsk in the first fight, so this fight was going to be difficult. With only 21 seconds left on the clock, a single waza ari was on the scoreboard in favour of the Polish judoka but MEZHETSKAIA found a final burst of energy to even the score.
It was really hard for me to prepare for the contest both physically and mentally but luckily I managed to throw her and win the fight.
An exhausting four and a half minutes in to golden score, KOWALCZYK pulled out a seoi nage attack, driving her opponent down and taking the win, next up, her bronze fight against Ivelina ILIEVA was faster paced, she was focused and confident and felt that this bronze medal belonged to her and she was right.
This has been a very successful year for KOWALCZYK, a gold medal win in the Antalya Grand Prix and bronze in the Montreal Grand Prix set her up for a strong competition.
This gave me lots of self belief and confidence for these matches, in Antalya I won against Rafaela SILVA so it's always in my mind that if I can win against the Olympic Champion, I can win against anybody.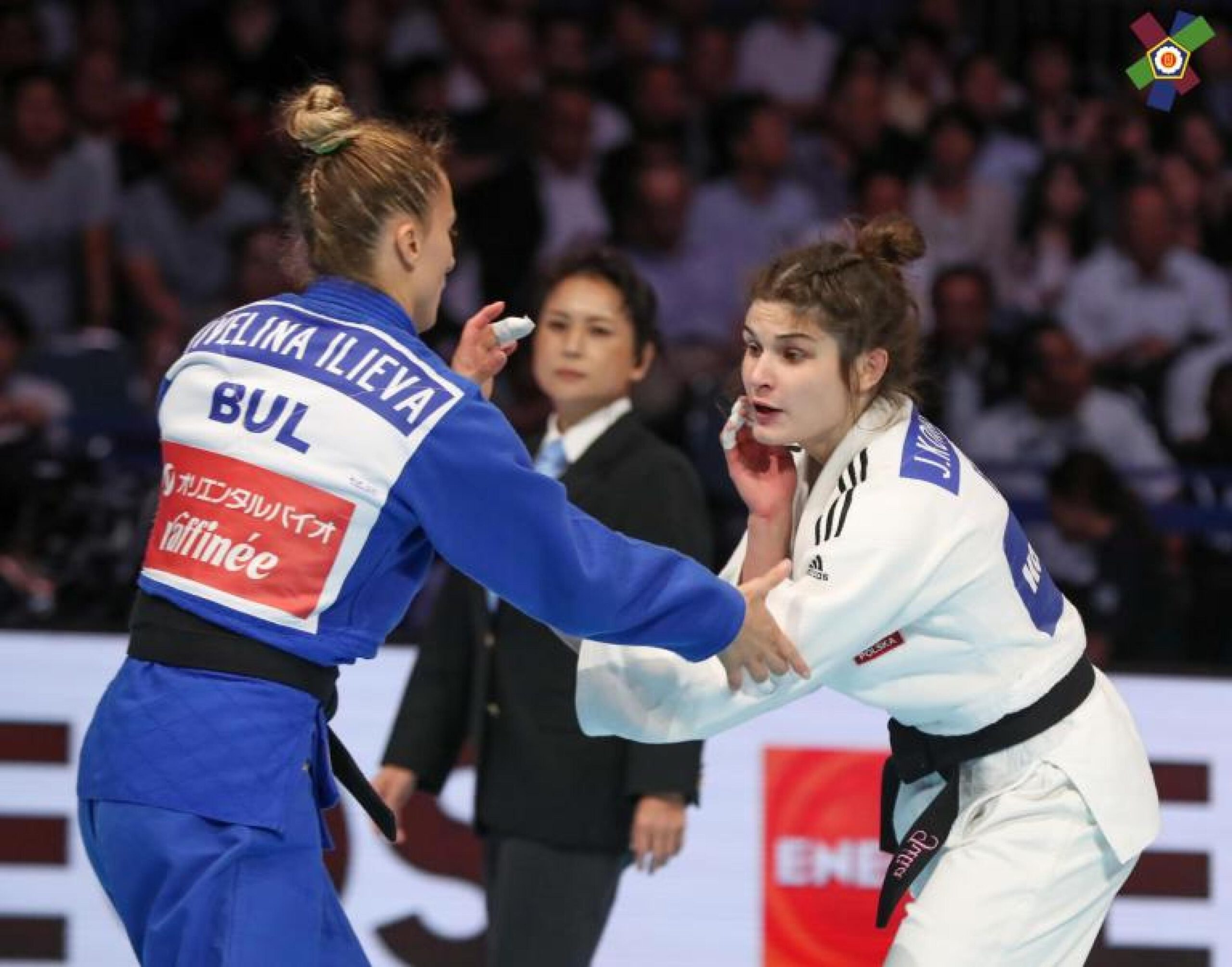 The other bronze medal went to the current Olympic Champion, SILVA, silver to YOSHIDA and the gold to a well deserving Christa DEGUCHI (CAN), making history for the country, taking the first red back patch for women.
-73kg
The European men took three medals today, making it a total of four for the continent. The anticipated Azeri duo took two of those medals, a silver and bronze, but something changed today.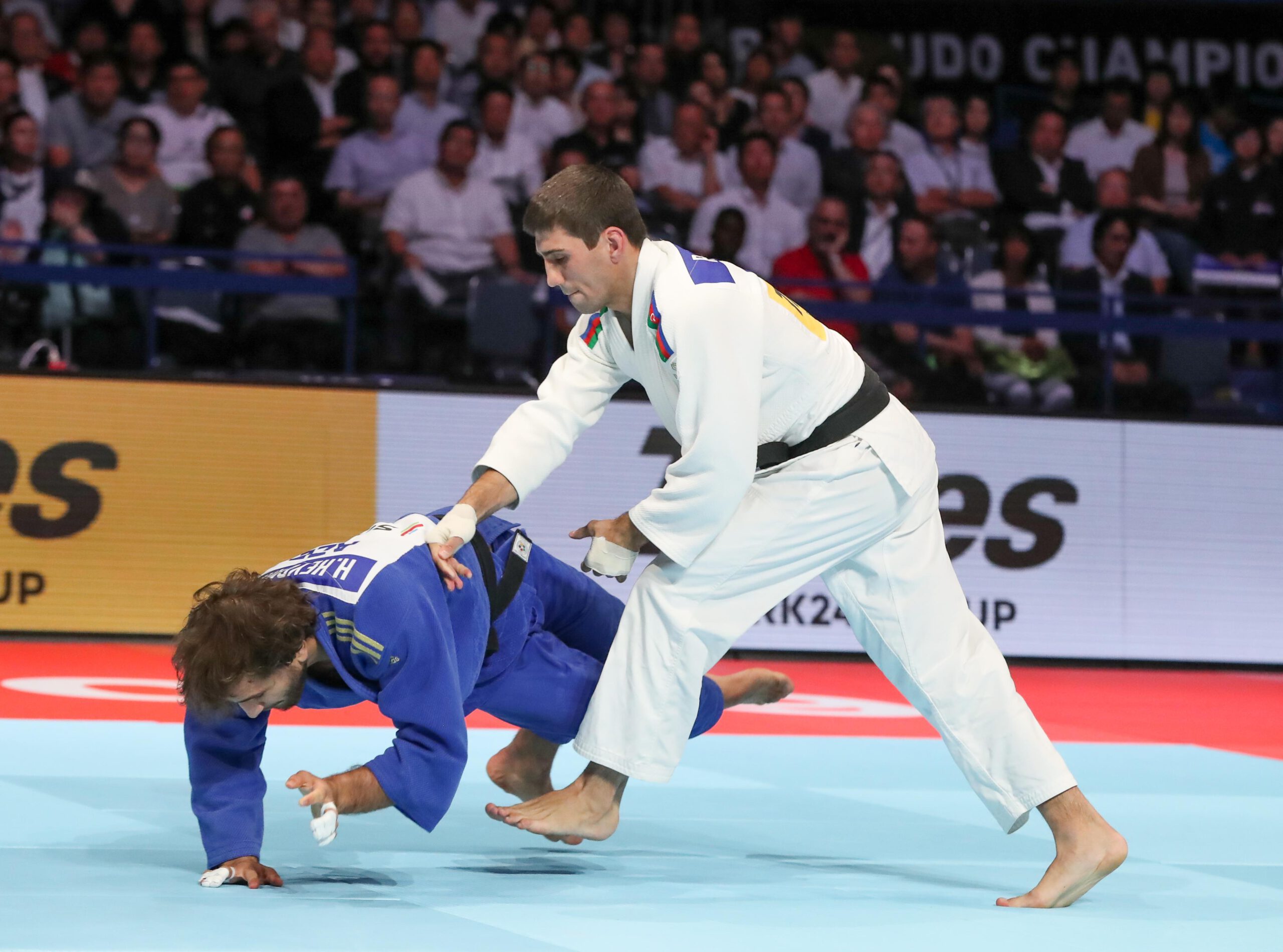 In previous contests on the IJF World Tour, Rustam ORUJOV has never managed to overcome his teammate Hidayat HEYDAROV, but today this was not the case. Speaking jovially after the medal presentation, ORUJOV discussed overcoming this barrier,
HEYDAROV is a very strong guy, I have fought with him maybe three or four times and every time he beat me but here, when I fought with him I say, 'not today, today is my day, the semi final of the World Championships, not a Grand Slam.
Of course the difficult journey didn't begin or end there. In the preliminary rounds, he came up against Canadian, Constantin GABUN, who took ORUJOV completely by surprise with his immense strength, not only physically but mentally. The Canadian took the first score and left ORUJOV scrambling to make a comeback, luckily, the experienced Azeri managed with little time left on the clock which took them in to golden score. Eventually the Canadian was defeated but there was still Tohar BUTBUL (ISR) to beat for his place in the semi final against HEYDAROV.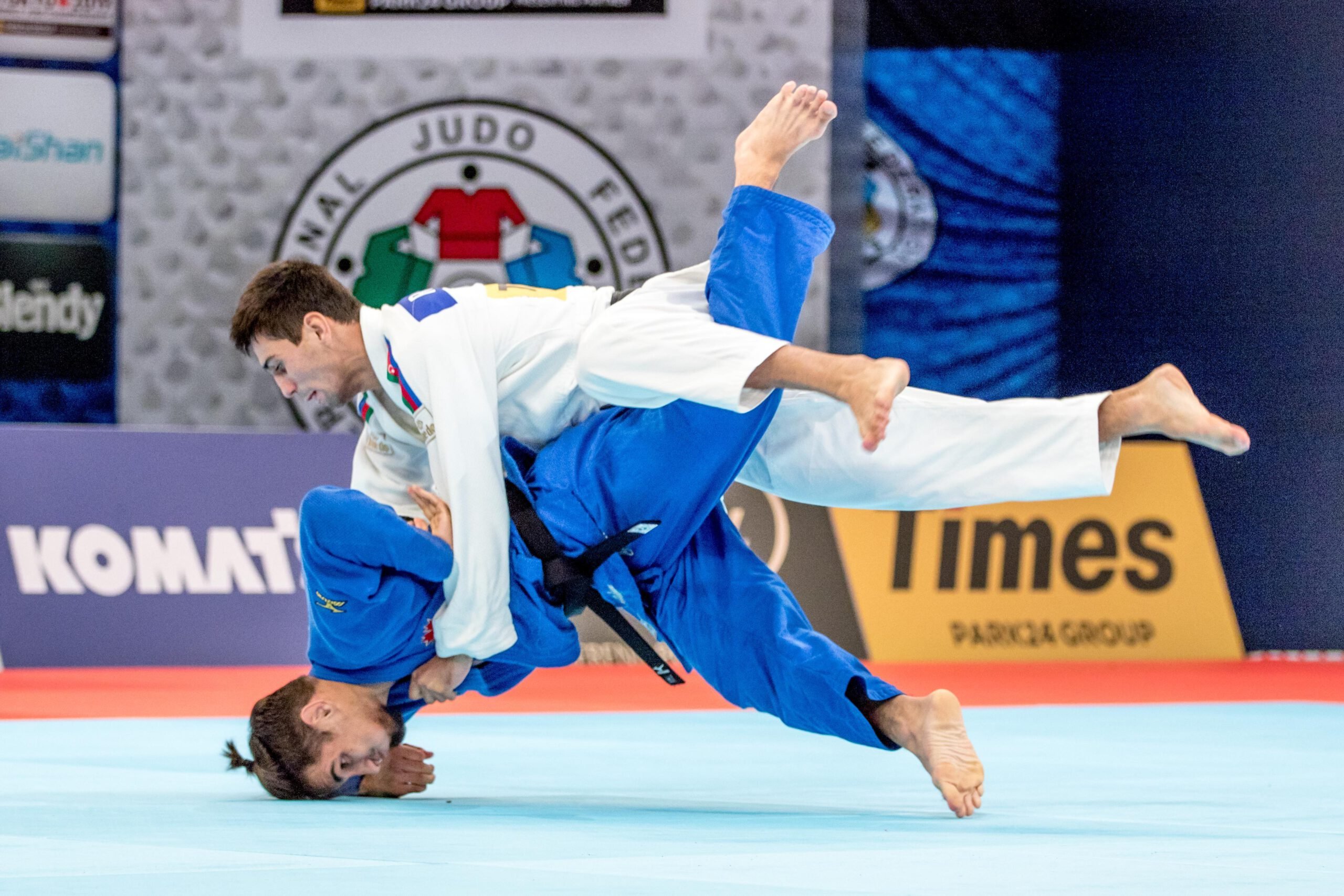 ORUJOV took an Olympic silver medal in Rio de Janeiro 2016 and today had to face his Olympic final opponent, ONO Shohei (JPN) in the fight for gold, only it didn't go quite as the Azeri athlete would have liked,
Before I felt very good, I had good preparation, but when I fought him, he is like Ironman! – he laughs – but next year I hope I will be better and I will win the Olympic Games here.
With a year to go, the World and Olympic silver medallist has time to prepare in order to take on ONO once again and hopefully come out on top next time.
Before his semi final, HEYDAROV had a very tricky fight early on against Musa MOGUSHKOV (RUS). Finally managing to counter the Russian with tewaza, he was able to move on to up and coming British athlete, Eric HAM. After a tough contest, and with time almost up, a soto makikomi brought the deciding score for the Azeri.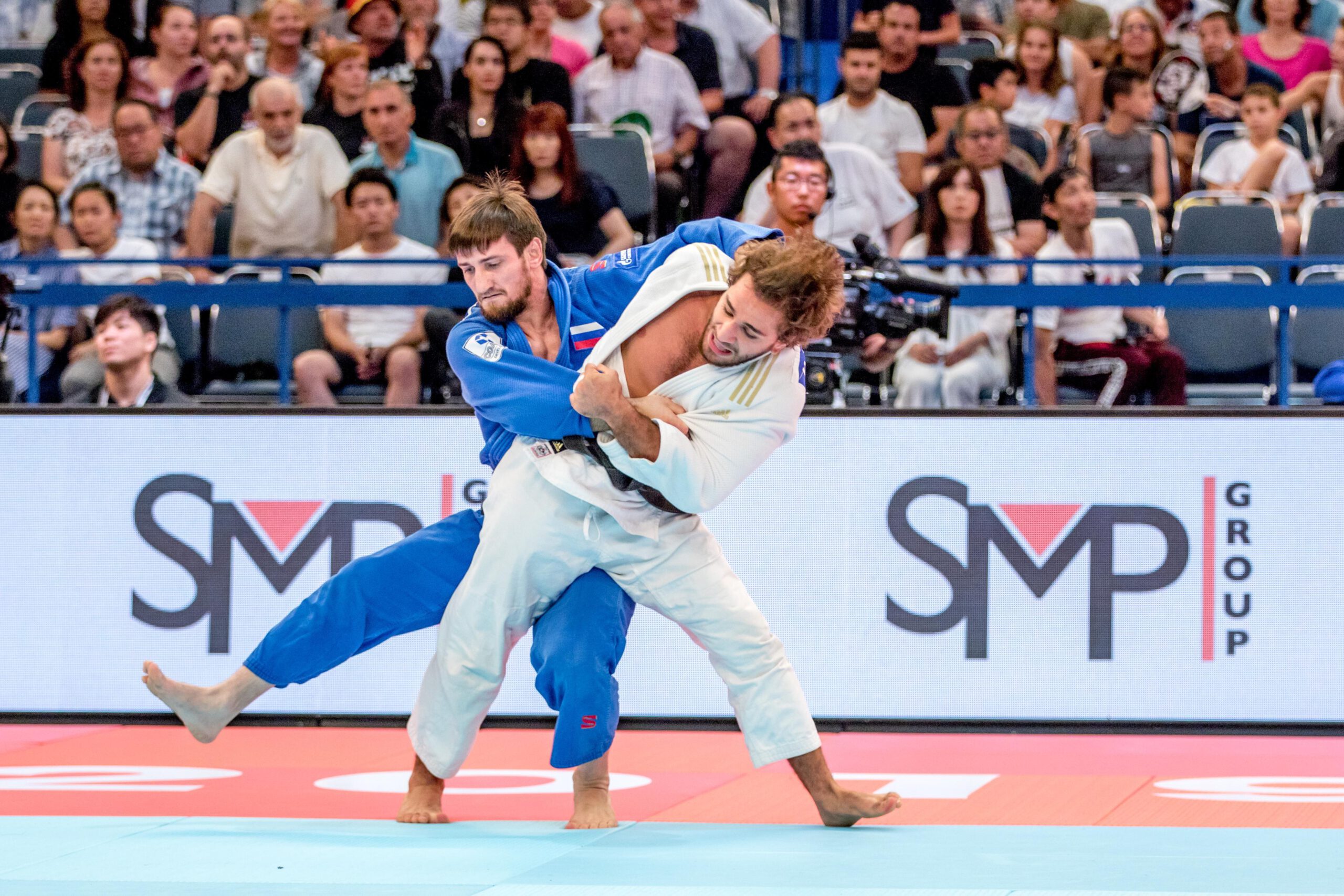 In potentially the longest contest of the tournament so far, HEYDAROV battled it out against Somon MAKHMADBEKOV (TJK) for almost 12 minutes, both athletes completely exhausted with little left to offer, however HEYDAROV couldn't bare the thought of a bronze medal loss, and managed to score against the Tajikistani. There was a sigh of relief and the Azeri team didn't take one, but two medals in this strong category.
The loss in the semi final against ORUJOV affected the younger athlete tremendously, finding it extremely difficult to pick himself up after missing out on a World Championships final,
I am very happy for a bronze medal and sad because I lost in the semi final, right after I lost, I didn't even want to fight for bronze, I was so emotional but my coach picked me up, I fought for a long time, 12 long minutes but it's no problem now, because I won, I have the bronze medal.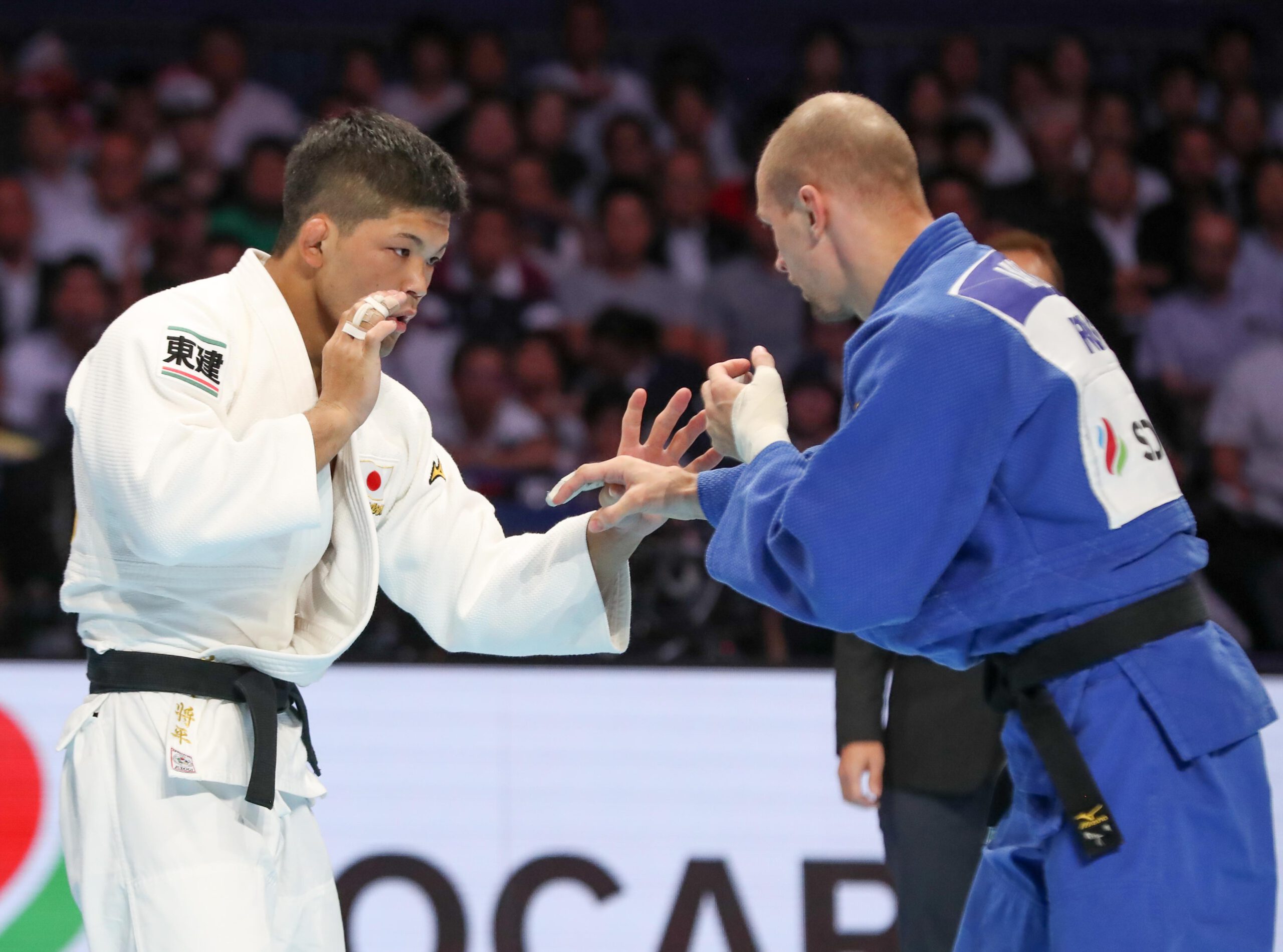 Denis IARTCEV (RUS) came from the other side of the draw, taking on ONO in his semi final before the Japanese moved on to the Azeri. This was tremendous fight between these top athletes, potentially the hardest for ONO, as IARTCEV took the fight to him and was a possible upset for the Japanese crowd. The pair have fought only once in 2014 where the Russian came out on top, but nothing was stopping ONO today which meant IARTCEV would fight for bronze.
Of course I was hoping for a win (against ONO), I have already beaten him once but this time he was luckier and we need one more fight to decide who is better.
The bronze was a great contest again Behruzi KHOJAZODA (TJK). IARTCEV read his opponent and using his years of experience on the circuit, scored against the Tajikistani to claim the bronze but it wasn't without difficulty.
I already fought with this athlete in Zagreb, but this fight was much more difficult because of the level of the competition and I only had 10 to 15 minutes to recover between fights. This is my first medal in this top level tournament, and I'll do my best so that this medal doesn't become my last one.
All in all it was a phenomenal day of judo from all continents and the European athletes fought hard for their medal positions. On day four we will see the -63kg and -81kg category athletes fighting, will Clarisse AGBEGNENOU (FRA) defend her title and take a fourth gold? Will Saeid MOLLAEI (IRI) manage to keep the other men from snatching his red back patch or will it fall in to the hands of Europe?
Find out at live.ijf.org where live streaming will begin at 11am local time.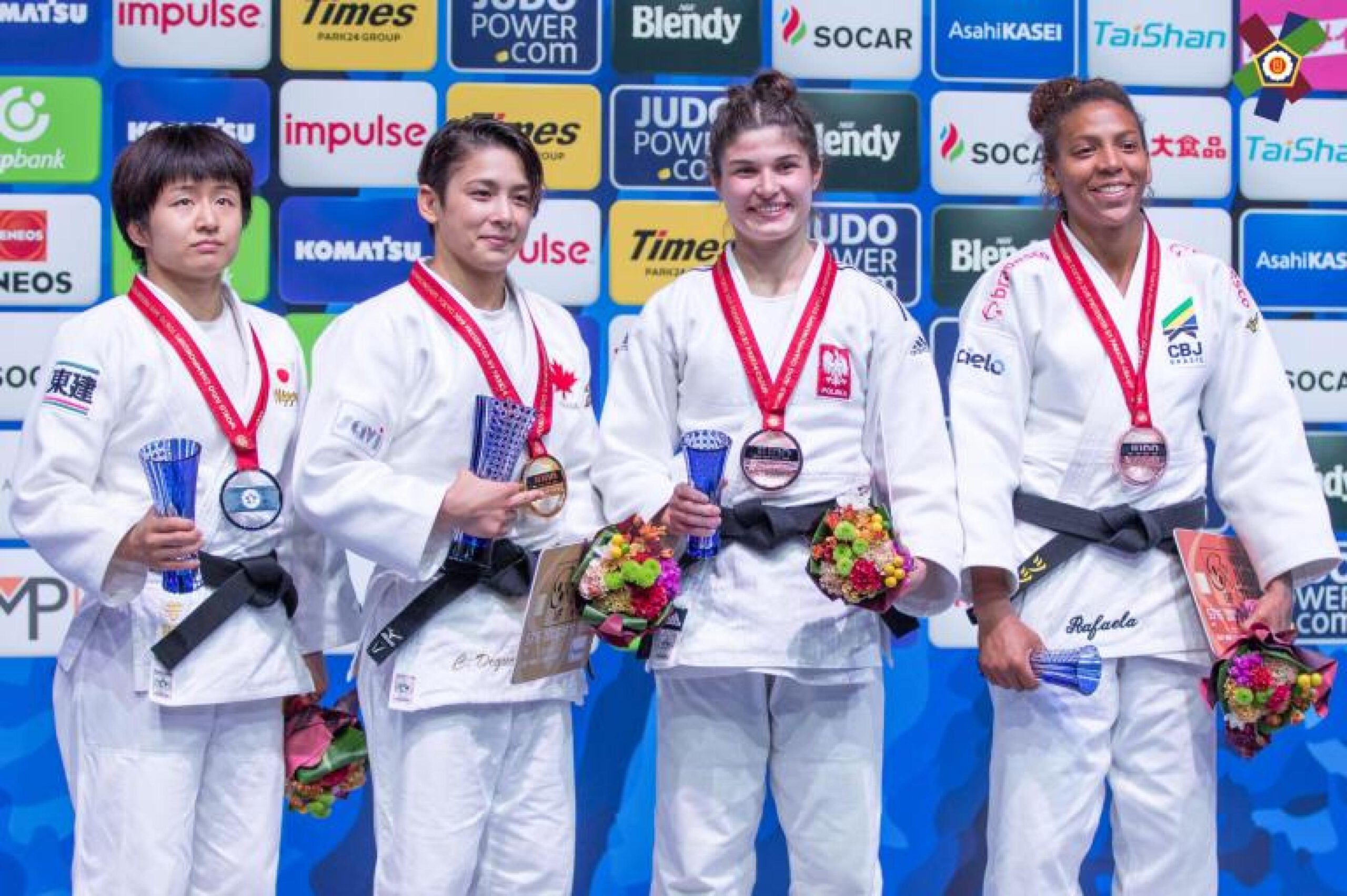 -57kg Medallists 1. DEGUCHI Christa (CAN) 2. YOSHIDA Tsukasa (JPN) 3. KOWALCZYK Julia (POL) 3. SILVA Rafaela (BRA)
-73kg Medallists 1. ONO Shohei (JPN) 2. ORUJOV Rustam (AZE) 3. IARTCEV Denis (RUS) 3. HEYDAROV Hidayat (AZE)
Judoka
Author: Thea Cowen
---