In 2016, Kosovo took hold of the women's lightweight spotlight, Majlinda KELMENDI taking the first Olympic medal for Kosovo, gold at that, in Rio de Janeiro. However, four years later, we're all talking about the success of an -48kg athlete, the great potential of Distria KRASNIQI. 
Distria's judo story began when she was only seven years-old, her brother encouraging her to join him on the tatami, falling in love with the sport immediately. A natural fighter, she loved competition and found herself quickly taking medals at cadet and junior level, but seeing the success of her coach, Driton Kuka and team mate Kelmendi, she had the determination and belief she needed to succeed. 
I believe in myself and the work our coach is doing with us, and I knew that one day I will become number one in the world, I was patient, I knew that this day will come, step by step. 
Qingdao Masters 2019, Gold.
Guangzhou Masters 2018, Gold. (c) Gabriela Sabau
Originally sharing the -52kg category with Kelmendi, Krasniqi was coming up the ranks but never quite reaching the dizzying heights that her team mate sat so comfortably at and found herself moving down a weight category in 2018. Though there was doubt surrounding the move, worry that the change would affect her strength, but she has proven all the naysayers wrong and topped the IJF WRL yet again in 2020, as well as scoring herself another Masters title in Doha last month. 
Honestly the beginning was harder than now, now I manage the weight way better than before, and I feel strong again like I felt when I used to fight at -52kg. I feel good and I feel strong in -48kg now and I'm happy I made this decision for the Tokyo Olympic Games.
In her first tournament in the -48kg category, 2018 Budapest Grand Prix, she managed to steal a bronze, defeating the current Olympic Champion Paula PARETO (ARG) in the process and finished the year with a Masters gold as well as another GP bronze, gold and even an impressive Grand Slam silver in Abu Dhabi.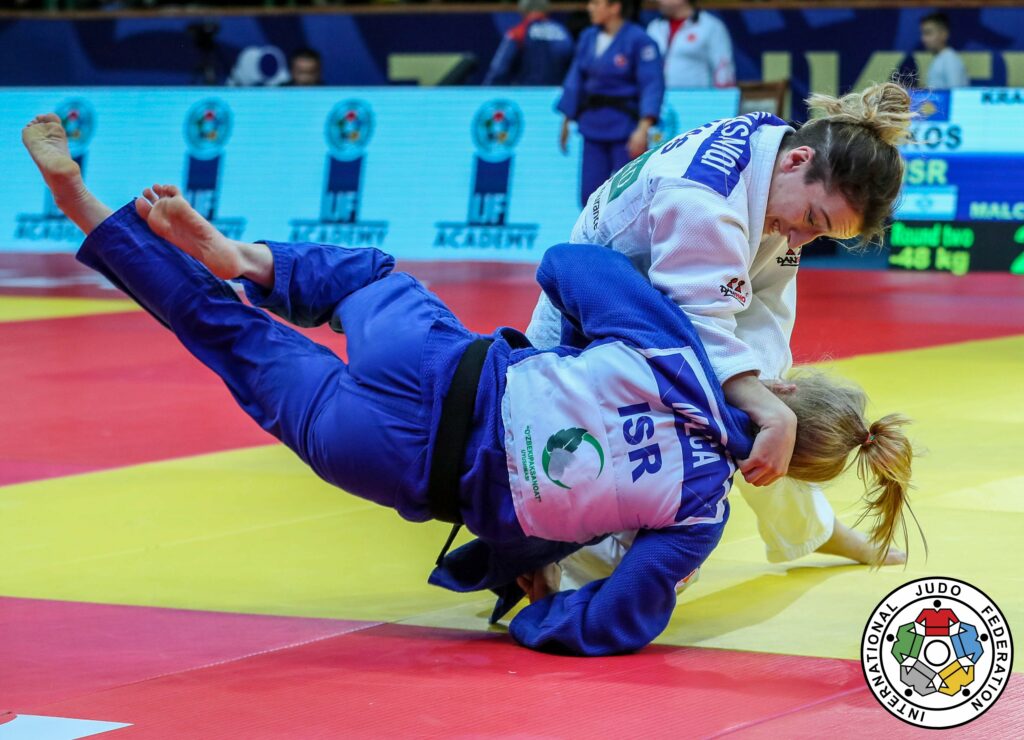 Since then she has gone from strength to strength, she is number one in the world, in the best shape and ready to take on any opponent, but her personal success has had a ripple effect. Along with Krasniqi, the women in team Kosovo have tallied a great number of medals and recognition for the sport in their country which has resulted in the Olympic Committee doubling support given to 20 athletes on its scholarship beneficiaries' list.
It's a great feeling, and I'm proud to be in this team, it's a small team but very successful and strong. Judo is the most successful sport in Kosovo and our country is very proud of us and our results. We have good support from the Olympic Committee too, which is always motivation when you know you have support from your country and Olympic Committee as well.
Of course this is recognition well deserved and can be celebrated, but there is still work to be done and Olympic medals up for grabs for the five qualified athletes, Krasniqi, Kelmendi and their team mates Nora GJAKOVA, Loriana KUKA and Akil GJAKOVA. We wish them all the best of luck.
Judoka
Author: Thea Cowen
---