The weight of expectation was heavy. Current world champion Lukas KRPALEK (CZE) had been in this position before. Just three months ago, when the European Championships had been staged in Prague, Krpalek had missed out on a medal. The loss remains a matter of deep disappointment for him and a situation that he aims to ensure never repeats itself. So, by taking the gold medal in the +100kg category on the second and final day of competition at the Prague European Open, Krpalek went some way to easing the pain of the loss last year.
Granted, the athletes from this Open were not of the same caliber as those present at the European Championships. But, as his country's most successful judoka ever, any win, especially one at home, is greeted with the kind of celebrations and media attention reserved for the very best, and Krpalek is right up there.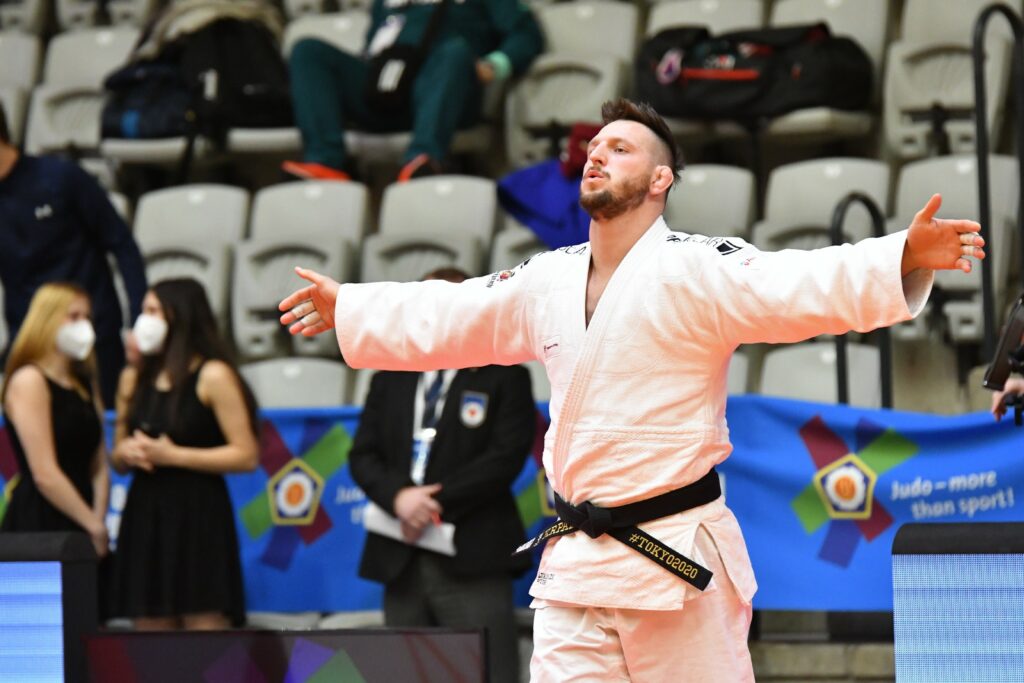 The day began the way it would end, with a win for Krpalek. Of course, nobody knew that for certain at the time and they may very well have been a few athletes with aspirations to spoil Krpalek's day. But there were to be no giant killers today. The number one seed did not once have to go the distance and was never seriously tested in his four wins and, apart from his opening contest against Marius FIZEL (SVK) who gave up three shidos, Krpalek proceeded to win all his contests by ippon. Krpalek was so in the zone that he came to the tatami for his quarter-final against Kamil GRABOWSKI (POL) still wearing his mask! The referee (who kept his mask on) quietly pointed this out and, having quickly removed it, Krpalek proceeded quickly with his trade mark turnover and tate shio gatame to remove Grabowski from the competition. Next up was the promising Martti PUUMALAINEN (FIN) who, perhaps having not seen Grabowski's method of departure, went the same way.
Only when competing I am able to sqeeze the best out of myself. That is why the tournament in Prague was important for me. Gordienko of Ukraine whom I met in the final is a tough oponent. I am happy to win the tournament especially after the failure in Tel Aviv.
Final of the +100kg category between KRPALEK and Oleksandr GORDIIENKO (UKR)
Final of the +100kg category between KRPALEK and Oleksandr GORDIIENKO (UKR)
In the final Oleksandr GORDIIENKO (UKR) should have known better for even if he had not been on with Krpalek previously, he has been around long enough to know that newaza is an area where he excels. Well, at least Gordiienko did not get caught with the tate shio gatame, falling instead to the juji gatame. Either way, Krpalek was a happy man and so too his supporters.
Judoka
Author: Sheldon Franco Rooks
---