The second day of the 2018 Junior World Judo Championships saw Japan doubling on golds whilst Europe also pinched another two victories. Manuel LOMBARDO (ITA) and Bilal CILOGLU (TUR) delivered the golden moments for the continent.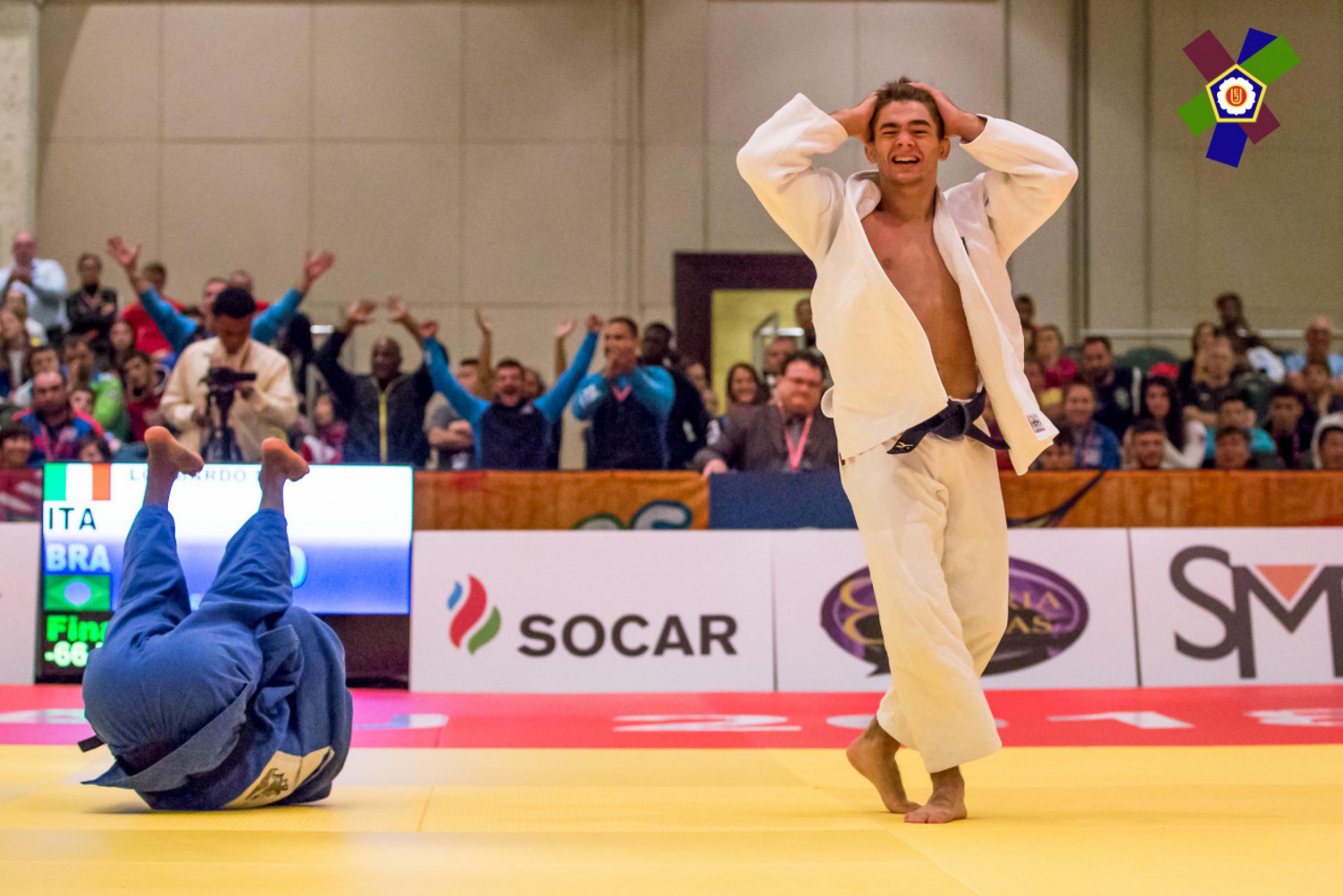 Current Junior European Champion, Manuel LOMBARDO (ITA) began the day as top seed of the -66kg category and stood up to all expectations. Throughout his four contests today, Lombardo remained untouchable as none of his opponents were able to stumble him for a score. In the final, Lombardo faced 2018 Junior Pan-American Champion, Michael MARCELINO (BRA). The contest went head to head until the last minute was approaching. It was at that moment the Italian judoka successfully completed his kata-guruma attempt, leaving no space for his Brazilian opponent to escape. The 19-year-old Italian judoka expressed his feelings after the medal ceremony;
"I worked for this for all my life and after last year's disappointing 5th place, it feels sensational. Although nobody scored against me, all my opponents were strong today. It wasn't easy at all."
The President of the National Commission of Youth Activity and Coordinator of Junior Italian Judo Team, Raffaele TONIOLO, revealed the Lombardo's secret success during the semi final against Aida of Japan;
"The secret was not to fight his usual, standard contest plan, but to use cross grips and pressure with kata-guruma. This was our remedy to win against Aida of Japan."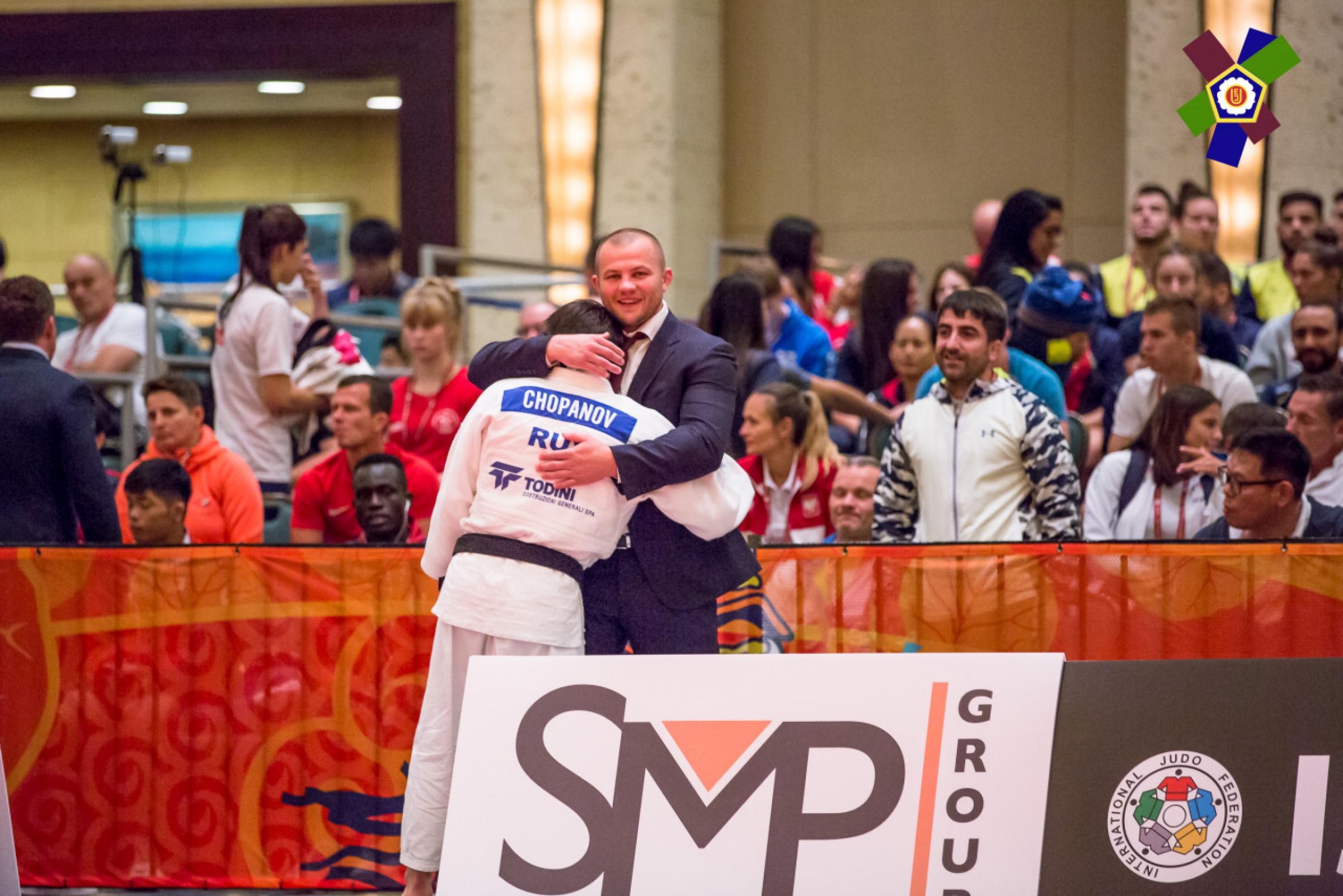 Junior European silver medallist, Murad CHOPANOV (RUS) won his bronze medal contest against Sunggat ZHUBATKAN (KAZ). There was a double opening for Russia during the final block of the -66kg category, however, Kazbek NAGUCHEV (RUS) missed out on the podium.
"I was ready for this year and wanted to do well at both, the Europeans and at the Worlds. I got caught by Aida of Japan. This is judo, it can happen, I don't think of it as a mistake."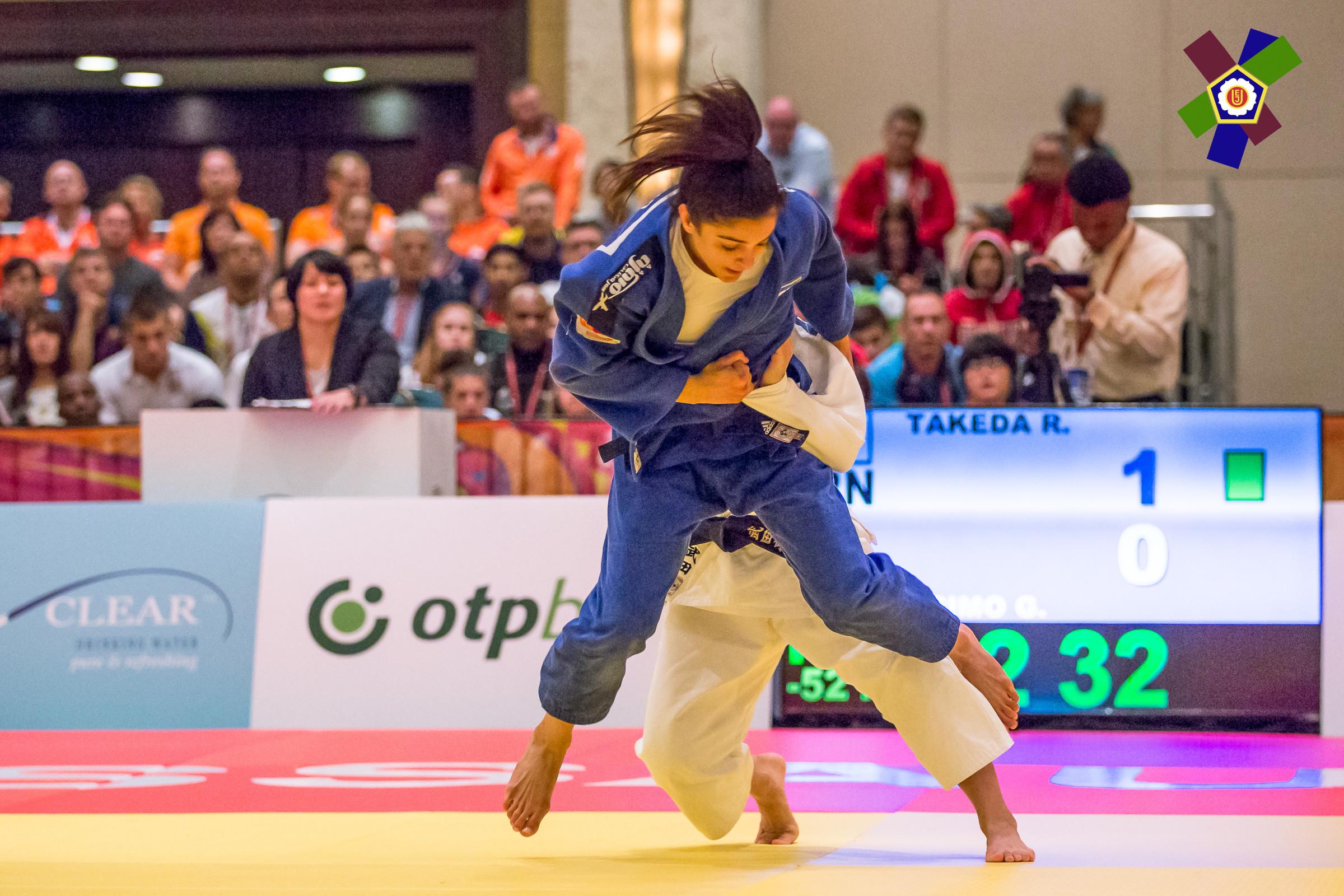 The -52kg category brought the total number of three medals. Sadly, the gold went overseas, however, the remaining places of the podium showed success for Europe. Senior European bronze medallist and now Junior World silver medallist, Gefen PRIMO (ISR) showed a robust performance throughout the day. In the final, she was dominated by TAKEDA Ryoko (JPN).
"I am not happy, I am very disappointed. I really wanted to win the gold medal. That's why I came here to become Junior World Champion. There are things I need to work on. In the final, I felt good, I had a good grip and I felt like I controlled the fight but I left too much space for her to attack and I also did not attack enough. It was a reasonable day, I learned what I needed to."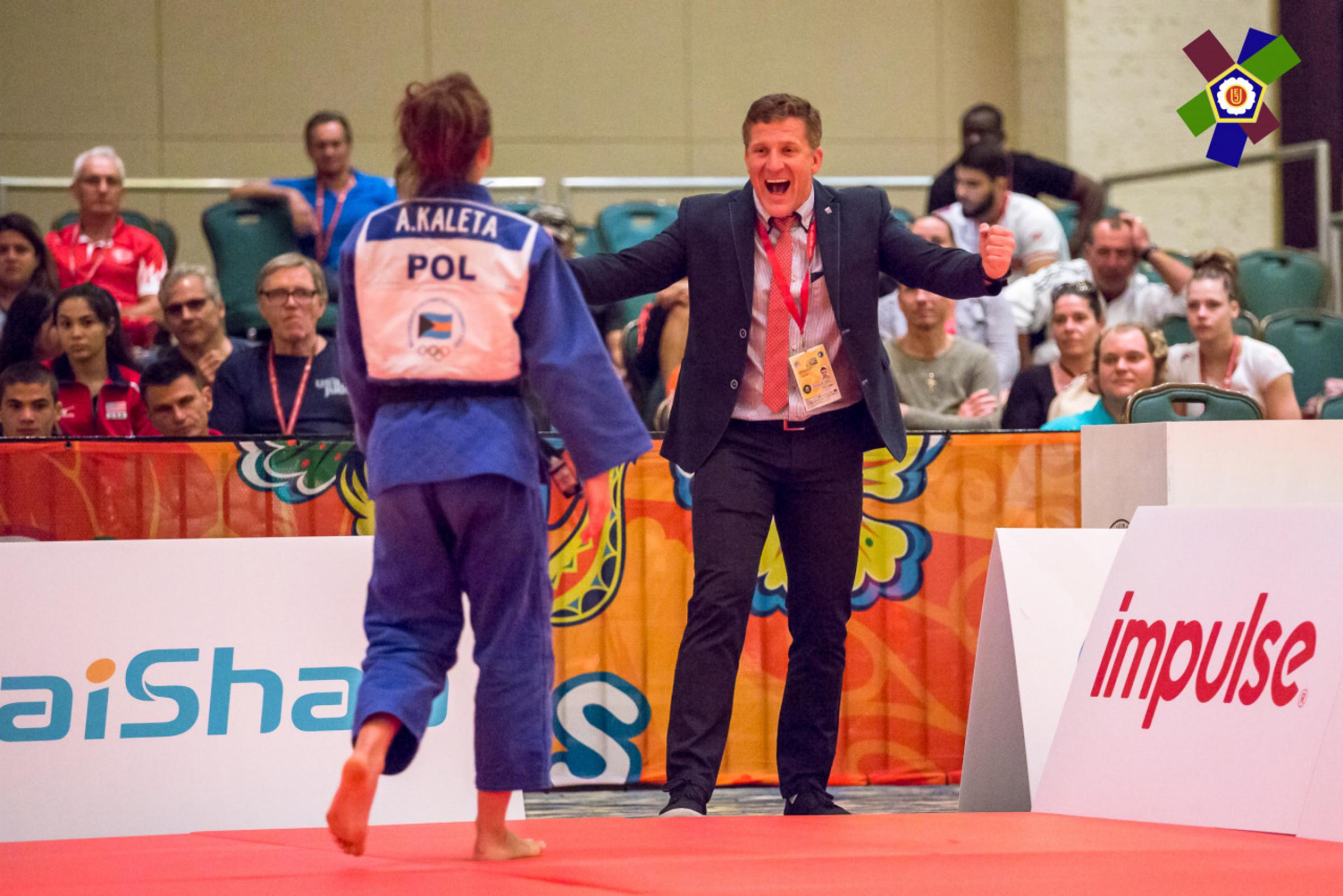 Aleksandra KALETA (POL) after winning bronze.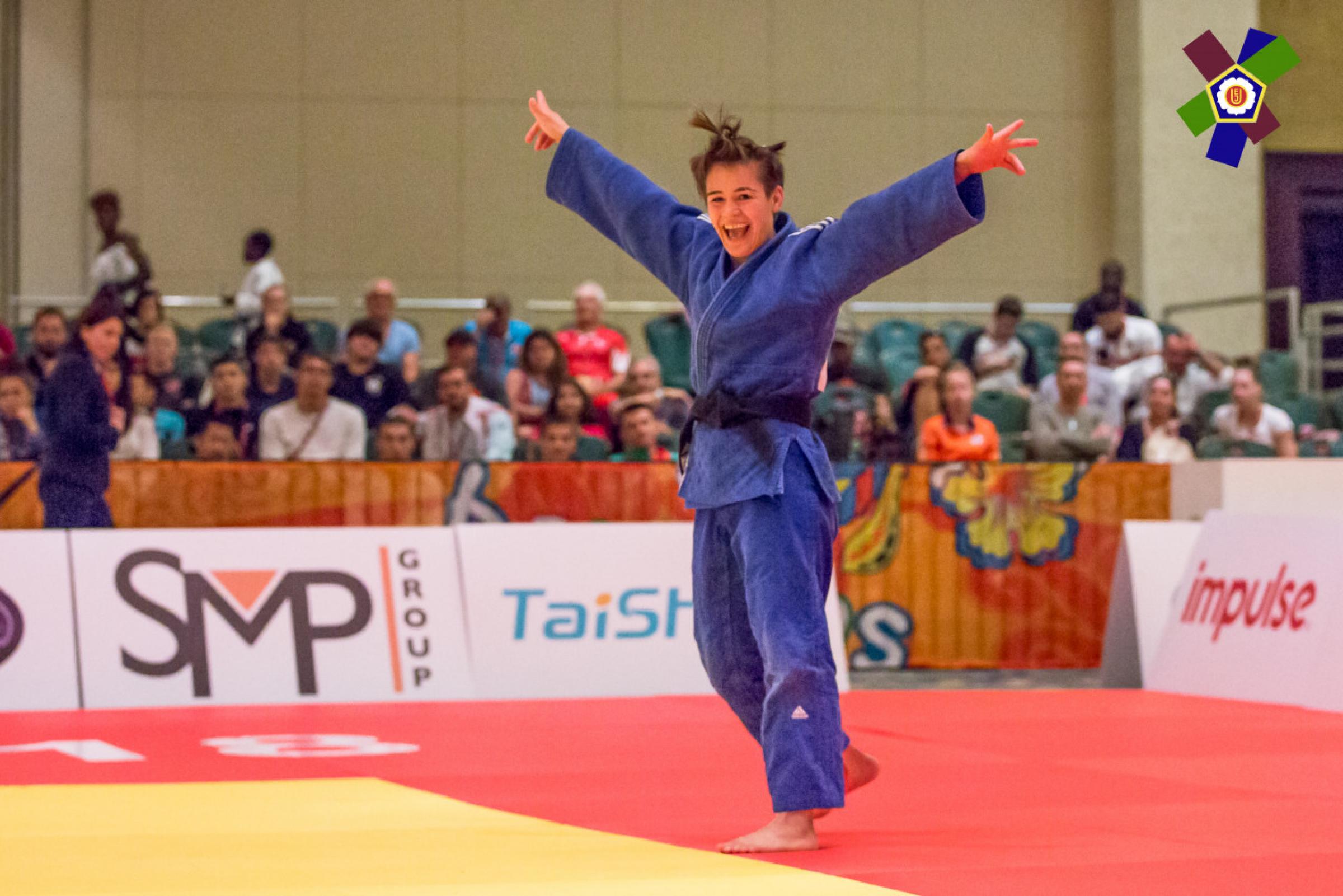 Bronze medal celebration from Cleonia RICIU (ROU).
The two bronze medallist of this weight class are Aleksandra KALETA (POL) and Cleonia RICIU (ROU). The later doubled the joy today when winning her second Junior World medal. The 20-year-old Polish judoka fought her heart out earning her countries' first medal in Nassau.
"Kaleta: I am really happy, I never expected the medal. I came here and hoped for a good day. When I won the quarter-finals is when I thought maybe I even stand a chance to win a medal here today."
"Riciu: I was really hoping to win a medal here because I had a bad year and this medal confirmed to me that I still have the qualities to deliver good results. I trained hard with my coach and last week I told him I am not coming back without a medal."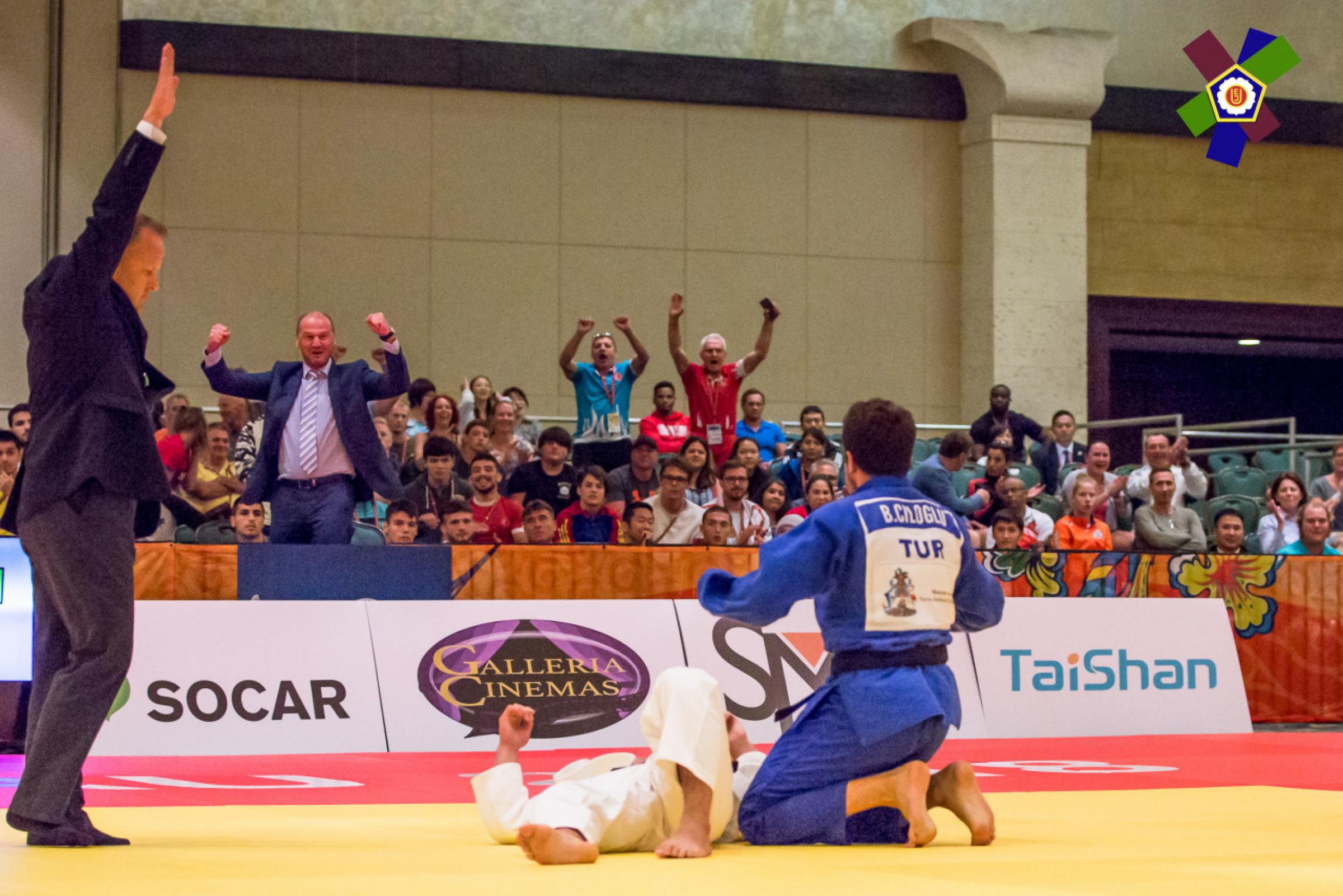 In blue, fresh Junior World Champion, Bilal CILOGLU (TUR).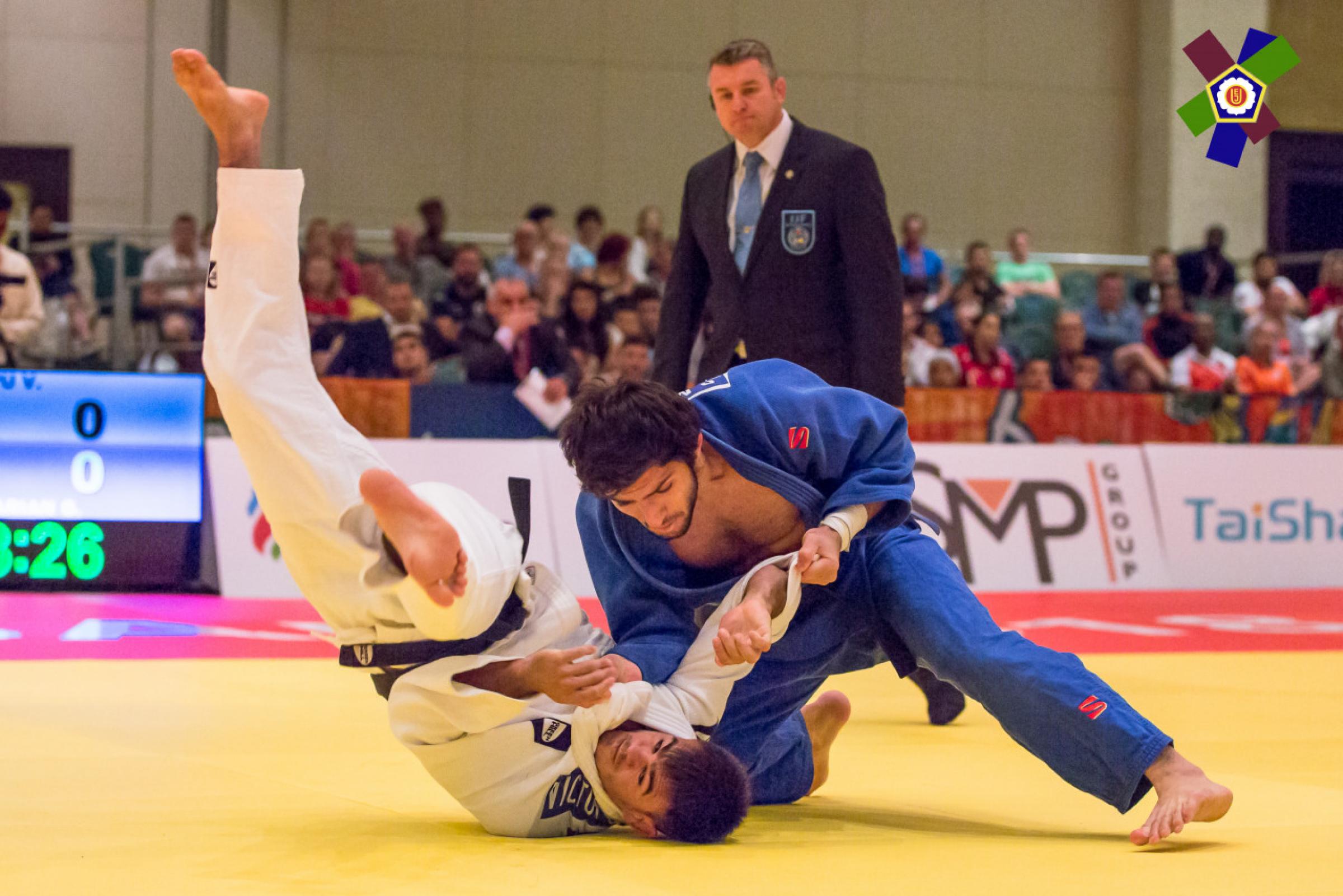 In blue, Georgios MARKARIAN (GRE) during his bronze medal contest.
The -73kg category showed the total number of 43 judoka competing today. In the final we saw TSUKAMOTO Ryo (JPN) vs Bilal CILOGLU (TUR). The pair of them put on a real battle. First to score was Tsukamoto when he stunned his opponent by uchi-mata within the last minute of the contest. Although the Japanese judoka also had two penalties on display, Ciloglu was still under pressure. Not until the last 3 seconds that the Turkish judoka managed to even the contest by a sumi-gaeshi. Ciloglu's signature technique, sumi-gaeshi, earned him the World Junior title within the first exchange of golden score. Senior European bronze medallist and Junior World Champion, Ciloglu has had a tough past few months, which, he shared with us;
"I got injured a few months ago which resulted me not being able to compete at the Junior Europeans neither at the Senior Worlds. I only managed to get back to training last week. Regardless of the setbacks, I still believed I can do well here today. My strong mind and determination for gold allowed me to hang into the fight during the final. For me it is not a problem to be down by a score and have little time left. Fortunately, I am strong and cool headed which helps me at these situations. We had a good strategy for the final and it worked out well at the end."
Georgios MARKARIAN (GRE) lost against Ciloglu during the semi-finals, yet managed to bounce back for bronze in the -73kg category. Despite the loss he suffered, Markarian was showing a dominating performance during the day.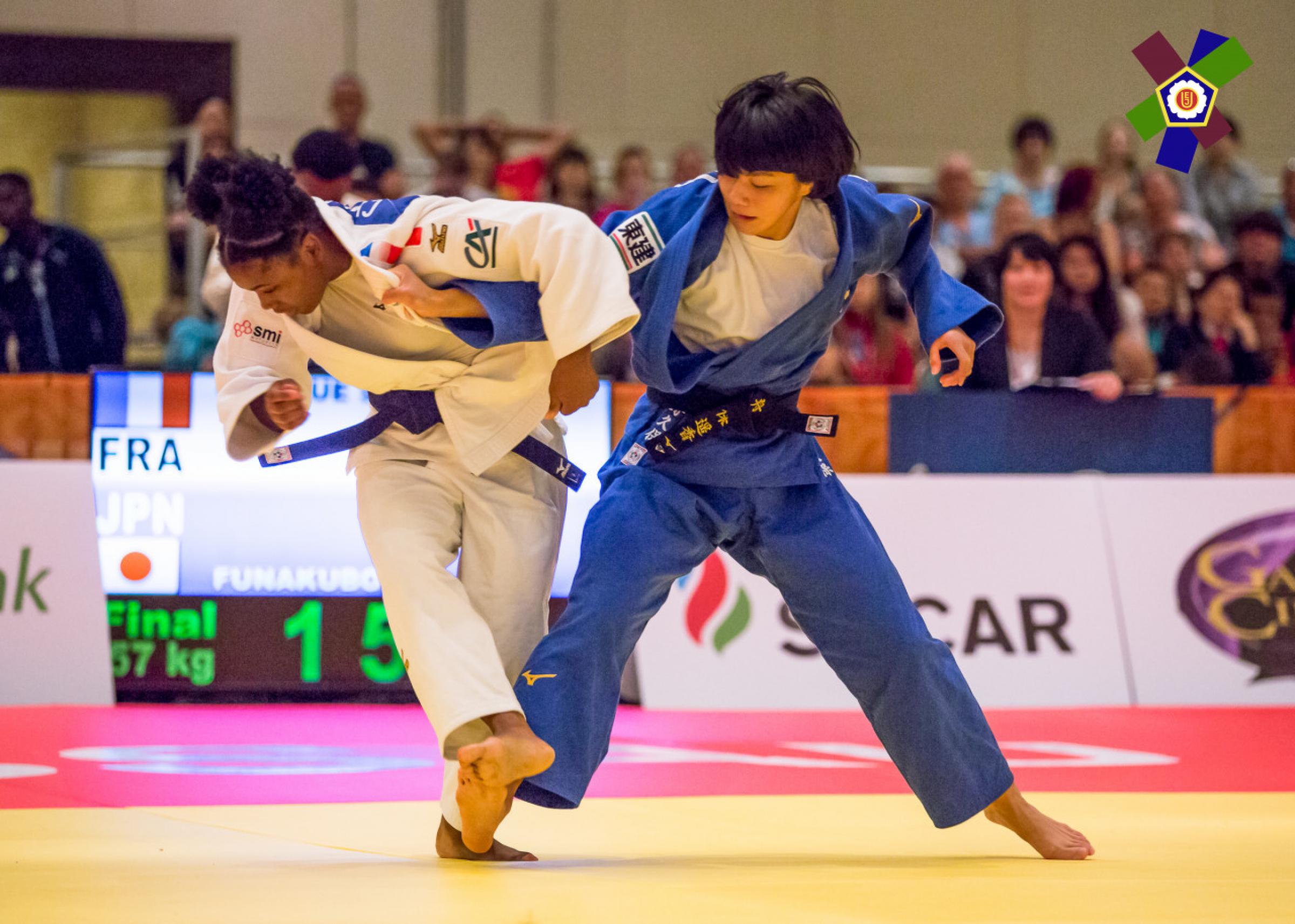 In white, Sarah Leonie CYSIQUE (FRA) during the final.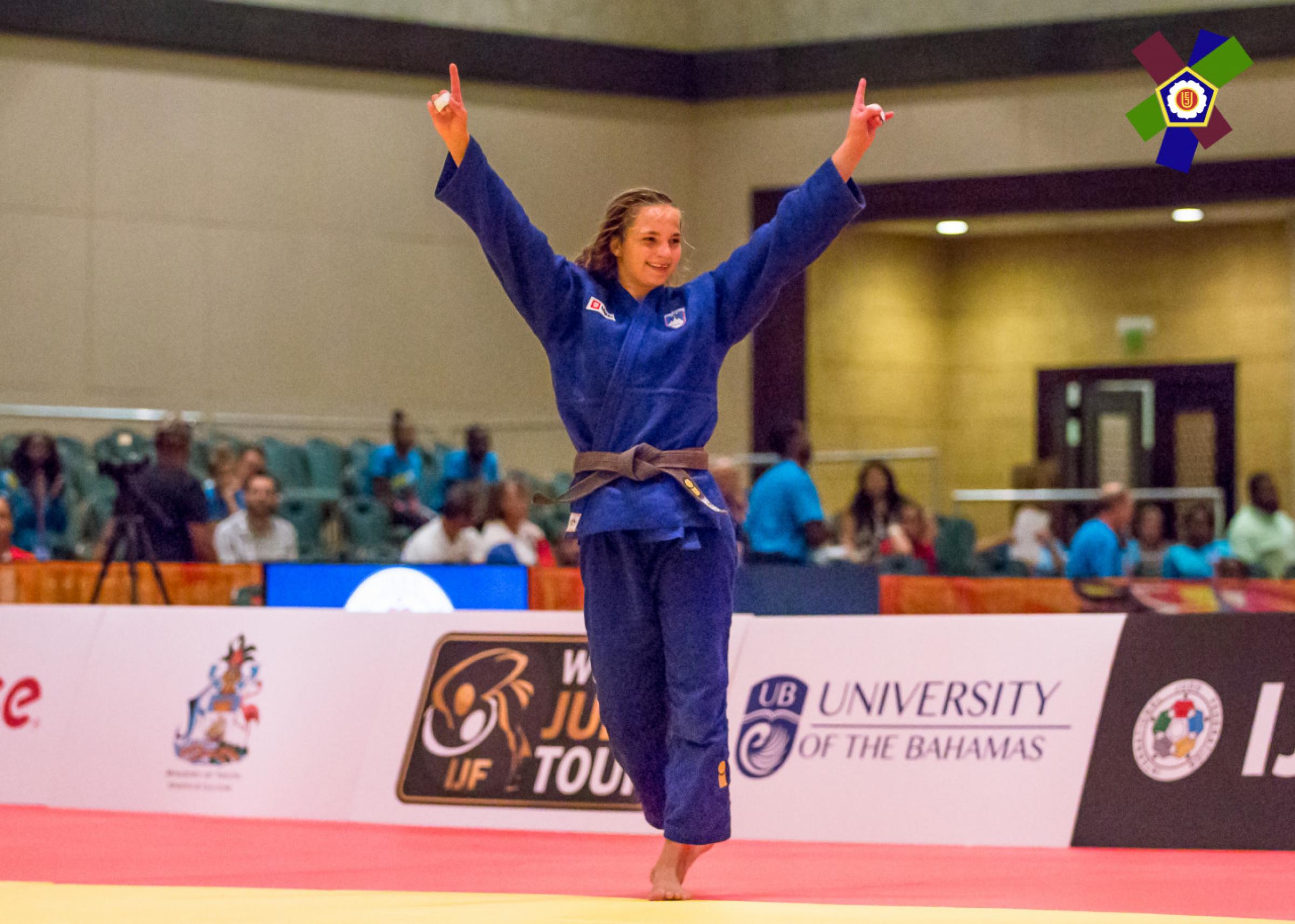 Joyful moment for Kaja KAJZER (SLO),
Junior European Champion, Sarah Leonie CYSIQUE (FRA) faced double, now triple Junior World Champion FUNAKUBO Haruka (JPN) in the final of the -57kg category. Regardless of the high profile from Funakubo, the French judoka distressed her opponent at occasions during the final and not until the last 30 seconds that the Japanese judo ace was able to trip Cysique over with a kouchi-gake, following it into osei-komi-waza, wrapping up her third World title. The multiply IJF World Tour medallist, Cysique, spoken about her views of the final contest;
"I have mixed emotions. Happy but also sad at the same time as I was ready for the gold medal today but the Japanese opponent was always ahead of me, especially with the kumi-kata exchange."
Kaja KAJZER (SLO) added a Junior World bronze medal to her collections as a first year junior. For the medal, she defeated Marica PERISIC (SRB) in a long lasting golden score contest.
"Kajzer: I am really happy. Once I reached the medal contest, I seriously wanted to win and although I could not score, I managed to win on penalties. It is not the best but a win is a win."
Congratulations to all medallists. The third day of the event will begin at 11:00am local time. Watch all actions live online & free via judobase.org. You can also follow us on our social media channels.
---
Video Review
---