For some of the athletes today, this U23 European title has been a huge goal, sometimes waiting years for a continental title, and for one athlete, she was able to defend. There were a lot of emotions and beautiful wins on day two in Potsdam.
Opening the second day of the U23 European Championships 2023, were the -81kg men. In the packed MBS Arena, Jarne DUYCK (BEL) and Zaur DVALASHVILI (GEO) were the first to put on a show for the gold medal. It was a reasonably well matched contest, but an uchi mata from the Upper Austria Grand Prix bronze medallist, Dvalashvili earned him the gold medal, the first for Team Georgia to add to their silver and bronze wins on day one.
I feel so good, I am so happy to win this medal. I felt very strong today, it was a good day for me, not so difficult but also not easy! Having experience at seniors and my medal in the Grand Prix helped prepare me for this event.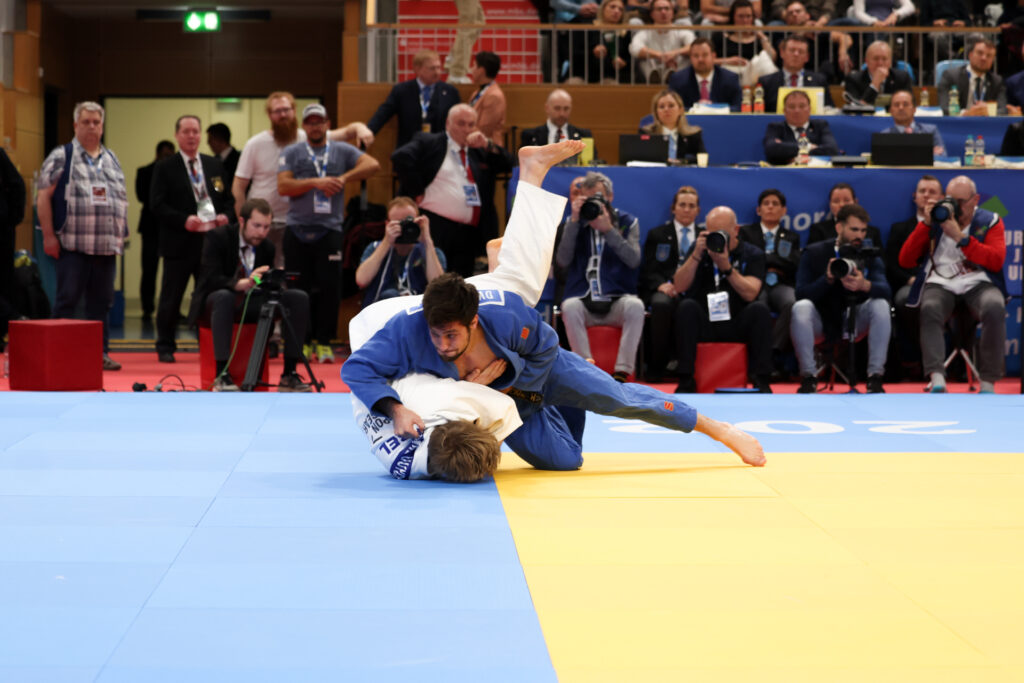 Coming out for the final of the -70kg category were the defending U23 European Champion, Samira BOCK (GER) and Cadet European bronze and EYOF silver medallist, Anna OLIINYK-KORNIIKO (UKR). Of course the entrance to the tatami caused the crowd to raise the roof, the drums filling the arena as well as cheers from the home fans. Having nothing to lose, Oliinyk-Korniiko came out strong and came close in the first minute to scoring, but Bock defended well. However in the next exchange, an uchi mata from the Ukrainian athlete scored waza ari and put Bock on the back foot, but a counter from Bock evened the contest. Again, Oliinyk-Korniiko made the mistake of dropping in an uchi mata entry, so Bock simply countered the error and retained her title, the first gold for Team Germany!
I injured my left ankle and wasn't able to train as planned. So I didn't think much about my second gold medal. Not even before the final.
Despite the ankle injury, the 20-year-old will not be taking a break. On the contrary. Samira Bock is flying to Tokyo next week to celebrate her Grand Slam debut in Japan.
I already trained in Japan last year, but I've never fought there before. Until now, the Grand Prix in Zagreb was my biggest tournament. Back then, at my first World Tour tournament, I finished seventh. Maybe I can do the same in Tokyo. Even though that's probably an ambitious goal…
It wasn't only the win for Bock that the crowd could celebrate but once again, Friederike STOLZE joined her team mate on the podium, taking a bronze medal against Aleksandra KOWALEWSKA (POL). "It's very special, that we are together on the podium again, just like last year in Sarajevo", emphasized Samira.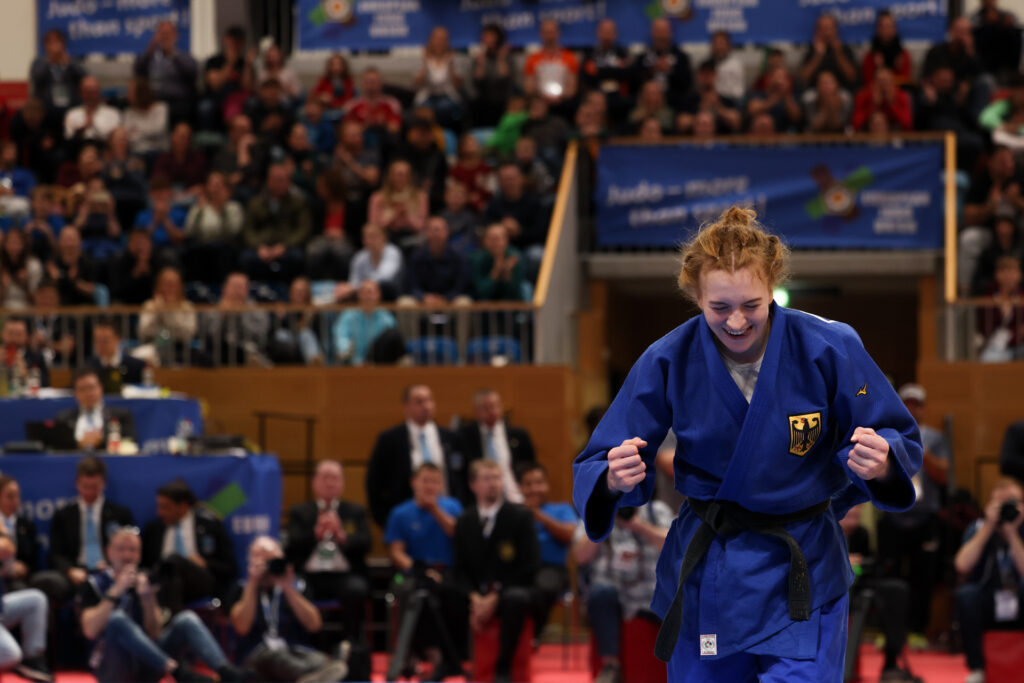 Both of the -90kg finalists can boast some great continental results, Nikita YUDANOV (UKR) became Cadet European Champion this year and is one of the youngest entries this weekend. Making his way quite comfortably in to the final with his huge uchi mata, he took on former Junior World Champion and Ulaanbaatar bronze medallist SAFRANY Peter (HUN) for the U23 European title. Unfortunately for Yudanov, he wasn't able to match Safrany physically who scored twice with a tani otoshi variation for his gold medal.
I was prepared for the final, I have fought him before but I was strong today, I have some experience on the senior circuit now and I'm stronger. I'm training a lot with senior team too, but the greatest thing was having Krisztian (TOTH) here with us today.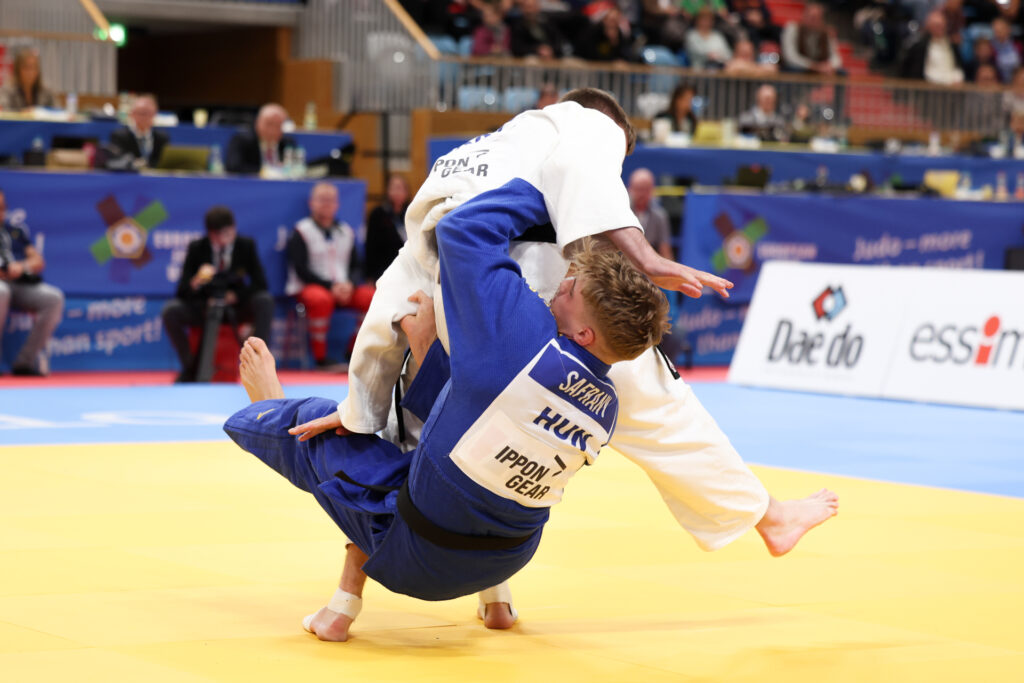 The crowd erupted again as Rafaella IGL (GER) stepped on the tatami against Yuliia KURCHENKO (UKR), the Grand Prix and Grand Slam medallist this year. It didn't last too long, only forty seconds in to the -78kg final, Kurchenko was able to counter an uchi mata maki komi attempt from Igl, scoring ippon. After taking two silver medals today, Team Ukraine were finally able to hear the national anthem, adding the second title to their tally.
I am so so happy to win gold today, after a Grand Prix silver, Grand Slam bronze and Junior European bronze, I was so hungry to be on top of the podium and this title really means a lot to me.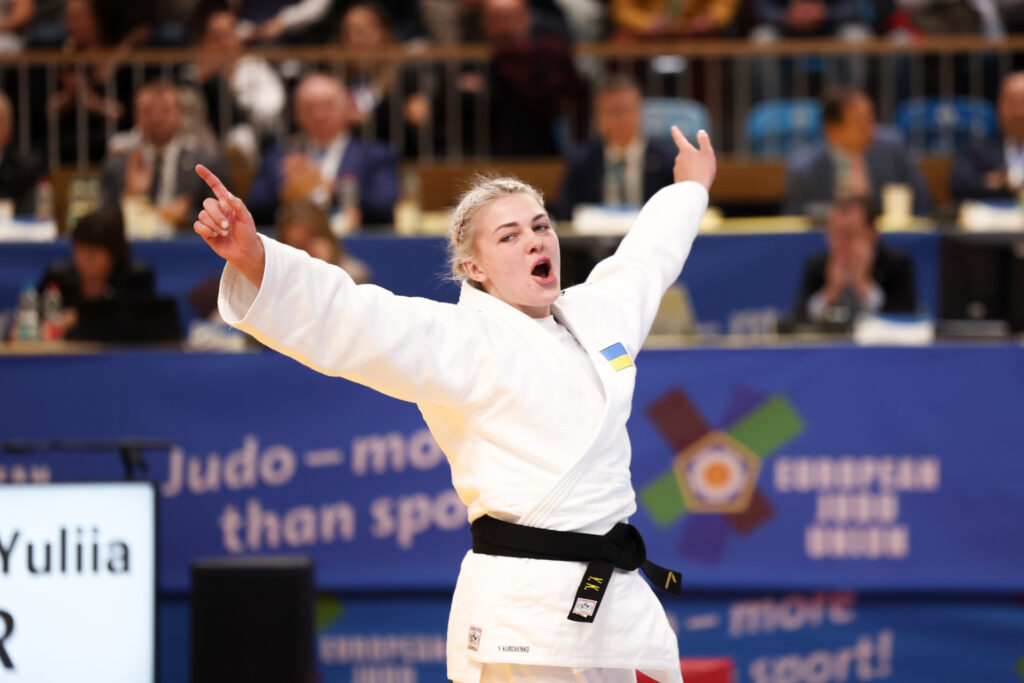 The 2022 Junior European Champion, Daniele ACCOGLI (ITA) came out all guns blazing, in a desperate bid to take another continental title in the -100kg category, but standing in his way was Great Britain's Oliver BARRATT. It started strong for the British athlete who looked in control but eventually, Accogli found his way in, attacking with o soto gari on the knee, Barratt tried to step over in order to counter, but the Italian used his adjustment, driving down to score ippon and take a great win for the title.
I am so happy to win the gold, it was a special day for me not only because of the gold but my father was my coach and in my chair. For a long time this was not the case, maybe since I was 15 years old so it was a really great day for me.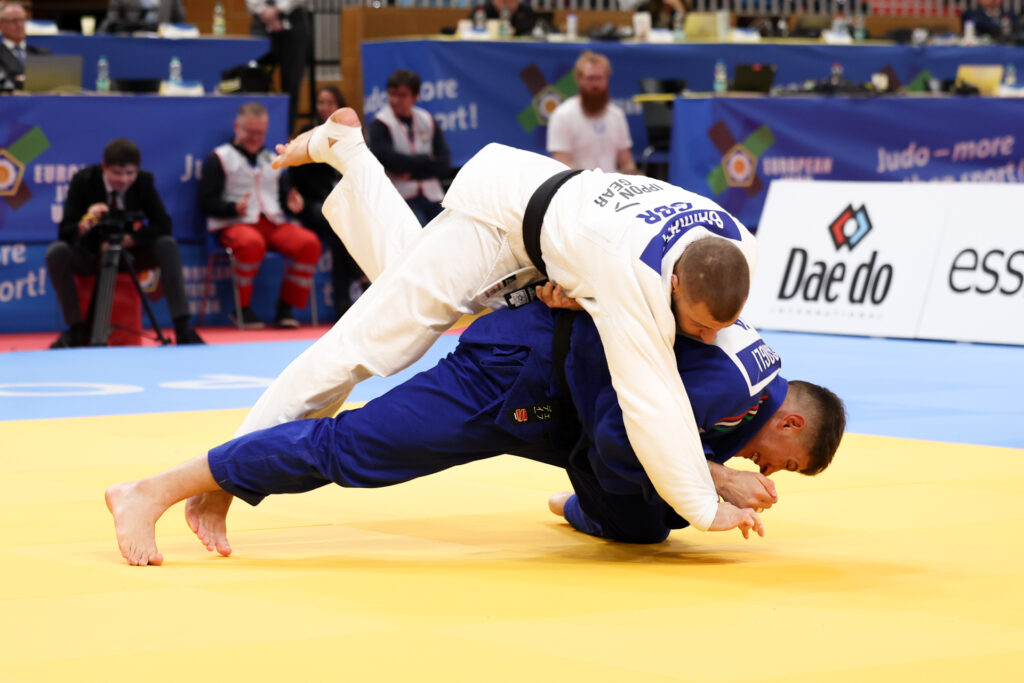 The +78kg category saw Carmen DIJKSTRA (NED) and Erica SIMONETTI (ITA) go head to head for the title. Impressively, Simonetti, the smallest in the weight class, defeated the 2022 silver medallist, Ruslana BULAVINA (UKR) to take her place in the final, but was faced with an equally tough opponent. After a minute of golden score, both had two shidos, but the attacks came mainly from the Italian athlete, causing Dijkstra to pick up a third shido passivity. This is Simonetta's second continental title after taking her cadet gold in 2019, and the second gold for the Italian team today.
I took the gold as a cadet and I didn't get a chance as a junior, there was Covid, I had an injury, you know, always a reason, so I am really happy to be able to compete again and take a gold medal. I'm used to being one of the smallest in the weight category, so I can deal with the difference quite easily, I find I am faster and I can manage it.
In the all-Georgian +100kg category, it wouldn't have been unimaginable to see a result based on shidos but Saba INANEISHVILI managed to score first, taking a deep cross grip and attacking with o uchi gari with no room for Irakli DEMETRASHVILI to escape. Though the score would have been enough for a win, it was a hansoku make result, a third issued to Demetrashvili. It was a bittersweet win for Inaneishvili but his first and long awaited continental championship win.
I have been waiting for this moment for a long time, this was my last chance to win in the U23 category, I'm so happy that I did it.
Judoka
Author: Thea Cowen
---