The first major upset of the day came in form of pugnacious athlete, Barbara TIMO of Portugal. The Tbilisi Grand Prix winner and Paris Grand Slam silver medallist came up against the current World Champion, crowd favourite, ARAI Chizuru (JPN) and scored early on with soto makikomi and did a tremendous job of defending her advantage till the clock ran down. TIMO went on to beat the 2018 World bronze medallist, Sanne VAN DIJKE (NED) and took her place in the semi final against European Champion, Margaux PINOT (FRA).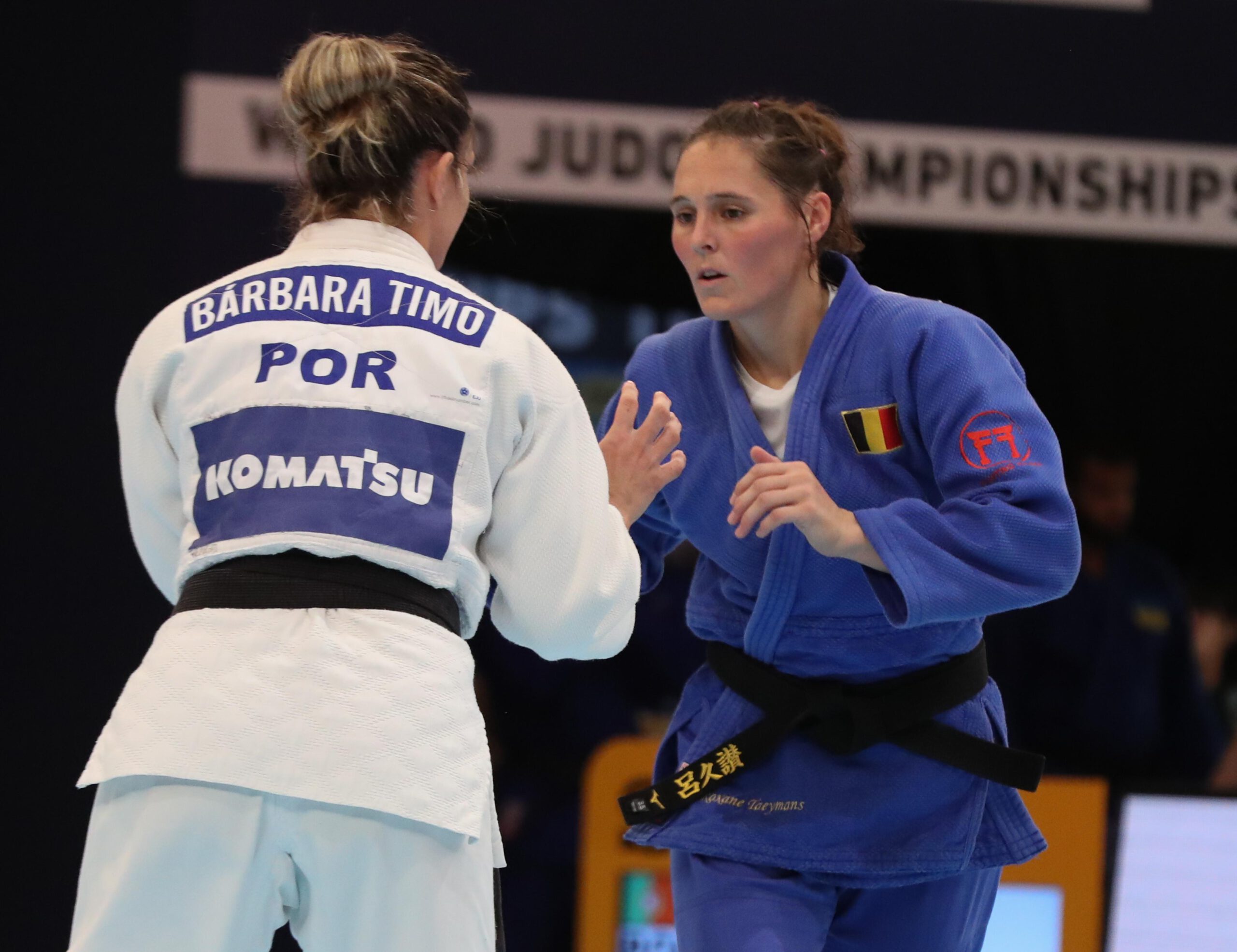 PINOT defeated back to back Grand Prix winner, Gemma HOWELL (GBR) as well as Maria PORTELA (BRA) and Michaela POLLERES (AUT) on her way to the semi final against TIMO. The last time their pair fought one another was in 2015, where TIMO came out on top in the Odivelas European Open. With a four year difference, this contest is likely to be vastly different from the last and will be hard to predict the outcome. VAN DIJKE will face POLLERES in the repechage.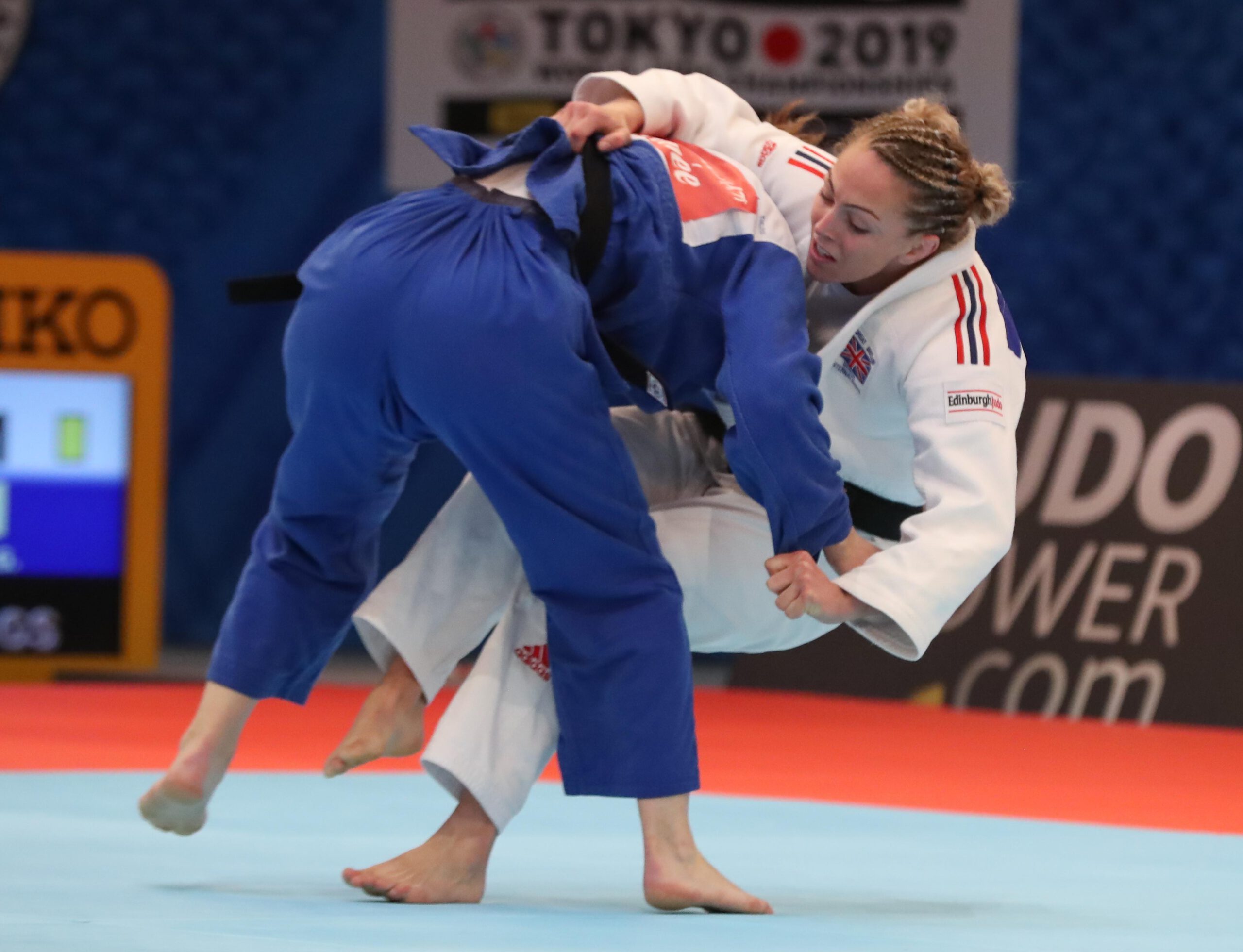 On the other side of the draw, Olympic bronze medallist Sally CONWAY (GBR) had to make a swift comeback in her first contest against Gulnoza MATNIYAZOVA (UZB), a serious wake up call for the 2018 Paris Grand Slam winner. CONWAY found herself in the same situation again with young German talent, Giovanna SCOCCIMARRO, eventually taking the win in golden score. She had much more control in the quarter final with Anna BERNHOLM (SWE), executing a switch to tani otoshi, throwing BERNHOLM to the rear and securing a semi final place.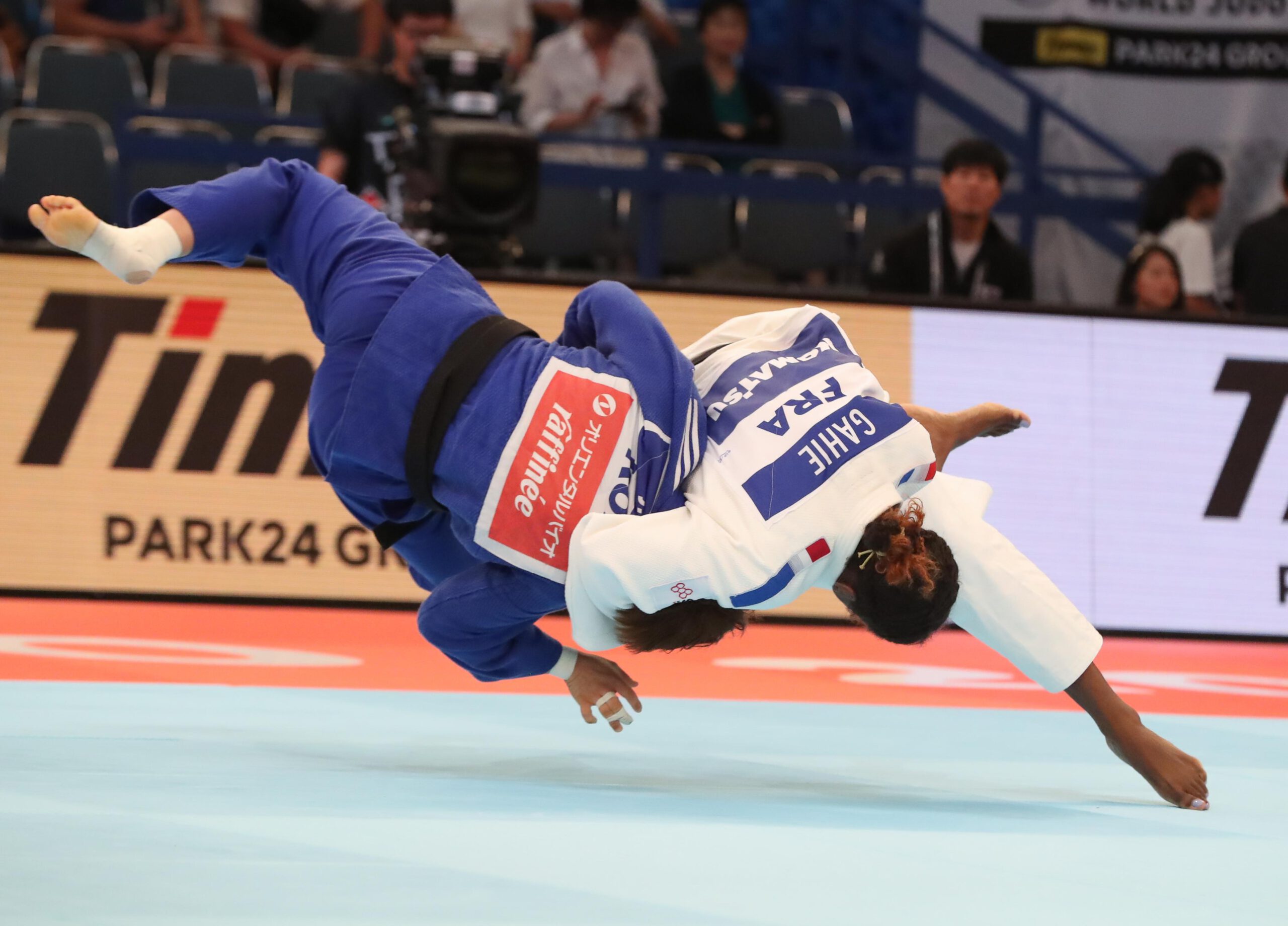 Meeting CONWAY in the semi final will be Marie Eve GAHIE of France. The 2018 World silver medallist was incredibly quick in her transitions to ne waza today, finishing her first two contests with osae komi. The 2017 World silver medallist, Maria PEREZ (PUR) put up the hardest fight against the French athlete, though a waki-gatame in her previous contest may have effected her ability to fight to her full potential. The Puerto Rican was unable to match GAHIE's waza ari score and will be in the repechage against BERNHOLM.

There is a potential for an all-French final between PINOT and GAHIE, but they need to make it through their respective semi final contests first.
In the -90kg category, 2018 World bronze medallist Axel CLERGET (FRA) put a stop to the current World Champion's ambition to make it a double win. Nikoloz SHERAZADISHVILI (ESP) took the gold last year and made history as Spain's first ever male World Champion, however, it wasn't meant to be today.
Though CLERGET was fighting at his best, a close call in the quarter final against Noel VAN T END (NED) sent him in to the repechage, and the Dutch in to the semi final. VAN T END had a strong morning, defeating some talented athletes including the 2015 World Champion and 2019 Paris Grand Slam winner, GWAK Donghan (KOR). He has made some significant improvements since last year in Baku when he went out in his first contest, since then he has taken a Grand Slam gold in Ekaterinburg and silver in Osaka. His semi final contest will be against the 2017 World Champion, Nemanja MAJDOV (SRB) and though he hasn't beaten him before, his luck may change today.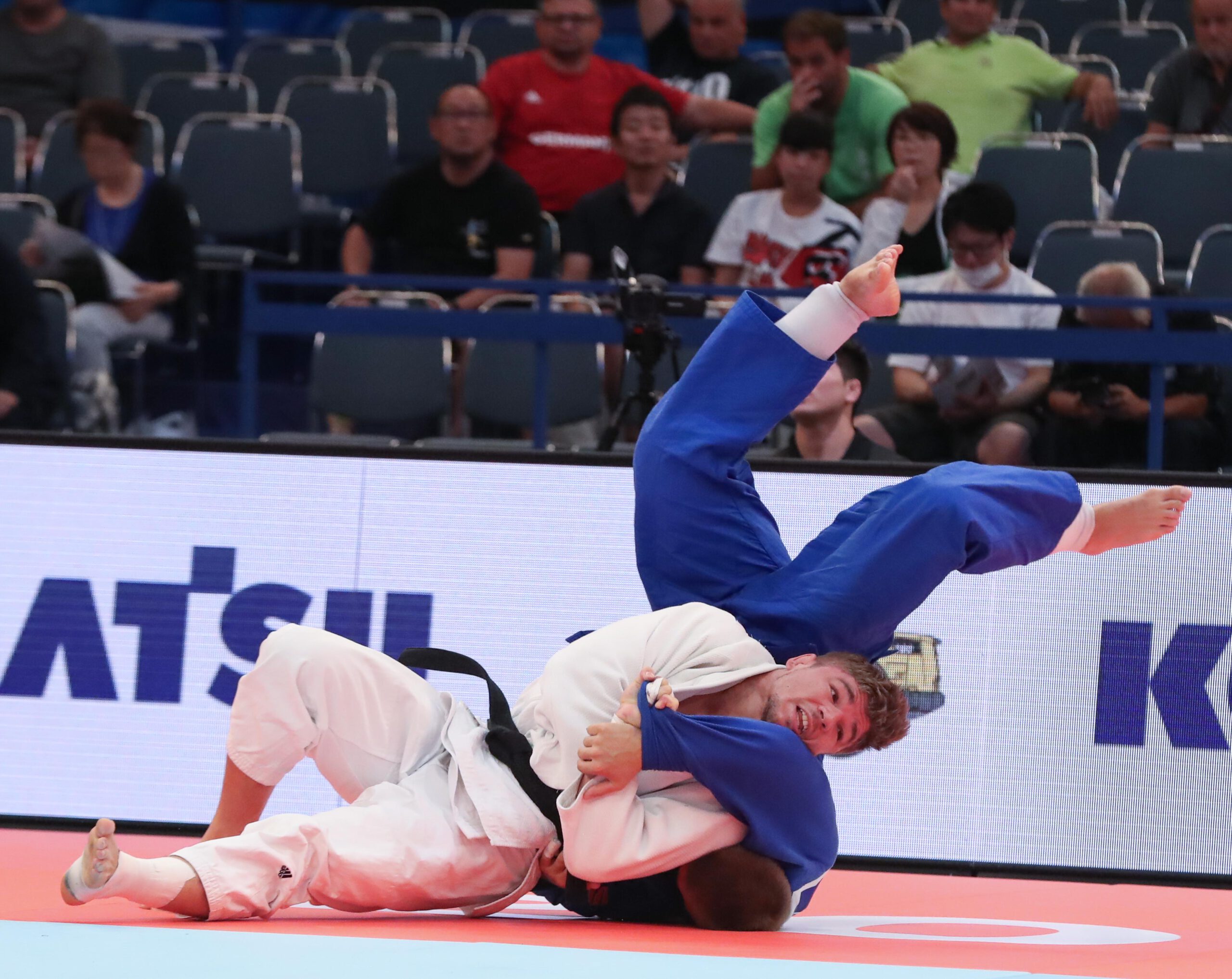 This could be a stretch as MAJDOV is on fire today, performing his ballistic judo, confidently making his way through the pool. His opponents have included 2019 European Games silver medallist, Li KOCHMAN (ISR) and the bronze medallist of the same competition, Mammadali MEHDIYEV (AZE). Both of these contests proved difficult for the Serbian athlete, however he persevered and with his conviction took his semi final place. MEHDIYEV and CLERGET will now meet in the repechage.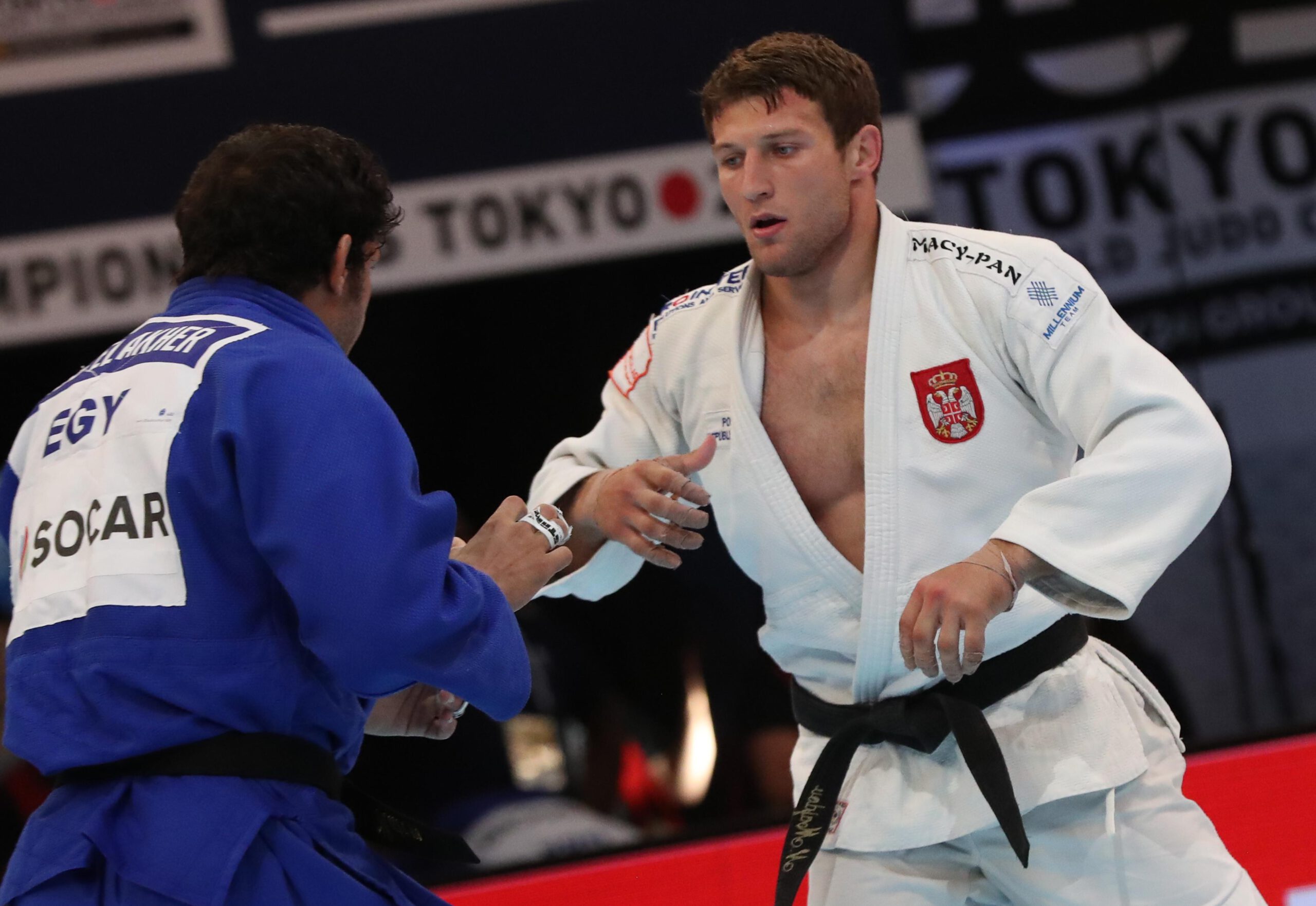 From pools C and D in the -90kg category, surprise of the day is Marcus NYMAN (SWE). In a twist of fate, the Swedish athlete who took fifth place in the Rio de Janeiro Olympic Games and last medalled in a National Open tournament in 2017 before returning to judo this year, has forced his way to a World Championship semi final against the home favourite, 2018 Paris Grand Slam winner, MUKAI Shoichiro (JPN). On this mission, he has defeated IJF tour regulars Aleksandar KUKOLJ (SRB), Ciril GROSSKLAUS (SUI) and the #2 seed, TOTH Krisztian (HUN). This incredible comeback will be one to watch in the final block which starts at 7pm local time.
Author: Thea Cowen
---