Over the course of the past weekend during the Malaga Senior European Cup, 27 refereeing candidates were put to the test, to see whether or not they could perform to the European standard in an international event and earn their IJF Continental Licenses. Representatives from 18 federations were introduced to a new format, completing 60 questions from the IJF Academy before moving on to the practical examination, only two were not able to move on to the second phase.
The remaining 25 referee hopefuls were put to the test with a busy event, a turnout of 355 athletes gave the overseeing judges numerous contests to assess their abilities and though the majority were strong in their performances, more attention was needed to a select few before being able to pass the exam. Fortunately the nerves were set aside and on day two of the competition they indeed managed to redeem themselves and prove that they are up to the job of refereeing on an international stage.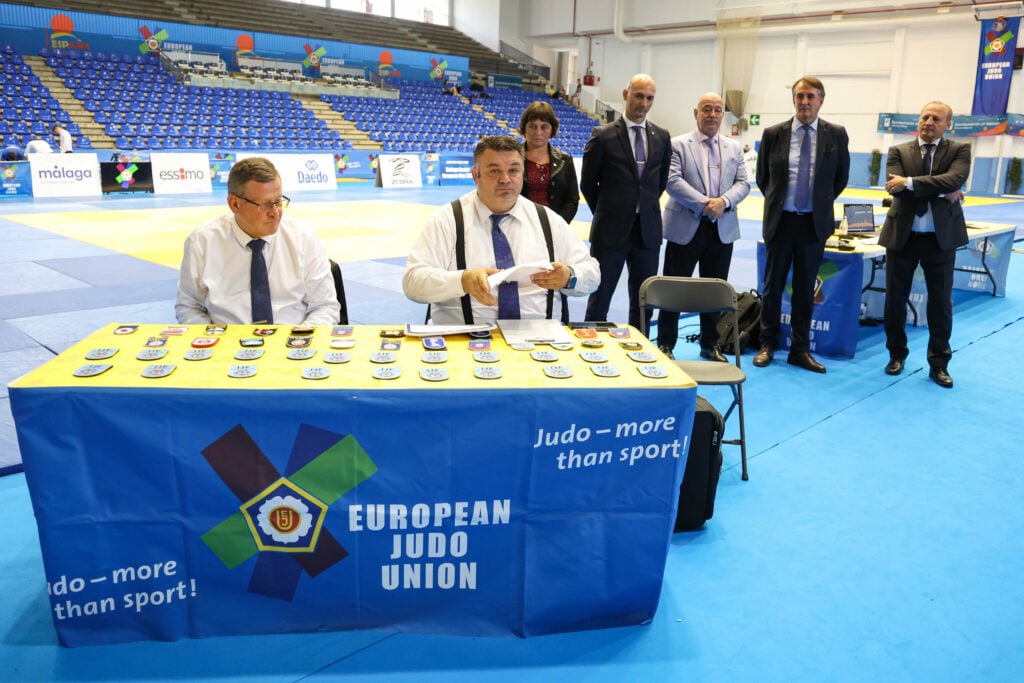 Head Referee Director for the European Judo Union, Alexandr JATSKEVITCH extended his thanks,
The IJF and EJU Refereeing Commission congratulates EJU National Federations with their new IJF Continental Referees, and a special thanks goes to the National Judo Federation of Faroe Islands with the first IJF Continental Licence referee in history.
The newly certified IJF Continental License referees include:
| | |
| --- | --- |
| Name | Country |
| Gerhard LAUBICHLER | Austria |
| Cornelia PRILLER | Austria |
| Ulvi ALIYEV | Azerbaijan |
| Ivana MITROVA | Bulgaria |
| Matea BOROZAN | Croatia |
| Daniel VYDRA | Czech Republic |
| Henri MYLLY | Finland |
| Cindy COLIGNON | France |
| Gaelle SCHOUMAKER | France |
| Andreas SUMBERG | Faroe Islands |
| Mark WATERHOUSE | Great Britain |
| Anzor KALAIJASHVILI | Georgia |
| Daniel LANZ | Germany |
| RAUS Ivett | Hungary |
| Annachiara MORABITO | Italy |
| Giulia VARIO | Italy |
| Svenja Rahn SOERENSEN | Norway |
| Piotr RADGOWSKI | Poland |
| Paulina PIETRZYK | Poland |
| Remus HILITANU | Romania |
| Nicolae Cosmin DUNA | Romania |
| Alberto HERNANDEZ DIAZ | Spain |
| Olga Maria MUNOZ SOLER | Spain |
| Nagore VALLE BENITO | Spain |
| Eken ÖZGÜR | Türkiye |
Author: Thea Cowen
---