-63kg Kerem PRIMO (ISR) v KELEMEN Adel (HUN)
Kerem PRIMO (ISR) came in as the number one seed today and given the past year it was with little surprise, not only has she dominated cadet and junior level but she is now placing in grand slams on the IJF tour. The experience alone is giving her an edge on her opponents. She certainly struggled though against some strong opponents and took on a nasty cut to the face, which in turn meant a lot of tape. She was fortunate to be able to see in the semi final against Nele NOACK (GER) and was only able to put a score on the board in the final minute due to a weak attack from the German. Prior to this contest it was her signature uchi mata that pulled her through the preliminaries and prepared her for the final.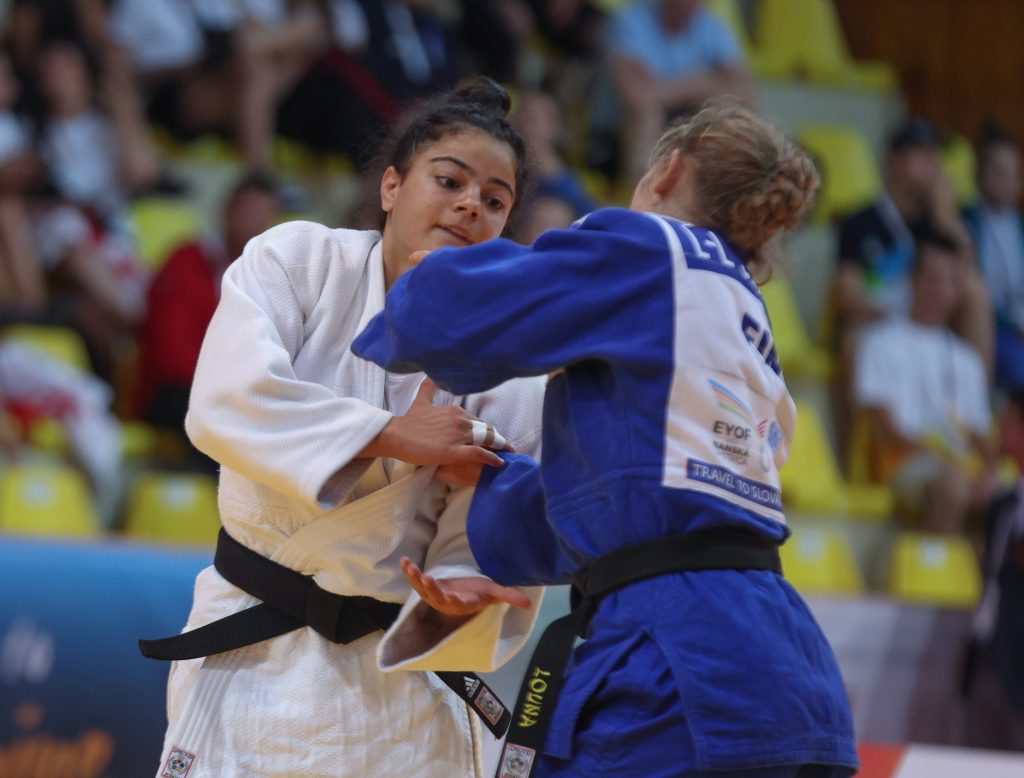 Lisa TRETNJAK (AUT) unfortunately made some early mistakes in her semi final against KELEMEN Adel (HUN) which forced her to put in a flurry of attacks, perhaps with less caution than she would typically use. Keleman remained calm and bided her time until a morote seoi nage secured the waza ari she needed to take her place in the final.
Bronze
Sara CORBO (ITA) v Lisa TRETNJAK (AUT)
Naomi CABARET (FRA) v Nele NOACK (GER)
Valkov looked to throw with yoko otoshi but as his opponent lost balance, and so it was a case of the waza that directed Zamanov to the ground earning the Bulgarian a waza ari score. There was plenty of time left and Zamanov was told by his coach to remain calm and focus, little time passed before it was his time to shine. Valkov found himself in close quarters with the Azeri and was countered with an ippon-scoring ko soto gari.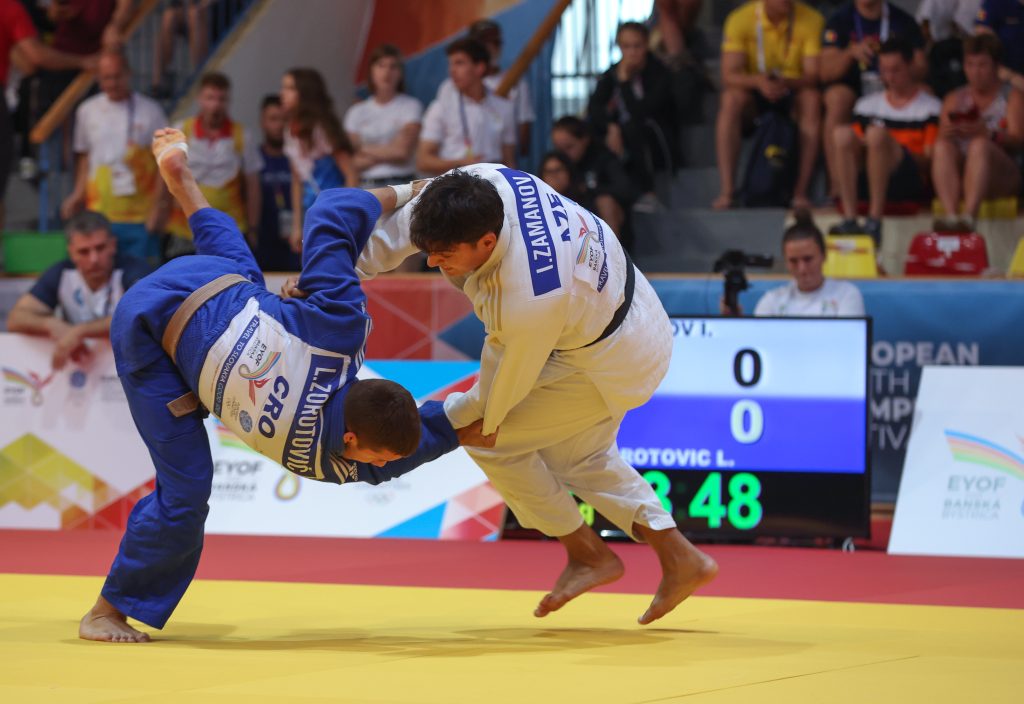 Following this exciting match up, the next semi final between Thomas PUCHLU (FRA) and Stanislav KORCHEMLIUK (UKR) was quite anticlimatic and decided with shidos, putting the Ukrainian in to the final with Zamanov.
Bronz
Gor KARAPETYAN (ARM) v Thomas PUCHLY (FRA)
Matiss ZEILA (LAT) v Hrito VALKOV (BUL)
Both number one seed Nika KOREN (SLO) and Ingrid NILSSON (SWE) had strong journeys on their way to the semi final but on paper, Nilsson was having the better day. As it tuned out the two had similar styles looking a high grip to land an uchi mata or harai goshi, and in the end the Swedish athlete managed to get the waza ari in the final minute to see herself in to the final.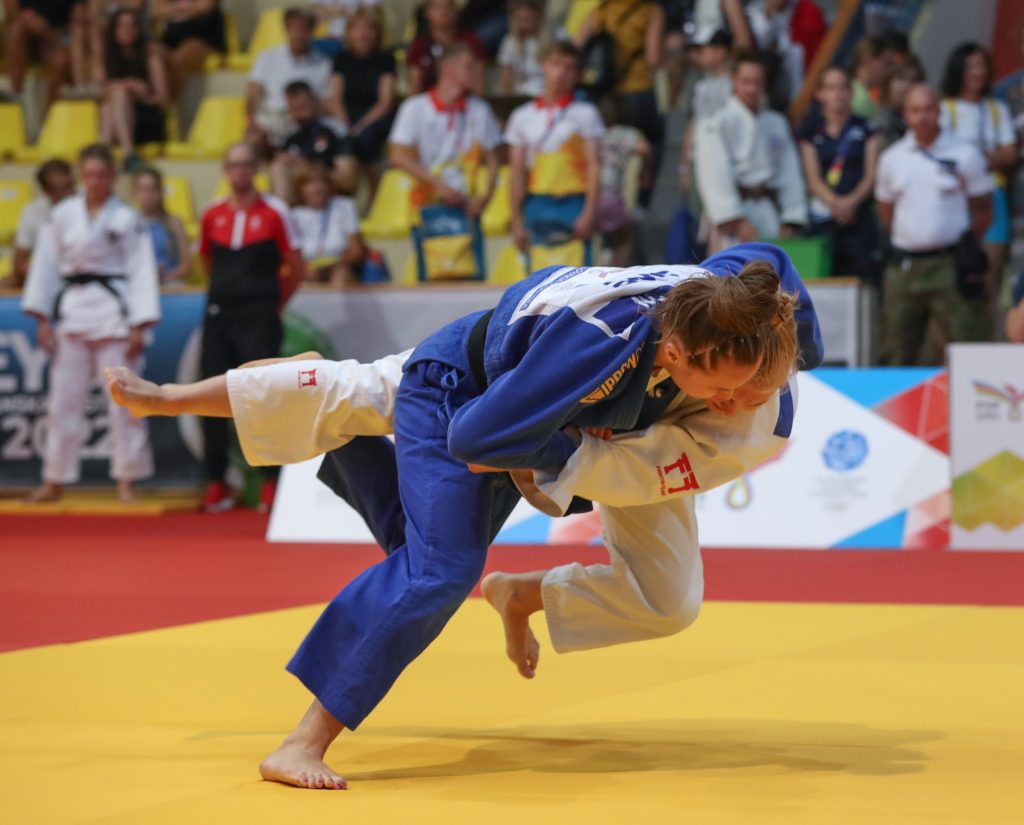 The next head to head saw a similar situation, as Elena DENGG (AUT) Nino GULBANI (GEO) were a left and right battle Gulbani looking for the big hip throw, o goshi and Dengg battling for harai goshi. Unfortunately for the pair, it did not end with a score as Gulbani accumulated three shidos.
Bronze
Hanna BOLOGH (ROU) v Nino GULBANI (GEO)
Gaya BAR OR (ISR) v Nika KOREN (SLO)
The first semi final of the day was between Archil MAMULASHVILI (GEO) and Nik PURNAT (SLO), a clash of styles that sadly didn't work in favour of the Slovenian which caused him to pick up two shidos, clearly not feeling the security to attack. That being said, Mamulashvili also couldn't land a scoring technique either. The pair went in to golden score in just over a minute, Purnat's seoi nage attempts finally paid off with the Georgian unable to defend. This is Slovenia's second finalist in the tournament.
Next up Rares ARSENIE (ROU) took on Miljan RADULJ (SRB) for the second place in the final. It was an equal contest with the less experienced Arsenie dodging each potential score with his cat-like reactions. Radulj was a toe away from securing osaekomi in golden score, but once again the Romanian held on. He couldn't however keep up with the slew of attacks from Radulj who continued to keep the pressure on, and in just under four minutes scored ippon with seoi nage.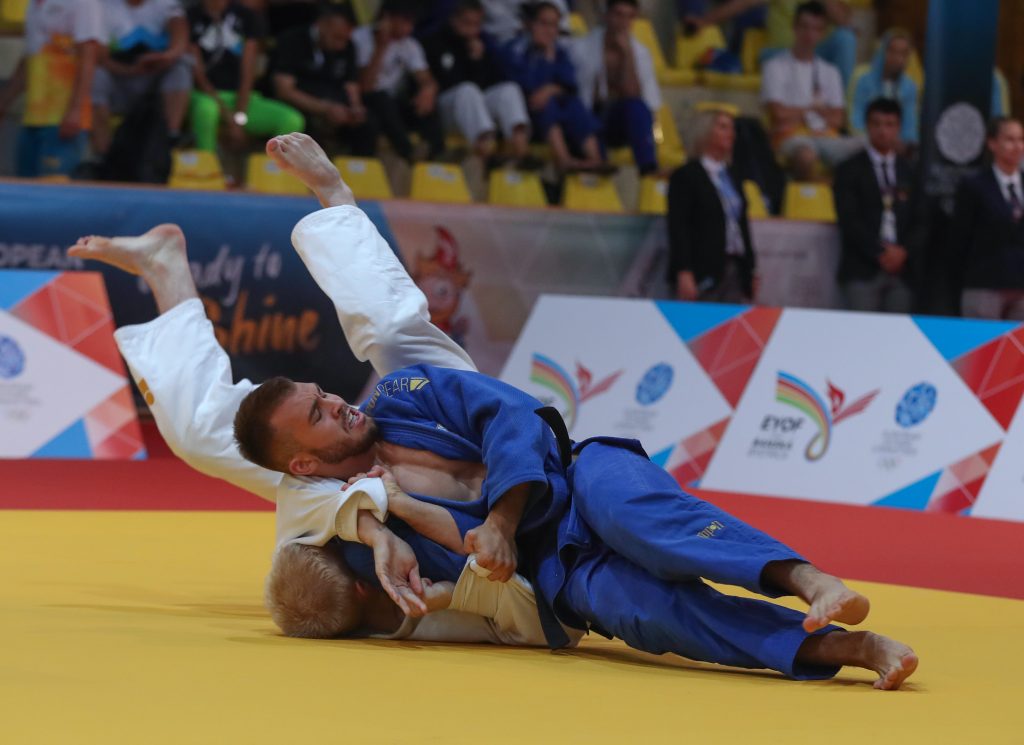 Bronze
Frantisek LHOTZKY (CZE) v Rares ARSENIE (ROU)
Inbar GALAY (ISR) v Archil MAMULASHVILI (GEO)
the final block is now taking place at 16:30 local time and is available at www.eju.net.
Judoka
Author: Thea Cowen
---