Year after year, the +100kg category has been dominated by a single Frenchman, but there was to be a change in the tides as Georgian giant, Guram Tushishvili took the 2018 World Champion title in Baku, Azerbaijan.
In the beginning
Born just outside of Tbilisi, Georgia, Guram grew up with a father who loved judo and practiced himself, however, despite the natural path towards the martial art, Guram had a love for football. The heavy weight athlete explains that as a child, everyone has different interests, but when he took up judo, he immediately liked it and felt inside that he was in the right place.
He began his judo career in 2007, instantly and naturally taking to it, not imagining that in eleven years he would be holding the gold medal on the World Championship stage. Former Soviet Union Champion and Guram's personal coach, Bato Jikuri felt differently, that something incredible was to come from this child when he arrived at Club 2005 Shevadeni. The dojo, which is known affectionately as 'Guram's Hall', not because of the current World Champion, but of one of the most famous and successful coaches in Georgia, Guram Modebadze. The current national coach trained World-class athletes such a Avtandil Tchrikishvili, Varlam Liparteliani, David Kevkhishvili, Lomer Zhorzholiani and many others. All of them continue to train in this dojo.
When Guram was 12 years old, he first came to me in this hall, his father brought him. His father was a former judoka but that guy loved football very much and his father brought him to judo to try somehow to get him to fall in love with judo.
Bato was able to identify his impressive wrestling abilities immediately, noting that he instinctively moved both left and right and understood he could be moulded in to a great Champion.
Competitive History
Each and every athlete on the IJF tour is on their own journey to embody excellence and pursue perfection to become the best in their field. It became evident early on that Guram would do just that. The young Georgian athlete wasted no time, becoming Cadet World Champion in Kiev, 2011. His success was hard earned, even at this young age, he had finished school and was travelling by bus to his club in Tbilisi, which was a four-hour round-trip, sometimes having to do this twice a day in order to chase his ambitious dream.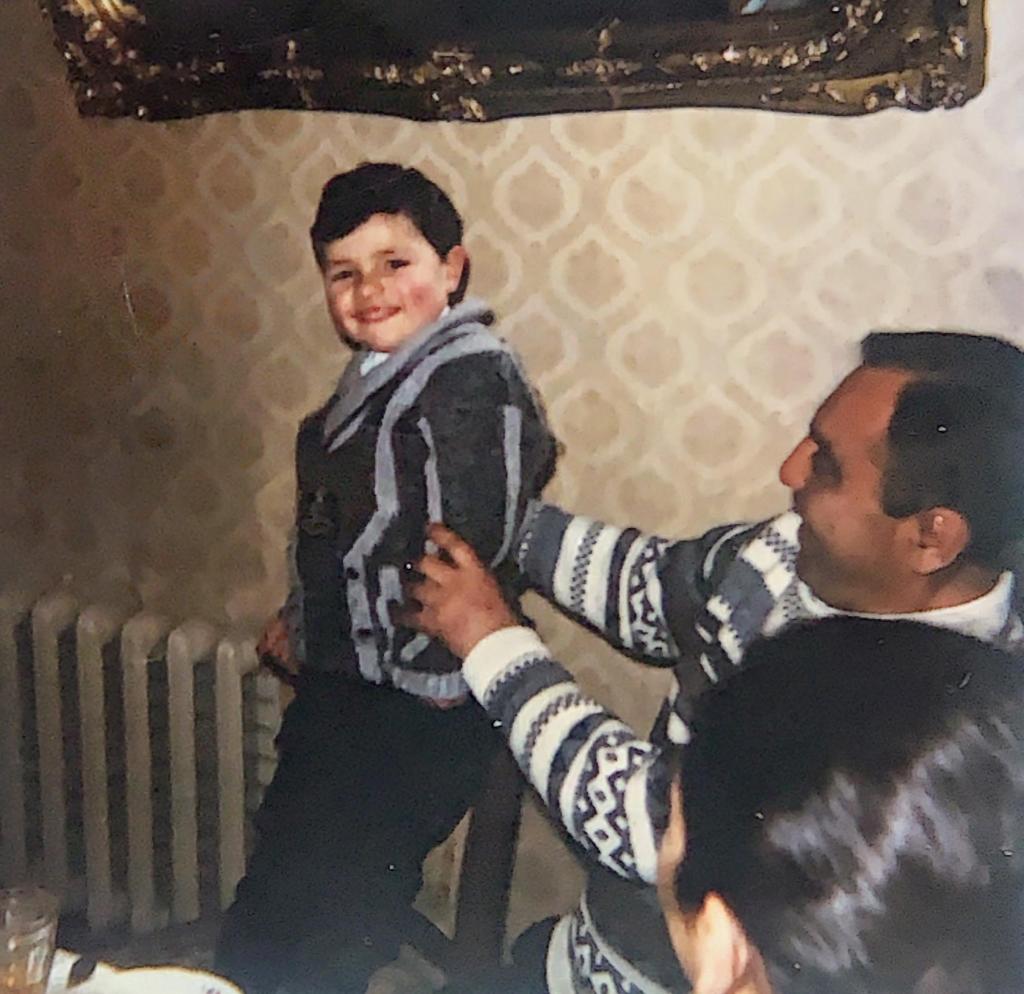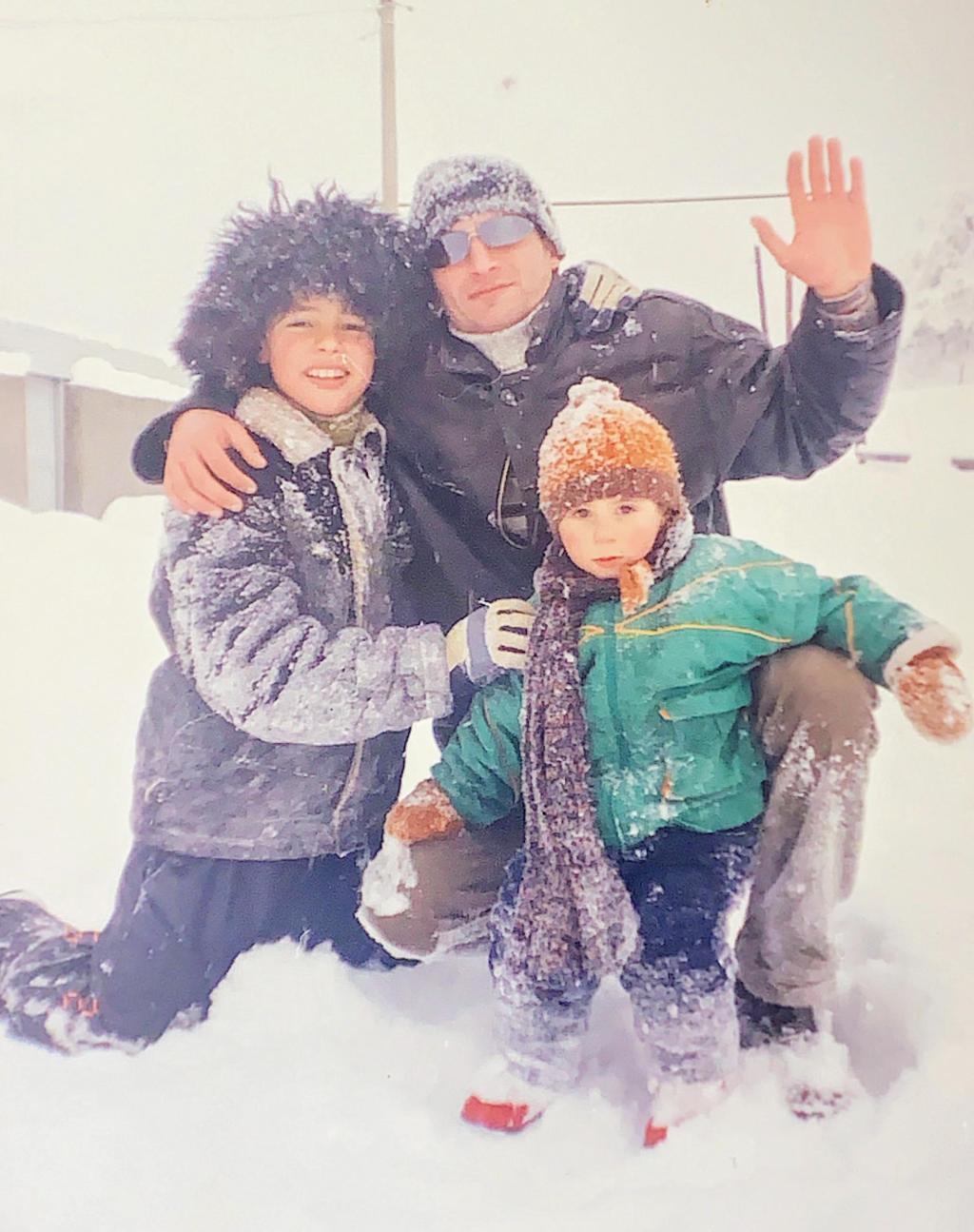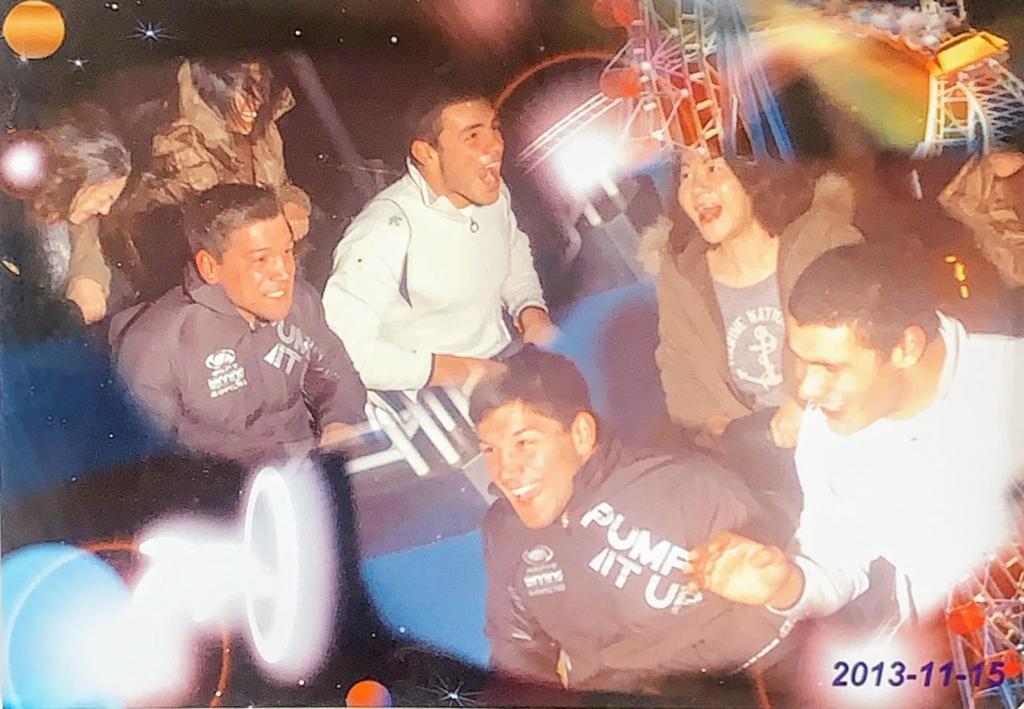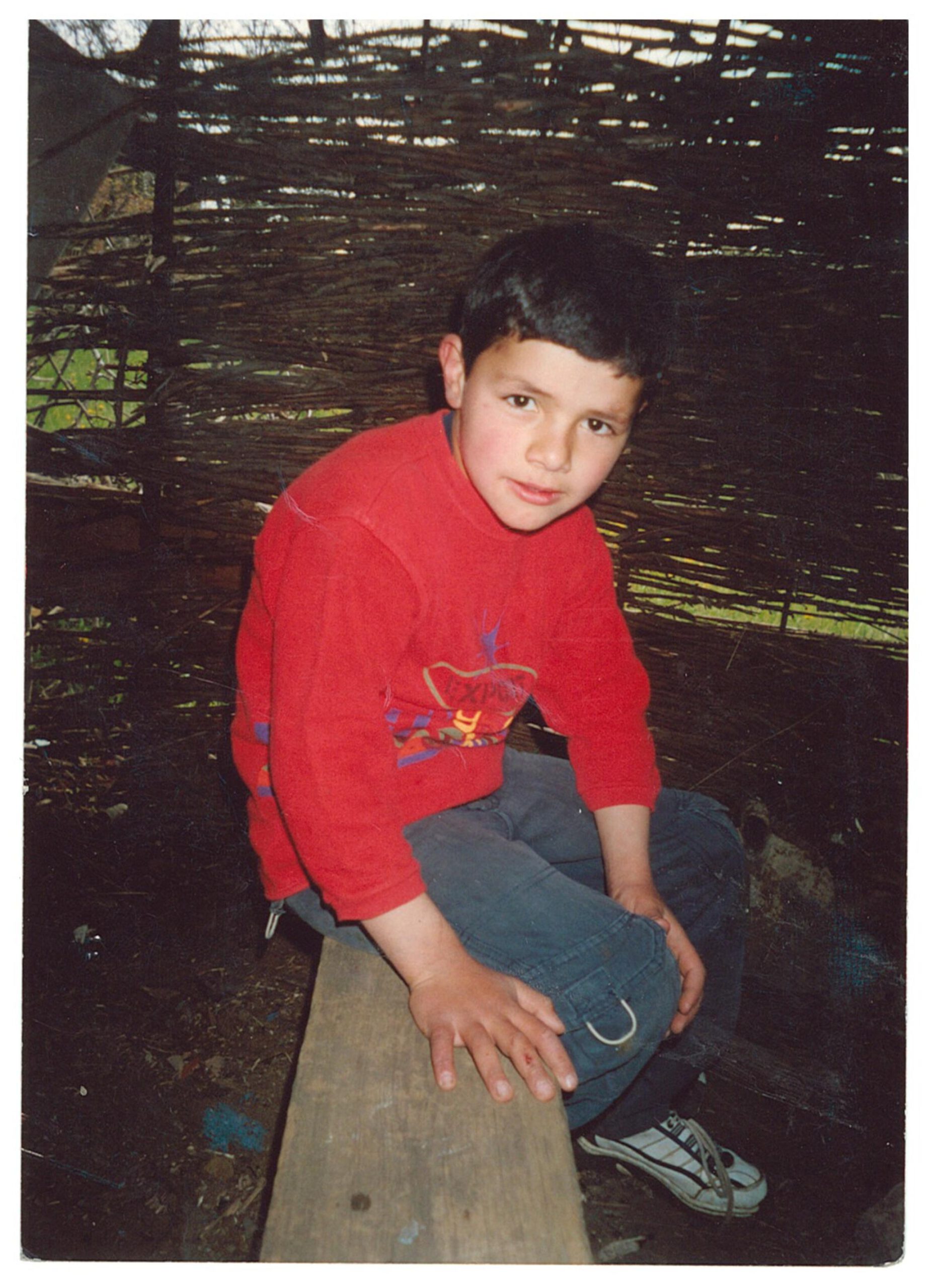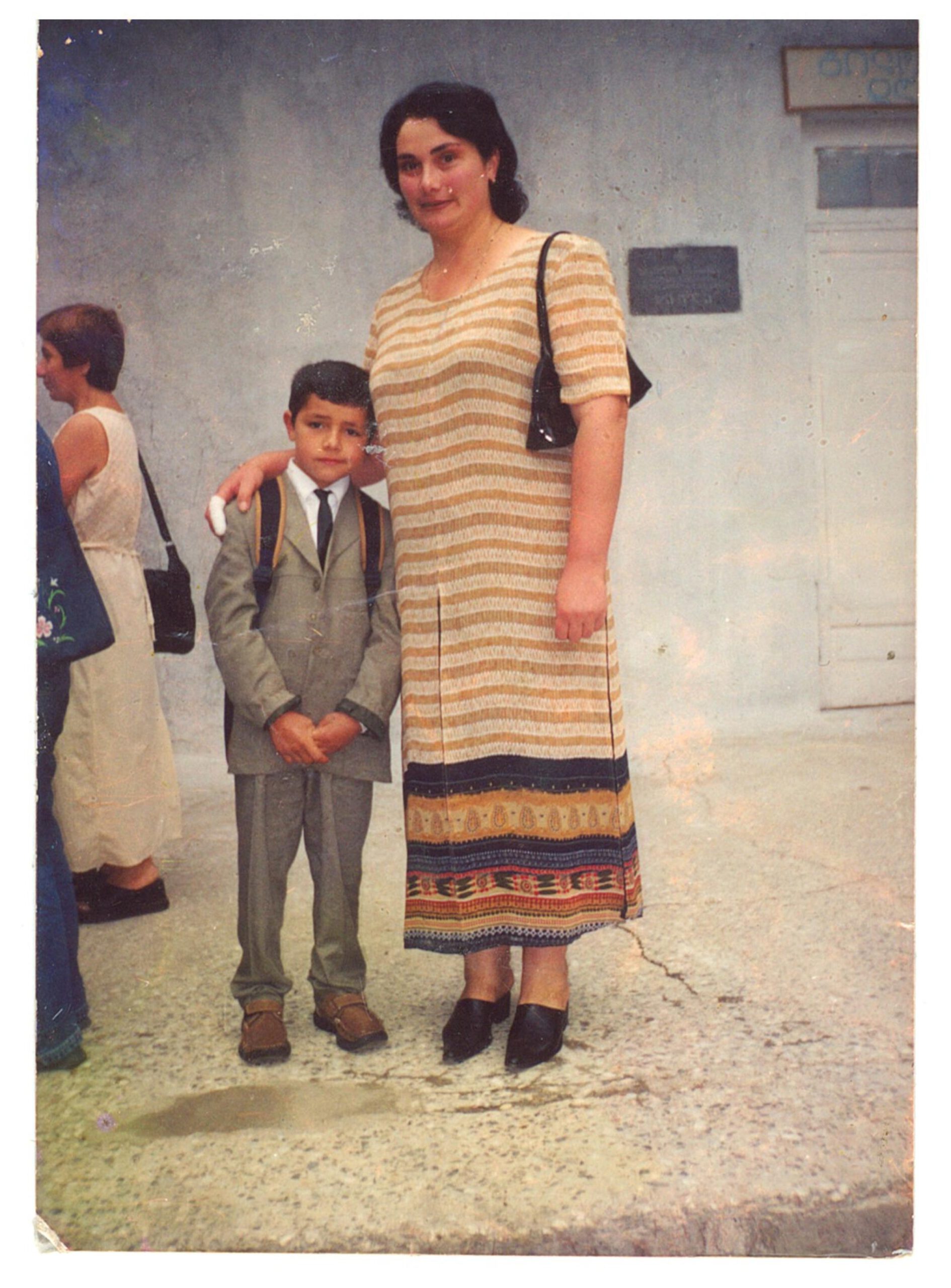 Judo is a pillar sport in Georgia, so there is certainly an abundance of young men all fighting to represent their nation. Though many may have the desire, Coach Bato believes that Guram had something very special to offer, not only his wrestling and judo abilities,
He has a huge talent, and my goal was somehow to encourage him to love judo. We tried to take him to all of the judo tournaments, for this goal and he did love it. […] He has speed, he was very healthy, physical and athletic. He has absolutely everything for this big sport.
He carried on developing his techniques and tactics, further taking two Junior European Championship titles, one in the -100kg category in 2013, then in 2015 moving up to +100kg. As Bato recognised his natural weight increasing to 108-110kg he no longer wanted him to struggle losing weight as it would restrict his ability to perform at his best.
There were no worries about moving in to the open weight category, his wrestling background allowed him to adapt well, using momentum to shift his larger opponents. With an adjustment to his programme, increasing his physical training to ensure he would be strong enough, Guram found success in his new weight.
Guram's transitions in the earlier periods of his career were successful and gave both himself and his coach great hopes for joining the Senior team, unfortunately he was tested by many obstacles in this strenuous process. Firstly, he was still managing his weight, cutting was proving too difficult and was negatively impacting his performance, frustratingly making him unable to display his full potential. Then when moving up, building his strength so that he was capable of defeating his new opponents.
Following this manageable issue, he was tormented with a wrist injury, instigating an eight month period where he was unable to train in judo. Nevertheless, he continued on his mission to find his place on the Senior team and the IJF tour. Sensibly, Guram and Bato made the slow return back to the tatami, and though getting back to his peak took between two and three years, avoiding a hasty and careless fight was the smart thing for him to do.
A pinnacle moment occurred in Guram's career during the 2017 World Championships in Budapest, Hungary. There is no escaping the exceptional athlete that is Teddy Riner, with a host of World Champion titles under his belt as well as many other accolades, he is the judoka that the +100kg athletes are chasing down. The last score Teddy had conceded was ten years prior when fighting another Georgian athlete, Lasha Gujejiani, a single koka score against his reputable performance. Cue the semi-final of the 2017 World Championships between Teddy and Guram…
The arena roared with excitement as Guram's speed knocked Teddy off his feet with many unsure as to whether or not a score would follow. Unfortunately for the Georgian, it wasn't to be on that day in his first Senior World Championships. Immediately following this performance, the name of Guram Tushishvili was a talking point on the judo scene.
I lost to Teddy, it was a very unfortunate loss for me, but it gave me the experience and it was a big inspiration for me for the World Championships in 2018, kind of a preparation stage for the next year.
World Championships 2018
Humility is an incredibly important characteristic to have as an athlete in any sport, but perhaps more notable in the realm of judo as it is traditional etiquette.
Walking in to Guram's home, we meet his welcoming and loving family, father, mother, wife and young daughter, a son on the way. Considering his accumulation of great achievements, there is only a corner dedicated to his medals, trophies and awards. As an individual, Guram is very modest and almost bashful when talking about his great success, his journey has not been easy and he continues on a difficult path, having to balance his professional athlete lifestyle with his family.
Having your own family and relations with them is very difficult for professional sportsmen. You are not always able to give more time to your family, to your parents, but somehow I manage. With the help of my family I try my best, whatever free time that I have. This is difficult, but together with my wife, we manage to cope with it.
Bato tells us,

He is very technical and he has huge potential. He doesn't even realise it himself. There is absolutely no limit for him, the types of throws he can execute and I think before the Olympics he will be much better.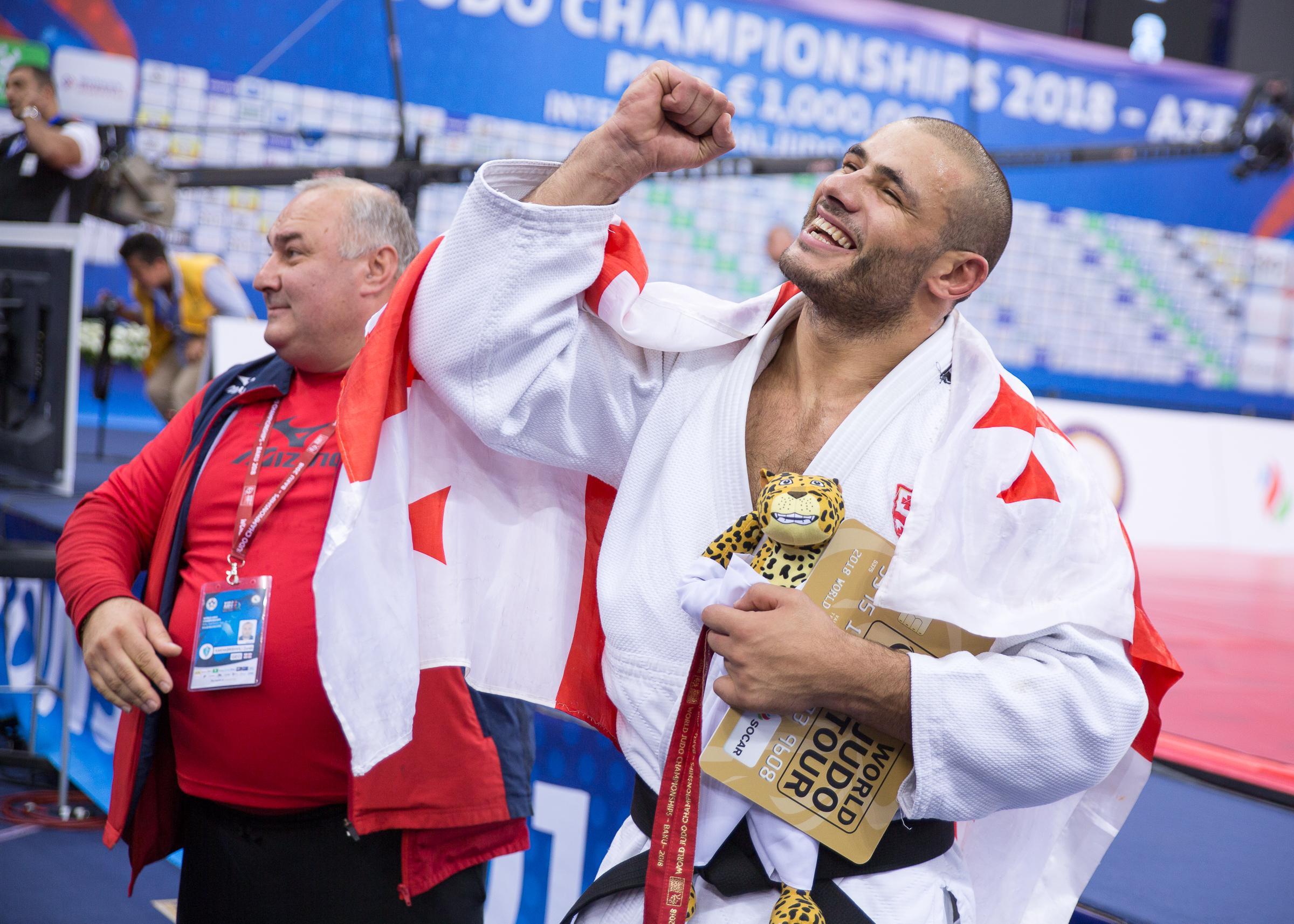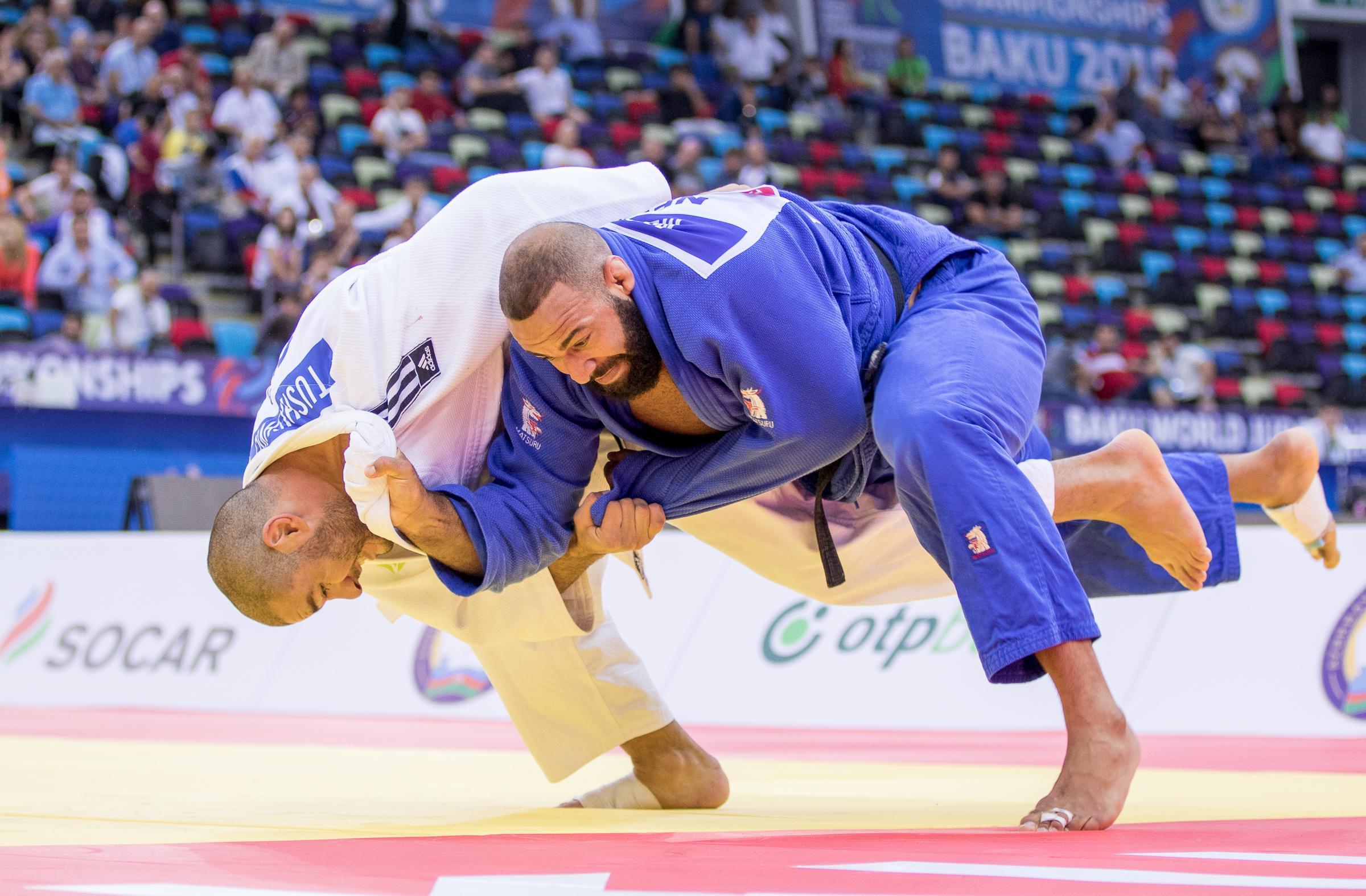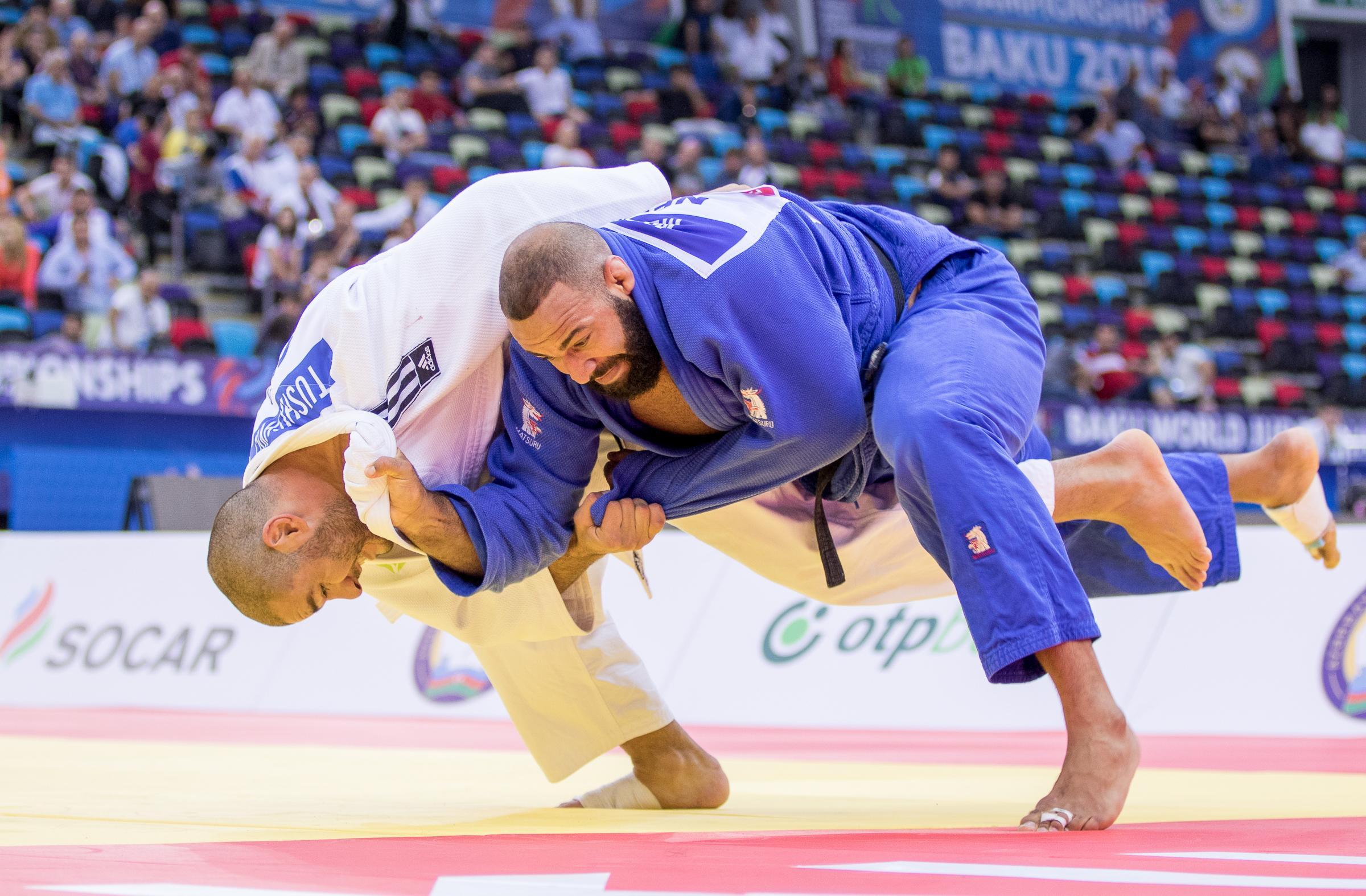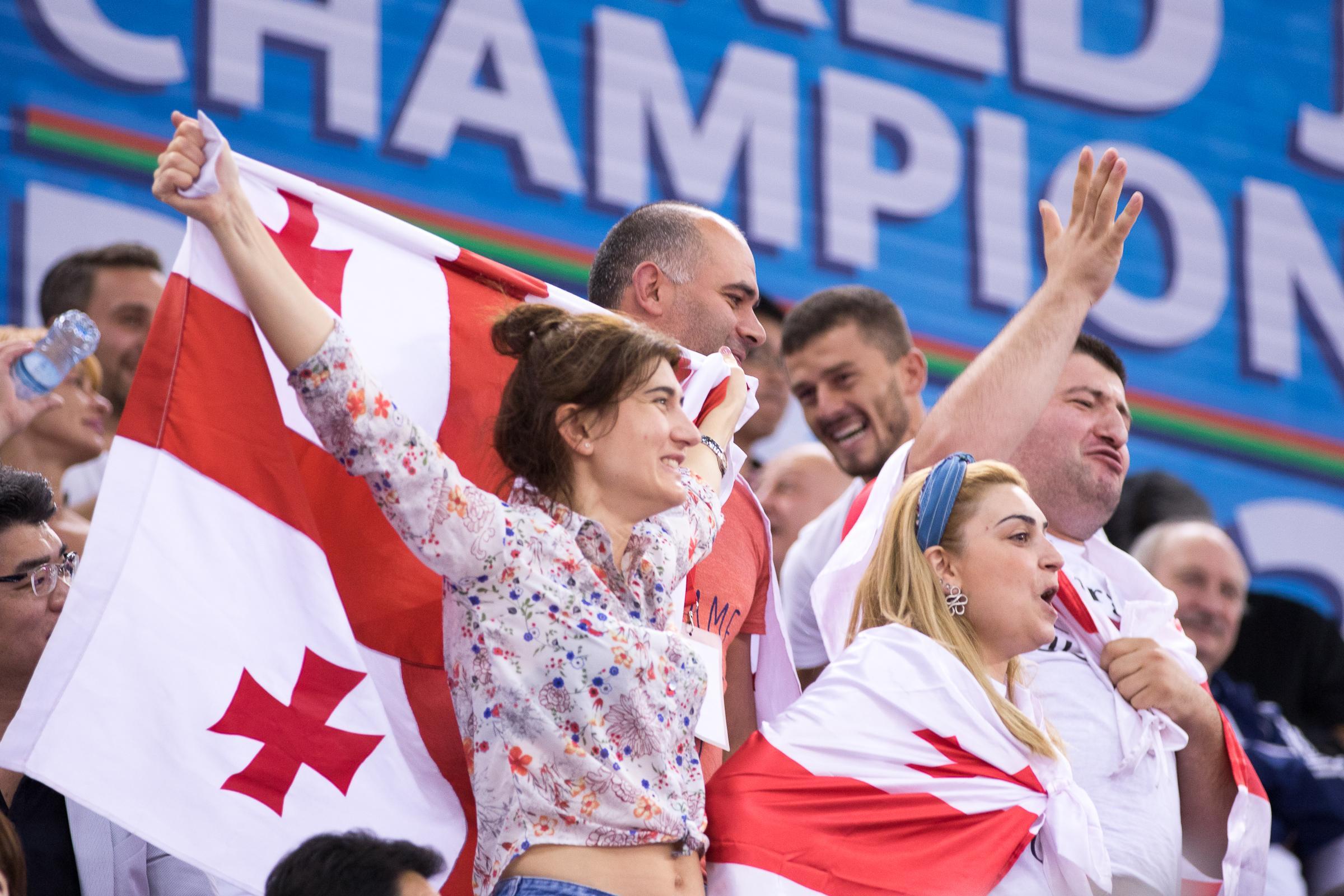 As a Georgian you are never alone! – Rafal Burza
The coach Bato Jikuri is on Gurams side since he has started with judo. – Rafal Burza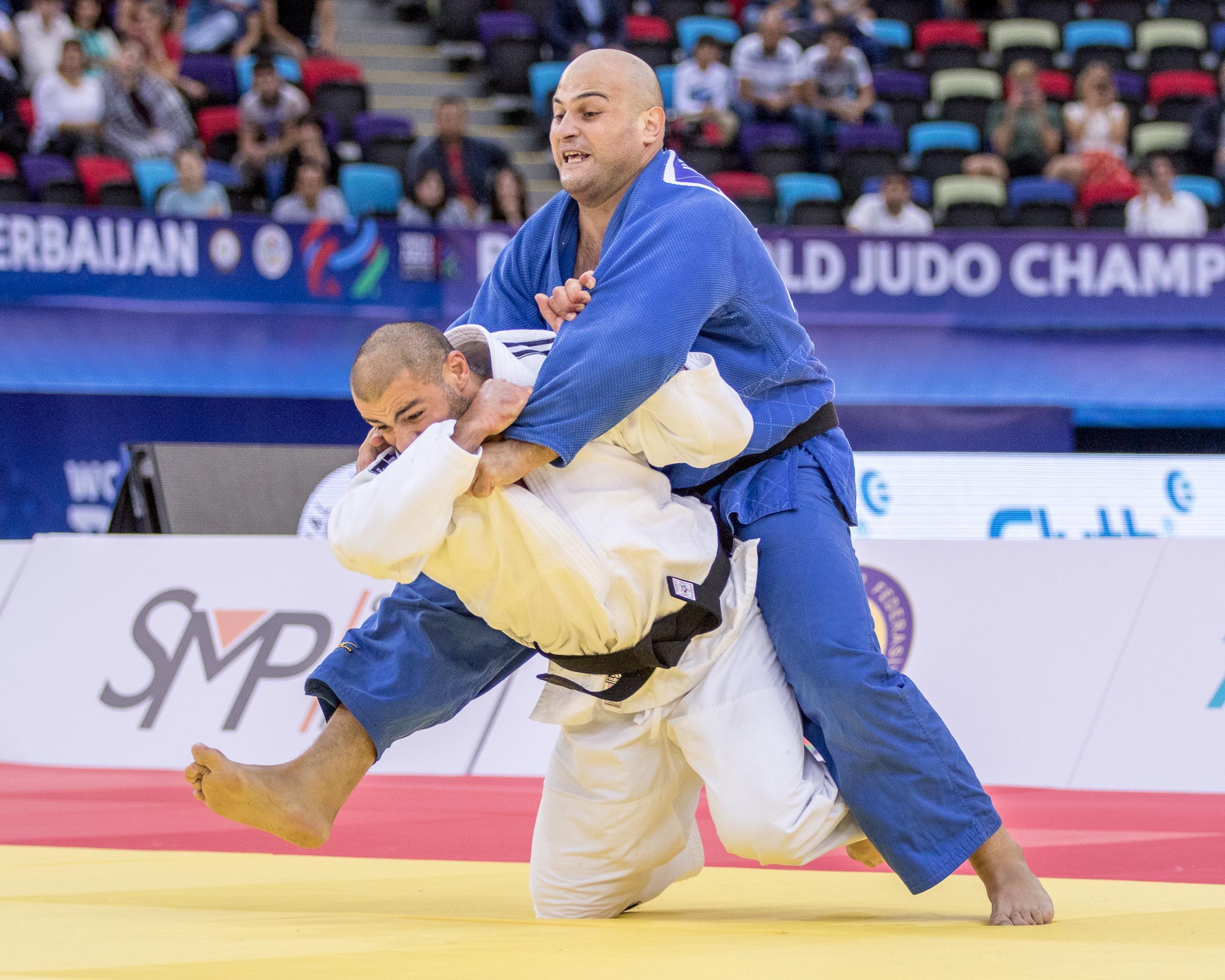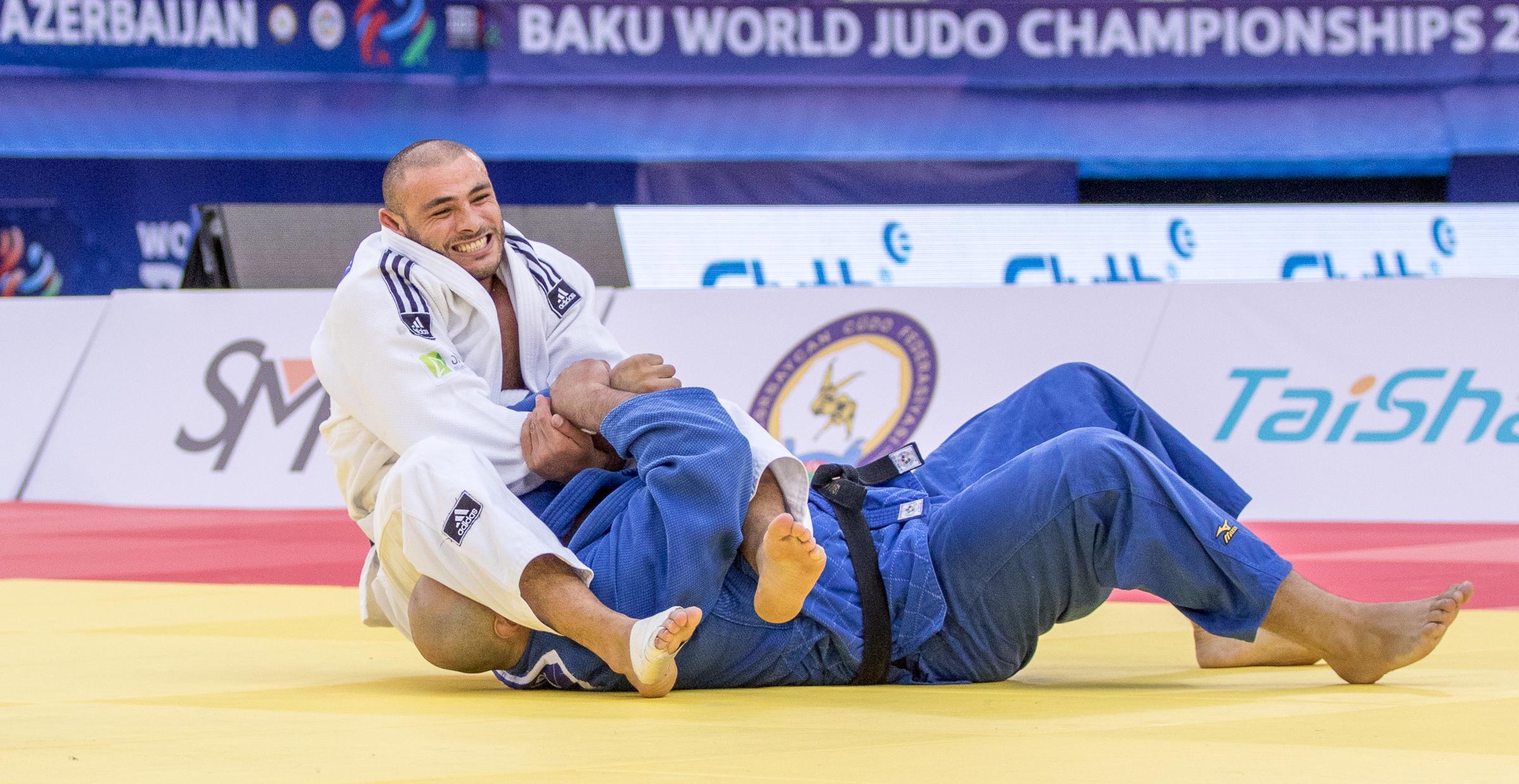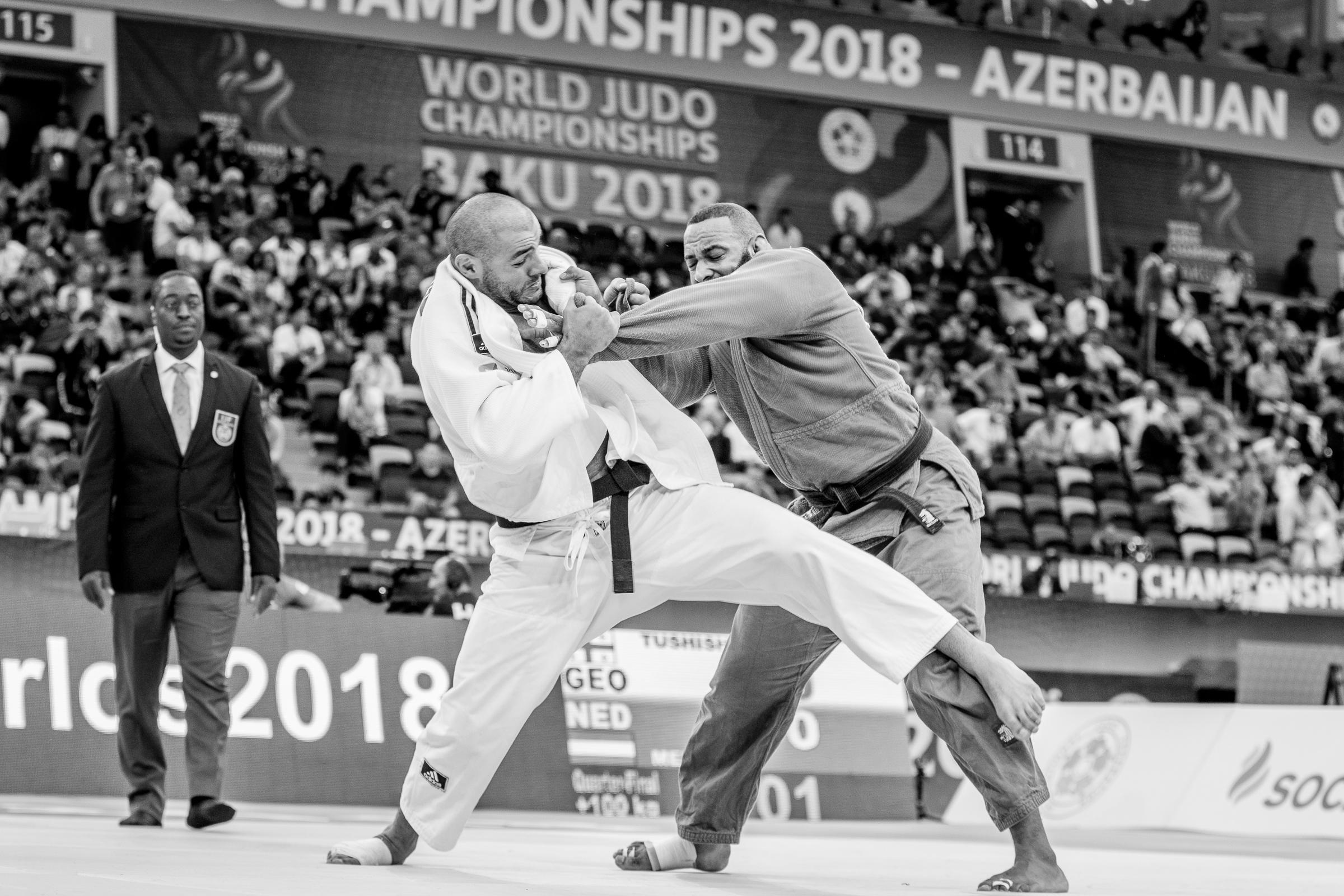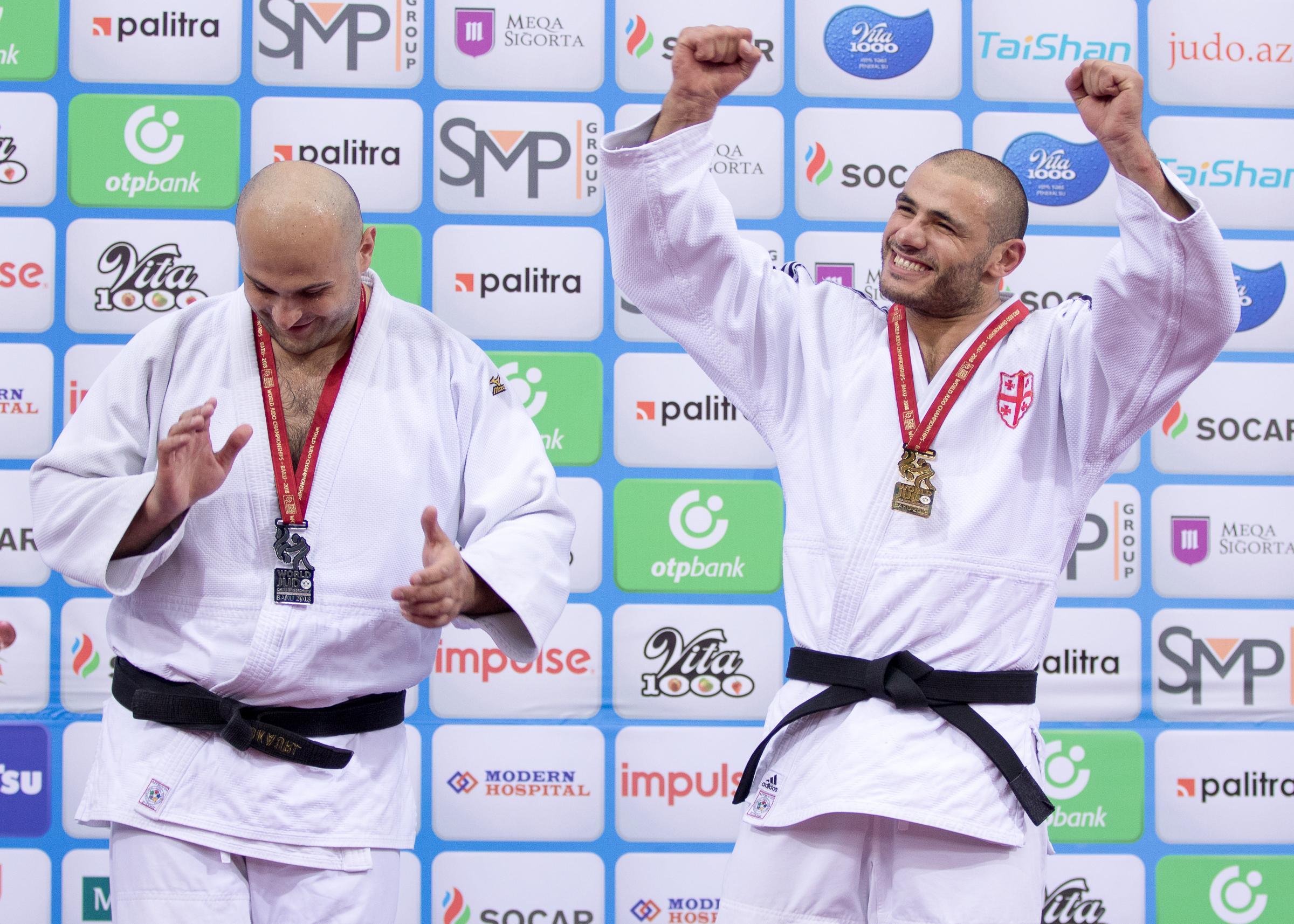 Guram agrees that his coach is a constant source of encouragement and never allows him to think he is at his best, this would be detrimental to his development, and he believes there is much more to learn. Sometimes he feels that his downfall is changing styles depending on his opponent which makes him vulnerable. On the day of the 26th of September 2018, Guram stepped on the tatami, Bato faithfully by his side and he showed the world how being confident and true to his own style took him to the final and snatched the gold medal.
As an athlete, Bato was renowned for his incredible morote seoi nage, and considers that to be his key to his own success, and that of his students.
When I began working with Tushishvili on this throw, many people were saying to me, "this kid is too tall for this throw and nothing will come from this", but I still watched and understood that everything will work out. I understand some sportsman are tall, some short, but these throws [seoi nage] are the kind that, height is not a factor at all. If you are doing these throws well then you will be able to in any condition. He learned this throw both right and left and with it, became a World Champion.
On the morning of the World Championships in Baku, both Guram and Bato felt that it would be 'that' day, both were satisfied with their preparation. In 2018 there was an uneasy period for the Georgian team but the federation supported the athletes, arranging a preparation camp but they understood the rest would be up to the individuals. Mentally, Guram felt confident, the absence of Teddy was a key factor, that this was a major opportunity,
Before we saw the draw, we already knew that our strongest opponent, Teddy Riner, will not take part in this Championship. With this, we were already one step ahead. If we admitted that someone else other than Teddy would beat us, it would be detrimental for us because we had an ambition, even in 2017 World Championships, we almost threw Teddy for waza ari. We were not thinking about losing, but we knew all the opponents, knew their styles very well and what they were able to do on that day
Guram is physically one of the more athletic competitors in the +100kg category, his speed and agility being his major strengths against the likes of Daniel Natea who he fought in his first round contest. This countered Daniel's immense strength, similarly, this was the case in his second contest against Iakiv Khammo, though Guram had a successful record against the Ukrainian and had the psychological edge, taking him one step closer to the final.

Roy Meyer of the Netherlands is a well-known athlete, with a wealth of experience, physically and mentally very difficult to combat. This particular contest went the distance and took the pair in to golden score. Guram's determination and drive eventually cinched the fight putting him in to the semi-final against Ulziibayar Duurenbayar of Mongolia.
Duurenbayar beat me in 2017 in France and I wanted to even the score and moreover, this fight was decisive for a place in the finals. Of course, I did my best, put my everything in it to beat him.

Despite Ushangi Kokauri fighting under the home nation flag of Azerbaijan, he is in fact originally from Georgia, and Guram knew this would be the most difficult contest for him, be it the final or if he had met him in the earlier stages.
One month prior he had defeated Ushangi relatively easily and those surrounding him on the day of the World Championships were extremely confident that he would repeat this performance and were prematurely congratulating him. Guram warned that they shouldn't make assumptions and he was right to do so as he nearly lost within the first few seconds, Ushangi was not going to give up the gold easily.
He caught me in osae komi waza but I was able to escape his grasp and that position. This is what I was talking about with my friends and my coaches, that we would not be able to solve the Championship problems as easily as we thought.
Although an easy win would have been great, Guram expressed that a difficult win was better, he took more pleasure earning that gold medal under the high pressure against Ushangi, to be in the final against someone he knew well and could share that experience with.
Somewhere deep in my heart I knew that I would be the World Champion that day and I would beat him.
The 2018 World Champion showed great respect to Ushangi and in true judo fashion, kept his celebrations to a minimum, holding his opponents arm high whilst turning to the mass Georgian support to thank them, then off the tatami to his coach, Bato who was overcome with joy,
I do not know how to explain this to you, I don't want to speak about myself, but I thought the feelings were as if I had become World Champion. I cannot even describe, I was so happy that Guram, my student, became World Champion but I thought the feelings were as if I had become World Champion in that moment.
There were many factors that played a role in the Georgian's success that day, his training and preparation, his mindset, but a strong element, as spoken about by multiple Georgian athletes, was the support of their fans in the crowd, their tremendous passion lifting up the judoka, including that of his brother.
In general, when there are a lot of fans of mine in the venue, it encourages me. I have twice as much motivation to beat my opponents and to stand on top of the podium. I was so happy especially being abroad, and in spite of this there were so many Georgian fans there. They were better than every other group of supporters, even the Azeri fans. This played one of the decisive roles in my success.
Without Bato Jikuri by his side, he does not believe that he would have been World Champion that day. Humbly, he admits that despite his talents as an athlete, without the support and guidance from Bato, who he trusts immensely and was instrumental to his success, it would not have been possible and it is to be shared with him.

Returning home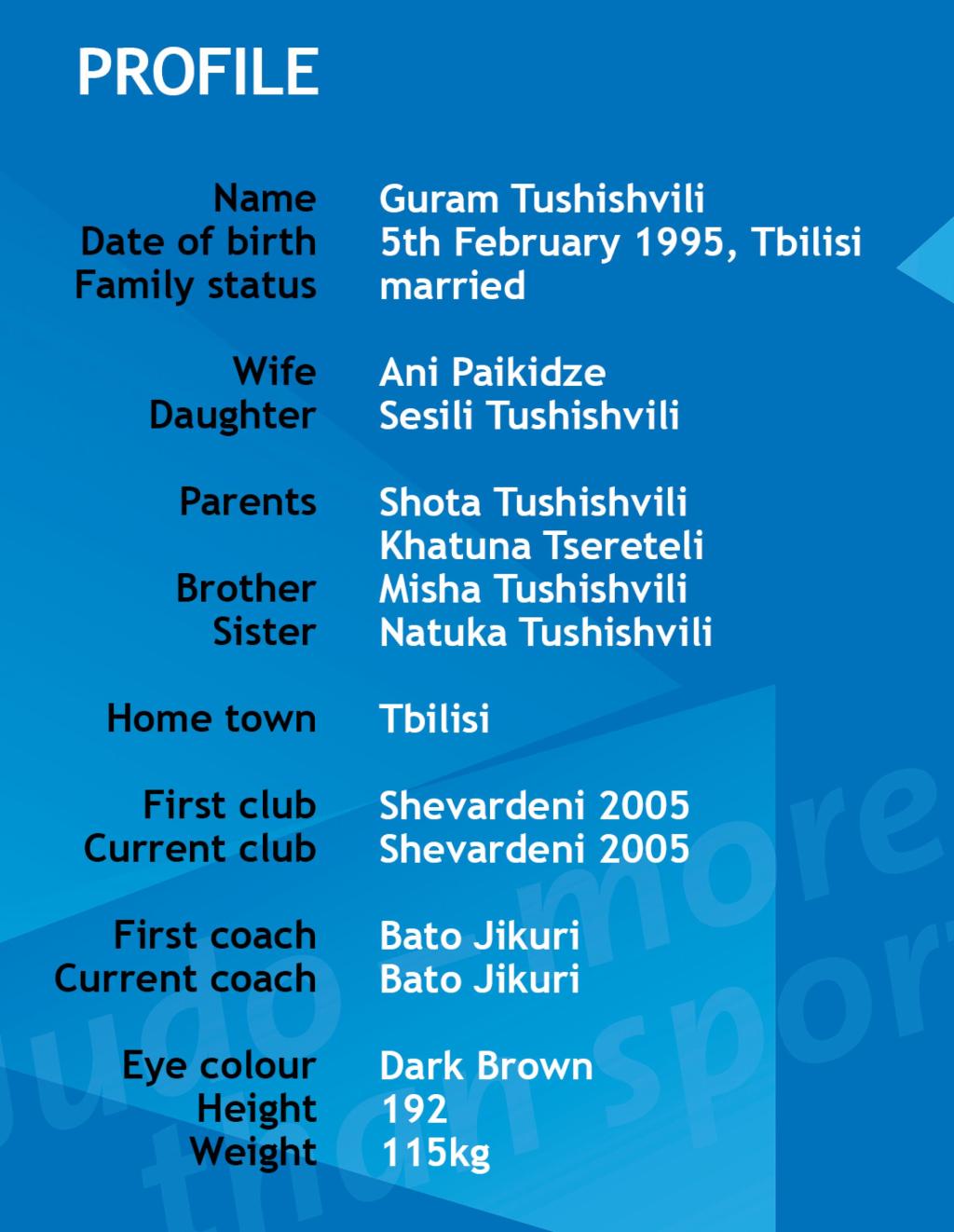 Speaking to Guram immediately after the final in Baku, he remained very calm, his World Champion status would not be realised until he had returned home. Seeing his family and having them show their love and congratulating him on this momentous achievement, it slowly brought it home to him. Though he feels as if he has better understanding of it as each day passes, there is a responsibility that comes with being a World Champion, especially in his position, being the one that halted Teddy's reign over the weight category.
The year of 2018 was widely known as a difficult one for the Georgian team, the previous year had seen mounting issues within their federation which came to a head and caused unrest. Looking at the European Championships in Tel Aviv just five months prior to the World Championships, there was a collapse in the team, causing huge dissatisfaction among the fans and within society, the athletes knew they had to turn things around for their countrymen. Guram went to Baku with this knowledge and the support of his team mates,
This is the motivation we needed for the 2018 World Championship. Yes, it was a huge influence and we had absolutely no other option, we just had to fix the situation and we did our best to do this. We gave our maximum and I think, in my opinion, we could get even better results, but finally we managed to win one gold, one silver and one bronze.
The European Championships were forgotten, the faith had been restored in the Georgian team. Not only on a personal level for the athletes, but for the sacrificing families and those that love the sport.
What the future holds
The road for the 2018 World Champion is far from over, retaining his title will be equally as difficult, if not more so with the other athletes aiming to beat him. The Olympic Games in Tokyo is just over a year away which will most likely see the return of Teddy Riner, the man he needs to beat. Bato is very clear about his goal in regards to a Guram vs. Teddy match up,
At this stage I do not want to meet Teddy before the Olympics at all. Not at the European Championships, not at the World Championships, I want to meet him directly in the Olympic Games. I do not want to beat him before, and I do not want to lose to him before. We have some time before the Olympics and we have a goal to meet him there. Before the Olympics, the limit that he has, we will try to reach. Let us see, Teddy is no doubt a very big sportsman but I think we will be able to create problems for him, but before this, I cannot say anything.
Though Guram doesn't speak of specific goals against the Frenchman, he is aware of his hard task ahead and considers the performance of his team as a whole.
The Olympic Games are coming very soon and my country, my people, my fans, expect from me my maximum there as well. To take a gold medal from there. The 2019 World Championships are approaching, but you know after the previous World Championships, we didn't stop, from the end of these Championships we began preparation for Tokyo. I cannot tell you what is going to happen but that we will fight to the end. We will put in our everything and we will be better I think.
Being immersed in the Georgian culture and this sporting environment made clear the importance of the sport to their lives. Traditional wrestling is much like judo and can be identified in their competitive styles, complimenting judo very much and allowing them to have a different advantage. The sport of judo is so important to the country as this is where they achieve most of their Olympic medals, there is not a great accumulation of medals in this multi-sport event as the country is quite small but due to the success of judo, the country rallies behind them.
The athletes know how important it is, to themselves, their families and their country. Guram notes how valuable it is to meet the expectation of the people, how it affects his mentality and his feelings about the future,
You will remain in the hearts of your country and your people, as a legend. This kind of story will never forget you in your country.

_______________________________________________________________________________________________
Text: Thea Cowen
Video: Victor Garcia Osado
Photos and Graphics: Sören Starke
Interpreter: Irakli Khmelidze
Judoka
---