History was made at the World Championships in Baku, Azerbaijan in the -90kg category. Nikoloz Sherazadishvili became Spain's first ever male Senior World Judo Champion.
In the beginning
Born in Tbilisi, Georgia, Niko and his twin brother, Alexandre, indulged multiple sports as children before settling on judo and football respectively. Starting judo at 10 years old, he had no idea about the sport, only that his father was a judoka and had medals of his own.

Niko explains, even though his brother was doing a different sport, they still managed to create some competition at home.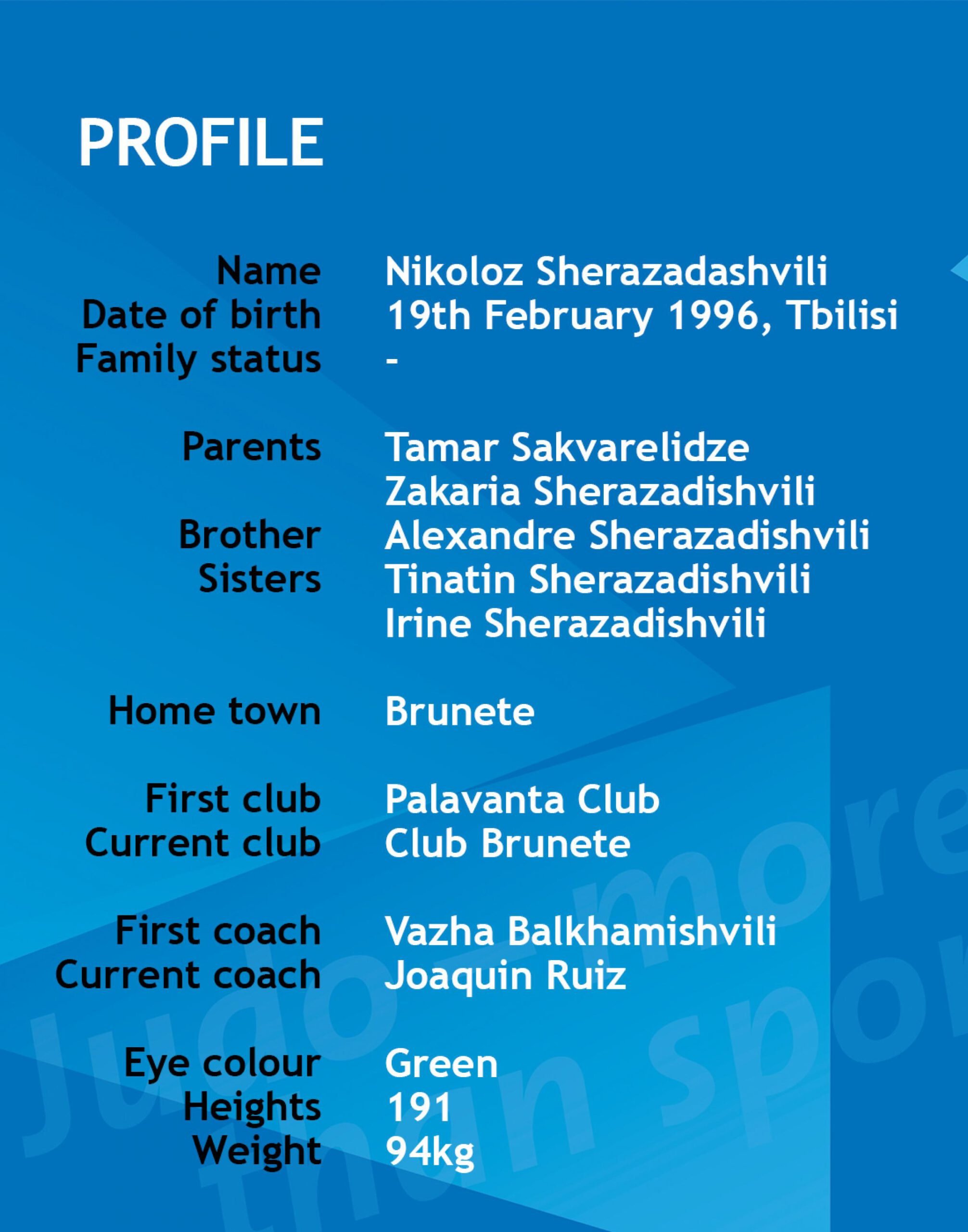 "My brother was the only one [of his siblings] who did sport, my twin brother had not practiced judo so the only rivalry we had was running. This is where we have always had a small rivalry, always, daily because we trained together until he quit, but it was the small rivalry to see who could win in running."
Before committing to judo, Niko was also active in water polo, but was encouraged by his father to commit to judo and so he left the water behind. Fortunately for the judo world, this decision and guidance has led Sherazadishvili to great success in his career with undoubtedly much more to come.
Relocation to Spain
As a young man in his early teenage years, Niko's parents made the decision to move his family to Spain, to provide better opportunities for their children. For most this would have posed a great difficulty, but with the support of his family, he was able to adjust and Niko found solace in the familiarity of judo. His intelligence and kind spirit allowed him to adjust to a different way of life very quickly. Learning a new language both in school and at judo practice by becoming a member of the Brunete Judo family very early on, certainly helped with his transition to a new country, but it was not without difficulties.
"I continued with judo very early, I started in the school very early and I had friends, but the thing that I missed so much, the thing that was hardest for me, I did not see my family, my friends and that was one or two years that I still missed them, but I was getting used to it here."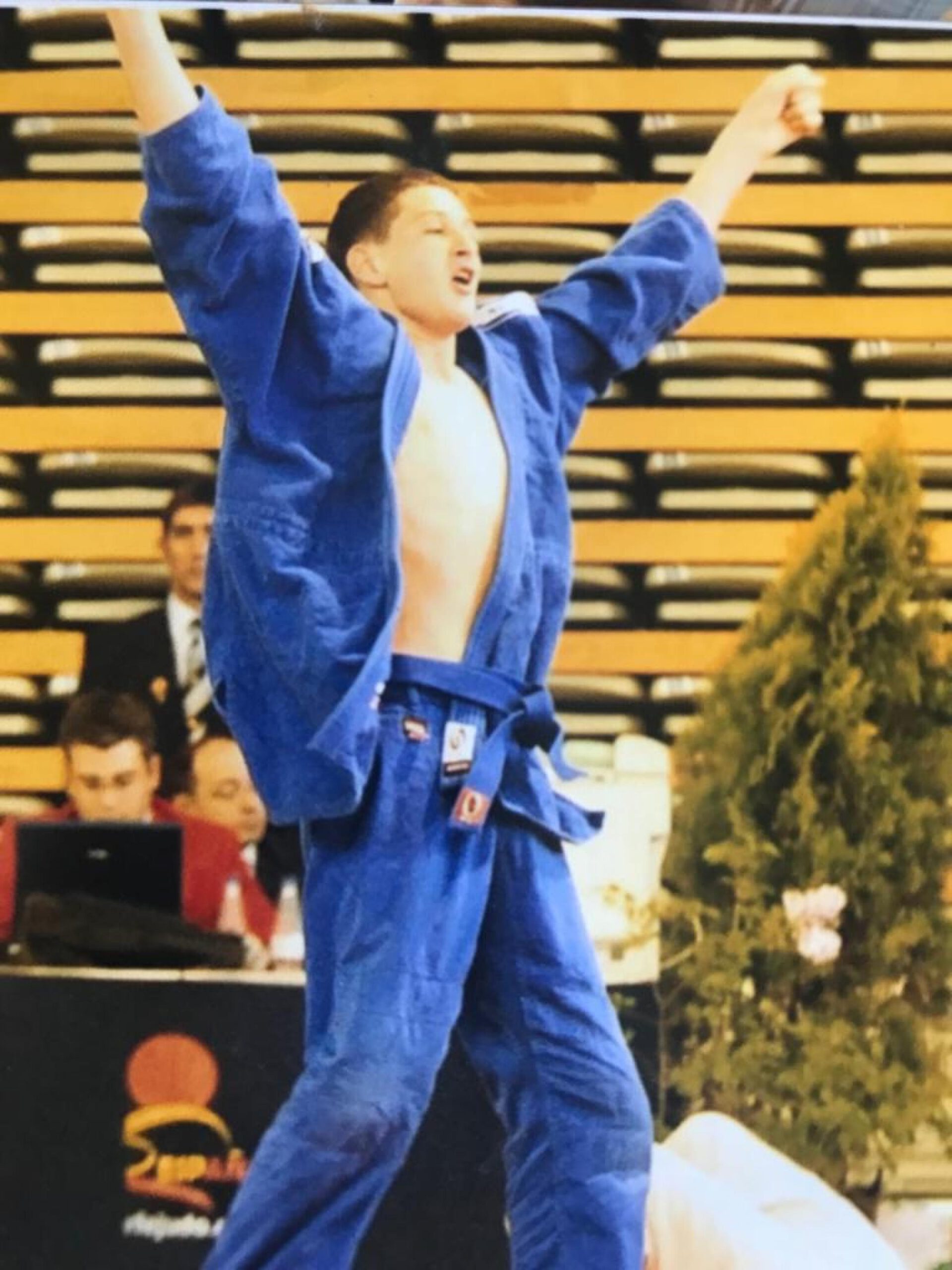 In the charming town of Brunete lies the Brunete Judo Club, ran by World Silver medallist, Joaquin Ruiz, better known as 'Quino'. His coach speaks very highly of his pupil, recognising his talent when he walked through the door, as a tall, skinny young teen. Young Sherazadishvili fit in immediately according to his coach, the club is a hospitable environment, the sense of family dominant within.
"Brunete, those who know, it is a club where everybody has good relationships, we are a family and Niko fits easily because he is a nice guy and he connects easily without any problems." Quino.
Competitive History
Before becoming a regular on the senior world stage, Niko was a successful junior athlete, taking a silver medal twice at the Junior World Championships in 2014 and 2015. However, his most memorable achievement was his first medal at the Junior European Championships, in Romania 2014, where he took a bronze.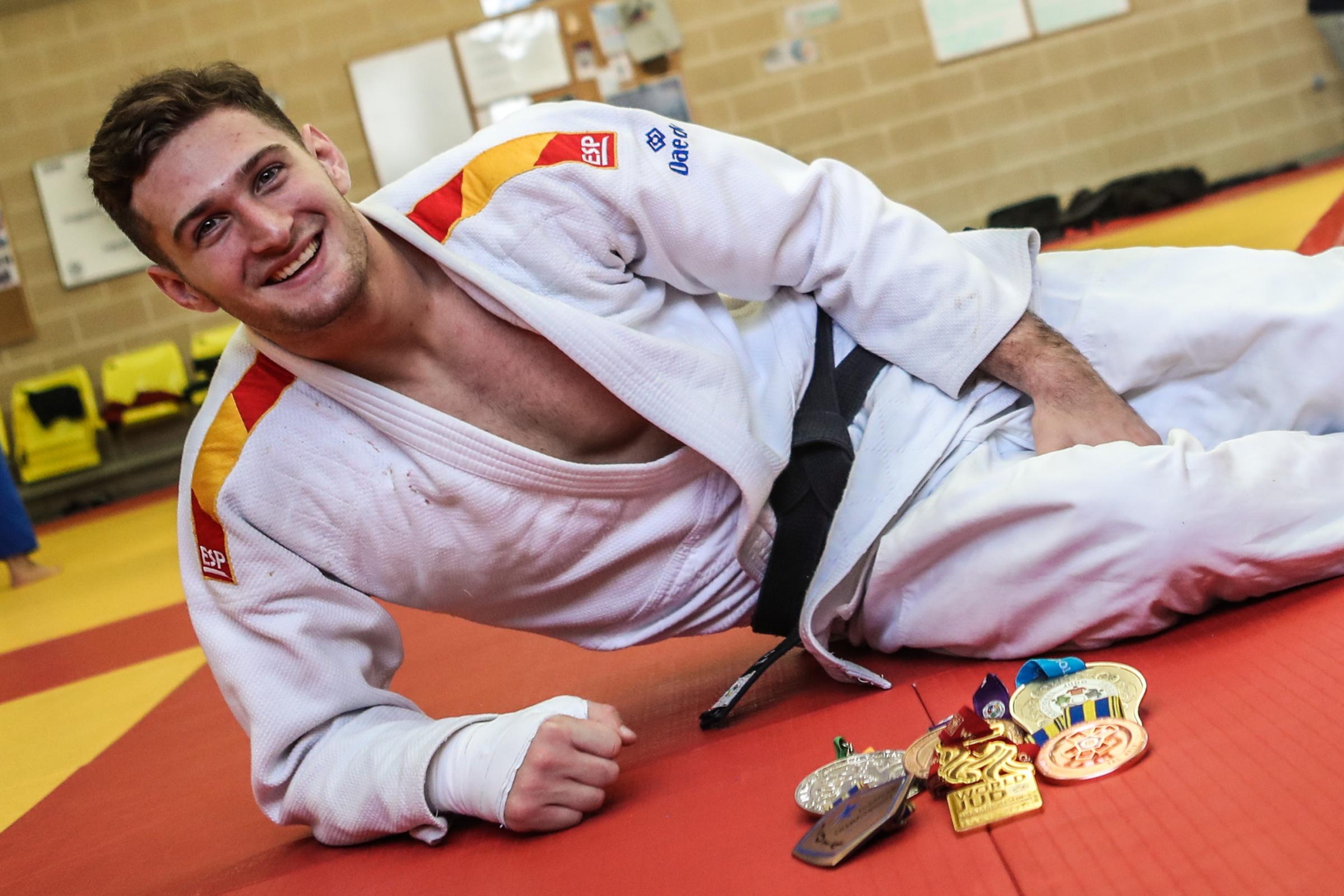 Sherazadishvili has blended in seamlessly as a senior, entering senior tournaments as a junior player for experience and to see what was required of him. Though it may appear he has become an overnight success, the athlete believes there has been a slow progression of the maturity of his judo. Using this experience he has worked hard to avoid making the same mistakes in contests, so that when he arrived as a senior, he was fully prepared. So in 2016, when he wasn't expecting a result, he took his first senior medal at the Grand Prix in his birth city of Tbilisi, Georgia.
"My first medal in a Grand Prix in Tbilisi was very special because all my family could come to watch me and support me and I think that helped me and gave me extra motivation, and an extra pressure to have the possibility to dedicate this medal to them."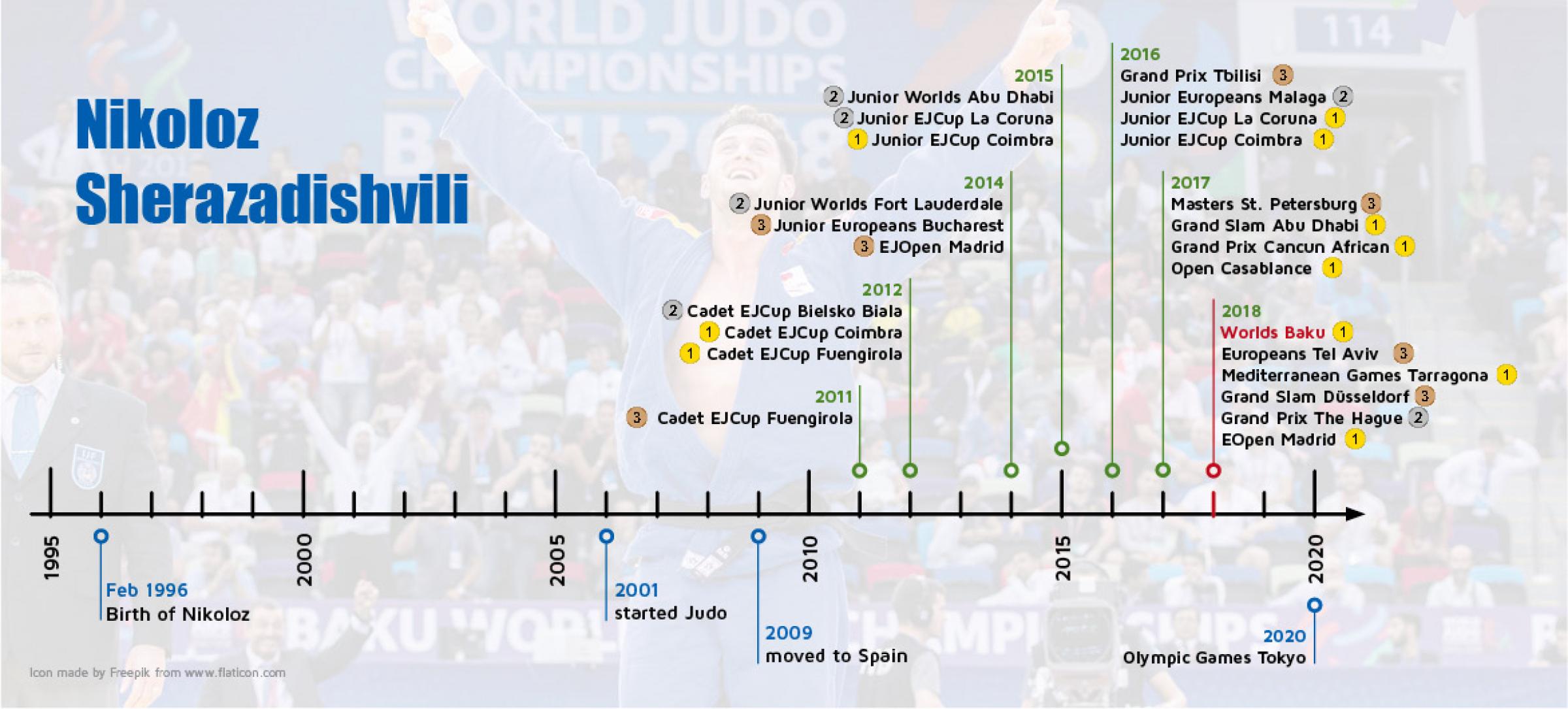 Although his biggest challenge this year would be stepping on the tatami in the World Championships, he also had another goal of taking a European medal. In Tel Aviv, Israel, he was able to achieve that and secured a bronze medal, giving him confidence for the months ahead.
The 22 year old dedicates his life to judo, training consistently to be the best and keep his number one position. His gruelling schedule starts with an early morning run prior to weight training and conditioning at his local gym. In the afternoon, his time is spent on the mat perfecting his craft with his training partners and personal coach. Niko concludes his day with randori sessions both in his home club, Brunete and in the national training centre in Madrid.
Throughout his multi-faceted routine it is clear that the new World Champion takes pride in the work he does both on and off the mat. Niko attributes his success to his mental strength, but it is evident that everything he does in his training and his work ethic is what provides him with that.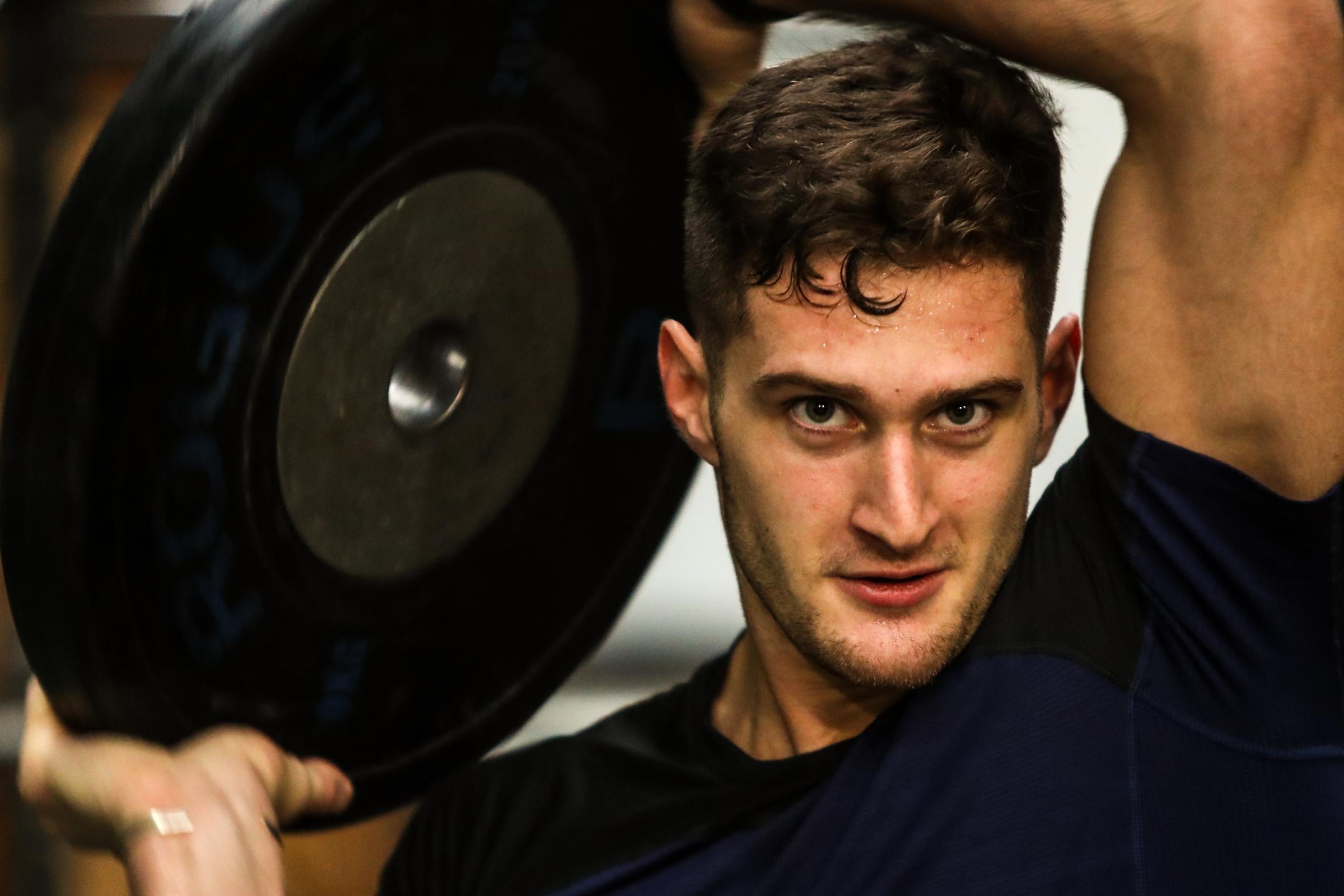 Consistency is a key element of his preparation. – Gabi Juan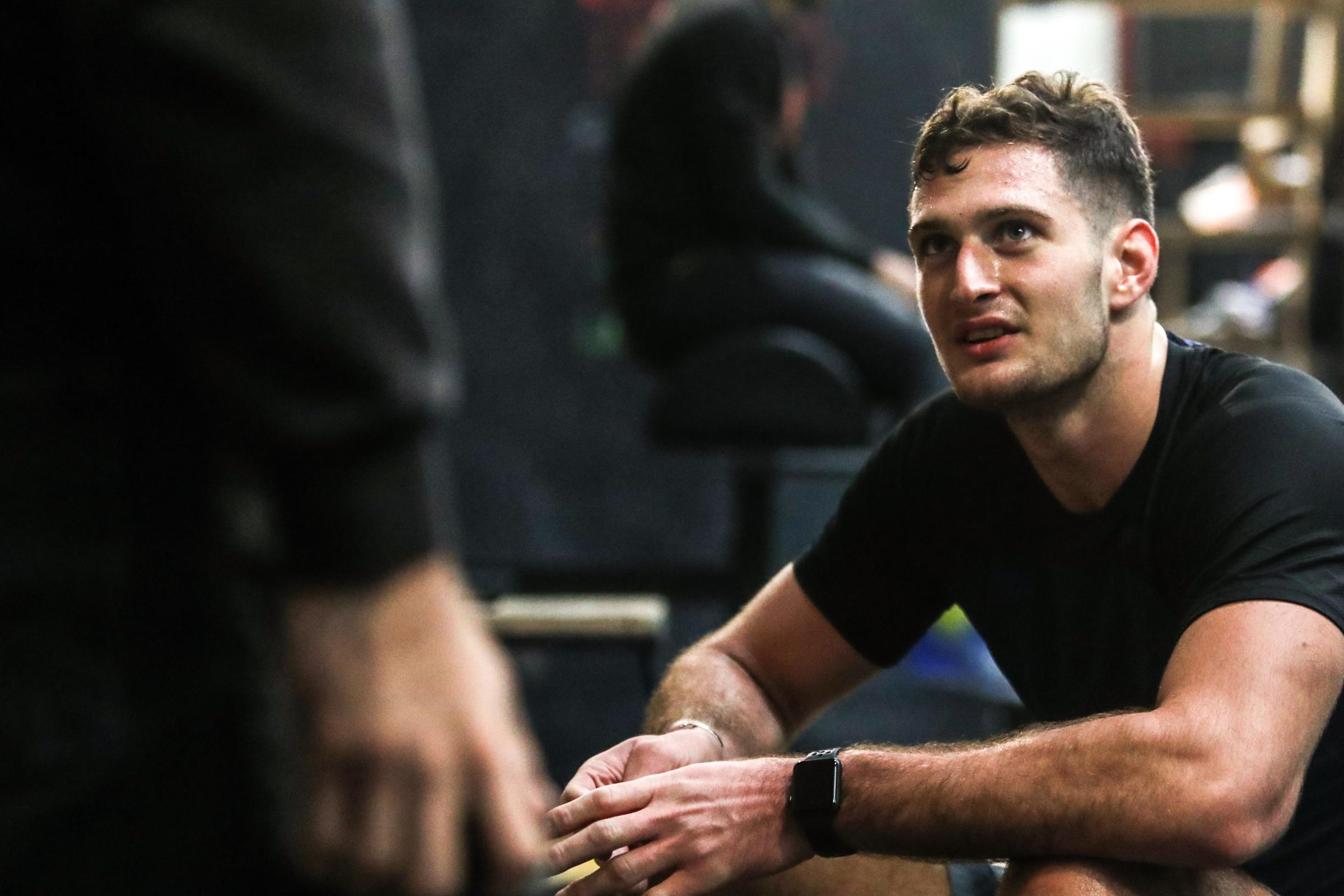 Training in his local gym after his daily run. – Gabi Juan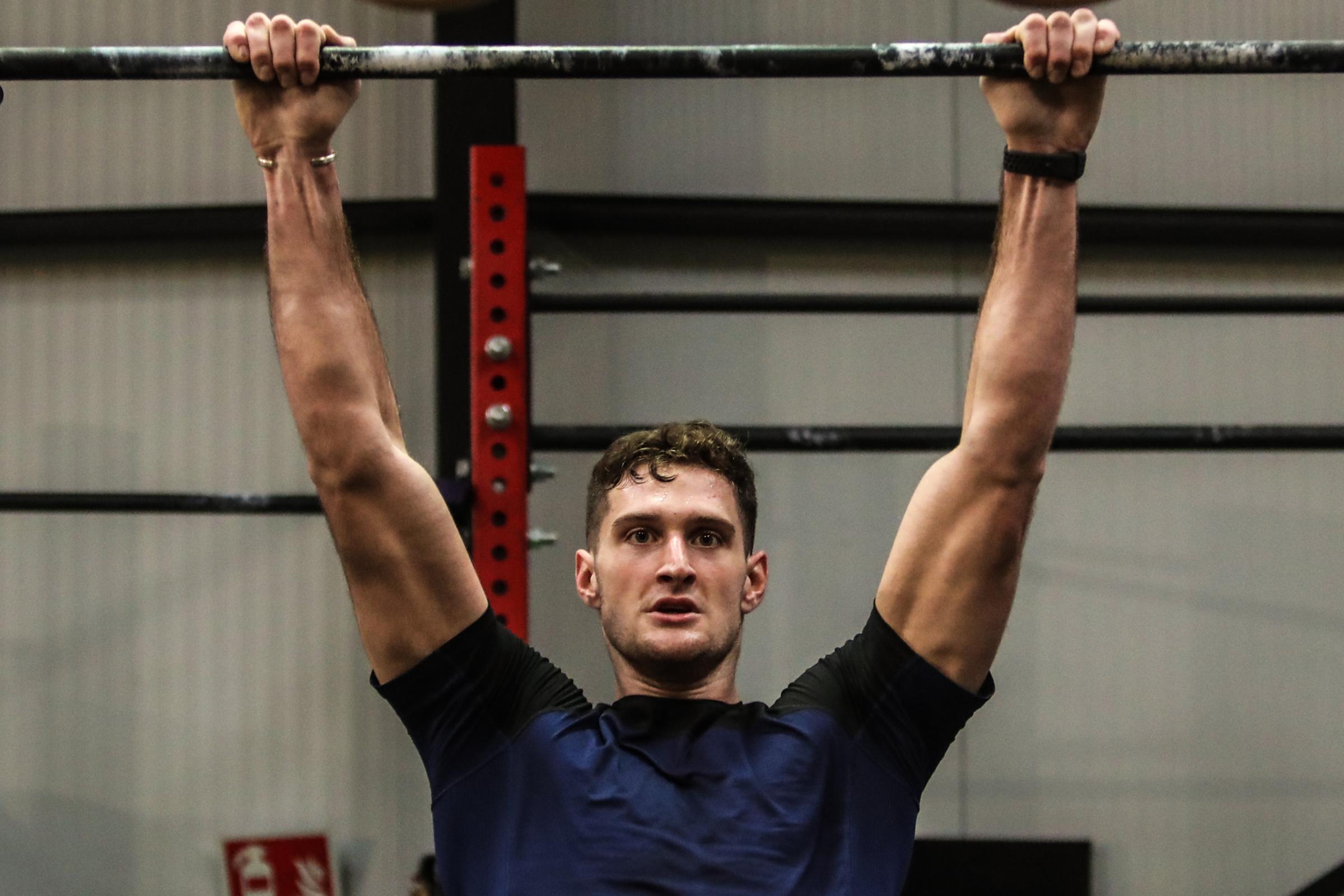 Taking pride in his work, on and off the tatami. – Gabi Juan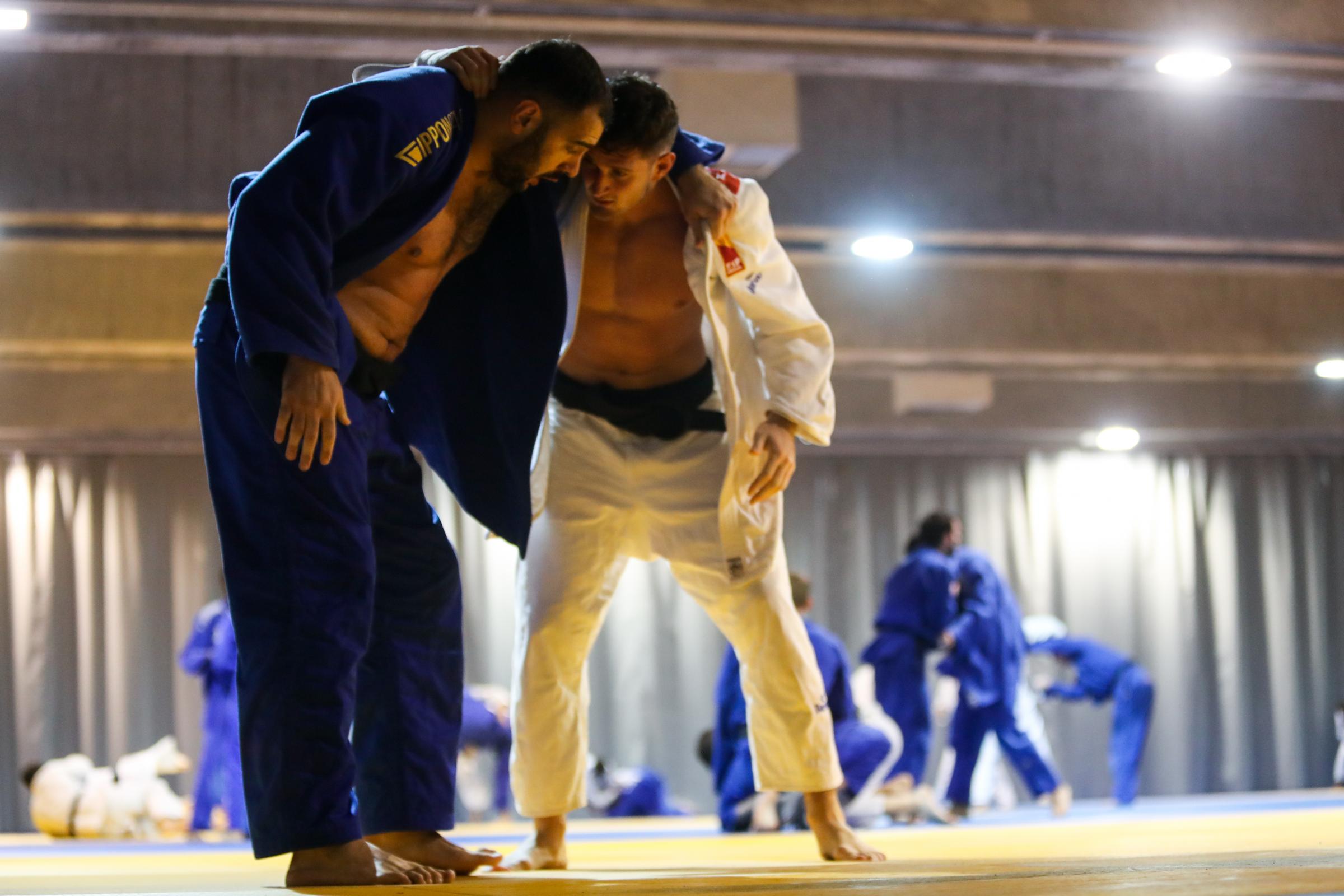 National training centre, Madrid, with team mate Angel PARRA. – Gabi Juan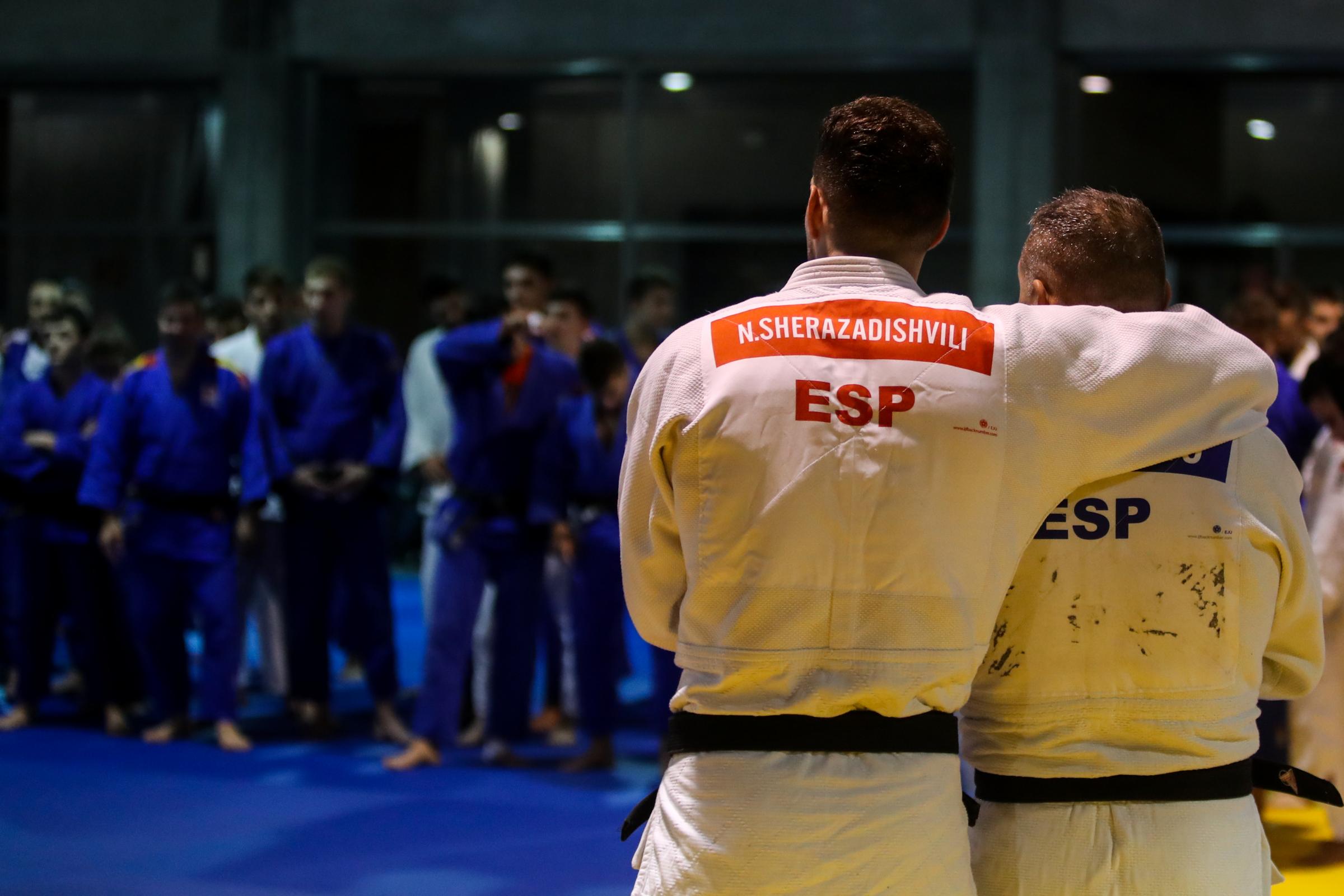 National training centre, Madrid. – Gabi Juan
World Championships 2018

The -90kg World Champion 2018. – Rafal Burza

The road to the World Championships was not an easy one for Niko, sadly he suffered great losses within his family, to whom he dedicates his achievement. These tragedies have shaped the athlete in to the strong individual he is today, stepping on to the podium knowing that gold medal was not just for himself, but for those he has lost.

It is commonly known it takes many qualities in an athlete to become World Champion. The Spanish World Champion aligns his success to his strongest attribute, his mind. Niko considers his mental strength and time spent studying his rivals prior to to the tournament a major factor in his preparation. The 6'3" athlete also uses his height advantage well, together with his high level of conditioning.

"The day I woke up for the competition, the most important thing is that I didn't have a negative mind and always think positively. Just be relaxed and go step by step doing what I have to do, if I have a random weigh in, taping my wrist. What I have, it is what it is, I have to accept it for that day, I compete and go on to the mat, it doesn't matter how I am."

For Quino, looking at the draw, he knew if Niko could beat his second round opponent and medal favourite, Mikhail IGOLNIKOV (RUS) he would be World Champion that day, his belief never fading. This was going to be the deciding factor, potentially the most difficult contest for Niko. IGOLNIKOV had already beaten the Spaniard twice this year in major tournaments, once being in the semi-final at the European Championships just five months earlier. Both athletes have a similar style of fighting and were both looking for the uchi mata opening, it was simply Niko's day and IGOLNIKOV faced an early exit.

A difficult semi final against TOTH Krisztian (HUN). – Rafal Burza

Respect and etiquette is of the upmost importance. – Rafal Burza

On his way to making history with a place in the final. – Rafal Burza

Though his contest against the Russian was predicted to be the most difficult, it was his semi final against Hungarian, TOTH Krisztian that posed the bigger problem, becoming a contest of penalties,

"Of course, the fights were very hard, all the rivals had World, Olympic or European medals, but at the end, the most dangerous feeling I had was with Krisztian. This was my most negative point of the day."

There were no thoughts of what it would mean to become World Champion, Niko was focussed and could think of nothing but his final contest against Ivan SILVA MORALES (CUB). It was not until stepping onto the podium did all the emotion and thoughts come to him. After a gruelling battle, fighting to even the score and stay in the contest, the finalists entered golden score. After an added two minutes, Niko's signature uchi mata finished the contest and secured the gold medal.

Final against Ivan SILVA MORALES (CUB). – Rafal Burza

A successful day for the 22 year old Spanish athlete. – Rafal Burza

In a sport where respect and etiquette is so important, Niko is a shining example of what it means to be a judoka. Though he had a great desire to celebrate, this was overcome by his need to comfort his opponent.

"I tried to celebrate, the moment I realised that I had won I put my fist in the air but half way I stopped. I saw my family and my supporters, all the aggression that I had in my fight disappeared in that second and I became relaxed. You need to be strong to celebrate, to win and to lose. I celebrated, I dedicated it to my family, my people, my coach and I tried to go back to Ivan SILVA , he had fought an amazing fight and I tried to help him because that could have been me. I tried to celebrate as little as possible but it was difficult."

-90kg Medallists, Baku, Azerbaijan. – Rafal Burza

Family, team mates and coach Quino celebrating Niko's success. – Rafal Burza

With a mixture of emotions, Niko stepped on the podium and accepted his gold medal. As it was placed around his neck he thought of how similar it felt in the Tbilisi Grand Prix. To have all of his family, friends and people from Georgia and Spain all there for him, the extra motivation he needed. Dedicating that medal to his father, and to his cousin, was his main motivation.

World number one, Nikoloz Sherazadishvili. – Rafal Burza

Looking back over his World Championship experience, he can laugh at moments with his coach. Though the athlete was calm, Quino could not stop moving, realising what this could mean for Spain and for Niko, repeating "you are on the step to make history" as he paced. Niko tells us all of these things come to you on the podium, "I did not cry but I was very close." Quino was clearly feeling the nerves for both of them before the final and explains what it means to be a coach to athletes at such a high level, knowing himself how they would be feeling,

"I enjoyed it so much as a competitor because it was my passion to compete. Now as a coach, for each day I work, it takes years off my life and I don't have so many years left because I suffer so much. After this I am very happy, very satisfied for the results, you see the houses where we live, the tatami where we train, to make a World Champion and all the rest, for me it is a great satisfaction but the nerves I have, no one can take them from me, I have to suffer it. For me, to be part of this success makes me feel really proud and have the conviction that what we are doing, we are doing right. This brings so much satisfaction to have a person who is World Champion in your club where all his partners want to be like him, to go in the same direction. I think this is something every coach dreams of."

The duo are overwhelmed with this achievement, as a child, Niko would never have imagined becoming World Champion, let alone making history. A dream that became his motivation has now become a reality and sometimes there are no words to describe that emotion.

The Coach

Coach Joaquin Ruiz, "Quino", World Championships 2018. – Rafal Burza

World Class athlete and coach, Quino, is a warm individual and dedicates his life to his club and his athletes, Brunete is a family. Though his players respect him as a coach, it is clear he has a much more special impact on them than just a sporting influence. These unique relationships are recognised by all and perhaps what makes this golden achievement all the more relatable as Niko explains,

"For me, he is the best coach, as a person he is much more and that is where I connect with him. He has taught me this passion since I was a child, he communicates this passion to everyone that comes in to the club, not only to me. When I'm trying to help my team, I receive the same, and that is what Quino teaches. Now I am older, I understand more, I have to help in everything, especially with my partners that are with me every day. This is the quality that Quino has conveyed."

"Niko is one more son for me. I love him as if he was one of my sons." Quino.

The special relationship Quino and Niko have is clear to everyone, and neither can speak highly enough of the other. With a strong team, Quino considers all of his athletes as his children and cares for them in this way, the sad events of Niko's life making this bond even stronger:

"I became his father, being with him, helping with everything, taking care of him because he deserved it. Niko is one more son for me. I love him as if he was one of my sons. I have two so he is my third. This is the truth, this is what I feel, that is what my heart tells me. Since the first time I saw Niko, I thought, what a nice guy, what a happy guy, and with time I realised that Niko is one of the most beautiful people that I have ever met in my life. He is a noble person with a big heart, a partner, a friend, everybody loves him, even his rivals love him. He is a person with amazing empathy."

One of these rivals has also spoken of his high regard for his opponent. Current World number two, Aleksandar KUKOLJ (SRB). Speaking of the World Championships and of Niko,

"I like the guy, we are friends, if it wasn't to be me at the World Championships, I was happy for him to have the gold medal."

Future Aspirations

There are many tournaments between now and the Olympic Games in 2020, but this is the main goal for Niko, to become Olympic Champion.

Spain have had multiple female Olympic Champions and Niko could make history once again for Spain in Tokyo if he can take the Olympic title. When asking his coach if he thinks he can do this, he tells us,

"Sincerely, I think the first Olympic Champion is going to be Fran [GARRIGOS] before Niko, because he will compete some days before him, but the second one will be Niko. I am completely convinced that Niko will be Olympic Champion as I know that Fran will be too."

The World Champion has his sights set on the Olympic Champion title. – Gabi Juan

Coach Quino's unwavering belief in his athletes is always evident. He believes Niko has opened the gates for his team mates, that they all have the potential and now they know that success can be attained, nothing will stop them. Quino continues that this could not have come to a more deserving person,

"He is giving affection to people and giving love all the time. His love is in the purest form, he is an angel, I call him 'Our Angel'."

---

Text: Thea Cowen


Video: Victor Garcia Osado

Judoka

---