Day one of the European Open in Rome has welcomed some surprise finalists as well as recognition of the steady climb of others. The Olympic Centre – Matteo Pellicone has today seen many of the younger Italian generation test themselves on the European tour, however only Edoardo MELLA has prevailed to the final of the -73kg category.
Once again, there has been an onslaught from the People's Republic of China women's team on the European tour, and today their strength continued in to the -48kg category as both sides of the draw some one of their athletes make it to the semi final. In the first contest, GUO Zinging (CHN) took on Eva PEREZ SOLER (ESP). The pair found themselves in a stalemate but in the end, Guo picked up the third shido in golden score, giving the final place to Perez. Pulling it back for the team, HAN Shuaixia (CHN) fought an incredible battle with Raquel BRITO (POR) both earning a waza ari score taking them in to yet another golden score, but Han clinched the win in the end.
First up deciding the gold medal contest were the -60kg category. Following an early score from Samuel WAIZENEGGER (SUI), Emiel JARING (NED) went in hard to apply the pressure, forcing there Swiss athlete to pick up two shidos, however a close and hard-hitting ko uchi gari gave Waizenegger the win. Italy were in with a chance with Andrea CARLINO who calmly took on Lior RAFAILOV (ISR). The pair eventually went in to golden score and though the Israeli athlete was trailing with two shidos, he blocked a seoi nage attempt from Carlino and countered for a waza ari score, enough to put him in the final.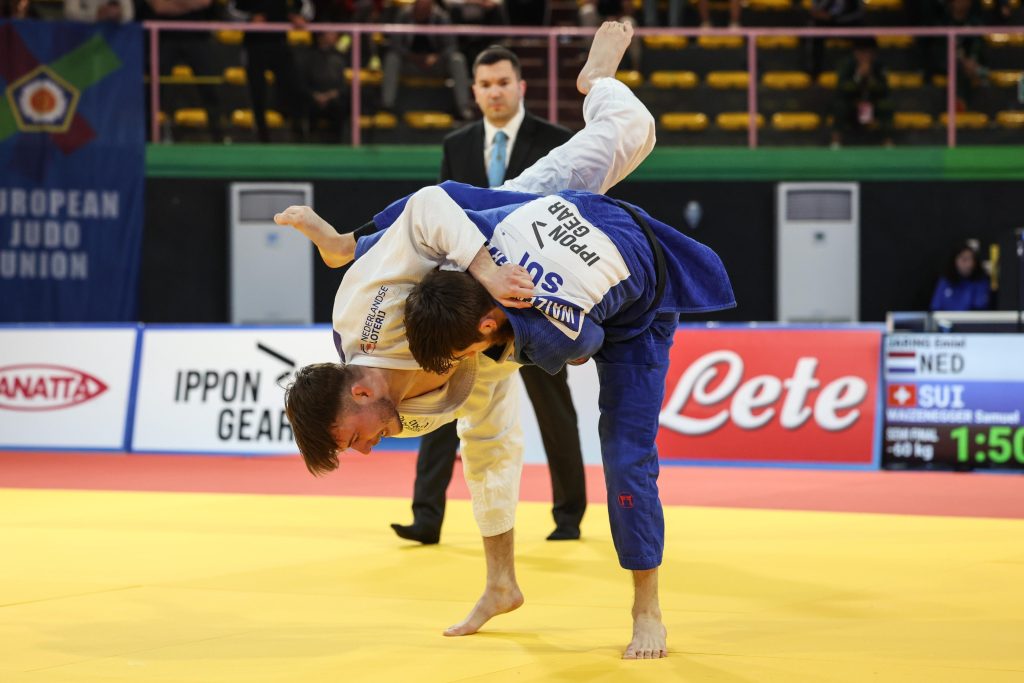 People's Republic of China took a second place in the final, but this time in the -52kg category. ZHU Yeqing defeated the home favourite Martina CASTAGNOLA (ITA) by waza ari with a last minute seoi nage, already Castagnola was on the defence with two shidos and under great pressure. The Italian athlete had already earned her semi final with six minutes of golden score so this performance was nevertheless an impressive one. Chloe DEVICTOR (FRA) was strong from the offset against Naomi VAN KREVEL (NED). A powerful  o soto gari gave her the initial waza ari score and finishing the contest was a a perfectly timed uchi mata.
For Charlie YOUNG (GBR) it has been a long and patient road and today on his tenth outing at this level, claimed his first European Open final and subsequently his first medal. It was a tough and even contest again Karo MARANDIAN (UKR) but a weak attack in golden score left him open and Young capitalised on the situation with a counter. On the other side of the draw Luca CAGGIANO (ITA) was not fortunate enough to find his footing as after only 17 seconds, Serder RAHIMOV (TKM) threw for ippon with a blistering drop seoi nage.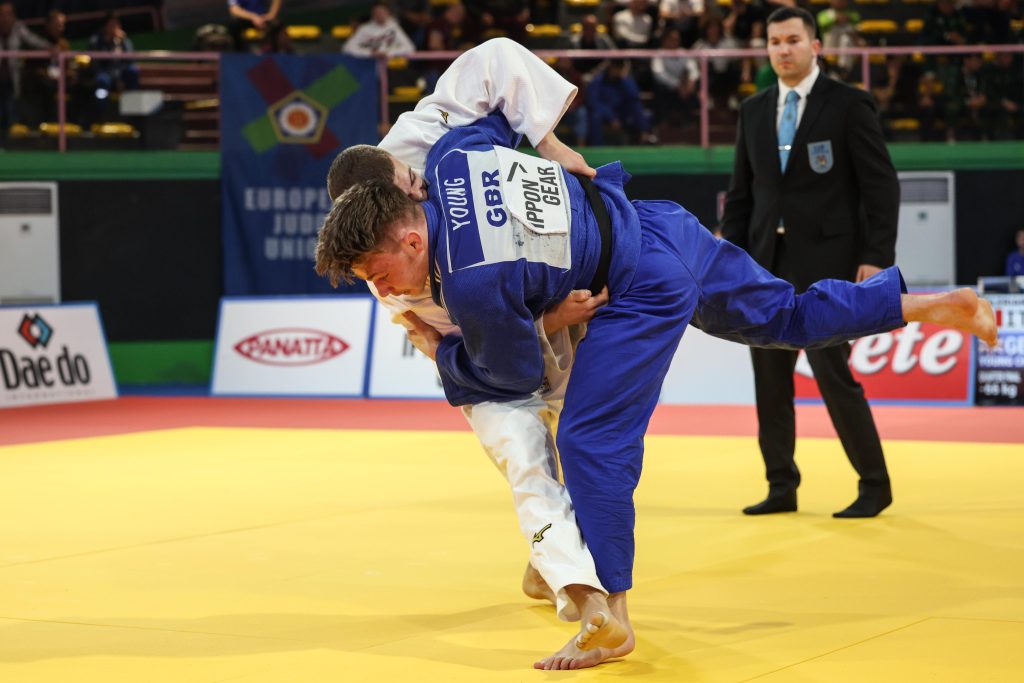 The -57kg category saw Kaja KAJZER (SLO) and Seija BALLHAUS (GER) battle it out for almost four minutes of contest time. Ballhaus gave a great effort in Warsaw last month, earning her a bronze medal but she wanted to up her game this week and with only eight seconds left on the clock, put in a confident, off-the-grip o soto gari, leaving no time for Kajzer to recover. Facing Ballhaus in the final is Lou LEMIRE (FRA) after a ko uchi secured her the win against Olivia GERTSCH (SUI) in just over one minute of the semi final. 
Ibrahim ALIYEV (AZE) had dominated in the -73kg category throughout the preliminary rounds but couldn't find a way in against Koen HEG (NED), and so the contest went in to golden score. Eventually, Heg transitioned in to ne waza and worked hard to free his leg and secure the osae komi for the win and place in the final. The next semi final was an exciting one for the home nation as Edoardo MELLA (ITA) and Alessandro MAGNANI (ITA) came on to the tatami. An initial score was earned by Mella, though this wasn't how he took the win. A though clinch between the two resulted in Magnani attempting an ura nage but was unable to turn out and was eliminated for head diving.
For Austria, they had double the hopes of an athlete in the final in the -63kg category as both Lubjana PIOVESANA and Laura KALLINGER found places in the semi final against the French athletes; Gaetane DEBERDT (FRA) and Perrine SAINT ETIENNE (FRA). For Piovesana, making a comeback has been a tough road and besides some colossal throwing skills and strong ne waza, Deberdt got the better of her, first by changing direction to score waza ari with ashi waza and then transitioning in to ne waza. Kallinger also suffered a loss leading to an all-French final, but that result was based on an accumulation of shidos for the 20 year-old.
Judoka
Author: Thea Cowen
---