Number two seed
Sagi MUKI
(ISR) put his country on top of the medal table when he took the gold medal in the -81kg category on day two of the Ekaterinburg Grand Slam. In a performance that displayed measured control, excellent timing and impenetrable defence, Muki was the class act in the show, but there were others who played their parts in making this the most watchable of the four categories on offer. Number one seed
Frank DE WIT
(NED) could arguably count himself unlucky. He first had to dispose of UNGVARI Attila (HUN) and Eduardo SANTOS (BRA) before coming up (in the quarter final) against Etienne BRIAND (CAN). But De Wit triumphed, moving onto the semi-final, whilst Briand would eventually have to settle for a second Grand Slam bronze having won bronze here in 2017. Still standing in the way of the Dutchman were current Olympic champion Khasan KHALMURZAEV (RUS) and 2015 world champion NAGASE Takanori (JPN). Their quarter final was a bruising encounter that saw a physically drained Khalmurzaev countered by Nagase in golden score to set pit the Japanese against De Wit. Not for the first time the Dutchman found himself tasting defeat at the hands of Nagase when after three and a half minutes of golden score Nagase caught De Wit with right o uchi gari for ippon to take his place in the final.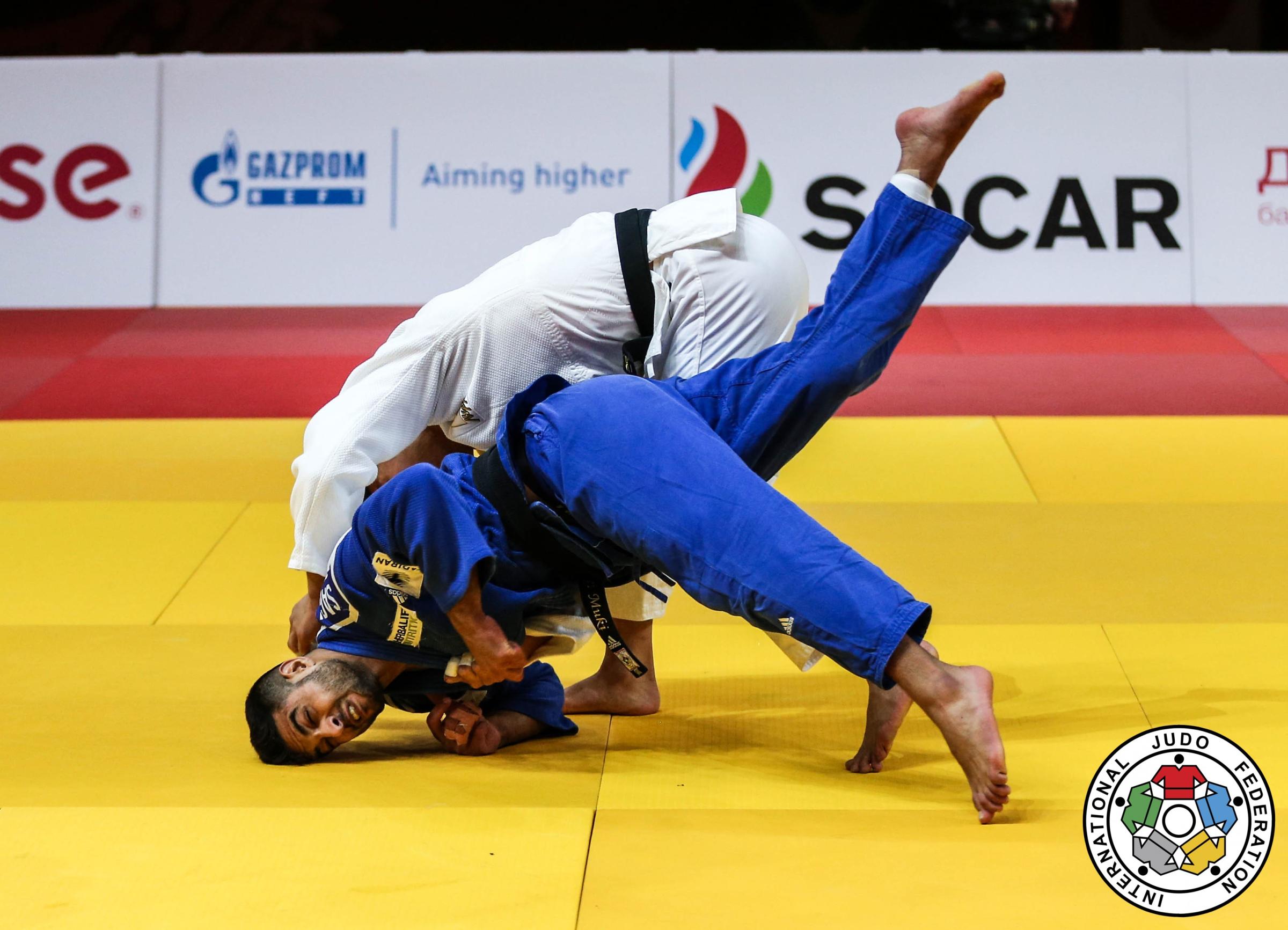 Whilst all of the above was taking place it was Muki, in the lower half of the draw, who was left pretty much untouched. Wins against Dominik DRUZETA (CRO),
Ruslan MUSSAYEV
(KAZ) and Marcel CERCEA (ROU) saw Muki take his place in the semi-final where things got tougher, faster as he faced
Matthias CASSE
(BEL). Golden score was required to settle things and in was after a little over two minutes that Muki caught Casse with a right sided morote seoi nage that narrowly squeezed out a waza ari. It was to be expected that the final between Muki and Nagase, two such highly skilled competitors, would be close and, with only seven seconds left on the clock in regulation time, Muki launched a successful sode tsuri komi goshi attack that saw Nagase fall for waza ari and Muki take the gold medal. The bronze medals were won by Etienne Briand and
Luka MAISURADZE
(GEO) competing in his first ever Grand Slam.
Podium
"I'd have to say that the semi-final was quite a tough fight. It was our fifth match-up on the tour, all within the past 12 months. I'd lost to him at the Masters in Guangzhou last year but defeated him in Paris last month. So I expected that this would be a close one."

In the end it was Muki who took the win which put the Israeli in the final against for a first ever meeting with Nagase. When asked about how important a win this was for him Muki answered,
"I actually felt unwell earlier today. But I wanted to show good judo here despite not feeling at my best."
As far as the short-term future is concerned, Muki was uncertain about his next appearance.
"I'll sit down with my coach and discuss where I'll compete next. I'm not sure at the moment. All I know for now is that I want to get back to the hotel and take a rest," said Muki.
Judoka
---