Wachid BORCHASHVILI, the underdog of the Tbilisi Grand Slam took gold in the -81kg category and is still a little lost for words. It was only his third tournament after returning to his former weight class and already the top placement at a Grand Slam, at the same time the first medal and the first victory at the highest level. Brother Shamil, 27, Olympic and World Championship bronze medallist, who was spared in Tbilisi because of a back injury, was one of the first congratulators. The day after the triumph, the 24-year-old Austrian took time for his first winners interview.
Three weeks ago in Tashkent you were fifth, fought for a Grand Slam medal for the first time and lost. Now, 21 days and one Grand Slam tournament later, you have gold hanging around your neck. How much of a surprise is this victory for you?
Wachid Borchashvili: "I have known since Tashkent at the latest that I can fight at the top. That is also my ambition. I want Grand Slam, European Championship and World Championship medals. I didn't really expect to win Grand Slam gold so quickly before the tournament. But I know what I can do. I train every day with a top man who has won an Olympic and World Championship medal. For me, Shamil is athletically and physically the strongest -81- athlete in the world. The fact that he is my brother and trains with me and Kimran several times a day is a real privilege. I owe an extreme amount to my brothers."
What does that mean in concrete terms?
Borchashvili: "Honestly, if it wasn't for my older brother Kimran, I wouldn't have considered going back down a category from -90 kg, to my ancestral weight class. He gave me the advice because weight-wise – in terms of muscle mass – I just couldn't get above 89 kg. The top -90kg people have a few kilos more in the training phase."
Does it feel better for you now in the -81kg category?
Borchashvili: "Kimran's point was right: I am simply too light for the top. Downstairs, my speed and technique comes into its own better and I feel somehow better now, stronger. It's good and feels absolutely right."
You have never fought against your brother Shamil in a competition before. It could happen at the World Championships in Doha at the beginning of May. What do you think?
Borchashvili: "Not a day goes by in training without this topic being discussed. Who is currently the stronger. Who would win on day X. My dream – and Shamil's too – would be that we meet in the final at the World Cup. And then preferably two weeks later, at the home Grand Prix in Linz, again. What do I expect from a duel against him? Shamil is the No. 6 in the world, he has already won medals at major events. He is my personal favourite for the World Championships."
Let's talk specifically about the day of the competition. In 5 fights you won three times with Ippon, 2 times with Waza-ari (both in the Golden Score). You were actually the stronger man in all duels, you looked very cool and confident. Would you agree with this assessment?
Borchashvili: "It's true, I was very calm the whole day, I felt really good from the beginning, I was in rhythm right away. I didn't really have to go to my limit. Especially not in the semifinals and final. That's why it took longer. I didn't want to risk anything."
With this victory, you will move up 49 places in the world rankings (currently 83rd). What do you expect for the World Championships in Doha?
Borchashvili: "I've never felt better, I can't wait for the World Championships in Doha (7-14.05). In retrospect, I was really angry after Tashkent that I gave away the last two fights. I didn't want such tactical mistakes to happen to me a second time. This victory is really good for my self-confidence."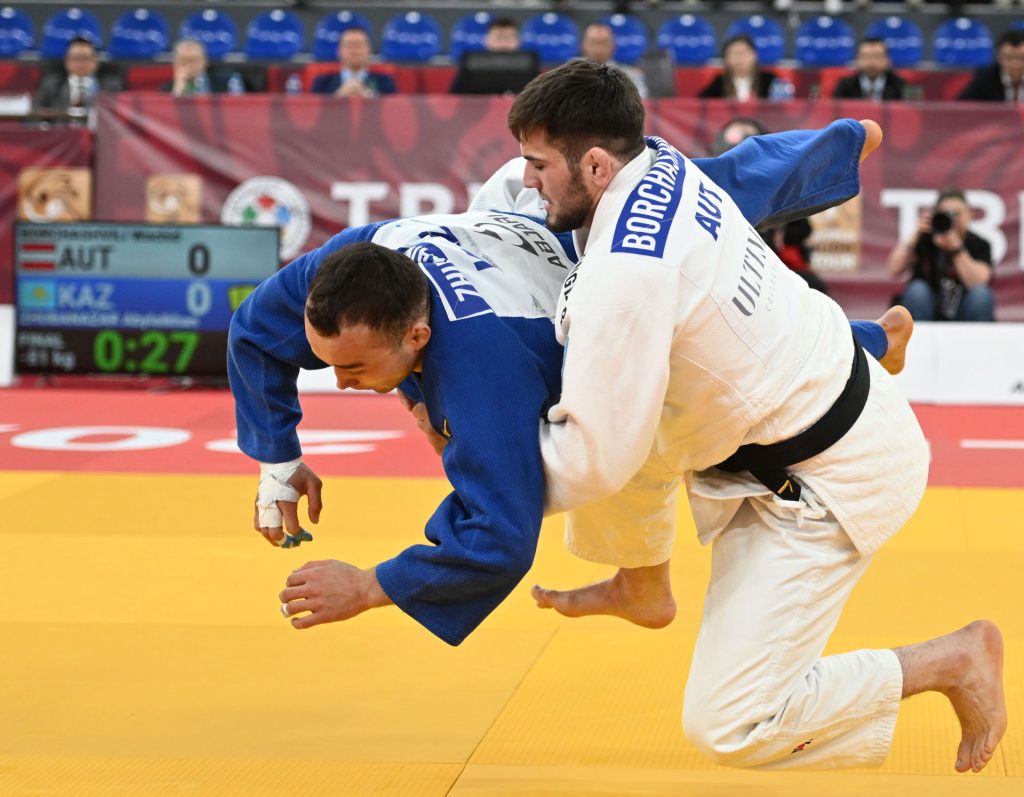 Judoka
Author: EJU Media
---