DAY THREE
-78kg
Renee VAN HARSELAAR (NED) tops the seeding in this years Junior European Championship in Porec. The Dutch athlete took a silver medal in the 2019 World Junior Championships and advanced on to the senior circuit, swiping a silver in the Warsaw Continental Open this year.
On the opposite side of the draw we have the host nations Petrunjela PAVIC (CRO). PAVIC took the Junior European bronze medal last year in Finland, but with experience and a gold medal in a senior Continental Cup event now, she may have the edge to get in to the final this time around.
Team mate to VAN HARSELAAR, Kim HOOI has a number of Junior European Cup events under her belt, topping the podium on the majority of occasions and could make it a double whammy for the Dutch team if both were to medal!
Renee VAN HARSELAAR (NED)
Kim HOOI (NED) (far right)
Petrunjela PAVIC (CRO)
+78kg
Lea FONTAINE (FRA) is returning to retain her title as Junior European Champion following her success last year. FONTAINE has quickly made her way up the development pathway, with a 2018 win in the Cadet European Championships and has her sights set on a senior takeover, managing a silver in the Bratislava European Open in February.
Though she is dominating in the seeding, this lockdown period has given athletes ample time to prepare as she is the one to beat. Keen to overcome the French athlete is Marit KAMPS (NED), having lost in both a Cadet and Junior European contest to her, once missing out on the final. The Junior World bronze medallist will have to work hard to overcome this battle.
Of course, these two athletes may be seeded highest but in this sport anything can happen.
Lea FONTAINE (FRA)
Marit KAMPS (NED)
Daria VLADIMIROVA (RUS)
Helena VUKOVIC (CRO) will certainly try and take the title this year, the young Croatian athlete has a Cadet World title to boast as well as a Junior European bronze last year and a senior gold a matter of weeks ago in Dubrovnik during the Senior European Cup.
Daria VLADIMIROVA (RUS) took the silver medal last year in the Junior Europeans after a fantastic run throughout her preliminaries, however, once again, FONTAINE was the one to take the gold medal. VLADIMIROVA now has the opportunity to change the end result.
-90kg
The final day of the men's categories will start with the -90kg category with Gennaro PIRELLI (ITA) topping the seeds. The Italian took a Junior World bronze last year, losing out to the eventual silver medallist, GOZ Roland (HUN) who will be competing in the U23 European Championships next week.
In Finland last year Mikheili BEKAURI (GEO) stood to take his bronze medal, defeating Mansur LORSANOV (RUS) for the Junior European medal but without a doubt, both will be aiming to get in that final this time round. The pair both have great results and plenty of experience but it'll be the fight on the day that determines their place on the podium.
This would be threatened by an unseeded and unranked Italian. Daniele ACCOGLI may look lost in the entries, however he has multiple gold medal accomplishments at cadet level, a bronze in the European Championships and silver in the EYOF. He was unfortunate to lose out in the World Championships for bronze but will have worked hard during the lockdown in Italy to ensure his place at the top.
Gennaro PIRELLI (ITA)
Mikheili BEKAURI (GEO)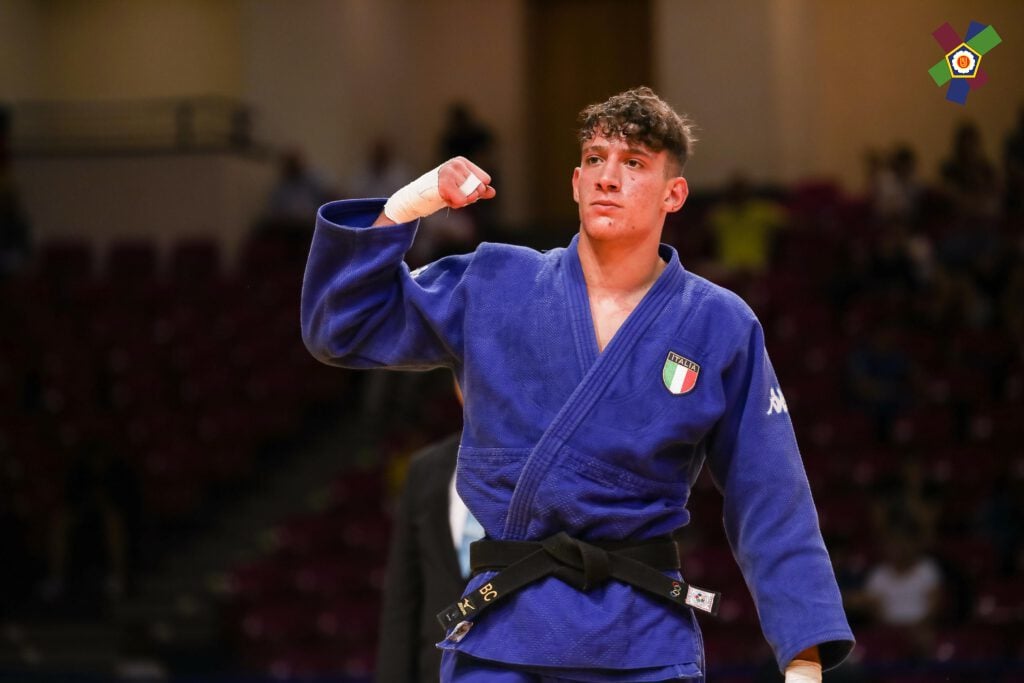 Daniele ACCOGLI (ITA)
-100kg
This could be a very exciting day for the -100kg, a real variety of athletes and experience will come together, with some potential surprises in store.
Ilia SULAMINADZE (GEO) is the current Junior European title holder and World silver medallist, but has shown a successful journey throughout his career including at cadet level.
VEG Zsombor (HUN) has come head to head with the Georgian on two occasions and failed to best him, however he has earned himself some experience on the senior circuit which brought him a bronze medal in the Oberwart European Open. VEG has a history of bronze medals; World Junior, European Junior, Cadet European and Youth Olympic Games – it is his time to make the final!
Ilia SULAMINADZE (GEO)
VEG Zsombor (HUN)
Mert SISMANLAR (TUR)
Turkey once again come with a strong team, one of those favourite to take home a gold, Mert SISMANLAR. The 2017 Cadet European Champion and 2018 Junior European bronze medallist has catapulted himself on to the senior circuit with some serious wins against major players on the IJF circuit. Beating the likes of Peter PALTCHIK (ISR), Elmar GASIMOV (AZE) and Mukai SHOICHIRO has placed him 5th in the Abu Dhabi Grand Slam and only last week, 7th in Budapest. He has the ability to be up there with the best of them, can he bring the heat on day three?
Interestingly, there is an underdog in this category, Kenny LIVEZE (FRA). Last year he made a splash on the cadet scene by taking the European and World title, this week he will debut as a junior athlete and will hope he can live up to expectation.
+100kg
SIPOCZ Richard (HUN) took Junior European and World bronze medals last year, then stepped on to the U23 tatami with purpose and took home the title! He didn't stop there either, SIPOCZ created quite the stir among the seniors, taking a fifth place in the Dusseldorf Grand Slam, defeating major players and accepting the loss of the bronze from Olympic and World medallist, Rafael SILVA (BRA).
Saba INANEISHVILI (GEO) missed out on stepping on to the podium last year but took a fifth place, losing out to this years #1 seed and last years silver medallist Erik ABRAMOV (GER). It could be his time to shine as he was somewhat overshadowed by his older team mate Gela ZAALISHVILI who became Junior European Champion for the second time last year, as well as winning Grand Slam and Grand Prix events.
SIPOCZ Richard (HUN)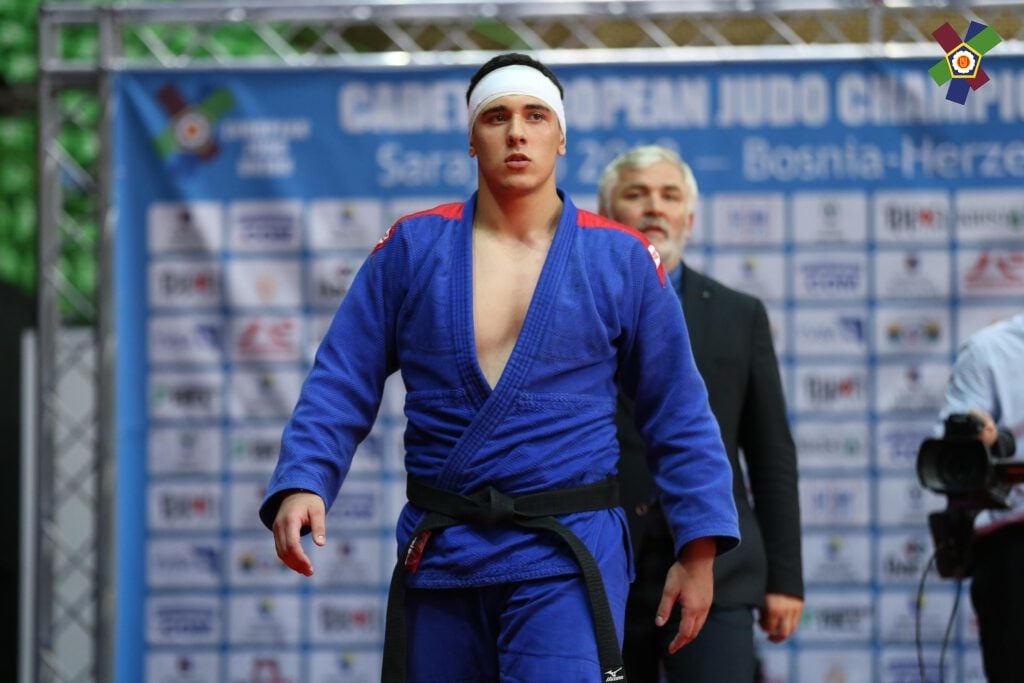 Saba INANEISHVILI (GEO)
This category has had an influx of younger entries and we will see the start of a new generation and some potential diamonds in the rough.
Author: Thea Cowen
---