Fridrich Annamaria is closing our roster of brilliant referees who we will see in Tokyo starting this week!
She had quite a fantastic upbringing with her parents being artists in the circus, she travelled the world with her twin, Katalin who is also an international referee, as well as her brother.
We did lot of acrobatics, gymnastics and dance as we were small children. Later, as a teenager, I started judo and loved it from the first moment. In competitions as a judo fighter I felt, yes, this is my sport, this is my life forever! I trained every day, and worked hard, won in the Hungarian championships and some international tournaments. At national level I was in the top three judoka in -52kg. I was in the Hungarian Sport University as judoka and in this time I started with the referee career too.
It wasn't until Annamaria was 23 years old that she made the decision to become a referee. With university on the cards, continuing as an international competitor would be difficult to manage, knowing that she would need to attend lots of camps and competitions and so she decided to focus on education and compete at a national level. At the time there were no female referees in Hungary, so with her twin sister, they became the first.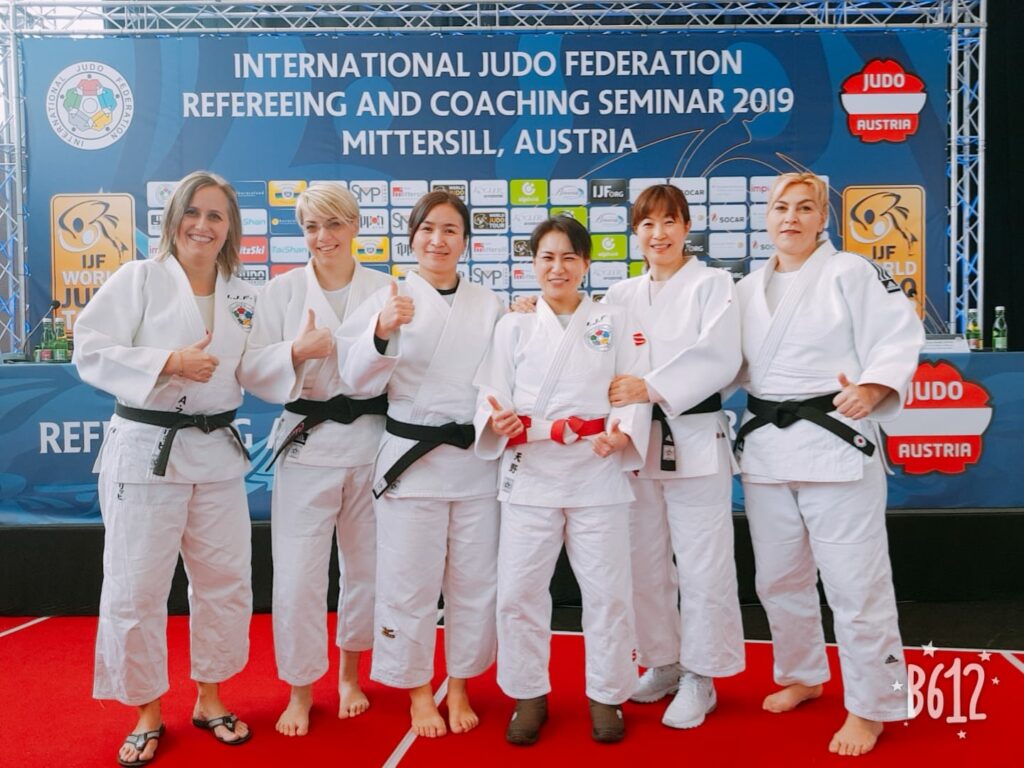 Becoming a referee wasn't such an easy time for these women, as they were breaking the mold.
At first, for a young, small blonde girl it was not so easy getting my referee work across to the 'men's world' of judo, we had lot of funny comments like 'better to stay in the kitchen' or 'my lady' and sometimes not so funny remarks, but slowly the opinions changed. Maybe the girls know something about judo, about rules, and they have power, knowledge and spirit for the hard decisions. In 1999 I did the continental referee license, after that I had two sons (2000, 2002). My husband, Havasi Viktor another former athlete, coach and international referee and my family have supported my referee career too, so I was still refereeing until I was 7 months pregnant and came back as soon as I could. At the weekends my parents or my husband travelled with me and my boys to the Hungarian or international competitions, to take care of the kids.
So just like her parents had travelled when she was a child, Annamaria instilled that love for travel in to her own children and continued in her career. Her judo family also extended as her twin, Katalin married Gosztonyi Balázs, a Paralympic referee in 2016, also a top IJF referee and former athlete. Then in 2005 she had her third child and only three years later did her diploma in psychology and so in her 'civil life' works as a psychotherapist.
Three top Hungarian IJF referees; Viktor Havasi (Paralympic referee Tokyo 2020) Annamaria Fridrich (Olympic referee Rio 2016, Tokyo2020), Balazs Gosztonyi (Paralympic referee Rio 2016)
IJF Head Referee Director, Florin Daniel Lascau and Viktor.
Now with three boys, it seemed logical to start their own judo club but gave themselves the dilemma of attending competitions as coaches or as referees.
It wasn't easy, but we have other coaches in our club, who can help us. In 2008 I did my international referee examination too, and I was ready to start my highest referee career. It was a very busy time, but in 2010 we got a surprise, son number four was on his way! We wanted always a big family. After one years break I came back again to the tatami, and started again. In 2013 I was very successful in the European championships in Budapest, and from 2014 I started with the IJF World Tour.
This meant that since 1999, Annamaria stopped and started her career, had four wonderful children, studied and completed civil work, all to aid her passion of judo. She wanted to be one of the best referees, to go to the Olympics and of course she was a success, but which contests have left an everlasting impression?
In the last 22 years as international referee I did more than 40,000 judo fights in Hungary and all over the world. The first final block was in the senior European championships in Düsselforf (2003), the first final in the senior World championship was in Astana, 2015 and for me the biggest was the quarter final in Rio, the +100kg between Teddy Riner and Rafael Silva . The judo arena was exploding, I will never forget this wonderful feeling. I felt in my skin, in my body and in my soul the spirit of judo, what it means, the fighting, the extreme hard work, the power of the judoka.
Annamaria and Viktor's four sons.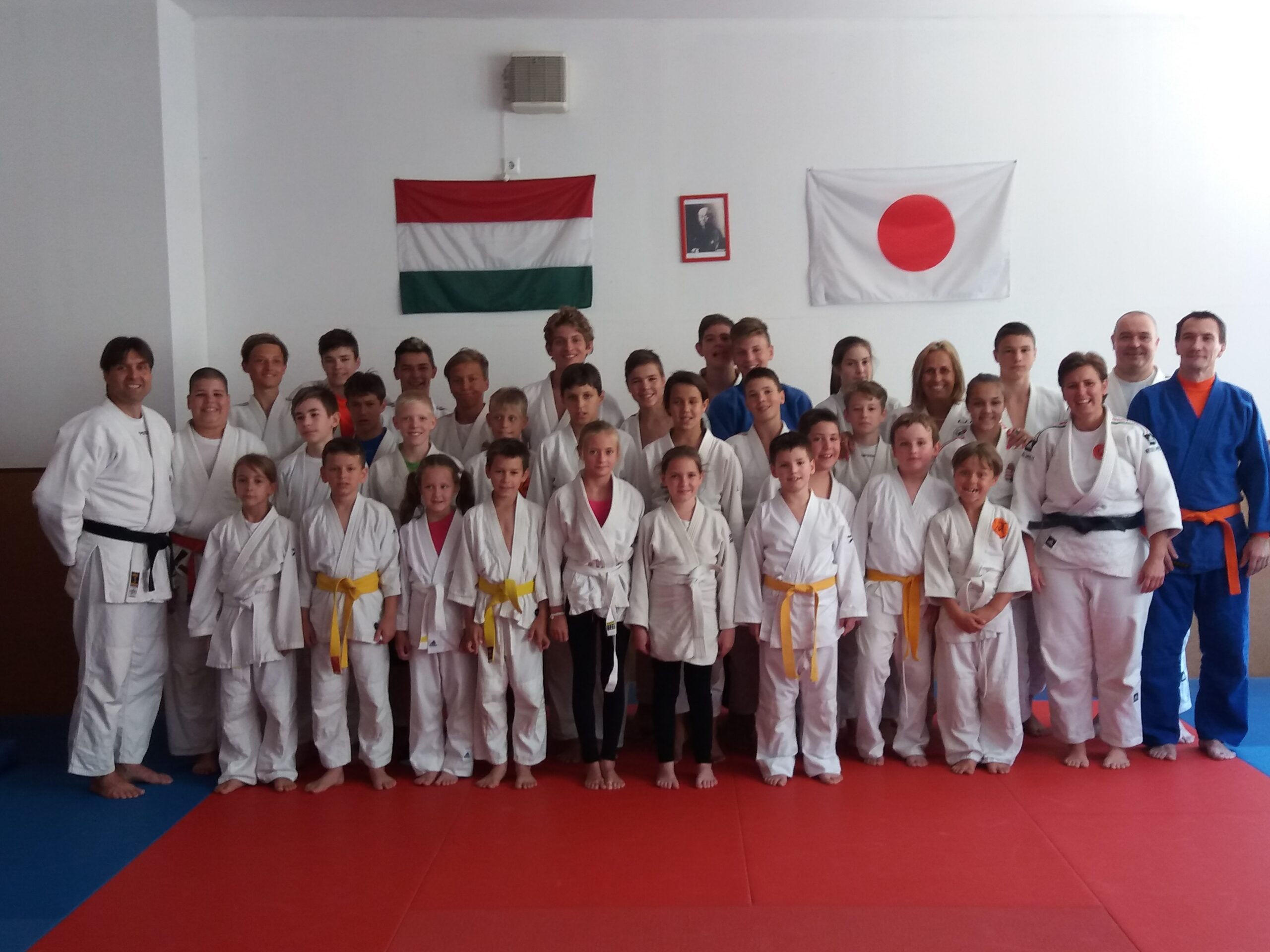 Along with her passion for the sport, she also had wonderful mentors, two great Olympic referees from Hungary Tardos János and Vági Miklós, both of which gave their knowledge, experience and support from the very beginning. Annamaria will take this with her to Tokyo which commences in only three days.
I am looking forward to the Olympic Games in Tokyo, this will be my second Olympic Games and of course I am very happy about it. For the ladies it is a big pleasure, up to this point only two female referees in the world -Kathy Mouette (FRA) and Akiko Amano (JPN) have had the possibility to referee twice in the Olympic Games. After Tokyo I will spend more time to give my experience and knowledge to the new generations too, because we need the best referees for the judokas. As the referees motto goes; 'always the best judo fighter must come down from the tatami, like a right winner."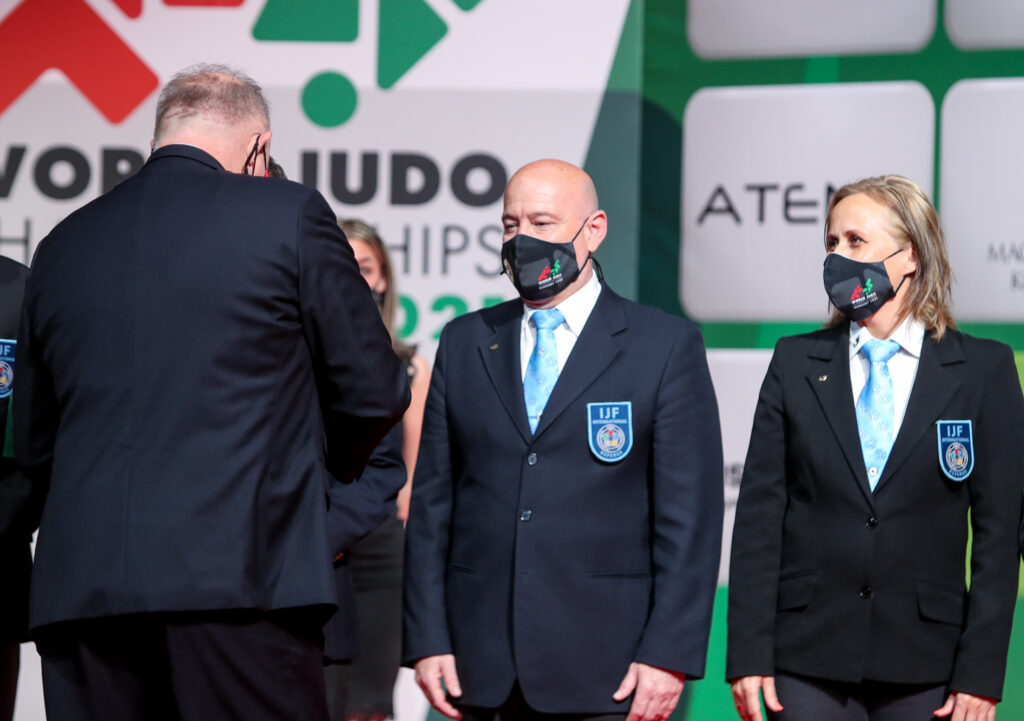 Judoka
Author: Thea Cowen
---