In the +78kg category, Europe took two bronze medals, the first Larisa CERIC (BIH) and the second, Kayra SAYIT (TUR). Both competitors proved they were worthy of place on the podium.
Larisa CERIC (BIH) was particularly pleased with her World bronze medal, not only because she performed fantastically but it was her first World medal in this weight category. Thanks to CERIC's achievement, Bosnia and Herzogovina now have three senior World medals, this is not just within judo but for all sports.
"It was worth all the work for all these years, I'm pretty happy […] I am proud, I came second in Europeans and this medal means a lot to me."
CERIC was confident coming in to this tournament, knowing that the work she had put in would help with her success.
Her quarter final contest was against the home favourite in the +78kg weight category, Iryna KINDZERSKA (AZE). During the World Championships in Budapest 2017 they faced eachother, KINDZERSKA coming out on top. It was not to be the Azeri's day in front of the home crowd, CERI taking her opponent down with a maki komi attack for a waza ari score, straight in to osaekomi to end the contest, putting her in to the semi final. When asking how important this win was to her she told us,
"Yes I lost and it was very difficult for me, I trained very hard and no one apart from ASAHINA Sarah (JPN) can beat me so I think today was my good day, but every fight was tough."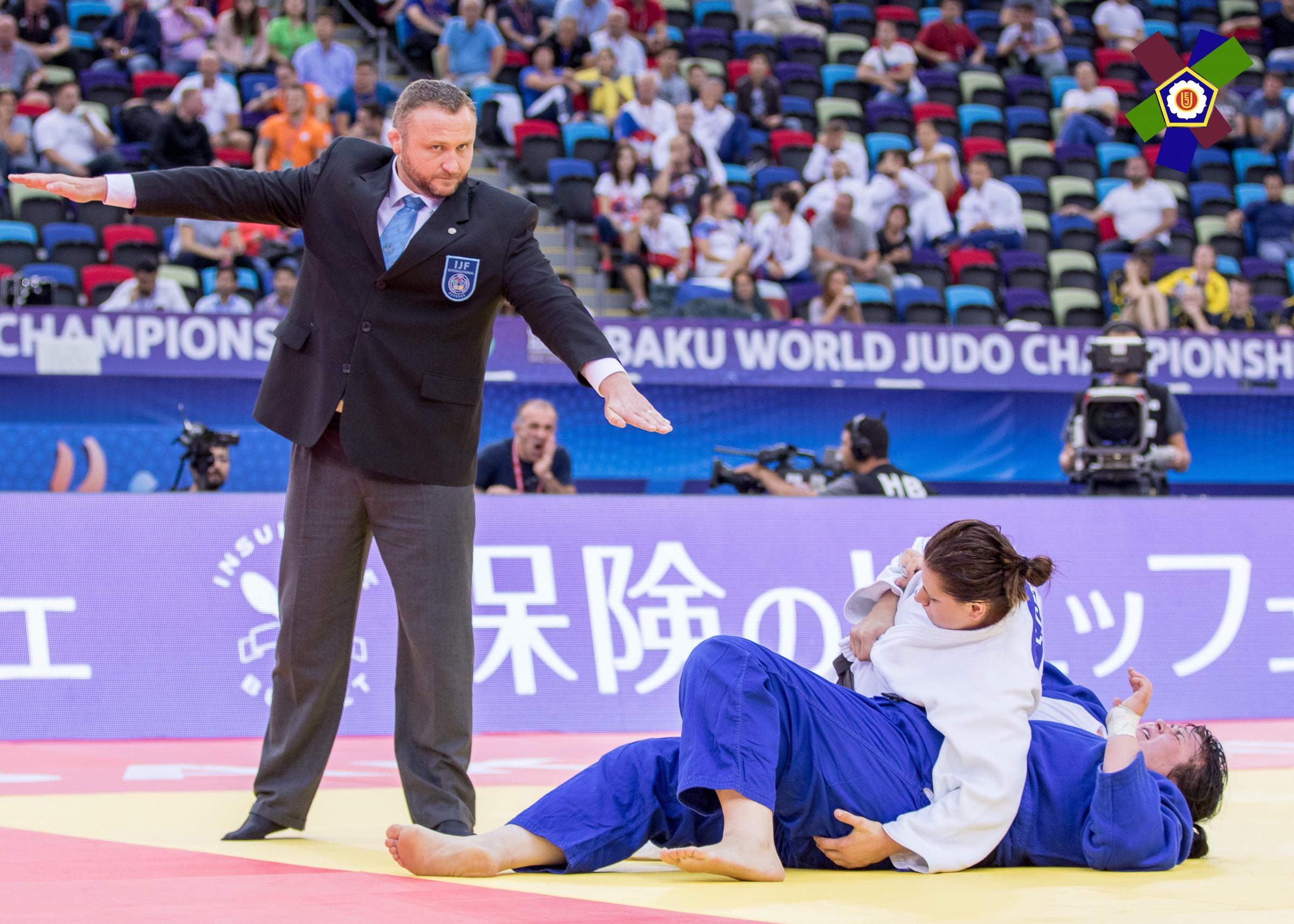 As she let us know, ASAHINA was the only one that could stop her, unfortunately knocking her in to the bronze medal contest against Sarah ADLINGTON (GBR). We wanted to find out how she gathered herself for the bronze medal contest after this loss,
"I like to be in the final but today it wasn't possible, I collect my head and give everything to win the medal and in the end I got it."
---
Turkey took a medal in the -81kg category from Vedat ALBAYRAK on day 4, urging Kayra SAYIT in the +78kg category to take second for her country and the only medal for the women.
The Turkish athlete did not shy away from big attacks and her reactions to counter her opponents put her in a good position for a medal on the final day in the +78kg category. Her first contest was against SU Xin (CHN), easily defeating the chinese athlete with a ko soto entry for a solid ippon. In the third round contest, she came in contact with Beatriz SOUZA (BRA). The fight was quite evenly matched but SOUZA used some weak ashi waza against SAYIT who took advantage, resulting in a huge o soto maki komi.
The second bronze medallist, also losing out to ASAHINA in her quarter final, was sent to the repechage, needing to tackle two more opponents for her bronze. This seemed simple enough for SAYIT, using a quick sasai movement against KINDZERSKA for a place int he bronze medal contest.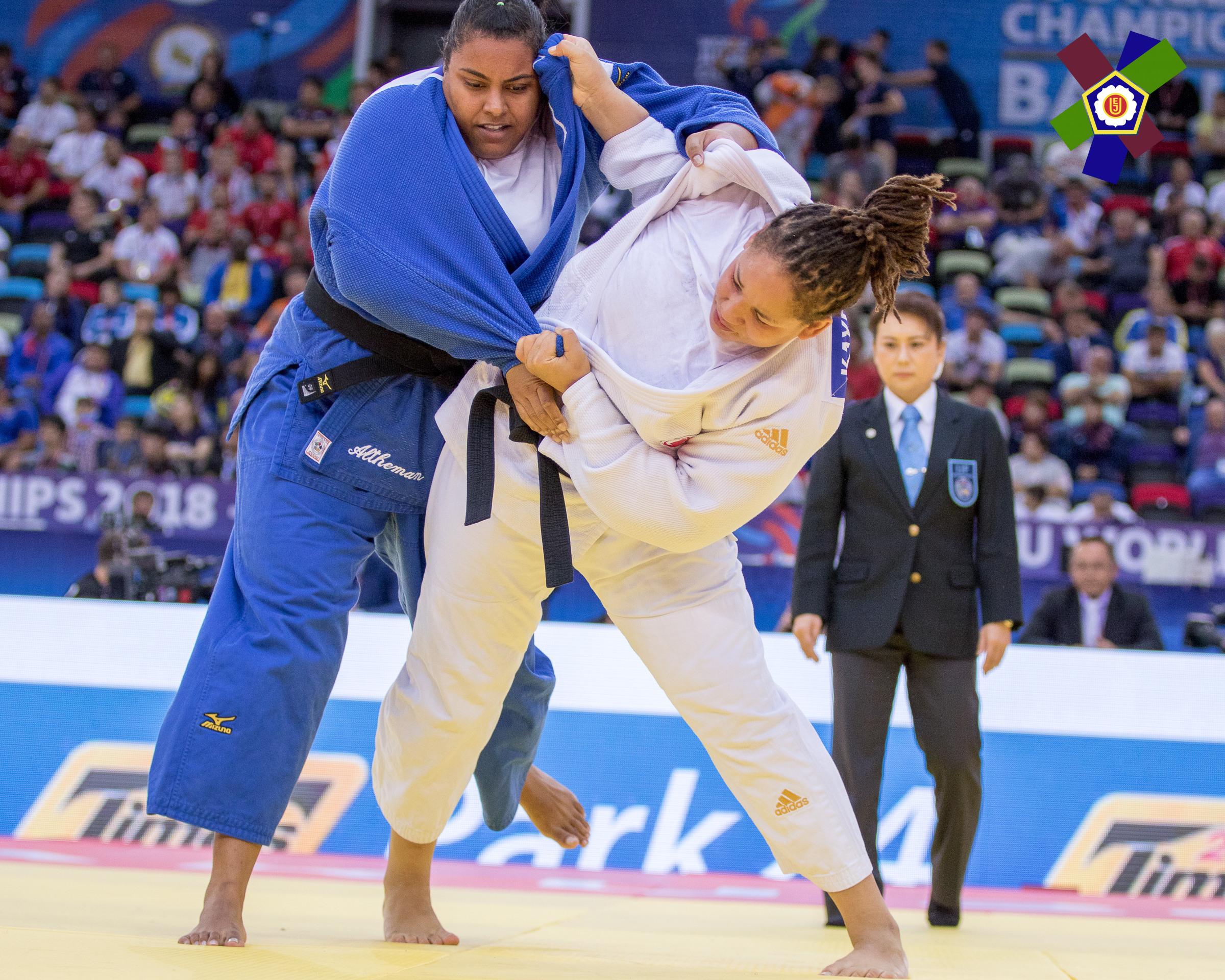 Asking SAYIT how she felt about her final contest against the Brazilian, Maria Suelen ALTHEMAN, she explained that she thought the fight against the Japanese would be her hardest contest but it turned out to be ALTHEMAN. It was a successful day for the Turkish team, finishing the week-long tournament with a medal.
Last year in Budapest she was also in the bronze medal contest, narrowly missing out on the medal. When asking her how it felt to step on the podium this year,
"I feel happy, last two years was hard, so much injury, special training adaptations. I'm happy for this year because it was a hard year for me."
After only starting to train two months prior to the tournament when it was safe to do so, and not impact on her previous injuries, she managed to take a World medal, but the determined athlete feels that she certainly has a lot more to give and will return to training with a fresh look. Though physically she felt good, she told us,
"I lost my feelings a bit but I became stronger in my head."
---
Podium +78kg

Podium +78kg 1. ASAHINA, Sarah (JPN) 2. ORTIZ, Idalys (CUB) 3. CERIC, Larisa (BIH) 3. SAYIT, Kayra (TUR) – Rafal Burza

Judoka
---