-63kg
British athlete, Lubjana PIOVESANA has made a name for herself as both a cadet and junior athlete, taking more than a handful of European Cup titles in both age divisions. The 21 year old has also taken bronze medals at the Junior and Cadet World Championships making her a known name on the younger circuit and now taking her first European Championship gold.
As of 2017 PIOVESANA took the next step on to the senior circuit, taking a bronze in the Saarbrucken European Cup and the Orenburg European Cup title. As well as finding success in Europe, she has placed third in the Cancun, Antalya and Tbilisi Grand Prix IJF events. We discussed her success throughout the year, as well as her result today.
"It can be such a hard transition in to senior so this age bracket is good for that, a good in between level. Coming in and out of both, using European Cups and Opens is useful for first year of seniors as well."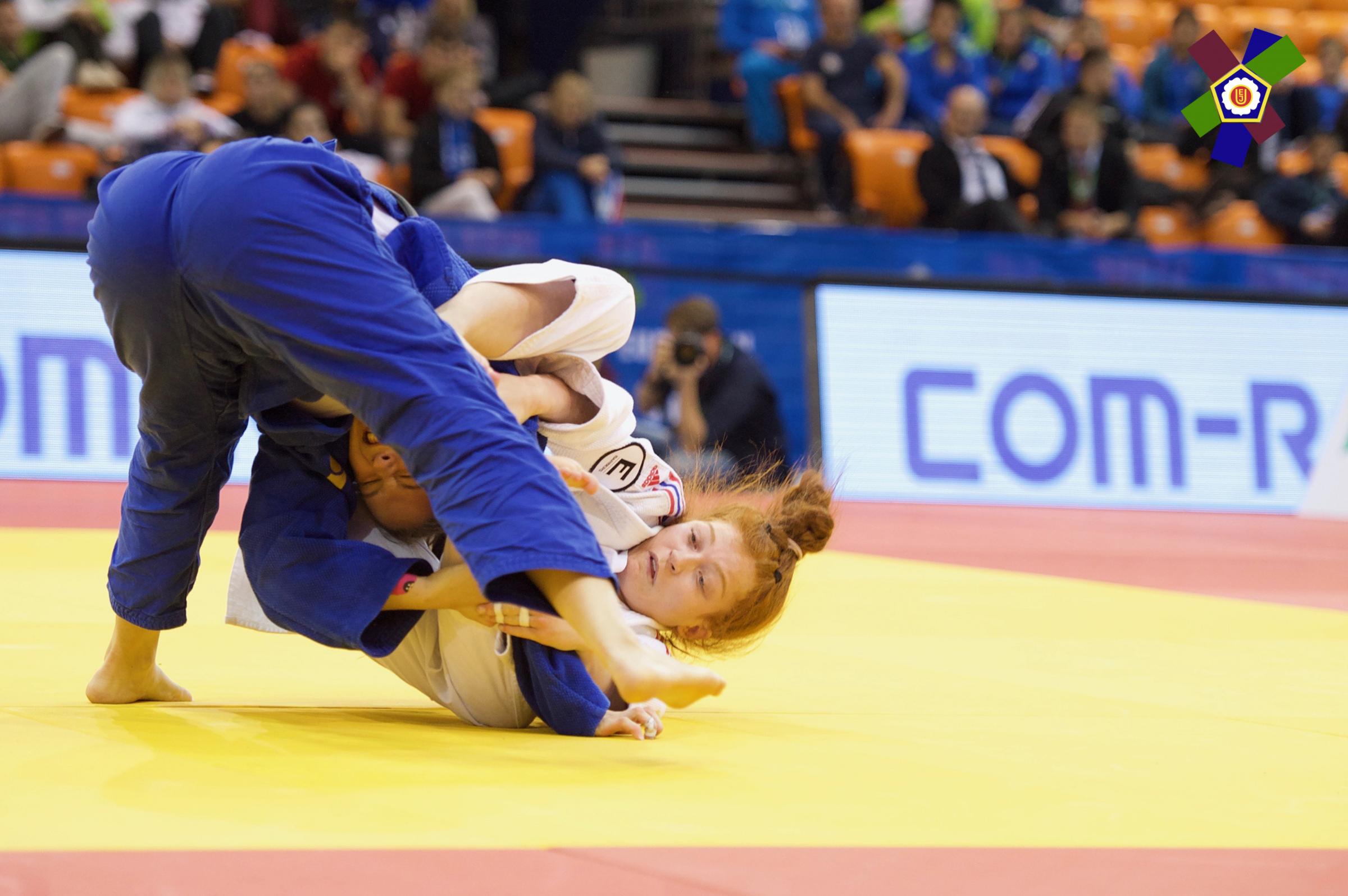 A strong and confident competitior, PIOVESANA stepped on to the tatami in the -63kg category today, wasting no time taking her opponents to the ground in her preliminary contests.
The British athlete's initial contest was against Vlada KOPNYAYEVA (ESP), the first exchange attempt from PIOVESANA was unsuccessful but she did not make the same mistake on the second, securing a submission in one minute. The quarter final against Danish opponent, Louise HANSEN was over in a blinding 18 seconds, again, a win by submission.
Paz LIEBEL (ISR) had two tough first contests before reaching the semi final against PIOVESANA. The Israeli athlete has also found success as a junior and cadet competitor in European Cups, narrowly missing out on a bronze in the senior European Cup in Sarajevo 2017. Both young women put in hard work in the first minute of this fight, however, LIEBEL was unfortunate to find herself in ne waza, tied up and unable to escape for the 20 seconds. The defeat put her in to the bronze medal fight against her team mate, Inbal SHEMESH (ISR) and the British competitor through to the final against Renata ZACHOVA (CZE).
"Ne waza came very naturally to me, I saw the opportunity and I took it. When I've been fighting abroad in senior events I've found myself in ne waza a lot and I definitely think it's my strongest area, if it's there I'll definitely go for it. It just so happened I had a lot of opportunities today which suited me. I do still try and do standing judo of course and the final contest allowed me add some variety."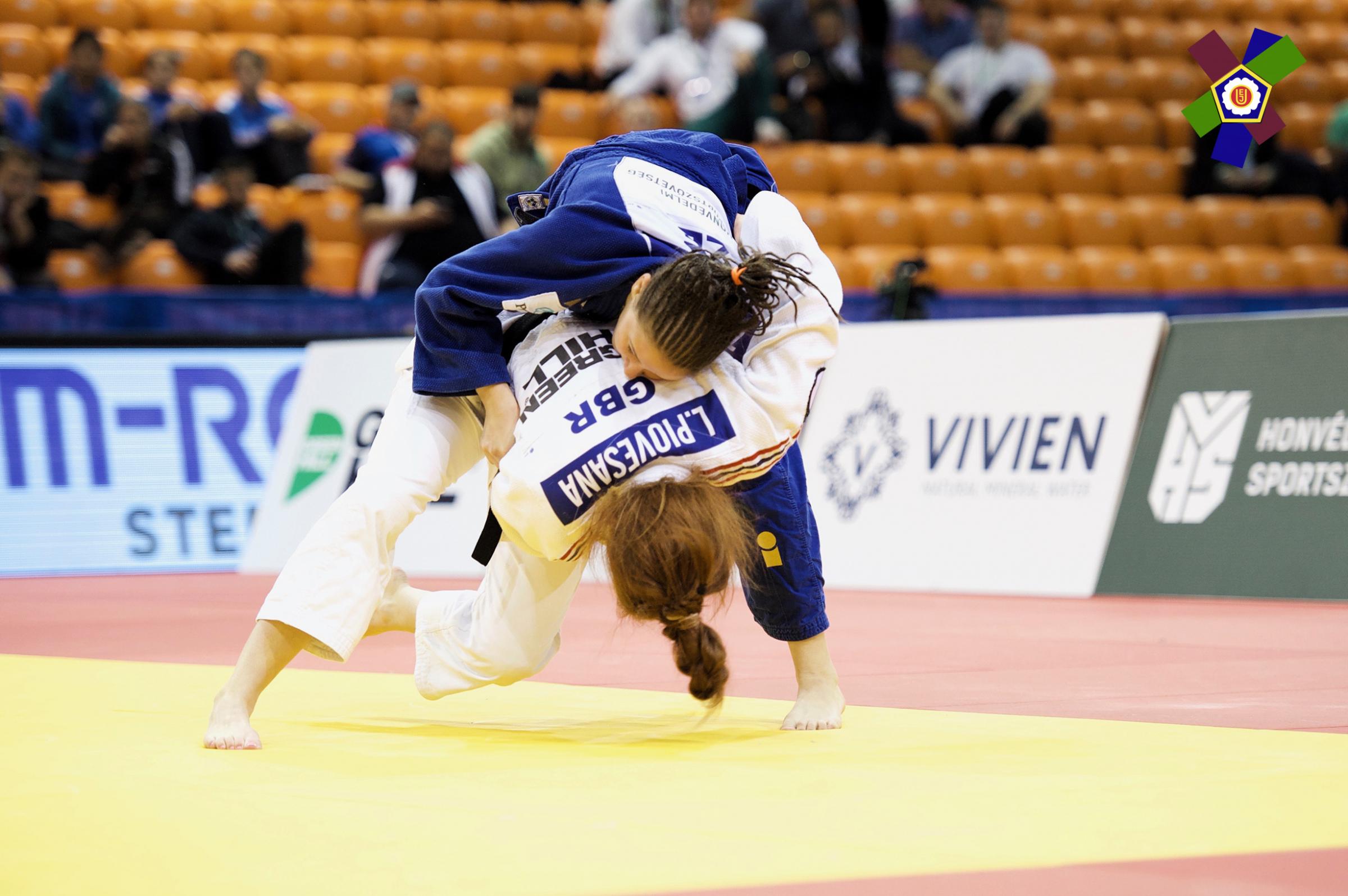 The -63kg category final was highly anticipated, would Lubjana PIOVESANA earn a gold medal purely with her ne waza skills today or would Renata ZACHOVA take the gold medal at only 18 years old? ZACHOVA had tremendous contests in the preliminary round, making her way past Junior World silver medallist, Stefania DOBRE (ROU) and Junior European Cup medallist Laura FAZLIU (KOS). She displayed her joy of finding herself in the final.
Both competitors started off strong, blocking each others attacks and clearly matched on strength. This was by far the most difficult contest of the day for PIOVESANA,
"Im really happy with how it went, she was very strong and I wasn't getting the reactions I wanted but I won three out of my four fights with ippon. To win in the final with a throw as well was good for me and has given me confidence, something I've been working on."
Though PIOVESANA looked collected on the tatami, she told us,
"Today I was really nervous coming in as the #1 seed, I've not been used to that in the senior events, I've always been the under dog and ended up fighting the #1 and #2 seed, I've suffered with nerves a lot in the juniors and haven't been successful so I've been worried about it. It's nice to be on top of the podium, of course senior is a lot harder but there have been girls here today with Grand Prix medals as well.
Even though I don't look it I'm terribly nervous, much more so that in Grand Prix events, I find myself more chilled out and I really didn't want to let my nerves affect me today. We've already taken a medal in the British team so that made me want it a bit more for my team as well. There was pressure but I got more and more in to it as the day went on and ended it in the best way."
PIOVESANA will next compete in the British Championships in December, but with a strong British -63kg women's team, she is unsure of her international opportunities at this moment.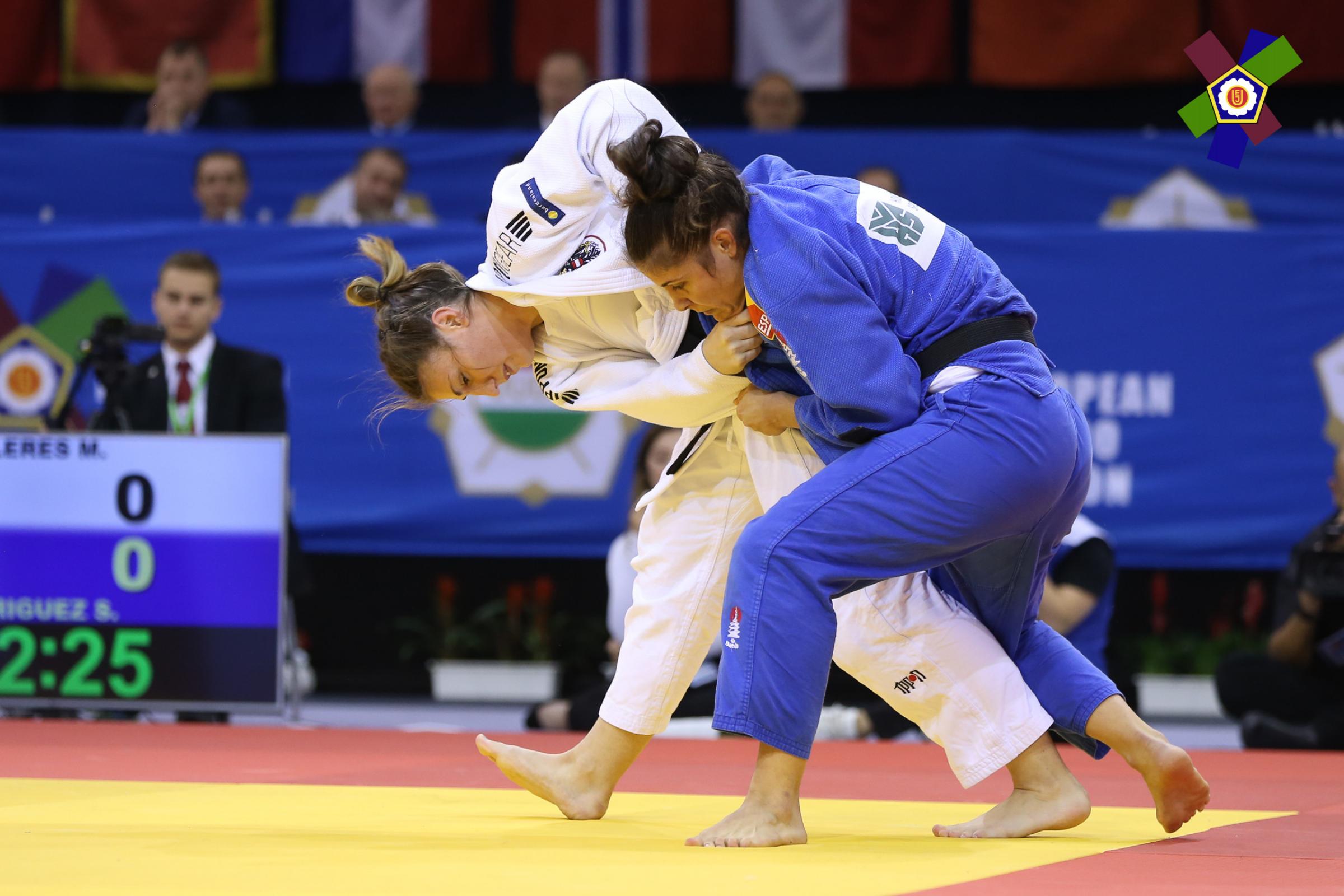 Favourite to win, Michaela POLLERES (AUT) is an experienced and successful competitor on the senior circuit, the Senior European bronze medallist showed her knowledge and skill on the way to the final despite her very tough encounters. In particular, an uncomfortable contest against the strong Italian athlete, Alessandra PROSDOCIMO. After performing and medalling in the Abu Dhabi Grand Slam last week, she brought that success with her today in the -70kg category.
We predicted a contest between POLLERES and Sara RODRIGUEZ (ESP), unknowingly, this ended up being the final with both incredible athletes winning their half of the draw. The road to the final of the U23 European Championships was not an easy one for the Spanish athlete. European Cup silver and bronze medallist, Andela VIOLIC (CRO) as well as the World Junior bronze medallist, Sarah MAEKELBURG (GER).
Though a hard fought final, RODRIGUEZ constantly attacked the strong Austrian athlete, but to no avail. POLLERES used her experience and strength, turning last years silver in to a well deserved gold.
"I wasn't sure if I would win a medal but it was my wish. I won all my fights by ippon and I didn't really have any major problems so I'm happy with day and my gold medal."
Paris Grand Slam champion, Akil GJAKOVA (KOS) was favourite coming in today as the #1 seed and although he had some very difficult contests, he always came out on top in the end with some stunning techniques on the way to gold. The Kosovo athlete is currently ranked #8 in the world, and has transitioned seamlessly on to the senior circuit, showing that the calibre of the Kosovar team is incredible across the men's and women's categories. Before arriving in Gyor, the strong young athlete took a silver in the Abu Dhabi Grand Slam just last week.
GJAKOVA's final opponent was Rufat MAMMADOV (AZE). This 18 year old had a very exciting tournament in the -73kg category and judging by his performance today will definitely be one to watch in the future, his powerful throwing techniques bringing him to the final. In spite of his strength and ability, experience won out in the final as the Kosovar athlete won with a tani otoshi.
"I have a lot of medals in senior competition but two years ago I became the U23 European Championship bronze medallist, last year I took the silver but I wanted to come this weekend to complete the set. I was not so happy with my performance, it was a tough competition but I tried to manage my fights to win the gold medal."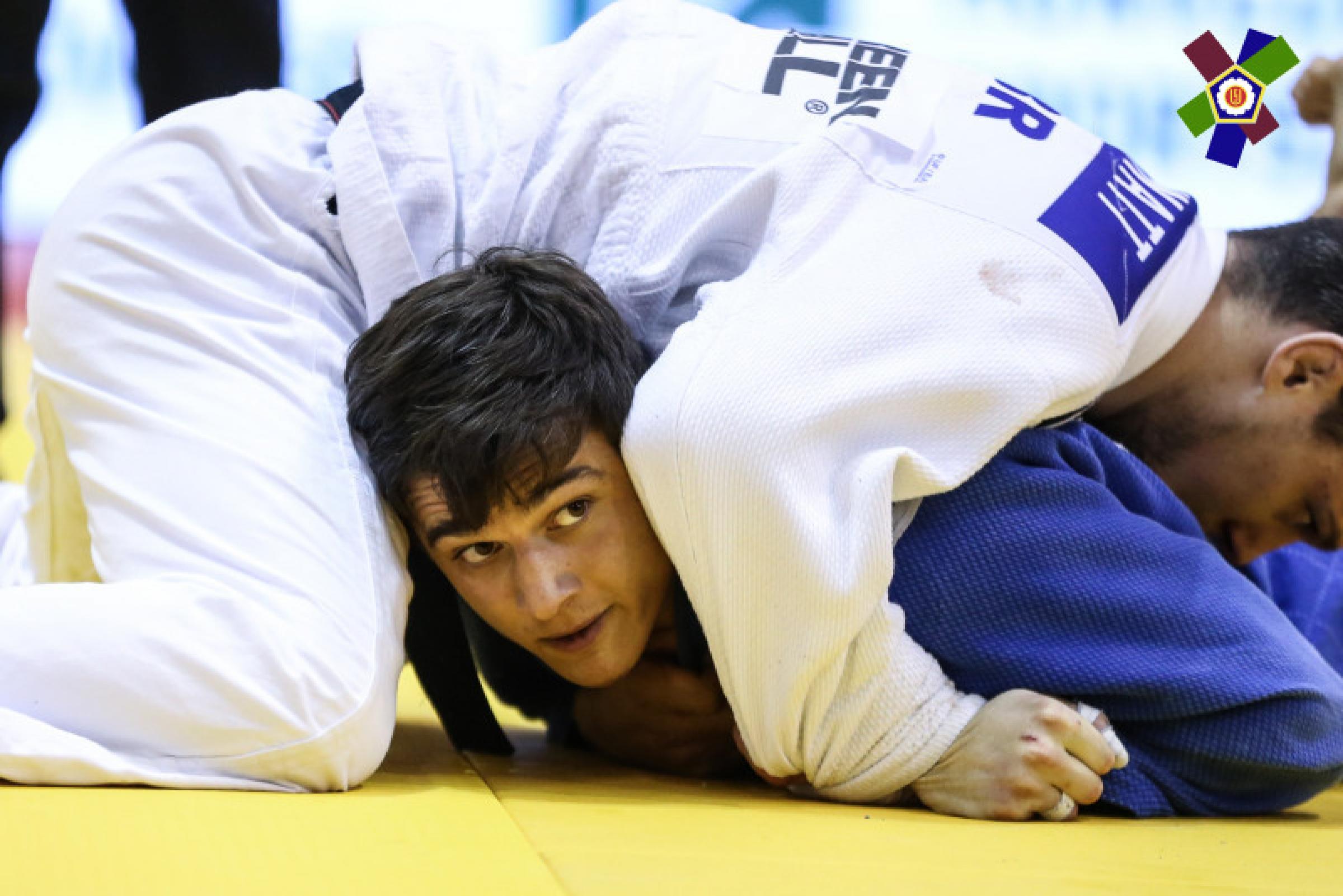 We have seen on multiple occasions over the past two days, the strength of the Georgian youth. The result of this in the -81kg category meant that we had an all-Georgian final to look forward to as the very last contest.
18 year old Vladimir AKHALKATSI has had a successful year in Junior European Cup tournaments this year, taking a gold in Berlin and silver in St Petersburg. Today was a testament to the Georgian teams development and junior, AKHALKATSI still has plenty of time to take more Junior and U23 titles before making the jump to the senior circuit.
Both athletes performed outstandingly in each of their contests, between them seeing out last years bronze medallist Jim HEIJMAN (NED), Cancun Grand Prix bronze medallist Tim GRAMKOW (GER) and Saarbrucken and Bratislava European Cup champion Stuart MCWATT (GBR).
Unfortunately for the #1 seed, Tamazi KIRAKOZASHVILI, he was unable to compete for the gold medal due to injury but helped celebrate his team mates success as they stood together on the podium. KIRAKOZASHVILI has certainly proved himself this year, winning the Tbilisi Grand Prix. He already has the Junior European title and would have liked the U23 title, which he was on his way to, however now he will set his sights on seniors.
By Thea Cowen, 3rd November 2018
---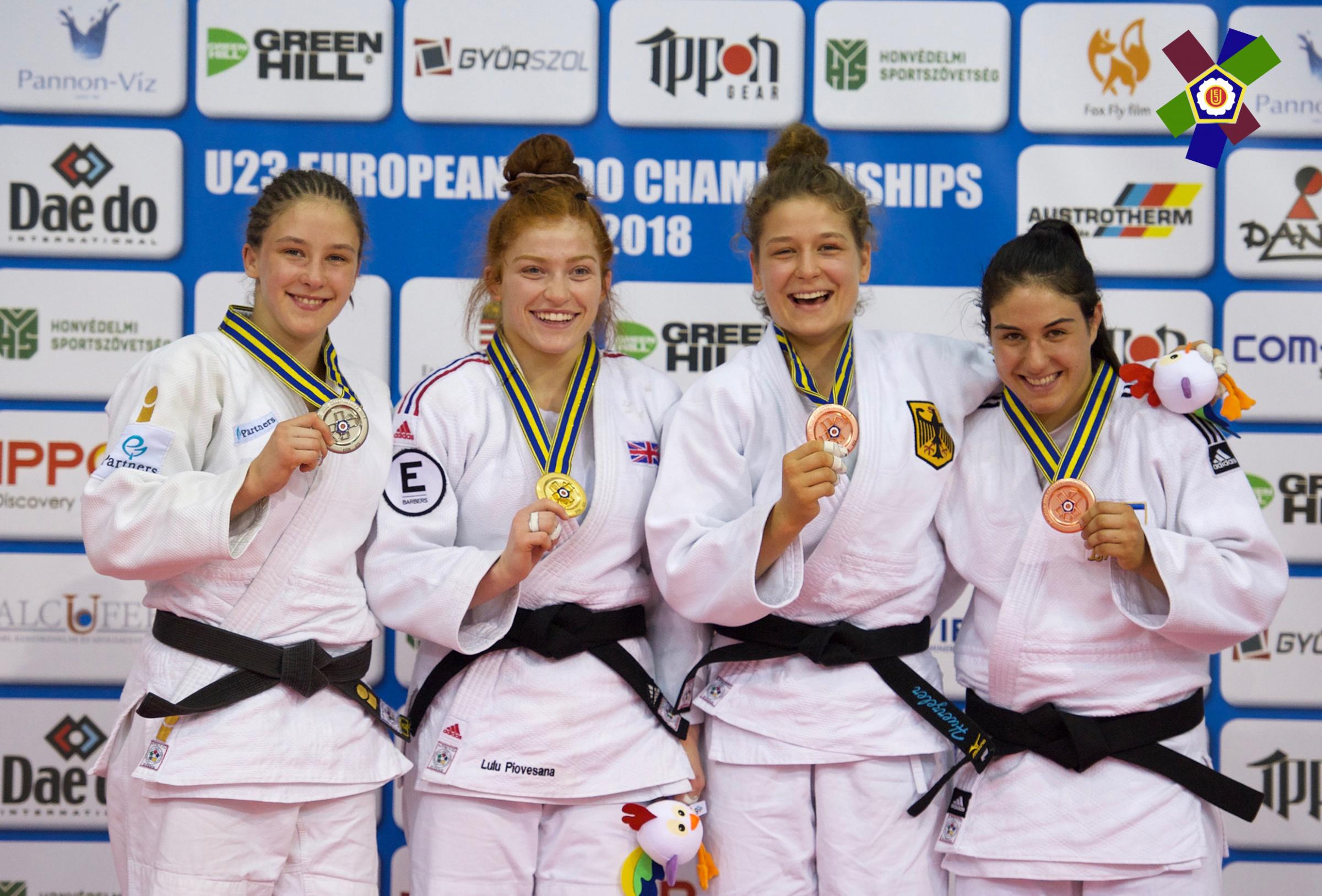 -63kg 1. PIOVESANA, Lubjana (GBR) 2. ZACHOVA, Renata (CZE) 3. HUERZELER, Michelle (GER) 3. SHEMESH, Inbal (ISR) – Anna Zelonija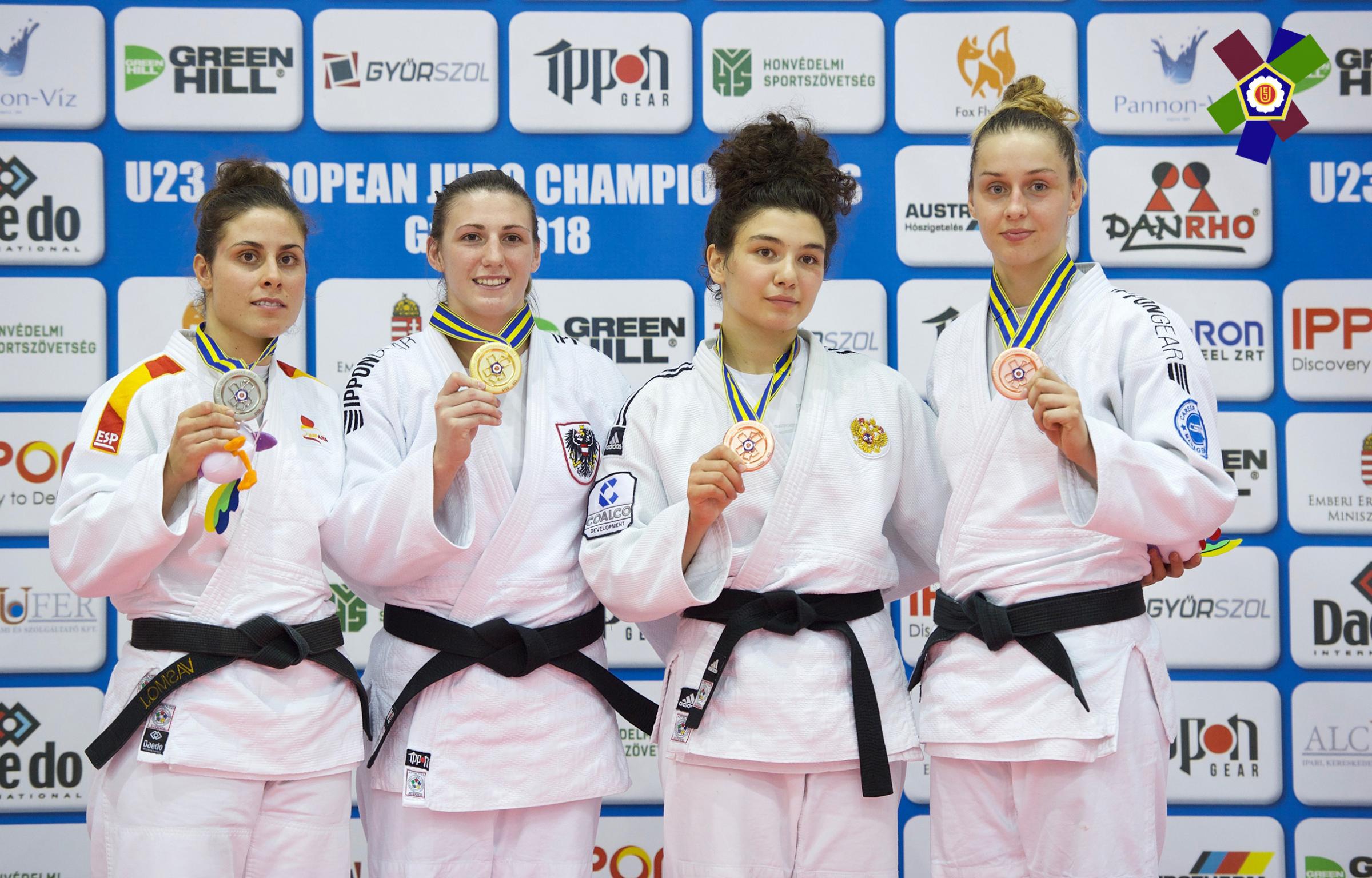 -70 kg 1. POLLERES, Michaela (AUT) 2. RODRIGUEZ, Sara (ESP) 3. TAIMAZOVA, Madina (RUS) 3. GERCSAK, Szabina (HUN) – Anna Zelonija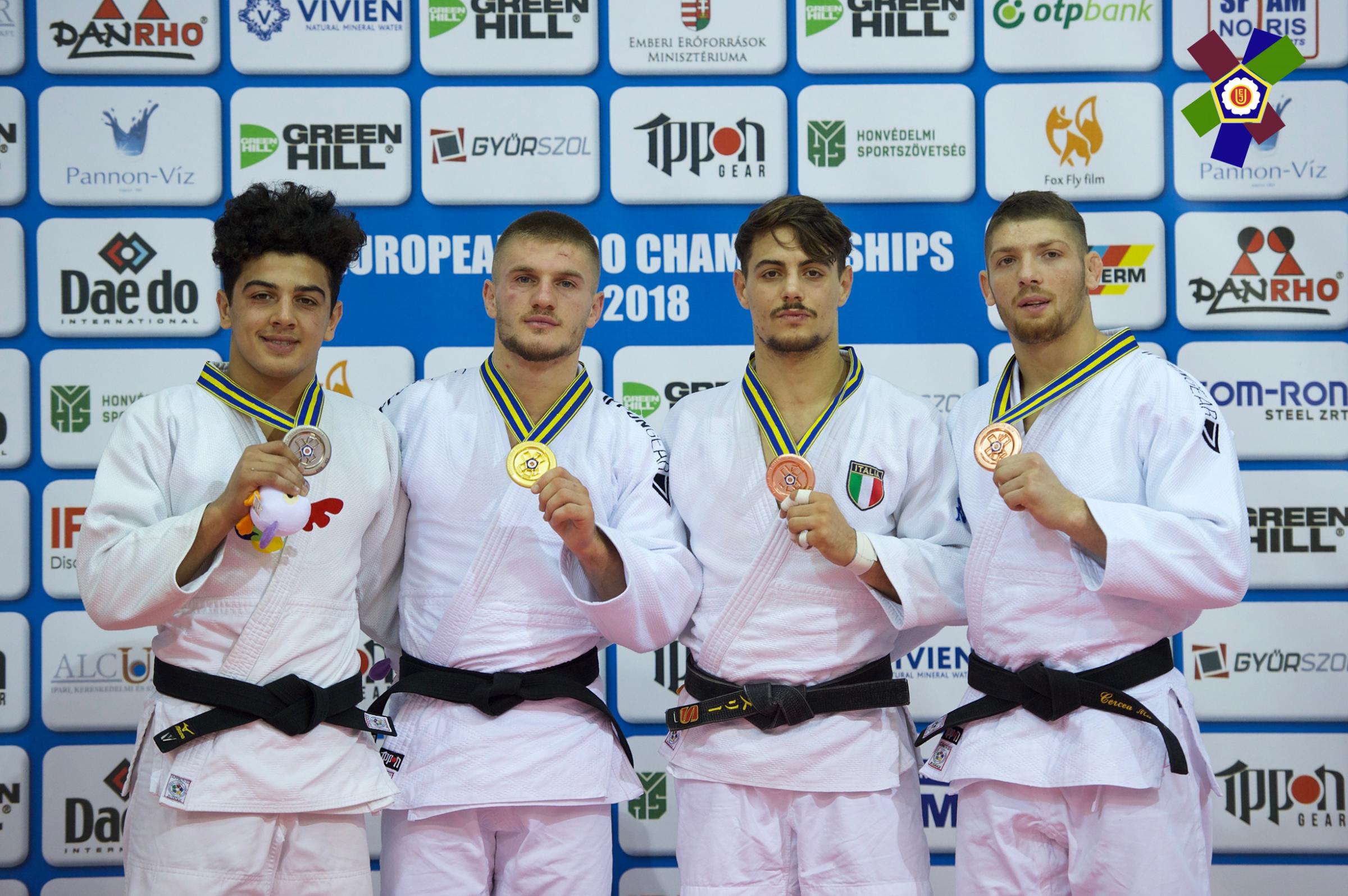 -73 kg 1. GJAKOVA, Akil (KOS) 2. MAMMADOV, Rufat (AZE) 3. SULLI, Gabriele (ITA) 3. CERCEA, Marcel (ROU) – Anna Zelonija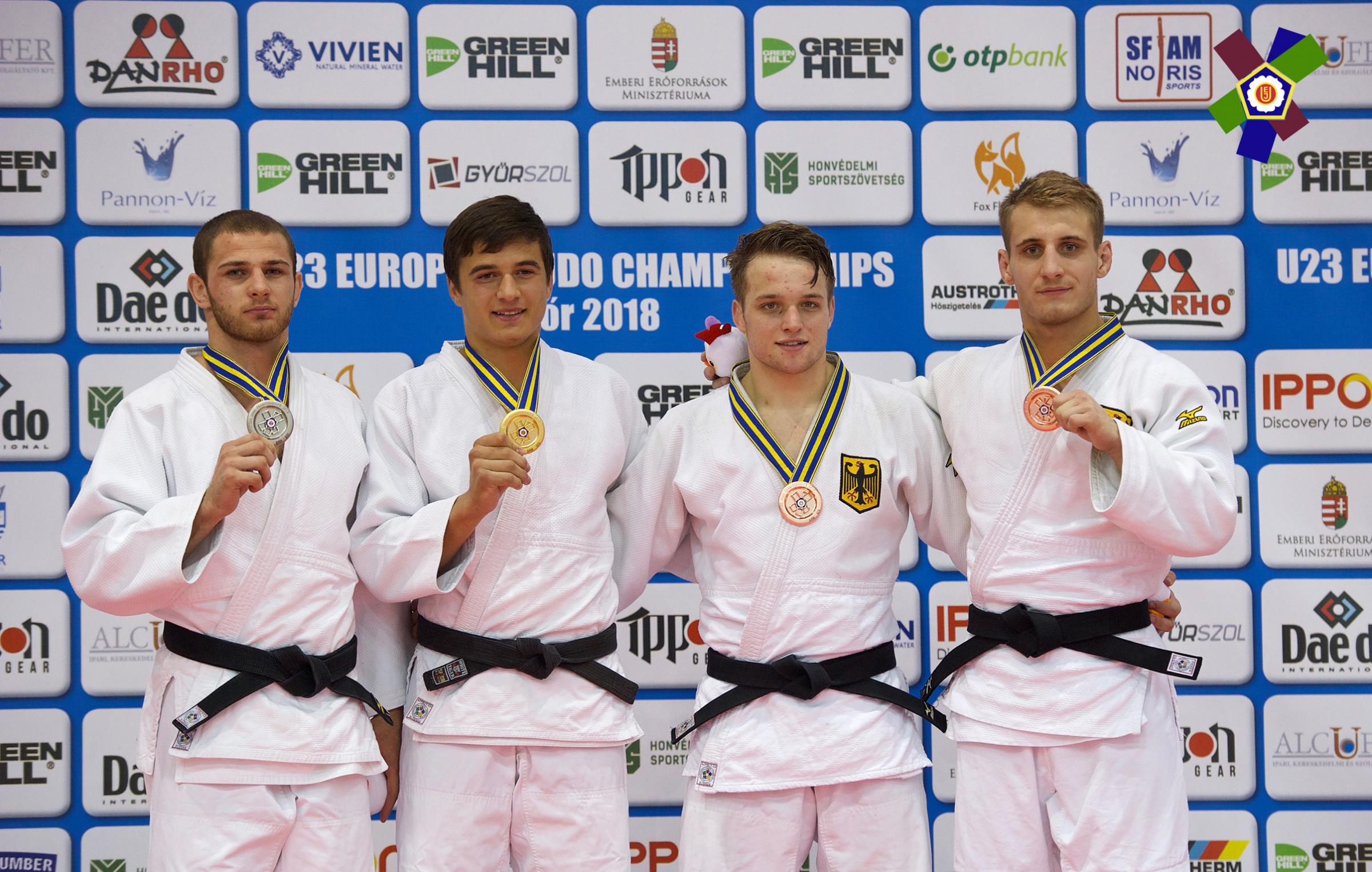 -81 kg 1. AKHALKATSI, Vladimir (GEO) 2. KIRAKOZASHVILI, Tamazi (GEO) 3. CAVELIUS, Timo (GER) 3. GRAMKOW, Tim (GER) – Anna Zelonija
Judoka
---