A bronze medal for hosts Turkey on the opening day was improved upon when Mikail OZERLER (TUR) took the gold medal in the -90kg category on the third and final day of the Antalya Grand Prix. In front of an expectant and vocal home crowd Ozerler delivered in style and against the odds.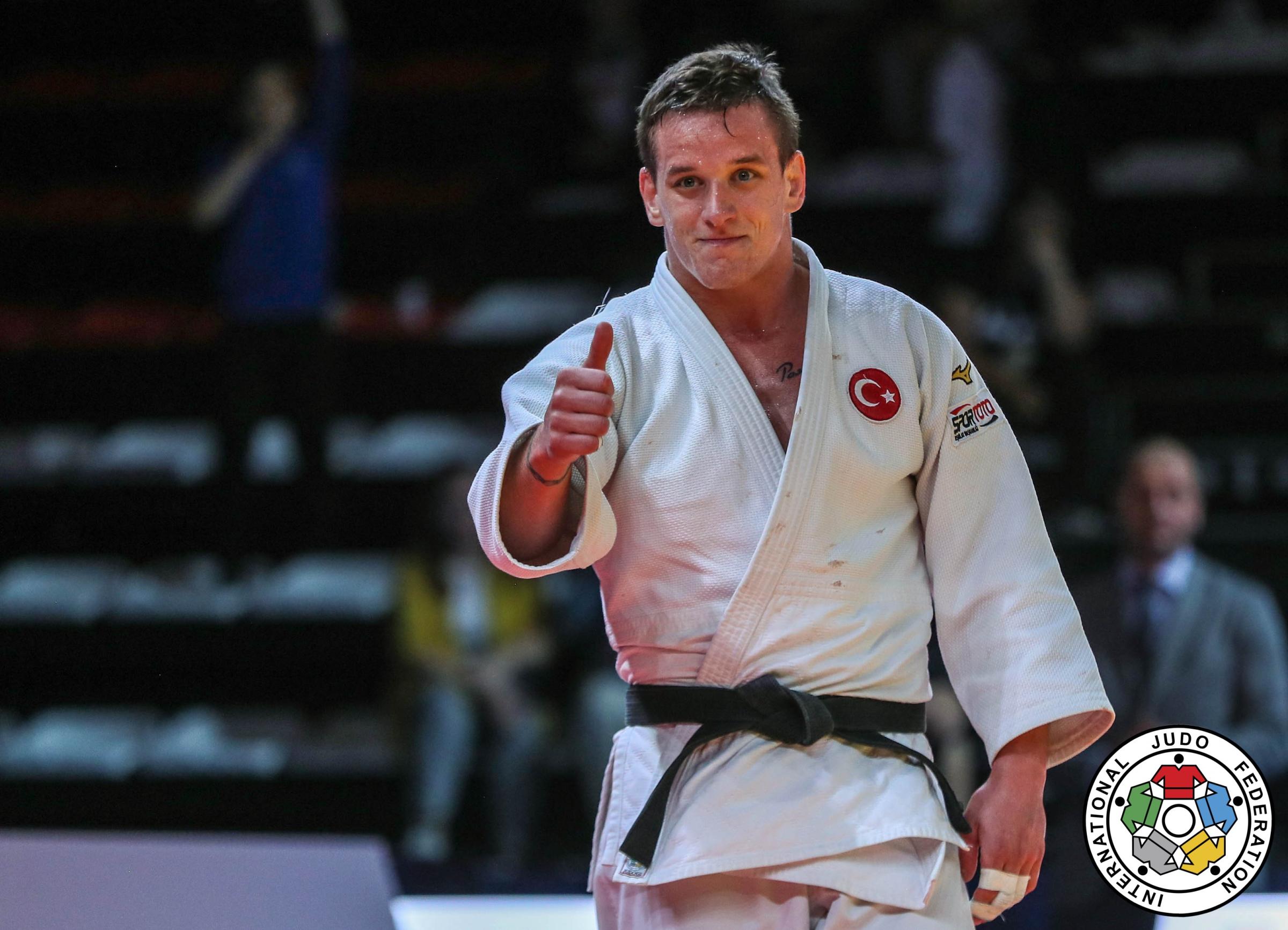 From the field of 45 competitors unseeded Ozerler began his day with a first-round win against Gustavo ASSIS (BRA) scoring waza ari in the first minute with harai goshi. A neatly worked sumi gaeshi brought up a second score for Ozerler who moved to round two. Shakhzodbek SABIROV (UZB) was Ozerler's next opponent and it was the Uzbek who after 30 seconds scored first with a modified kata guruma for waza ari. Ozerler battled away and wore his opponent down, eventually throwing Sabirov with a huge koshi guruma for ippon with one-minute remaining on the clock. In round three Ozerler faced 2018 world silver medallist Ivan Felipe SILVA MORALES (CUB). The contest was settled in golden when after two minutes Ozerler managed to come with ouchi gari and a waza ari score. In the quarter-final it was the turn of Yahor VARAPAYEU (BLR) to take Ozerler into golden score where after a little over a minute Varapayeu collected his third shido and Ozerler moved to the semi-final. Here Ozerler came up against former world champion Avtandili TCHRIKISHVILI (GEO). However, the Georgian could not keep up with the tempo set by Ozerler and a third shido saw Ozerler advance to the final.
Podium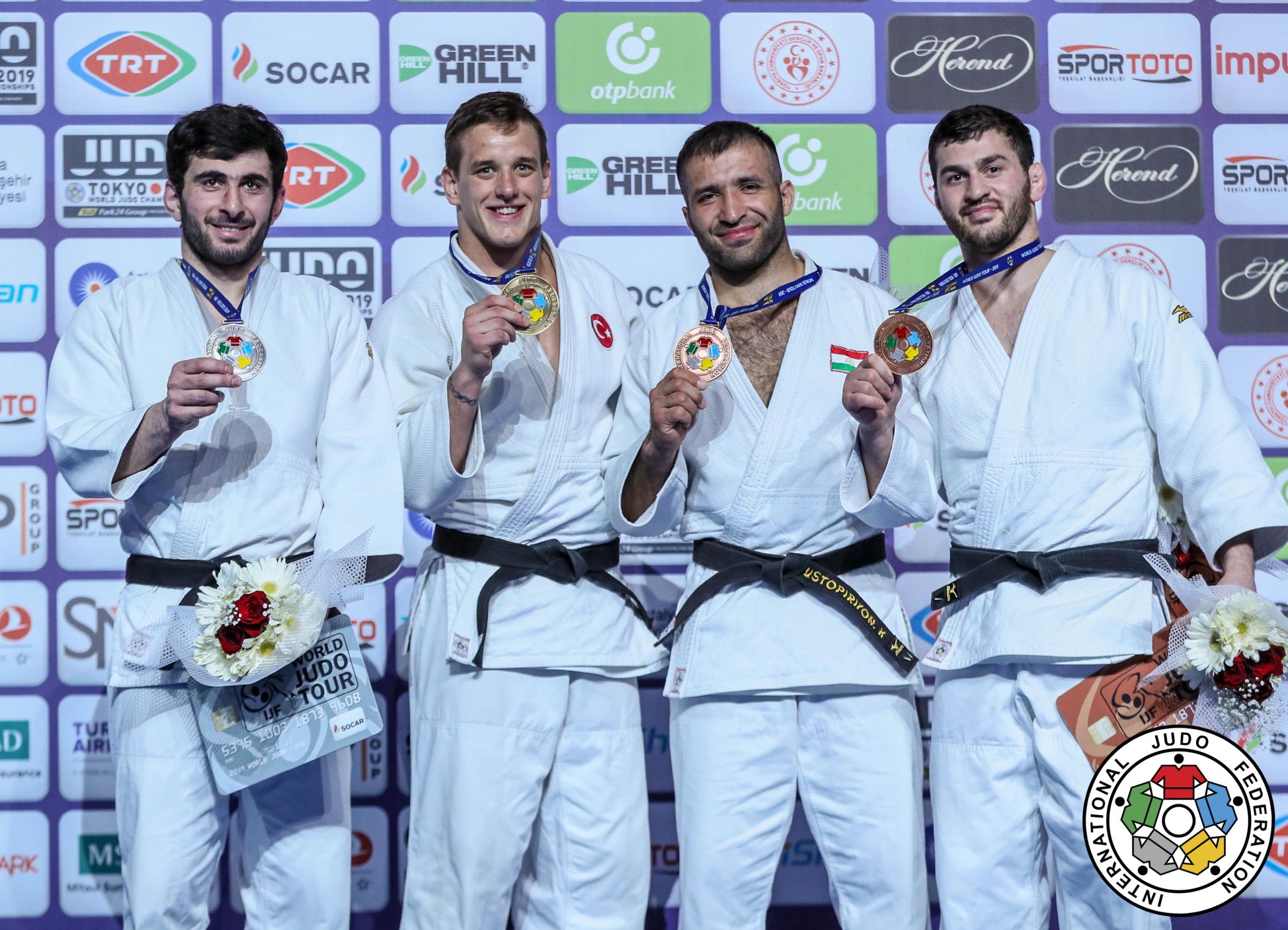 Men -90 kg 1 OZERLER Mikail TUR 2 PAPUNASHVILI Giorgi GEO 3 USTOPIRIYON Komronshokh TJK 3 TCHRIKISHVILI Avtandili GEO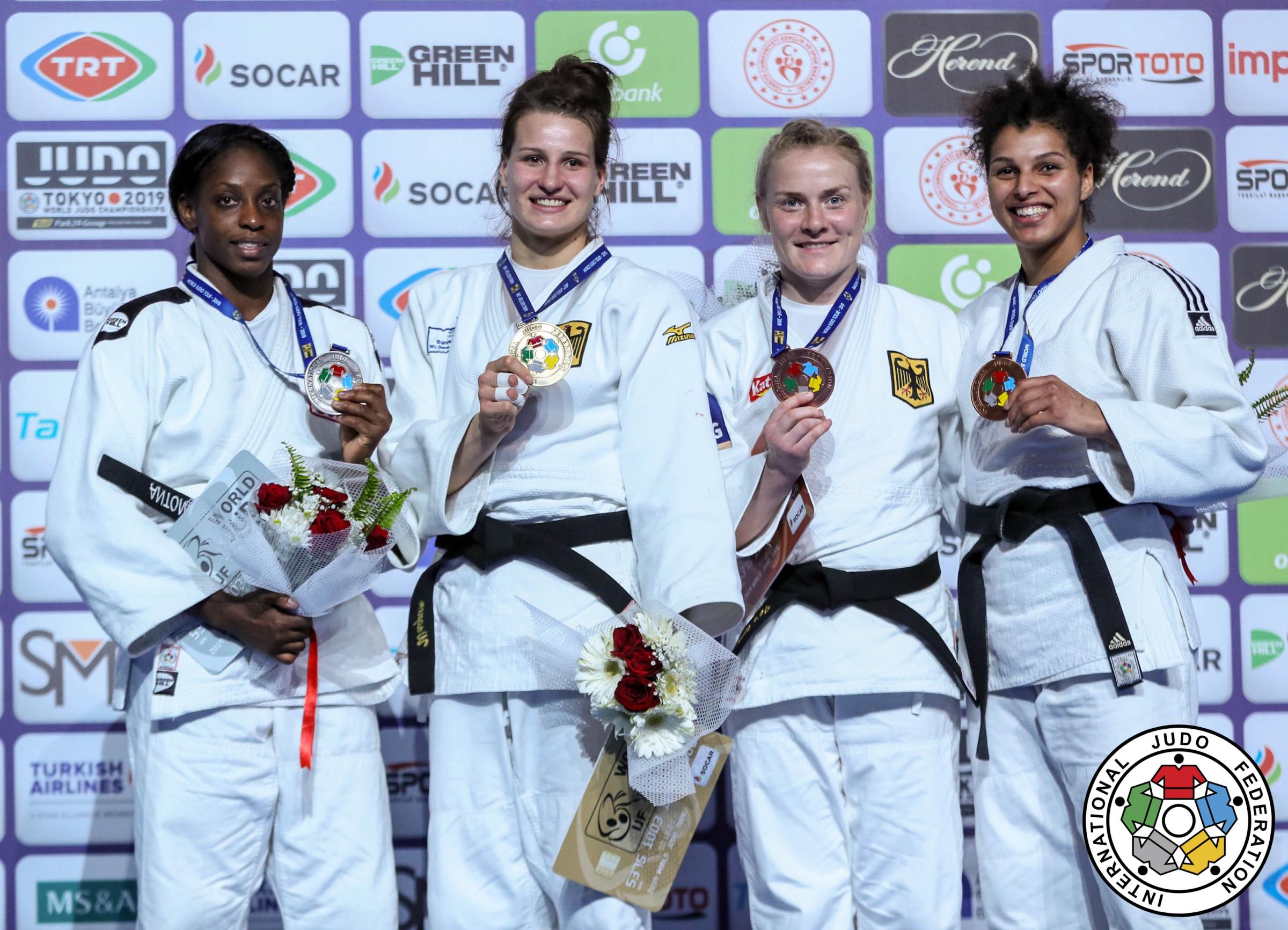 Women -78 kg 1 WAGNER Anna Maria GER 2 ANTOMARCHI Kaliema CUB 3 MALZAHN Luise GER 3 TURCHYN Anastasiya UKR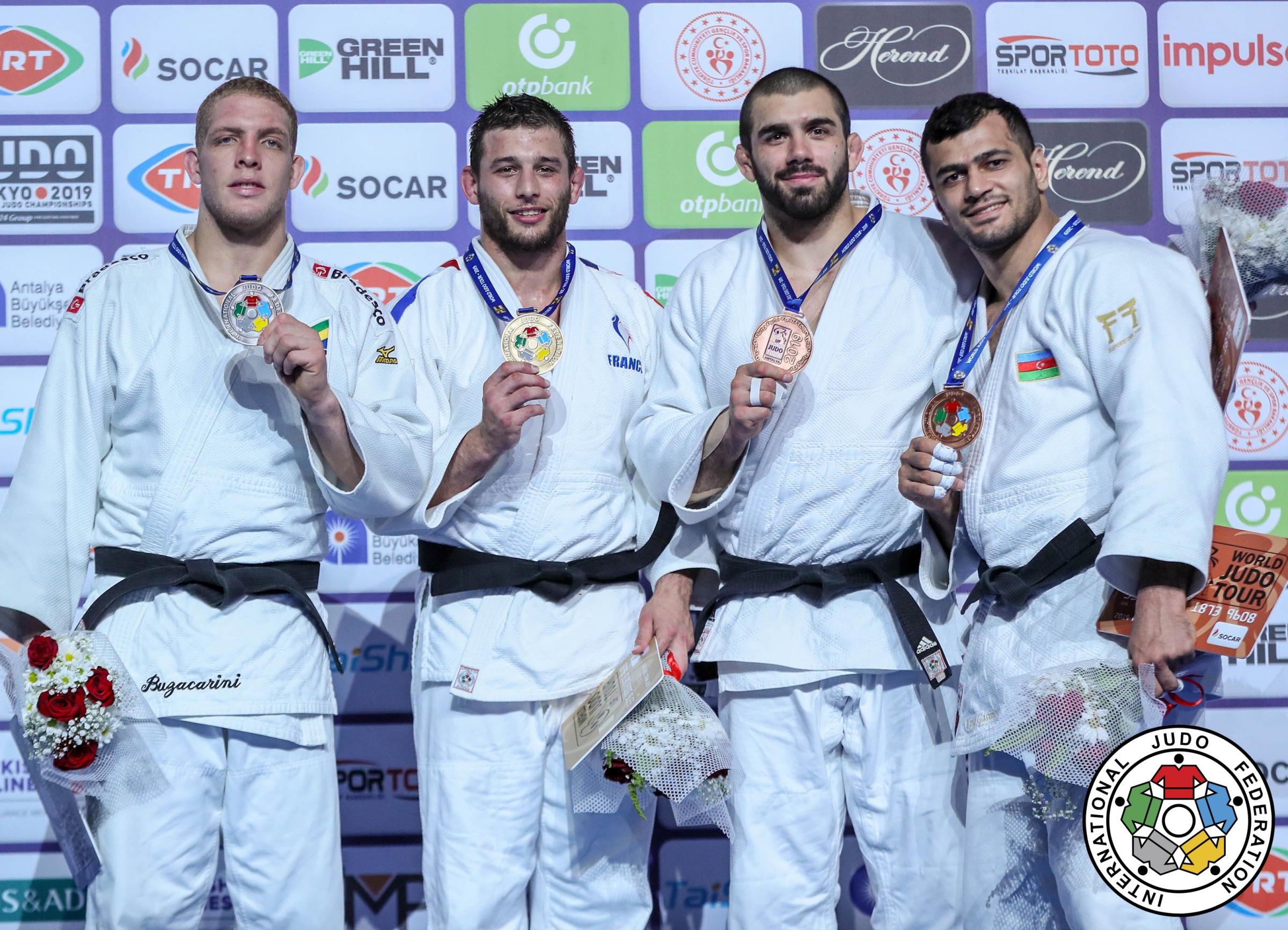 Men -100 kg 1 IDDIR Alexandre FRA 2 BUZACARINI Rafael BRA 3 NIKIFOROV Toma BEL 3 GASIMOV Elmar AZE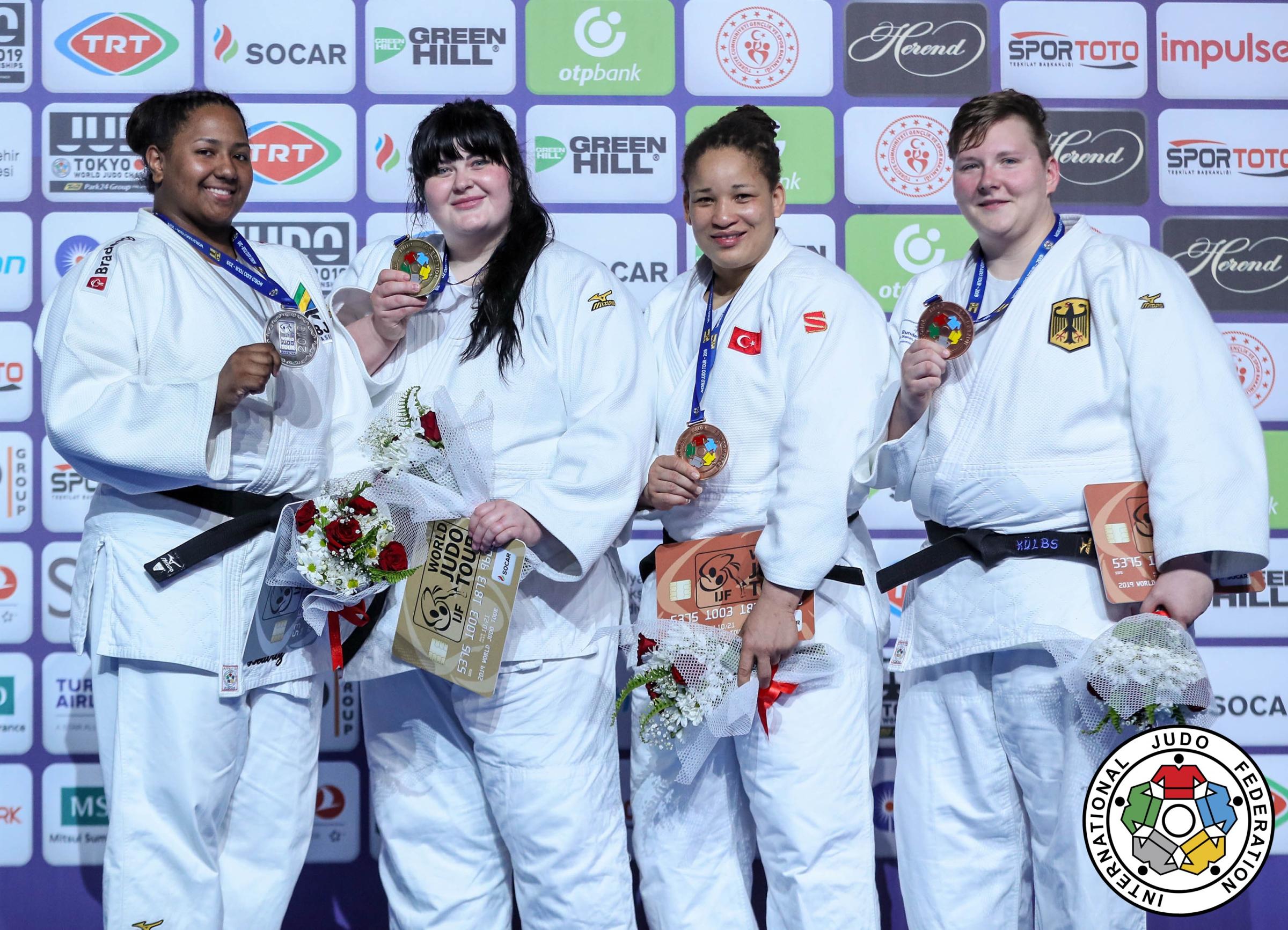 Women +78 kg 1 KINDZERSKA Iryna AZE 2 SOUZA Beatriz BRA 3 SAYIT Kayra TUR 3 KUELBS Jasmin GER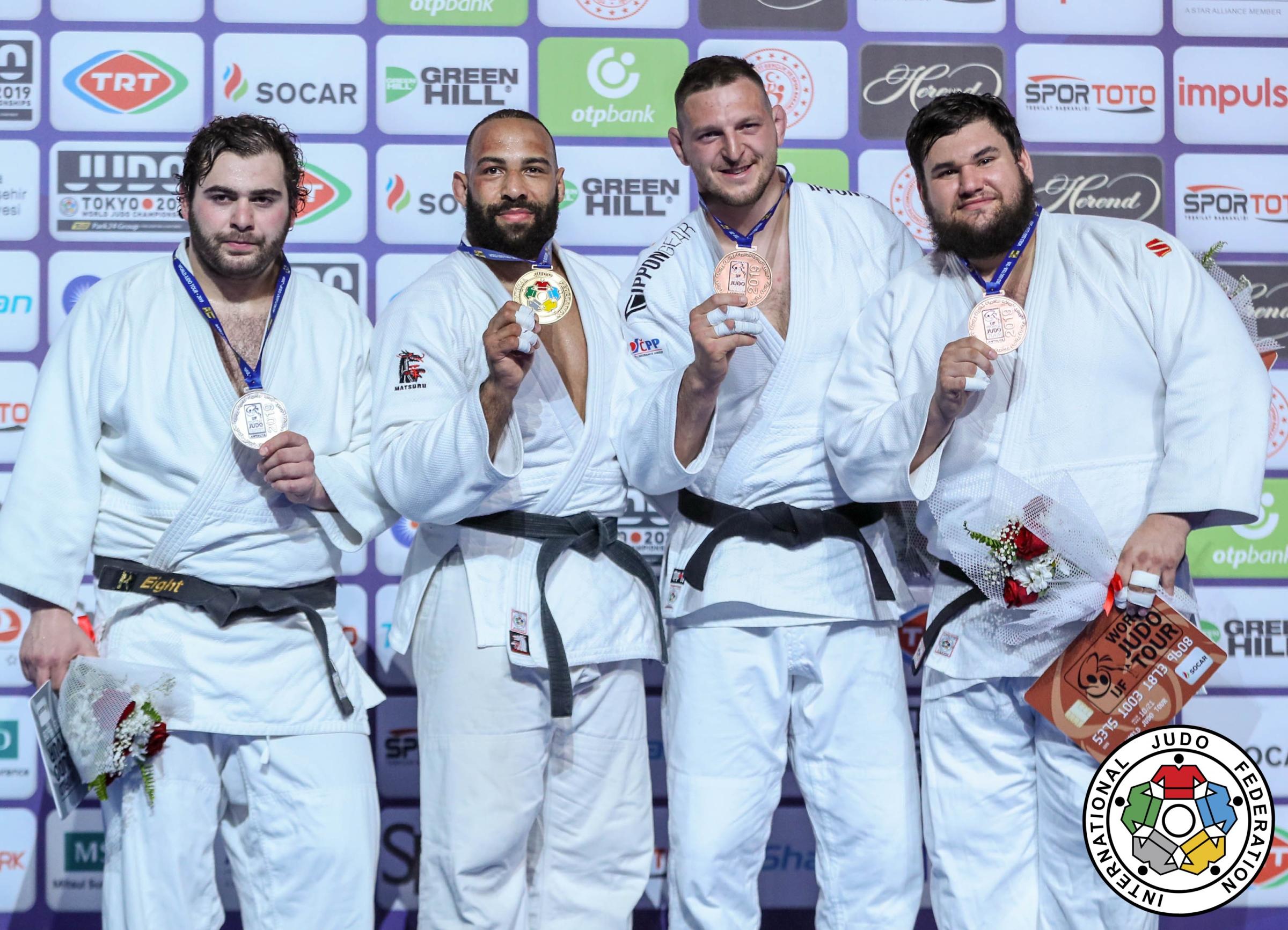 Men +100 kg 1 MEYER Roy NED 2 MATIASHVILI Levani GEO 3 KRPALEK Lukas CZE 3 SIMIONESCU Vladut ROU
It was another Georgian who awaited Ozerler in the final, this time Giorgi PAPUNASHVILI Giorgi (GEO). Once again Ozerler was dragged in to the golden score period. But he managed to finish in style, throwing Papunashvili after two minutes for ippon with maki komi.

When asked to describe his feelings Ozerler said,
Of course I am really to be able to win my first ever Grand Prix gold medal. I'd been training in Japan and feel as though I am in good shape. It was the first time that I had faced him and he posed some difficult gripping prospects and an unusual stance. I felt quickly that it could be become a very tactical battle and perhaps be decided on shidos. But I decided that it would be better to try and score with a throw and luckily it came. It is a very special feeling to win a gold medal for Turkey. The crowd was great and they really lifted me, especially the youngsters who were constantly cheering my name. I hope that they will be inspired by this win.
---