There have been many top referees hail from the Dutch nation, and next up to represent the Netherlands is Jhon Ramaekers.
Judo as a sport in the Netherlands is highly regarded and even legendary given the history of Anton Geesink from the 1964 Olympic Games in Tokyo and the return of the Olympic and Paralympic Games in Japan this year.
As a 7 year-old, Jhon started judo with the guidance of his aunt, and as he describes it, was immediately attracted to the 'angry white pyjama' sport. Of course this isn't how he continued to see it thanks to his 'charismatic sensei' who taught him the judo values which he carries with him in his life and his refereeing career.
I decided to start the judo teacher and referee course during a long term injury as a junior competitor so I could contribute to kids and others what I experienced myself. So I found myself in a black suit in the middle of the tatami with people who were my former opponents. To have positive feedback from them and their coaches made me at ease in this position and really started my referee career. After my recovery I never returned back to the white suit.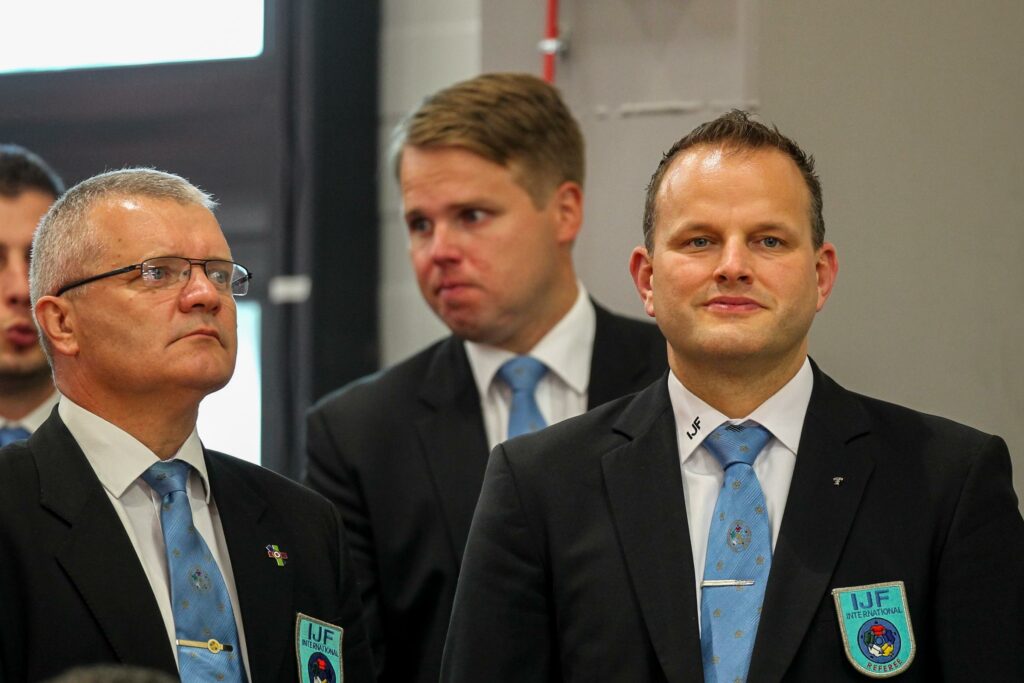 It seemed like an easy transition for Jhon in to his refereeing career but with all new chapters comes new opportunities but also difficulties,
Lets start by saying that I love challenges. At home there were a lot of strong referees so when you hit the next level and step up you have to invest a lot of time and travelling. Although it is challenging to run the household, my wife and kids always supported me, I would never be here without them. Second is the combination with my career as banker. I felt a great support from the managing board and the teams that I manage to follow my dreams. Mutually I can use a lot of experience and stories in both worlds.
With such great experience, there are plenty of memories to reflect upon for Jhon, both on the IJF circuit and the continental one, but a contest closer to home is one he considers most memorable.
There were a lot great fights in the European and World Judo Tour, the most thrilling were the Paris Grand Slam and Tel Aviv European finals, after both I certainly lit up for over a week. Besides these, the mixed teams at the Buenos Aires Youth Olympics, it was great to see how boys and girls of different nations transformed to a real team. For the most memorable moment I need to go back to my first year as national referee to the national finals where the Olympic Champion, Mark Huizinga came to pick up the title, but it all went different. I'll never forget the drive home to check the video over and over again, as in this time there was no care-system yet. In the end, I like all the fights I referee.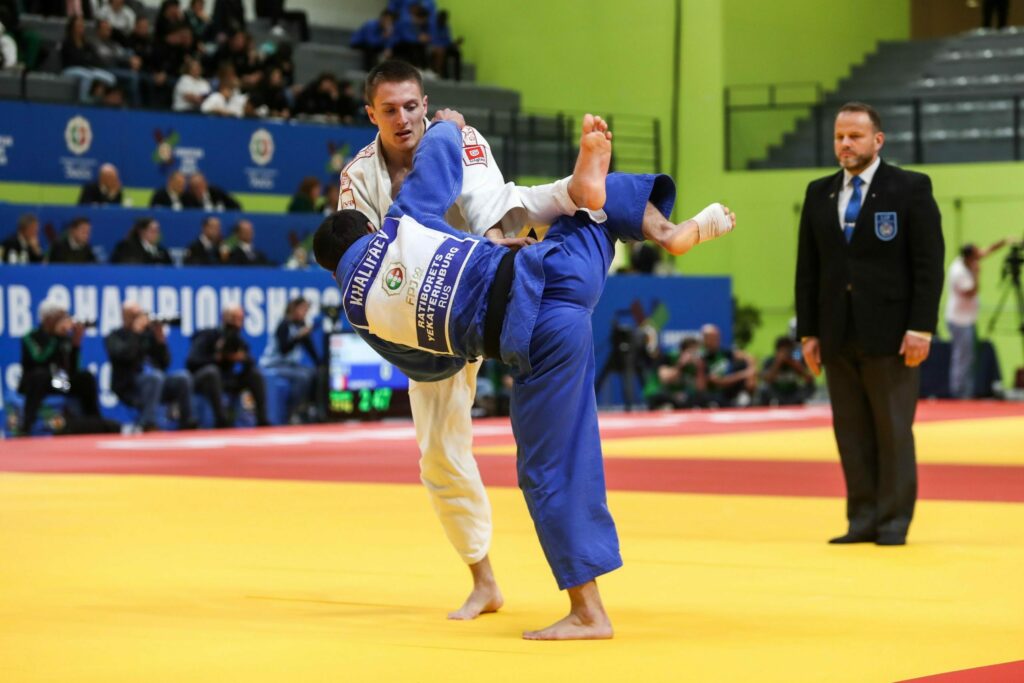 An abundance of great contests isn't the only thing that the Netherlands can boast about, the athletes' results speak for themselves but in the centre of the tatami, they aren't lacking either. Great influences for Jhon included Mr Jan Snijders and Mr Henk Plugge, both of whom encouraged his development. Several referees from Europe have also had an impact on his career including Mr Franky De Moor, Mr Manuel Cortez and Mr Stefan Bode.
To be the best yourself is like cooking a great dish, you have to find the best ingredients and add something that makes your recipe unique and still continue to improve. At this time I am inspired by the team spirit and friendship within the World Tour group. There is an outstanding atmosphere and big effort to learn and improve and offer fair judgement, not to be better than the other one, but to be better than your last fight or yesterday. More importantly, this is what we as referees owe to competitors.
The next competitors owed the highest standard of refereeing are the Paralympic athletes in Tokyo and although there are no spectators, we have already seen in the Olympic Games that the teams and delegations can more than make up for their absence.
Japan is the origin of Judo, I really look forward to meet the Japanese people making these Games possible. To referee in the Budokan where compatriot Anton Geesink won the 1964 Olympic Gold medal and was a respectful winner makes me feel proud. I look forward to the thrill and emotions of the competitors as they had to persevere till now, and we can crown their efforts and hard work as well as we can with a great team off referees and staff.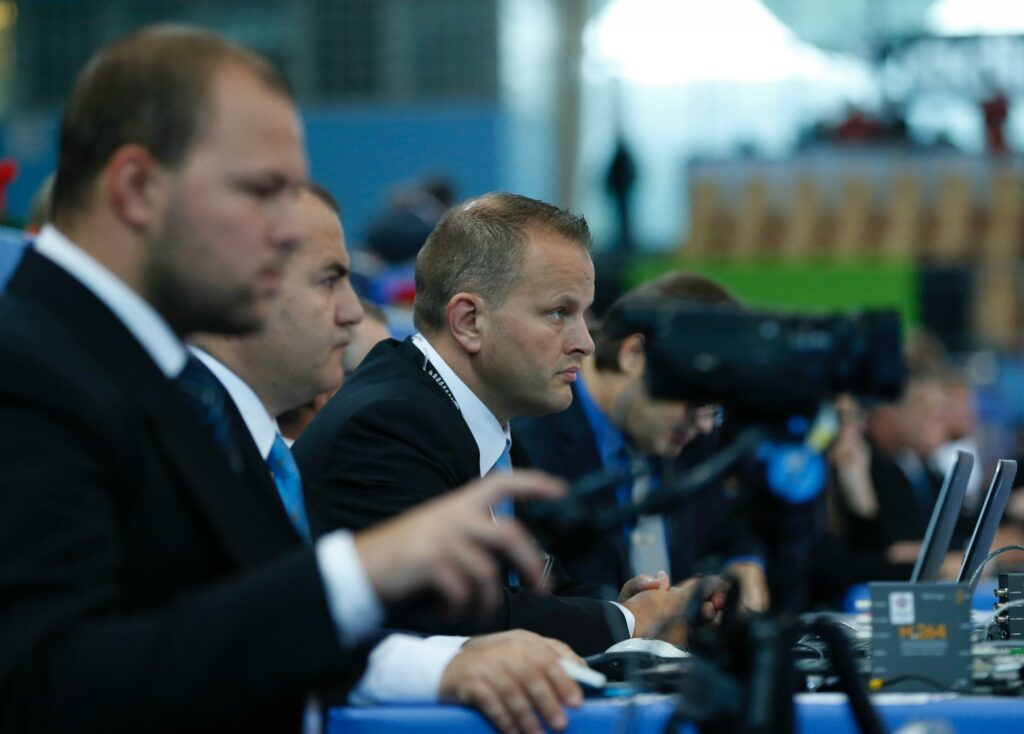 Author: Thea Cowen
---