Olivier Desroses is next up in our Paralympic referee lineup heading to Tokyo.
At 11 years old, Olivier had absolutely no clue that in 2021 he would be claiming his place on a Paralympic tatami as a high ranked referee, but that is where is all started, at 11 in French Guyana. At the beginning of the school year he was told by his father that he would be joining a judo class as his new classes conflicted with football and so he was without a sport.
It was not my choice but my father's one. He had just met with a judo teacher, a friend of his and as I was not doing any sport they decided that I had to try judo. It seems that I was not so bad at judo and five years later, I'd accepted a proposal to join a 'judo and study' program.
Olivier made a very big decision at 16 years old, not only to enrol in a combined course but in order to do so it meant leaving his family behind and move 8000km away to Orleans in France. This was a great difficulty for him, adjusting to being away from family, in a country he didn't know, with new people and a new way of life.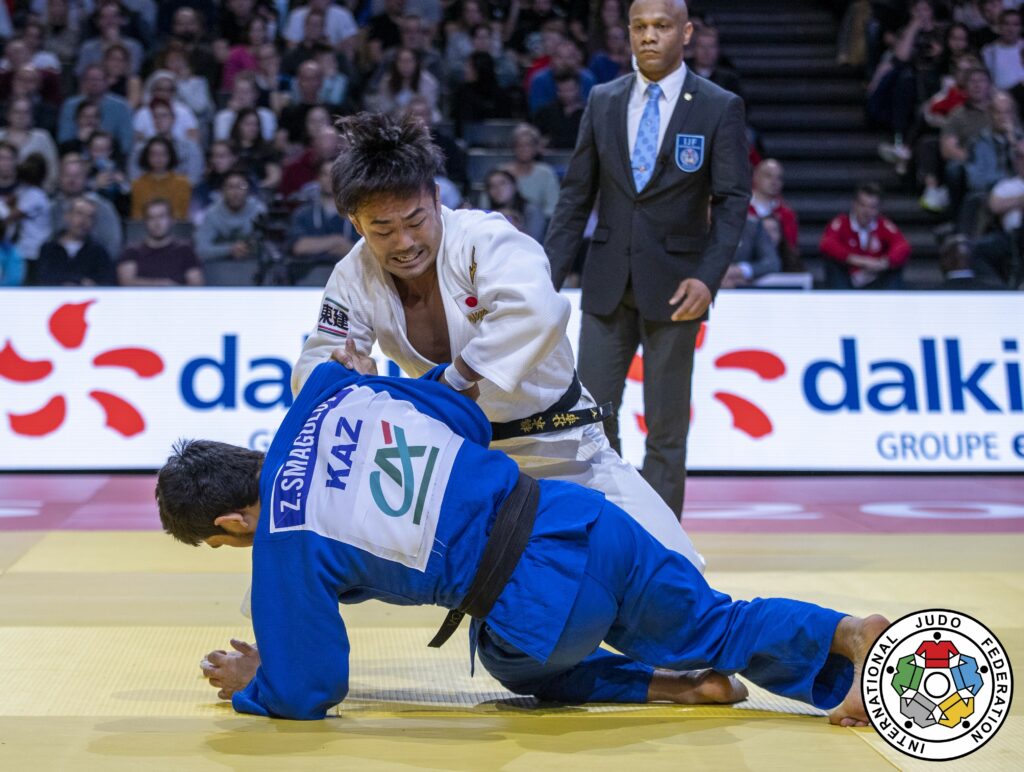 After settling in and studying for two years, he decided to try refereeing, only to see what the job entailed. Instantly, he was really enjoying himself and in 1993 quit competition to focus on studies, but kept refereeing.
So it was a lucky day when my father decided to put me in judo, and another one when an idea coming from nowhere told me to try to referee!
It was a long road for Olivier though, 10 years to reach the top of national level, another 10 for continental and another 10 to reach his current level, the reason that made it so difficult was committing to that time away from his family.
To get to a good level of refereeing, there is no secret, you have to practice a lot, spending time outside is easy when your are single and without kids, but the more that time goes on, the higher the level you want to reach is, the more you have to spend time refereeing and then the less you spend time with the family, you start to miss your wife's birthday or kids' birthdays and a lot of family events. I am lucky that my wife and my kids (I have 3) always support me. So this achievement is also theirs.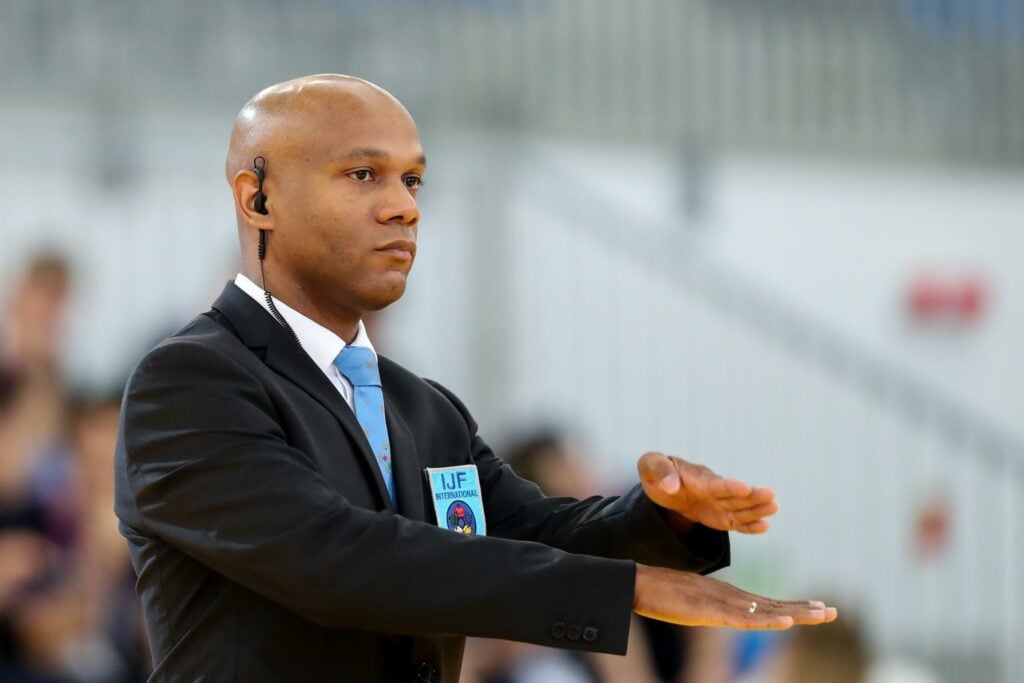 Committing all this time of course has its downside when away from the family, but you're also rewarded with great memories on the tatami, for Olivier, one in particular remains very clear.
My most memorable fight was between Ebinuma Masashi (JPN) vs Ungvari Miklos (HUN), the -73kg final of the Budapest Grand Prix in July 2018. The fight was great, the atmosphere amazing but most of all the last situation, and the counter of Ungvari was so unexpected that I literally stayed frozen, and even though I knew that it was a clear score I did not show any score. This situation reminded me powerfully that a judo fight is not over until the end. I was thinking about giving a third shido to Ungvari and a second after, a score for him. Since then I never forget that I have to be ready for any situation in a fight.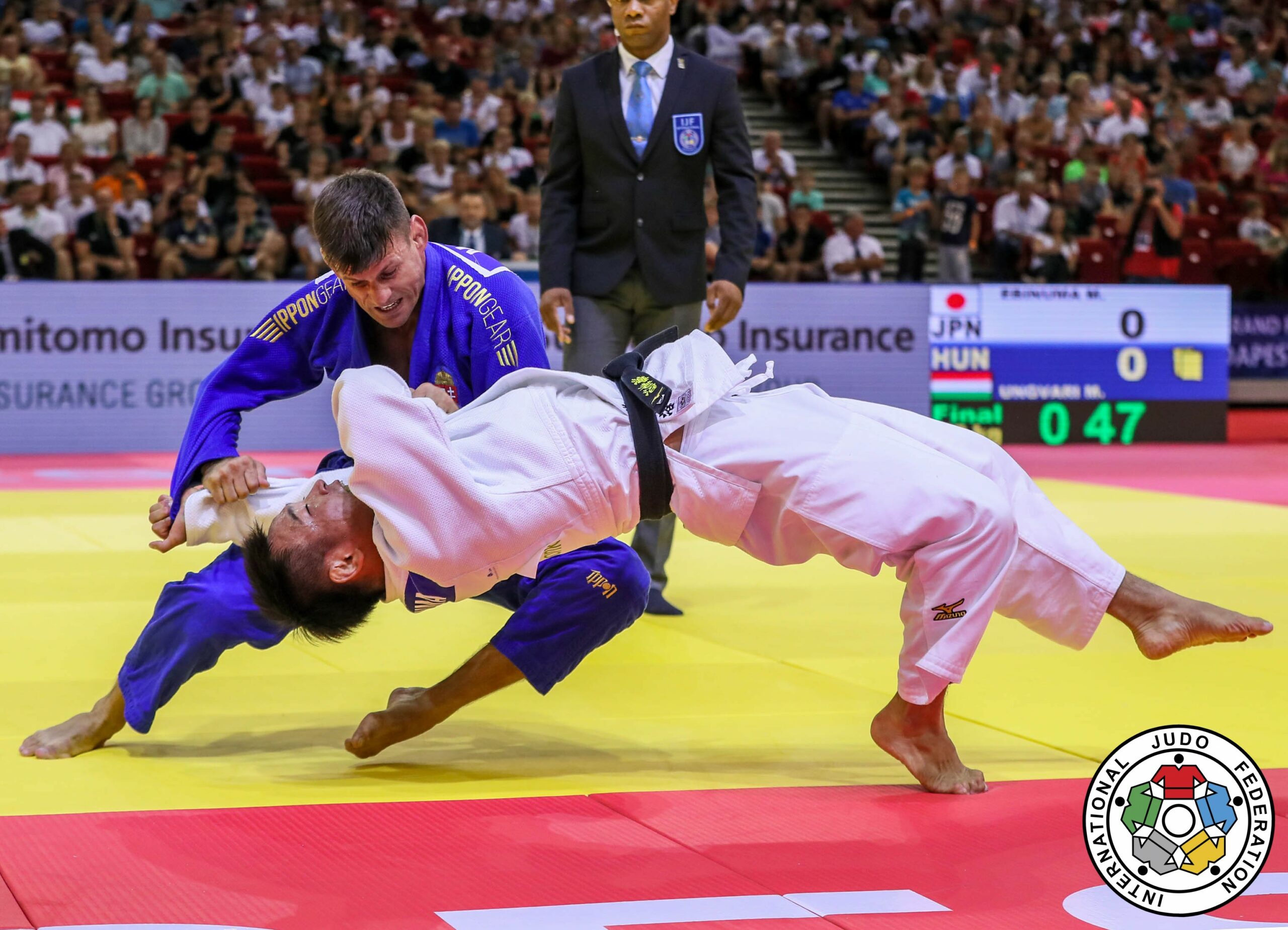 EBINUMA Masashi (JPN) vs UNGVARI Miklos (HUN) (c) Gabriela Sabau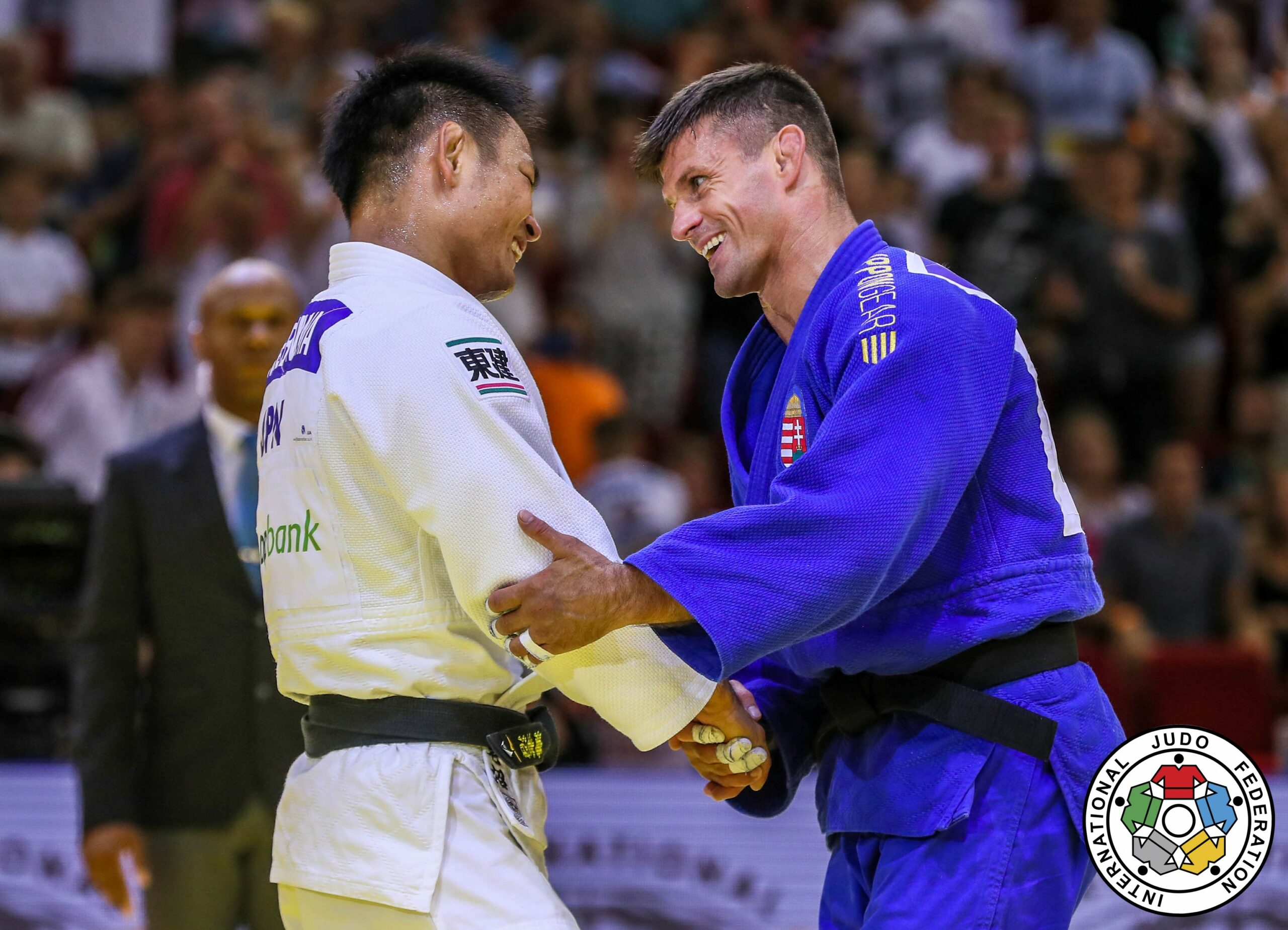 EBINUMA Masashi (JPN) vs UNGVARI Miklos (HUN) (c) Gabriela Sabau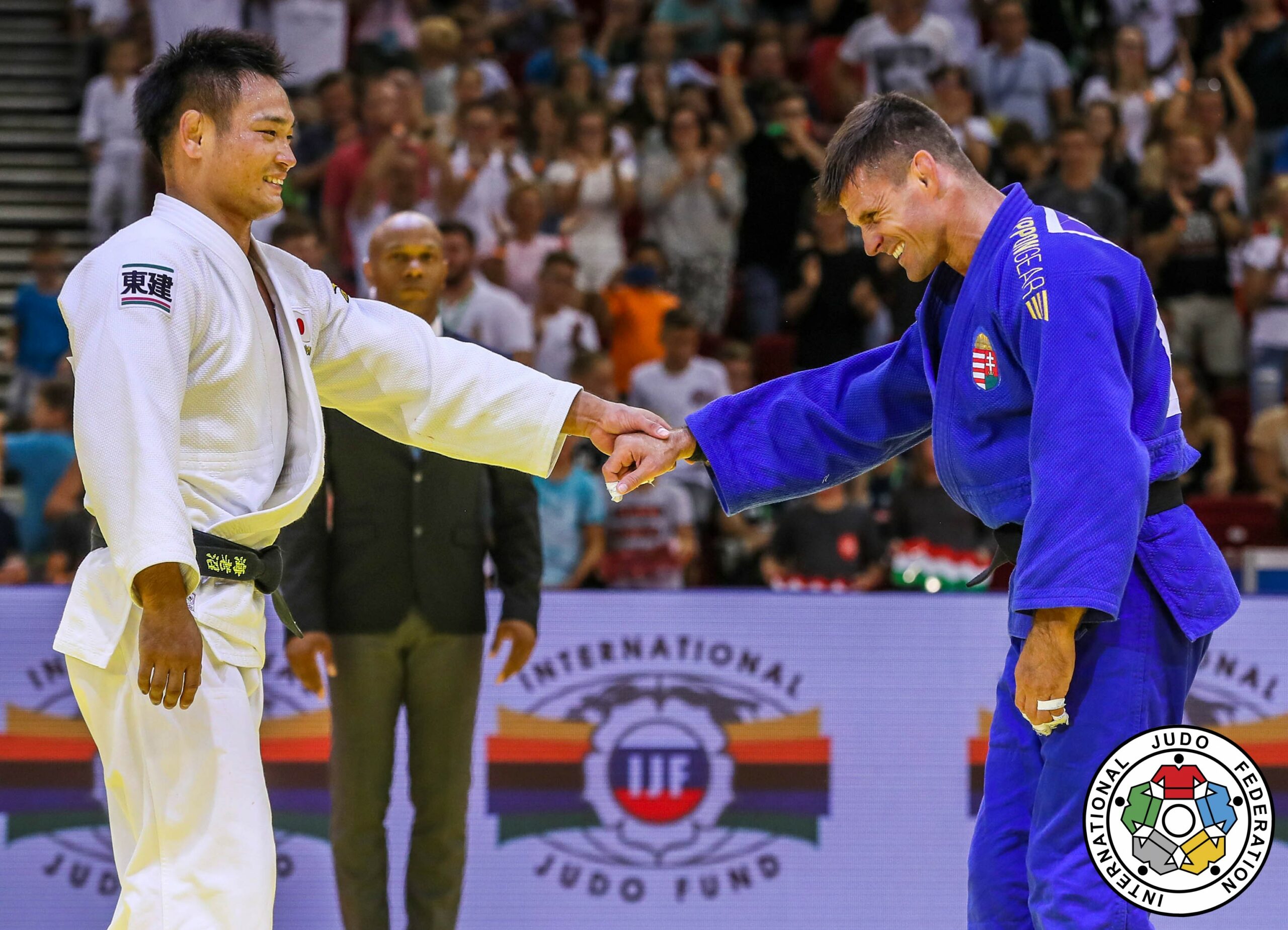 EBINUMA Masashi (JPN) vs UNGVARI Miklos (HUN) (c) Gabriela Sabau
Learning is a never ending cycle in any position, and a long cycle is has been for Olivier but he can also say that many have had an impact on his career, from the very beginning. The first one, André Delvingt (older brother of Marc Delvingt who was an IJF referee).
André was the one who I went to when I thought about refereeing, he was a national referee and my former judo coach in the judo and studies program. He was also the first one who could see my refereeing potential. I clearly remember, one day, when I was on the mat, I was playing or maybe dancing little bit, waiting for the next fight, it was my third year refereeing, he came to me and told me "calm down, and stay focused. One day you will be a great referee, maybe not an Olympic one but one of of the top ones, so pay attention to your behaviour". I just smiled at him, and promised him to bring him one bottle of champagne if ever I reached the national level or the top level. Till now I brought him a bottle of champagne when I passed B License, another one when I passed A Licence. I should bring him minimum of one after the Paralympics!
The second was Vincent Druaux, Olympic Referee in Rio. In order for Olivier to reach a national level there were three intermediate levels, at the time Vincent was in charge of the refereeing education and so was his first teacher and was also a part of the national commission when he was selected for his B license examination. The last was Vincent Depetra, another former IJF referee who advised Olivier in his preparation for the continental examination, his style and behaviour inspired him and even now he keeps his advice in mind.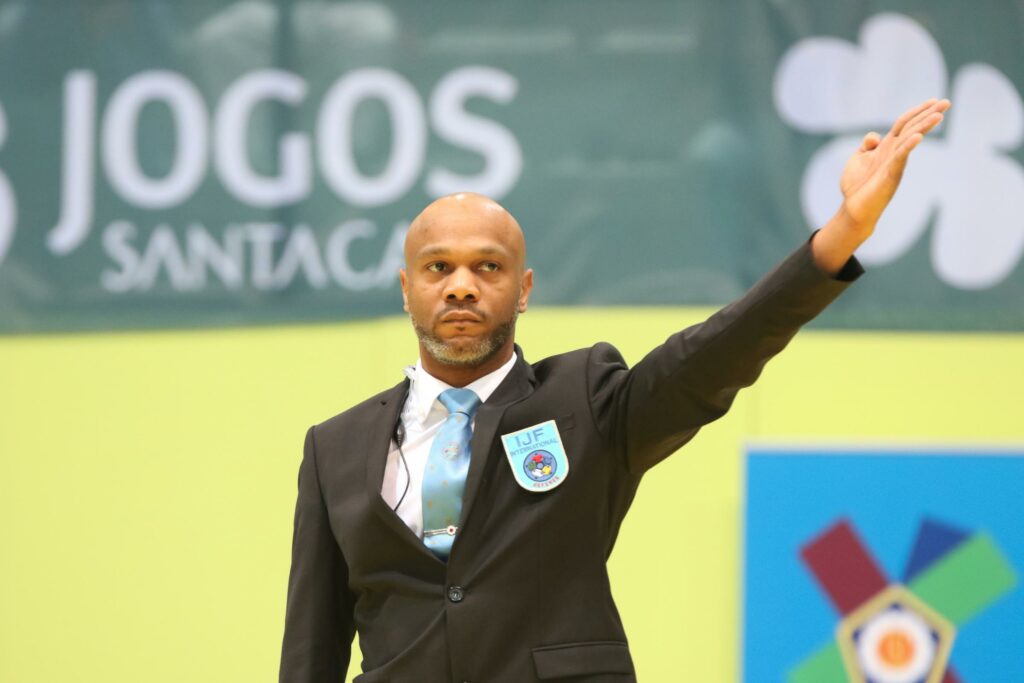 Now with all of his experience and those that have shaped him as a referee, Olivier is travelling to Tokyo for the first time to experience the home of judo.
I never been in Tokyo, so being in the Nippon Budokan is maybe what I'm looking forward to the most. Even empty, that hall represents so much for every judoka and after such a great Olympic week, I'm really excited, waiting to be there with all the referee team to participate to the great event that the Paralympics will be!!
Author: Thea Cowen
---