With the excitement currently focussed on day one of the competition, who can we look forward to on day two of the Paris Grand Slam with the huge personalities of Audrey TCHEUMEO, Romane DICKO and Teddy RINER in the French line up?
-81kg
Undoubtedly, the head to head everyone continues to hope for is between current and former world champions, Tato GRIGALASHVILI (GEO) and Matthias CASSE (BEL). Their battles have been epic and call for some of the most nail-biting almost-scores, especially in regards to the Tashkent World Championships. Of the pair it has only been Casse to take a Paris title which the Georgian will be only too keen to take for himself. In a bid to dethrone the top pair, we have Shamil BORCHASHVILI (AUT), Alpha Oumar DJALO (FRA) and Frank DE WIT (NED) representing Europe in the top eight. Then again, just outside is Almada Grand Prix finalist and current Junior European champion, Eljan HAJIYEV (AZE) who is bounding up the ranking list. Also worth noting for Sundays competition is former world champion for France, Loic PIETRI who will be receiving a heroes welcome from the crowd.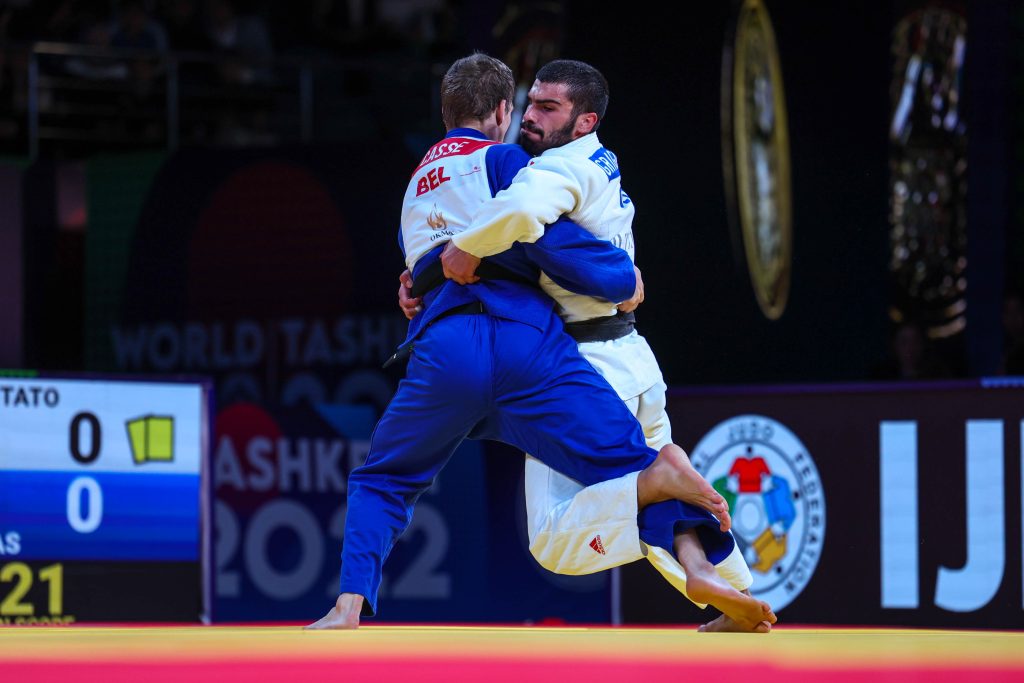 -70kg
Double world champion Barbara MATIC (CRO) is hoping to secure her first Paris title after settling for silver in 2021 but she will be chased down by the tough French duo of Marie Eve GAHIE and Margaux PINOT who sit at the number two and seven seeding positions. Though many will be looking to the younger talent of Ai TSUNODA ROUSTANT (ESP), an athlete who can't be missed is Kim POLLING (NED). The five-time Grand Slam winner was victorious in Paris back in 2013 with her first title, also claiming bronze medals in 2015 and 2018. She has returned to competition since starting a family and has made a bold comeback, with a 5th place in the Masters, only narrowly missing out on the medal, it is clear she is not to be dismissed.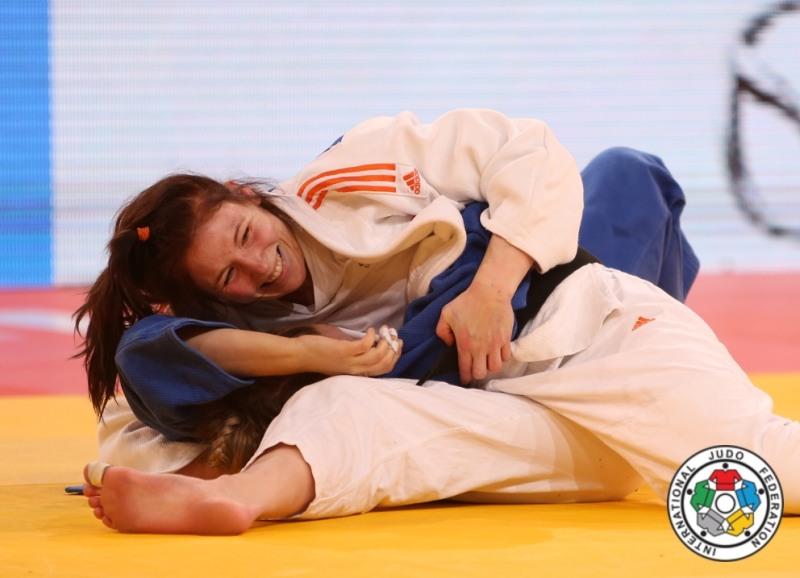 -90kg
There is chance for another Georgian finalist, this time in the -90kg category, with both current European champion Luka MAISURADZE at number one and current Olympic champion Lasha BEKAURI at number three. In the top eight they are joined by Nemanja MAJDOV (SRB), Eduard TRIPPEL (GER) and France's new superstar Alexis MATHIEU. Mathieu put in an astounding performance in the IJF Masters in Jerusalem and could be a potential for Paris 2024, however he needs to contend with the recently-returned, Axel CLERGET who took bronze in Portugal last week. 
-78kg
For the -78kg athletes, their main concern should be Audrey TCHEUMEO (FRA). In 2022, the 32 year-old double Olympic medallist took her fifth Paris Grand Slam title. Of course it is home but Paris is her haven, having taken the world championship title there in 2011 also. She is currently leading in the national ranking for the Olympic Games in 2024 which would be her third opportunity for another medal and she is hungry. We are missing the dynamite Alice BELLANDI (ITA) this week but there is still young blood here in the form of the Almada Grand Prix finalists, Patricia SAMPAIO (POR) and Yelyzaveta LYTVYNENKO (UKR).
-100kg
As we discovered last week, Lukas KRPALEK (CZE) has cemented his return to the -100kg category with a bronze medal in Portugal, but there is a long climb to the top, especially in this category when the talent is so widely spread that predictions are almost impossible to make. The ranking helps us in some cases and we hope it will reflect in the performance of world medallists Michael KORREL (NED), Zelym KOTSOIEV (AZE) and Varlam LIPARTELIANI (GEO) who are also joined by the Paris Grand Slam 2022 finalists, Peter PALTCHIK (ISR) and Toma NIKIFOROV (BEL) in the top eight. Though the Europeans are a strong match, we also have current world champion, Muzaffarbek TUROBOYEV (UZB) in the mix.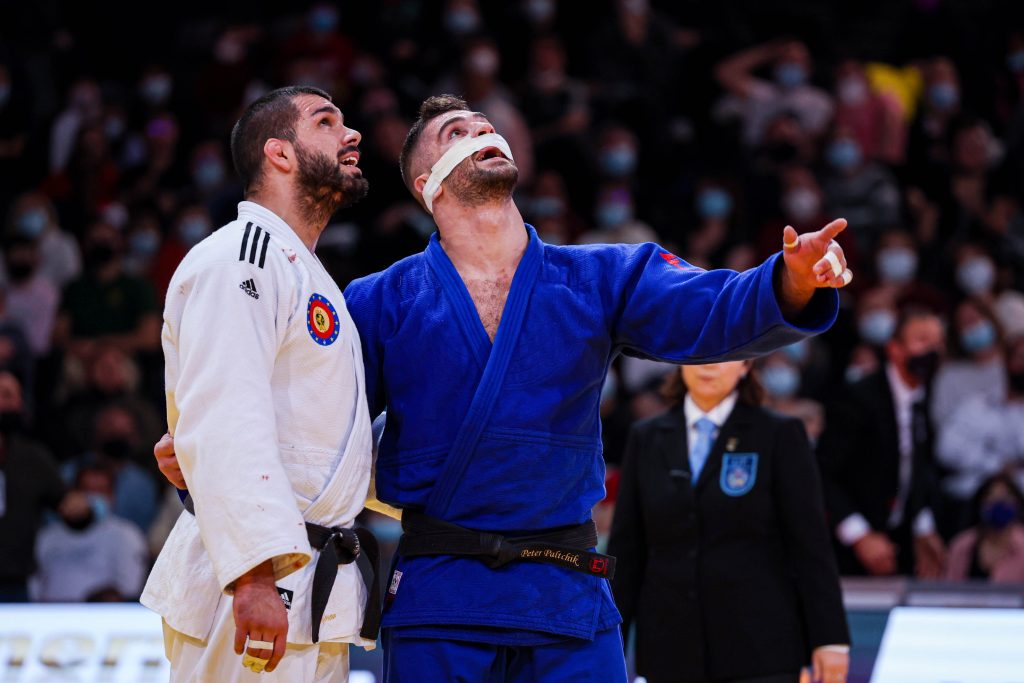 +78kg
If there are three Frenchwomen on the podium on Sunday in the +78kg category, we needn't be surprised. The top three seeded athletes include Romane DICKO, Lea FONTAINE and Julia TOLOFUA and all sit within the top five of the world ranking list. Though Dicko is the current favourite, there is still a year and a half to go until the Olympic Games 2024 and this already looks like it could prove a headache for the French organisation, the best kind of course. However if all three were to medal, this still leaves one spot open which could quite easily be claimed by Rochelle NUNES (POR) or Marit KAMPS (NED).
+100kg
He was missed last week in Portugal, but top seed in Paris, Guram TUSHISHVILI (GEO) was succeeded by teammate Saba INANEISHVILI who took gold last weekend, giving the Georgian fans more reason to celebrate. This week however the bar has been raised and we have some of the heaviest hitters in the group coming for the Paris title. Following number one Tushishvili is Alisher YUSUPOV (UZB) who is becoming quite the problem for the top seeds and has solidified his position in the top running order. What will be interesting this week is the performance of home hero, Teddy RINER, is he back in peak condition with preparation well underway for the Olympic Games? How will the lay of the land change now that the current Olympic champion Krpalek has returned to his roots of -100kg?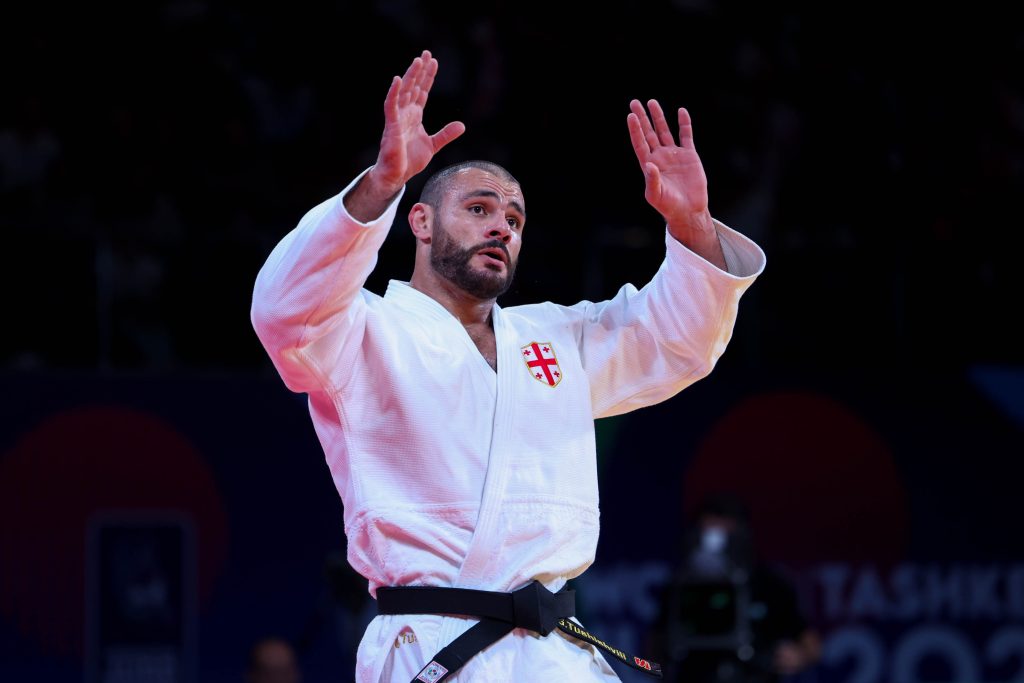 Paris, as always, is set to be a calendar highlight which can't be missed! Follow the live action at live.ijf.org. 
Judoka
Author: Thea Cowen
---